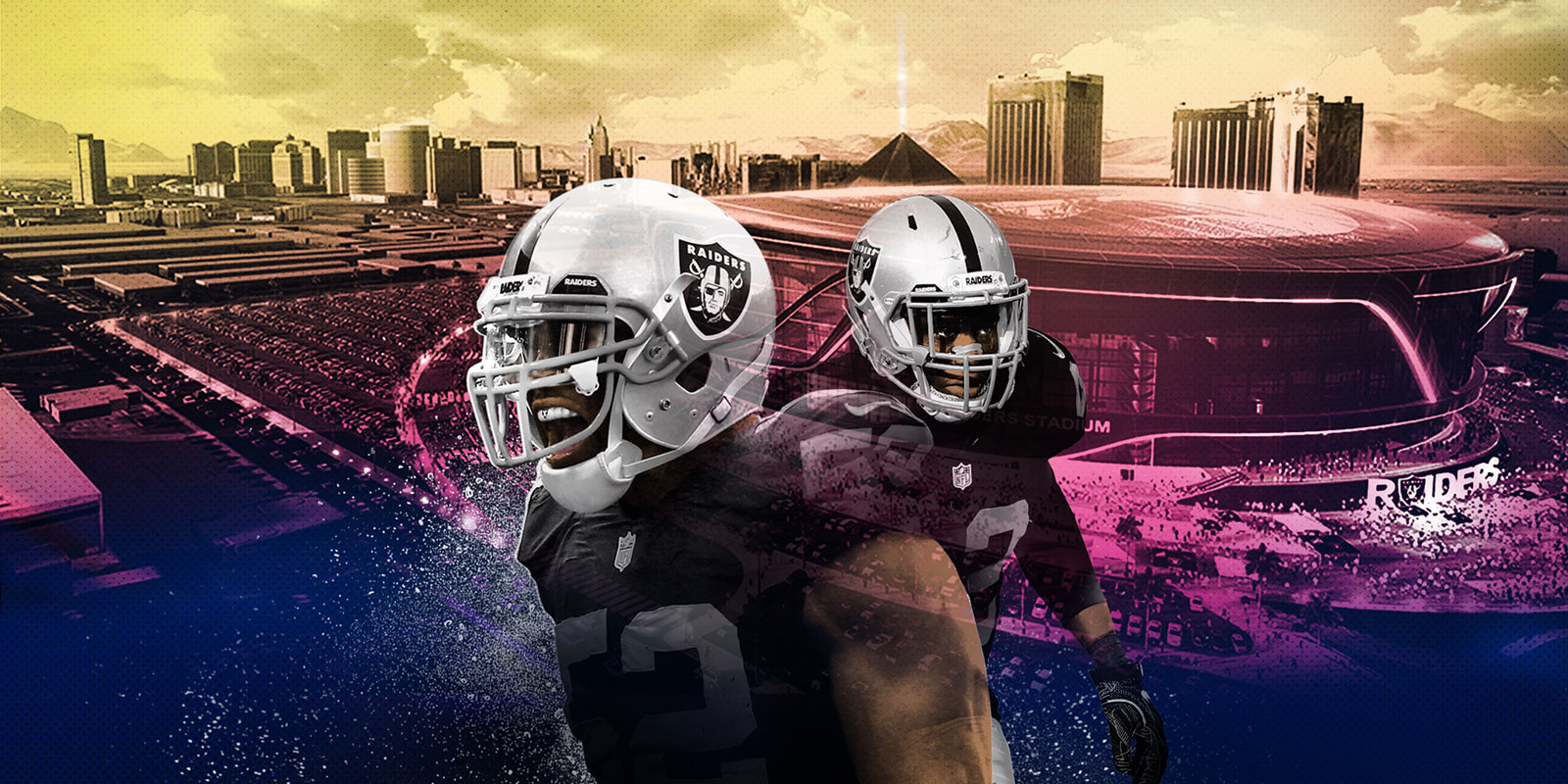 Sin City Or Bust
How Oakland Raiders owner Mark Davis -- with a little luck, his own brand of genius and an assist from Jerry Jones -- outflanked power brokers to put the Raiders in Las Vegas.
This story appears in ESPN The Magazine's April 24 NFL Draft Issue. Subscribe today!
Dan Tana's Italian restaurant in West Hollywood, July 2014: Oakland Raiders owner Mark Davis and team president Marc Badain sit in a back booth with NFL executive vice president Eric Grubman. The dinner topic, over chicken Parm, is a familiar one, an arduous task that bedeviled Davis' legendary father for decades and now bedevils him: trying to find a real prospect for a new stadium. There have been many stops and starts, in Oakland and in Los Angeles, with no end in sight.
Grubman, the league's longtime point man on stadium financing, says, "Mark, we gotta come up with a plan for you."
"I'm going to Vegas, baby!" Davis says.
Grubman laughs. Davis doesn't.
"You're nuts," Grubman says.
"No, it's a good market," Davis says.
"Mark," Grubman says, "you'll never get approved to Las Vegas."
"Why?"
"They'll oppose it on principle," Grubman says, like a parent explaining the real world to a child. "It's not gonna happen."
---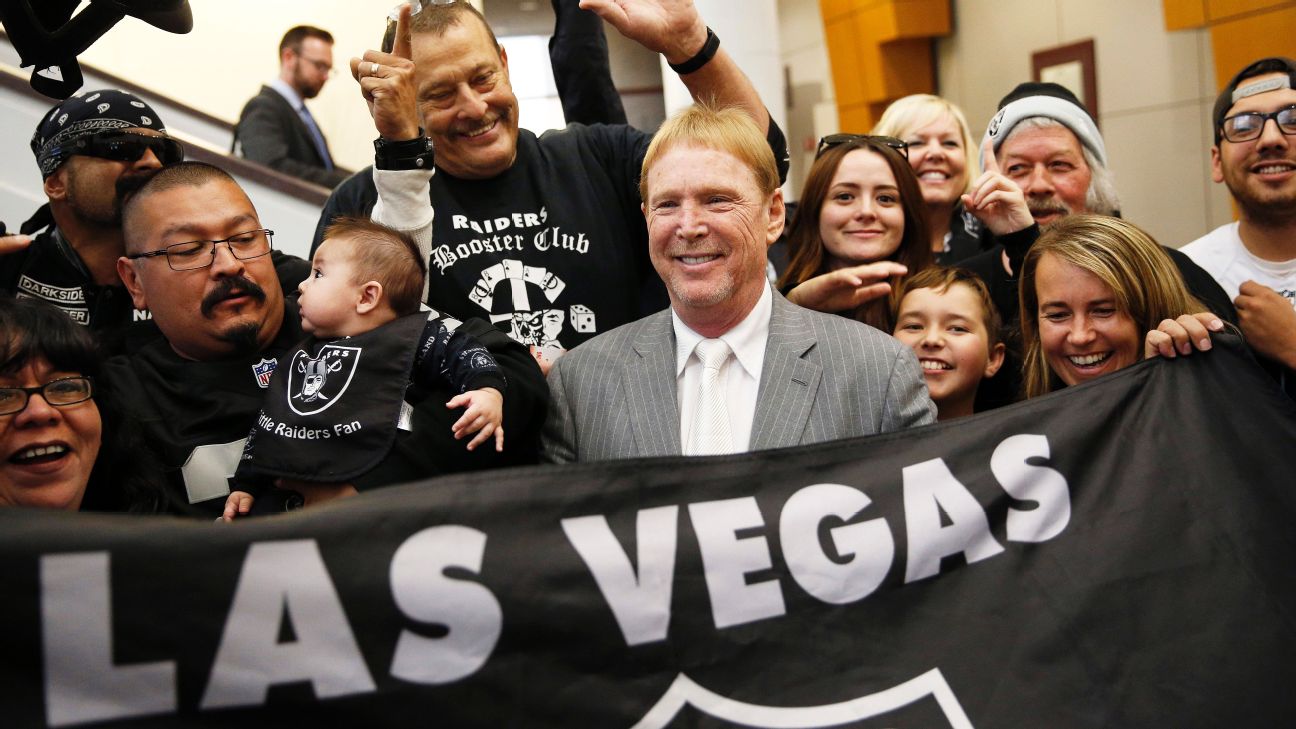 IT HAS ALWAYS been easy to underestimate Mark Davis. After all, he is known for his wacky bowl cut and silver-and-black suits and for managing the Raiders from the bar at a P.F. Chang's. Since his Hall of Fame father, Al, died six years ago, Davis has been an afterthought in league circles, easy to malign and hard to take seriously. A year and a half after that dinner at Dan Tana's, Davis' fellow NFL team owners publicly embarrassed him when they voted for the St. Louis Rams to move to Los Angeles and gave the San Diego Chargers -- who had partnered with the Raiders in a losing effort to move to Carson, California -- a year to decide whether to join them.
"I finished third in a three-horse race," Davis told associates. Few owners cared that they had put the Raiders in franchise purgatory. Sit tight, Davis had been ordered, while the league's power brokers determined which teams would play where.
Few knew at the time, but Davis saw a chance to dust off an old pipe dream.
On Friday afternoon, Jan. 29, 2016, 17 days after the LA vote, Davis found himself sitting opposite Sheldon G. Adelson in the casino magnate's vast cream-colored office at the Venetian, high above the Las Vegas Strip. Adelson was 82 years old at the time and the 14th-richest person in America, worth around $32.5 billion. Short and all but bound to a motorized scooter, with rosy cheeks and a comb-over of dyed auburn hair, Adelson was the most powerful man in the state of Nevada, the imperious owner of its largest newspaper, a kingmaker who one week before the 2016 election would donate $25 million to a super PAC to help elect Donald Trump president. "A government" in his own right, an NFL source calls Adelson. Nobody dared cross him, especially Nevada politicians. Adelson couldn't "give a f--- about the NFL," or any sports, in the words of a lawyer who knows him well. His aides say he has attended only two or three NFL games, including this year's Super Bowl in Houston, and he isn't starstruck by anyone connected to pro football. (His private assessment of commissioner Roger Goodell: "He's an idiot.") But the proposition Davis brought that day to Adelson grabbed his attention: Help the Raiders move to Las Vegas.
Widely believed to be the least wealthy of the NFL's 31 owners, Davis needed a windfall of cash and a massive parcel of available land but had little leverage. The Raiders' longtime Bay Area home, the decaying 51-year-old Oakland-Alameda County Coliseum, doubles as the ballpark of the A's, and Davis didn't consider the city's plans for a new football-only stadium viable. Several weeks after the Raiders lost the LA vote, the Alameda County board of supervisors, smelling blood, tripled Davis' stadium rent. The league didn't want the Raiders to exercise their option to move to Los Angeles in the event that the Chargers didn't go; the Raiders' popularity remained high in LA, but their brand and logo were synonymous with gangs. A move to a city like San Antonio was not possible because two of the league's most powerful owners are based in Texas and wouldn't allow a third team into their markets. Las Vegas, then, was Davis' only option. In Adelson, Davis hoped to find both a financier and a fixer.
"I don't want to make any money," Davis told Adelson, moments after their introduction. "I just want to protect my dad's legacy."
That admission stunned Adelson, amused him.
"Well, I do things to make money," Adelson replied. "I don't understand that. Everyone wants to make money."
Despite that awkward start, they agreed to move forward, cementing one of the strangest and unlikeliest partnerships in American business history. It fit the idea of the Al Davis Raiders perfectly: a renegade owner and a renegade entrepreneur moving an outcast team to Sin City. Adelson considered the Raiders' move a chance to help him shift a windfall of public money away from a competitor's convention center renovation -- and a chance to enhance his legacy by delivering an NFL franchise to his home city, sweetened by a stake in a gleaming, state-of-the-art $1.9 billion domed stadium and, perhaps, a piece of the team. A process that normally takes years would need to be fast-tracked, marshaling all of Adelson's power and influence to try to quickly secure public money. There was no margin for error.
What no one could see then is that, after making good on his word by delivering an American-record $750 million in public funds for the stadium and pledging $650 million of his own money, Adelson would end up furious a year later, feeling that Mark Davis -- the goofy Mark Davis who "surprises people if he can roll out of bed and put on his pants," as a team owner says -- had completely and utterly fleeced him.
---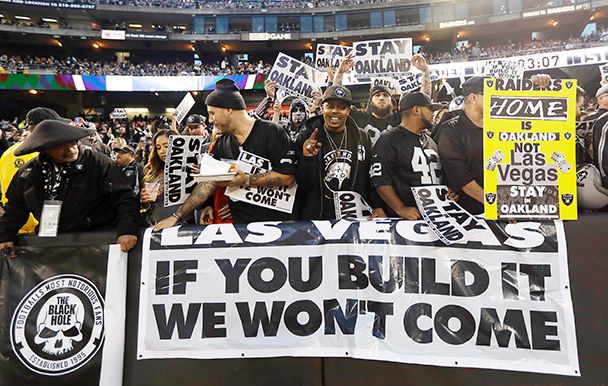 JERRY JONES LOVES Las Vegas. He loves staying at the Wynn; he loves partying at Lavo; he loves watching the glitzy shows. The Dallas Cowboys' owner, part of the 2017 Hall of Fame class, got the idea for the famous gigantic video screen at AT&T Stadium while watching Celine Dion perform in the old Caesars Palace showroom. He loves the VIP Vegas, the four-bedroom-suite Vegas, the romance of the old Rat Pack Vegas, the star-studded Vegas that came alive again a decade ago when Paris Hilton, Ben Affleck and others turned the Strip's nightclubs into a weekend playground for celebrities. As casino magnate Steve Wynn once said, "Las Vegas is sort of like how God would do it if he had money."
But that's not the Vegas Strip where the Raiders will play after owners on March 27 approved the team's relocation by a shockingly lopsided 31-1 vote. They're moving in either 2019 or 2020 to a Vegas that is fading, thanks to the continuing fallout from the real estate crash a decade ago and millennials' deep distaste for casino games. Wide swaths of craps tables and roulette wheels sit empty on casino floors as 20-somethings, mesmerized by their smartphones, idle on leather chairs with their backs turned to the pulsating penny slot machines. Deep debt hangs over most gaming corporations, and a handful are untangling themselves from multibillion-dollar bankruptcies. Many casinos now charge for parking, once unheard of in an industry designed to make it easy for customers to enter and all but impossible to leave. The old Stardust's land has remained unused for the past decade; multibillion-dollar behemoth casino projects now end up in faster-growing cities. A palpable feeling of dread exists, as if the ultimate boom-and-bust town is destined to become the next Detroit. "For Vegas, it's third-and-11 coming up," says David Malinsky, a leading sports gambling expert who has lived there for 30 years. "If not for the Raiders, there just isn't much left in the playbook."
And if not for Mark Davis, the Raiders wouldn't be heading to Vegas. Through his own brand of stubborn genius and a little bit of luck -- and with a major assist from Jerry Jones, who played six different roles -- Davis outmaneuvered everyone, including one of America's most shrewd and powerful billionaires, according to interviews with nearly two dozen owners, league officials, team executives, city and county officials, lawyers and staffers involved in the relocation efforts, some of whom requested anonymity due to the sensitivity of the negotiations.
The move is a mammoth gamble for a famously family-friendly and risk-intolerant league. A day after it was approved, a Nevada brothel announced plans to open a Raiders-themed shop outside of Vegas; players will receive a 50 percent discount. Then there's this: The Raiders and the NFL are leaving a large and revitalized market for a seedy and slumping sprawl town, where the hope is that the home team will fill half the stadium with its fans on any given Sunday. And to up the ante, the Raiders will be deeply in debt and dependent on visitors' fickle loyalty, just like more than a dozen other hotel-casinos lining Las Vegas Boulevard.
For the first time ever, the Raiders and the NFL -- as partners -- are all-in.
---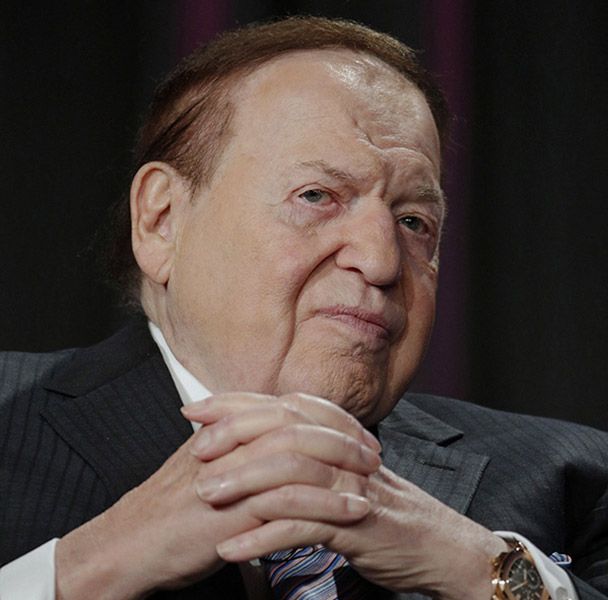 TO EVEN STEP inside Adelson's office at the Venetian, Mark Davis needed help. He found it, in all places, in the form of a long-ago Raiders running back. Napoleon McCallum, now 53 years old and the director of community development for Adelson's Las Vegas Sands Corp., brokered the initial meeting. Davis and Adelson left that first sit-down with a handshake agreement to work together to bring the Raiders to southern Nevada. A week later, in February 2016, Davis did some scouting of his new partner in a suite at the Super Bowl at Levi's Stadium with Sig Rogich, a 72-year-old longtime Vegas public relations executive and trusted aide to George H.W. Bush and Ronald Reagan who was an acquaintance of Al Davis.
Mark Davis asked Rogich about Vegas' potential as a home for the Raiders -- and his impression of Adelson.
"Sheldon is very tough -- but very fair," Rogich said. "He keeps his word."
"I've heard that," Davis said.
For Adelson, the idea of the Las Vegas Raiders amounted to more than just keeping his word. It was a perfectly timed opportunity. He needed a way to block Nevada politicians' plans to use all $1.2 billion from an increased Vegas hotel bed tax to overhaul the publicly owned convention center, the state's largest. Adelson's convention center at the Venetian is Nevada's third largest, but the proposed revamped convention center threatened to siphon a reliable source of revenue for Adelson, hitting approximately $40 million in 2016. Adelson also hated the fact that guests in his hotels paid taxes for a rival convention center, whose rates undercut his own.
Adelson used the Raiders as leverage. He decided to push Nevada lawmakers to shift most of the bed tax money from their convention center to a proposed 65,000-seat football stadium, to be built on land across from Mandalay Bay off the Strip's southern stretch. And then, in a raw display not only of his power but of the appeal of an NFL franchise, Adelson set a non-negotiable contribution for lawmakers of $750 million. "It has to be that number," Adelson told his political allies, including Nevada Gov. Brian Sandoval. "If it's $50 million less, I'm out."
Adelson was playing by his own rules -- and Davis tried to as well. He had learned firsthand the lasting lesson from Stan Kroenke's relocation of the Rams, with Jones serving as a lead blocker: To control your own destiny, you need the land for a stadium. Don't wait for approval from the league. Just go. When the Sands Corp. tweeted a picture of Davis and Adelson together after their first meeting, rumors flew that the Raiders were considering Vegas. Some owners didn't take the Raiders' intended move -- and Davis -- seriously. Like Chargers owner Dean Spanos, Davis had always seemed reluctant to leave his home city, steeped in fan loyalty and team history. Davis had only $500 million to contribute to a new stadium, a combination of team funds, loans from the league office and, if he stayed in Oakland, a $100 million consolation prize for losing LA. At least half of that $500 million likely would be swallowed by the NFL's relocation fee.
But now Davis was just going, with the hope of a relocation approval vote in less than a year. He had always felt a connection to Vegas, a home away from home. It's where his father would spend long weekends hanging out at Caesars, staying at the Riviera Hotel and even fantasizing about moving the team there, as he volleyed his franchise between protracted stadium wars in Oakland and Los Angeles, earning nothing but enmity from three NFL commissioners and the league office. In December 1998, Mark Davis bought the domain name for LasVegasRaiders.com, and each year he paid $8 to renew it, just in case. He even has a cellphone number with Vegas' 702 area code -- although the reason he got it back in 2000 was that Vegas happened to be one of the first places to adopt free roaming.
Within months of Adelson and Davis' first meeting, Adelson's legislative friends in Nevada's state capital of Carson City had done his bidding. On Wednesday, Aug. 24, 2016, Adelson flew in one of his private planes to Carson City to ask for Sandoval's support for $750 million in public money for a football stadium. Legislators drew up a Senate bill earmarking the full amount, paid for by the increased hotel bed tax. Soon it became known that Adelson, who declined comment for this story, was not only willing to write a check for an additional $650 million to help defray the stadium's price tag but was also going to cover the stadium's inevitable cost overruns, estimated to exceed $100 million.
The buzz in NFL ownership circles was how Davis, now 61, had suddenly come of age. For years he had tried to build credibility among owners, both by paying down tens of millions of dollars in debt after various disputes and the protracted litigation by his late father, and by pledging to be more open with owners than his father was about the team. "He is playing this thing perfectly, whether he means to or not," one owner said last fall. "He is using his lone asset to get a free stadium."
The NFL usually likes free money. And the league usually likes expediency as long as there's a certain profit attached. But some owners and executives worried that it was Adelson's money -- and it was moving too quickly. Nobody wanted Adelson to join the "Membership" of club owners. Even an Adelson business partnership tied to getting all of the new stadium's nonfootball revenue raised flags because owners and executives felt that they couldn't control him. What's more, league officials believed that the $650 million would come in the form of Adelson co-signing a loan, but Adelson insisted he was willing to pay it out of pocket. Many in the NFL and even Adelson's longtime rivals in the casino world, like Steve Wynn, marveled that here was a fabulously wealthy elderly man lavishing his home city with a great gift, though perhaps his explanation for doing so -- even the convention center rationale -- was just a little too simple.
"He's worth more than $30 billion," says Clark County Commission Chairman Steve Sisolak, who was involved in many of the Davis-Adelson negotiation sessions. "What difference does $650 million make to him? It's something he can do for his hometown. He wants a legacy."
What no one knew last summer is that Adelson never intended to just hand Davis all that money in exchange for a suite on the 50-yard line. When he told Davis in their initial meeting that he always wants to make money, he meant it. And if that wasn't likely to happen, Adelson confided to friends, he'd just walk away and let Mark Davis try to find someone else willing to hand him a check for $650 million.
---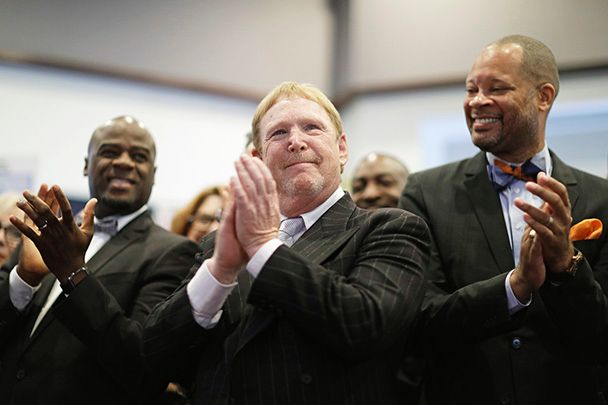 "A BOOB."
"A lightweight."
"A guy who's easy to roll."
Adelson and members of his inner circle had heard all the negatives about Davis. "Sheldon is gonna steamroll Mark," a lawyer close to Adelson predicted last fall. In June, Adelson had flown to Dallas, taking up Jerry Jones on an offer to learn about stadiums by touring the NFL's most tricked-out one. But as Adelson's finance people crunched the numbers, they discovered that investing in a new stadium is similar to buying a new car: It depreciates the moment the owner is handed the keys. The real money comes from a team's ever-spiraling valuation. Adelson realized that he was turbocharging the value of the Raiders, whose estimated worth in 2015 was $1.4 billion, next to last among NFL franchises. Boosted by the promise of a stadium upgrade in Las Vegas, the team's value had jumped to an estimated $2.1 billion by fall 2016. A move to Sin City would likely push the Raiders' valuation to $3 billion.
"Why shouldn't I get a piece of that?" Adelson asked Davis last spring.
Davis immediately said no. He knew the NFL, with a long-standing policy of forbidding owners with gambling interests, would never approve a move to Vegas if the country's most powerful casino magnate owned a piece of his team. Adelson's camp didn't believe Davis, who declined comment for this story, and called Grubman to discuss the rules; Grubman replied that the rules stood and there was no appetite among owners to change them. Adelson seethed privately that the league refused to acknowledge that legal and illegal gambling were potent twin engines of its enormous success. But he moved on, trying to maximize his percentage of the new stadium's nonfootball revenue from big-name concerts, conventions and other large-scale events. Davis wouldn't budge much there either. Adelson believed the Raiders wouldn't be in Vegas without him and so he should be well-compensated -- though his aides said it was unlikely he'd recoup his entire $650 million -- even if he already stood to gain by blocking the revamped convention center. The Raiders believed that any nonfootball stadium revenue wouldn't exist without the team in Vegas, so most of it should be theirs.
The Adelson team sent the Raiders several proposed term sheets, but the Raiders didn't send a single one back. It felt like a one-sided negotiation. Complicating the impasse was that both sides were arguing over hazy estimates in an untested NFL market. Another stalemate was over lucrative stadium naming rights -- Adelson demanded 70 percent of the revenue -- and how to fairly divide an estimated $20 million in annual nonfootball revenue, a substantial sum in NFL circles but a modest one to Adelson. "What Sheldon was buying isn't worth $650 million," says a league source with intimate knowledge of the negotiations. "It never made sense that the Raiders couldn't make it work. Davis was getting a debt-free stadium and got to keep all NFL revenue. It was the greatest deal in NFL history."
On Friday, Oct. 14, Senate Bill 1, the $750 million stadium-financing package, was approved by the Nevada Legislature, and it landed the following Monday on Sandoval's desk for his signature. The 53-year-old governor needed an assurance that if he signed the bill, the NFL would indeed approve the Raiders' relocation to Vegas. The governor didn't want Vegas to become another convenient NFL stalking horse, as LA had been for decades, for a team owner trying to squeeze a better stadium deal out of his hometown. "If you come up with what we're talking about," Davis promised Sandoval, "I'll do everything I can to bring the Raiders to Las Vegas."
Reassurance had also come from the league's most powerful owner and, as some say, its shadow commissioner. Jerry Jones told Sandoval that if that amount of public money were to be allocated for the stadium, the NFL would approve the relocation. The league would be a fool to turn down $750 million, Jones explained. And during their chat, Jones asked the governor for a return favor: to work to legalize daily fantasy sports in Nevada. Jones, who declined comment for this story, was an early investor in DraftKings, the Boston-based daily fantasy company. The audacity of Jones' request stunned those with knowledge of it, they said, because Adelson is a vocal, aggressive opponent of legalizing daily fantasy sports and online gambling in Nevada and around the country, which he once called "a cancer waiting to happen." Sandoval declined to comment through a spokeswoman for this story, but on Thursday, after it published, Sandoval said Jones never brought up legalizing daily fantasy sports during their conversation.
Everyone stood to profit handsomely -- except Adelson.
While the behind-the-scenes game took shape, something unexpected happened on the football field to further complicate the move: For the first time since 2002, the Raiders became a playoff-bound team. They had a franchise quarterback in Derek Carr and an unblockable edge rusher in Khalil Mack. Crowd noise at the Coliseum helped the Raiders finish 6-2 at home. The optics were horrible: The NFL was considering allowing a now-winning franchise to leave its iconic city, alienating a big TV market when NFL ratings across the board were down. For months, Grubman, a former Goldman Sachs mergers and acquisition specialist, negotiated for a new stadium with the city of Oakland and a group of deep-pocketed investors called Fortress, and another group fronted by Hall of Famer Ronnie Lott -- with only cursory involvement or interest from Davis and Marc Badain. (The Raiders hired Larry MacNeil, the San Francisco 49ers' former executive vice president of development, who had played a major role in the construction of Levi's Stadium and had less baggage with city officials, to attend most of the Oakland meetings.) For the second time in a year, Grubman found himself negotiating for a new stadium with an NFL city -- having done it in St. Louis -- against the wishes of a determined owner who already had one foot out the door.
"You understand I still have to do a deal with Oakland?" Grubman asked Davis one day.
"Yes."
"You have an obligation to listen."
"I'm not playing one market against the other," Davis said. "You work with Oakland, and we'll work with Vegas."
"He is playing this thing perfectly, whether he means to or not."
- NFL owner on Mark Davis
The conflicting agendas came to a head during the league meetings in Houston on Tuesday, Oct. 18. Before anyone from the Raiders spoke, Grubman delivered an Oakland update and cited market research that Raiders executives disagreed with. The nervousness over Adelson and Las Vegas spilled out. Speaking for many legacy owners, Steelers president Art Rooney II argued that Oakland shouldn't need to match the Vegas package of public money to keep the Raiders. Goodell stood up and asked owners to refrain from publicly commenting on the competing stadium deals, but shortly after the meeting adjourned, a few owners discussed the details anyway at a nearby bar. It bothered Davis and Badain that inaccurate information was leaking, boxing them in to Oakland. "I wouldn't have lost two seconds of sleep if we had gotten a deal in Oakland," Grubman says now. "It put some tension between me and the Raiders."
Left unsaid in meetings was what some owners expressed only in private calls with one another: The deal involved Mark Davis and Sheldon Adelson and Las Vegas. A lot could go wrong. Deepening those concerns was the fact that the owners were contending with an odd new reality: They felt powerless to slow Davis' momentum. Some owners wanted to hear scenarios that would allow Davis to move to Vegas without Adelson involved. And a few confided to each other that the only way the Raiders would stay in Oakland was if Davis' 85-year-old mother, Carol, happened to die before the move; the 40 percent federal estate tax might force Davis to sell part of the team. "A horrible scenario," one owner said last fall.
But the fact was, Davis had responded to losing LA not by putting all of his hopes behind a Hail Mary ballot initiative, like the Chargers had done, but by striking a historic deal that seemed impossible to stop. "He knew he was the steward of something that's a lot bigger than all of us," Badain says now. Before that October meeting ended, Davis stood before the room and left no doubt about his intentions: "I made a promise to Gov. Sandoval, and if he comes through with the financing, I'll push through with the relocation."
---
SIX WEEKS LATER, on Friday, Dec. 2, at the league offices in Manhattan, the Raiders presented two proposals to the finance committee, a small group of owners: one with the Adelson-Sands partnership and, in both due diligence and at the behest of some owners, one without. Afterward, Greg Carey of Goldman Sachs added some financial details. A close friend of many owners, Carey serves as Goldman's lead banker for stadium financing and attended the meeting on behalf of the Raiders and Adelson. He was confident of the Adelson proposal, and not just because Goldman has earned hundreds of millions in fees from the Sands Corp. over the past 20 years. At least on paper, it was a clean deal relative to most stadium plans. Carey discussed the benefits of having the well-connected Adelson directly tied to the project rather than having to rely solely on a committee of appointed officials.
Wary of Adelson's role, an owner asked Carey whether the deal could be done without him. "It's better with Sheldon but doable without him," Carey replied. Goldman could loan Davis $650 million, but the bigger issue would be trying to build a stadium in Nevada without Adelson's muscle. The meeting adjourned with some owners still uneasy about the Adelson partnership and still unsold that Las Vegas, the country's 40th-largest media market with a population of 2.2 million, would be better than Oakland, the sixth-largest media market with 4.7 million people. Dolphins owner Stephen Ross, who tried for years to renovate his stadium in South Florida with public funds before finally paying $500 million on his own, argued that if a team downsizes in markets and accepts the league's G4 loan of $200 million to build a new stadium, it should forgo revenue sharing for a decade.
All told, it was a fairly uneventful meeting -- until word of it got back to Adelson. He "went ballistic," according to associates, that Carey had spoken about a Raiders-only option at a meeting that no one had told him about. For the first time, Adelson realized that the notion that the Raiders might somehow move to Vegas without him after he had delivered them $750 million wasn't just a rumor. It might be real.
"How dare they do this to me?" Adelson boomed.
He called Carey and "read him the riot act," sources say. Carey, who declined comment for this story, acknowledged he had told owners that the Raiders could finance the move without Adelson. That sent Adelson "into more of a rage," a source says.
"What part of you tells you that you can still get the $750 million without me?" Adelson said.
Carey replied that he had not argued that the stadium was politically viable without Adelson -- just financially viable.
"It is neither politically nor economically viable," Adelson replied. Before the call ended, he told Carey, "Don't let you be the reason I don't do business with Goldman Sachs ever again."
---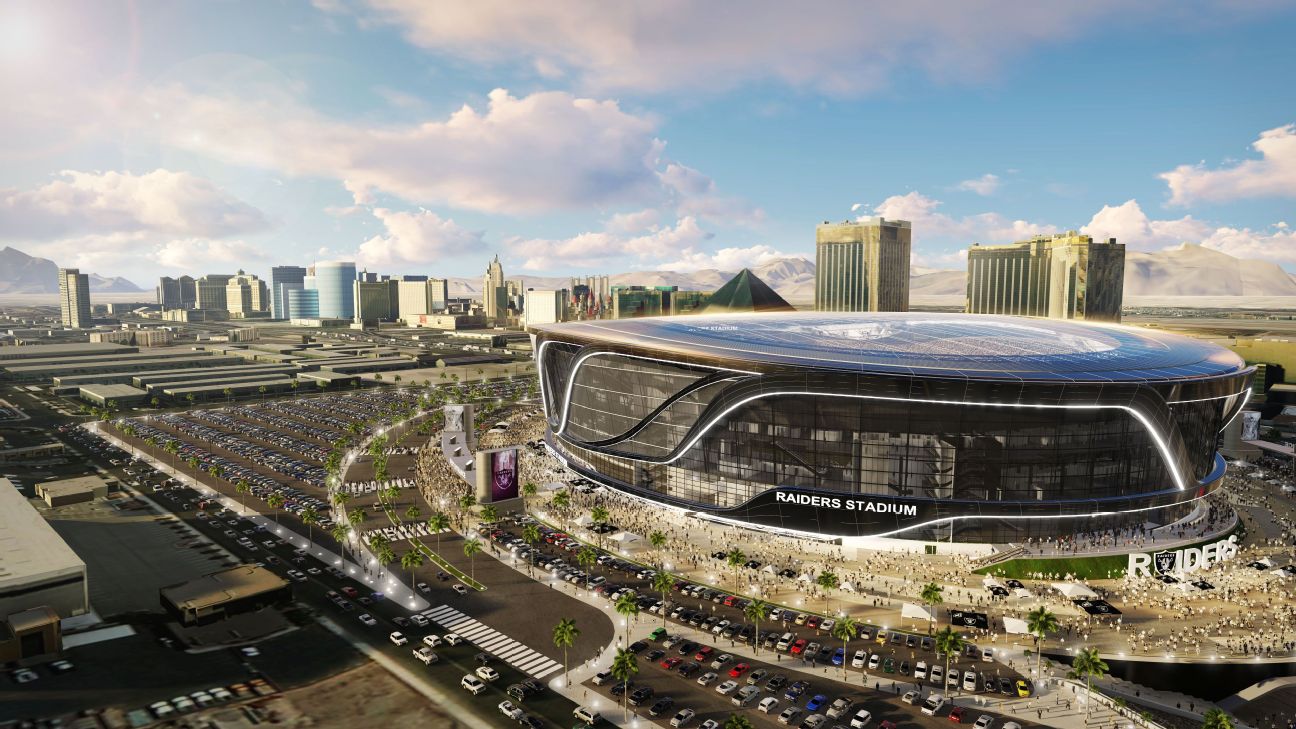 THE GREATEST DEAL in the History of the NFL was suddenly in danger of collapsing. Negotiations between Davis and Adelson continued, marked more than once by raised voices and frazzled nerves. Adelson now insisted on getting most, if not all, of the nonfootball stadium revenue. Davis continued to refuse. League executives saw it as an opening to get Oakland back in the game -- even as Davis was intent on keeping his promise to Sandoval. It was hard to see how the Vegas plan would secure the requisite 24 votes required for a move.
One day, Grubman told Badain that he wouldn't support a strategy by owners whose only goal was to find nine votes to block the Vegas move. "But," Grubman said, "I will support a strategy to get 24 in favor of Oakland."
"What's the difference?" Badain said.
"Nine votes to block you means [the owners] are trying to stalemate you. But 24 for a good deal means we're following what's good for the NFL."
But after many more meetings in Oakland, Grubman concluded what Davis and Badain had years ago: There were too many complicating factors to get a new stadium in the city. Lott's group wanted a piece of the Raiders, a nonstarter with Davis. Nobody knew where the A's would play during the construction of the stadium. And the city had limited its options when it partnered with Fortress and Lott rather than opening itself to pitches from all investment groups. Behind closed doors at the league meeting in Dallas on Wednesday, Dec. 14, Grubman summarized the latest Oakland offer as "not yet a proposal. We have our doubts that it can be turned into one any time soon."
Then Badain, a 46-year-old Raiders lifer with short-cropped white hair, took the floor. Earlier in the meeting, he had once again openly argued with Grubman about market research, but he seemed relieved that the league and the Raiders appeared to be on the same page. He mentioned that a few days earlier he had chatted with Grubman: "I said to Eric, 'At the meeting on Wednesday, am I going to get Diplomatic Eric? Am I going to get Eric the Butcher? Or I am going to get something else?' He said, 'You'll get Factual Eric.' So thank you, Factual Eric."
Half the room nervously laughed.
Turning to the city of Oakland's offer, Badain said, "We would characterize it as a political, cover-your-ass joke of a proposal. It probably would have been better if they'd offered nothing."
Finally, Davis stood before the owners and addressed the elephant in the room: Adelson. "Could we do it without him? Yes. Do we want to do it without him? No."
Many owners had two takeaways: Mark Davis had an impressive plan on paper -- and he was getting a little too cocky. And sure enough, the deal almost blew up.
On Thursday, Jan. 26, Davis, Badain and Robert G. Goldstein, the president of Las Vegas Sands Corp., met for dinner at CUT, the Wolfgang Puck steakhouse at the Palazzo. Davis and Badain seemed distracted, and before the entrées were delivered, Goldstein wondered whether the Raiders were no longer interested in partnering with Adelson. "We're getting played here," Goldstein told Adelson later that night. "I think they've decided to move on."
The following afternoon, the Raiders submitted a 117-page term sheet to the Las Vegas Stadium Authority that included a proposed $1 annual rent for the new stadium. There was no mention of any role Adelson might play. Although the Raiders felt it was a benign proposal that simply followed the language of Senate Bill 1, the Stadium Authority found it so outrageous -- due to the tax status of the bonds that would be issued for the stadium -- that members wondered if the Raiders were intentionally sabotaging a partnership with Adelson. "The Raiders didn't handle this well," Steve Hill, the Stadium Authority chairman, says now. While that Raiders' term sheet was being discussed by members of the Stadium Authority across town, Davis was sitting in Adelson's office at the Venetian. Davis said nothing to Adelson about the term sheet's contents -- or even that something was being filed.
Adelson felt burned, again. "That's it," he told associates. "I'm out."
On Jan. 30, Adelson officially pulled out of the deal. Twenty-four hours later, Goldman Sachs -- Adelson's longtime client -- did too. Now it was getting personal -- and Adelson and his top executives suspected that Davis' betrayal was engineered by a clique of powerful owners, led by Jerry Jones, and blessed by the league office. "What the hell is this?" Goldstein said that week, his voice rising. "The way Sheldon was treated -- the Raiders should be embarrassed. At least give us some kind of notice -- that's the civil thing to do." If the league had informed Adelson and his team that they weren't wanted, "we would have moved on, and we would have left gracefully."
Davis had accomplished the impossible: He had turned one of the most ruthless billionaires in America into a sympathetic figure around Vegas. "How could Mark Davis do this?" Steve Wynn asked an associate.
The Raiders insist they didn't intentionally cross Adelson. They simply couldn't make the numbers work -- and the NFL's nervousness about Adelson having any role made it easier to move on. During his pre-Super Bowl news conference in Houston, Goodell said that Adelson, as a casino owner, could never have shared in the stadium's nonfootball revenue anyway. That was not only news to the Raiders, who had negotiated all fall with Adelson over nonfootball revenue; it was also news to Adelson's executives, who say it would have been up to the Stadium Authority, not the league, to approve any stadium partnership with the Raiders. "I'll say one thing about these NFL guys -- they do like money," a longtime Adelson associate said.
A few owners hoped that Davis would now extend one more chance to Oakland. They discussed forcing Davis to sign an agreement that he would not sue the league and the owners would hold their noses and help pay for a new Oakland stadium, tied to the stipulation that Davis would sell the Raiders in five to seven years. But no. The Raiders had cast their lot with a power broker who now hated them, with politicians who now distrusted them, in a smaller market with a less fervent fan base -- and couldn't turn back. It was a mess.
During Super Bowl week in Houston, an executive for another team put his face in his hands and said, "How did the Raiders f--- this up?"
---
THE SCRAMBLE WAS ON.
When the Chargers announced in mid-January that they would exercise their option to join the Rams in Los Angeles, leaving another football-starved city without a team, the Raiders suddenly had another potential suitor, albeit a long shot. Nobody really wanted the Raiders to move to San Diego, so NFL executives switched from trying to leverage the Vegas proposal into an Oakland deal to trying to salvage the Vegas one. Badain and league executives called Elliott McCabe, who handles stadium financing at Bank of America, and asked if he would replace Adelson by loaning the Raiders $650 million. "We'll do it," McCabe said. Not just that: McCabe agreed to essentially issue an $850 million line of credit to cover the inevitable stadium overruns and a potentially high relocation fee. Bank of America was a natural choice: For decades, it has served as the Raiders' bank, and not incidentally, for nearly a quarter century it has also been Jerry Jones' bank and a Cowboys team sponsor. (Jones carries just one credit card, issued by Bank of America.)
The expediency of it all continued to worry some owners -- and threatened to violate league rules on a team using its own equity as collateral for stadium debt. Owners would need to approve a debt waiver, customary for most stadium deals but disconcerting given that it was Davis and the total debt was in the neighborhood of $1 billion. But Davis had the architect of his loss in Los Angeles now in his corner: Jerry Jones.
One day, Davis said to Jones, "You screwed me on LA."
Jones seemed to concede the point, then replied, "I promised your dad, who was a mentor of mine, that I'd take care of you."
So for the second time in a year, Jones covertly took a relocation bid into his own hands. He asked a small group of wealthy investors, some of whom live in Vegas, to pitch in as much as $10 million each to help finance the stadium project. Nearly everyone balked; nobody knew if it was due to the terms of the investment or out of loyalty to Adelson -- or both. Through an intermediary in the governor's office, Jones even asked if Adelson would put up $100 million as a silent partner. Adelson's aides knew better than to even bring it to him.
A league source observed, with a mix of marvel and resentment, that Jones was essentially wearing five hats: shadow commissioner, deal broker, stadium financier, proponent of legalized daily fantasy wagering in Nevada -- and owner/general manager of the Cowboys, as he was soliciting investors while attending the NFL scouting combine in Indianapolis. Actually, Jones had a sixth stake: He is the part owner, with the New York Yankees' ownership group, of Legends Hospitality, the privately held merchandise and concessions company that would work for Davis in the new stadium, as it does for a handful of teams, earning tens of millions of dollars per club. Both the league and the Raiders appreciated Jones throwing his weight behind the project, adding legitimacy to it, convincing skeptical owners that the city and team would be a perfect marketing and branding match in a beautiful new stadium that could host the combine and even a Super Bowl. "There's going to be investment in the new stadium," Jones told reporters at the combine. "And so to the extent that I've advised or to the extent that I've talked to people as to how ultimately it's financed, I've had conversations."
Still, the fact that Jones appeared to go rogue infuriated some around the league. "It's a major conflict of interest," a longtime aide to an NFL owner says. "Won't Mark Davis always be beholden to Jerry Jones?" Several sources said Jones' Legends Hospitality emerged as one of a handful of suitors attempting to partner with the Raiders for the stadium's nonfootball revenue. No one was angrier than Robert Kraft of the Patriots, a powerful proponent of the move to Vegas. On March 1, Adelson called Kraft -- the native Bostonians have been friends for more than three decades and are members of the same synagogue -- to commiserate over what had happened. "Jerry is running wild," Kraft said. "I can't believe this."
"I'll kill this if you want me to," Adelson replied.
Kraft didn't want him to kill the deal. And Adelson decided against trying to kill it himself, though it was widely believed in Vegas that he could have done so. His executives briefly contemplated suing Davis and the Raiders to recover the $5 million to $10 million that Sands executives estimated they had spent arranging the deal. But at a Sands event attended by 2,000 employees last fall, Adelson was cheered loudly for his support of the Raiders' move and was routinely thanked on the casino floor for his role in nudging the city's NFL dream closer to reality. Adelson had successfully blocked $750 million in bed tax money from going to the state's rival convention center and didn't want to be seen as the one who had blocked the NFL from Vegas. Neither did Sandoval. Neither did the Stadium Authority.
And neither did Davis' fellow team owners. On March 6, owners convened at the Eau Palm Beach Resort & Spa in Manalapan, Florida, for three days of committee meetings, most of them about Vegas. Jones was conspicuously absent, and his role as a stadium fundraiser never came up. After the Raiders presented a plan of how they would probably spend the loan from Bank of America -- first paying the to-be-determined NFL relocation fee -- the actual stadium debt was estimated to be about $475 million after the public funds and personal seat licenses total of about $300 million were tallied. Some owners felt the debt was still too high; others felt it was not horrifically so. Many still worried that another real estate crash could decimate projected revenue streams, not to mention the fact that under the most optimistic scenarios, Vegas would grow into only a second-quartile NFL home. But Las Vegas' eternal promise -- the lure of easy cash -- proved too much to resist. As Jaguars owner Shahid Khan said in the hotel lobby after dinner, "The clubs rarely stand in the way. Mark wants Vegas."
In one meeting, Badain argued that the Raiders' relocation fee should be in the $80 million to $100 million range, using as a template the Oilers' move from Houston to Nashville in 1997, when the team traded a large market for a smaller one. Many owners laughed at a fee so much lower than the $550 million each paid by the Rams and Chargers to move to LA, even if they appreciated Badain's effort. One anti-Vegas owner wouldn't stop talking about how high the fee needed to be, until Goodell cut him off: "So let me make sure I understand: You're opposed to the relocation, but you want to vote on the relocation fee?"
For once, an NFL commissioner backed the Raiders. It was clear: Mark Davis had won.
Before Davis left the conference room, he stopped and turned toward his fellow owners. In his expression there was an earnestness that's scarce at league meetings, where camps are often pitted against each other. "Hey, guys, be good to us on the relo fee," he said, drawing a laugh. "We want to be good partners. I want to do things differently than my father did. I'm a good guy."
---
THE VOTE WAS so anticlimactic as to be an afterthought. On Monday morning, March 27, in the McArthur Ballroom at the posh Arizona Biltmore Hotel in Phoenix, after the Raiders stood and thanked the league -- and Grubman by name -- for its support, owners were asked for a show of hands to determine whether the Raiders' relocation application should be approved. Unlike the three-team LA derby a year earlier, there would not be a secret ballot. Everyone knew the Raiders had it in the bag. Even if some were secretly against it, 31 owners raised their hands in favor of Vegas, a win so decisive that vote counters almost missed that Stephen Ross, who felt that all options had not been exhausted in Oakland, raised his arm as the lone nay. The relo fee ended up at $325 million, a sum that would put about $11 million in each owner's pocket, not subject to revenue sharing with the players. It should have been a celebratory moment, a true power play orchestrated by the unlikeliest owner -- and a relief to the executives and owners who privately worry that the NFL, despite its unparalleled popularity, doesn't matter as much as it once did. But there were no handshakes and hugs. There was no champagne, like there was for the Rams. There wasn't even a round of applause. The league immediately moved on to the next agenda item, as if the owners had just approved a minor rule change.
Goodell, Davis, Rooney and Bob McNair of the Texans skirted out for a quick news conference. Goodell's tone bordered on grim as he tried to explain the third relocation of a team in 15 months, unprecedented in modern NFL history. "We work very hard and never want to see the relocation of a franchise," he said. He used the word "disappointed" three times. He never once mentioned the words "Las Vegas."
Soon, Davis, in a pin-striped black suit with a white shirt and white tie, took the podium. He still had his goofy haircut, but he stood tall and confident. Davis thanked the commissioner and his fellow owners. He thanked Nevada's governor and the state politicians. Fully aware that he needed to repair the relationship with Sheldon Adelson, who was traveling to Asia that day and learned of the vote while watching TV on board his plane, Davis thanked his onetime partner, saying his "vision and leadership" made it possible and the Las Vegas Raiders "never would have become a reality" without him. Later that day, Davis would call Robert Goldstein to thank him personally. "Good luck," Goldstein sincerely replied.
From the podium, Davis then brought up his dad. Maybe it was a bridge to Raiders fans, or maybe it was just that Al was on his mind. Davis knows he's facing a turbulent next few years, likely playing in Oakland with a burned fan base and a city government that has made it clear the Raiders are no longer welcome. Davis had planned to host a rally in Las Vegas a few days after the vote but then thought better of it. He tried to explain the move's rationale to angry fans -- and later, in the hotel lobby, he handed some his phone number. He offered full refunds of season tickets. He even said he'd like nothing more than to bring the Lombardi trophy to the Bay Area before the team leaves for good. Then, as if to remind fans and himself, he spoke about the idea of the Raiders, a team that has always proudly defied authority and the notion of calling one city home. "My father always said, 'The greatness of the Raiders is in its future,'" Davis said.
Someone asked about his father's legacy. Davis' eyes drifted away for a moment. He had pulled off a move to a new stadium by winning the blessing of nearly all of his fellow owners, a feat his father never accomplished. Davis briefly smiled.
"I think he'd be proud."