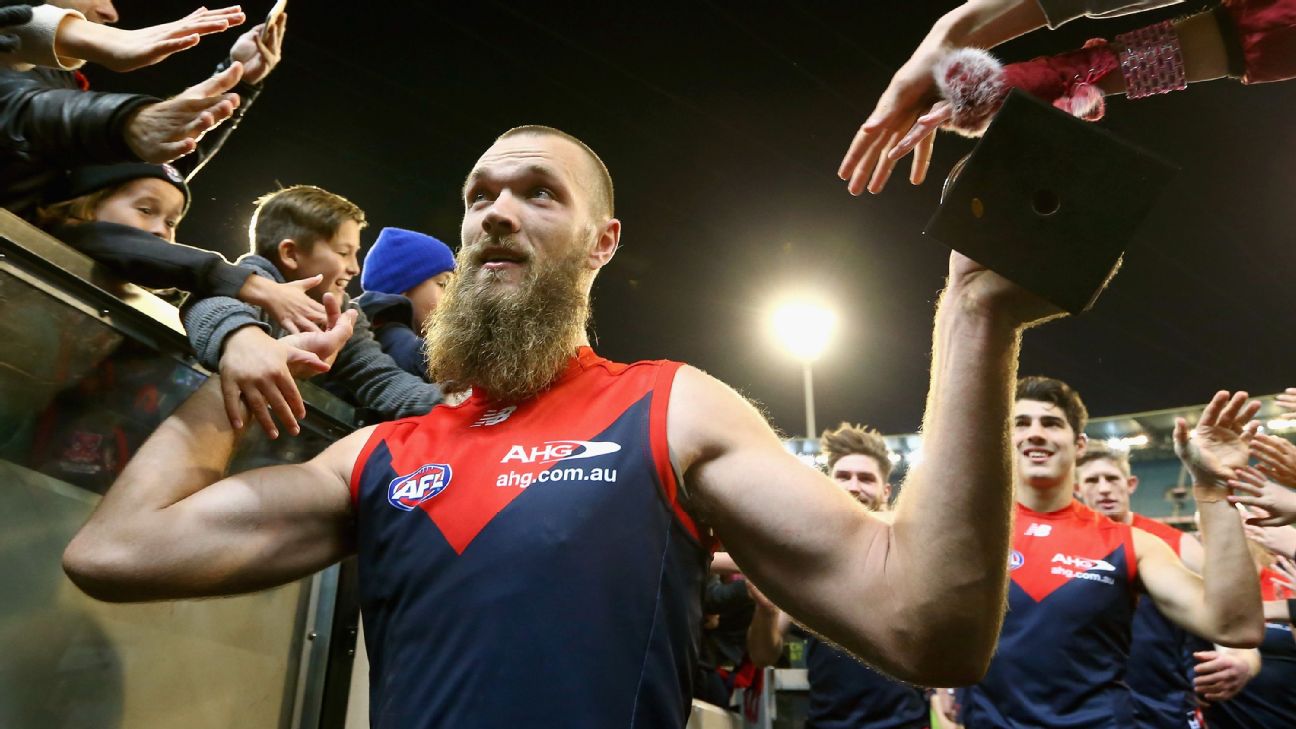 Footy Forensics: Ruck importance
Could ruckmen, the AFL's dinosaurs, one day become extinct? They'll have to at least evolve, because winning hit-outs means less than ever.
The bounce - endangered species though it is - is one of the most distinctive spectacles of our game. But although ruck contests can be a thrill to watch, ruck dominance doesn't seem to translate to dominance on the scoreboard. And statistics suggest the value of ruck taps - and perhaps ruckmen - are decreasing.
Net hit-outs -- the difference between a team's taps and their opponent's -- are not a very useful guide to a result. Last year, there was no relationship between net hit-outs and the margin on the scoreboard. On average, each extra hit-out was associated with a -0.09 smaller margin, and this relationship was indistinguishable from zero. This year, it's a similar story; the relationship between hit-outs and margin is small and noisy.
---
No relationship between hitouts and margin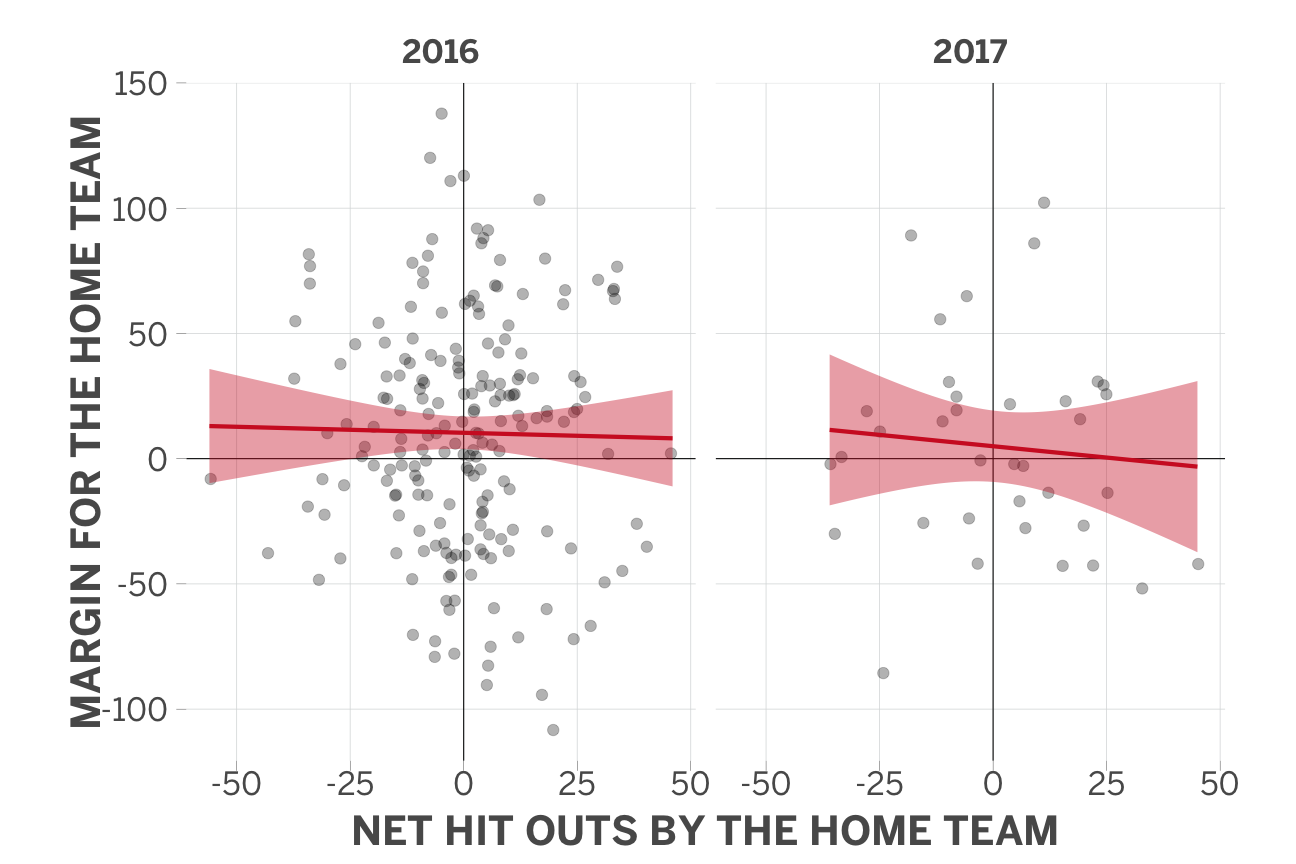 It wasn't always like this. Back in the early 90s, when classic tap ruckmen roamed the fledgling AFL, teams that won the hit-outs tended to win the game. On average, in 1990, one additional net hit-out was associated with an extra 1.6 points on the scoreboard, and the relationship was strong enough that we can be sure it wasn't just statistical noise. The strength of the relationship between net hit-outs and the scoreboard margin fell through the 1990s and has bounced around near zero in recent years. The game has changed, and dominance in the hit-outs no longer seems to matter much at all.
---
There used to be a relationship between hit outs and the game margin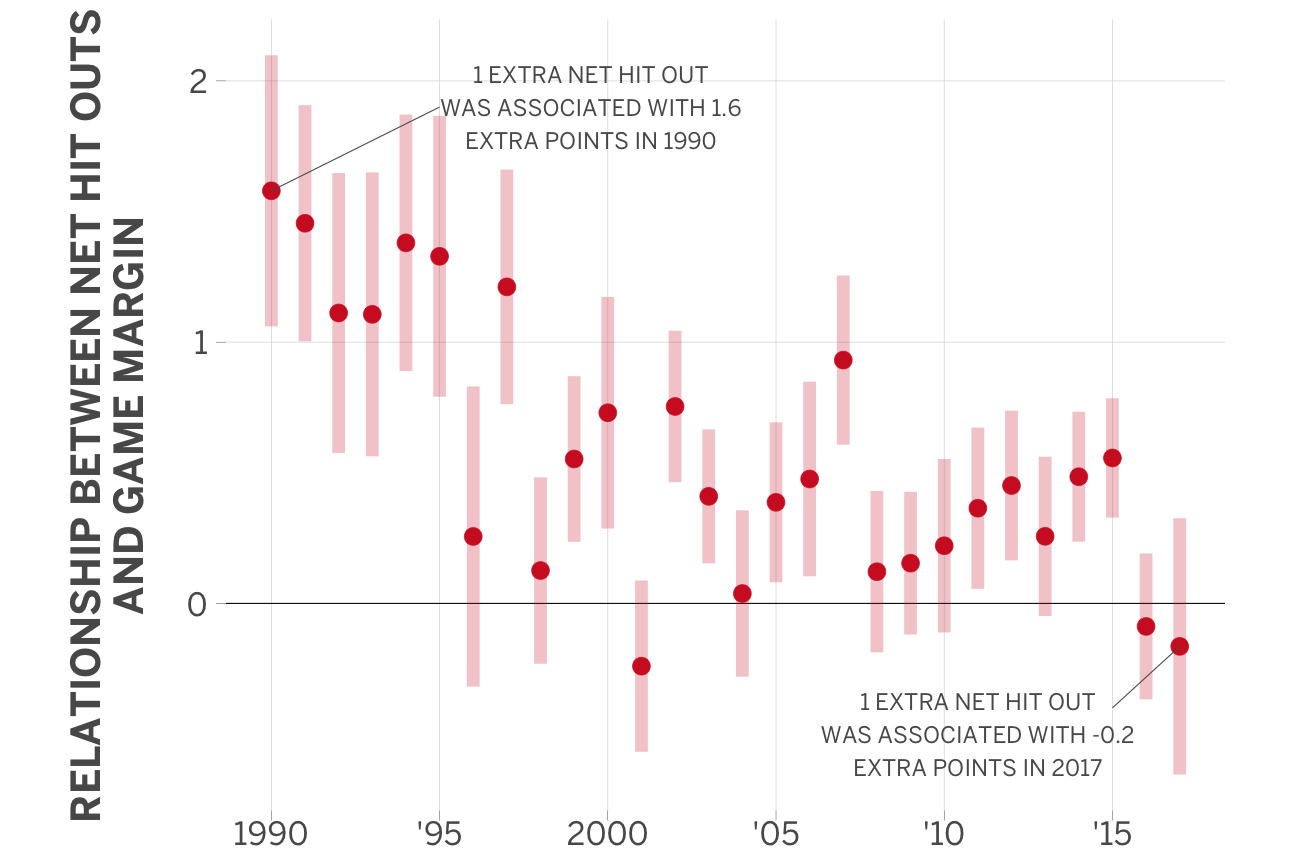 So, are ruckmen important? Ask any Melbourne fan, after the injuries to Max Gawn and Jake Spencer, and the answer would be a resounding yes. But up to Round 4 this year, the team that won the hit-outs only won the match 42 percent of the time. It's early in the season, but that's on pace to be the lowest win rate for the ruck winners ever in the AFL.
---
The percentage of games won by the team that won the hit outs is at a low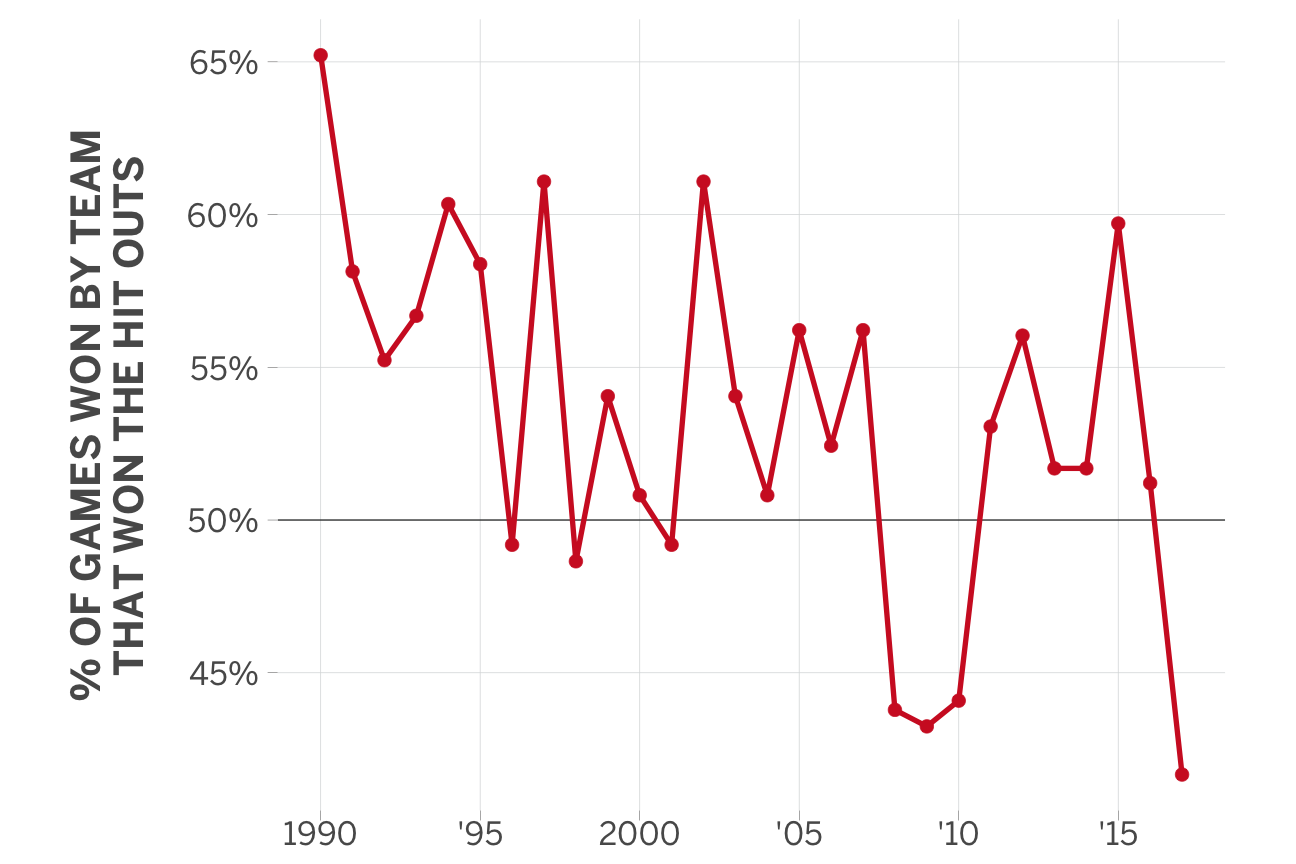 What ultimately matters more than winning the hit-out is getting the ball away from the stoppage - in other words, winning the clearance. Some teams are better than others at nabbing the clearance whether they win the hit-out or not. This year, Richmond is averaging 36 clearances per game, while they're only recording an average of 25.8 hit outs. That difference of 10.2 between their average clearances and hit-outs is the best in the league, and is a dramatic improvement on the Tigers' -8.1 figure recorded in 2015. Melbourne, too, have had a dramatic turnaround in the difference between their average clearances and hit-outs, suggesting they're getting much better at converting their own hit-outs to clearances and they've started sharking more of their opponents' taps, too.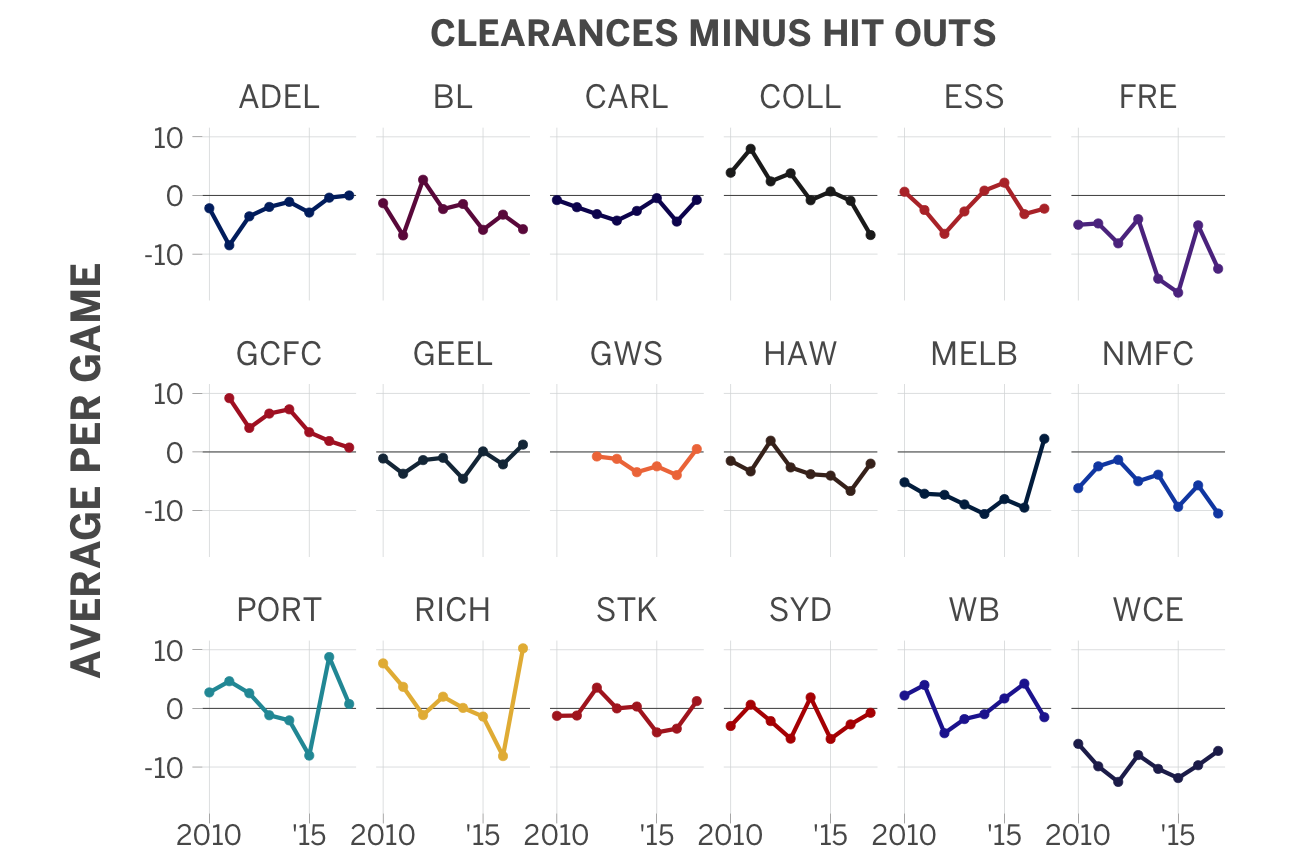 Ruck roles are changing. With hit-outs seeming to matter less than ever, teams want to play ruckmen who can contribute more around the ground. That's exactly what the data shows. Primary ruckmen are racking up contested possessions, tackles, and handballs at higher rate than they did in the past, even as their hit-out counts continue to soar. Secondary ruckmen, who we've defined as players who win their team's second highest hit-out counts in each game, are generating more scoring shots than ever before; this suggest second rucks are forwards who are pinch-hitting in the ruck contest or big men resting forward.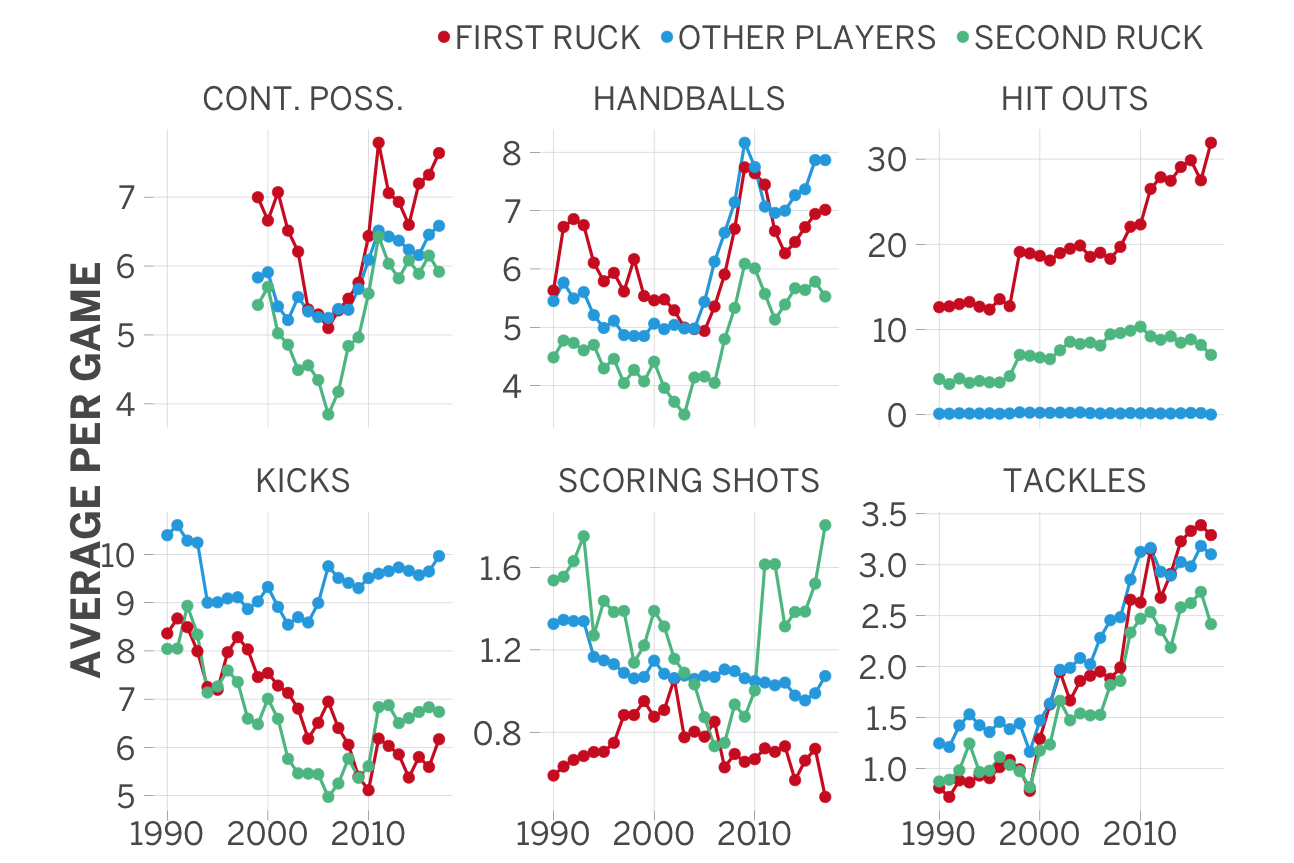 The third man up rule, introduced ahead of the 2017 season, has exacerbated a trend that was already in progress, namely the demise of the second ruck role. On average, secondary ruckmen are responsible for less than 20 percent of their team's hit-outs this season, the lowest AFL average on record. The contribution from other players in the ruck has fallen from small to near-nil, with the end of the third-man option.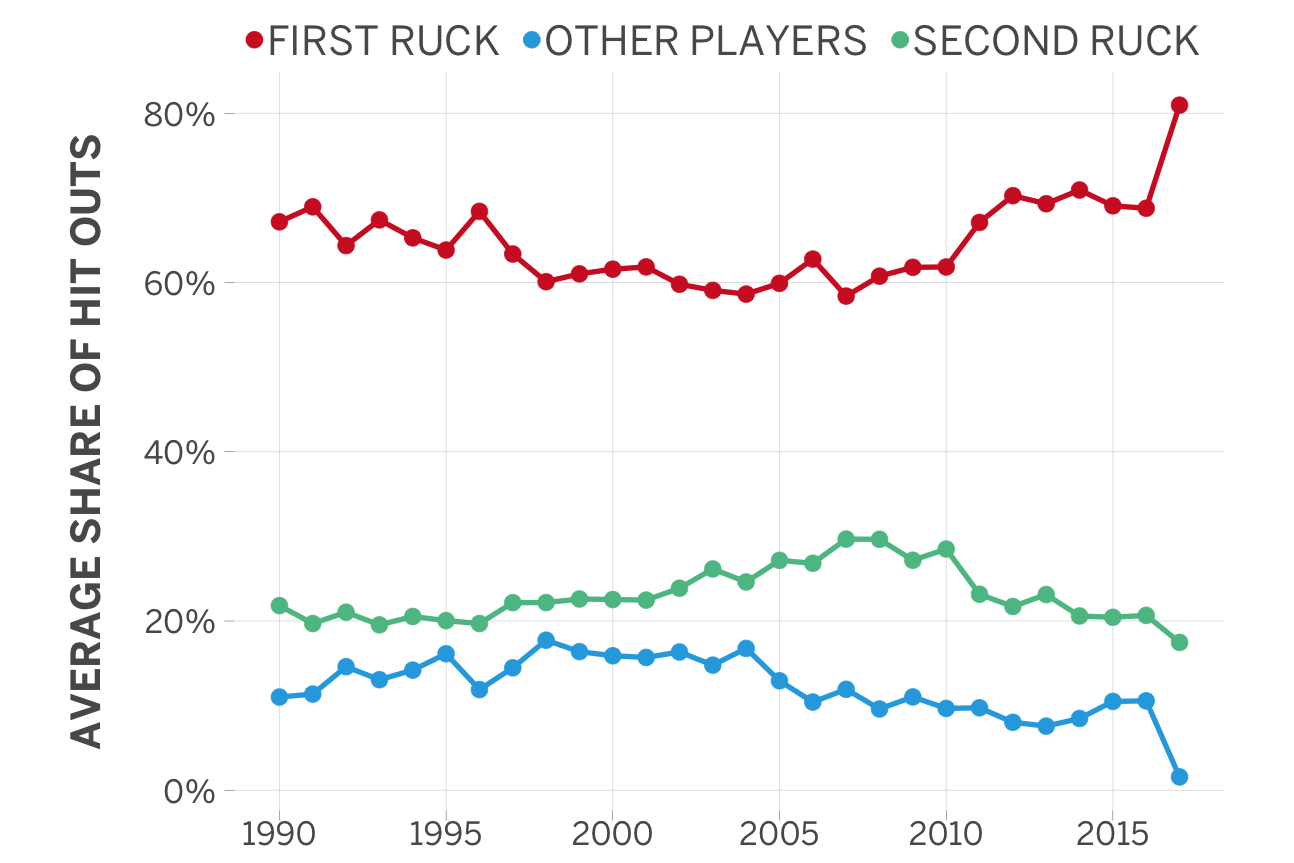 Interestingly, there's huge variation across the league in how reliant each club is on their primary ruckman. Most - though not all - clubs are using their main big man for a bigger share of hit-outs than in the past. Nearly all of Brisbane's hit-outs have been credited to their primary ruckman, while barely half of the Eagles' hit-outs have gone to their main big man in each match so far this year. There's no relationship between teams' reliance on their primary rucks and their winning percentage so far this year, suggesting that a range of approaches to the ruck contest are compatible with winning.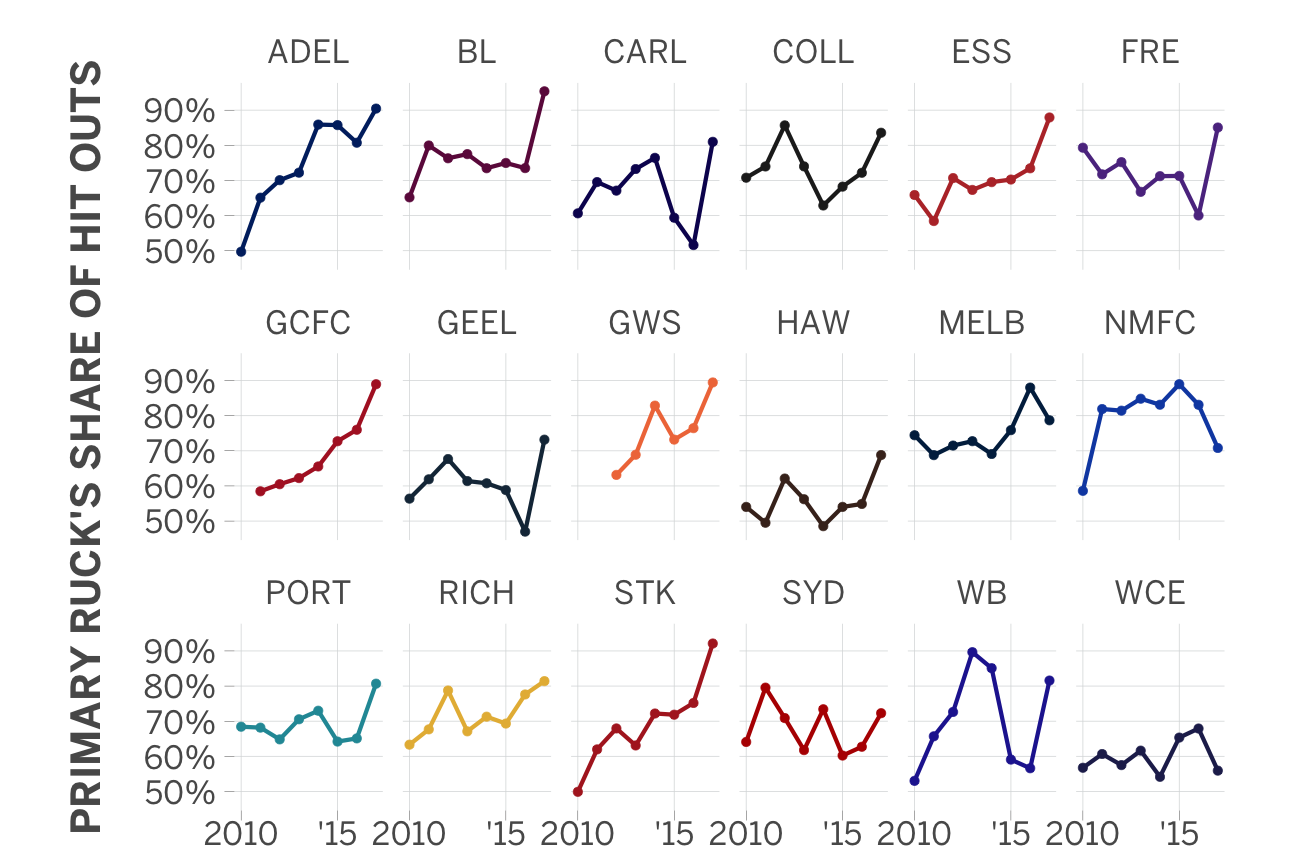 Ruckmen have long been light-heartedly referred to as the AFL's dinosaurs due to their physical stature and lumbering nature but will they one day become extinct? Who can say. But data shows big men have evolved dramatically over time, and no doubt they'll continue to do so in the future.