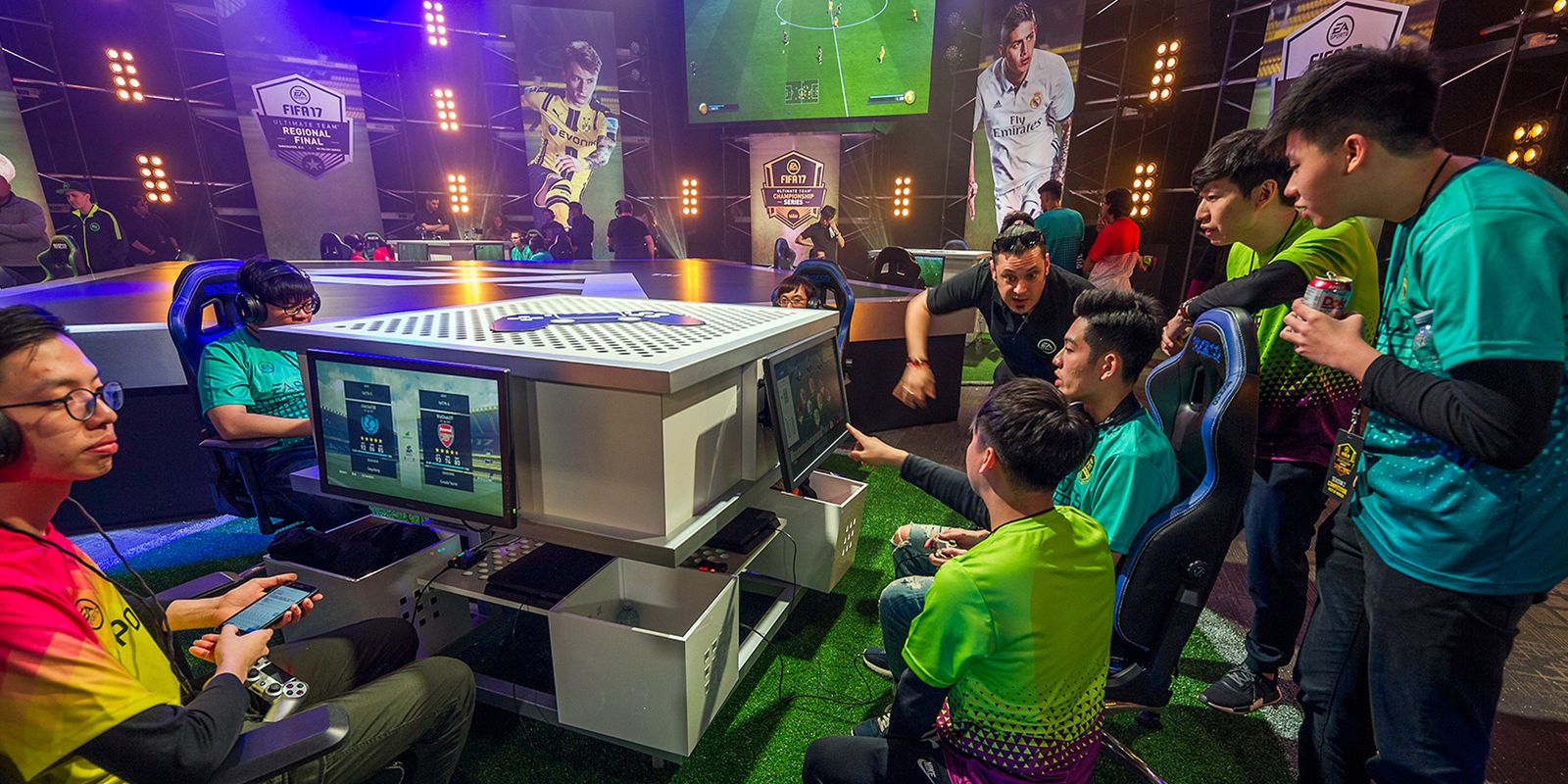 FIFA Ultimate Team tournaments have one goal in mind: to make you believe you can be a video game champion.
FIFA Ultimate Team tournaments have one goal in mind: to make you believe you can be a video game champion.
Giuseppe "xGUASTELLAx" Guastella sits in a plush Sparco gaming chair on a raised square stage, which is 3 feet off the ground. He leans forward intently, his face a foot from a television screen. The 31-year-old -- day job: project manager at a flooring company in Southern California -- is oblivious to his surroundings. He ignores the bright stage lights, the atmospheric smoke, the couple hundred fans screaming with every shot and the announcers commentating on the match he's playing, which is displayed on a giant screen above his head.
All that matters to the self-appointed "Godfather of FIFA" are the 11 digital players he manipulates with an Xbox One controller.
Proudly representing the United States in a red, white and blue shirt adorned with the logo of his sponsor, Epsilon eSports, xGUASTELLAx competes in the grand final of the FIFA Ultimate Team (FUT) Champions Americans Regional Final. His fiancee, Vanessa Romo, a social media professional, watches nervously in the crowd.
xGUASTELLAx had already won $20,000 on the day by prevailing in the Xbox division. He was battling recent NYCFC signing Christopher "NYC_Chris" Holly, champion of the PlayStation division, in a two-match final. The pair would play one game on Xbox and one on PlayStation with the winner by aggregate score earning another $10,000.
The match served as the culmination of two intense days of gaming at the Whistler Conference Centre, a picturesque location situated at the base of the Whistler Blackcomb ski resort 75 miles due north of Vancouver. Sixty-four of the best FUT players in the world matched step-over for step-over, long-distance blast with long-distance blast, Messi with Messi, Ronaldo with Ronaldo. The money, the atmosphere, the skill on display and the seriousness of the surroundings gave the tournament a big-time feel, something akin to a real-life soccer game, only one where a single human competitor controlled 11 digital men on the pitch.
Events like this are very much the future of the rapidly growing esports industry, a goal for the players who have purchased more than 100 million units since the game debuted in 16-bit glory on Genesis in 1993.
A little more than two days earlier, all 63 players gathered in the Rainbow Theater for the draw. (One withdrew late and was not replaced.) FIFA Competitive Gaming commissioner Brent Koning, a man who buzzed with the enthusiasm of someone totally jazzed about his sweet job and who was also never far from a Red Bull, oversaw the proceedings. Before picking the groups, he gave the gamers a pep talk.
"This is television," Koning said. "We are taking what happens in the studio upstairs and we are broadcasting it to the world. Don't be shy. Express personality. It's OK to say, 'Hell yeah, I won.'"
Then, he offered some advice: "I encourage everyone to take two minutes at some point in the weekend and go look around outside."
The irony of earning an all-expenses-paid trip to Whistler, only to spend two days inside a convention center, hung for a second, then dissipated as Koning reached his hand into the ball hopper, took out a ball emblazoned with a FUT logo, announced the competitor's name and threw the ball to him as a keepsake. As the groups took shape, friendly banter ensued. "You have an easy group, man," one player said to his friend. "You have a bye," the friend countered. They both jumped on a third player, sitting next to them: "That first group is stacked. You're so screwed." Once everyone was in a group for the competition, the players dispersed. Some returned to the area with the snacks, inhaling chicken fingers, sliders and spring rolls while sipping Pepsi and water. Most, however, returned to the Players Lounge to play FUT or went back to their hotel rooms for some final preparation on the consoles they brought.
The action kicked off 36 hours earlier on Friday morning with the Rest of the World tournament. Thirty-two players -- 16 in the Xbox division and 16 in the PlayStation division -- competed. Skinny jeans, soccer jerseys, sneakers and nervous body language dominated the room. Some were jet-lagged as well. Mosaad "Msdossary7" Aldossary had spent 26 hours in transit from his home in Saudi Arabia, slept for two hours, then arrived to play.
Players qualified for the Regional Final by posting strong showings in 40-game weekend tournaments. Win enough games over the course of a month and EA would send an email inviting the gamer to the final. (Trent "tcd00" Dreyer nearly missed the event, only noticing the invitation when he checked the spam folder of the old email address he used to sign up for his online PlayStation account. His father relayed this information while watching his son play. A few weeks earlier, tcd00's high school soccer team lost in the playoffs. That was "heartbreaking," his father said. "But this is harder to watch. He's just one person. There's no team.")
The two tournaments in Whistler -- the Rest of the World on Friday and the Americas region on Saturday -- were the fourth and fifth "Majors" of the year, with one more scheduled for Madrid in May. The two winners at the Rest of the World tournament and the top three in the Americas region earned a trip to the FUT Championship Series Live Finals in Berlin on May 19 and 20 where bragging rights -- and $400,000 -- will be up for grabs.
Friday's games began at 7:45 a.m. with Australia's Samer "Samer96_" Elbadar vs. Hong Kong's Sony "S_O_N_Y_528" Chui playing in the featured match on the official livestream. Samer96_ played the previous Major in Sydney and knew about the stress of competition. "I was really nervous. It showed, and I was knocked out in group stage," he said. "This time, I am just trying to have fun. Whatever happens, happens. No pressure."
FUT allows gamers to put any player in their starting lineup, which results in some predictable choices: "There's a little Messi on Messi action," commentator Joe Miller said during the Samer_96 v. S_O_N_Y_528 face-off. "There was only always going to be one winner."
A moment later, Cristiano Ronaldo scored on a long-distance blast, drawing an audible gasp from the dozen parents, friends and translators watching proceedings. "Nice goal from the man who scored so many for Real Madrid during the week," color man Leigh "DeMan" Smith offered, a knowing nod to the Portuguese star's real-life exploits.
As Samer_96 and S_O_N_Y_528 battled in what would end as a 2-2 draw, seven other games went on as well. Players were divided into groups of four and played a round robin, with the top two from each group advancing to a double-elimination knockout stage. They were calm when playing, for the most part, leaning toward the screen in front of them, headphones on to block out the surrounding noise. A few took off their shoes, socks glued to the green AstroTurf.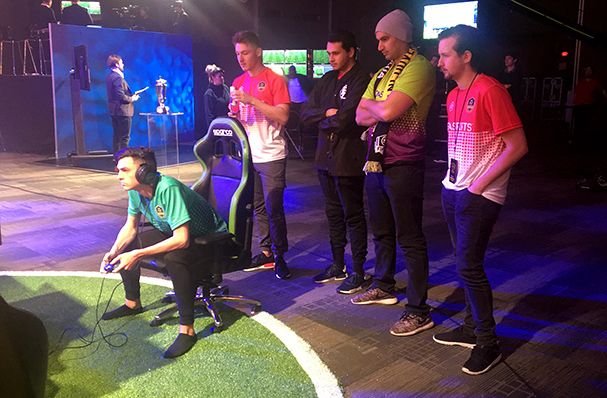 The frenetic on-screen action contrasted with the serenity of the players. Passes were quick and efficient, completion percentages hovering around 90 percent. Paul Pogba, Luis Suarez, David de Gea, N'Golo Kante and Kyle Walker featured in many lineups. (Xbox has a Legends feature, with Patrick Vieira and Ruud Gullit popular picks for their stout defensive ability and pass-disrupting length. Some lineups had Pele, but he was usually marginalized on the wing. The best player ever, ineffective. Only in FUT.)
Special moves like step-overs and drawbacks occurred with greater frequency than in real games. Back-heels, too. Aerial crosses, offside calls and fouls were rare.
The finishing was sublime.
Overall, play was intense and fast-paced, but cautious. To win against the world's best, the key is to avoid mistakes. In that way, it's not dissimilar to the actual World Cup, where teams play conservatively because of the stakes.
"People would hate this type of game play online, but in a tournament it's accepted because I'm playing for money," said competitor Mike "Hashtag Mike" LaBelle, who wore a purple jersey and sported an angled, sweeping haircut.
"It's not attractive. When you look at the beautiful game and you're replicating what you watch, it's not a bunch of wing play and passes across. In FIFA, people want to see long shots, quick volleys, skill moves. When you're playing for money or against the best players in the world, a lot of times you tighten up and you get a lot more simple. If you keep it simple, people will be like, 'OK, at least he gave himself a chance to win the game.' And then hopefully you do something magical in your moments.
"Real football and FIFA is all about those moments. You're trying to get something special then. But other than that, good defense and being able to get out of the back will always give you a chance."
It's vital to appeal to fans because ultimately, the goal of these extravagant FUT Majors is to encourage more people to play the game. The FUT Champions series is an outgrowth of EA Sport's Competitive Gaming Division, which launched in late 2015 to capitalize on the growing popularity of esports. EA recognized the potential and formally created the CGD as the umbrella organization that oversees tournaments for FIFA, Madden NFL, Battlefield and more.
Six million people play FUT on a regular basis, and these major tournaments create an aspirational goal: the perception that you, dear gamer on the couch, could become good enough to qualify and then be flown halfway around the world to play at events like the two in Whistler. Building out the top of the pyramid with a snazzy set, high production value and $100,000 in prize money helps grow and solidify the base.
"Competitive gaming is me and you playing and having a beer," commissioner Koning said. "Esports is what we are doing here: that competition, that drive. That really evolved from the legacy of FIFA. This inherently is a competitive game. To take this step forward is exciting."
Sponsors want in on the action. In May 2015, Wolfsburg signed Benedikt "BenediktSaltzer" Saltzer, making him the first player to sign with a professional soccer club. Since then, teams including Manchester City, West Ham United, Valencia, Schalke, Ajax, Paris Saint-Germain and others have recruited players to wear their kits. In Whistler, players represented clubs as varied as NYCFC, the Portland Timbers and Tokyo Verdy. Another player wore a Coke jersey.
It's early days in the sponsorship world -- Christopher "Thee Bullock" Bullock could always fall back on his bricklayer apprenticeship that he completed before getting into pro gaming, and players understand that a victory in a major tournament could mean a team comes calling for their signatures. While the contracts won't make the players millionaires -- the money ranges from the opportunity to represent a club to livable wages, with incomes also available in some cases via YouTube or Twitch channels -- it isn't a bad incentive to play a video game they'd be playing anyway.
As Friday morning rolled into afternoon, eliminated players stayed to support their friends. The in-person tournaments allow the gamers to put online handles with faces. Half a dozen of them met in February in Sydney, Australia, during the Season 1 Rest of the World tournament and stayed in contact through a group chat.
"We've gone out to dinner in Whistler and had a good time together," Samer_96 said of the reunion in Canada. "To think that by playing FIFA I'd be able to fly across the world and experience things I'd never thought I would, and also hang out with a lot of other boys who have a similar interest as me and are just as good."
Some competitors worried their efforts to make friends might be taken in the wrong way. "I don't want to put people off their game," one player said to another while snacking during a break. "It's difficult to know where the balance is. If I'm going around saying 'hey' to people midtournament, it's like, 'Am I trying to put them off?'"
Joseph "OhNoAGoat" Nassar was another Aussie who competed in the Sydney Major. His two sisters and brother-in-law got stuck in traffic and didn't make it in time to watch him play, so they paid for their own flights to Vancouver to support him. "I'm happy that I had someone behind me," he said. "It's happened so fast. Last year, I was at home playing FIFA. Now I'm playing for money."
The Whistler tournament was the first time OhNoAGoaT had been on a plane. "I flew over together with a PS4 player, Marco. We chatted about FIFA. He told me how the PS4 players play. We were talking about the game. I loved that." The 20-year-old studies real estate in Sydney. He'll finish up in June and hopes to get straight into selling houses and duplexes, but he'll continue to play FIFA as well.
Of the Aussie gang, Samer_96 lasted the longest in the tournament; friends crowded behind his chair. In the first round of the knockout stage, he went up 2-0 and was dominating the match. He had control of the ball, showing off with a series of step-backs in midfield. His friends laughed. He looked back at them and smiled. Then, he turned toward the screen and focused on finishing off his opponent.
Samer_96 continued on his run, playing Subaru "chelchel100" Sagano for a place in the PlayStation final. He wore tight athletic pants and an EA-supplied jersey. His friends in Australia were texting him supportive messages, watching his progress in the middle of their night. Samer_96 studies building and construction at TAFE in Sydney and plays FIFA for 15-20 hours a week.
"I used to play a lot more," he said, but now mostly just competes in the 40-game weekend leagues to qualify for the Regional Championships and other tournaments. Samer_96 wore AirPods under his tournament-supplied headphones to block out the commentary. At the Sydney Major, he'd gotten distracted when the announcers were talking about his game. He hoped to avoid that fate in Whistler, music serving as white noise. "I lost my playlist, so I just put it on random," he said. "I was listening to whatever came on."
Samer_96 had a dozen supporters in his corner, outnumbering a now-barefooted chelchel100, backed only by his translator and Shun "fifantomCR" Okabe, another Japanese player who was through to the PlayStation final and held his personal controller in a soft protective case. Samer_96 and chelchel100 played with a tightness befitting the high stakes. At the final whistle, the Aussie eked out a 1-0 win. He exhaled and sat back in his chair, arms raised behind his head, exposing his huge biceps. His friends patted him on the back. His phone blew up with messages.
Yet his run would end in the next match as fifantomCR won the PlayStation division with an understated but dominant 1-0 victory, setting up a grand final against Msdossary7. The two had been the best players all day, going 6-0-1 and 7-0 respectively on their preferred consoles. Msdossary7 won the coin toss and controversially chose to play the opening game on his home console, Xbox. If the match was tied at the end of two games, extra time and penalty kicks would be played on PlayStation, which in theory favored fifantomCR. Theory, however, would not become practice as Msdossary7 posted a dominating 3-1 win on his home Xbox console, then a 1-1 draw on the away console. fifantomCR accepted his poor showing. "With the audience, I got a little bit distracted and I couldn't play the way I usually do," he said. "I was a little bit not quite myself when I was playing. I was getting used to the big event like this one. In Berlin, I think I can play calmer and more relaxed."
After Koning handed him the championship plate and Jimmy Conrad, a former United States national team defender turned Ryan Seacrest of FUT, conducted an interview streamed to thousands of fans watching at home, Msdossary7 explained his strategy to me. "I want to win on my home console and keep the ball in my away console," he said, simply, which is exactly what he did, having more than 70 percent possession in the second match.
I asked why he used right-back Seamus Coleman, a player no one else chose. Again, he answered simply: "I liked him. He's good with the ball. That's what I love -- lots of passing, lots of control." Msdossary7 had the dazed look of someone who had slept for two of the last 36 hours and spent 10 of them playing video games. The event in Canada was his first-ever tournament, and he came out on top. After the interview, he walked off with his interpreter and a friend.
Later that evening, Msdossary7 signed in and started playing online.
Romo, xGUASTELLAx's fiance, was nervous. Her back hurt from the stress of watching him compete. He proposed the previous year after winning $10,000 at a FIFA event in San Jose and he was set to take home another $10,000. All he needed to do was beat NYC_Chris in the grand final of the Americas Regional Final.
While Saturday had been a great day already for xGUASTELLAx, it was tough for many of the pretournament favorites. Aman "Roma Aman" Seddiqi didn't make it out of the group stage. He wore Nike shorts, Nike shoes, a backward hat and the maroon-and-orange jersey of his sponsor, Roma. He looked cool and confident, but lost his first game after Vieira saw red early, and he threw away a 3-1 halftime lead in the second, tying 3-3. "I f---ing choked, bro," he later said to his handler.
Following a 4-0 thrashing in the final group stage, Roma Aman was eliminated. During the match, the side of his headphones fell off, a fitting visual metaphor for his day. He stormed out, understandably frustrated by his performance, and disappeared for the remainder of the event.
Hashtag Mike fared slightly better, playing some admittedly ugly soccer but emerging from the Group of Death. It was a relief.
"You put in 50 to 60 hours for a month to qualify [for the regional] and it could be over for you in 30 to 45 minutes," he said between the group stage and the knockout round. But he also came up short, falling to Jose Carbajal Garcia in the quarterfinals and Niall "JoGa Cesc" Archbold in the consolation bracket.
The Xbox tournament belonged to xGUASTELLAx. He got better throughout, using a 4-1-2-1-2 narrow keyed by the popular attacking trio of Messi, Suarez and Ronaldo. In the final, he easily dispatched JoGa Cesc's tuxedo-shirt-wearing team 5-0. I asked the project manager about the key to his success.
"It's just keeping with the same tactics," he said, reminiscent of the cliched lingo used by Mauricio Pochettino or Harry Redknapp. "If you get scored on, just focus on the next goal."
On the PlayStation side, Daniel "Altair_CFI" Rodriguez Moyano had a solid showing. He was an under-the-radar contestant entering the tournament, saying his goal was merely to reach the knockout round. He thought he could do so because some of the top talents weren't able to secure visas to participate in the tournament. A Colombian, Altair_CFI lives in Bogota and was in his third year of law school. He wasn't sure whether he's going to pursue law or FIFA after graduation. For now, he does both.
Altair didn't play that much anymore. "Once you get to a really high level, you don't need to practice anymore," he said, playing for a mere five hours Friday, five Saturday and another five Sunday. (This was a standard answer among the contestants. It also made me wonder what they'd consider a lot of playing.) In Whistler, Altair finished fourth in the Xbox division, a strong result for him, but the work was never done.
"I'll be playing at the hotel in a couple hours to try to qualify for the FIFA Interactive World Cup," he said after his elimination. He shook my hand. He had the softest hands. The majority of the gamers did. One, who had never seen snow, said he was afraid to ski because "I need my hands."
NYC_Chris, however, was the class of the PlayStation side. Like xGUASTELLAx, the MLS team signing rebounded from an early loss to make the final. Coming from the loser bracket meant that he needed to defeat Reinhard "rein10" Krause, the player who sent NYC_Chris into the consolation bracket, twice. In four previous Majors, no player had successfully accomplished this feat.
NYC_Chris, whose Twitter profile reads, "A Big Boy With A Passion For Video Games," became the first.
He won the opening match 3-2 in a fast-paced affair. In the second, rein10 had more possession and better chances but couldn't score. In the 86th minute, NYC_Chris found a way past enemy lines with a perfect through-ball to a streaking Suarez. He killed the remaining four minutes and stoppage time, with a saving toe poke from Sergio Ramos on Ronaldo to stop rein10's best opportunity, and saw out the win. NYC_Chris screamed quickly, then stood up, calmly took off his headphones and slapped his opponent's hand. Reps from NYCFC wouldn't make their player available for an interview -- this being the big time -- but he told Conrad he was "over the moon" after the win.
That set up the grand final with xGUASTELLAx. The Xbox winner had the advantage, as his opponent admitted that he had never played on the console. xGUASTELLAx started on his home platform and pressed the advantage, winning 3-1. In the second match, NYC_Chris would get one back through Messi in the 88th minute, but it wasn't enough. xGUASTELLAx took the two-game affair 3-2 on aggregate and walked away with $30,000 on the afternoon. He still had his red, white and blue shirt on, and he planned to bring similar thematic attire to the championship in Berlin.
"I'm going to rock it, unless my sponsor tells me [I can't]," he said, then reaffirmed his commitment to his colors: "Yeah, I'm going to rock it. I'm going to talk them into something else. Just representing America. I want to have America be well known in the FIFA gaming community. Everyone thinks Europe is the best, but I'm going to show everyone."
xGUASTELLAx's time to fight for the validation of American players on the international stage would come the following month in Berlin. He was due a few moments to celebrate. As Romo, fans and competitors looked on and cheered, with thousands more watching online, he took the championship plate and hoisted it theatrically into the air. Cristiano Ronaldo himself would have approved of xGUASTELLAx's form.
He celebrated his victory with Romo and a Stella Artois or two, posting a photo on Twitter. The next day, xGUASTELLAx returned home and fired up his console. After all, there was a weekend league to play. "I had to qualify for the [FIFA Interactive World Cup]," he said.
xGUASTELLAx played 40 games that Sunday. He won 39 and lost one.