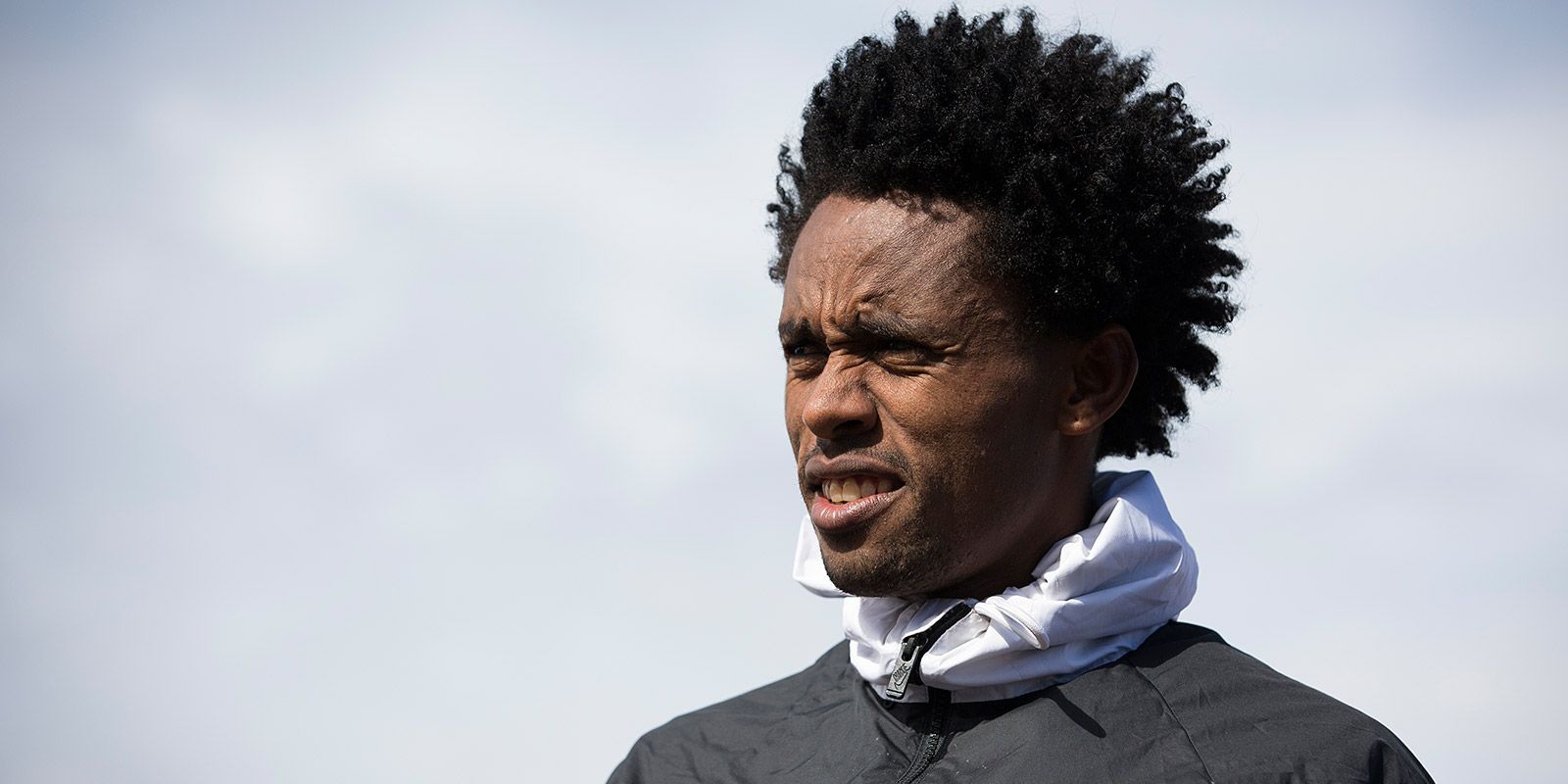 A Runner In Exile
After his dramatic protest at the Rio Olympics, Ethiopian marathoner Feyisa Lilesa didn't feel safe returning home. But even in his new life in America, he can't be sure what waits for him around the corner.
He runs on a slender dirt road the color of rust. His legs churn with an easy rhythm as he passes clumps of snow, then thorn trees and sage swaying in the winter wind. Out here on the Arizona desert, he is easy prey.
It's January, and there's a stillness about Feyisa Lilesa, even in the 12th mile of a workout. He is with another runner because it's riskier to train alone. With every compact stride, Lilesa lands on the balls of his feet and then flicks his size 9 Nikes, creating a soft shushing sound. The stillness surrounding him belies the feelings in his heart.
Until late last summer, the 27-year-old called Ethiopia, not Arizona, home. But since the Rio Olympics, when he won a silver medal in the marathon and engaged in a dramatic finish-line protest against the Ethiopian government, Lilesa has been in exile and does not dare go home again.
His Olympic protest was a plea for the Oromo, his ethnic nation, which despite being the largest such group in Ethiopia's population of roughly 100 million, has for decades been denied power and dealt with harshly by a succession of rulers. According to a report by Human Rights Watch, since November of 2015, Ethiopian troops have used "excessive and lethal force" against mostly peaceful opponents angered by being marginalized and a government plan to annex traditional Oromo land. Hundreds have been killed, many of them children, and thousands have been injured, arrested or gone missing. "Ethiopia is a country where there is no space for speech against the government," says the author of the report, Felix Horne. "Anyone who speaks out against what is going on is threatened with arrest -- or worse."
As Lilesa runs, he pictures Oromia, the green, sweeping region populated by his forebears, where he grew up in a dirt-floored hut. He thinks of his wife, Iftu; their daughter, Soko, 5; and their son, Sora, 3. They remain in Addis Ababa. He has not seen them in months. He worries about them and about his own safety. After Lilesa's protest at the Olympics, a spokesman for the Ethiopian government said he had nothing to fear, that he could return home and be a hero. Lilesa doesn't believe it. He fears the government might track him down and injure him to keep him from running or even kill him.
When he trains on the lonely roads outside of Flagstaff, he will hear a pickup truck rumble around a bend -- probably a rancher, or maybe a hunter heading for practice at one of the nearby shooting ranges. But Lilesa says he can never be sure. He keeps running, he says, cycling his feet against the dirt -- but he watches the truck.
"There is nothing I could do to stop it if someone wanted to do something to me out there," he says through an interpreter. "I am alone, just like I am alone in this country. All I can do is stay strong and keep going."
---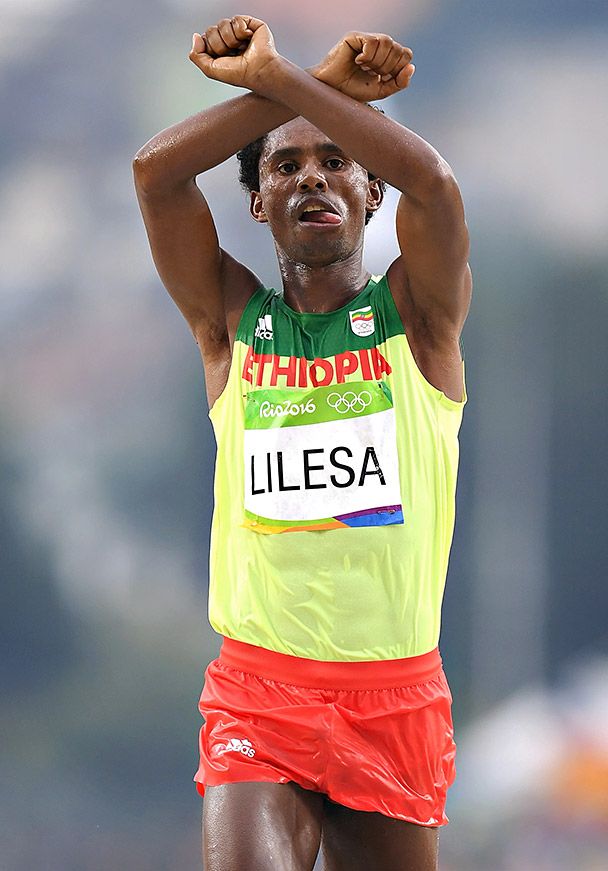 The next afternoon, Lilesa sits in a sparse apartment near Northern Arizona University in Flagstaff, holding a black cellphone. He checks Facebook, always alert for news from Ethiopia. He cringes, reading an update on a tragedy: Dozens were killed weeks before in a stampede after government police fired tear gas and rubber bullets to disperse anti-government demonstrations at a religious festival southeast of Addis Ababa.
Sometimes he escapes into replays of his Olympic race. "Come watch," he says. The marathon begins in the Sambadrome on a rainy day in Rio de Janeiro, and as the camera zooms closer, Lilesa toes the starting line. He uses his left hand to brush a 2-inch tattoo on his right shoulder. It depicts an Odaa tree, an Ethiopian sycamore, in red, black and green ink. A symbol of Oromo pride. In halting English, he explains from the couch that he had been planning his Olympic protest for three months, from the moment he made the Ethiopian team. "The time to stand up had come," he says.
Lilesa is the firstborn son of a family that farmed vegetables and herded cattle in a rural region about 70 miles west of the nation's capital. In keeping with Oromo culture, he was raised to think of sacrificing for a larger cause, even if it meant putting himself in danger. He also was raised to be politically aware, part of an idealistic and vocal generation of Oromo that came of age after the collapse of Ethiopia's communist regime in the early 1990s. He'd pictured himself speaking out about injustice since he was a teenager. Not long after a 2015 election in which the ruling government, dominated by a minority ethnic group called the Tigray and its allies, won 100 percent of the nation's parliamentary seats, the Oromo faced increased crackdowns. Protesters were beaten and fired upon.
Preparing for Rio, Lilesa felt desperate to call attention to a crisis largely ignored by the international community. He needed a medal. Only gold, silver and bronze finishers would get significant media coverage. He had won big races in Europe, the United States and Asia, including the Tokyo Marathon at the start of 2016. But he wasn't a heavy favorite in Rio. His time in Tokyo had been 2:06:56, only the 31st-fastest marathon of the year. Rio would be the race of his life -- a race for his people. He kept his plan a secret, even from his wife and children. If he'd told them, he would have been swallowed by emotion. If he had felt Iftu's sorrow, he might have lost his nerve.
Clutching his cellphone, Feyisa leans forward and watches the tape of his stride toward the finish line at Rio. He remembers the hair on his neck standing straight those last 100 yards, as if he had touched a live wire before winning the silver medal. "It was like I got everything off my chest. Like when you feel something so powerful, and then you just let it out, and here you go -- I did the unthinkable." On screen, as the final seconds of the race unspool, he raises his arms and crosses them, curling his hands into fists. It's an Oromo gesture of defiance. He looks like a rebel resisting his shackles. He repeats the move four times. He can't know what will come next, but he knows nothing will be the same. Someone in the stands offers him an Ethiopian flag to hold high or to drape around his shoulders. Lilesa refuses it. "I could not do it for a country where I have no rights," he says, "where my people have no rights."
As Iftu and others in Feyisa's family watched the race on television at their two-story home in Addis Ababa, they were on their feet cheering until they saw him lift his arms above his head. "It went completely quiet," Iftu says. "It was like a dream. There was shock and sadness. Nobody made a sound. Suddenly, the question we had was this: How the hell is he going to come home after doing this?"
---
After the protest, Lilesa walked to the media tent unsure about how he would communicate his message to a world that pays little attention to his homeland. The Ethiopian interpreter assigned to help him with reporters refused to translate for him. Left to speak in his uncertain English, Lilesa turned to the TV cameras and said: "Ethiopian government killing Oromo people. I support Oromo protest. At this time, many people in prison. If you talk your rights ... they kill you. If I go to Ethiopia, maybe they kill me. If not kill me, maybe they will charge me. If not charge me, they will send [me] to another country."
He had no plan, but a network of Oromo expatriates moved quickly. Offers of help came on Facebook and by text message. An Oromo just outside San Jose, California, started an online campaign that would end up raising over $100,000 to help Lilesa begin a new life. An Oromo in Minneapolis booked a Rio hotel for him and urged him to get away from the Olympic Village as fast as he could. Bayissa Gemechu, a sports agent in Washington, D.C., and an Oromo, flew to Brazil to stay with Lilesa and help him obtain the immigration papers he would need to resettle in a new country.
The Ethiopian government says publicly that Lilesa is in no danger. "He is always welcome," Getachew Reda, the Ethiopian communications minister, has told the Thomson Reuters Foundation, calling Lilesa an "Ethiopian hero." Lilesa distrusts what he hears from the government. He says four of his friends have been killed after standing against the government since 2005. His brother-in-law, he says, has been jailed -- and beaten -- for participating in a college demonstration.
Lilesa had never been to Brazil before the Olympics. He spoke no Portuguese. He holed up in a cramped hotel room with Gemechu, wondering where to go, where to make a new life. When Brazilian police showed up at the hotel lobby, asking for him, he thought, "I won't go back. I will fight to the end." Bonnie Holcomb, an American anthropologist and advocate for Oromo issues who had seen the protest, had reached out to friends in Rio, and they had arranged a police escort to the airport so he could get the immigration forms he needed to stay in Brazil until he decided what to do.
Nearly two years before, Lilesa had begun an application process for a visa allowing him to train occasionally in the United States. Now he discovered that he was on file in the U.S. immigration system, and this gave him a foothold. At the same time, a Denver educator named Mary Gershwin, who runs a nonprofit exchange program for students in the United States and Brazil, found out about Lilesa's plight and sent advice on whom to see and what to say at the U.S. Embassy as he completed his application. He stayed at the La Costa Hotel in Rio for 17 days. During that time, he learned through Facebook that a close friend in Ethiopia had been arrested for protesting the government and had died with 22 others when the Addis Ababa prison burned to the ground. He felt sick. He fell to the hotel room floor, his chest heaving.
"He is our Steve Biko, our Nelson Mandela."
- A fellow expatriate
When Iftu called, he could not pick up the phone. He didn't know what to say. It took him two days to call her back. There was fear and anger in her voice. "Why didn't you tell us what you were doing?" she demanded. "You gave us this good life, and now our lives aren't as good. What plan did you have? You've risked everything. Why did you make this decision?" She knew her husband had been pained for years. She knew that he felt stifled, that he'd kept quiet for fear of reprisal. She knew he had visited imprisoned protesters and had given clothing and training shoes to needy Oromo. Deep inside, she knew the answers to her questions.
"Don't worry," Lilesa said. "The family will be together in a few weeks."
In truth, he had no idea whether that was possible.
His daughter, Soko, got on the telephone: "Baba, baba, when are you coming home?"
Tears ran down his face.
---
Within weeks after the 2016 Olympics, thanks to luck and the generosity of strangers, Lilesa has made his way to America. Through a connection with an Ethiopian friend, he meets Yonas Mebrahtu, an Eritrean, one of half a dozen or so East African runners who live and train in the thin air of Flagstaff, nearly 7,000 feet above sea level.
He shares a tiny apartment with Mebrahtu and another African expatriate on a pine-covered hill near the NAU campus. It has two bedrooms, a pair of fraying gray couches, a worn beige carpet and walls bare but for the national flag of Eritrea, which fought bitterly for its independence from Ethiopia for 30 years before winning it in 1991. In one of the rooms, Lilesa reaches beneath a pile of sweaty clothes on the floor and fishes out his silver medal. It's heavy and wide. His eyes are full of pride as he holds it. "Part of the struggle," he says.
He tells the Oromo story to anyone who will listen. He focuses always on his people but also takes pains to speak for the rights of other Ethiopian ethnic groups. He realizes he isn't just an athlete anymore but a symbol and a voice. Ethiopian music videos pay homage to his protest. His name is scrawled on storefronts in African refugee camps. In September, with an interpreter's help, he authored an op-ed for The Washington Post, speaking to the urgency of the problem and asking the U.S. government, which for years has backed the Ethiopian government as a bulwark against East African terrorism, to press Addis Ababa for reforms. "The Oromo just want their full rights, like any other people," he wrote. "We all yearn for peace, but the government continues its attacks. I fear that if the killing does not stop, people could abandon nonviolence in self-defense." He stood near the steps of the U.S. Capitol with Rep. Chris Smith (R-N.J.), the chairman of the House Subcommittee on Africa, Global Health, Global Human Rights and International Organizations, to help raise awareness about the Oromo. And he flew to Minneapolis, home to a large Oromo expatriate community, where he was met by a motorcade at the airport and treated as a hero. "You need to do something to reach for our people," he told an assembled crowd. "They are waiting for you."
It felt good to speak his mind. He carefully combed out his long Afro and ditched the old suit he had brought to this country and bought a new one -- glistening and charcoal gray. Lilesa has only a 10th-grade education and is naturally soft-spoken. But when he speaks about human rights in Ethiopia, even about the rights of other ethnic groups, his voice grows forceful. His eyes are piercing. "He is our Steve Biko, our Nelson Mandela," a fellow expatriate says.
A few of the other expatriates in Flagstaff have become U.S. citizens. Will Lilesa become an American? He could run under a new flag. He could be the top-ranked marathoner in the United States. He could run for the U.S. in future Olympics, and his fame and wealth could grow exponentially. Lilesa bristles at the idea. "Right now, I have no country to officially run for," he says. He says he will consider applying for the newly minted Olympic refugee team instead. "The last thing that the people would expect to see, the people that matter to me, my people, would be to see me wearing some other flag. I don't want to dishonor them."
---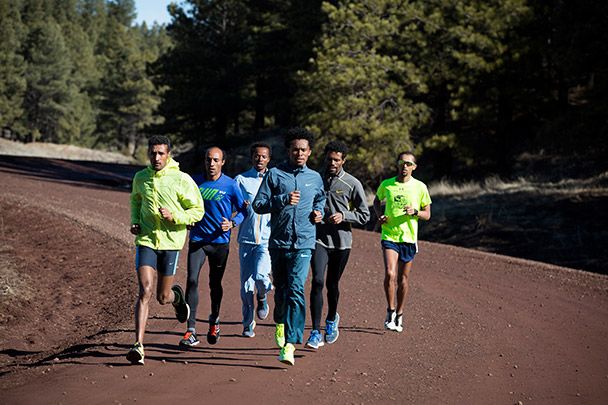 Lilesa likes to run among the red-rock buttes of Sedona. Or he goes east, to the tiny town of Winona, where he runs on a road that slips from view far into the gloaming. As he embraced his role as an advocate, he struggled to maintain the focus top marathoners need. By the end of his first month in the United States, he weighed nearly 155 pounds -- too heavy to keep winning. And he must keep winning to stay center stage for the Oromo cause.
So he returns to the dirt roads. His days start shortly after dawn with a run of 14 to 20 miles. The other African expatriates cruise along with low, lengthy strides. Lilesa is shorter, 5-foot-9. His steps are quicker, more cutting. He also is more muscular. His back bulges, and his thighs look more like a sprinter's. He likes to lead the pack. The speedometer in the car alongside reads 12 to 15 mph. Mile after mile upon mile. When he stops, it takes less than two minutes for his breathing to return to normal. He eats a light lunch, then naps. When he wakes, he puts on his Nikes and heads out again. Sometimes he takes a chance and runs alone, but he prefers to be with the group.
There is no Ethiopian community of significance in Flagstaff. No restaurants or groceries. Iftu cooked back home, but now he's on his own. After training, Lilesa and another runner make dinner. They've gone to a nearby Native American reservation and paid $100 for the carcass of a half-butchered goat. They fumble with the hindquarters, slicing them with a dull knife. Instead of Ethiopian spices, they use chili powder. Instead of injera, a sour, spongy flatbread that Ethiopians serve with meals, they offer slices of wheat bread from Wal-Mart. Lilesa gets his knife stuck in a goat shank. He grins. Laughter is a tonic. "We're all aware of his stress. Sometimes he can't stop talking about his worries," says Abdi Abdirahman, a native Somali who has become an American and has run on four U.S. Olympic teams. "But he is also the first one to find something about another guy and make us all laugh about it. ... He just wants to be a regular guy."
---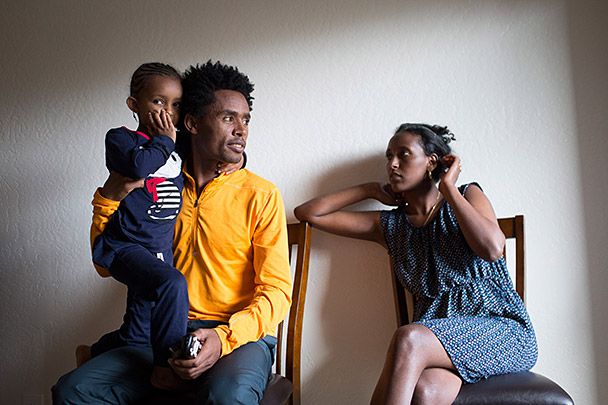 There are moments when Feyisa Lilesa grows weary. He speaks but stops suddenly and stares. Ethiopia is always on his mind. He misses the sights and smells, misses his family, misses his friends. When the feeling passes, he stands upright. He is proud to have had the courage to protest, but he sometimes wonders how much difference he's made. There have been more deaths. More disappearances. Two months after the Olympics, the government declared a state of emergency and began its most intense clampdown in years. Human Rights Watch and other observers estimate that tens of thousands of Oromo have been rounded up and detained in so-called rehabilitation camps. The cross-armed protest Lilesa flashed in Rio, a favorite among protesters, was essentially banned, since it could only be used with official permission.
On training runs, Lilesa sometimes speaks to Waqaa (the Oromo word for God). "Why is it up to me? What have I accomplished?" He worries that any difficulty he might have -- should he struggle establishing a new life in America, or should his running results falter -- could embolden the government and discourage other Ethiopian athletes from taking a stand. "They want me to fail," he says of the Ethiopian government. "I cannot let them see me fail."
He enters the Honolulu Marathon in December and finishes a disappointing fourth. At the Houston Half Marathon in January, he held up from a last-gasp lunge to the finish line against Kenyan-American Leonard Korir in order to once again raise his arms in a clenched-fist cross. A photo of the finish is beamed around the world. In Ethiopia, it's shared with fervor on social media, especially among the Oromo. Winning is important, but just as important is showing his people he remains defiant.
In a downtown hotel room after the Houston race, Lilesa thinks of his family. The separation is crushing, but he sees no other way now. "I cannot put myself above any other Oromo," he says. His English is getting better. "I cannot put my children above any children in Ethiopia." He talks to Soko and Sora on his cellphone whenever he can. As protests have intensified in Ethiopia, arrests and beatings have become more frequent and internet and cellphone access more restricted. "I cannot always reach them," he says. "There are times when I can only hope they are OK." He hopes his celebrity and outspokenness will protect them, but he cannot be sure. His younger brother, Aduna, who visited him briefly in Washington, was arrested by Ethiopian soldiers when he returned to Addis Ababa in November. The soldiers punched him and kicked him and detained him for hours. Lilesa didn't learn of it for weeks. His family kept the news from him, worried it would devastate him. They "knew I would be even more worried about them if I had known what happened, right when it happened," he says.
On an evening in late January, CNN blares from the television. Feyisa has long assured Iftu and the children that they will be moving to the United States. "They come. I know they come," he says again and again. All they need is final clearance from the U.S. Embassy in Addis Ababa and for the Ethiopian government to let them go. Now, on the couch, he watches as an executive order by President Donald Trump temporarily closes America's doors to immigrants from seven majority-Muslim countries. Ethiopia isn't one of the countries, but some of its neighbors are: Sudan and Somalia. A commentator says nobody knows how much farther the ban might reach.
"What this means?" Lilesa asks.
CNN shows chaos -- people being turned away at airports, others being forced to return to their native countries, and green card holders, like he is now, being hassled. He thumbs the TV remote and turns down the sound. Silence fills the room.
---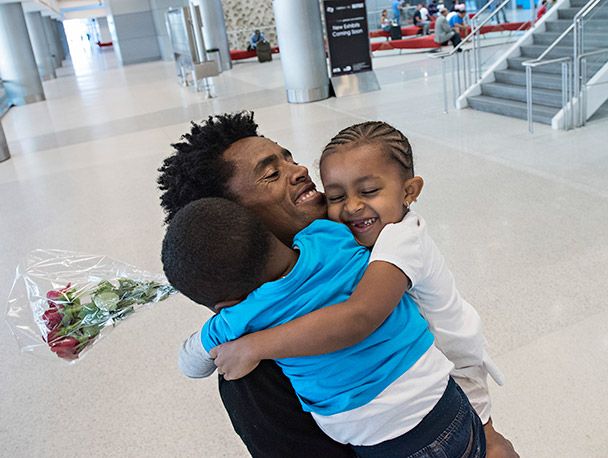 After visas are later approved for Iftu and the children, they fly to Miami with Feyisa's brother, Aduna. On Feb. 14 -- six months after Feyisa said goodbye to them in Africa -- his children leap into his arms in the Miami International Airport. Soko, a girl sharp and willful, seems beyond her years. Sora stands close. Near the baggage claim in the bright airport, they laugh and tease, and Feyisa picks them up and cuddles them. Moments later, he holds Iftu in a tight embrace. Tears stream from her brown eyes. With both hands, he wipes them away. Tears well in his own eyes, but he does his best to stand straight and keep them from falling. He sees news cameras, and he knows that everything about Feyisa Lilesa, even a simple photograph, is big news in Ethiopia. He doesn't want the government or its supporters to sense anything they can take to be weakness. "I cannot let emotions get to me," he says. "Not with what I have chosen to do."
Lilesa knows meaningful change for his people may well be far off. Short-term goals have become an emotional salve.
Gearing up for the London Marathon, Lilesa wins the United Airlines NYC Half-Marathon, and afterward he and his family are feted by Oromo expatriates at the Sea Shore restaurant in the Bronx. On the way back to their hotel in midtown Manhattan, the lights of Seventh Avenue and Times Square shine through the windows of their cab. Red and blue neon flow like a river. In the back seat, Iftu strokes their young son's head as he falls asleep. Feyisa holds his daughter tightly. There is a calm about him, a stoic pride, but also an ever-present anguish.
And while the London Marathon did not turn out quite as Lilesa had envisioned -- he faltered in the last few miles and finished 12th in a time of 2:14:12, 10 spots behind rival Kenenisa Bekele -- he repeated his clenched-fist protest at the finish line, nevertheless. Recently, the government in Addis Ababa has made nods toward some reforms. In the days after the marathon, a man at the Ethiopian embassy in London who would identify himself only as a government spokesperson, repeated recent assertions that it was safe for Lilesa to return. "He is simply an athlete, not a leader, not an organizer, just an athlete," he said in a phone conversation.
Lilesa wants to raise his children as Oromo, but he remains steadfast in his feeling that a return home now is not possible. He's gotten a small, spartan apartment for the family in Flagstaff for now. "I've never been so cold," Iftu says one winter night. They've added a living room couch and a small square dinner table near the kitchen. The walls in the living room are bare except for a flag -- the flag of Oromia this time. Below it, Iftu has affixed a wood cutting she brought from Ethiopia, a depiction of an Odaa tree.
"It is much better now, with my wife and children," Lilesa says. "But if you put this on a scale of 1 to 100, I am only at 15 percent happiness. I am in exile, not for myself first and foremost but for my people. And my people are suffering. Going through hell. The situation has gotten worse. I have told you that right now I do not want to cry. The day I will cry is when my people win justice and freedom. That day, I cry nonstop, out of joy."
Streeter is a senior writer for ESPN.