Footy Forensics: An even season
This is one of the most even seasons in history, with nearly all teams still in the mix to play finals. We've used our Elo ratings system to estimate each club's chances of making it to September.
Unless you're a Lions fan, rejoice! Your team still has a shot at playing September football.
Brisbane is just about the only team we can confidently state won't play finals. In the period since 1994, when the AFL introduced a final eight system, 30 teams have started the season with one win from their first eight games. None of those 30 teams went on to play in September. That doesn't mean it's impossible, but if the Lions climb into the top eight from here it would be without precedent.
There are more encouraging precedents for fans of the Swans, Kangaroos and Magpies - teams that have started the season with two wins from their first eight outings. Since 1994, 31 teams have kicked off their year with a 2-6 record and three of those have gone on to make the finals - the 2014 Tigers, 2010 Hawks, and 1997 Lions. In other words, 9.7 percent of 2-6 teams have played September footy in the top-eight era. That's not cause for too much optimism - a 9.7 percent chance of making the finals means a 90.3 percent chance of missing them - but it's something for fans of those teams to cling on to.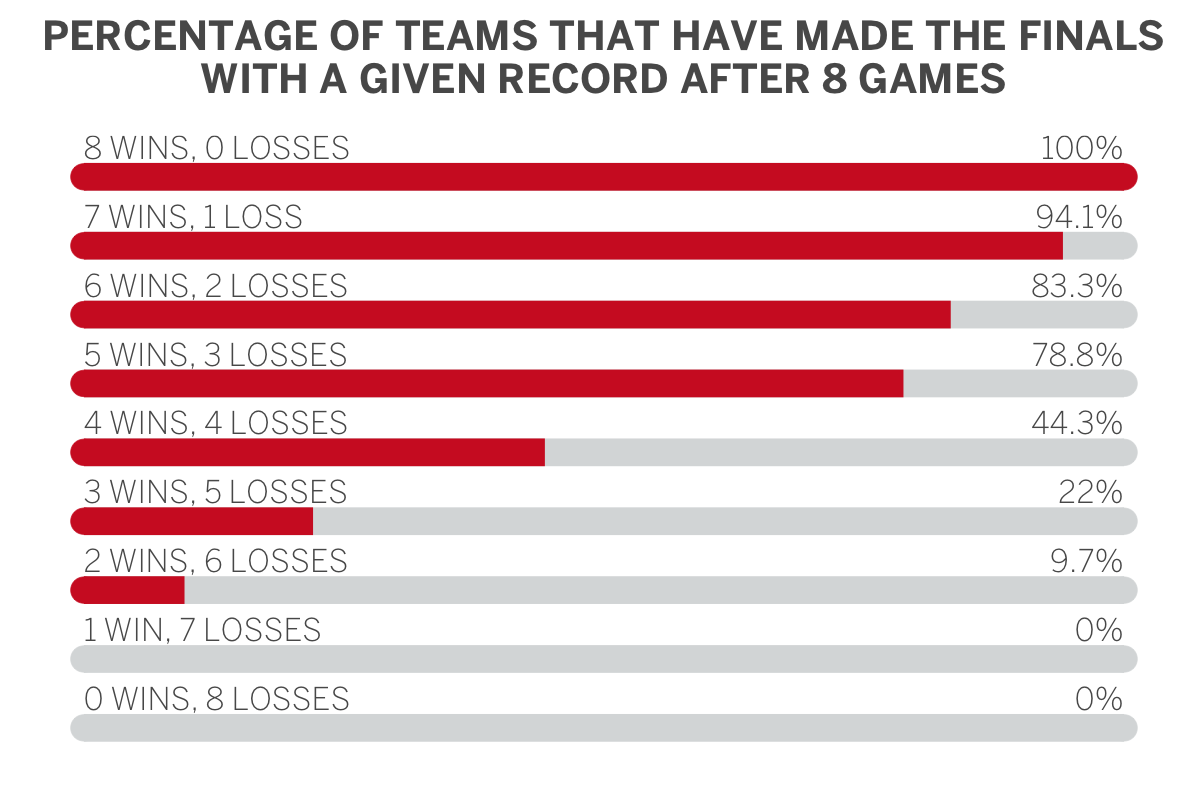 But - as the quickly-spoken disclaimer at the end of any financial advertisement will tell you - past performance is no assurance of future results. The fact that 9.7 percent of teams have made the finals after starting with a 2-6 record doesn't mean that the Swans, Magpies and Kangaroos each have a 9.7 percent chance of making the finals this year. To get a more reliable estimate of their shot at September, we can use our Elo ratings system. In fact, the Elo-based projections are a bit more bullish on the 2-6 teams than history would suggest, giving the Swans 26.3 percent, Collingwood 13.7 percent, and North Melbourne a 14.1 percent chance. These projections are based on estimates of the teams' quality and the difficulty of their remaining schedule.
After Round 8, we have six teams with a better-than-75 percent at playing finals footy, with Geelong holding on to membership of that group despite its recent wobbles. The next group is comprised of the Saints, Tigers and Demons, each of which has a roughly 50-50 shot at September. Fremantle and Sydney sit well below this group, with a 31 and 26 percent chance of ending up in the eight. The rest of the league has a less than one-in-five chance. In the case of Essendon, that might seem a little pessimistic, given that they've broken even with a 4-4 record so far; the projections' pessimism about their prospects partly reflects a hangover from their 2016 awfulness, and partly the fact that their fixture over the rest of the home-and-away season looks to be a bit tougher than the matches they've played so far.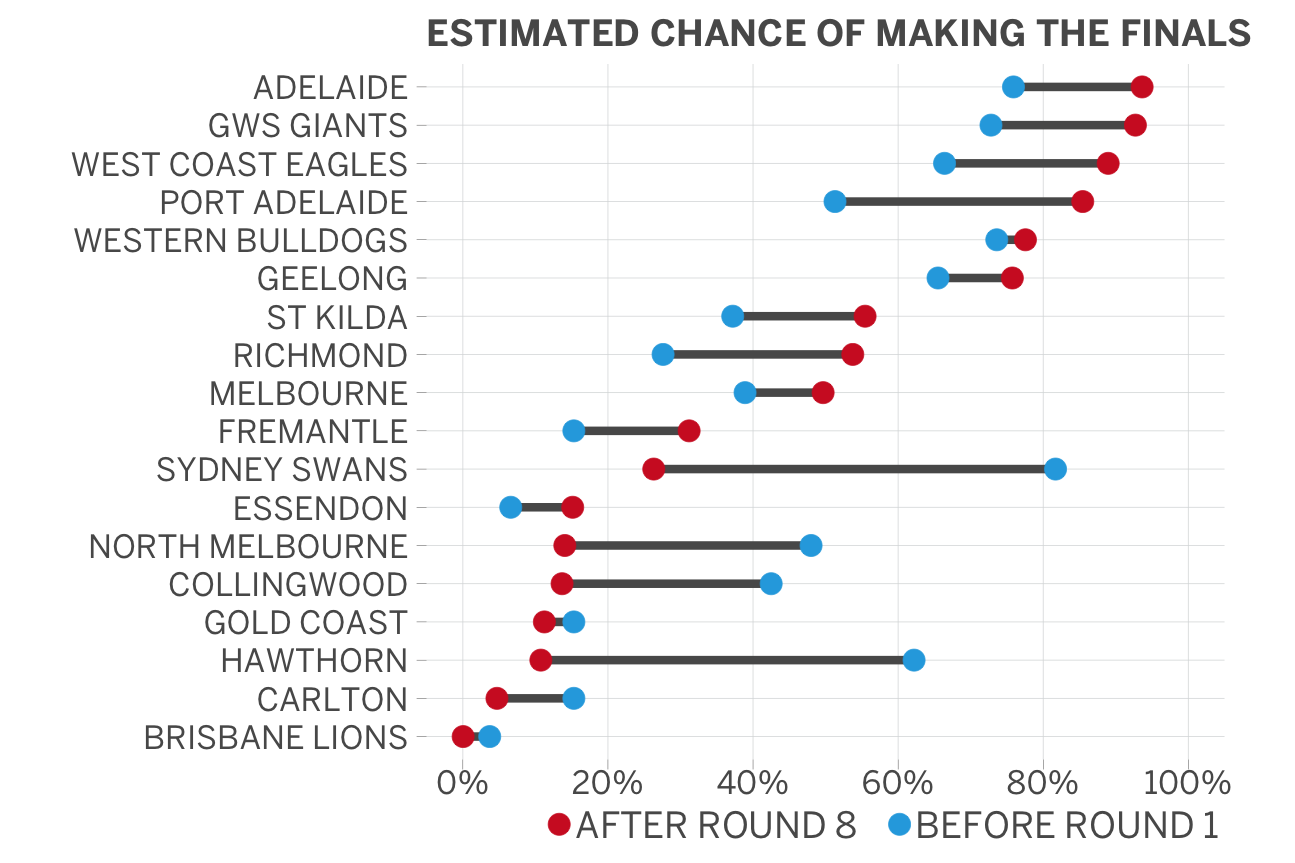 Of course, those teams with the best shot at September will be most concerned with securing a berth in the top four. The Crows, Giants, Eagles and Power are in pole position in that race, as you'd expect from looking at the ladder. The only near-certainty at this point appears to be that Brisbane will finish at or near the bottom of the ladder.
We've used our Elo system to estimate how each team's chance of making the finals will evolve over the coming weeks based on their wins and losses.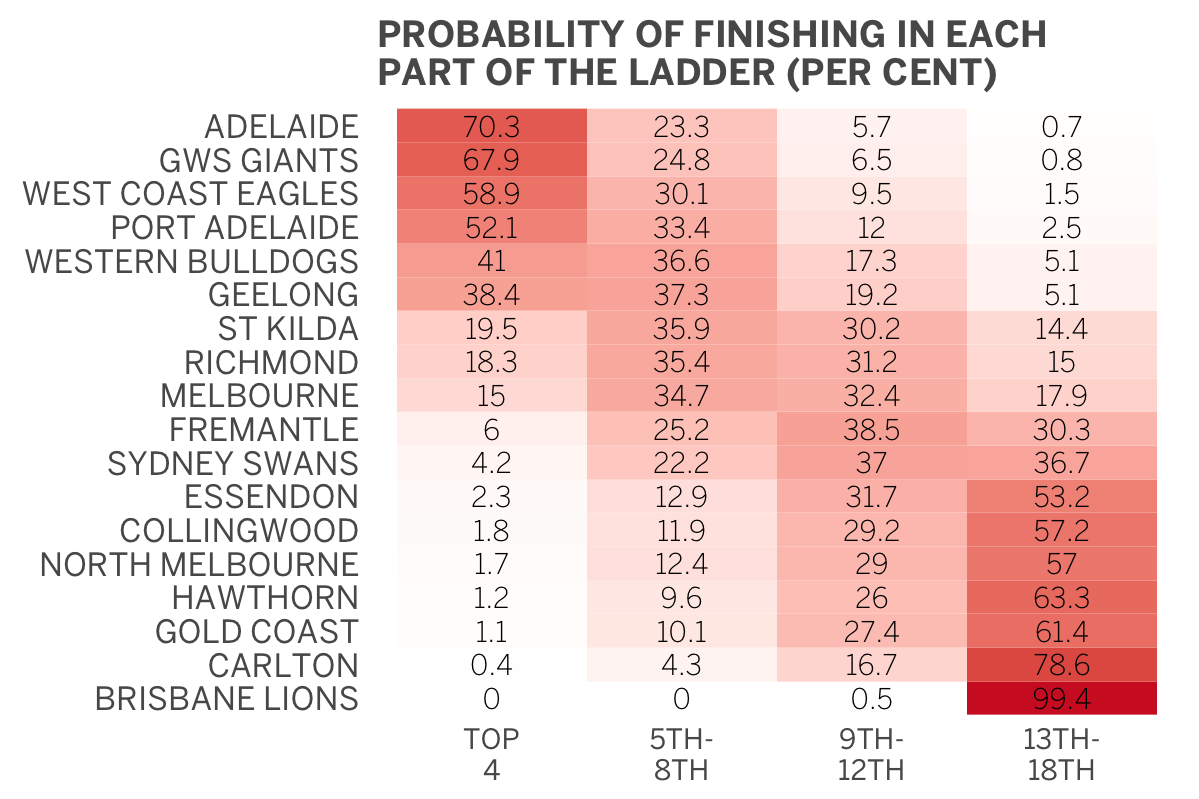 ---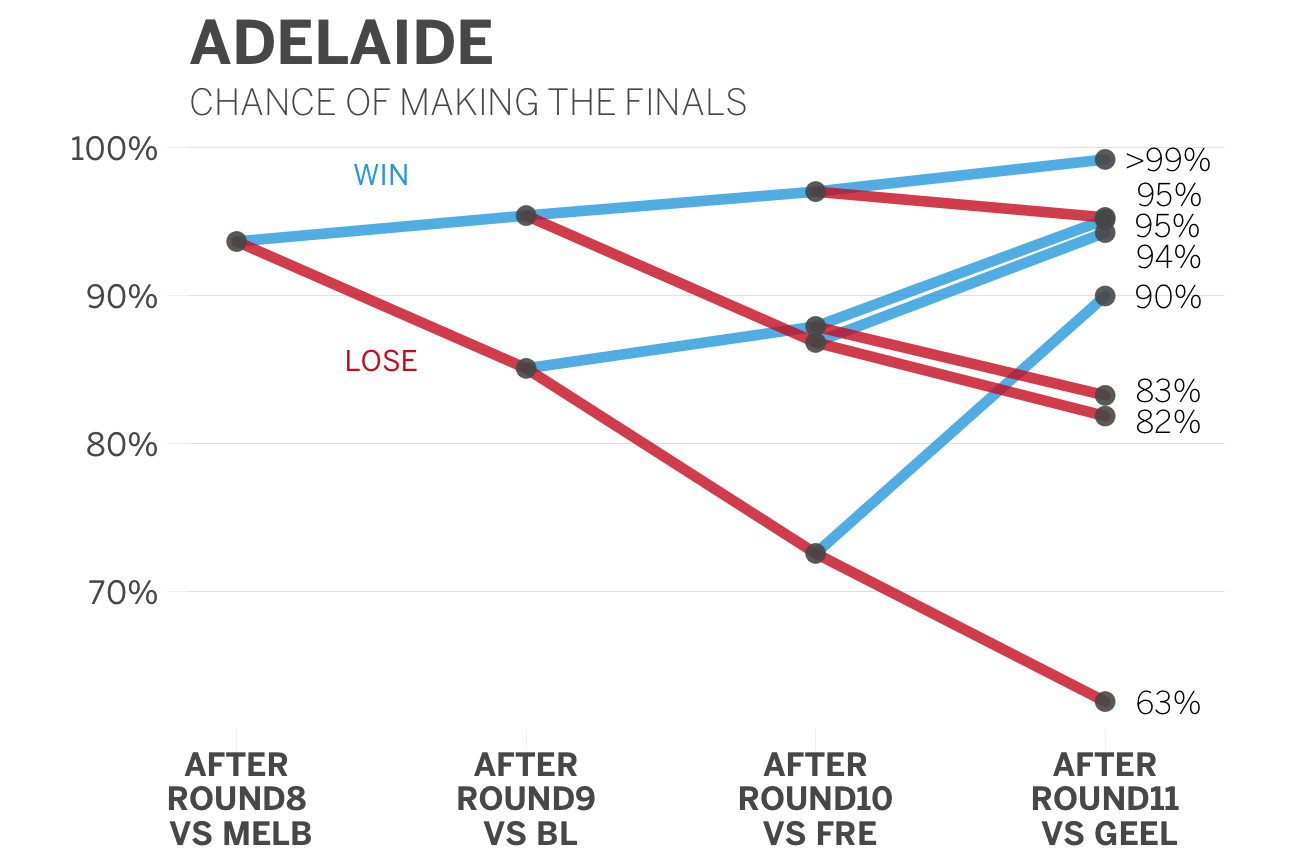 Before their latest two losses on the trot, the Crows were very close to recording their highest Elo rating ever, breaching the mark they set in mid-2006. They've now come back to earth a little, but they're still the highest rated team in the league with the best shot at September footy. Even if they somehow lose their next three games, they'll still be more likely than not to make the finals.
---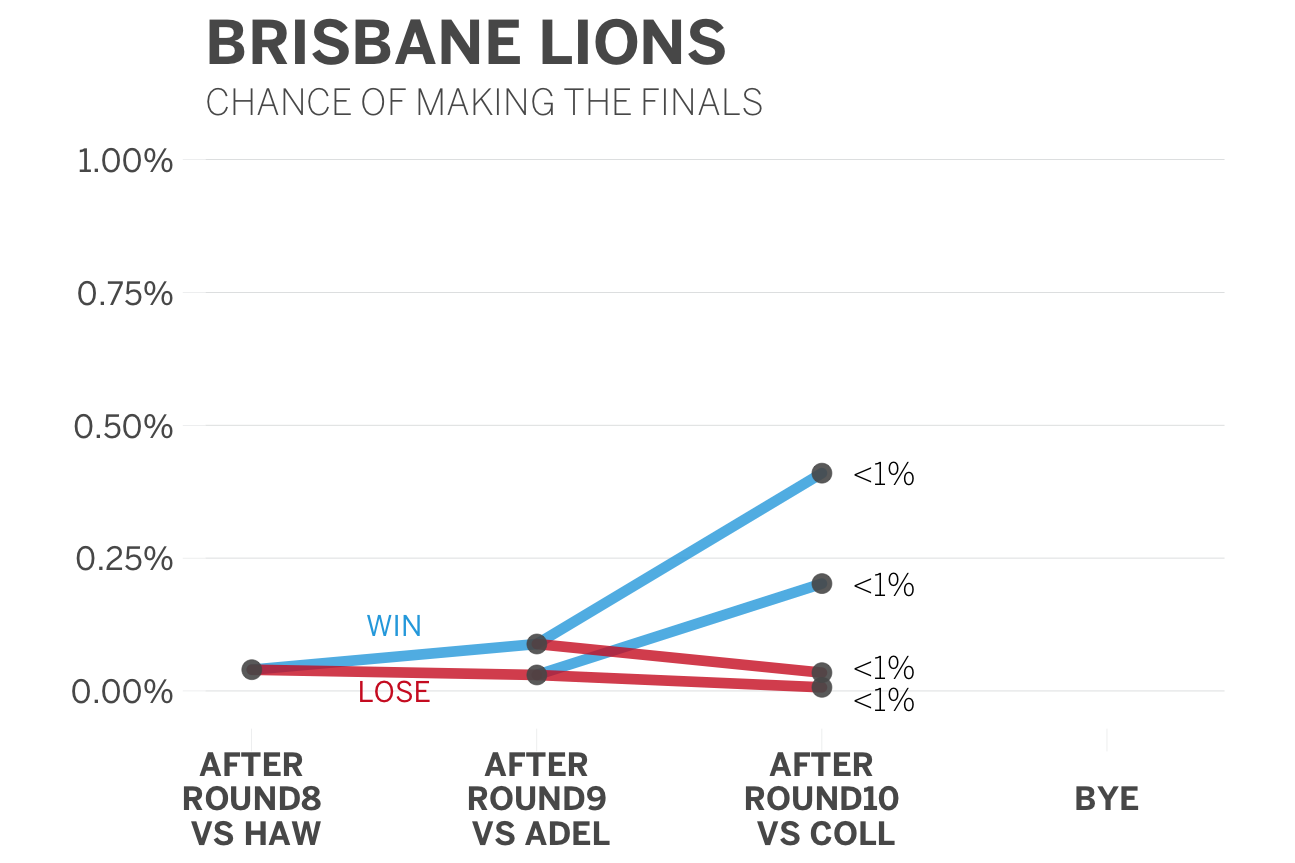 Brisbane's finals chances are so bad that they broke the axes on my graph and I had to manually tweak it. Even if they somehow manage to beat both the Crows and the Magpies on the trot, they'll still have a worse than 1-in-200 chance of ending up in the eight. This was never going to be the Lions' year.
---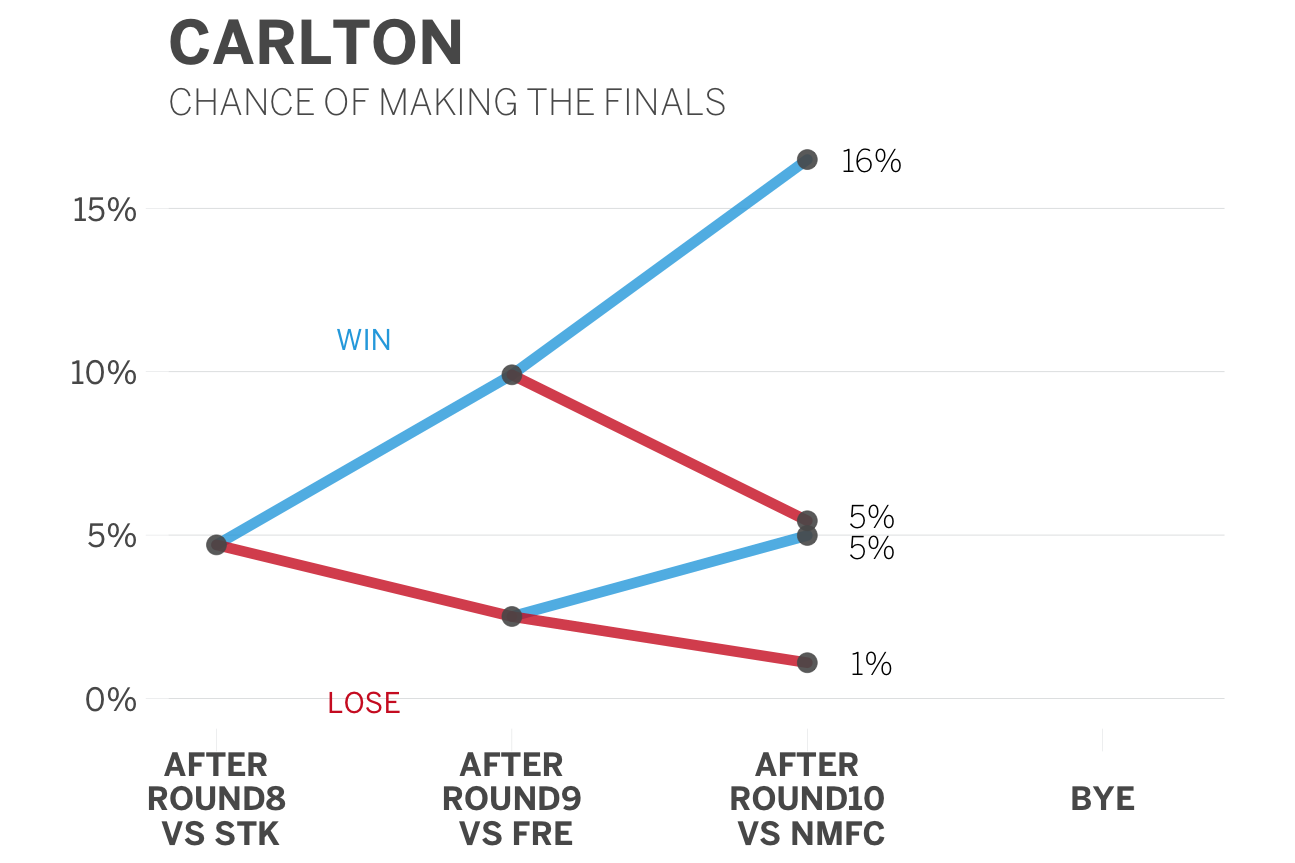 The Blues have had a better start to the season than most observers - including our Elo model - predicted, racking up a respectable three wins from their first eight games. The odds are still stacked against them though, with only a 1-in-20 chance at playing finals from here. If they manage to beat the Dockers and Kangaroos, they'll triple their finals chances, but they'll still be a long shot.
---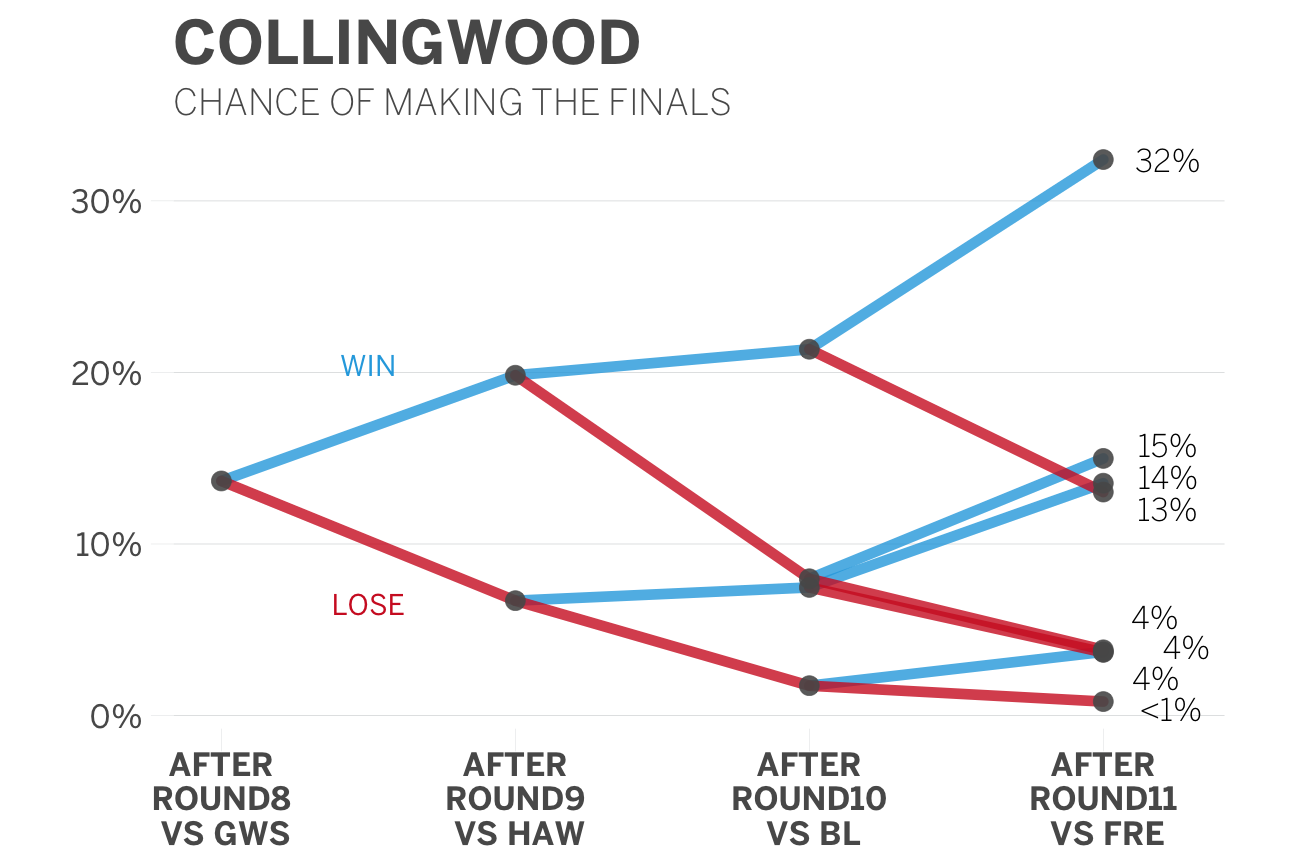 The Magpies haven't just let Nathan Buckley down, they've let our Elo model down. Before the season started, we gave them a healthy shot at playing finals, a touch over 40 percent, but their lacklustre first two months have ground that down to measly 14 percent. They've still got a shot, but a loss to either the Hawks or Lions would just about snuff out their candle. The Elo model's not angry, it's just disappointed.
---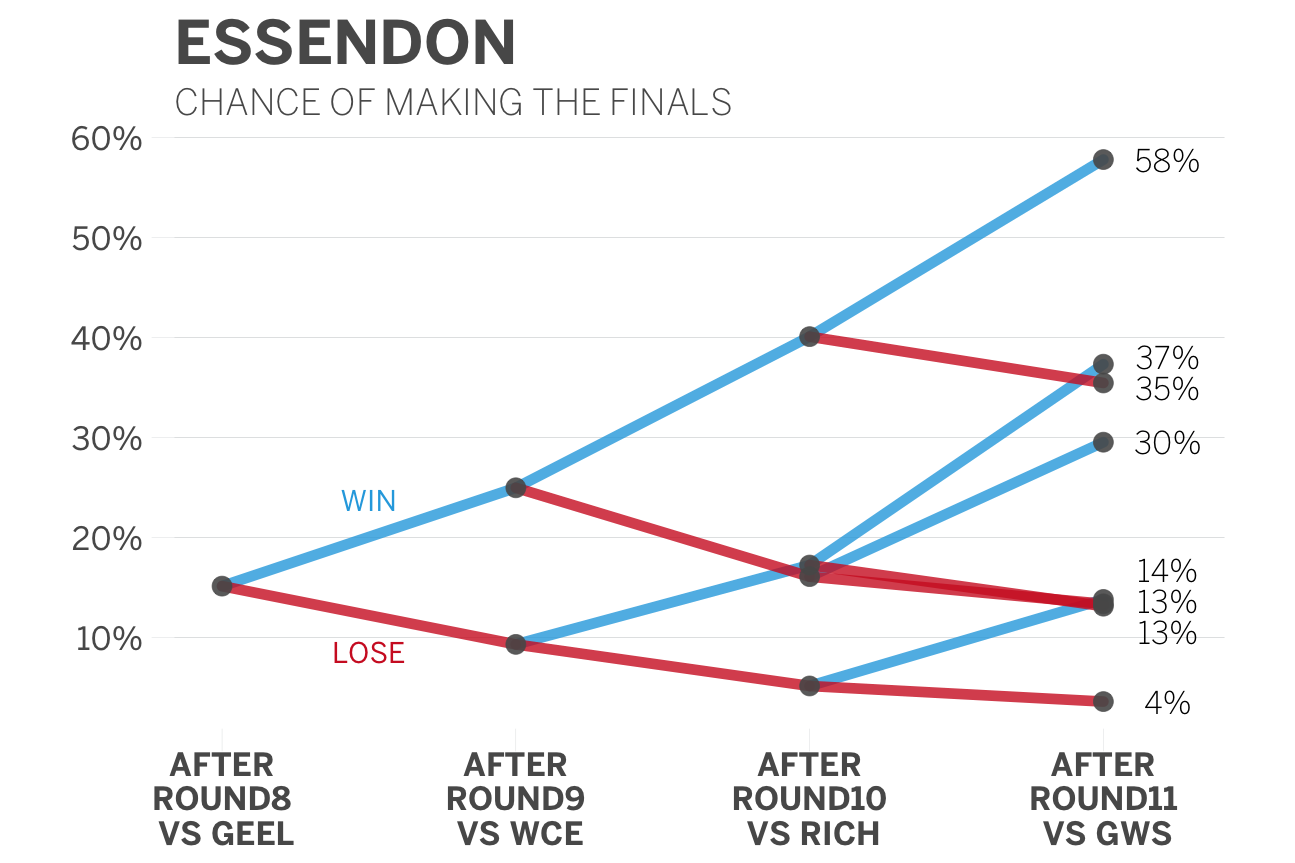 The Bombers are now rated about where they were at the end of the 2015 season - a solidly below-average team, rather than the historically awful one that took the field in 2016. Their tough fixture in the coming weeks gives them a chance to boost this rating and inflate their finals chances from their current one-in-six level. If they manage to do the unexpected defeat all three of the Eagles, Tigers and Giants, they'll have a better than 50 percent chance at surviving until September. Unless they can manage that, finals will still remain unlikely for Essendon.
---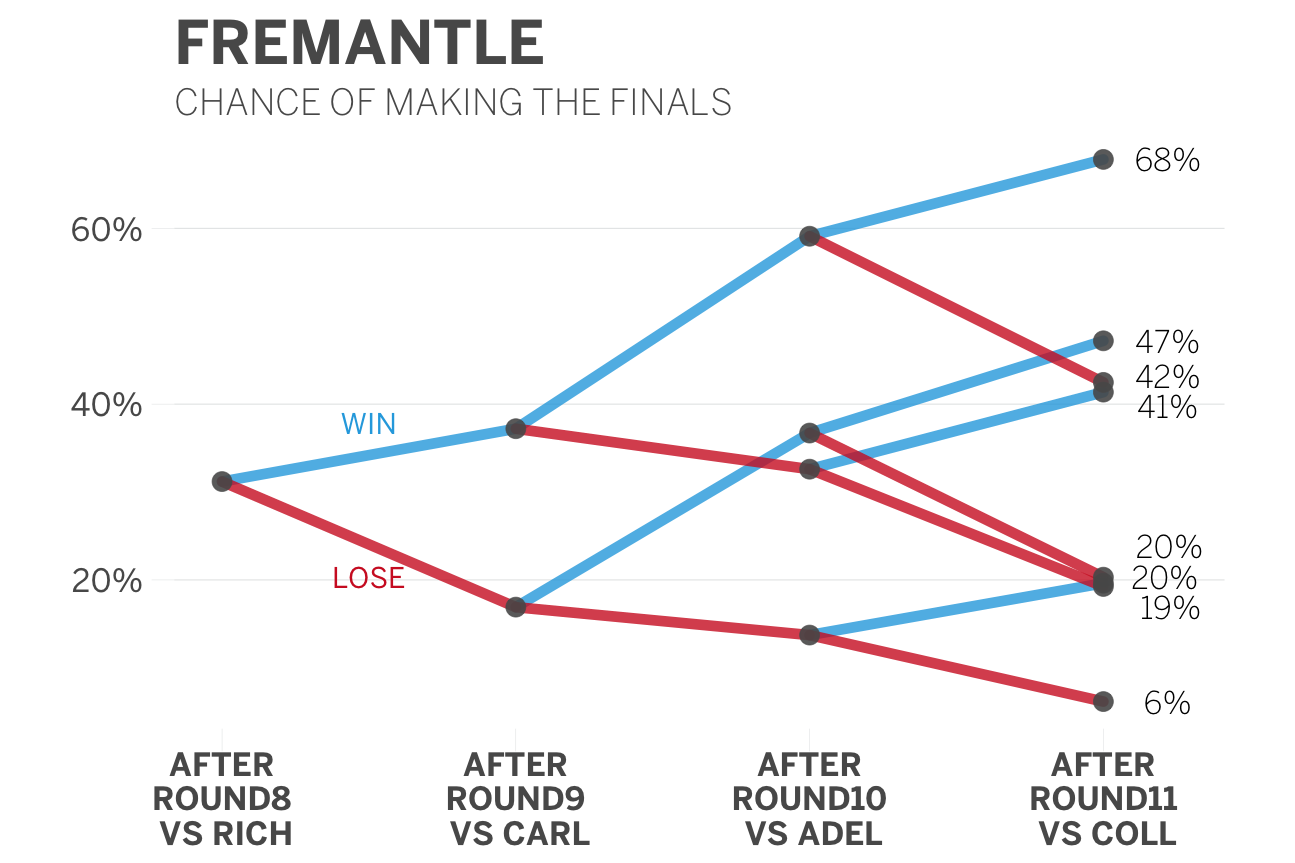 The Dockers are in their second year of a much-discussed multi-year rebuild, so finals were never really expected of them this year. Before the season started, our Elo model gave them a less than 20 percent shot at September, but that's crept up with their solid performances and five wins in their first two months. We now give them a one-in-three chance; if they manage to beat the Blues and Pies but drop a game to the Crows, they'll boost that figure to over 40 percent. That seems very doable for the Dockers.
---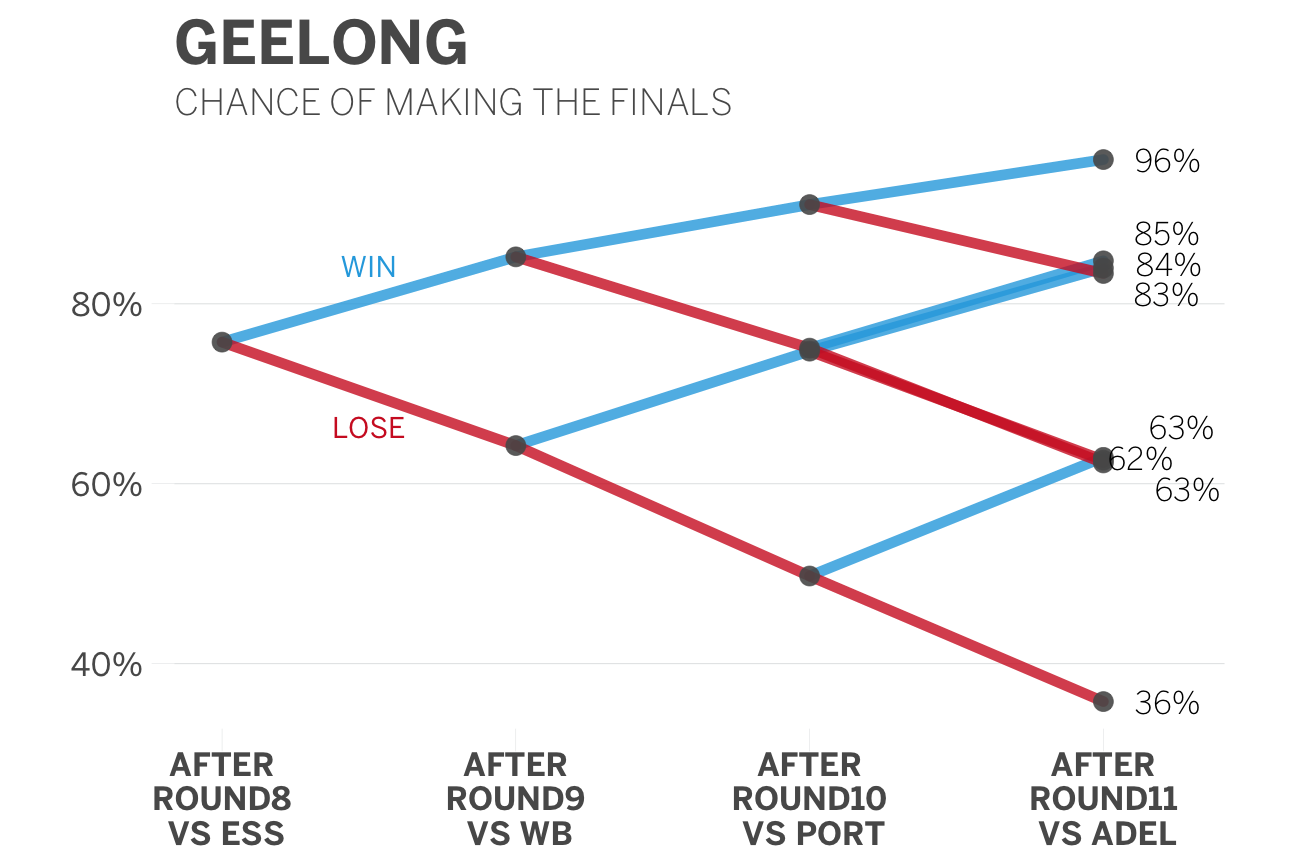 After their lossless first five rounds, the Cats' rating was stratospheric. They've since come back to the pack, rated around the same level as the Bulldogs, Eagles and Power. September footy quite likely features in their future, but they're no longer a lock. The next few rounds won't be easy for the Cats, with games against the reigning Premiers, the Power and the Crows, but at least they don't have to leave Geelong for the next month. If they drop all their of their next games they'll have just a 36 percent shot at the finals, but otherwise we can pencil them in for September.
---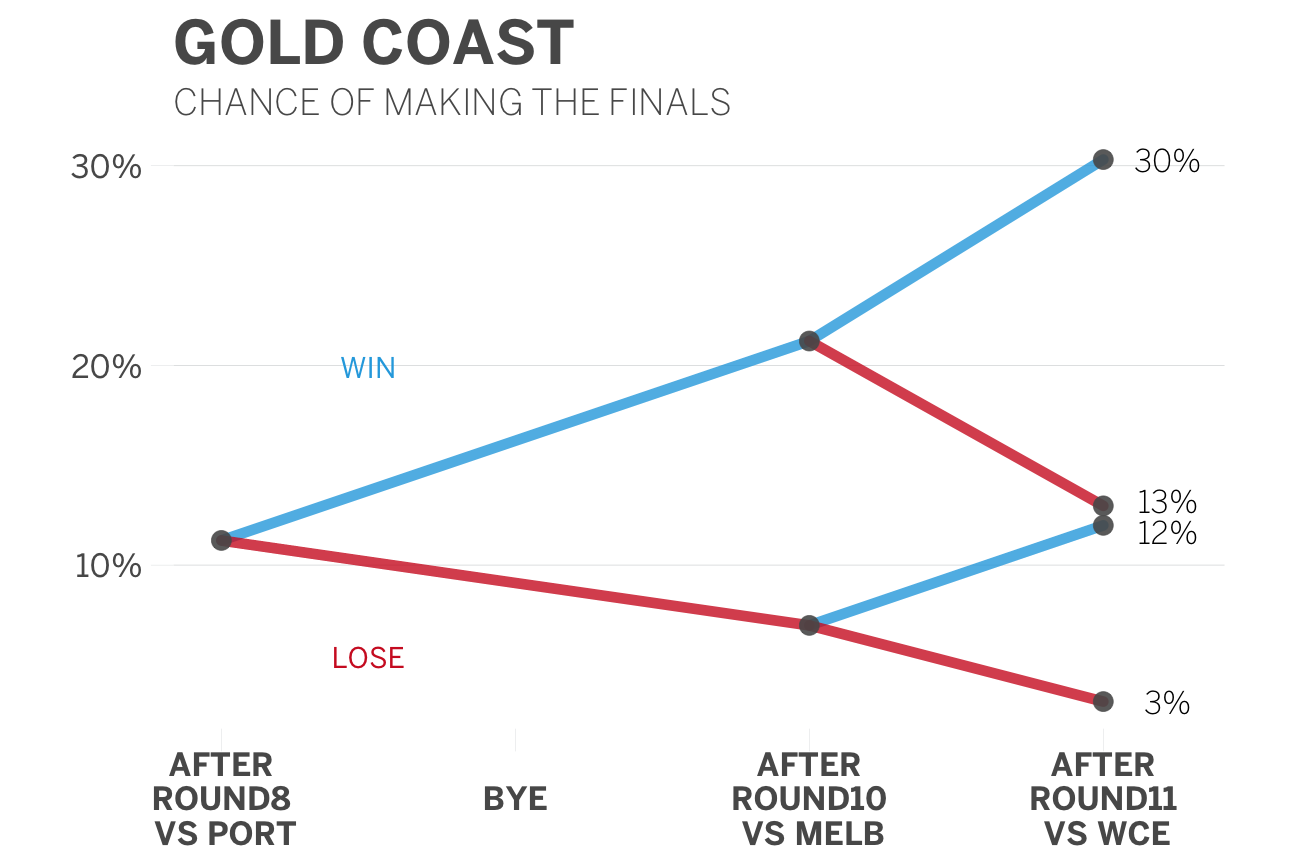 In the unlikely event that the Suns manage to defeat both the rising Demons and the top four Eagles after their bye week, they'll have nearly a one-in-three chance at the finals. If they drop both those games, their finals chances will be in the low single digits.
---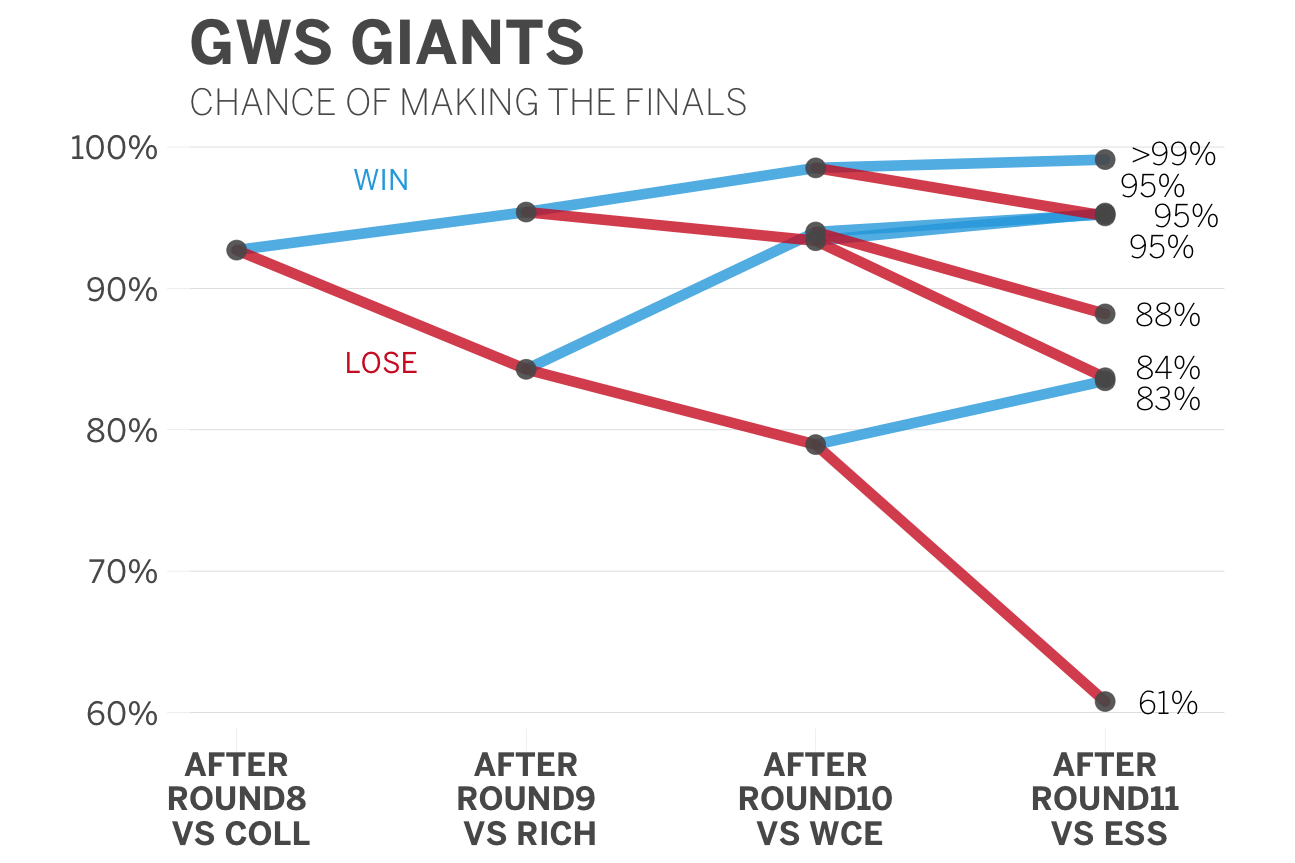 The Giants haven't quite been the robotic overlords of the competition that some expected this year - as we saw in their loss to the Saints and close miss against the Magpies. Still, the question for them isn't whether they'll make the finals, but whether they can secure a place at the business end of the top eight.
---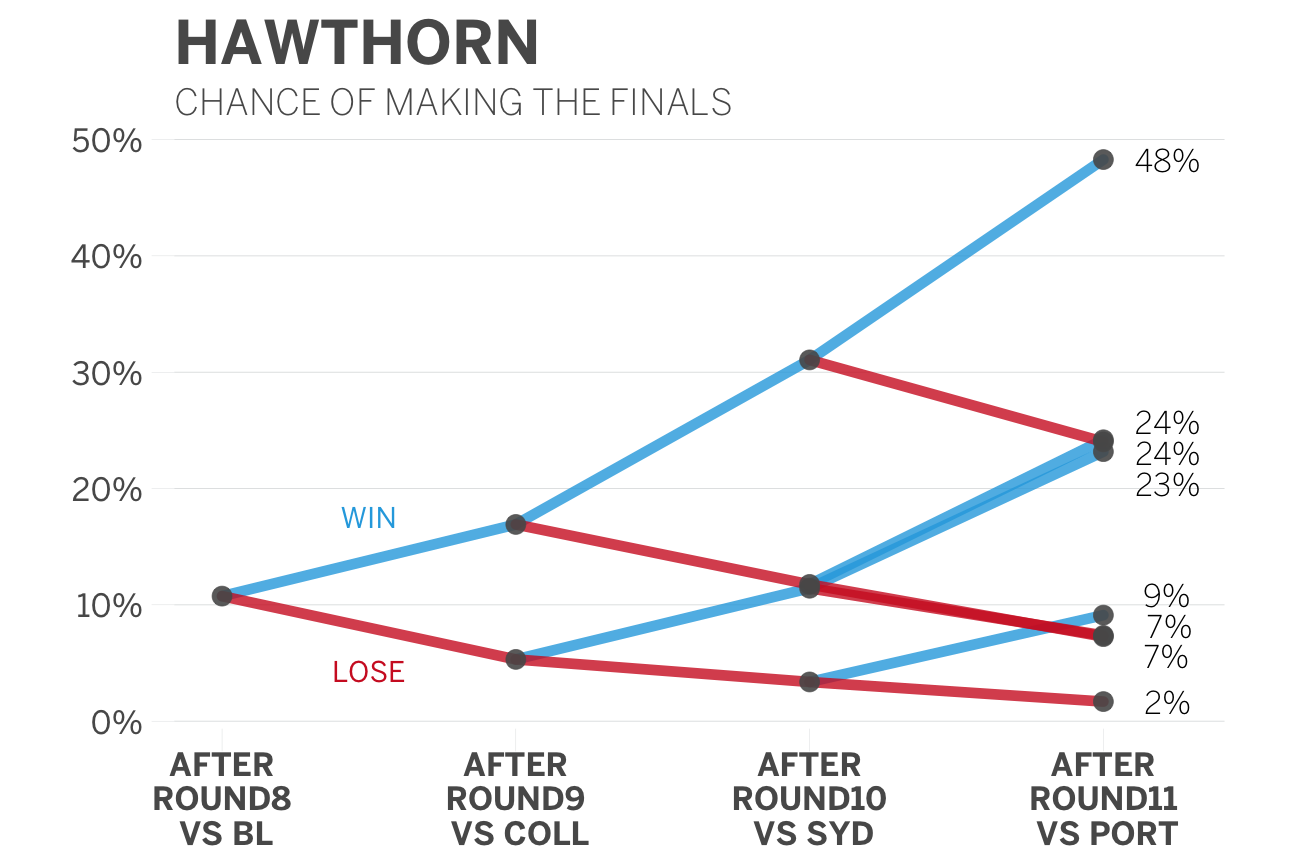 We look set to have the first Hawk-less finals series since 2009. If the faded champs manage to win their next three in a row, they still won't quite be an even-money shot at September.
---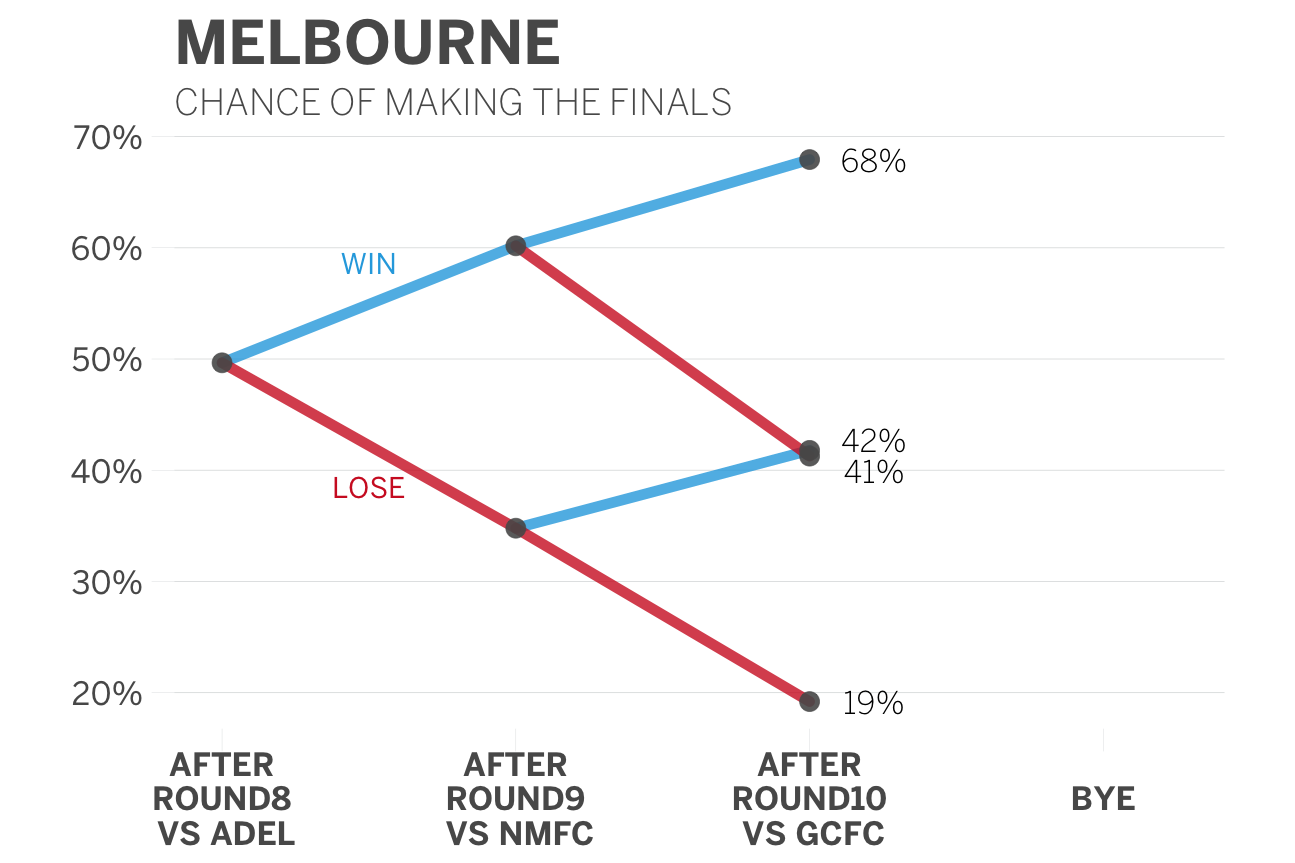 Melbourne's next games, against the Kangaroos and Suns, are the sort that a team on the precipice of finals can't really afford to drop. If they win both match ups, they'll have a 68 percent shot at playing September footy for the first time since 2006.
---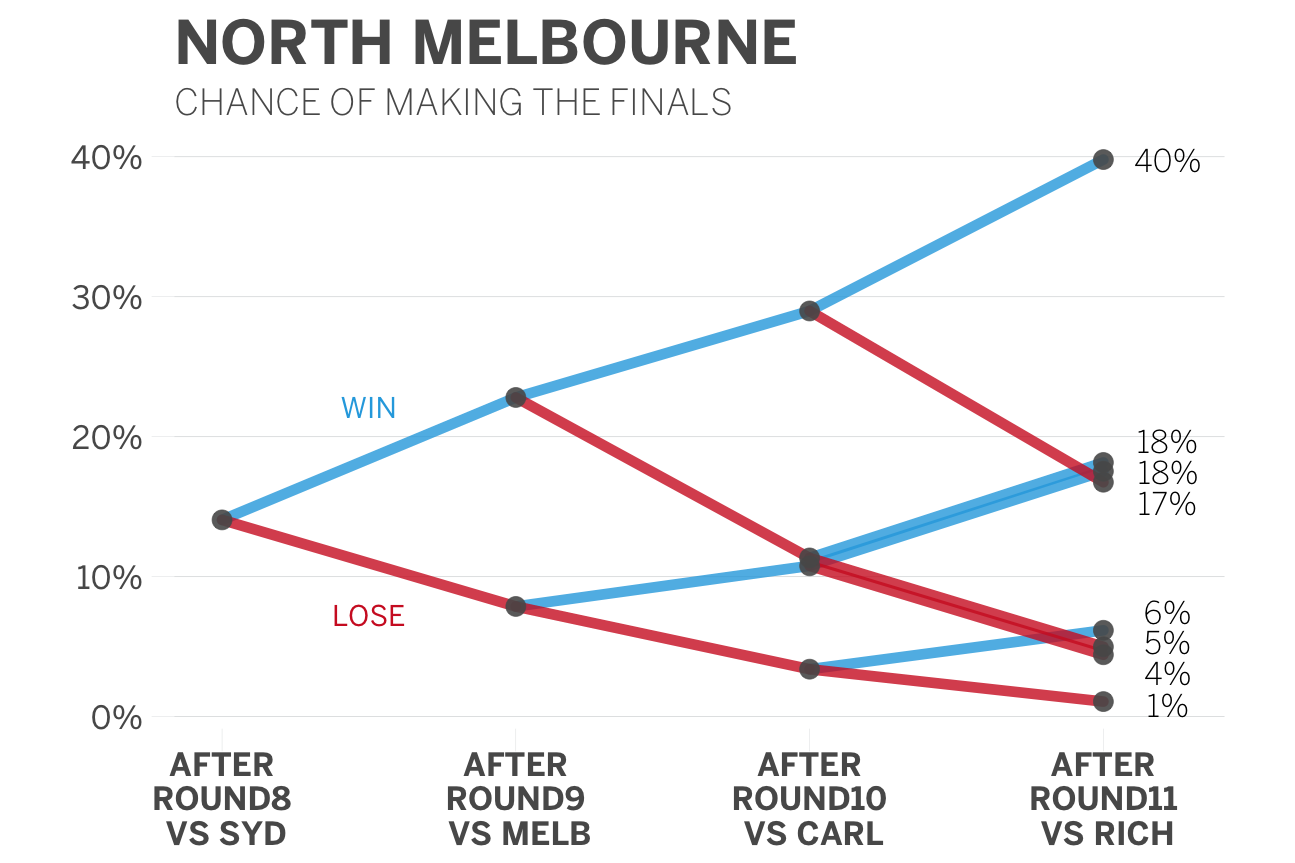 It's rare for a team to start 2-6 and make the finals, and the Kangaroos don't look likely to change that precedent. If only their games had been a bit shorter - their average percentage in first quarters this year has been 156, second best in the league, but their percentage in final quarters is 66 percent, the AFL's second worst. That sort of late-game fade is perhaps a symptom of the Kangaroos' youth, so there's reason for North fans to be optimistic about the future.
---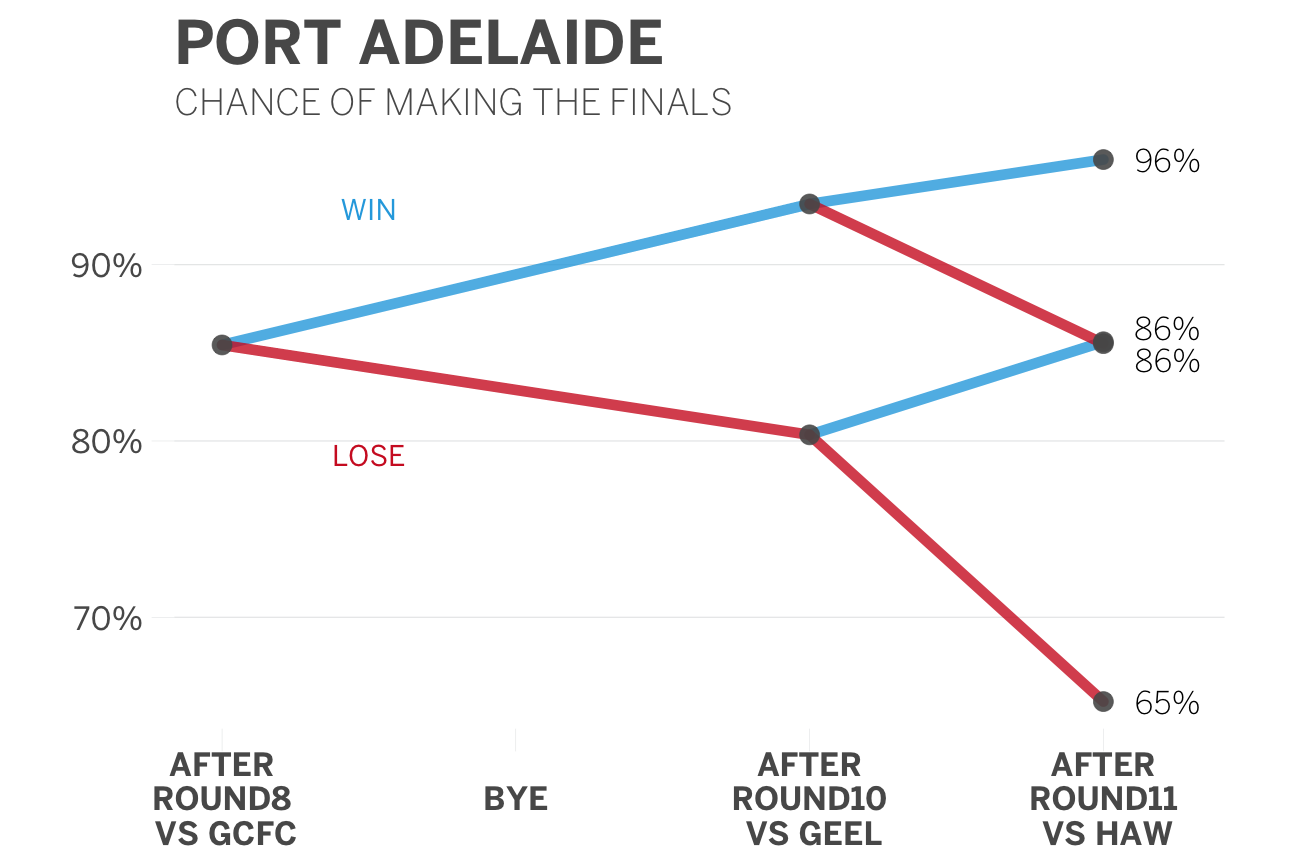 Their dominant display at Jiangwan Stadium leaves the Power rated right alongside the Dogs, Eagles and Cats, a group of teams that each has realistic top-four aspirations. Their September chances will still remain well north of 50 percent no matter what happens over their next couple of matches.
---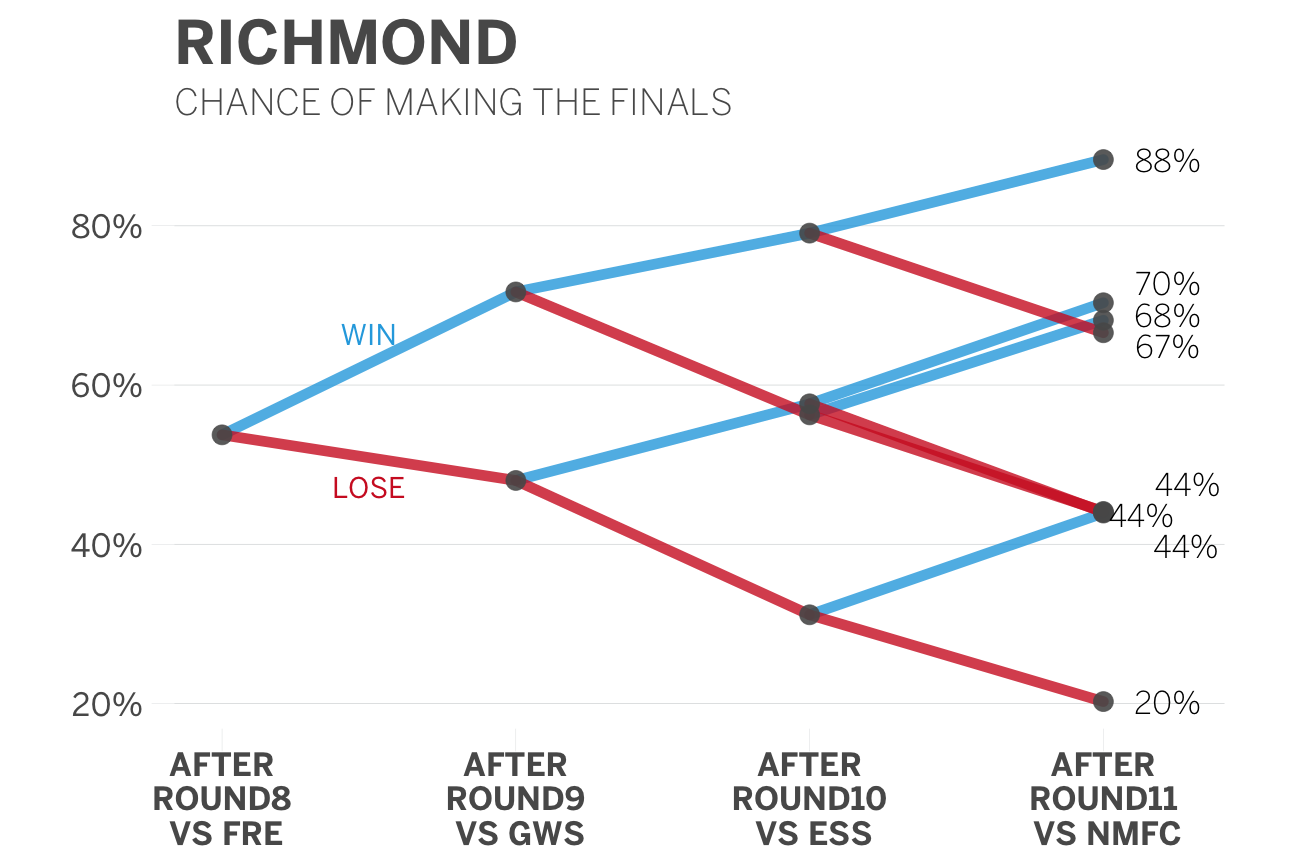 What should we make of the Tigers? The Elo model rates them as a slightly above-average team, with a 50-50 shot at September. That seems about right. If they win two out of their next three - which seems like it should be doable - the Tigers will have a two-in-three shot at making the eight.
---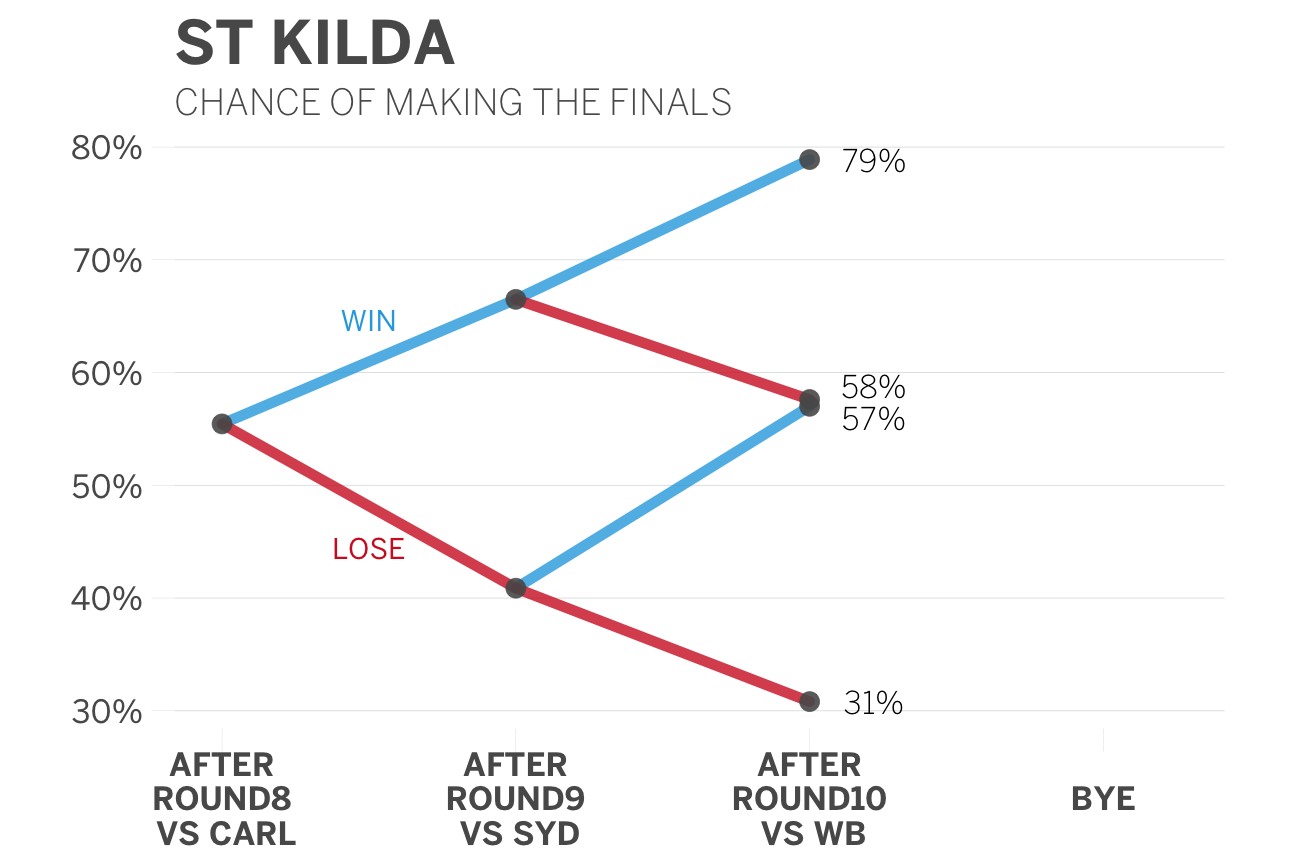 The Saints only need to win one out of their next two games to keep their finals chances at better than 50-50. A win against both the Swans and Bulldogs would be a big boost, sending their probability to nearly 80 percent before the bye.
---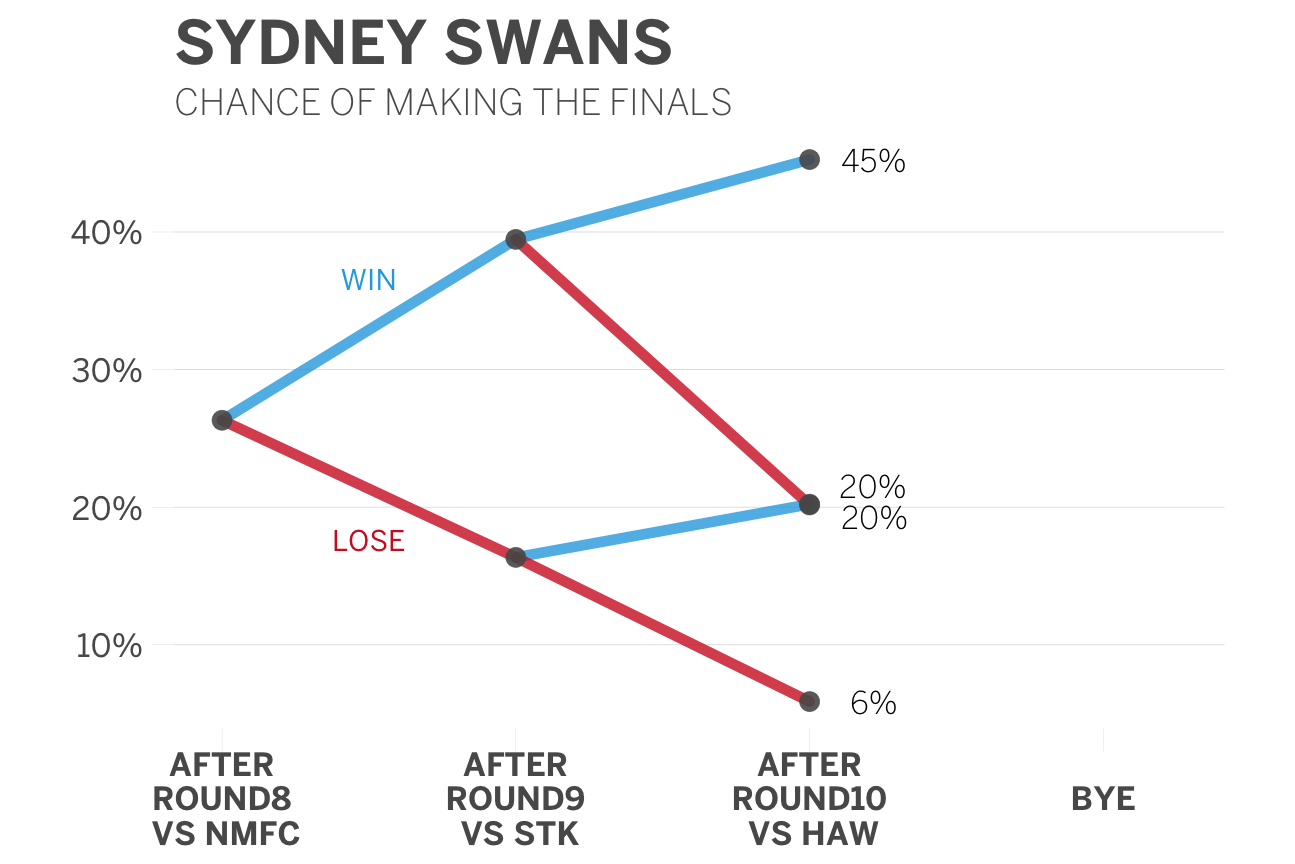 Perhaps the biggest surprise of the season so far has been the Swans' slump, culminating in their shocking capitulation to Carlton. They've still got a shot though - about a one-in-four chance according to our projections. Wins against the Saints and Hawks would nudge Sydney back towards a 50-50 chance of making the finals.
---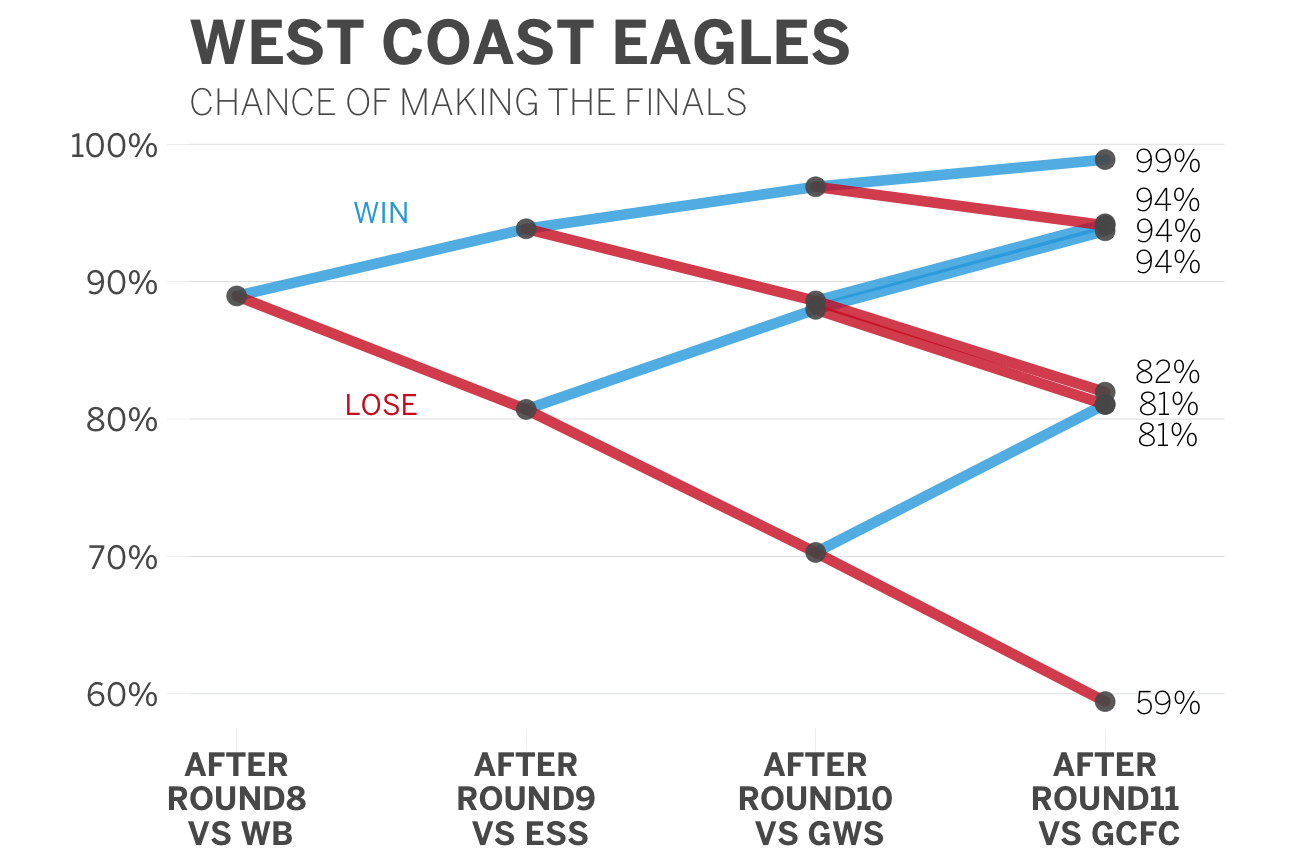 It would take some kind of calamity to dislodge West Coast from the top eight - for them, the focus is really on retaining their current spot inside double-chance territory. Even if they drop all three of their upcoming games, they'll still have a better-than-even chance at September.
---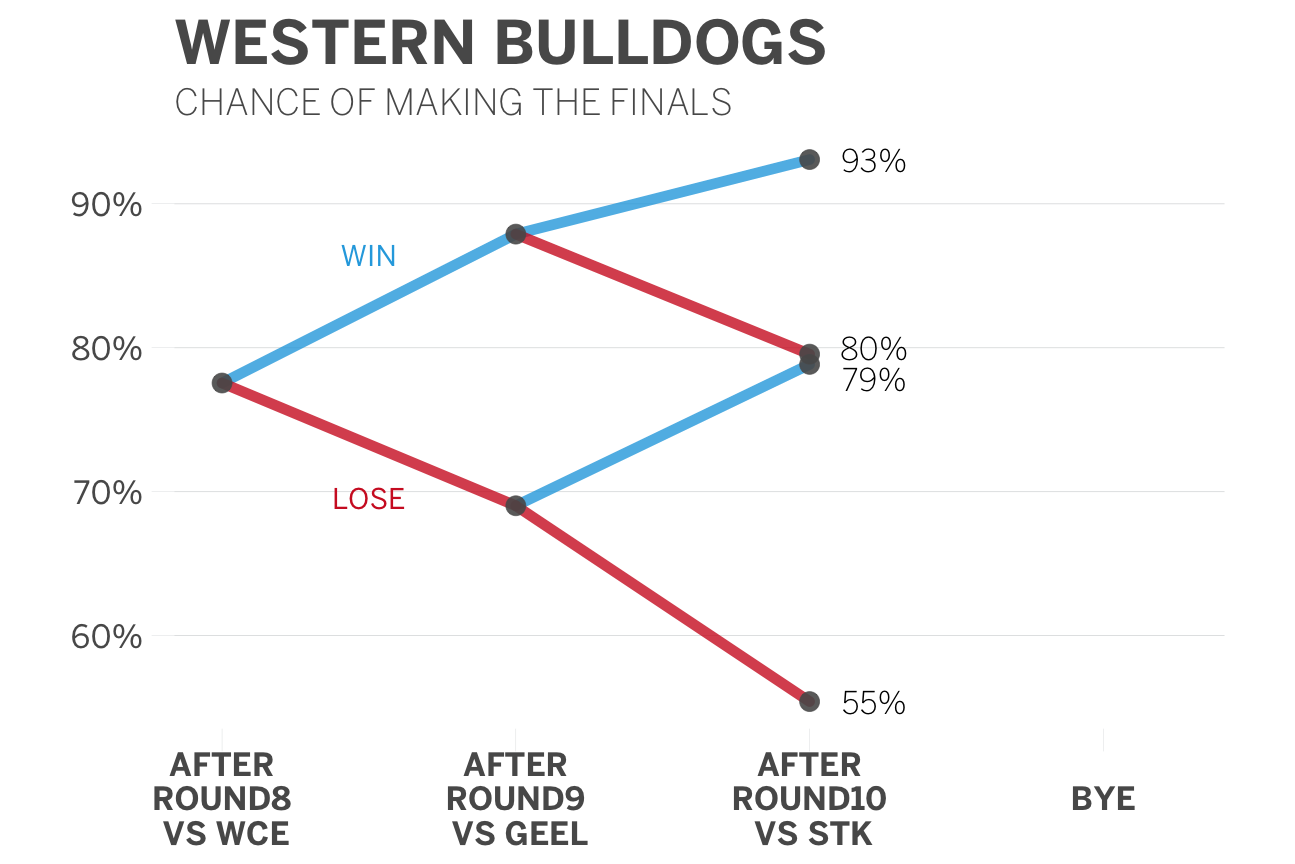 The reigning premiers haven't dominated this year - but they didn't last year either, at least until September. They're still sitting in a decent position, with a solid five-win record under their belt and a better than 75 percent chance at remaining in the eight at the end of the home-and-away season.
---
Every month, we'll keep you updated about how your team's rating - and chance of making the finals - evolves.