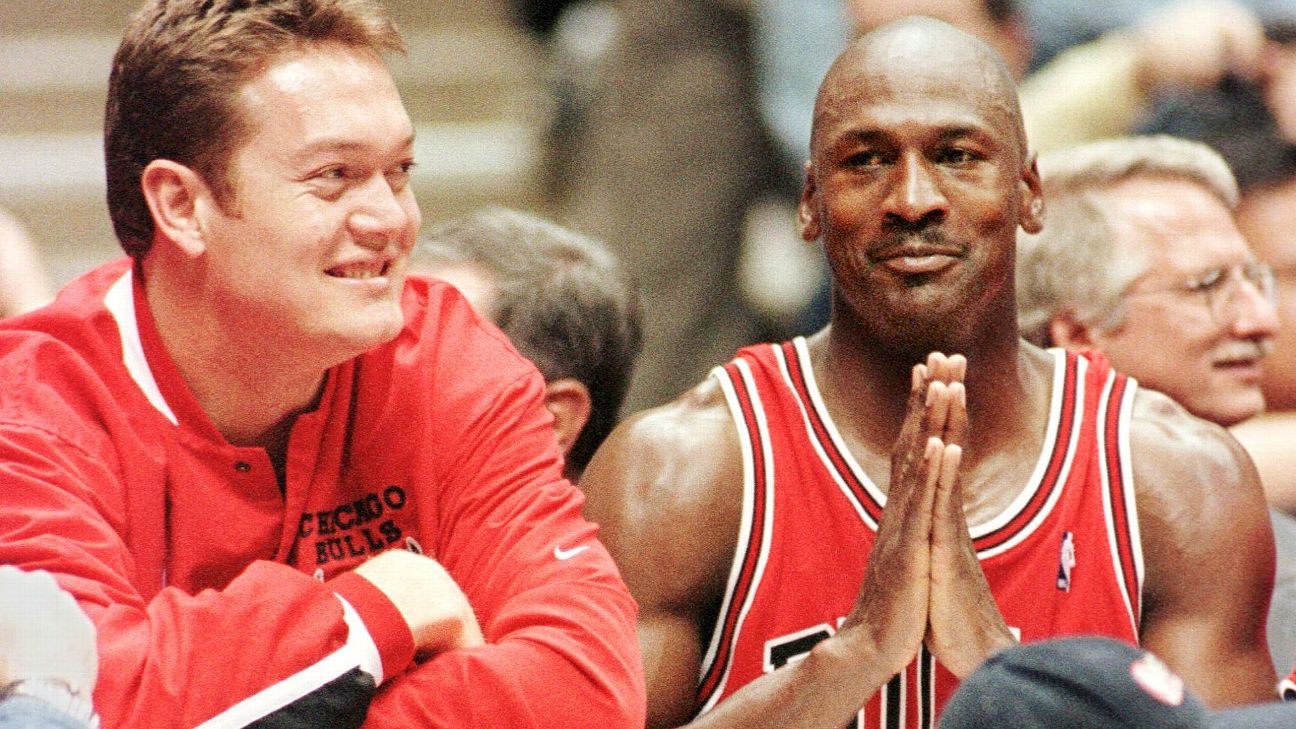 A winning culture
Australian NBA great Luc Longley was beginning to fall out of love with basketball, but everything changed when he joined Michael Jordan and Scottie Pippen at the Chicago Bulls in 1994.
"It was really like stepping into a different league."
Luc Longley sensed immediately this was a different situation than the one he had just left in Minnesota as soon as he stepped foot inside the Chicago Bulls' practice facility shortly after being traded mid-way through the 1993-94 NBA season.
The 7'2 Australian had spent his first two-plus NBA seasons playing for a moribund Timberwolves franchise; the team had won a combined 34 games in Longley's first two years, and was still a few years -- and a Kevin Garnett -- away from being a playoff contender.
Moreso, the franchise lacked direction. Both on the court, and off it.
Minnesota entered the NBA as an expansion side in 1989-90 and were still trying to develop a winning culture. But with few veterans to guide rookies like Longley, it was an inauspicious beginning to his NBA career. During Longley's rookie campaign, the San Antonio Spurs' future Hall-of-Famer, David Robinson, dropped 50 points on the center.
"Not one single guy on the team said 'you might wanna force him this way, or that way'," Longley told ESPN. "It was every man for himself."
So, when Longley was traded to the Bulls for the perennially underachieving Stacey King, it was akin to the rebirth of his basketball soul.
"I get to Chicago and it's entirely the opposite [of Minnesota]. Everyone is vocal and supportive of everybody else."
- LUC LONGLEY, Chicago Bulls
"It was back to being basketball involved, spacing, movement and sharing the ball and back to playing basketball. The experience that I had when I first got into the league - and it happens with teams that aren't very good in the NBA - is that you play isolation 1-on-1 bully-ball, hero ball; which is not fun if you're not the hero. So you tend to be not involved."
The Bulls, meanwhile, were the three-time defending champion, and although they were playing their first season without Michael Jordan, who had retired the previous October, the team had an already established winning culture, and its leadership, from the coaching staff to MVP-contender Scottie Pippen, trickled down to the rest of the roster.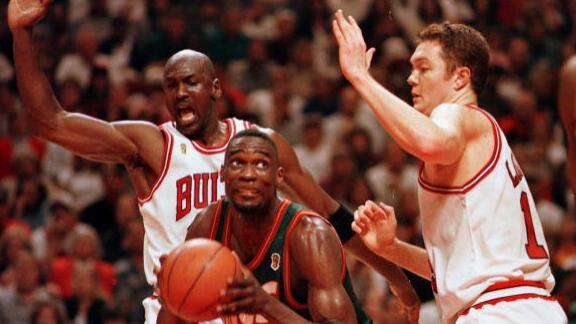 "Phil [Jackson] had a very different command of a group of young men's minds to anything I'd ever experienced before," Longley says. "I immediately felt accepted, and it pumped up my tires. It got me feeling confident, and when you're confident you play better, and when you play better you feel [more] confident."
Chicago eventually lost a bitter second-round playoff series to the hated arch-rival New York Knicks in seven games. There were noises within the locker room and coaching staff about being a championship contender the following season, but the team was in a state of flux, losing All-Star forward Horace Grant in a contentious free agency signing with the Orlando Magic. Previously, one of the keys to success of the Bulls franchise at the time was its stability and roster continuity.
The Bulls entered the 1994-95 season confident of being right in the championship mix once again, but it was a late-season acquisition that year that would set the wheels in motion for another Chicago run at NBA titles. With 17 games left in the regular season, Michael Jordan decided to end his baseball experiment and returned to the team he led to a historic three-peat.
"There was teething problems while MJ worked himself back in the game and we figured out how to help him, and figured out how to play with him," said Longley. "Suddenly you've got the best player [back] and that has an exponential effect on everyone else. It makes everyone better."
It was an adjustment that Longley, and the rest of team, realised would take some time once they were bundled out of the playoffs in the second-round again - this time at the hands of the upstart Orlando Magic and a triumphant Grant. The return of Jordan, and a new winning mindset, gave Longley an extra focus that off-season.
"I'm lifting weights, and in my mind I'm beating Shaq down court, or I'm shooting jumpers over Alonzo Mourning," he said. "It gave me someone to compete against directly. That's how it affected my off-season for sure."
Getting Jordan back for a full training camp and preseason with the team, it was time for Longley to really find out how to play alongside Jordan - no easy task, especially considering Jordan wasn't the type to sit down with teammates and explain what he required from them. Longley says that happened organically.
"MJ let you figure things out on the floor. He led by example."
- LUC LONGLEY, Chicago Bulls
The Bulls rolled through the regular season, winning a then-record 72 games, before getting some measure of revenge on Orlando by sweeping them in the Eastern Conference Finals. By reaching the Finals, Longley also made history as the first Australian player to achieve that milestone.
The stakes were high, but as a distraction from all the outside distractions, Longley zeroed in on the details.
"You bore deeper into the player tendencies, you bore deeper into the defensive schemes," he said. "You just get more into the detailing and you minimise all the white noise on the periphery. In my case, I discouraged family and friends - they could come and watch, but really you have to isolate yourself a little bit."
Chicago would eventually claim its fourth NBA title by defeating the Seattle Supersonics in six games. Longley had his best showing on the road in Game 3, scoring 19 points. He then followed that up with with 12 points and 8 rebounds in the clinching game at home, and in the process, became the first Australian to win an NBA title.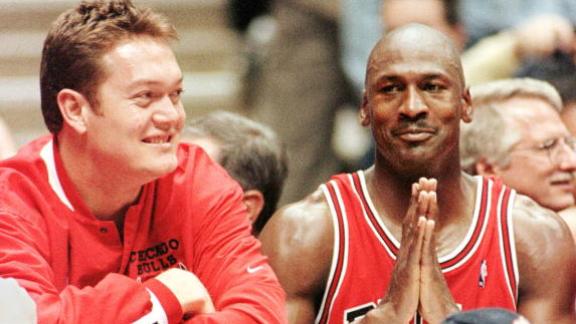 "I felt proud I was the first Australian to do it, and I thought Australia is going to be excited.," Longley remembers. "This is cool for Australia."
The Bulls would defend their title twice more, completing their second three-peat by defeating the Utah Jazz in 1998. By that stage, the physical toll of playing deep into June for so many seasons had taken its toll on Longley - and the rest of the team, also. He looks back on the physical grind of the three-peat and calls it the biggest obstacle the team had to overcome to win their titles.
"It took its toll on MJ, it took a toll on everybody,' he says. "The compounding year-on-year, deep in the playoffs, playing a hundred plus games a year, that's the one. It's easy to carry tendonitis through an off-season when you've only got two months of an off-season. It's hard to get your body right."
Since Longley's retirement, more Australians have been able to lay claim to being an NBA champion - Patty Mills, Aron Baynes, Andrew Bogut and Matthew Dellavedova have all played key roles on their team's title runs. But Longley was the first to climb the mountain.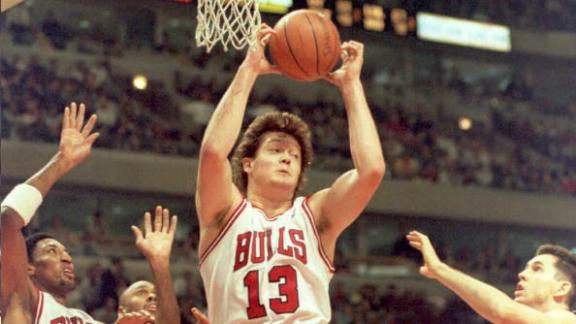 It was a stroke of serendipity that he somehow went from a languishing franchise in Minnesota to, arguably, the greatest team of all-time, alongside three Hall-of-Fame teammates, and helmed by the winningest coach in NBA history. Chicago shaped him as an NBA champion, and Phil Jackson taught him about winning. Years after the championships Longley still vividly remembers the lessons Jackson preached.
"Phil said 'enjoy the process, engage in the process, and the winning will come as a result," said Longley. "You don't go to practice to win games, you go to practice to practice and get better and enjoy that process. Winning is a byproduct of that."
SC Featured Luc Longley - a look back: Australia's first NBA champion reflects on his historic career. Premieres Thursday, June 1, 9.30pm AEST, ESPN2.
Nick MetallinosNick Metallinos is Australia's freelance NBA journalist. He also heads up content at Starting5online.com