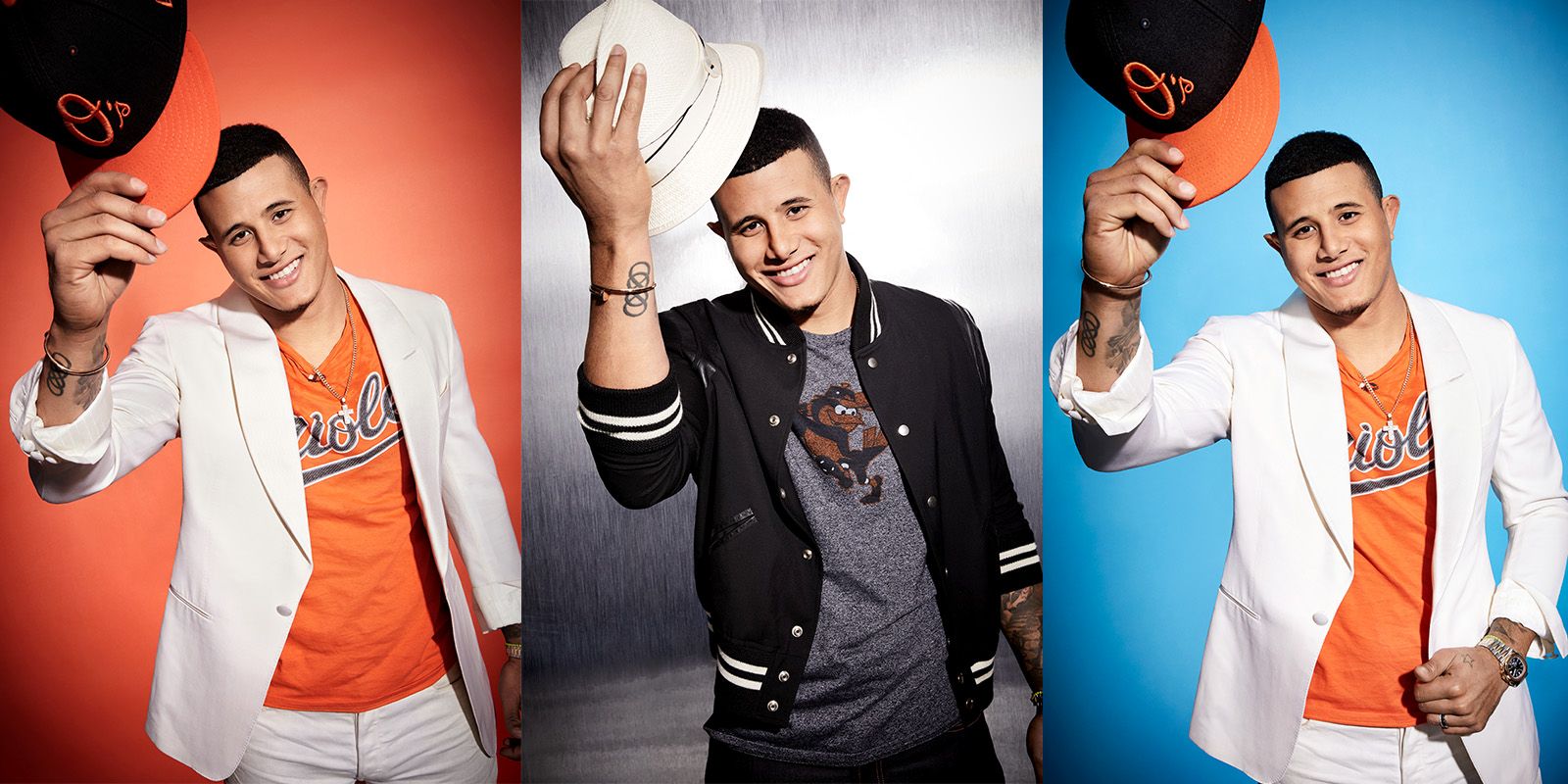 Going Against The Grind
Talented, joyful and Dominican-proud, Manny Machado is the face of MLB's new identity.
This story appears in ESPN The Magazine's June 26 Béisbol Experience Issue. Subscribe today!
Baseball. Man, such a brutal game. Such a mean game. Sadistic, really, the way it runs itself up under your skin and makes you miserable. Hang around a baseball clubhouse and you'll start to wonder why anyone plays the damned thing. Sometimes it seems everybody in the game wakes up each morning trying to decide whether to be angry or bitter. Fittingly, the ballplayer's favorite word is grind, as if coursing through 162 games is the sporting equivalent of an 18th-century polar expedition. Even good moments are dismissed as untrustworthy, because if ballplayers know one thing about the grind -- this joyless, painful six-month scrape of hard surface against hard surface -- it is its infinite capacity to humble them.
Maybe that's why they work so hard to create the illusion of frivolity. The visiting clubhouse in Detroit, to take one example, has a table with cartons of Dubble Bubble (three flavors), trays of Jolly Ranchers and Life Savers and Big Red and Tootsie Pops and Blow Pops and three kinds of protein bars, twist-top dispensers of Gummi Bears, peanuts, caramels and Reese's Pieces, buckets of sunflower seeds in three different-sized bags. This setup might just be a distraction, like the promise of a lollipop after shots at the pediatrician's, but at least it makes the clubhouse look like a fun place.
Occasionally, though, an anomaly walks through these doors, a man who plays this dirge of a game with happiness and sunshine, a man whose smile doesn't just appear -- and appear frequently -- but erupts. He patrols a vast area around third base, a kinetic wonderland bordered (roughly) by second base, left field and home plate. Under his jersey he wears a T-shirt with the words "Put an accent on it!" in Spanish. Manny Machado is many things, but joyless is not among them. Hell, even his name, with its consonants arranged like an enunciation exercise, sounds fun.
He is both star and symbol, a 24-year-old Dominican-American from Miami who straddles two cultures and resides in a third. The game is changing -- or, perhaps more accurately, being changed. Gradually and grudgingly, baseball's culture is dismissing the mores of its pastoral grandparents. The game's young stars, its Bryants and Lindors and Harpers and Arenados and even its overly inhibited Trout, bring a buoyancy to the game that is eroding the tsk-tsk repression that frowns upon public displays of happiness and inflates those who make playing the game look as difficult as possible.
"We think of it as out with the old and in with the new," Machado says. "We just like to have fun and go out there and enjoy ourselves. Always a smile on our faces, just playing the game that we love."
Machado moves with a sprawling looseness that flirts with elegance. His endless limbs and their unusual liquidity have spawned tales -- possibly apocryphal -- about their composition. He has had identical surgeries on each knee, one in 2013 and another in 2014, and Orioles manager Buck Showalter says, "They were so loose, they needed to be tacked up, so it was a good thing for us that he got both of them fixed when he was young." That would also mean Machado's looseness is physiological as well as stylistic.
"The way he plays ... not with a chip on his shoulder, that's not him, but with a swag that Miami boys got," Orioles center fielder Adam Jones says. "You look at him, you know he's a Miami guy."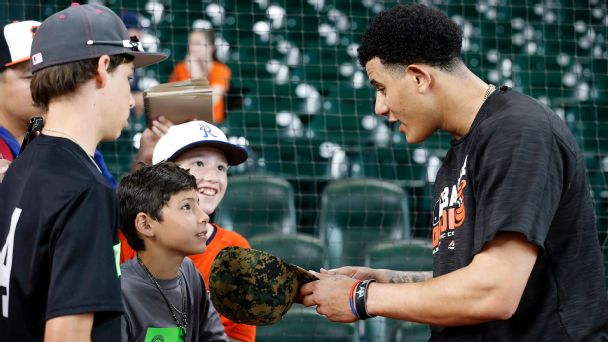 Machado spends his downtime on the field canvassing the stands, as if each of those faces holds important information. He must lead the league in tossing baseballs to fans. He greets every runner who reaches third, and some who don't, by slapping his glove across the player's back. He talks to umpires and catchers and anyone who will listen in two languages.
Machado and second baseman Jonathan Schoop have been friends since they started in the minors together in 2010, and both independently point out the photo hanging in the training room showing them celebrating their 2011 championship at Single-A Frederick. They argue about everything -- chess, video games, fielding, hitting. Some days they classify themselves as friends, other days teammates. It's a running joke; a friend is someone you talk with about everything, including personal stuff, while a teammate is someone with whom you play baseball. It's unclear where these lines are, and when they're drawn.
"Sometimes he doesn't like me telling him the truth," Schoop says on a spring day that Machado would like everyone to know, for unspecified reasons, is a Teammate Day. "That's why we fight a lot. Every day there's something to fight about. We'll fight today, and in two minutes we'll be good."
Earlier that day, sitting in the dugout four hours before the game, Machado is joined by catcher Welington Castillo. "El Neee-nyo," Machado says to the teammate he first met while playing for the Dominican team in this year's World Baseball Classic. "This is my boy right here. He's the truth, keeps me humble."
"Is that a hard job?" I ask Castillo.
"A little bit," he says, laughing.
All of which is to say: Machado does not, by any rational definition, appear to grind. This is tricky territory. Mention this to one of his teammates and said teammate will look at you with an expression emanating disgust. Oh, he will tell you with the tone of a great oracle, Machado does grind, and to suggest otherwise -- to suggest that he plays the game with an unworried joy that inoculates him from the game's dour rigors -- is to commit a brand of blasphemy that defies absolution. I try to ask Jones, another man who seems to have a monogamous relationship with joy, to explain Machado's ability to make an excruciating game look fun, and the best I can do is to say, "Do you think he plays the game with an ease that can make people ..."
"Get jealous?" Jones interrupts. "Yeah, he plays with an ease that will make people jealous. When he's making plays, it looks carefree. When he makes an error, if someone sees that same carefree attitude, they'll think he's not caring. But just 10 minutes before, they saw a play that nobody has made in a long time. Some guys just have to work harder for the simpler things, but not him."
Machado grinds, make no mistake. He'll tell you he grinds because grinding is a given. You grind every game, every at-bat, every pitch. You grind or get ground, simple as that. Even if it's a fun grind, it's still a grind, and sometimes having fun carries a price.
---
Buck Showalter sits at his desk in Camden Yards looking severely perplexed. He has managed Machado since the third baseman arrived in an Orioles uniform nearly five years ago as a 20-year-old whose future was expected to determine whatever the franchise would become. He is protective of Machado; two years ago, he took the extraordinary step of visiting the general manager of the condominium complex where Machado lived with his wife, Yainee, after he heard that a neighbor had been harassing Yainee when Manny was out of town. "This is important for the city of Baltimore," Showalter told him. The neighbor stood down.
He is a patient man, Showalter, and he speaks of the world as someone who has seen just about everything and kept most of it to himself. But on the topic of Machado he has no patience. "He's the kind of kid you'd want to see walking through the front door with your daughter," Showalter says. He shakes his head slowly and winces. "Some people have a problem with him, but I don't get it. Is it because he makes everything look easy? He's got a little flair to his game, and these guys don't want to hear someone saying, 'This isn't the way we did it back in the day.' He brings something to the game, and there are people who would like to put a thumb on him. You want everyone to be the same? How boring."
A life is presented in pieces, and the first story Machado tells about his decidedly nonboring life sounds kind of ... boring. It's about a fence. By the time he was 5, the game had already crawled up inside him. Every day after school in Hialeah, Florida, Manny spent hours throwing a tennis ball against a wall outside the house he shared with his mother, older sister and his Dominican-born grandfather. He would rob fictitious home runs at the gate on the side of the garage. Around 4:30 every day, he would walk across the street to his aunt and uncle's house to wait for Geovanny Brito to pull into the driveway after work. Whenever Uncle Gio got home, almost always between 5 and 5:30, he couldn't get both feet out of his car before he was being handed his glove and greeted with the words, "Here you go, boss. Let's go get it."
By the time Manny turned 9, he and Uncle Gio would walk to a neighborhood field where Machado stood with his back to the outfield fence while his uncle hit him line drives and grounders. "Bullets from 10 feet away," Machado says, shaking his head. Every day, Manny returned to the driveway, bringing with him two gloves, more bruises and quicker hands.
"That's how you get better," Machado says. "Don't let the ball hit you. Catch it or get out of the way. And if you get out of the way, that's when you have to stop playing. So you've got to stay in there."
He grew up in a Latin neighborhood, with Latin friends, and his first team, in what he calls a low-budget travel ball, played together for several years while wearing T-shirts with a number on the back and "Chiefs" on the front ("probably 20 of 'em for $100," Manny says) and plain white baseball pants ("from Sports Authority").
"We thought we were big leaguers with our Big League Chew gum, the eyeblack -- we had flair," Machado says. "We liked to show emotion, and a lot of people didn't like that. We were mostly Latin, speaking to our parents in Spanish and our teammates in English. Our parents got into fights a bunch of times. Brawls. There were some good ones, some real good ones. Well, bad ones, actually. I remember there were a lot of bats involved. A lot of blood. It was bad."
He tells these stories to ground himself, and to remember, and it seems he tells this particular story so that he can say: "We always got along with the kids from the other side. After the games, we'd play two-on-two baseball or basketball while the adults were getting after it. That's what I remember."
By the time Machado got to high school in 2006, he was compared with another famous Dominican-Miamian, Alex Rodriguez. Partly because of this reputation, Machado began working out at 17 with University of Miami players, including Yonder Alonso, whose sister, Yainee, would eventually become Machado's wife.
"The first time I met him he was super skinny, lanky and soft," says Alonso, now with the A's. "I thought, 'He needs to eat and work out.'" In November, Alonso says, Machado couldn't jump high enough to slap the backboard on a layup. By February, he was dunking. In June, Baltimore chose him with the third pick of the 2010 draft.
Machado would be the next great Orioles shortstop, except that, in 2012, the Orioles needed a third baseman, at least one better than Wilson Betemit, who had 15 errors in 102 games. In Machado's second full season in the minors, at Double-A, roving instructor Bobby Dickerson embarked on a special-ops mission. His goal: to make Machado a third baseman without letting anyone, not even Machado, know it was happening. Dickerson found creative ways to get Machado to arrive at the park early. "Can you play a man's position?" was one of his more successful lines. Secret intact, Dickerson drove home from Bowie, Maryland, and called Showalter. "He's better than anything you have up there right now," he said, "and he's only been working there two weeks."
If anything, the projection was understated. Machado recorded 1.6 WAR in 51 games that first year in 2012, double the 0.8 Betemit had earned in 102 games. He's finished in the top five in AL MVP voting the past two seasons, hitting 35 and 37 homers and finishing with a 7.1 and 6.7 WAR. All of which has inspired a different sort of projection: how big his contract will be when he becomes a free agent after the 2018 season. He will almost certainly approach -- or even top -- $400 million.
"He plays with a swag that those Miami boys got. You look at him, you know he's a Miami guy."
- Adam Jones
He doesn't so much seek attention as demand it. His turbulent swing unfurls like a bedsheet, starting near his right ear and reaching its conclusion somewhere near the backstop. By the time it finishes its swoop, you'd swear the 34½-inch bat is 6 feet long. But the true Machado flair takes place in the field. The way he situates his body while determining the path of the ball and the arc of the hop is something that approaches art. Machado won the American League Platinum Glove award in 2013, signifying the best defensive player in the league, and in Baltimore, where Brooks Robinson is one of the most beloved players of all time, it's no longer heresy to suggest the kid with his back to the fence has grown up to be the best defensive third baseman in baseball history.
"Whoever taught him to field a ground ball -- kudos to him," Jones says. "Come teach my kids."
There's a risk to attributing personality traits and athletic qualities to cultural forces, but Machado's ease and lack of self-consciousness are things that he himself associates with growing up playing in the Latin culture. Deeply rooted as he is in Miami, he nevertheless defines himself as a Latin player and says he "100 percent" identifies more with Latin teammates and opponents. "I talk to everyone, but most of the people I hang out with are Latin," he says. "We all mostly stick together." The fraternity is strong. On the first day of his first road trip as an Oriole, a Rangers clubhouse attendant handed him a plate of Latin food. "Nelson Cruz sent this over," he said. It happened the next day, and the day after that.
That bond, and a desire to honor his family's heritage and the memory of his late grandfather, led to his decision to play for the D.R. in the World Baseball Classic in March. He saw it as an opportunity to learn more about his culture and play in the expressive, celebratory and nonjudgmental way he remembered as a child. "We were out there celebrating like Little League," Machado says. "People hate us sometimes because we just like to have fun, no matter what. We lose -- we're having fun. We're not going to change. The younger generation, that's how we play. If we're going to suck, we're going to suck, but we're going to go down how we do it. We're always the same, no matter what."
---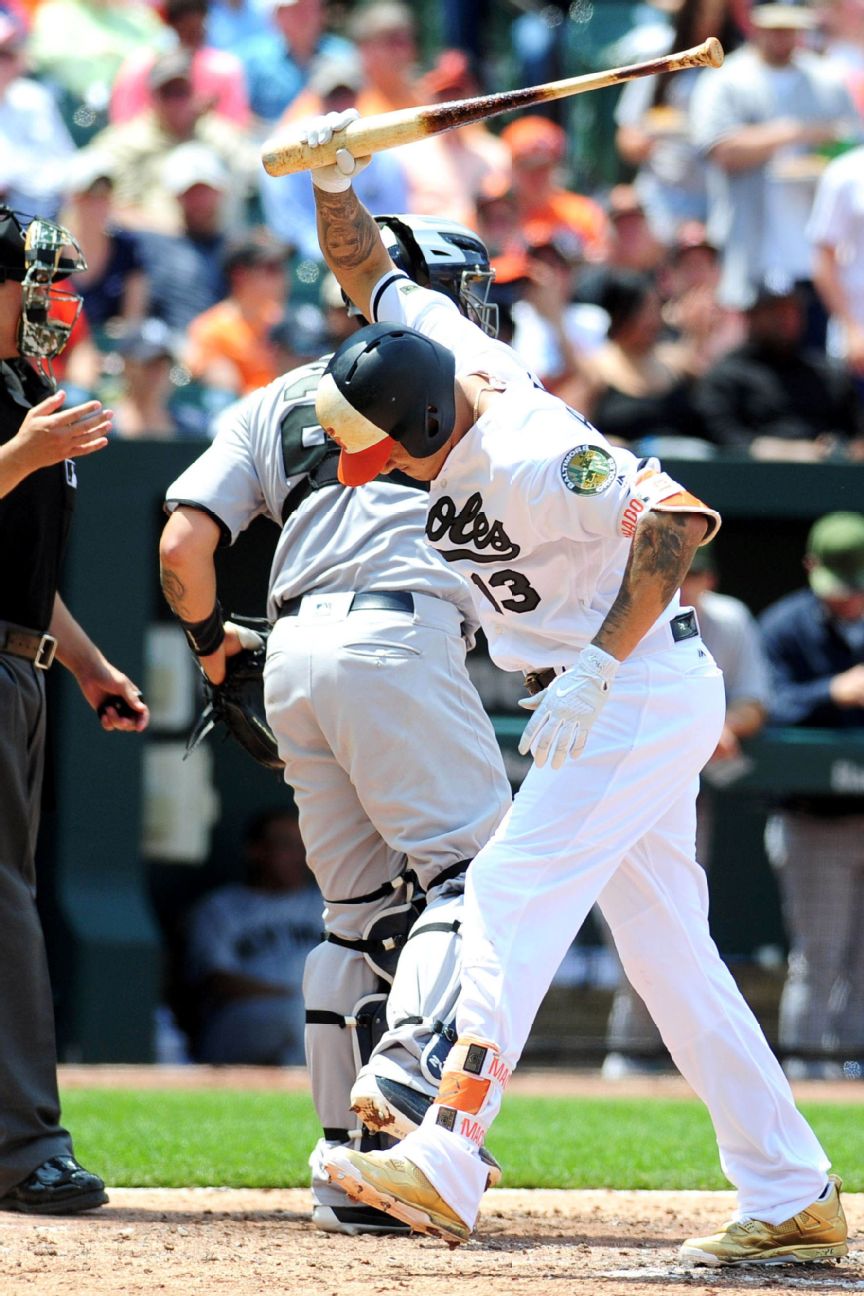 Now is probably the appropriate time to drag the river of Machado's past indiscretions. He has run afoul of several provisions of baseball's nebulous code: slow home run trots, bad body language, other real and perceived misdemeanors pertaining to vague and little-known citations. Baseball's capacity for umbrage, 150 years in, retains the ability to surprise.
Any transgression, either of omission or commission, will forever conjure memories of a meltdown three years ago in a series against Oakland, when Machado took offense to an allegedly hard tag by Josh Donaldson and launched a red-ass (in baseball's technical vernacular) routine that included hitting catcher Derek Norris with two backswings and, after nearly being hit by a pitch twice, throwing his bat toward third baseman Alberto Callaspo.
"There were some things early in his career that I'm sure he's not proud of," says Dickerson, now the Orioles' third-base coach. "Being close to him, I'm not proud of them. I know he's learned from them. The Donaldson thing was one, and how to address it and own up to your mistakes."
During an April game this season, Showalter, head down, hands in his jacket pockets, walked to the mound to make a pitching change after a botched bunt coverage. When he got there, he looked up and asked, "What happened with that bunt coverage?"
Before Showalter could even finish, Machado said, "I f---ed it up. I f---ed it up, but I got you. It won't happen again." The boil reduced to a simmer, Showalter had a moment of indecision. "I stood there," he says, "thinking, 'I guess I'm supposed to be mad.'"
As Machado has matured, baseball too has shifted -- slowly, yes, but undoubtedly in favor of those like Machado, who would rather celebrate than grumble. Both changes came into sharp display on April 21, when Machado slid high and late into Red Sox second baseman Dustin Pedroia, who had to leave the game and miss three more with a knee injury. Machado endured one of the lengthier and most unpredictable hunts for justice in recent memory -- a two-week, two-city, mid-Atlantic display of vigilantism so convoluted the combatants themselves might have forgotten its origins.
After Chris Sale, in game five of the ordeal, became the second Red Sox pitcher to barely miss Machado's knees, with a 98 mph fastball (the fifth ball of 90-plus mph that Machado had dodged since the slide), Showalter called Machado into the runway that connects the Orioles' dugout to the clubhouse.
"I'm thinking of taking you out of the game," Showalter said. "The umpires won't protect you. The other team isn't concerned about your safety. Convince me to keep you in the game, because if you can't, I'm taking you out. Make me believe you."
"I got it," Machado said.
"That's not good enough, Manny. If you get suspended, it hurts our club. If you give in, they win."
"No, really," Machado said. "I got it. I'm cool."
Machado paused, looked at Showalter and said, "But if it happens again ..."
"If it happens again," Showalter said, "you're going to have to beat me out there, because we're all coming."
Three weeks later, none of Machado's teammates wants to talk about the Red Sox, and neither does he. What's left to say? Besides, he's in a tough spot: being asked to explain something without knowing how the explanation will come across, or how the people who carry the code in its golden coffer will respond to his explanation. But the aftermath is important. Machado, who exposed one more aspect of the archaic and empty code, became a sympathetic figure. The Red Sox's response to Machado's alleged crime was so farcical it became indefensible.
"You get one shot," Machado says. "One shot. That's what you get. You don't get to keep going and keep head-hunting. I get the situation. I get that Pedroia is the best player on the team, and I get that you have to hit me. That's fine. Just hit me, get it over with, hit me in the right spot and I'm going to first base and we'll continue to play baseball."
Fake drama, Showalter says. A pitcher comes inside with an off-speed pitch and the fans respond in a way that makes the hitter feel like he should be angry, and one of his pitchers might decide to retaliate. He equates it to a patient being asked "Does this hurt?" so many times by a doctor that he finally says, "Well, I guess so."
"I got a question for all those guys," he says. "How manly do you feel when you're standing on the mound and someone's lying in the batter's box with blood coming out of his ears?"
---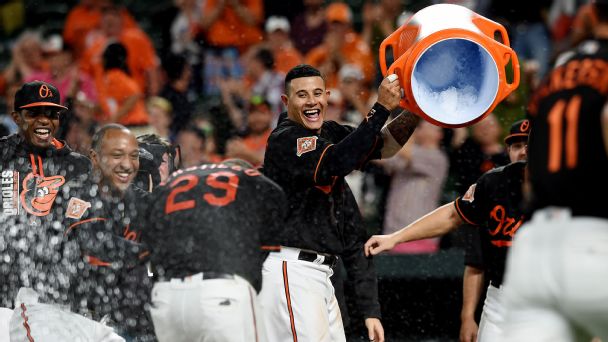 He scratches his grandfather's initials in front of third base, like an artist signing his work. FN, for Francisco Nunez, who died in 2009 before he could see his grandson join a generation of ballplayers that just might change the game. What Nunez would have learned about his grandson is that his art is purely expressionist and that the brain is simply not fast enough to keep up. Watch enough baseball and certain projections seep into your consciousness, including one that says a ball that ricochets off a piece of hard maple at more than 100 mph and skips once down the line before reaching third base is a double into the corner.
And yet Machado fielded that exact ball off the bat of Toronto's Russell Martin in late May. He dove to his backhand side and spun his body, sliding as if on ice, to face right field and fire the ball to second base and start a double play. How do you describe it? Maybe this way: He's surfing the dirt. He's the world's foremost dirt surfer. It was precisely the kind of play that caused Showalter, at the beginning of spring training, to tell new pitching coach Roger McDowell, "You just let me know when you've seen something you've never seen before." Peeking his head down an imaginary bench in an imaginary dugout, Showalter re-enacts McDowell's reaction after just a few weeks of watching Machado play. He shoots one finger in front of him -- that's one, he says. Another finger -- that's two. Another -- that's three.
"You know the saying 'Don't try this at home'?" Showalter asks. "That's Manny. What he does on the field, don't try that at home."
But on a Wednesday night in mid-May, the game's sadistic forces are winning. The grievous consequences of playing the game are almost too much to bear. The expedition has reached crisis level: food gone, nothing left to burn. The game ends with Machado rung up unjustly on a checked swing. The Orioles lose, the tying run stranded. Everyone is weak, clutching photos of loved ones.
The loss comes amid a terrible stretch for the Orioles (seven straight losses, 13 of 16) and an even worse one for Machado, who is staggering through a slump that will drag his average down to .205 at the end of May. It comes about two weeks after Dickerson sat down with Machado and told him, "The definition of who you are is what it looks like when you're at your worst."
The clubhouse is nearly empty. Machado is walking around his locker, the game still inside him, when pitcher Wade Miley bounces over, holding an iPad.
"You didn't go," he tells Machado. "Check this out."
Machado stops pacing.
"I don't want to make you mad, bro," Miley says.
"I'm already mad," Machado says.
Machado is smiling, though -- that eruption again. This is what Alonso, his brother-in-law, means when he says, "Manny can let it go, man." The strikeout seems a lifetime ago, and Machado shares a laugh with Miley before the pitcher walks away, slightly confounded. It's a small moment, unnoticed amid the interminable misery of the eternal grind. He knows there will be bruises and doubters and those who feel the game should be policed by an ancient code that is both inviolable and permanent. But there will always be the smile, and the confidence, and the quiet moment to say a prayer and etch those initials in the hallowed ground. And there will always be another day to represent a culture -- We're always the same, no matter what -- that demands that joy be more than an illusion.
Styling by Michael Nash; Grooming by Debbie Federico; Blazer by Tom Ford; Jacket by Saint Laurent; Vintage Tee shirts; Watch by Patek Philippe; Bracelet by Cartier; Cap by New Era
Keown is a senior writer for ESPN The Magazine and a columnist for ESPN.com.