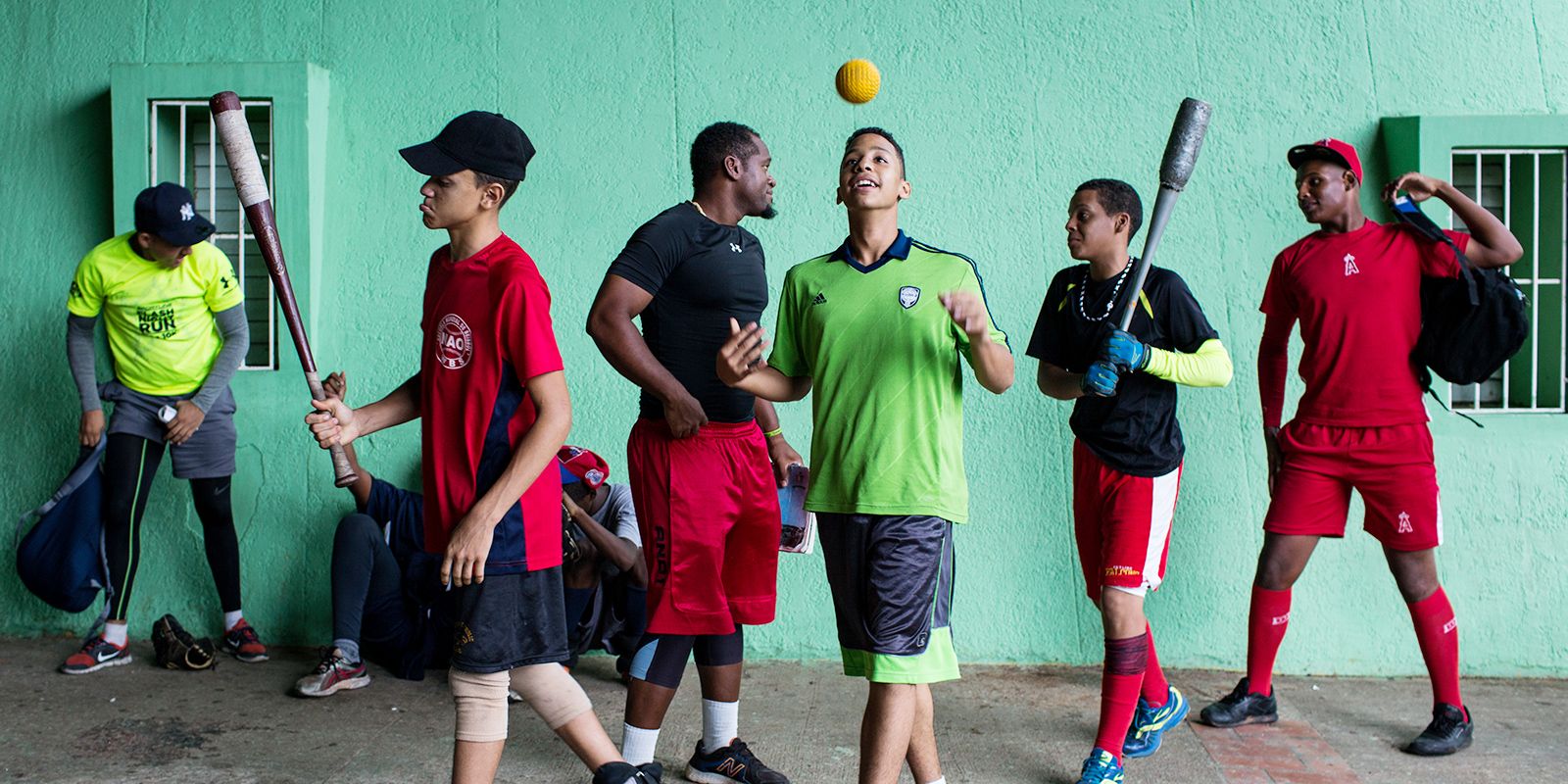 The lost prospects of Cuba
Hundreds of baseball players have fled Cuba in the past three years, only to find themselves trapped by a dream.
This story is a collaboration with Outside the Lines. It appears in ESPN The Magazine's June 26 Béisbol Experience Issue. Subscribe today!
On the afternoon of April 28, 2014, Lerys Aguilera stepped out of his house in Holguín, a provincial capital in Cuba's rustic eastern half. He hadn't gone far when he felt a tap on his shoulder. He turned and faced a young man, a stranger, who looked to be in his early 30s. In Holguín, Lerys Aguilera was famous. For the prior 11 seasons he'd played first base and hit cleanup for the Holguín Sabuesos, one of 16 teams in the National Series, Cuba's grandes ligas. He was 6-foot-1 and almost 300 pounds; he was a slugger, a reliable home run hitter, with a career batting average of .270. The man who tapped him on the shoulder knew all this and said so. He also knew other parts of Aguilera's biography -- namely, that the ballplayer had fallen in love with a Dominican woman who'd come to Cuba to study medicine, that the two had married and that not long ago his wife's visa had expired, forcing her back to her home country.
The man's pitch was succinct: Let us take you to the Dominican Republic for free. You reunite with your wife, and we'll help you pursue a baseball career in America. Aguilera had already researched ways to get to the Dominican Republic legally on his own. But the expense of a Dominican visa plus a plane ticket was far beyond his means, exponentially more than his annual governmental stipend as a Cuban baseball player. If Aguilera wished to take this opportunity, the man told him, he should walk outside his door at exactly 3 p.m. two days from now. The man would be waiting.
For two nights, Aguilera did not sleep. For two nights, he prayed. At the appointed hour, he stood up from his kitchen table and, saying nothing to his family -- not his father, mother, brother or grandmother -- he walked out of the house and into a van. He had no idea where they were taking him; he had no idea who they were. His guides dispensed almost no information. It occurred to him then, his throat tightening, that he was no longer in control of anything at all. He had put himself totally at the mercy of smugglers.
After a six-hour drive to a remote and windblown strand, after wading out in the middle of the night to a small twin-engine fiberglass fishing boat operated by two Haitians whose heads were sheathed in balaclavas, after an 18-hour voyage on heavy seas to the town of Cap-Haïtien on the north coast of Haiti, after a jouncing ride in an SUV on rutted tracks through sugarcane fields, after fording the mouth of the Massacre River on a dinghy poled by a ferryman, after a bus ride and a handoff and another hourslong car drive, after being deposited in a hostel in the small town of Cotuí in the Dominican interior ... after all that, Aguilera was not immediately reunited with his wife. It was hard to figure out what was going on; he didn't then have his own phone. Almost a week passed before he was finally brought to her -- she lived in a town only an hour's drive away -- but the reunion was sweet. "It was an almost endless hug," Aguilera says now.
Little did he know then, but Aguilera would pay a great toll for that hug. He had joined the ranks of Cuba's baseball diaspora -- a lost tribe of baseball prospects that grows larger and more desperate by the day.
---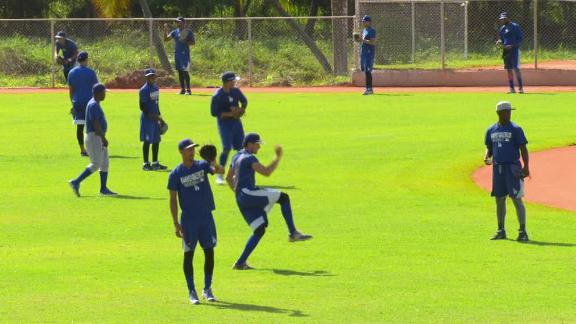 Darys Bartolomé left Cuba on Jan. 28, 2015, on a commercial flight bound for Port-au-Prince. An eight-year starter at first base for the Camagüey Alfareros, he had already seen dozens of his player friends leave Cuba and sign with MLB teams. His plane ticket was paid for by a man in the Dominican Republic whose name Bartolomé was afraid to say. A little more than a year after catching his flight, Bartolomé, unsigned and abandoned by his sponsors, was living in a rural hamlet, penniless and bedridden. He had dengue fever.
Jorge Hernandez, a sidearm pitcher from Cienfuegos and former National Series teammate of Yasiel Puig and José Abreu, left Cuba by commercial air in 2014 and says he was almost abducted by an SUV full of men not long after he arrived in the D.R. There was a car chase through the streets of San Francisco de Macorís; gunshots were fired. A group of rival smugglers, Hernandez was later told, had sent the would-be kidnappers to get him.
Pavel Quesada, another Cienfuegan, spent many months in the Dominican Republic trying out for MLB teams; his agents told him there were no takers. Desperate for an opportunity to play anywhere at all, he got himself smuggled to Venezuela. There, amid riots and food shortages, he was going to try out for the Venezuelan league.
Lisban Correa, late of Havana's famed Industriales, was brought out of Cuba by plane to Haiti in July 2015. Over the years, he'd been approached several times. He'd heard smugglers say: The Colorado Rockies already have a deal in place for you. They sent us here to get you! He'd heard smugglers say: The moment you touch down on Dominican soil, you'll get $2 million, $4 million, $6 million. But when he arrived in Port-au-Prince, his investor had bailed. He was stuck in Haiti, a man without a country.
Yandy Suarez was smuggled by boat out of Cuba to the Dominican Republic in 2016. Just 20 at the time, the pitcher had played two seasons in the National Series for his hometown squad, Los Tigres de Ciego de Avila. The smugglers claimed they had their own private baseball academy. "They were lying," Suarez says. There was only a stable of five other Cubans stashed in the same hotel. Armed security guards surrounded the group at all times. Were the guards meant to protect the players or to prevent them from escaping? "Probably both," he says.
---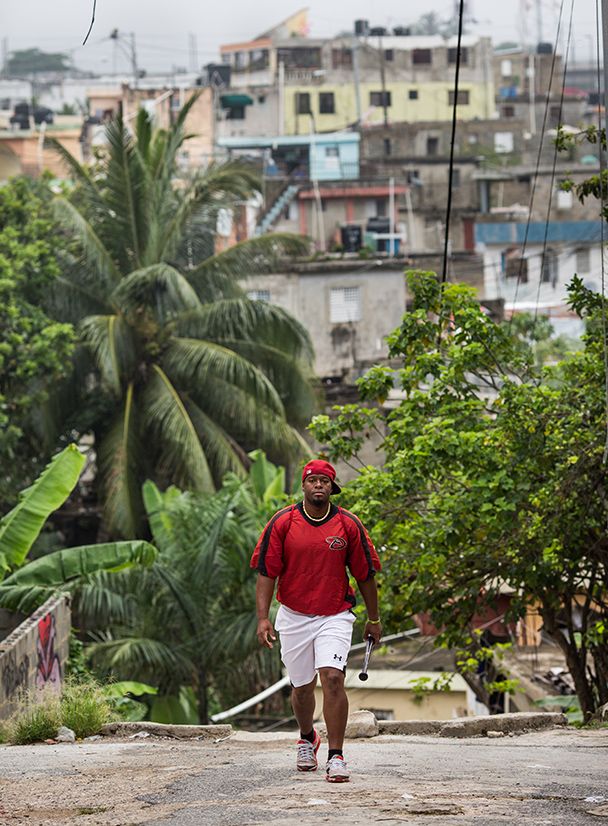 All of these players are part of an unprecedented athlete exodus out of Cuba -- since 2014, some 349 peloteros, or ballplayers, have emigrated off the island. If you haven't heard of it, it is because you're not meant to: They're invisible by design and rendered powerless by their reality.
In April 2016, a young Cuban journalist and baseball fanatic named Francis Romero decamped from his native island for reasons that parallel those of the athletes he writes about. "I wanted to get to the next level," he says. He wanted, in other words, to write about baseball free of the restrictions placed on Cuban journalists by their government. Now 30, Romero has made it his life's work to track Cuba's ballplayer migration. That number -- 349 émigrés in three-plus years -- comes from his research. There were 54 in 2014; a veritable explosion in 2015, when 184 players left; and more than 100 since. Almost 10 players per month are fleeing the island. More players have left Cuba since 2014 than in all the other years under the Castros -- over half a century -- combined.
It might seem intuitive that this mass migration was unleashed by the diplomatic thaw between Cuba and the Barack Obama administration, announced in December 2014. But that's not the case. The U.S. trade embargo, which remains in place and can be removed only by an act of Congress, still makes it impossible for MLB teams to sign contracts with Cuban ballplayers who remain resident in Cuba.
Instead, the exodus can best be explained by baseball's cyclical economics. Among MLB's scouts and back-office executives, it is referred to as the "Cuban market," and since 2009 that market has undergone a boom. A sequence of Cuban baseball virtuosos -- Aroldis Chapman, Yoenis Céspedes, Puig, Abreu -- have fetched ever-larger eight-digit contracts. With the exception of Chapman, all were smuggled out of Cuba. And all those deals and more (scores of Cubans have signed seven-figure deals) have made the smugglers rich. The key loophole they have exploited is well-known: By "establishing residency" in a country other than Canada or the U.S. and its territories, players don't need to enter the MLB draft and can become free agents. Tallying up the signings in the Cuban market since 2009 reveals payments to those players of nearly $800 million. The industry-standard fee for the people who help those Cubans sign as free agents is 30 percent of the full value of a player's first professional contract. Theoretically, then, the networks have grossed more than $240 million.
And so a whole clandestine industry has bloomed. It entails a loose and overlapping confederation of specialists: the operatives who approach players in Cuba and recruit them to leave; the lancheros, or boat captains, who sneak the players off the island; the fixers who obtain "expedited" residency papers for the players in underdeveloped countries; the middlemen, arbitrageurs of the Cuban market, who buy and sell but don't hold on to the players; the handlers who deal with the day-to-day care and feeding of the players once they've settled outside Cuba; the trainers who coach the players as they prepare to showcase their talents to MLB teams; the agents who negotiate with team executives; and the buy-and-hold investors who effectively bankroll the whole thing, taking a large cut of the action.
Still, every boom plants the seeds of its own destruction, and like the subprime mortgage industry in 2009, the Cuban market is now in something like a crisis. Far too many marginal players have been brought out of the country, and in the Dominican Republic and South Florida today, unsigned Cubans are so numerous that they form their own discrete group, like a refugee community.
The business model that produced the glut is akin to studio Hollywood: A blockbuster like Yusniel Diaz, who left Cuba in 2015 and signed with the Dodgers for $15.5 million, more than covers the cost of a dozen failed prospects, creating the incentive to bring out as many players as possible and increase the odds that you have a winner among them. So the operatives go into Cuba with their aggressive sales pitches. "Te venden un sueño," says one Cuban player. (They sell you a dream.) Adds a longtime agent: "It's not fair to the Cubans because they're sold a bill of goods. At the end of the day, the players are the victims."
When a veteran Dominican trainer is asked whether the glut might dissuade smugglers from bringing in fresh talent, he laughs. "If they could," he says, "they would bring them all out ... and leave the fields of Cuba empty."
---
The profile picture on Lerys Aguilera's Facebook page shows him in his green and white Holguín Hounds uniform, pointing both index fingers to the sky as he crosses home plate after blasting his 100th career home run in Cuba. The social media network is extensively used by the Cuban pelotero diaspora, and when I contacted Aguilera in December through it, he agreed to meet. At the time, he remained unsigned after nearly three years in the Dominican, a highly negative indicator. According to the many players, scouts and agents I'd spoken with, the shelf life of a player, once on the market, is about eight months, after which his value plummets toward nothing.
And still, Aguilera wasn't ready to give up. An evangelical Christian, he leaned heavily on his religion for support. He attended service almost every day at a small church, Fuente de Salvación, a short walk from his apartment. His apartment building was populated mostly with Haitian immigrants. Mildew crept down the walls from the ceilings. For water to bathe in, Aguilera had to walk downstairs to a cistern and haul it up in buckets. He was subsisting on the charity of a new sponsor who wanted to help the player take one last shot, but the sponsor had limited funds. Aguilera trained daily with a handful of Dominican teenagers in a trash-strewn grove of locust trees by the side of a major four-lane road. It was not any kind of public park, just a stand of trees. They blocked off a portion of the nearest lane of the road with small orange cones and took turns pushing an oversized tractor tire up and back down the inclined pavement.
When I met him, Aguilera spoke frequently about his wife, the medical student he fled Cuba to be with. They had broken up but weren't yet divorced, and he was hopeful they would soon reconcile; he was working on that, he said. They had met almost 10 years earlier. He remembered the exact moment. And so does his wife, Dr. Mercedes Valdez, now a general practitioner in her Dominican hometown. A baseball fan since childhood, she and a group of her medical student friends had walked into Calixto Garcí a Íñiguez Stadium, home of the Holguín Sabuesos, to watch a practice in November 2007. "The minute I saw him," Valdez says, "I was like: 'No. 17! He's mine!'" As practice broke, Aguilera approached the group. "And I started flirting with him," she says. "I told him: You're my favorite player." (In Aguilera's words: "It was like love at first sight.") They married in 2012. Valdez would have liked to have remained in Cuba forever, she says. She believes they'd still be together today if they had. "We had problems, like every marriage, but we always solved them together," she says. "When he came here, he changed a lot."
Aguilera's smugglers brought him in on the new standard route for Cuban players. Over prior years, the networks had shifted their routes east, away from the Mexican pipeline, toward the island that Haiti and the Dominican Republic share.
This made good sense. The Mexico route meant dealing with Los Zetas, the ultraviolent crime cartel. Also, Cuba's eastern tip is only about 60 miles from the western shoreline of Haiti, a nation of loosely enforced residency laws, and the D.R. has a vibrant baseball infrastructure, with all 30 MLB franchises hosting academies there. Suffice to say, the Cuban smuggling business has plugged quite naturally into the Dominican baseball industry, which has a whole rancid history of its own. That industry is centered on the country's so-called buscones, Spanish for "searchers," which refers to the private academy operators and trainers who develop prospects in the D.R.
After crossing the Haitian border into the Dominican Republic, Aguilera was eventually delivered into the hands of two men he came to know as Brito and Ernesto. By all appearances, they were his investors and his handlers, though Aguilera himself denies this. They put him up in a little hotel in the town of Cotuí. They gave him spending money. Every weekday Aguilera and several other recently arrived Cuban players would train at a ballfield some miles away in the countryside, surrounded by rice paddies. In Aguilera's telling, he was living again in a low-information environment. Though friendly and hospitable, Brito and Ernesto told him nada.
Then one day a man named Rudy Santin showed up in Cotuí. For 25 years a scout with the Yankees and Devil Rays, Santin was one of the best-connected buscones in the Dominican and had a long history with the Cuban market. Santin, who was born in Cuba and raised in Miami, says he's the one who originated the concept of obtaining foreign-country residencies for Cuban ballplayers to avoid the draft and cash in on free agency.
At a field in Cotuí, Aguilera worked out for Santin, and his performance was impressive enough that Santin agreed to bring him to his MVP Sports baseball academy in Santo Domingo. For top prospects, buscones and agents will sometimes fork over hundreds of thousands of dollars to the likes of Brito. But in Santin's mind, Aguilera was not talented enough to merit such an up-front payment to Brito. "He was not a guy you would purchase," Santin says.
So they worked out a percentage deal for Aguilera. Each would receive 10 percent of whatever Aguilera signed for, according to Santin, who says he has no idea whether Brito or Ernesto or both were the ones who arranged or paid for Aguilera's transport out of Cuba. "I couldn't answer that," he says. But several people involved in the Cuban market tell ESPN that Brito, a Dominican, and Ernesto, a Cuban, are prominent Cuban player smugglers. According to one agent who would speak only on condition of anonymity, the two men have contacts in Cuba who make the approach to players on the ground, and as soon as the players are out, Brito and Ernesto start calling potential buyers.
---
In Santo Domingo, Aguilera lived in Santin's own home, along with three other players, two Cubans and a Nicaraguan. To whip Aguilera into shape, Santin hired a trainer named Angel Presinal, who goes by the nickname Nao (pronounced "now"). Under Nao's stringent tutelage, Aguilera says he lost close to 40 pounds in two months. Santin also found investors for Aguilera: a pair of Miami attorneys, who gave Aguilera a stipend of between $400 and $600 a month, depending on whom you ask. Santin declined to reveal their identities.
After some months, his fitness improving, Aguilera began taking part in tryouts and showcases. The one he recalls most clearly took place at the academy belonging to the Giants, in February 2015, 10 months after he'd left Cuba. Perhaps a dozen players took part in the showcase, all of them Cubans, including Héctor Olivera, who would sign with the Dodgers for $62.5 million. Scouts from all 30 teams stood around the field and in the bleachers behind home plate.
Aguilera was nervous. For the Cuban player migrant, the showcase is the highest-pressure moment of all. As he approached the plate for BP, he knew his time was now. When the pitches came and he started making contact, he could feel the stress vacating his body. He drove balls into right field and left. He launched home runs; he can't remember how many. When he stood erect after his final swing, the sweat poured from his body. He felt he'd showed everything he had.
That particular showcase, it turned out, was the peak of Aguilera's post-Cuba career. After that, he says, his time under Santin became a "disaster." His daily training grew less routine, less scheduled, until it stopped altogether. He never went back to Nao's gym. The stipend from his investor shrank, became sporadic, then finally ceased. He missed meals; there wasn't enough food in the house, he says. The people in charge of applying for and obtaining his Dominican residency, which should have been relatively easy given his marital status, mishandled the paperwork badly. And so he had no residency status anywhere -- which meant he could not obtain free agency clearance from MLB, a crucial stage that must be met before a player can sign with a team. Santin himself was almost never around, according to Aguilera. Soon it became clear what was happening: His investor was cutting him off. There was never a hard break, Aguilera says; no one ever explained to him plainly that it was over. Finally, in late summer 2015, he left the house and went to his wife in La Vega.
Santin denies most of this. "I don't know what he's talking about because I bent over backwards for Lerys!" Santin says loudly, almost shouting, over the phone from the Dominican Republic. "My whole beef with these Cubans? And I'm Cuban. But my whole beef is that they're made out to be like they're victims! I was a baseball player. I went to Venezuela to play; I went to Colombia to play. I knew what I was getting into! I pitched. My arm was sore. I wasn't pitching well. They said: 'Hey, c'mere, you're done, released!' What am I gonna do, stay in Venezuela? I'm going to get my ass back to Miami! You gotta know what your talent level is! And if you don't sign, and if somebody doesn't sign you, you expect the guy to hold on to you forever? Nobody's going to do that. That's just the way baseball is! You can sign right now, in the States, and if you don't do it, you get released. End of story, that's it! You're on your own! No one's going to carry you! That's just life! Life!"
Life, as it was for Aguilera, soon unraveled. He and his wife broke up over infidelities Aguilera does not deny, and he now faced the problem every failed Cuban migrant player must confront. The son of a chemist and an engineer, he was untrained in anything except baseball. Groomed from the age of 10 in the hyperfocused, Soviet-modeled athletics system of Cuba, he had no other skills. He earned some pesos by renting himself out to a league of softball teams, as a home-run-clobbering ringer. He sucked up his pride and asked for handouts from friends and acquaintances. One friend from his church owned a pensión in town and let him live in a room there. Another friend was a former Holguín teammate, a pitcher named Yaisel Sierra, smuggled out of Cuba in 2015 and signed by the Dodgers for $30 million. Aguilera says Sierra wired money down from Miami.
Aguilera says he heard through the baseball grapevine that an MLB team had made an offer for him; he thinks Santin may have rejected it because the figure was too low. Aguilera doesn't know which team; he doesn't know the amount offered. Of the many dozens of Cuban players interviewed for this story, nearly every one held a similar belief: that an MLB team had offered him a deal but his handler or agent had said no because it wasn't enough money. "Absolutely not!" Santin says. "There wasn't one single bid made for Lerys Aguilera."
The rare times when Aguilera was able to communicate with his family in Holguín, he would lie to them: Everything here is great; don't worry; baseball here is great. But he was growing ever more despondent. For a time, he had access to a friend's motorbike. One evening outside La Vega, on a stretch of busy twisting highway, he was overcome by an urge: Accelerate and then let go of the handlebars. He raised his left hand from the bar, he twisted the throttle with his right. But the urge passed.
Around the same time, Aguilera began to consider another form of terminus: going back to Cuba. He was still undocumented in the D.R. If he turned himself in to Dominican immigration authorities, they would send him home on an airliner. He knew of other players who had taken that path. And he knew of still others whose investors paid for their plane tickets home. There was a time when the Cuban government would have prevented defectors from even setting foot in the country again. But times had changed. Now players were being allowed to return; so many players had decamped from the island that Cuba's baseball federation was desperate for bodies just to fill the league's rosters. Another Cuban ballplayer in Santin's academy at the same time as Aguilera chose a different course. On the eastern coast of the Dominican Republic, powerboats once set off in the middle of the night bound for Puerto Rico, a territory of the United States, with Cubans seeking the refuge that setting foot on U.S. soil once afforded them. Many Cuban ballplayers had taken these boats. From one island to another, they were thus smuggled a second time. Aguilera, for his part, decided against both options. He would carry on.
---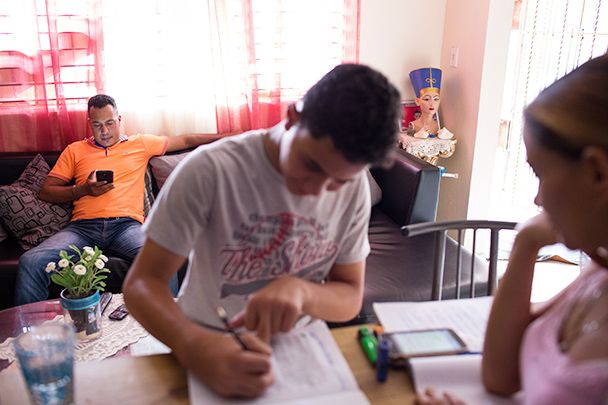 The gym owned by Angel "Nao" Presinal is housed in a kind of concrete bunker right in the middle of the Centro Olímpico, a sprawling public sporting park in Santo Domingo. The gym has a weightlifting area and a small massage room where Nao manipulates the muscles of his clients. The place reeks powerfully of sweat and mildew, and its walls are covered in framed photographs of Nao smiling next to baseball greats of Latin descent, including Manny Ramírez, Sammy Sosa and A-Rod.
Nao himself has been banned from entering any MLB facility; in 2001, he was caught at an airport with a duffel bag full of PEDs. But Nao has put that behind him. Hired by buscones and handlers and investors, he has become the go-to trainer of Cuban players freshly arrived in the D.R. He says he has trained at least 50 Cubans over the years and has become for them a kind of patron figure, a guru, who treats their minds as well as their bodies. He describes a kind of psychological condition that befalls many Cuban players who arrive in the D.R. but do not immediately sign. "Sometimes they give them too much hope and too much dreams," Nao says. As the months go by without any offers, they think that time is wasting "and their mind gets blocked," he says. "Se bloquea la mente."
One of Nao's charges is Darys Bartolomé, who remains unsigned after more than two years out of Cuba, who has lost his investor, who has passed 32 years of age but who does not show signs of una mente bloqueada. He is optimistic and jovial and prone to attempting English phrases when in the presence of gringos. Nao has more or less come to Bartolomé's rescue, paying him a salary to coach the teenage prospects in the small private baseball academy Nao operates alongside his physical-training practice.
In Cuba, Bartolomé was a National Series veteran, but he never made it to the summit of baseball on the island: He was never selected for the national team roster that travels to major international championships such as the World Baseball Classic. That's one of the reasons he decided to accept the smugglers' offer to get him out of Cuba, he says. He felt stymied. The offer involved flying Bartolomé out on a commercial airliner. Not too long ago, such a thing would have been unthinkable, but in 2013, Cuban President Raúl Castro pushed through a series of reforms that eventually resulted in the easing of travel restrictions for all Cubans. The government no longer required people to obtain an exit visa to leave the country.
It was only a matter of time, then, before players like Bartolomé were being instructed on where to catch their flights. And by January 2015, when Bartolomé arrived at the airport ticket counter in Havana, a seat in economy had become a more common transportation method for Cubans ditching Cuba than speedboats in the dead of night. But in almost all cases, the players still needed someone to pay for their passports and plane tickets. They still needed someone to pick them up at the airport on the other side. They needed someone to handle the residency paperwork in the country almost all of them were heading to, Haiti. They needed someone to smuggle them into the Dominican Republic. They needed a place to live; they needed someone to get them an agent who could put them in front of MLB scouts; they needed some kind of income while they waited.
In short, they needed the same networks of people that were smuggling out players by boat. And so it was that Bartolomé's foreign benefactors bought him his plane ticket -- Havana to Panama City to Port-au-Prince. They wired him money with which to pay for a newly issued passport, the equivalent of $107. (National team members are effectively forbidden from possessing their passports; not so the rank-and-file players populating the rosters of the National Series.) And after Bartolomé landed in Port-au-Prince, he met his guides at the airport. They took him to a hotel, where he spent the night. The next day, he flew to Cap-Haïtien, then was driven close to two hours to the town of Ouanaminthe, situated on the banks of the Massacre River. Across the river is the Dominican village of Dajabón. The bridge across the Massacre is one of the four major border checkpoints along the Haitian-Dominican frontier, but there is no checkpoint booth or discernible passport check. It is decidedly low-tech. International commerce of the most micro kind passes without harassment from one country to the other: women balancing baskets of fruit on their heads; bricks of ice covered in sawdust and rapidly melting in the back of wooden pushcarts; Cuban baseball players sitting in the back seats of tinted-window SUVs.
Bartolomé was nervous. He had his Cuban passport, and even before he'd left Cuba, his handlers had told him they'd already obtained residency status in Haiti for him. But Bartolomé had no Dominican entrance visa; few if any Cuban players ever do. On the Haitian side, the two men up front in the SUV sensed his anxiety. As Bartolomé recounts it, they told him not to worry. The man in the passenger seat was a member of the Haitian military. He flashed his ID, and they drove across the bridge. On the Dominican side, Bartolomé was ushered into another vehicle. Waiting for him inside was a driver and another military man -- this time with the armed services of the Dominican Republic. On the road out of Dajabón, they came to a series of checkpoints with men in fatigues stopping cars, but each time Bartolomé's car was waved through. No hay problema.
Bartolomé had good reason to be stressed. The first days and weeks of a Cuban player's life in the D.R. can be fraught with dangers. Like Bartolomé, almost every Cuban player is living illegally there. Because of that basic fact, according to multiple people involved in the Cuban market, members of the Dominican immigration police will sometimes unearth the location of a Cuban player -- or group of Cuban players -- and raid the building. Often the officers will demand a sum of money. The demand is almost always asked of the investor, not the player. If the investor declines to pay, the player is deported.
A spokesman for the Dominican Department of Immigration says the ministry was unaware of any such instances and "rejects any activity or extortion of that kind." But one morning earlier this year, on the patio near the swimming pool of a hotel in Santo Domingo, I met a former high-ranking official in the nation's law enforcement establishment who described how Cuban ballplayers become targets. There were members of his country's military, he said, who sometimes were hired to serve as bodyguards for Cuban players. And these military officers, he said, were "so involved in baseball ... they really know which players are valued and which are not. If they see a valued player but he doesn't have papers? They will always try to get some money off them."
He then went on to detail another scheme involving Cuban players and corrupt Dominican officials: An investor or buscone covets a high-value player controlled by a rival investor or buscone. So the first investor hires a few officers in the National Police to abduct the player from the second. (A spokesman for the National Police did not respond to a request for comment.) Such tales are not hard to come by. Rudy Santin describes how a Cuban player under his care -- Alex Guerrero, who eventually signed with the Dodgers for $28 million -- was taken and then held for several days in a motel.
More recently, in May 2015, there was the case of Yaisel Sierra, the friend of Lerys Aguilera who has occasionally sent money to his struggling former teammate. Not long after Sierra himself had been smuggled by boat from Cuba in early 2015, but before he signed his $30 million deal with the Dodgers, he was working out at a Gold's Gym in Santo Domingo. He was then under the control of a well-known buscone and represented by the Octagon sports agency, based in Chicago. According to two people with direct knowledge of the incident, several policemen walked into the gym, put Sierra in handcuffs and walked him out. Photographs exist of Sierra subsequently inside a jail cell. Some days later, Sierra had new representation: the sports agency of Bart Hernandez -- who would go on to be convicted in March of this year in the U.S. on human smuggling charges.
Darys Bartolomé never had to deal with anything like that. His nearly 12-hour journey by car from the Haitian border ended in a beach town called Juan Dolio, not far from Boca Chica, on the Dominican southeast coast. Boca Chica is MLB central in the D.R.; most clubs have their academies somewhere close by. After a few days of workouts in front of potential buyers, Bartolomé says he was sold for more than $100,000 to Julio Lugo -- who Red Sox fans might recall as the middle infielder on their 2007 championship team. Bartolomé says Lugo took possession of his passport and took Bartolomé to a trainer in the town of Yamasá. (Efforts to reach Lugo were unsuccessful.) The relationship did not end well, with Bartolomé eventually living in a house without electricity, where he caught dengue fever and was saved by Nao, who paid for his hospital bill, and by a Yamasá woman who helped nurse Bartolomé back to life. And still, despite all that, la mente no se bloquea.
---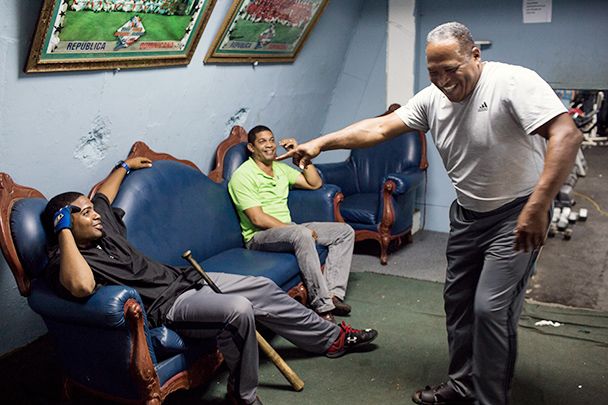 Lisban Correa didn't like what he was hearing -- or, rather, how he was hearing it. Along with five other players freshly arrived in the country from Cuba, he was sitting in a small, windowless back office deep inside the Dominican consulate in Port-au-Prince. It was July 2015. A Santo Domingo lawyer sat in front of the players at a desk, spewing a stream of dense legal language. "This commits the parties involved to pay said sum to the respective beneficiaries without any loss ..." He was reading from the text of a contract that Correa could barely follow, but he knew this much: The contract was meant to bind the players to the man who would be their investor.
The players had all arrived in Haiti separately but had been stored together the past two weeks in the same Port-au-Prince hotel -- and treated as a package deal. As they soon learned, their original investor had bailed, unable to afford the cost of six expedited Haitian residencies. This was a bespoke service for Cuban ballplayers. According to U.S. law enforcement, rates started at $6,000 per player and went up from there based on the projected value of the Cuban player. (The investors in Rusney Castillo, who signed in 2014 with the Red Sox for $72.5 million, paid $60,000 for a Haitian residency, according to court documents.)
Correa was more worldly than his compatriots. He was a big-city kid, Havana born and raised. At 29, he was also older than the others, at the cusp of his career's downslope -- he felt, in retrospect, that he'd waited too long to leave Cuba. A power-hitting catcher with a .284 lifetime average, he was the scion of a baseball family. His grandfather was a pro in the Cuban league pre-Castro. His father, Ivan Correa, was on the Cuban national team that traveled to the U.S. in 1999 to face the Orioles. Before boarding his flight to Haiti, Correa took advice from his parents: be wary; trust no one; view with suspicion those in the baseball business of the outside world. And so Correa, in the office in the consulate, took out his cellphone and surreptitiously began to videotape the meeting.
A replacement investor had been found for the players, they were told, and the lawyer reading the contract was the attorney for the new one. Even before they leave Cuba, most players now understand that if they ultimately sign with an MLB franchise, 30 percent of their first contract is the standard cut they must pay to their investors. But there was confusion in the room over the terms. Players were talking over each other, asking questions, not understanding.
There was another man in the room besides the lawyer and the players, standing off camera for most of the video's duration. But you can hear his voice as he interrupts the lawyer. The principal investor will take 20 percent, he explains, and two other guys -- one nicknamed Duni and the other Osbey -- are to split the final 10 percent. Duni and Osbey, the players already knew, were part of the breed of adventurers who travel to Cuba to recruit players to leave, including Correa and the other five. "Him and I have already negotiated things for you," the man says. And, later: "There is no alternative there."
"My beef with these Cubans? They're made out to be victims! You're on your own. That's life!"
- Rudy Santin, Cuban buscone
A little over a month later, Correa and the five other players finally arrived on Dominican soil, crossing through Dajabón. They were driven all the way to San Pedro de Macorís, on the southern coast east of Boca Chica, and put up in a hotel. They were now under the care of their new American investor, a businessman in his 50s named Nelson Tiburcio, who owned a popular Dominican restaurant in Palm Beach, Florida, called the Don Cafe and lived in one of the gated McMansion communities to the west of it.
At first, when still in Haiti, Lisban Correa and the other five players had refused to sign the contract Tiburcio's lawyer had read to them. They'd objected to the fact that they'd be on the hook for all expenses. That is, whatever Tiburcio would eventually spend on them -- rent, food, gym memberships -- would accrue to the players themselves. Per the contract's wording, there was no limit on the amount. So the players had balked, smartly, at Correa's instigation. But once they got to San Pedro, their handler presented them with the very same contract to sign. The players had no legal representation of their own, and they were not given copies of the contract to read for themselves. When Correa asked whether he could take photos of the contract, his handler became angry but ultimately relented. Crucially, the handler also had possession of all the players' passports. Tiburcio calls it common practice, a hedge against a player jumping to a rival buscone: "That's the only collateral you've got."
According to Correa, the handler told them, in effect: If you don't want to sign this contract, fine. Feel free to walk away. But you'll have to leave the hotel. You'll have to leave our care. You'll be on your own. So what was Correa going to do? His handler had his passport. His investor was paying for his shelter. He had no money other than what his handler doled out. If he were to leave the care of his handler, where would he go? He was undocumented in the Dominican. Would he turn himself in to the authorities so they could deport him back to Cuba? To Haiti? Then what? "Empezar a jugar pelota," he says. He just wanted to start playing baseball. He wanted to start training and get on with it. And so Correa signed the contract. He felt he had no choice.
---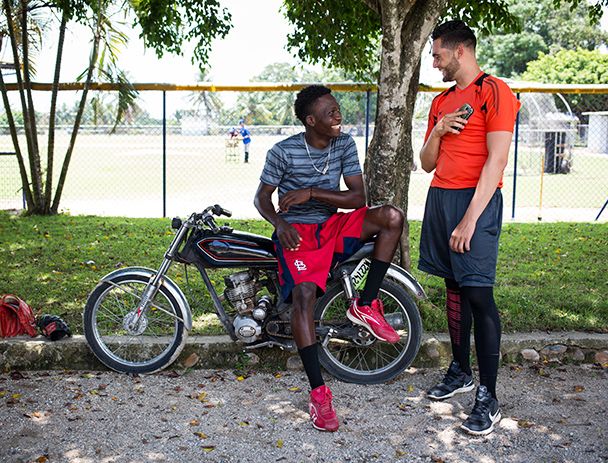 As of June, Lerys Aguilera remains unsigned, and he and his wife have not reconciled. He has moved out of the Santo Domingo apartment and gone back to rural Cotuí, to train with the coach he had when he arrived from Cuba in 2014. "I will keep trying until I can't," he says. But he has a dim view of the baseball system outside of Cuba. "The worst part is that you don't get friends in this. You only get people who try to cheat you."
Darys Bartolomé, still unsigned, still working for Nao, also hasn't given up. He insists it's but a matter of time; scouts from leagues outside the U.S. have lately been showing interest in him. "God willing," he says, "I'll be going to Japan."
Lisban Correa got passed along to another investor, who eventually cut him off toward the end of last year. He had nowhere to go. The idea of getting himself deported, of returning home, filled him with shame. "I didn't want to go back to Cuba," he says. "I didn't want to return and see myself as a failure." During his time with his prior investors, he had, bit by bit, socked away an emergency fund of about $100. With it he bought bus tickets and, for two weeks, traveled the D.R. almost from end to end, visiting academies and trainers and investors, shopping himself around. There were no takers. He breaks down in tears when describing those two weeks; he picks at a scab on his palm, a batting practice wound. "I have trained a great deal," he says, "with very little hope."
Eventually, though, hope returned. He found a benefactor in the academy of Jose Canó, the father of Seattle Mariners All-Star Robinson Canó, and soon Correa was participating in tryouts and showcases in front of scouts for the Mariners, Brewers and Tigers. Last year Correa received a gift from his investor at the time. It was a heavy maple 34-inch cudgel of a bat engraved on the barrel with the name Yoenis Céspedes, to whom it had once belonged. It became one of Correa's prized possessions, a talisman. Correa had used it in all the MLB tryouts he'd participated in since -- for Céspedes represented all that every Cuban baseball migrant ever dreamed of becoming -- and was using it in April during a showcase with the Tigers when he took a mighty swing at a fastball down the pipe. In the instant of contact, he knew it was a mishit. The bat shattered in his hands.
Enterprise Unit producer Pia Malbran and reporter T.J. Quinn contributed to this report.
Eden is a senior writer for ESPN The Magazine.