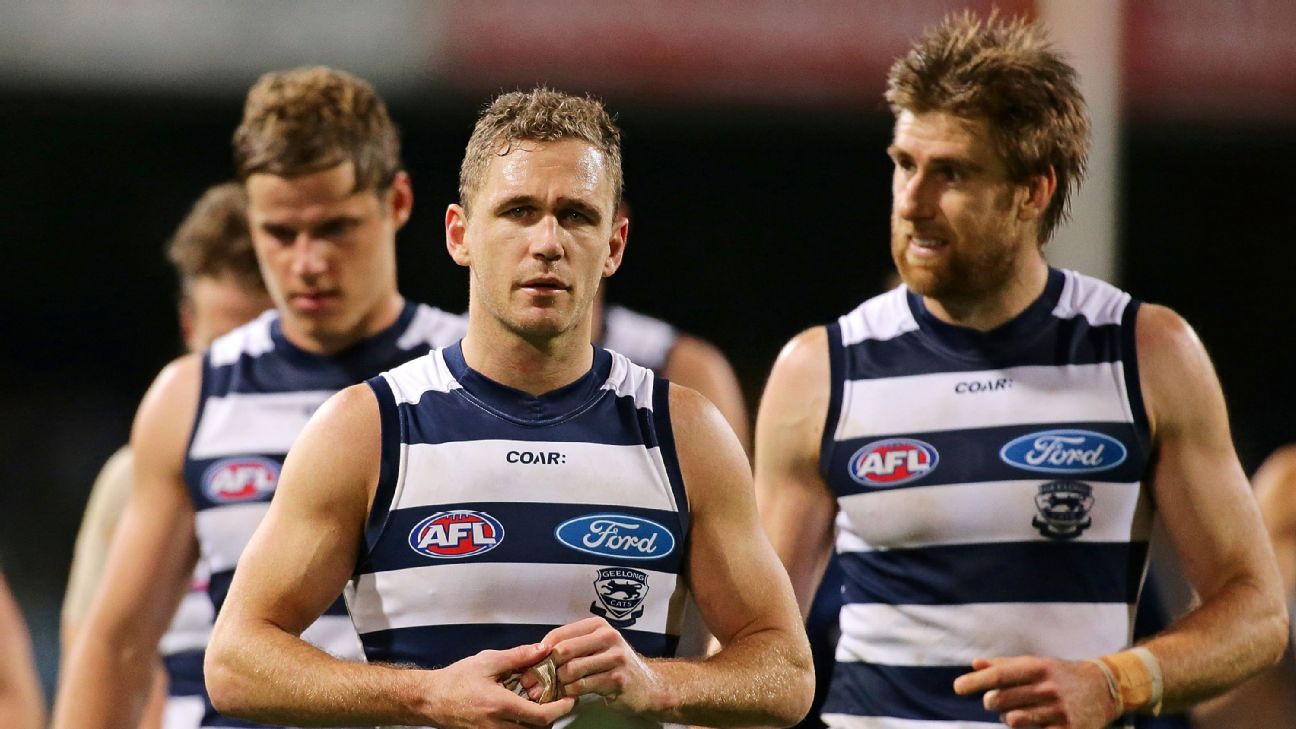 Footy Forensics: Does the bye help or hurt?
A week off can help heal battered bodies, but AFL teams surprisingly don't seem to do better after the bye.
Australian football is a brutal game. Week after week, players manage to run well over 10 kilometres in a match, much of it at a rapid clip, laying and enduring fierce tackles as they go. Their weeks are defined by recovery, immersing themselves in ice and enduring endless physio. You'd think, given all that, that teams would perform better after they've had a week off. But that doesn't seem to be the case; indeed, the data suggests that teams coming off the bye tend to lose more often than they win.
The mid-season bye returned to the AFL after a nearly two-decade absence in 2011, since when we have had 98 games between a team coming off a bye and a team that played the week before. The team that had the 'benefit' of the week off won just 36 of those games, a woeful 36.7 percent.
In run-of-the-mill home-and-away games, the home team usually wins. In normal situations when both sides have played a game the previous week, the home team has won 55.6 percent of games since 2011. But when the home team played the previous week, and the away team had a bye, the home side has won 75.5 percent of the time. Having a week's rest doesn't seem to boost a team's chances of winning; if anything, teams coming off the bye seem to win less often.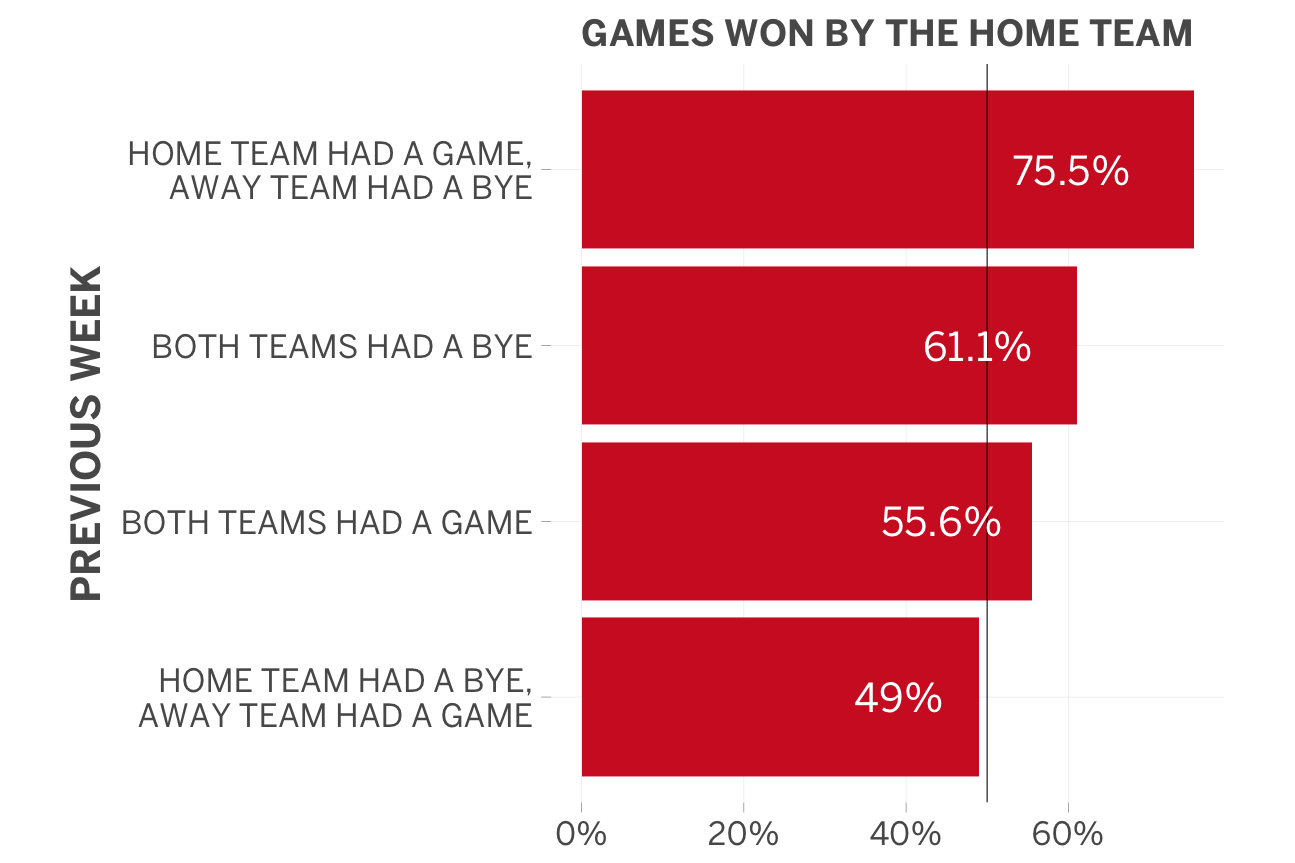 Not all teams have fared equally after a week off.
Geelong -- as you will have heard over and over again if you watched their game against the Eagles -- have struggled after the bye. They've won just one of their seven post-bye games since 2011, a meagre 14.3 percent; that's the lowest percentage of any club other than GWS Giants and Gold Coast Suns, both of which struggled to win games over much of the period since 2011 whether they were coming off a bye or not. The striking thing about Geelong is that they've been so good in other games -- winning 77.1 percent of their home-and-away games when they've played the week before.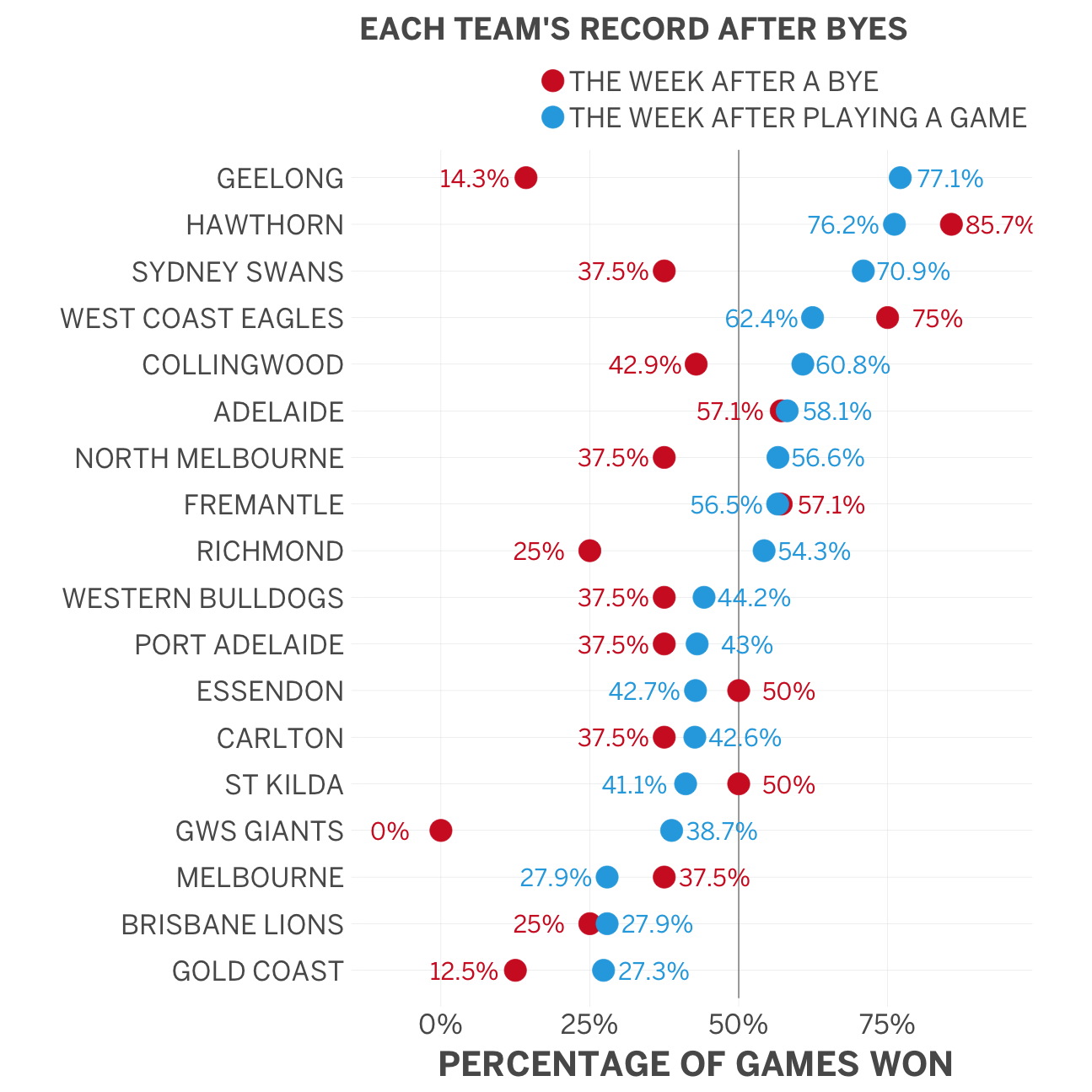 Since 2011, the Cats have won just 14.3 percent of their games coming off a bye but they have won 77.1 percent of matches if they played the week before. That's a 62.8 percentage point difference, by far the biggest in the league, ahead of GWS (38.7 percentage points) and the Swans (33.4). Should we conclude, then, that something is going wrong with Geelong's regime in their off-weeks, that is causing them to drop matches? Probably not.
Just looking at the number of games won and lost doesn't get us very far, because we're not taking into account the difficulty of those games. It would be one thing if the Cats had lined up against easy-beats after their bye weeks, and gone down to unexpected thrashings, but that hasn't been the case. Our Elo model -- which predicts the results of games based on teams' rating and their home-ground advantage -- tipped the Cats to lose three of their seven post-bye games. The fact they lost those games they were expected to lose -- including last week's match against the Eagles in Perth -- doesn't really tell us anything about how the Cats respond to a week off. Similarly they were expected to beat the Swans narrowly in their Round 16 match-up last year, but losing to the eventual grand finalists doesn't really tell us anything deep about the Cats' ability to spring back into action after a week off. There's no need for bye-related panic down in Geelong.
Geelong's post-bye woes seem less worrying the closer we look. Winning only one out of four games that you were predicted to win -- as Geelong have after the bye -- is a result that could easily arise due to random chance and other factors that have nothing to do with a week off.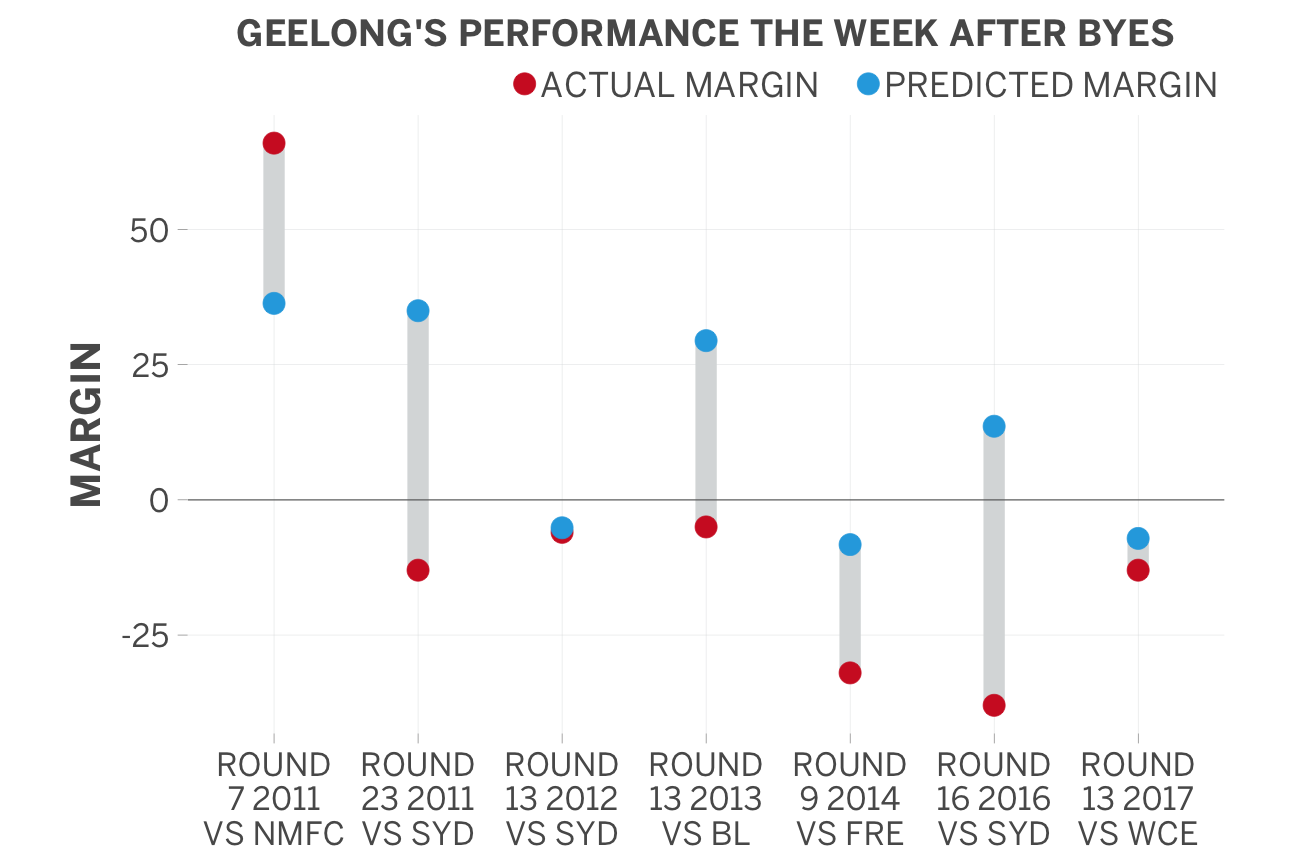 Teams coming off the mid-season bye haven't fared well. But is that due to the fact that they're coming off the bye, or is it something else? It could be a quirk of scheduling, or it could just be randomness. The mid-season bye has been with us only since Gold Coast entered the league in 2011, so we only have a small sample of games to work with to look at the effect of the week off.
It turns out that teams' troubles after the bye week might just be noise. When we run a statistical analysis trying to measure the effect of the bye on the game's margin while taking into account the predicted margin, we find that teams coming off the bye tend to do worse than other teams. But this effect can't be statistically distinguished from zero as there's too much noise from a too-small sample of games; it's too soon to tell what effect the mid-season bye is having.
Once we've had a few more years with the mid-season bye, we'll have a clearer idea about whether the week off really does drag teams down, or if it was just a quirk of the small sample. And if it's still too early to tell what effect the mid-season bye is having on teams after seven years' worth of games, it might also be a little bit early to rush to judgement about the pre-finals bye given that we've had just one year of it so far.