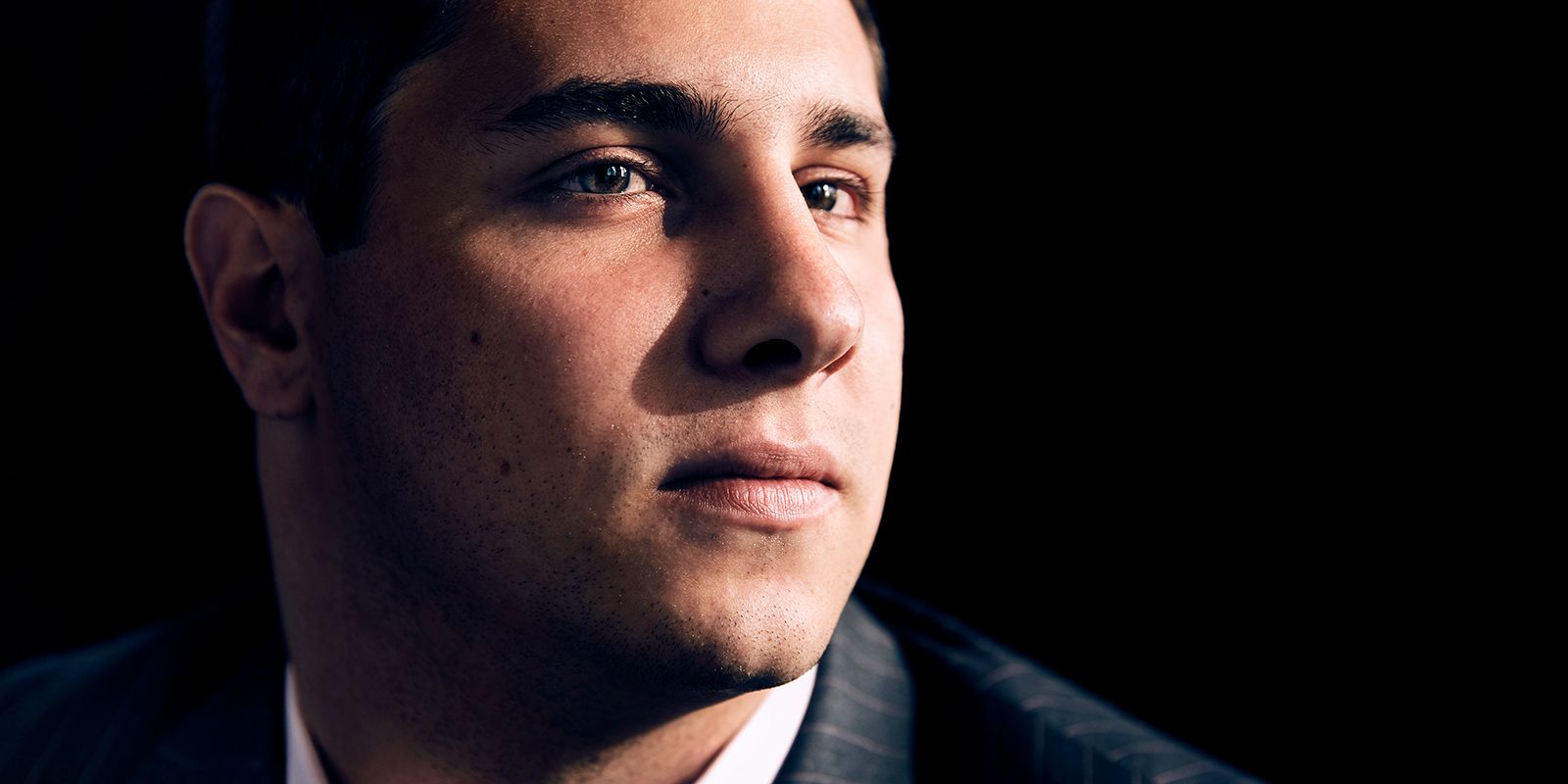 "I Just Wanted To Survive"
A college football player thought he and a friend were going to meet up with two women. Instead, they were abducted and tortured for 40 hours -- all because of a teammate.
Niko Kollias watched his blood swirl down the bathtub drain. There was so much. And it was coming from so many places. His head. Both of his legs. And the gaping cuts where they had sliced the webbing between his toes.
Even more blood was coating the clothing iron sitting on the sink. He didn't know where they'd put the hedge clippers; he was just glad they were gone. He could still see the roll of duct tape nearby, covered with the bloody fingerprints they'd left behind when they taped his hands and feet together before slamming the rebar and heavy metal pipes down onto him, over and over again. His khaki pants and ripped University of Rochester Football T-shirt sat crumpled in the corner, the blue and yellow of his college colors turning brown as his blood began to oxidize in the fabric.
Kollias wanted to take off his ACL brace, the one he'd been wearing after knee surgery for a recent football injury. He wanted to clean it and his skin underneath. But he worried that if he pulled the brace apart, his leg might actually fall off. His femur was shattered; he'd felt it explode after they shot him there when he tried to run. He didn't realize they'd also shot him in the calf of his other leg. He could no longer feel that leg and couldn't see it because so much blood kept pouring into his eyes from his scalp, over which they had smashed a long, fluorescent lightbulb. It was only then, when the blood just wouldn't stop from that last blow, that they halted their attack and threw him in the shower.
He could hear the men in the room next door, laughing, smoking weed and maybe still wearing those terrifying plastic masks.
But who were they? Kollias didn't know. He could see only their eyes through the masks when they attacked him. He couldn't even see their mouths move as they screamed for revenge. As he sat in the folding chair they'd put into the grimy shower, Kollias, a 6-foot-1, 215-pound University of Rochester senior defensive end, realized he had no idea where he was, who the men were or even what they wanted from him. All he knew was that they had shot and then beaten him for more than three hours.
As he sat there in the shower watching his blood pour down the drain, Kollias had no idea that it was all connected to his football team. And he had no way of knowing that the torture had only just begun.
---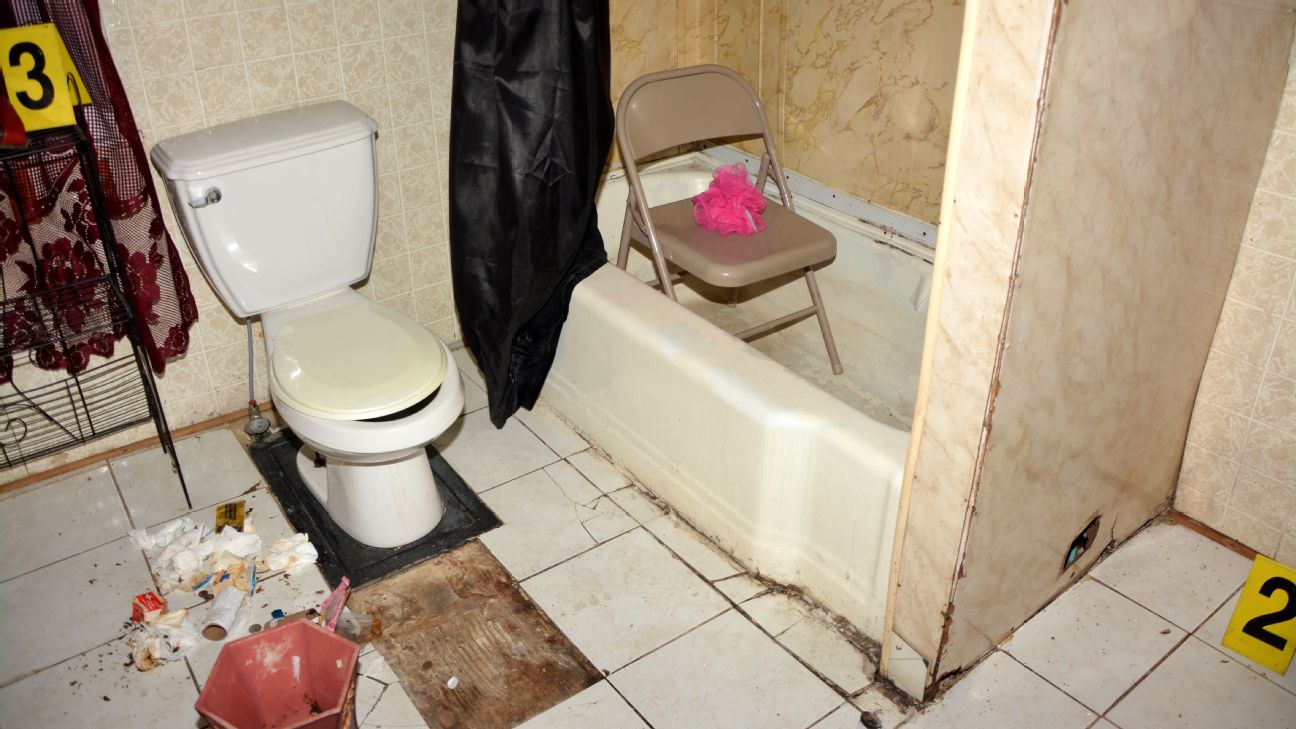 When Nicholas Kollias arrived on campus three years earlier, in 2012, he had two great passions: piano and football. The University of Rochester fit both perfectly. Its Division III football team wanted him for its defense, and, even better, he was also accepted into classes at the renowned Eastman School of Music. "I was so happy," he remembers. After his piano audition, "I thought I would never make the cut in a million years," he says. It was "definitely a huge deal."
Kollias, a Chicago native, played mostly special teams for the Yellowjackets, a middling squad that typically hovered around .500. But in his junior year, the school recruited Isaiah E. Smith, a talented freshman linebacker from the Bronx. "He had the size; he had the speed; and he just changed the game for our team," Kollias says. Smith grew up in a tough situation -- housing was unstable -- but developed into a good student at Park East High School, earning MVP honors in three straight seasons. In his first year at Rochester, the team went 5-4 and Smith made 80 tackles, most on the team. "He was literally our star defensive player," Kollias says.
Off the field, though, Kollias avoided Smith. He says he didn't like how Smith bragged about being able to get marijuana for students. "He had a reputation for wanting to be the drug dealer on campus," Kollias says. "That's really what he took pride in more than his exceptional athletics, which was shocking to me."
Another former Rochester player tells Outside the Lines that he bought marijuana from Smith several times. Speaking on the condition of anonymity because he had committed a crime by purchasing the drugs, the former player says Smith told him "he had connections in New York City" and could "get whatever I needed. As much as I would need." Although all of their transactions went "smoothly" because of their football connection, the player says Smith developed a reputation for ripping other students off. "I heard stories that he knew how to work his way over on people. Would just take people's money and not give them anything back. It was small money, but he was one of the best football players on the team, and he could definitely be intimidating."
Rochester Police Chief Michael Ciminelli confirms that Smith "was involved in drug dealing." But neither Rochester football coach Scott Greene nor the school's administration would comment on the matter. Smith also declined to be interviewed; his attorney says his client is "not a drug dealer."
Kollias says he believes the Rochester coaching staff knew Smith was tangled up with drugs but chose to look the other way. Other players had faced harsh consequences when they violated rules, Kollias says. "Things happen, like drunk driving," he explains. "And when those things happened, usually the players were all kicked off of the team."
"The kids who were the better athletes were definitely on a longer leash," the other teammate says. "He was one of the best players on the team. He wasn't going to get kicked off the team."
On the afternoon of Nov. 28, 2015, two weeks after the Yellowjackets' final game of the season, security cameras captured Smith jogging across a footbridge that connected the campus to Brooks Crossing, a student apartment complex owned by the university. The cameras showed Smith meeting up with three men near the apartment building. After a brief conversation, the three men moved away from Smith, to the building's nearby steps. At 2:45, multiple cameras showed Smith standing outside the building's door, talking animatedly on his phone. Smith then waved at the three men on the steps, drawing their attention to a black sedan rolling into the parking lot. After parking, four young men got out of the car. According to prosecutors, they carried with them 4 pounds of marijuana.
Police say Smith then led the four men with the weed into the apartment building. Smith didn't live there, but he knew the building well: Two of his football teammates lived in a seventh-floor apartment. Prosecutors say that they were away on Thanksgiving break but that Smith knew they kept a spare key hidden in a fire extinguisher box. Smith used it to lead the men into the room. They thought they were about to make a deal. Instead, the three men Smith had waved at came crashing through the apartment door, according to police reports, spraying the drug suppliers with pepper spray and hitting them in the head with a hammer before taking off with the 4 pounds of marijuana.
To help sell the ruse, the three attackers -- who have never been identified -- struck Smith, too, but only lightly, never hitting him with the hammer. The surveillance cameras show some of the hammer victims walking out of the building using their shirts to stanch the bleeding from their heads. Pretending he was also a victim, Smith, who was uninjured, went with the wounded men to the hospital.
After receiving a report of assault, police sent an officer to the hospital. According to the police report, when the officer started questioning Smith, his story unraveled quickly. Smith asked the officer whether "anything which he may say" would "impact his status as a student at the University of Rochester." When the officer told Smith "he would pass onto the University 'the level of cooperation' [Smith] exhibited," Smith folded. He wrote out a statement, admitting that he broke into the seventh-floor apartment because "my friend who lived there wasn't home," that he "didn't have permission to be there" and that he "let the three guys in to the apartment that was not mine because we were going to set up the drug dealers." Using Smith's own words and the surveillance video, police collected enough evidence to charge him with burglary, robbery and assault.
Smith was taken to jail but did not spend much time there. According to documents obtained by Outside the Lines, Rochester assistant football coach Dan Kyle signed a $15,000 bond to bail Smith out.
When Kollias returned to campus after Thanksgiving, he had no idea Smith had been arrested. The football season was over, and Smith was back on campus by the time classes resumed. Kollias does remember university President Joel Seligman sending an email to students. "He was just telling the student body kind of very vaguely of an incident that occurred on school campus property," Kollias says.
Kollias considered one of the football players living in the apartment to be one of his closest friends on the team, close enough for that teammate to confide to Kollias that the "incident" occurred in his apartment but that "he didn't know exactly what happened." When the player had returned to campus, he told his friends, his room was blocked off with yellow police tape. Once inside, he found blood on the walls and his furniture in disarray. The player declined requests for interviews and, as a crime victim, requested that he remain anonymous.
Kollias says university staff quickly "reorganized the place" until "you couldn't find a speck of blood" anywhere in the apartment. But the university did not move the students or, Kollias says, explain to them exactly what had happened in their apartment.
While Kollias and his friends were left wondering, about 5 miles away, 19-year-old Elliot Rivera began to make plans. He had learned that his cousin had been attacked with a hammer in a drug deal that went bad. Crashing at his buddy Lydell Strickland's house at the time, Rivera shared the few details he knew with his 26-year-old roommate: All of the attackers were African-American men; it went down in the seventh-floor student apartment; and it involved a University of Rochester football player.
Rivera promised revenge.
---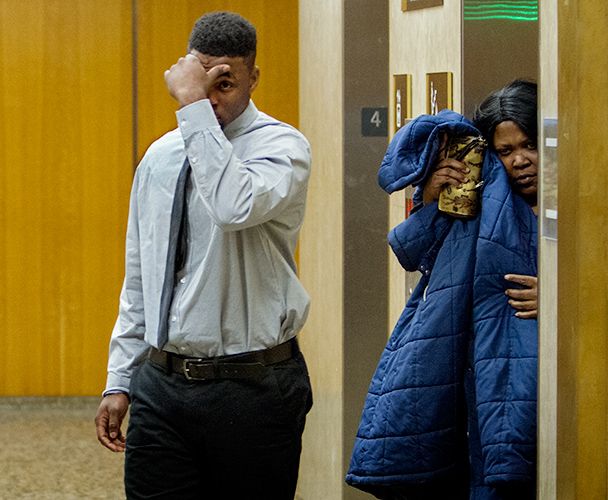 Kollias says Dec. 4, 2015, seemed like a pretty typical Friday night. He and his friend from the football team, the one who lived in the seventh-floor apartment, were hanging out at their frat house. They were playing beer pong, Kollias recalls, when his teammate told him, "I have these two girls that want to meet up with us."
In a series of text messages, the teammate and a woman named Samantha Hughes agreed to meet up around 1 a.m. Hughes had reached out earlier that week on Facebook, when she tried to "friend" both of the football players living in the seventh-floor apartment. Her profile picture on Facebook showed a 19-year-old woman with big eyelashes, large hoop earrings and rose tattoos on both shoulders.
"He's like, 'Let's go. Let's go be with these girls,'" Kollias says. "And it didn't seem like that bad of an idea. Just want to meet new people, and [I] never really think of girls as, like, evil or mean."
Kollias says Hughes pulled up in a blue Dodge Dart with her friend, 20-year-old Leah Gigliotti, sitting in the passenger seat. Gigliotti was high on cocaine; Hughes was high on weed and drunk on Remy. When Kollias and his teammate got into the back seat, Hughes passed back the liquor and shifted into drive.
Kollias remembers going over a bridge. "I noticed that the neighborhood started getting kind of bad," he says. "And that's when I started getting nervous." But within minutes, they pulled into the driveway of a two-story house. The girls led the two football players through a side door. "I just remember the first thing that I smelled was urine and feces, and it was totally disgusting," Kollias says. "I sat down on this leather couch and just the next thing I know is five to 10 masked men just come out with bats and pipes and knives and guns."
The lights went out, and Kollias says he sprinted for the door. He made it about halfway across the room before he felt his left leg shatter. "I just knew my femur was broken in half, and it was the same leg that I had tore my ACL on and it was not good. I still got up somehow onto one leg and got to the door, and I just remember looking out and seeing two girls on the outside holding the door closed."
Hughes, it turns out, was the girlfriend of Rivera, the man who had promised revenge. Rivera had actually tapped out many of the text messages sent from Hughes' phone to Kollias' teammate, luring him into the meetup. Gigliotti, who had been hanging out with her friend Hughes, got roped in after the teammate sent a picture of Kollias that night, telling Hughes, "I'm with my boy."
With their captives unable to escape, Kollias says, the men in masks "dragged us into the bathroom, leaned us up against the walls and duct-taped our hands and legs together, binding us. They emptied our pockets -- cellphones, wallets and car keys."
The attackers recorded some of their assault on a cellphone. The first image on the video is a thin man in a red sweatshirt and a plastic American flag mask. Prosecutors say this is Rivera. He had previously lived for a brief time in the house, but now it was inhabited by a few of his friends. In the video, Rivera is holding a sawed-off .22-caliber rifle and standing over Kollias' teammate lying facedown in a pool of blood on the bathroom floor.
Crouching in front of Rivera is a man with distinctive dreadlocks, wearing both a camouflage shirt and pants and a black and white plastic skull mask. Prosecutors say this is Lydell Strickland. He wasn't related to any of the men injured in the hammer attack but helped Rivera plan the retaliation. Strickland is holding orange hedge clippers when he asks the camera, "You recording, homie?" Soon after, he says, "This is what n---as going to do when they wanna take 4 pounds from a n---a. This right here." He then jabs Kollias' teammate in the head with the hedge clippers.
The camera pans to the right, revealing Kollias on the bathroom floor. Blood from the gunshot wounds to his legs completely saturates his khaki pants. When Kollias pleads, "Please, I'll do anything," he's hit in the head with the long fluorescent lightbulb. As his attackers continue to hit Kollias with their improvised weapons, Strickland tells the camera, "Look at your boy. He got nothing to do with this; he started running."
The video is only 30 seconds long. The players would be physically, sexually and psychologically tortured for at least 40 hours, according to prosecutors. Hughes and Gigliotti would later say Rivera told them it was Strickland who ordered the sexual assaults.
About three hours into the attack, Kollias says they threw him in the shower. "I was completely naked and just sitting in a chair and getting all this blood off me. I was just covered in so much blood." The men knew that Kollias, who is white, was not involved in the drug robbery, but they still seemed to have plans for him. For now, those plans required him to stay alive. Kollias says the men then gave him a crutch so he could hobble into a small, dirty bedroom with a blue inflatable mattress. "That's when they started feeding us and giving us food and water" and even medicine. Kollias thinks it was aspirin. He knows it didn't do anything for his pain. "I was pushing myself through to not give up and not close my eyes because I didn't want to die."
---
When neither Kollias nor his teammate came home that morning, their respective roommates reported them missing. Campus police immediately took the reports seriously. Both players had reputations for quickly responding to text messages and phone calls. Police were especially concerned that their phones were off and their Find My iPhone apps disabled.
The University of Rochester denied Outside the Lines' request to interview campus police. But prosecutors say the campus officers did not immediately connect Smith's drug heist to the missing men. Instead, it was the teammate still living in the seventh-floor apartment, the one who didn't take the bait, who found the first critical clue linking the two crimes. He showed campus police the Facebook friend request he'd previously ignored from Samantha Hughes. When officers then scoured her Facebook page, they discovered Hughes was friends with one of the men injured in the hammer attack. Campus police reached out to Hughes, asking to meet up with her and ask her a few questions. After huddling with Rivera and Strickland about what to do, she agreed to a meeting that Saturday evening at a nearby Dunkin' Donuts. Not wanting to go alone, she brought Leah Gigliotti with her.
Hughes acknowledged to police that she had been with Kollias. She said they had been together at a party but that she'd left when she became sick from drinking too much. When pressed for an address, Hughes told the officers that she couldn't remember but offered to drive around with them to see whether she recognized the house. The cops took her up on the offer, but she led them to the opposite side of the river -- far away from where Kollias and his teammate were actually being held.
Campus police let the women go.
---
That same day, Kollias says the masked men put a gun to his head and demanded he call his bank. In recordings obtained by Outside the Lines, Kollias asks a Charles Schwab customer service agent to help him transfer money to his checking account. When the agent responds that no money can be moved over the weekend, Kollias replies in a calm and steady voice, "I really need the money now." But the agent cannot help.
"My life was more important than any amount of money," Kollias now says. "I just wanted to survive."
In another call, Kollias asks, "There is no way I could get the $1,500 just transferred over to the debit card for withdrawal?" When the customer service agent tells Kollias they can't move money until Monday, he responds, "OK. Um, that's fine, I guess. I'll just call back on Monday." The customer service agent, unable to see the gun next to Kollias' head, tells him, "Have a great weekend."
As the evening wore on, tension was mounting among his captors. "We kind of got into a little argument about, like, why they weren't letting them go," Hughes later testified. Both Hughes and Gigliotti said Strickland took Rivera's plan for revenge beyond their expectations. Hughes and Gigliotti said that, at this point, even Rivera wanted to "ditch" Strickland.
After returning from their meeting with campus police, the two women grew increasingly worried about what they'd gotten themselves into. They'd later say that, originally, they thought Rivera and Strickland were just going to rough up the football players. Strickland particularly frightened them. "He called us b----es," Hughes testified, adding that she became "scared of people that I loved getting in trouble, and I was scared for the safety of my family and myself."
Gigliotti put it more simply: "When you are high and drunk, you really don't care." She testified that she had only one real concern, that "Lydell was going to kill us if we told the police anything."
---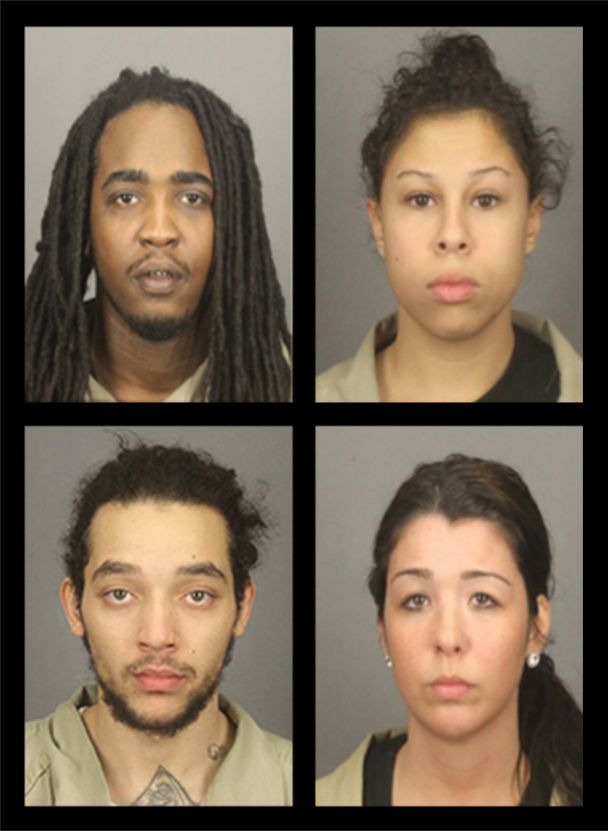 By Saturday night, campus police had turned over their investigation to the Rochester PD, a bigger force with more resources. City investigators spotted strange activity in Kollias' bank account -- thousands of dollars were being withdrawn from ATMs. Surveillance video from an ATM less than a mile from where Kollias was being held would later show Gigliotti's blue Dodge Dart pulling up to the machine. In her testimony, Gigliotti said that she and Hughes were in the front seat, Strickland in the back. When he rolled down the car window to use Kollias' card, Strickland was wearing the same black and white skull mask he wore in the cellphone video. But then Strickland pulled the mask off, giving the ATM cameras a clear view of his face.
Strickland withdrew thousands of dollars before he went on a shopping spree that weekend, which included a $799 leather jacket, Timberland boots and a $27.99 pair of jeans from Marshalls.
Police Chief Michael Ciminelli, a Rochester native with 12 years of experience with the U.S. Drug Enforcement Administration, says he believes not being able to transfer money on the weekend might have saved Kollias' life. "There's no doubt the absolute intent was, once they got the money from that account, these kids would have been killed," Ciminelli says. "They certainly had no reason to keep them alive after that. And every reason to not keep them alive, frankly. It was now a race against time."
That night, the seventh-floor roommate who had ignored Hughes' Facebook messages reached out to Isaiah Smith, asking him whether he knew anything about what had happened to their teammates. Ciminelli says Smith then contacted his former drug suppliers and "offered them $15,000 to release" his teammates. "But they said, 'We don't want money; we want blood.'"
Detectives told Ciminelli about Smith's communications in the very early hours of Sunday morning. "Clearly this was an unusual situation that needed an immediate response," he says. He put all of the officers investigating the kidnapping and the hammer attack into the same room to share what they knew while simultaneously mobilizing his SWAT team. He also ordered anyone related to either crime to be pulled in for questioning, including Smith, Hughes and Gigliotti.
Smith didn't know much. But Hughes and Gigliotti were now facing police for the second time in as many days, and, after nearly 14 hours of interrogation, the two women started to crack. "As we are searching for these kids, there were hours and hours of lies, untruths, misleading statements," Ciminelli says. "Until finally, towards the end, we started getting some details which led us to 22 Harvest Street."
---
On Sunday morning, the masked men cranked up the music before entering the room where Kollias was being held. "Just came in extremely angry," Kollias remembers. "They start saying that I had been lying to them, and the cards weren't working anymore, and they couldn't get any more money. That's when they said they were going to kill us.
"They started shooting everywhere and putting the gun into our mouths and up to my skin and just shooting and pulling away at the last second. There were bullet casings flying everywhere. I'm not wearing a T-shirt, and all these casings are extremely hot, and we're just flailing and they're yelling at us to stay still."
Kollias remembers grabbing his teammate's hand and holding it. "I was pretty much fine with dying at that point."
Prosecutors say as many as nine people came and went from the house that weekend, some to drink and watch football, others to buy drugs. A few even went out to buy Kollias and his teammate food Sunday afternoon. But no one tried to help them escape. "I'm in very bad shape at this point. And I didn't know how much longer I could go," Kollias says.
Their captors had boarded up the windows, making it impossible to tell whether it was light out, but Kollias kept track of time by listening to the football games he could hear through the walls. "I can hear them watching the NFL games in the background," he says. Then, sometime after kickoff for Sunday night's game, a massive explosion rocked the house. "The entire house had shaken, and there was this huge flash of light," Kollias says. "I thought they were burning down the house."
The SWAT team had arrived.
Prosecutors allowed Outside the Lines to review sections of a recording from an officer's body camera. After blasting through the side door, about a dozen SWAT members rushed into the house. The officers quickly arrested at least two people who were watching over the football players. They found Kollias and his teammate in the bedroom, untied but badly injured. Kollias was unable to walk. Stepping over glass shattered in the explosion, SWAT members combed 22 Harvest, finding the plastic masks, the impromptu household items used during the bathroom attack and the bleach used to clean Kollias' blood. Other officers also found the rifle, hidden in the attic. They did not find, however, Strickland or Rivera. By this time, Rivera had bailed, leaving his friend who lived in the house to watch over the captives. And Strickland, who'd gone on his shopping spree, was holed up in a hotel. Both were arrested in the following days.
In the minutes after the raid, Ciminelli caught a look at Kollias and his teammate. "The one thing that stood out to me is the almost blank stare they both had on their faces," Ciminelli said. "I've been around a long time. I've seen a lot of things. This one is really in a class by itself in terms of the level of physical and psychological torture. It was as bad as a horror movie."
---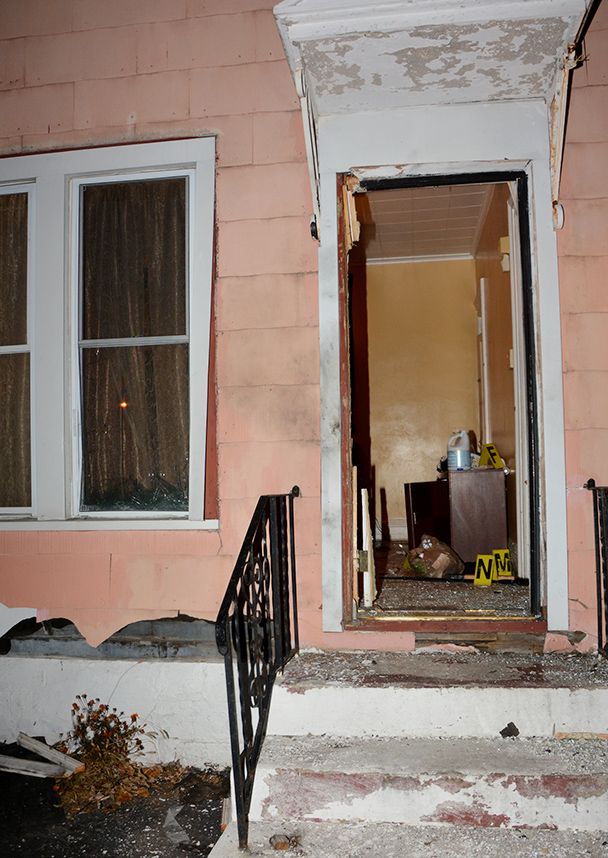 Nine people went to prison for the kidnapping and torture of Kollias and his teammate. Three were sentenced for watching over the captives and acting as lookouts. Samantha Hughes and Leah Gigliotti pleaded guilty and testified against the others. They were each sentenced to more than a dozen years in prison. Three of the four men in the cellphone video recording of the torture, including Elliot Rivera, also pleaded guilty and were sentenced to 35 years in prison. During Lydell Strickland's trial in December 2016, prosecutors described him as the "ringleader" and "mastermind" of the plot. He laughed when a judge sentenced him to 155 years in prison.
Three months later, in March, Isaiah Smith faced a judge for his role in orchestrating the drug robbery that started it all. Smith had already left school soon after his arrest, though the university will not say whether he withdrew or was expelled. At Smith's sentencing hearing, Judge Melchor E. Castro told the former linebacker, "I suppose you couldn't realize what events you set up when you did this." As the judge sentenced Smith to 13½ years in prison, he said, "This is all your fault."
Kollias says he believes none of this would have happened if the university had cracked down on Smith's earlier drug activities -- and if the Division III coaches he played for weren't so blinded by Smith's football talent. Kollias is especially outraged by how Dan Kyle, the assistant coach, bailed Smith out of jail. Kyle, head coach Scott Greene and university President Joel Seligman all declined repeated requests for an interview. Instead, a university spokeswoman emailed a statement. "Isaiah Smith was a student in good standing up until his arrest," she wrote, explaining that the university, as a Division III school, is not required to drug test its players. She added: "No member of the administration, nor any coaches or University athletics staff members asked Dan Kyle to sign for Smith's release. This was an unusual occurrence."
Kyle no longer works at the university.
---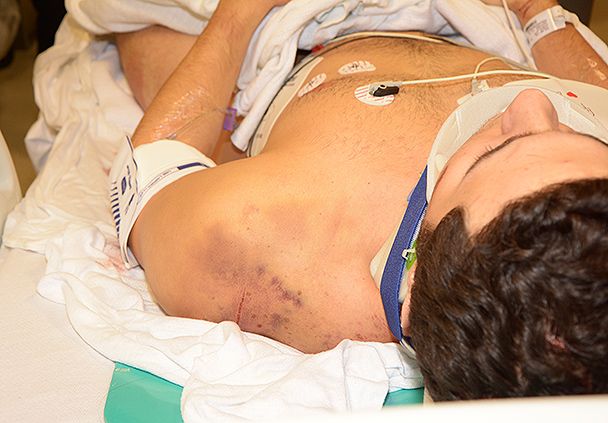 Kollias is finally starting to sleep again. "Nighttime and being alone are definitely harder things for me," he says. He often finds himself looking over his shoulder in his hometown of Chicago, where he is working in finance. As he was already a senior at the time of the attack, the University of Rochester allowed him to graduate without returning to campus.
"I had three or four blood transfusions," Kollias says. "They put a titanium rod through my femur, attaching it with screws in my knee and hip. They surgically removed glass from my eardrum and scalp and skull."
Determined to rehab his mind and his body, Kollias recently ran his first road race since the attack. Once a college athlete, he now struggles to finish 3.5 miles. His leg flies out at an odd angle with every step; his gait has a deep dip that wasn't there before.
He says the leg always hurts -- all the way from his knee to his hip -- but the pain is worth it. "I try and exercise as much as I can to keep my mind off the negative thoughts," Kollias says. "That's what really helps me cope with the negative energy, along with playing the piano."
Even though his football career is now over, Kollias still has the piano. He just released his first recording on iTunes. One of his favorite pieces is Beethoven's "Moonlight Sonata." It soothes him. As his fingers move over each key, his body visibly relaxes as he's transported away from the memories of what happened inside 22 Harvest Street. "I made the conscious decision to live, survive and overcome the challenge I was faced with," Kollias says. "And that's exactly what I did."