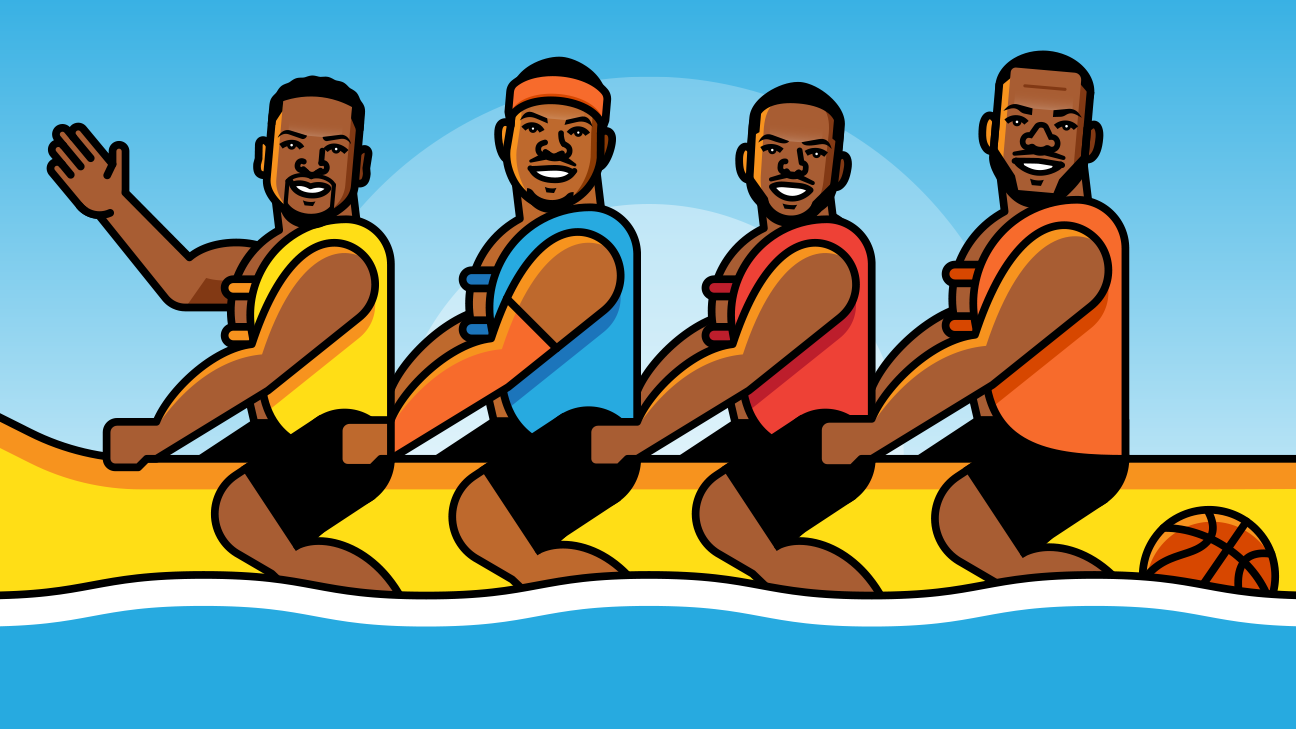 All Aboard the Boat
How likely is a Banana Boat reunion in 2018? We take you step by step through the ways LeBron, Melo, CP3 and D-Wade could all come together. But fans shouldn't count their bananas before they're bunched.
Ever since a vacation photo
surfaced of LeBron James, Chris Paul and Dwyane Wade sharing a banana boat on vacation in 2015, NBA fans have had one question: How do we get the Banana Boat Bunch together on the same team? (OK, maybe that was the third question after, "Why were those guys on a banana boat?" and "How did fellow vacation buddy Carmelo Anthony avoid ending up in that embarrassing photo?") It seemed as if we were close to assembling the squad this summer, but then Chris Paul was traded to the Rockets, and Phil Jackson was ousted in New York -- seemingly ending the possibility of a Melo buyout -- and our Banana Boat Bunch dreams were dashed forever.
Or were they?
While June's flurry of moves threw a wrench into the reunion process, there are still a few ways Anthony, James, Paul and Wade could sail together in 2018.
---
The Houston Scenario
Chris Paul is already there, so the big piece to figure out would be getting LeBron James to Houston on the max deal he's almost certain to demand, while also leaving enough room to maneuver for Dwyane Wade and Carmelo Anthony.
How it could happen:
Chris Paul
The first piece already landed in Houston when the Rockets traded for Chris Paul, and we have to assume he'd stick around on a max or near-max deal as the bunch assembled.
Carmelo Anthony
Although Carmelo Anthony still has his no-trade clause, he'll reportedly waive it to get to Houston, making it more likely than not that the Rockets have half of the bunch on board before 2017-18 even tips off.
LeBron James
This is the hard one: How to get LeBron James to Houston? The Rockets aren't likely to have the cap room to sign James to a max deal next summer, so it probably would take a repeat of what happened with CP3 this summer: LeBron makes it clear to Dan Gilbert he's not returning to Cleveland under any circumstance, and Daryl Morey works some magic to send enough assets to Cleveland (and probably an additional banana boatload of future picks) to trade for LeBron, who'd opt in to the final year of his deal.
Dwyane Wade
With three of the four pieces on board, Dwyane Wade -- a free agent in 2018 -- would almost certainly take one of the Rockets' cap exceptions to join his buddies in Houston.
---
The Los Angeles Scenario
What if next summer rolls around and it turns out CP3's Rockets failed to launch (say, another familiar second-round exit for Paul) and the point guard decides he wants to explore his options? Well, one of those options would be a return to Los Angeles ... as a Laker. And this time there'd be nothing David Stern could do about it.
How it could happen:
LeBron James
The Lakers are poised to enter the summer of 2018 with a boatload of cap space (pun fully intended), so the first move to sailing a banana boat off Santa Monica Pier would be to sign James to his max deal.
Chris Paul
The second move, which might take freeing up some additional cap space by dumping someone like Luol Deng or Jordan Clarkson, would be to sign Paul away from the Rockets, offering him a four-year max, which would be slightly less valuable than a four-year deal he could sign in Houston.
Carmelo Anthony
The Lakers would have two options to get Melo to join. The first would be to sign him to a low-salary deal with the promise that he'd be playing with his best friends (and not playing in New York). The second would require a little more faith on Melo's part -- he'd have to opt in to his existing deal, then get traded, something that probably would only happen if he was still stuck in New York heading into next summer.
Dwyane Wade
Once again, Wade -- who'll be 36 next summer when free agency rolls around -- gets the short end of the salary stick. But if the Lakers operate as an under-the-cap team (as they'd need to), their Room Exception would be a pretty significant chunk of change.
---
The New York Scenario
Knicks fans have been dreaming of LeBron playing his home games at Madison Square Garden since ... well, probably since 2002, before James was even in the NBA. But James has fanned the flames a bit over the years, once telling the New York Post, "If I could have 82 regular-season games in the Garden, I would because it's the mecca of basketball."
How it could happen:
Carmelo Anthony
Could Carmelo Anthony opt in then get all his buddies to join him in New York in 2018? Well, it's worth a shot. Step two after Melo opts in would be for the Knicks to invent a time machine to go back to 2016 and stop Phil Jackson from handing out some awful contracts. Failing that, they'd have to unload signees Joakim Noah ($18.5M salary in 2018-19), Courtney Lee ($12.3M) and Lance Thomas ($7.1M) -- and that's before accounting for the head-slapping deal they gave to Tim Hardaway Jr. this summer. Good luck.
LeBron James
Assuming by some miracle the Knicks pull all that off, the next move would be to sign LeBron James. If he truly wants to play 82 games a year in the Garden, the logical first step would be to sign with the only team that plays 41 there.
Chris Paul
So Melo and Bron are on board. That's great. But for CP3 to join them, he'd probably have to take a paycut similar to the one Kevin Durant took this summer to stay with the Warriors.
Dwyane Wade
Then there's Dwyane Wade, who once again ends up with either the minimum or some cap exception. Or the Knicks could hypnotize the Bulls into taking Tim Hardaway Jr., and do a sign-and-trade for Wade, who in that case could get something close to $20 million.
---
The Fifth Banana Boater
The Banana Boat Bunch currently includes only four members, while an NBA team needs five on the floor. So who should fill out the squad, should this foursome find a way to unite? Given that the current crew consists of two guards and two wings, we decided to focus on big men who'll be available in 2018 and would round out the team not only on the court but also on a fun summer vacation.
JaVale McGee
The center once known more for his bloopers than his play is now an NBA champion, but he can re-embrace the lighter side of life by sailing across the ocean on the back of a banana boat. McGee's got the right mix of personality and actual basketball skill (just envision him catching lobs from CP3) to be the perfect fit in this bunch.
Brook Lopez
On the surface, the NBA's biggest nerd doesn't seem like a fit with the Banana Boat Bunch, but there are connections. LeBron James has been featured in comic books by both DC Comics and Marvel Comics, Dwyane Wade has a comics-esque nickname ("Flash," though that's actually a reference to Flash Gordon, not DC's The Flash), and through his role with Team USA, Carmelo Anthony has literally become Captain America.
Channing Frye
All that nerd stuff above for Lopez also applies to Frye, who has the added bonus of being one half of the NBA's best podcasting duo. Can you imagine the digital content opportunities for Frye reporting live from the Banana Boat next summer? This almost has to happen.
Boris Diaw
Casual fans might not know this, but Diaw is already the NBA's version of The Most Interesting Man in the World. He keeps a cappuccino machine in his locker. He's a noted wine connoisseur. He once cleared every bar on the machine that measures a player's vertical jump while wearing flip-flops. A banana boat would almost be mundane for Diaw.
Vince Carter
OK, so Carter isn't a big man. But he's clearly in the process of both playing forever and playing for every team while he's doing so. Carter has never played for the Rockets, Lakers or Knicks, so he could check off another box in any of our scenarios while also needling LeBron about entering the dunk contest. It's a win-win!
Illustrations by Elias Stein