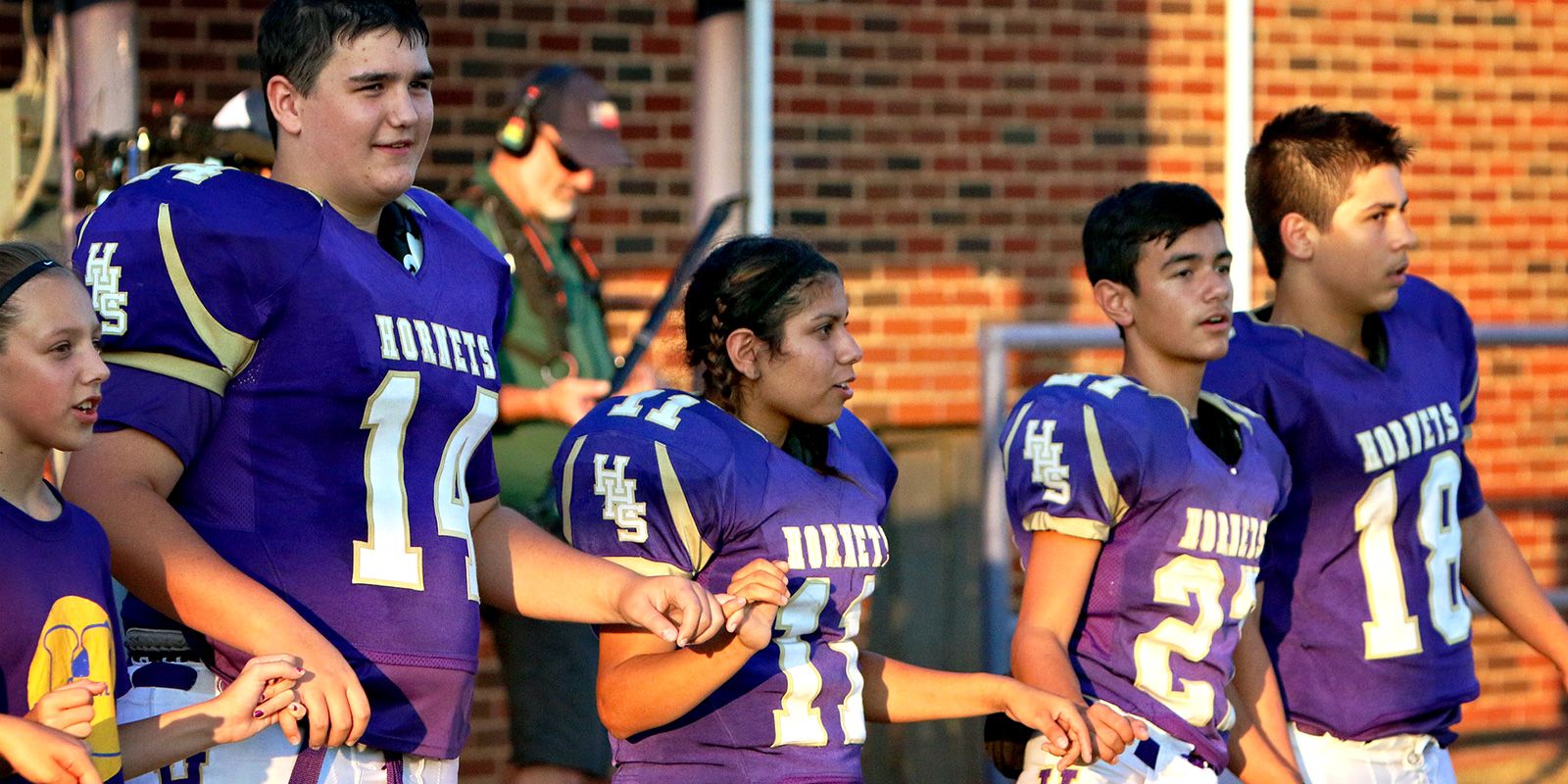 Six-Man Forever
In a fading town in rural Texas, one girl took the field in the struggle to keep a high school football tradition alive.
People have traveled from all over the world to write stories about Harrold, Texas, and aesthetically, it's hard to figure out why. It looks the same as most other stops in North Central Texas, with goats and wind turbines and a 7-Eleven a mile and a half down the road.
Sometimes, a wild pig or a tornado will break up the monotony. Harrold's school superintendent, David Thweatt, was making his 45-second commute one day when he heard a noise and looked down to see a rattlesnake slithering around the wheel of his bike. He grabbed a BB gun, took aim, and that's all he has to say about that snake.
"We live in the middle of the country," Thweatt says. "We are at least 30 minutes from a first responder. When you live in the country, you do everything yourself."
In 2008, Harrold became the first school in the United States to allow its teachers to carry concealed guns in class, and the international news media pounced. CNN, the BBC -- pretty much all the big news acronyms -- came calling. The crush was so intense that Thweatt asked his football coach, who also serves as the principal and athletic director, to help with the phones.
Eight years later, Harrold found itself in the middle of another national controversy when it challenged a federal transgender bathroom policy.
But now it is summer in rural America, and all is quiet in the old brick building except for the bubbling of Thweatt's aquarium.
"Do you want to talk about science?" asks Thweatt, who loves to talk, and seems disappointed when the answer is no.
There's another story to be told in Harrold, and it's even better.
It's about friendship, death, and a football season saved by a 5-foot-2, 135-pound girl.
---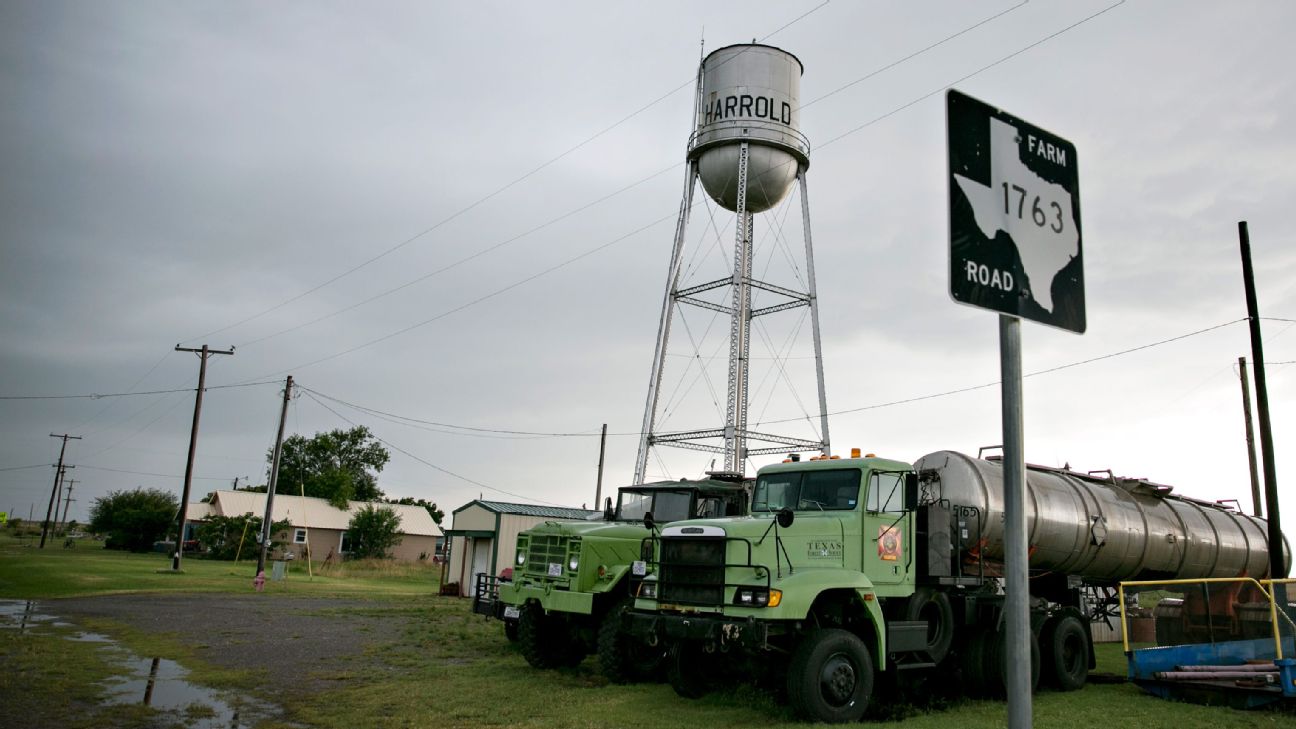 Storefronts don't close for Friday Night Lights in Harrold because there are no storefronts. But for as long as anyone can remember, football has managed to sprout up each fall in a land that in many ways seems infertile. One recent population count lists Harrold with 175 inhabitants, though by Thweatt's count, that's an exaggeration. The graduating class of 2017 included six girls and three boys, a nightmare on prom night, and even worse if you're fielding a football team.
Harrold plays six-man football, which, in rural Texas, is about survival. The fields are only 80 yards long because the boys who play are generally worn out from lining up on both sides of the ball. Six-man athletes are not behemoths engineered in million-dollar weight rooms. Often, they're small and lean because they're constantly running.
The Texas towns they're from are barely hanging on, too, places like Spur and Happy. And Harrold.
"My first two years here, we averaged 25 boys for football," says Harrold coach Craig Templeton, who has been at the school for more than two decades. "But the problem was, if you looked at the girls' side, I think we had seven or eight girls playing volleyball or basketball. It's just a cycle we're in right now."
Templeton, who has pictures of John Wayne scattered throughout the walls of his office, never could have imagined back then that the numbers would dwindle so low that it would put football in jeopardy. Or that a shy, diminutive water girl would save the season.
But even in small towns, there are hidden surprises. Coach T -- that's what everybody calls him -- went into the summer of 2016 with only six players. No bench. But he wasn't all that worried. He runs his football camps kind of like a track practice, with 60, maybe 70 40-yard dashes each workout to build the players' stamina. Plus, he had Brady Blakley, one of the area's best players, back for his senior year. They'd get by.
But just before camp, one of the boys transferred, and Templeton knew the Hornets would not be able to play the season with five. The ragtags they had, outside of Brady, did little to inspire confidence. Half the team was composed of freshmen, and the battle for the starting quarterback job consisted of Templeton saying, "I need somebody to take the snap."
Creed Henry, blessed with an awesome name for Texas football but a body in need of a few hundred doughnuts, said, "I'll do it."
Creed's father is a cowboy, so Templeton figured the kid would be tough. Chris Henry was a late bloomer, too, but now he's nearly 6-4. In the summer time, Creed gets up around 4:30 each morning to help his dad. Part of his job involves throwing calves to the ground and holding them while they're branded.
Creed weighed all of 91 pounds.
So yes, Harrold was in deep bovine doo-doo. But the prospect of not having football seemed unthinkable, not just because of history but because of Brady. He was so devoted to football that he switched from his natural position on offense, center, to fullback and did not squawk one bit.
He loved it because it connected him with his father. Mike Blakley also played football at Harrold, a Hornet through and through. In the fall of 2015, Mike sat in a Ford Explorer parked as close as it could be to the football field. His brain and his lungs were full of cancer, and he had to know the end was near. He wanted so badly to get out of that SUV and lean against the fence so he could be closer to his boy.
"He couldn't talk real good," says Mike's middle son, Josh. "He was trying to scream as loud as he could for Brady, but just like a little whisper came out.
"Brady scored three touchdowns, and I remember [my father] was happy. He was really happy."
A little more than a week later, Mike Blakley was dead. And football was about all Brady looked forward to. What would he do without it?
Outside of cloning someone, Templeton was running out of options. He walked though Harrold's gym one day while the girls' volleyball team was practicing and jokingly asked whether any of them wanted to play football. Olivia Perez, the team's all-district setter, actually had been pondering that very question. She'd been the student manager and water girl for the football team in past seasons, but more important, she was good friends with Brady. He'd told her that there might not be a football season, and she knew how desperately he wanted to play for his father.
Carla Kent, Harrold's volleyball coach, knew what Brady was going through. When Kent was in high school, she also lost her father. But here's the deal -- the volleyball team was also at the bare minimum of six bodies, so when Olivia told her coach that she wanted to moonlight on the football team, Kent's reaction was pretty much what you'd expect: "Are you serious?"
"I knew we had a good chance of winning districts," Kent says. "If she got hurt, our season was over."
Olivia had a minimal grasp of the game of football. She'd never seen a playbook, let alone been tackled by a boy twice her size. But she'd always liked watching it, and her mind was made up. In a Snapchat conversation with Brady, she told him she'd play -- for him. Kent and Templeton would devise a plan to share Olivia's time, and sometimes, it resembled a fire drill of uniform changes and venue sprints.
"She was scared to death when she got out there," Templeton says.
"You don't hear of kids doing this. It's so unselfish."
---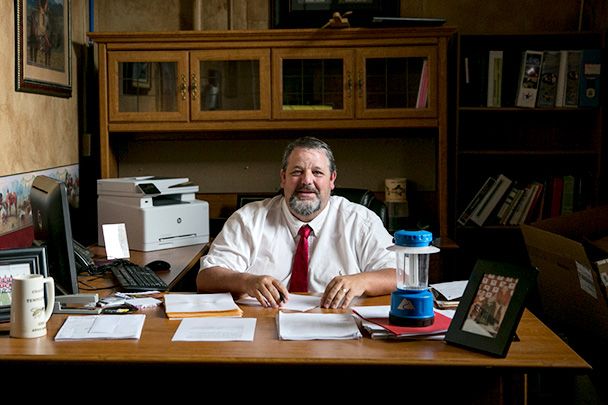 There was a time, many years ago, when Harrold was a boomtown. It was the last western stop on the Fort Worth and Denver City Railway Company. Stores and churches were built, and there were at least 16 saloons. It was the late 1800s. According to the Texas State Historical Association, prospective settlers were offered train rides to Harrold and were welcomed into town by a brass band.
But then the railroad expanded past Harrold, and the town began to shrink. Today, the only music at night is the sounds of trains, cows, critters and the highway.
Templeton and Thweatt love the solitude of Harrold, and the sense of community it provides.
"Everybody in town will look out for each other," Templeton says.
Harrold's school serves kindergarten through 12th grade in one building. Many of its students come from neighboring small towns. Thweatt says a good number of them live less-than-ideal lives. He estimates that more than 70 percent of the student body qualifies for reduced lunches.
Olivia's life, even before football, was by no means easy. Her dad heads to work around 2 each morning at the Bar-S factory in Altus, which is about an hour away and across the border in Oklahoma. He gets home roughly 14 hours later to help take care of his wife, who suffered a stroke two years ago. Maryann Perez was only in her late 30s when she had the stroke, and doctors say that's rare. She has never been the same.
"Sometimes, she'll try to talk to me," Olivia says, "but she can't think of what she wants to say."
Maryann Perez's sister, Malinda Vazquez, goes to most of Olivia's games. Vazquez says Olivia practically takes care of herself. She works at the United grocery store in nearby Vernon, Texas, and was already juggling volleyball and basketball with school, where she made National Honor Society.
Vazquez is thankful her niece has sports. It gives her structure, and a distraction. Olivia stays at her aunt's a lot, probably because it feels more normal. She didn't tell a lot of people about her mom's stroke. Her volleyball coach didn't even know about it for a while.
"Sometimes," Kent says, "trying to get her to open up and talk is a challenge."
But with Brady, it was easier to share her feelings. She'd been friends with him for a while, but their bond deepened when their parents got sick. Harrold played Chillicothe the day before Brady's dad died. The opposing team wore purple socks to honor Mike Blakley, and both squads gathered in a circle to pray. Brady finally lost it outside the locker room and cried on Olivia's shoulder.
"Sometimes, I would be listening to music, and it would get me feeling sad and I texted Brady at 10 or 11 at night," Olivia says. "He always knew something was wrong if it was that late. Then we'd start talking about what was going on, and he was like, 'Keep your head up. I'm always here for you.' It was just comforting."
---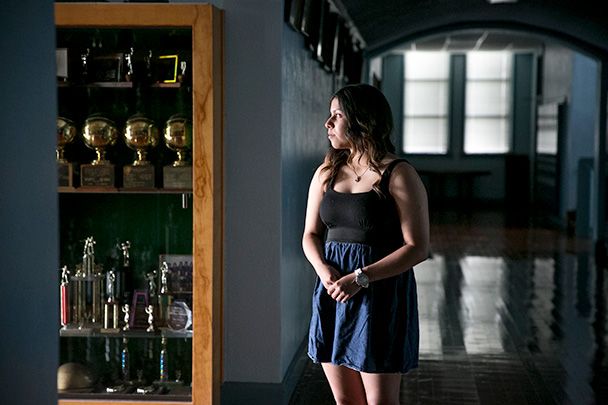 It was easy to spot the girl on the team. She was the one with the shoulder pads so big they nearly covered her face. But Olivia never complained. She had a couple of her volleyball teammates help her get dressed each game, sliding her jersey over the pads.
It seems sort of strange, that a school caught up in a restroom battle now had a girl inhabiting the boys' locker room. But Olivia never paid much attention to Harrold's controversies. During home games, she'd change in the bathroom or the girls' locker room. On the road, if there was only one place to go, she'd either change first while the rest of the team sat outside the locker room, or they'd change while she waited.
Before the first game, she told her Aunt Malinda that she was nervous. "You're gonna be fine," Vazquez told her. "You're strong. You're a tough girl."
Templeton did his best to try to protect Olivia on the field. Harrold is a run-heavy team, so Templeton would use her as a wide receiver and on most plays ran away from her. He also hid her on defense and special teams, as much as you can hide someone when you have only six players on the field.
There was sort of an unspoken understanding among the local teams that no one would lay a hard tackle on her. Chillicothe's coach took it a step further, according to Olivia. "He said if anybody hit me really hard, he was going to make them run," she says. "I think that's cool."
That was violated just once, against rival Northside. Olivia took a hard shot, and Brady was livid. He grabbed the kid by the face mask and threw him down.
But the 2016 season wasn't much of a fight. Harrold lost its second game of the season by 59 points, then followed it up the next week with a 50-0 loss.
Nobody had the luxury of a day off. Brady played one game with a rolled ankle and the flu. He didn't want to complain about it, but his head was throbbing, he was sweating and he couldn't see clearly. He couldn't play anymore, and was taken to the hospital by ambulance. Harrold couldn't finish the game.
"Most of the time my legs were sore," Brady says. "Every day after Friday, I'd wake up sore. There were games I'd be tired, and I'm like, 'Give someone else the ball, please. I'm out of breath.'
"Yes, it sucks getting beat. But you have to fight through it."
Despite all the losses, Brady had no regrets. He'll have a Harrold team photo, just like his dad, and no one will remember the beatdowns, or that these players were any different. They were just like every other school in Texas: They played football.
---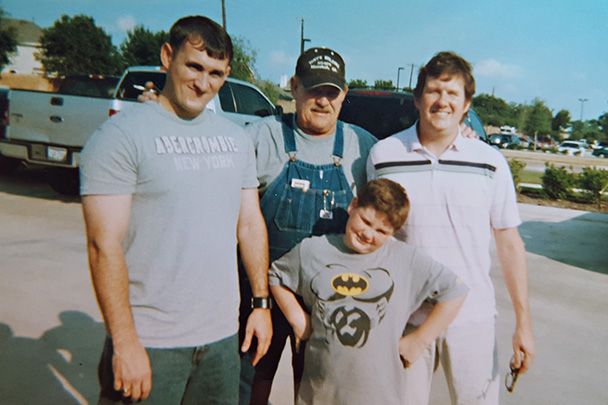 When Mike Blakley told his older sons 19 years ago that he was going to be a father again, they couldn't believe it. Toby and Josh Blakley were adults by then, and Mike was in his 50s. Toby joked that his family was a Jerry Springer episode, complete with nephews older than uncles, and that his dad was Charlie Chaplin. "You can't write s--- like this," Toby says. But in the end, things turned out just fine.
Brady gave Mike the chance to have sort of a do-over. The father Toby and Josh knew was a welder who worked long hours and spent far too much time on the road. He was strict and detached but always provided food for the table and clothes on their backs.
In some ways, Toby, who has a different mother than Brady, sees himself in his little brother. Toby was also a star football player, at a bigger high school, and probably could have played in college. But he lacked discipline and focus.
"I wanted to drink beer, and I wanted to party," Toby says. "And let's be honest, I didn't have a lot of direction. Nothing against my parents. ... My dad, he's a great provider, and he provided for us very, very well. But he wasn't available for decision-making. I relied on my coaches."
When Brady came along, Mike became more active but also more of a pushover. Brady could get away with things Josh and Toby never would have dreamed of. Brady's grandmother, Cynthia, described a childhood in which Mike would indulge the boy with just about anything he wanted. But no one questioned the father's heart.
Brady's parents split up when he was young, and Mike took him back to the place he knew, in north Central Texas, and raised him alone. He loved watching the kid play. They spent many days talking about football.
When Brady would get out of line, Mike sometimes threatened that he'd call Toby or Josh to deal with him. The family had nicknames for one another. They called Brady "Meathead."
Toby went on to be a Marine, then a chef; Josh was in the Army, then became a police officer in Vernon. In Mike's final days, he was too sick to care for the boy, so Brady went to live with Josh and his family. He needed that stability. Josh is 38, young enough to play video games and relate, old enough that people mistake him for Brady's father.
He worries about Brady. He wants him to go to college, wants him to keep his options open. But Brady is set on joining the Army after high school, and no one can persuade him otherwise.
"He is mature, but then you want to make sure he's making the right decisions," Josh says. "That's why I try to have a finger in on everything he does. Because I've lived most of my life.
"He's been through a lot. Not a lot of people have to go through what he's been through."
---
The Class of 2017 graduated on a Friday night in May. A bad storm with a tornado warning rolled through the county the night before, knocking out power in Harrold. Help comes slowly sometimes in rural Texas, and the last time the power went out, during an ice storm this past winter, Templeton says, they waited eight days for it to return.
By Friday morning, then Friday afternoon, there was still no electricity. So Thweatt and Templeton brought in generators to light the gym. It would be a graduation everyone would remember, they figured. Just before the ceremony started, sun gave way to a pounding rain.
Earlier in the day, Templeton sat at his desk, thinking about the last time he saw Mike Blakley. It was when Mike was in hospice care, just before he died. Even then, Mike was thinking about this day, and the moments he'd miss. "Coach T," he told Templeton, "you make sure Meathead walks across the stage."
And now the day was here, and Templeton was a jangle of emotions, excited for Brady's future, sad to see him go. You become more attached to a kid when he's one of only nine in a class.
Brady inherited at least four father figures when Mike died. He had Josh and Toby and Coach T and Mr. Thweatt. They laughed when one of the graduation speeches mentioned Brady's propensity for passing gas in class. They watched when the video montages of the seniors were projected on a wall. There was Brady as a little boy, being a stinker. And there was his father.
The graduation ended, and Brady found Olivia and they hugged.
She is now a rising senior. Her class consists of three people.
---
Olivia dreams about going to college. She'd be the first in her family to do it. She has three older siblings, and they all work in food service. One of her sisters didn't graduate from high school. She got caught up working at a restaurant, skipped class and never finished.
Like many kids who go to Harrold, Olivia lives in a neighboring town. She's from Vernon, which, at around 10,000 people, is almost a metropolis. She sees the drugs in town, the people stuck in their lives, and desperately wants to get out.
Olivia was over at her aunt's house recently when she started to stress out about what she'll do after graduation. She thinks she might want to become a nurse or a veterinarian. Vazquez reassured her: "You can be whatever you want to be. It's up to you."
Had Brady gone to a bigger school, maybe he'd be thinking about college, too. He was a good six-man player: an explosive fullback, a sturdy lineman, a solid middle linebacker. Really, Brady could play anywhere. But in this story, the most talented kid on the team is a realist. He knows the limitations of small-town football, and the limitations of his 190-pound body.
He was invited to two all-star games this summer, including the Greenbelt Bowl, a showcase for small-town players who might otherwise be overlooked for college scholarships. It was an 11-man game, and Brady held his own, getting a sack and a couple of tackles. But he had no offers for a full-ride scholarship.
Graduation came at a time of big changes for the Blakley family. Josh wants to leave the police force and move to Dallas. He plans to get his master's degree and work in the ministry.
"I'm kind of burned out," Josh says. "The criminals have more rights than the officers do nowadays. You gotta be real careful out here what you do."
Brady planned to move in with Toby during the transition. Toby also lives in Dallas, and is known as being strict. Toby remembers a time, near the end of his dad's life, when Mike used to tell him he had to come and watch Brady play. Mike said the way Brady played reminded him of Toby -- both played with a lot of heart.
The words made Toby well up with emotion. He never saw his dad as an encourager when he was playing football; Mike always pointed out everything he did wrong. And now Toby was proud to be compared to his brother. Six-man football, he said, requires a certain kind of toughness. Especially in Harrold. It's about getting beaten up and humbled every week, and coming back for more. It's about not having any regrets, even when your efforts don't produce any wins for two seasons.
"He had perseverance," Toby says. "He would not quit, and if you put another kid, a teenager, in that situation ... they're more than likely to quit. Not Brady. Even though he's a knuckleheaded kid, you could see leadership and perseverance develop because of that dynamic."
---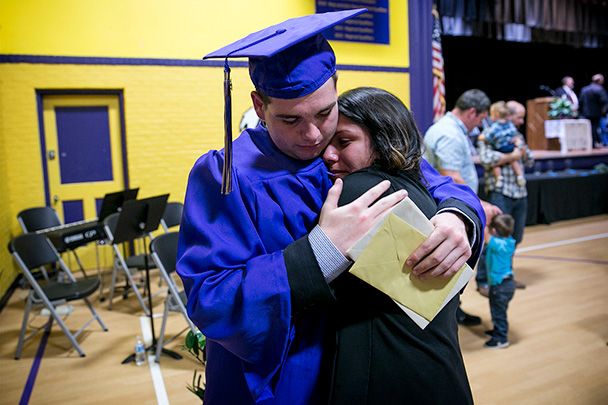 It's a late-June night in Vernon, and Brady pulls into a Braum's fast-food restaurant to meet Olivia. He arrives with some news: He has just been accepted into the Army's military police program and will ship out at the end of August.
It's exactly what he wanted, to be in the military like his brothers, to have a purpose. He talks about paying his own bills and going his own way. Being a man. He wanted this so badly that he's been lifting weights all summer at a gym in Vernon. Olivia is drinking a shake at Braum's, and Brady is asked whether he wants anything, but he quickly says no, he's in training.
He is so excited to ship out that he starts to recite his extensive itinerary, which he seems to have memorized. He wishes he could leave tomorrow. Olivia is sort of jolted by the news. They haven't had a lot of time to talk this summer. He's been traveling; she's been working.
Eventually, the subject turns to football. Templeton has only five players again, and Coach T has warned coaches around the area that Harrold might not have a team. Olivia tells Brady that she's going to play because Coach T, and the team, needs her.
Brady doesn't think it's a good idea.
"If you get hit, who's going to come up and protect you?" he says. "[The team] is all small. Coach T can't run on the field. All he can do is probably cuss and get kicked out. That would make Harrold look bad."
They agree to disagree. All of the angst Brady had in the summer of 2016 is gone, and Harrold -- and football -- is in the rearview mirror, probably forever. He heads outside to his Mustang and tells Olivia he'll see her in five years.
"Don't say that," she says, figuring he must be joking. They've been through too much.
---
Two weeks before camp started, on July 27, Templeton got a text. It was from Creed Henry. Throughout the year, Templeton kept a scale next to his desk, and every week, young Creed stepped on that scale and measured his progress. By summertime, he was up to 107 pounds, and Templeton was pumped. But this text was not good news. Creed's father helped him compose it because Creed didn't know exactly what to say. Chris is changing camps on the ranch, moving to a less stressful job, and now the family must move to another county. Creed will be transferring to Crowell, a rival team in Harrold's district.
"I hate to see it," Templeton says. "It's not something he's looking forward to doing. [But] family has to do what it has to do. I understand that 100 percent."
The move probably will be better for Creed. Crowell went 11-2 last year and had one of the best passing games in six-man. No more endless beatdowns or worries over whether he'll have a season. But Chris has mixed feelings about his boy switching teams. Harrold has a special place in their hearts. "They were so small," Chris says, "but they sure were determined."
Around the same time the news about Creed hit, Templeton found out another player is transferring, too. It means Harrold most likely will not have a football team this fall. Templeton can't imagine what that will be like. Much of his life has been spent preparing for the next football season. He believes it will be temporary. Harrold's eighth-grade class is loaded with boys, he says, and they'll be back.
If there is no football in 2017, he says, the boys will compete in cross country. They'll train under the hot sun, run for miles, and get ready for basketball and 2018.
They'll do the same thing generations before them have done. They will take what they have and make do.