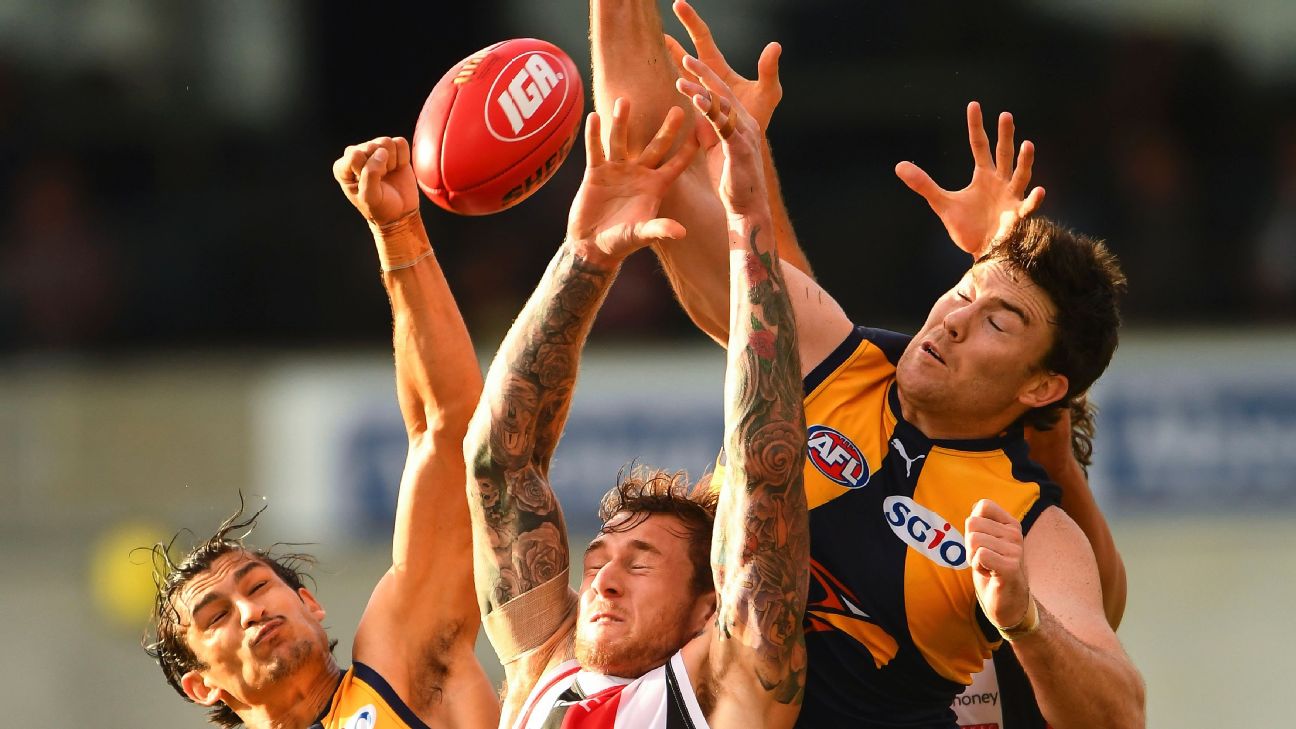 Footy Forensics: Finals swing - which games matter most?
Finals chances and top-four hopes are on the line for a lot of clubs this weekend. We look at how much each game matters for every team dreaming of playing in September.
Eight-point game! It's a footy cliche that gets wheeled out every time two competitors for a finals or top-four spot face off against each other. But the evenness of this crazy season means some matches in the lead-up to September could make or break certain clubs' hopes. Which games are really important?
We've measured how each side's finals chances will be affected by each of this weekend's games, using a measure called 'swing' points that we've liberally borrowed from our ESPN colleagues at FiveThirtyEight. Swing points are quite straightforward - they measure the difference in a team's chances of making the finals based on which side wins or loses a particular game.
For example, we think the Bombers will have a 49 percent chance of making the finals if they beat Carlton this weekend, but their chance will plummet to just 13 percent if they lose. That 36 percentage point difference is the 'swing' in Essendon's finals chances based on the result of that game. But each game doesn't just affect the teams out on the field - the Bombers-Blues game also has a meaningful effect on the finals chances of the other clubs that are trying to squeeze into the eight. All up, there are 71 'swing' points on the line in that game.
Teams' finals chances have been estimated by simulating each remaining game of the home-and-away season 20 000 times using our Elo ratings, but you don't need to know the ins and outs of Elo to understand swing points.
So, which games matter most this weekend? There are six games that will have a meaningful effect on teams' finals chances.
---
St Kilda vs West Coast (89 total swing points)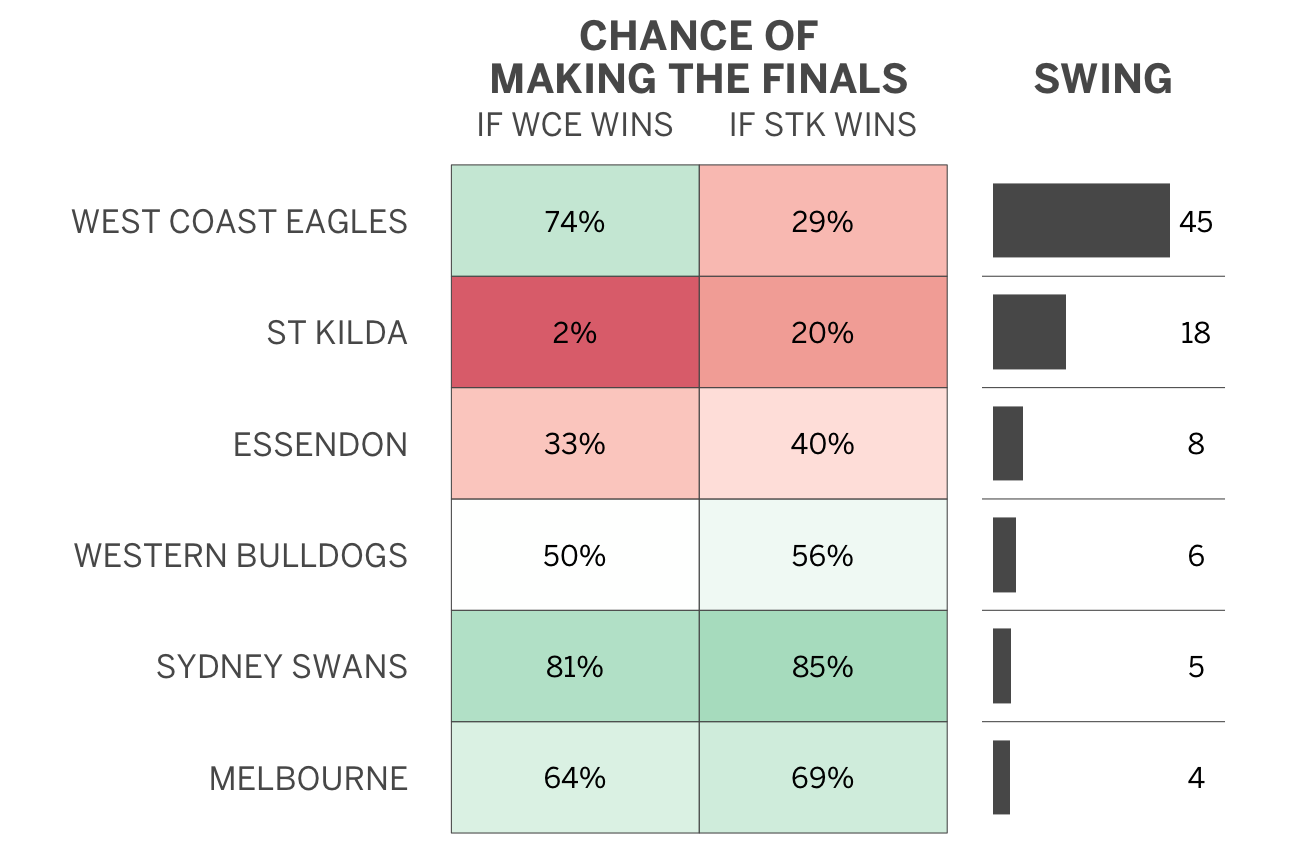 The Saints against the Eagles is this weekend's most important game. All up, the contest will affect various teams' finals chances by a whopping 89 'swing' points. The most affected team is the Eagles - win on Sunday and their chance of making the finals spikes to a comfortable 74 percent, while a loss will mean they're only a 29 percent chance. It's do-or-die for the Saints, who will only have a slim chance of making the finals if they win this weekend, but will have virtually no chance of making it if they lose.

Several other teams - the various competitors for the bottom part of the eight - are also going to be watching this one closely. Essendon, in particular, will be hoping for a Saints victory, which would bump up their finals chance by 8 percentage points relative to an Eagles win.
---
Brisbane Lions vs Western Bulldogs (79 total swing points)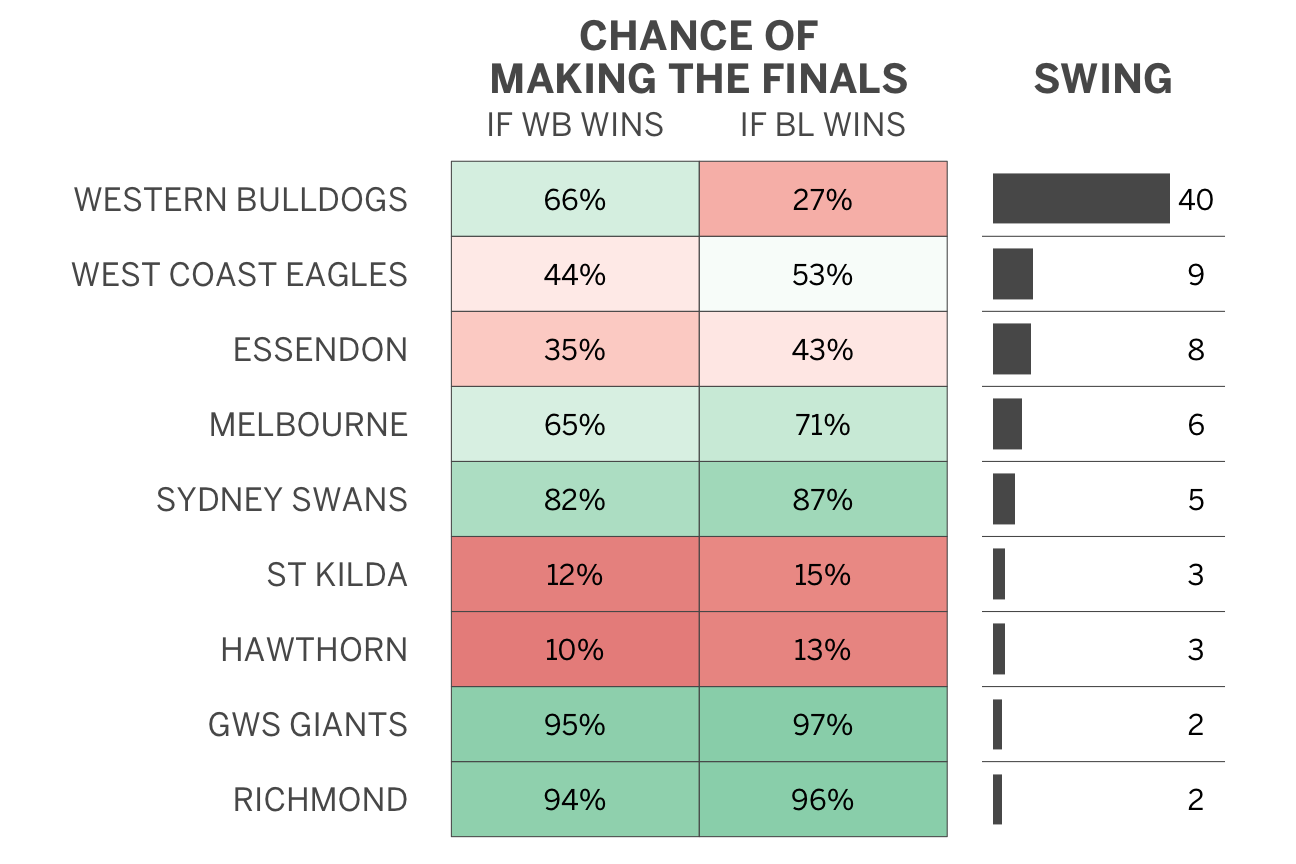 The Lions can't make the finals, but their game against the Bulldogs still matters quite a lot for the finals picture. If the Bulldogs don't win this one, they'll be left with only a one-in-four chance of making the finals, while victory would give them a 2-in-3 chance. The Eagles and Bombers will be hoping for a Lions upset.
---
Essendon vs Carlton (71 total swing points)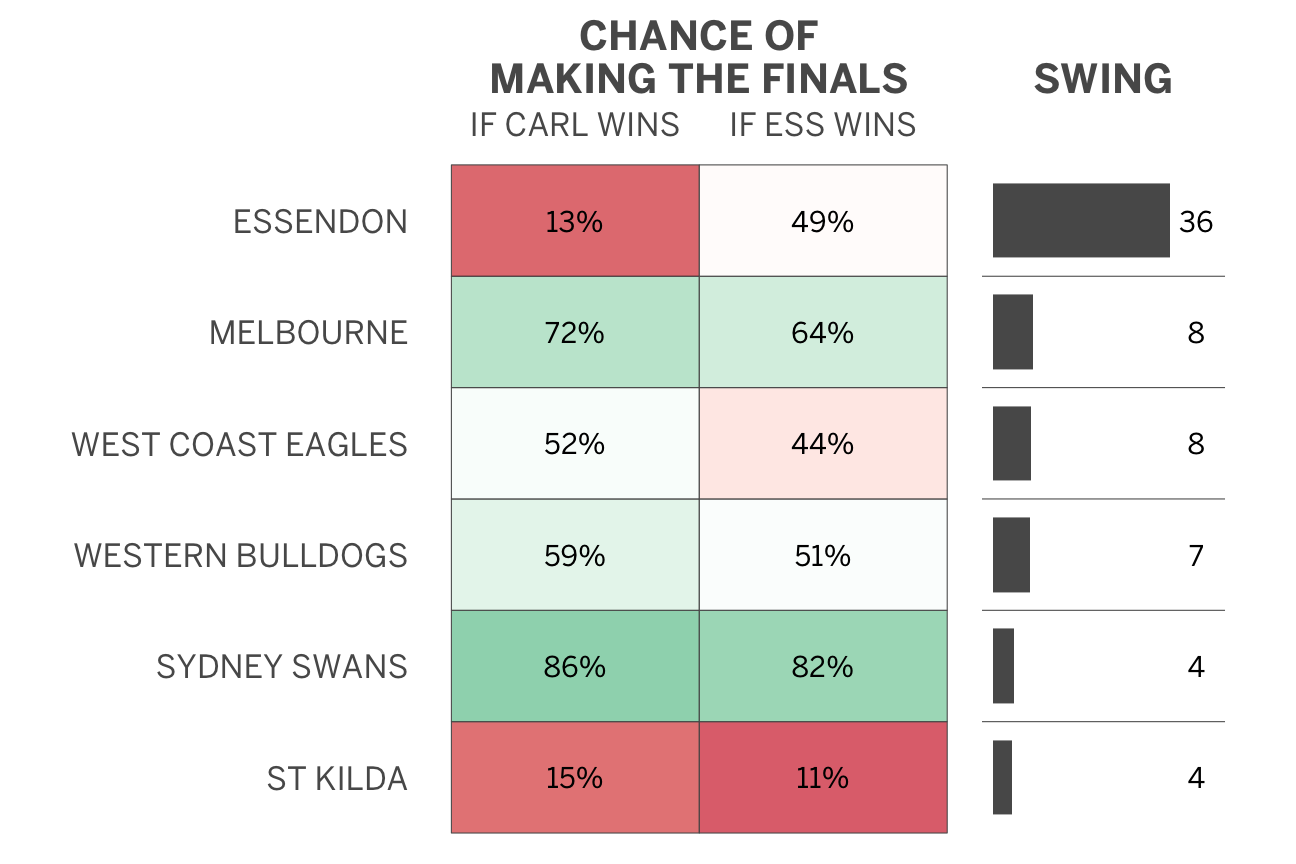 Carlton have proven this season that they're capable of a sneaky upset here and there, so Essendon can't take this one for granted. If they lose against the Blues, the Bombers' finals chances drop to just 13 percent; a win will leave them at basically a coin toss to make the finals.
---
GWS vs Melbourne (67 total swing points)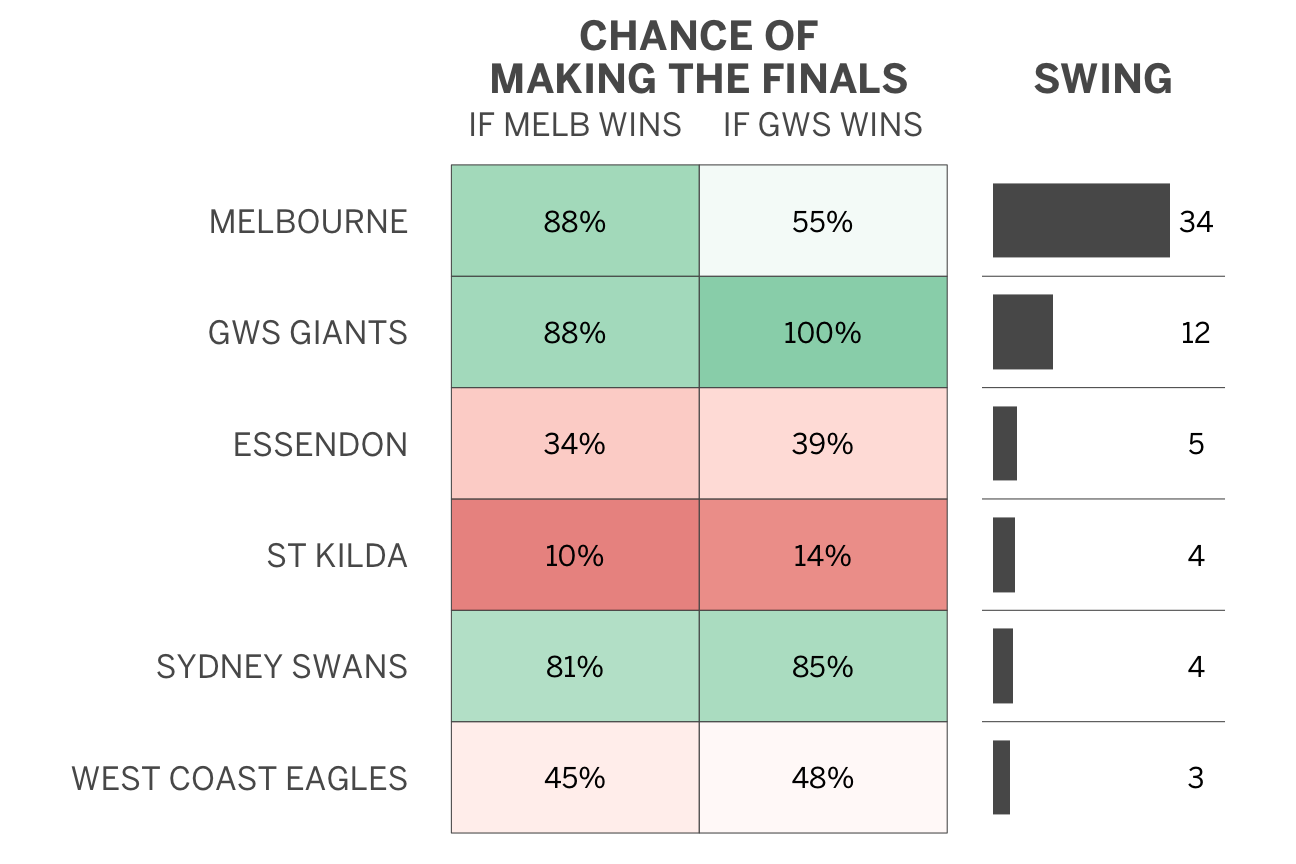 Melbourne haven't played in a final since 2006. Could this be their year? If they manage to win against GWS - not out of the question against the shaky and underwhelming Giants - then the Demons will come very close to locking up a spot in September.
---
Geelong vs Sydney (44 total swing points)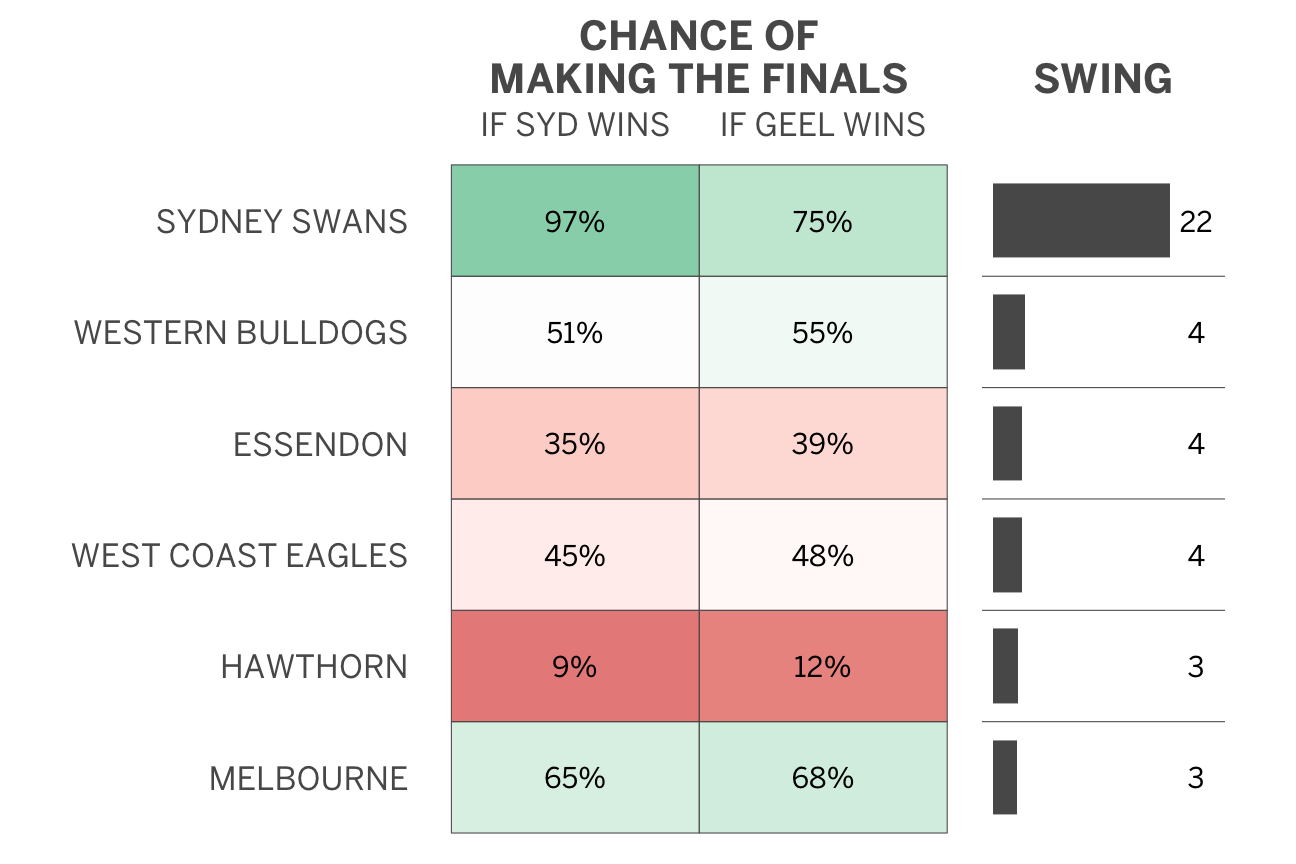 The match between Geelong and Sydney can't have a meaningful effect on the Cats' chances of making the finals, because they're already a rounding error away from a 100 percent lock on September. The Swans, though, haven't quite yet sewn up their fairytale resuscitation from their 0-6 start. A win this weekend would virtually seal the Swans' finals berth, but a loss wouldn't be fatal.
---
Richmond vs Hawthorn (42 total swing points)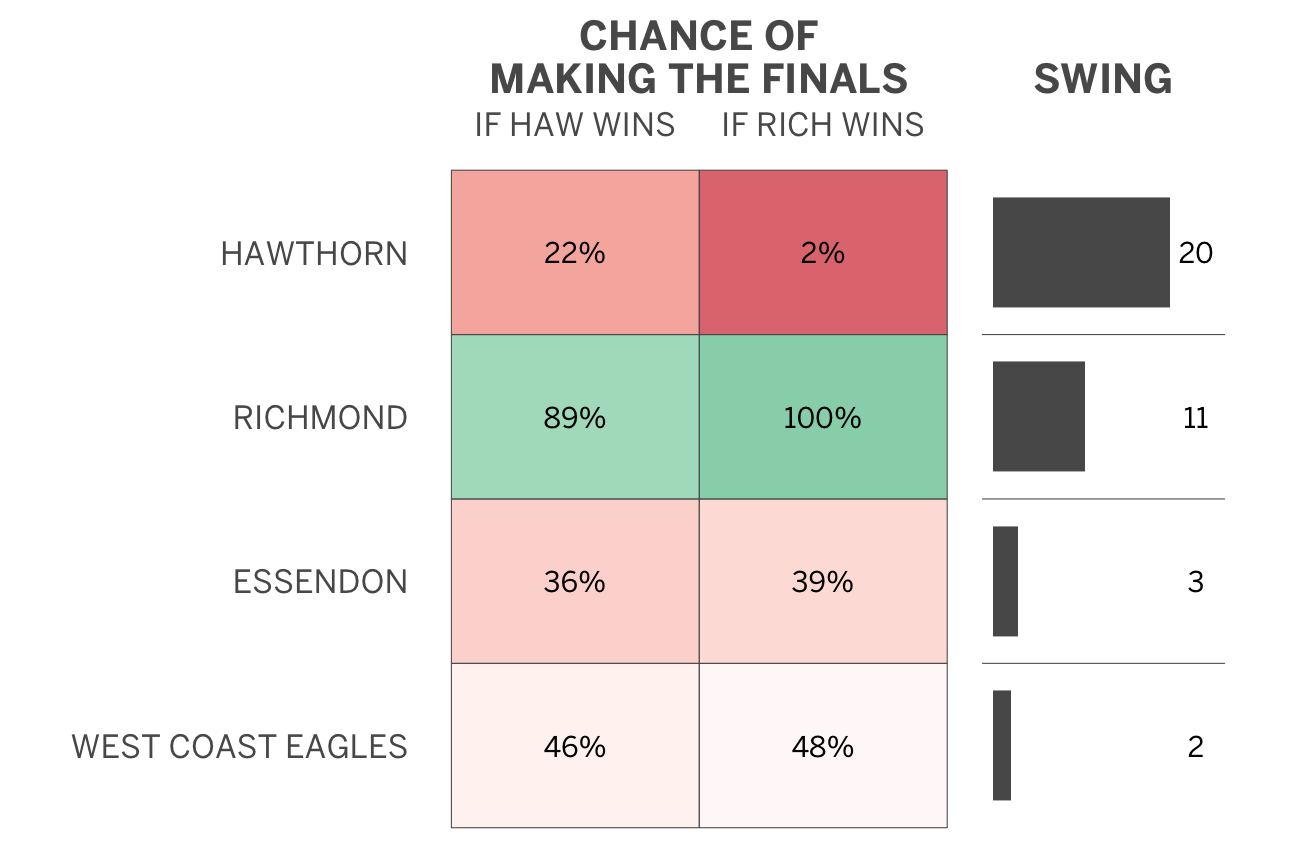 After half a dozen rounds, the Hawks looked like they were going to spend 2016 being Carlton-level bad. Instead, they've turned things around and now look more like West Coast Eagles-level mediocre. The Hawks still have a chance - slim, but real - of sneaking their way back into the eight, but they need to win this weekend if they're going to take advantage of it. A loss against the Tigers would all but rule them out of the finals, while a win would leave them with a one-in-five shot.
So-called 'eight-point' games may be a cliche, but this year more than ever, several matches could determine whether clubs reach September, or finish the season early.