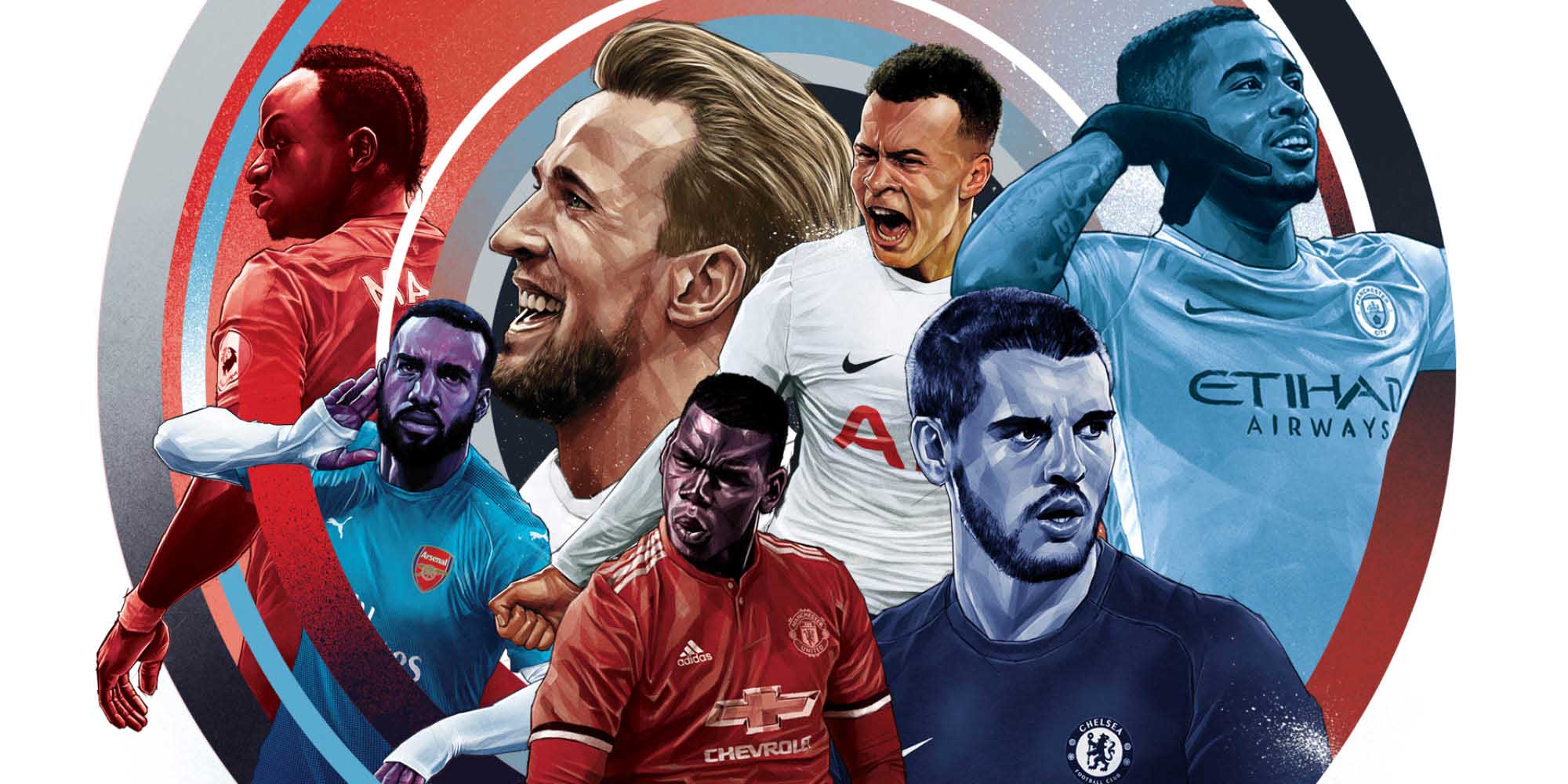 Meet the Premier League's new class, the no-expense-spared superstars
Welcome to the era of the no-expense-spared Premier League superstar, its recruitment funded by lavish television deals. Iain Macintosh looks at the new class set to dominate English football this season and beyond.
Twenty years ago, John Terry had a very specific role at Chelsea. Back then the Blues, who now enjoy the luxurious facilities at Cobham training centre, were based out in the badlands of Harlington, near Heathrow Airport, and their players had to make do with rather spartan conditions. In winter, the toilets would become so cold that the most basic of human functions became a trial by ordeal. And so it was that young Terry would drop his shorts for the greater good and, one by one, warm up the porcelain thrones for more important bottoms.
But now Terry has gone and a new age begins for Chelsea. Football has changed. There will be no more pan-warming for future stars of the game. And it does feel as though a new era of Premier League football is beginning.
We have lost Frank Lampard and we have lost Steven Gerrard. We have lost the last of Arsenal's Invincibles. Manchester United's "Class of 1992" are long gone. The stars of the past decade are all retiring or slipping away in their droves. Even Wayne Rooney, always the youngest of that group, is on his way, still in the division with Everton but with no small amount of sentimentality. His time as one of the league's most influential players seems to have passed.
Indeed, wherever you look in the Premier League this summer, the brightest lights are blinking out, ready to be replaced. Diego Costa's summertime dance of defiance in Brazil is a subtle clue that he'll be off soon too. At Man United, there is a Zlatan Ibrahimovic-shaped hole to go with the Rooney-sized abyss in the dressing room.
Man City stalwart Pablo Zabaleta, who joined the club the day before Sheikh Mansour's transformative takeover, will now see out his career at West Ham. Arsenal's Olivier Giroud has led the line for half a decade but seems likely to do so no longer. Even that most timeless of Premier League talismans, Peter Crouch, is strongly rumoured to be ready for a move down the food chain.
In their place, another wave of Premier League stars stand ready. Gabriel Jesus and Bernardo Silva are the pick of the bunch at Manchester City, Paul Pogba and Anthony Martial are ready to shine at Manchester United. Record signing Alexandre Lacazette might be the the difference for Arsenal while homegrown Harry Kane and precocious Dele Alli lead the way for Spurs. Alvaro Morata will spearhead Chelsea's title defence, and Mohamed Salah and Sadio Mane will try to end Liverpool's trophy drought.
This is the new generation of the no-expense-spared Premier League superstar, its recruitment funded by lavish television deals.
Manchester City lead the way, spending £142 million on the best young players that their global network of scouts have identified. And Kyle Walker. City now have the most expensive goalkeeper ever in Ederson, the first-, third- and eighth-most expensive defenders ever in Walker, John Stones and Nicolas Otamendi.
They have the electrifying Bernardo Silva, who looks comparatively cheap at £43m, but criticism is pointless. If they help City to win the title, their price tags will be irrelevant. The only thing that matters now is success.
Would you bet against City for the title now? They have, by some distance, the most exciting array of young attacking talent in the country. Silva joins a squad already containing the likes of Raheem Sterling, Leroy Sane, Kevin de Bruyne and the rampaging Brazilian striker Gabriel Jesus. Sergio Aguero, so often the hero for City, might no longer be the key man either.
Across town at Man United, they simply have to kick on. League Cup and Europa League success masked a disappointing league campaign for Jose Mourinho's side and the team will face some of the same issues as Chelsea this season.
Rooney was always said to be well-liked by his colleagues. He will have exerted great influence at Carrington. The same has to be said for Ibrahimovic, that electromagnetic pulse of personality who dragged United through so many difficult games last season. If evidence on social media is anything to go by, Ibra's working hard to come back.
But Mourinho was ruthless with both of them. Ibrahimovic looked likely to get a new contract until he was carried from the pitch in April. Mourinho was all too aware that if he did the right thing and followed through with the negotiations, he'd be restricting himself with no tangible benefit but the fulfilment of honour. And so Ibrahimovic was gone.
Rooney's departure is the product of rather more careful stage management: Mourinho couldn't possibly have expelled one of the club's most marketable faces immediately upon arrival last summer, but you wonder if the strategy was planned long in advance.
This means that Mourinho is in the rare position of having a young team at his disposal. Eric Bailly and Victor Lindelof are both 23, and Romelu Lukaku, Paul Pogba and Jesse Lingard are all 24. Anthony Martial, surely the player who will most benefit most from the net loss of one international striker, is still only 21. Marcus Rashford, just 19 but already the holder of nine England caps, is another with high aspirations.
Then there's Tottenham Hotspur, who have proved what is possible if young players are given extended runs in the first team.
Harry Kane's first appearances from the bench revealed little more than a bustling, old-fashioned English forward, probably destined for a career in the lower leagues like his predecessor Lee Barnard. He'd certainly shown little on four loan spells to suggest any other fate, but with time to settle in the Premier League, he rewarded Spurs' faith with an extraordinary run of goals.
Dele Alli had been long considered one of the best young talents in English football, but few expected him to settle so quickly either. Once he broke into the Spurs team, he proved impossible to shift.
If you give young people an opportunity, as Ferguson once said, they can surprise you.
There will be no shortage of opportunities in United's team this season. But it's at Arsenal where one of the most interesting challenges awaits for Alexandre Lacazette.
The £53m signing will wear the No. 9 shirt, the North London equivalent of being the one who goes down to the basement to check out that funny noise. Many players have, for one reason or another, fallen short in that shirt. If Lacazette can break that run, he'll be a hero in the capital.
It's all change at Liverpool, too, where Lucas Leiva's move to Lazio means that Jon Flanagan is now their longest-serving player.
Jurgen Klopp's title challenge fell apart in January, partly because Sadio Mane's absence robbed them of their most penetrative attacker. The capture of Mohamed Salah should guard against that happening again. There is pace and guile in this team, with Roberto Firmino, Philippe Coutinho, Divock Origi, Daniel Sturridge and the impressive Dominic Solanke. But as always, the problem isn't how many they score, it's how many they concede.
Chelsea conceded at a rate of fewer than a goal a game last season. This season will feel very different. Less so on the pitch, perhaps. Terry watched along with the rest of us as his colleagues seamlessly adjusted to Antonio Conte's new vision and ran away with the title. But off the pitch, in the dressing room, behind the scenes. This has been a club long dominated by a powerful cabal of dressing room leaders.
Roman Abramovich's side used to be defined by three stalwarts: defender John Terry, midfielder Frank Lampard and striker Didier Drogba. Moving forward, the team's heart and soul might well be provided by this trio instead.
At 26, N'Golo Kante is approaching the peak years of his career. That's bad news for opponents who felt they had enough problems dealing with him already without him getting better. But Kante was in a new role last season, granted far more freedom than he enjoyed at Leicester. Typically, it didn't seem to take him very long to get used to it.
Alvaro Morata burst onto the mainstream in 2013, firing Spain to the U21 European Championships, but the 24-year-old has struggled for consistency since then. He couldn't secure a regular starting role in two spells at Real Madrid and he never managed double figures for Juventus. But what can he do now that he's first choice for a manager who really rates him?
Tiemoue Bakayoko's career at Monaco looked endangered until former Chelsea legend Claude Makelele arrived on the coaching staff. The young midfielder endured a horror debut (he was withdrawn after just 32 minutes) and his attitude had been publicly questioned by his manager. But with more focus and Makelele's guidance, he quickly came to fulfil his potential. Now he has the chance to follow in his mentor's footsteps.
Of the two of the most high-profile arrivals at Cobham, one seems to have what it takes and one will have been told what it takes. Antonio Rudiger is an aggressive defender, assertive and confident, perfect for Chelsea. Bakayoko is a disciplined midfielder who learned his trade under that other noted Mourinho asset, Makelele. And then there's Morata, a demonstrably fine striker who has never yet quite looked at home. Perhaps the locals at Stamford Bridge will now take him to their heart.
---
Now that the last of the previous generation has gone, it will be interesting to see what happens to the spirit around the league.
Back in 2007, when Thierry Henry left Arsenal, it was widely believed that Arsenal would suffer from his loss and that the remaining youngsters would crumble. Instead, the junior players blossomed in his absence and they came as close to a league title as they have in the decade since, leading comfortably until February before falling away at the end.
Similar things have happened at all the top clubs and that's the funny thing about the Premier League. Like nature, it abhors a vacuum. If established heroes are bowing out, it just leaves more room for new ones.
This coming season, prepare for a new generation of superstars.