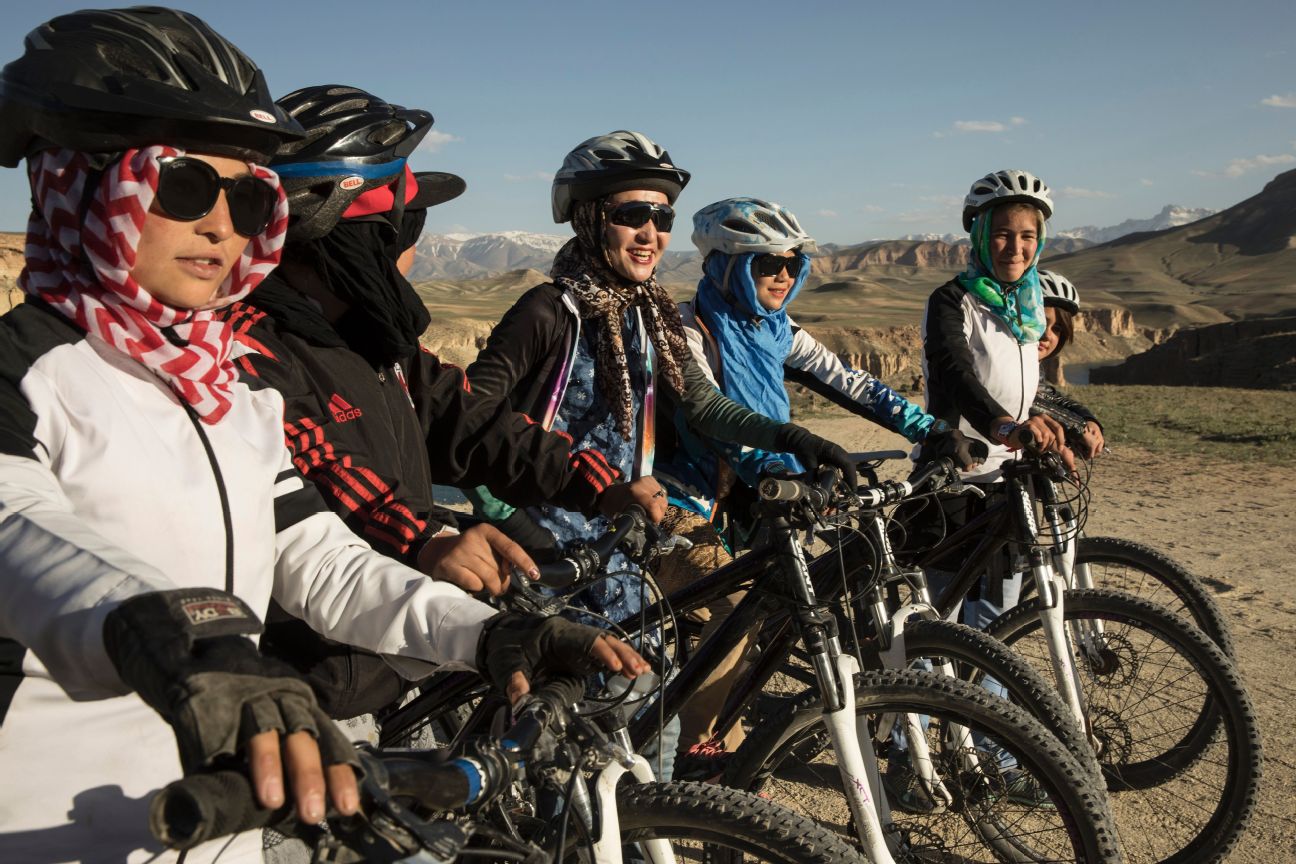 Vehicle for change
In the province of Bamiyan rides the first official women's cycling team in Afghanistan outside of Kabul. Together, they're challenging social norms and empowering local women and girls with the support of their community.
Nestled in a valley that runs through the Hindu Kush mountain range in the central highlands of Afghanistan sits Bamiyan, the capital of one of the most peaceful provinces in the country.

The rural city is home to the cliffs that once bore the Buddhas of Bamiyan: ancient carvings of what were for centuries the world's tallest Buddha statues, standing at nearly 175 and 120 feet, respectively, before the Taliban demolished them in 2001. Now the hollowed cliffs are the backdrop for a group bringing about a very different kind of change: a women's cycling team.

The team, currently coached by 24-year-old Zakia Mohammadi, is just the second women's cycling team in Afghanistan. A national team, which was nominated for the Nobel Peace Prize in 2016, was formed in Kabul about six years ago, and a third team was recently formed in the northern province of Mazar-i-Sharif.

Despite what the presence of these teams might suggest, the concept of women riding bicycles is still considered taboo in Afghanistan, limiting women's access to schools, jobs and other resources. It was in 2014, when Mohammadi watched local girls without access to other transportation walk upwards of two hours to get to school, that she realized the full extent of these limitations.

"I was so angry," Mohammadi said in an email correspondence. "I consulted with my best friend and my family [and they] said you [can help those girls.]"

So she did. Mohammadi and her best friend, Zahra Naarin Hussano, founded the team in Bamiyan, which has grown to 12 members, ranging in age from 14 to 24. They ride together daily, traveling as far as 12 miles to train before and after work and school. They recruit and teach other girls and young women. They are registered with a sports federation in Kabul. They have won the support of their community, even the men. And they did it all on their own.

The collective goal, of course, is to eventually participate in international competitions. They have a ways to go before then but are working on competing against the team in Kabul and the one in Mazar-i-Sharif more regularly. Perhaps of equal if not more importance than the goals Mohammadi and her teammates have set out to accomplish together on their bikes is the general freedom of mobility they have unlocked, on their own, through cycling.

Bicycles have long been a symbol of such freedom throughout the world. They played a pivotal role in the women's rights movement of the late 19th century in the United States, when women began to ride. Susan B. Anthony once claimed bicycling had done "more to emancipate women than anything else in the world."

Now, more than a century later and half a world away, bicycles are still helping women to do the same.