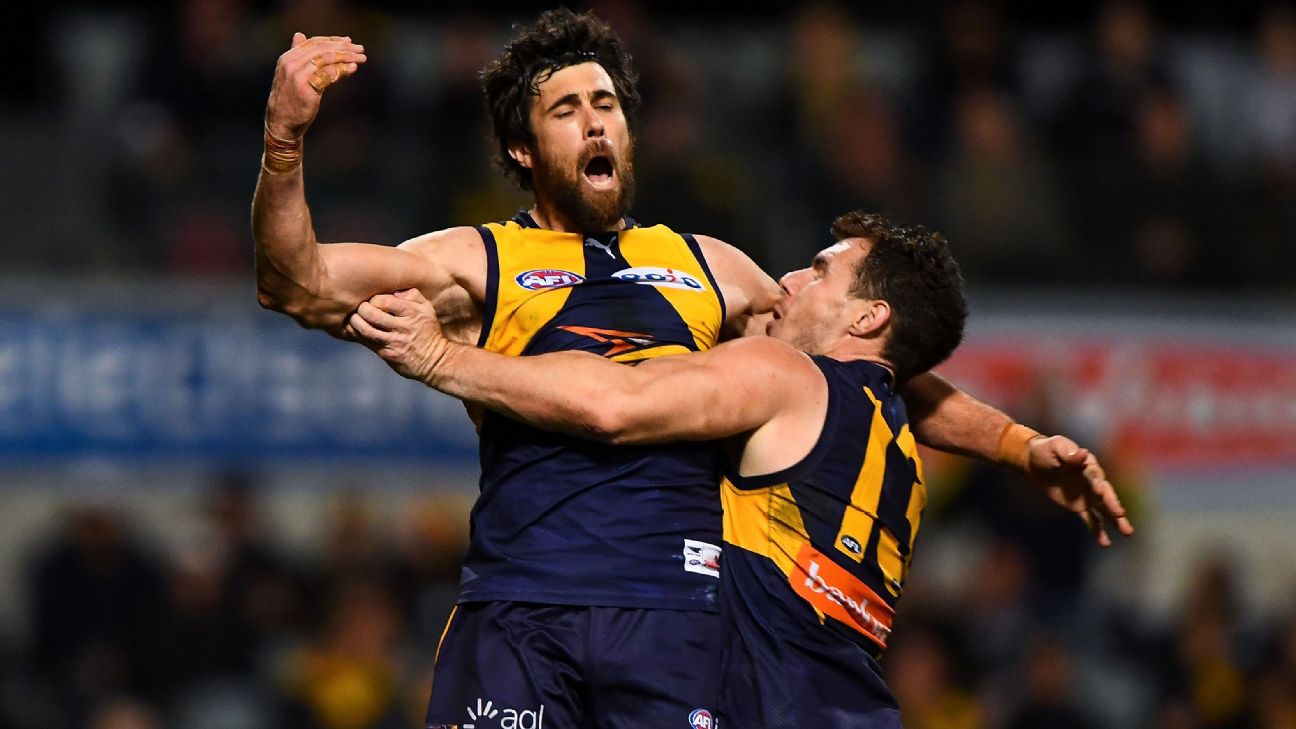 Footy Forensics: JK's season for the ages
He's no certainty to win the Coleman Medal, but West Coast's Josh Kennedy is enjoying a remarkable season. In fact, on one key metric, the big Eagle is producing the equal third most dominant season on record.
Star Eagle Josh Kennedy may not win this year's extremely tight Coleman Medal race - he's a goal clear at the top of the leaderboard after kicking 26 majors in his five games since returning from injury - but one thing is for sure, he's producing a season for the ages.
Kennedy, who missed five matches mid-year with a calf injury, is now averaging a career-best four goals a game in 2017. He stands a good chance of becoming the first player since Gary Ablett Snr. in the early 90s to win three Coleman Medals in a row. That's an obviously extraordinary achievement, made all the more eye-poppingly impressive if we compare his goals-per-game rate to the competition.
First, let's have a look at how Kennedy's four-goals-per-game compare to history.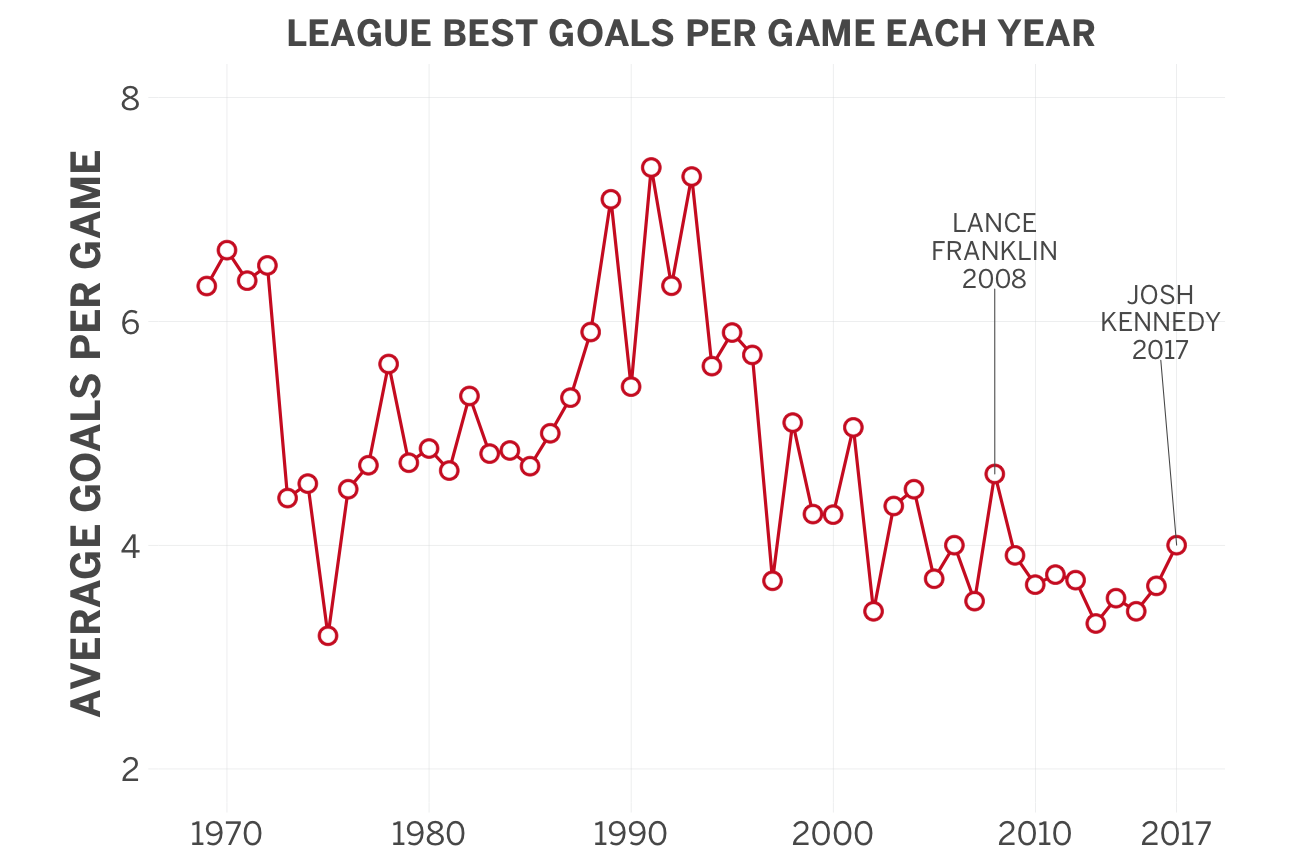 Perhaps Kennedy's average doesn't look that impressive when stacked up against history like that. His goal-scoring rate is the highest by any Coleman medallist since Lance Franklin's 2008 shootout with Brendan Fevola, but an average of four goals per game would've been unremarkable in the 1990s.
However, Kennedy's achievement really stands out when you compare it to the field.
Footy evolves so much, and so rapidly, that comparing across eras is a fraught and difficult thing. Forwards now are asked to play very different roles than the one that Tony Lockett and Jason Dunstall played in the era of the dominant big man. To get a sense of how impressive Kennedy's 2017 season has really been, we need to compare him to his contemporaries - the other dominant forwards of this year. When we do that, it's clear just how impressive Kennedy's efforts have been.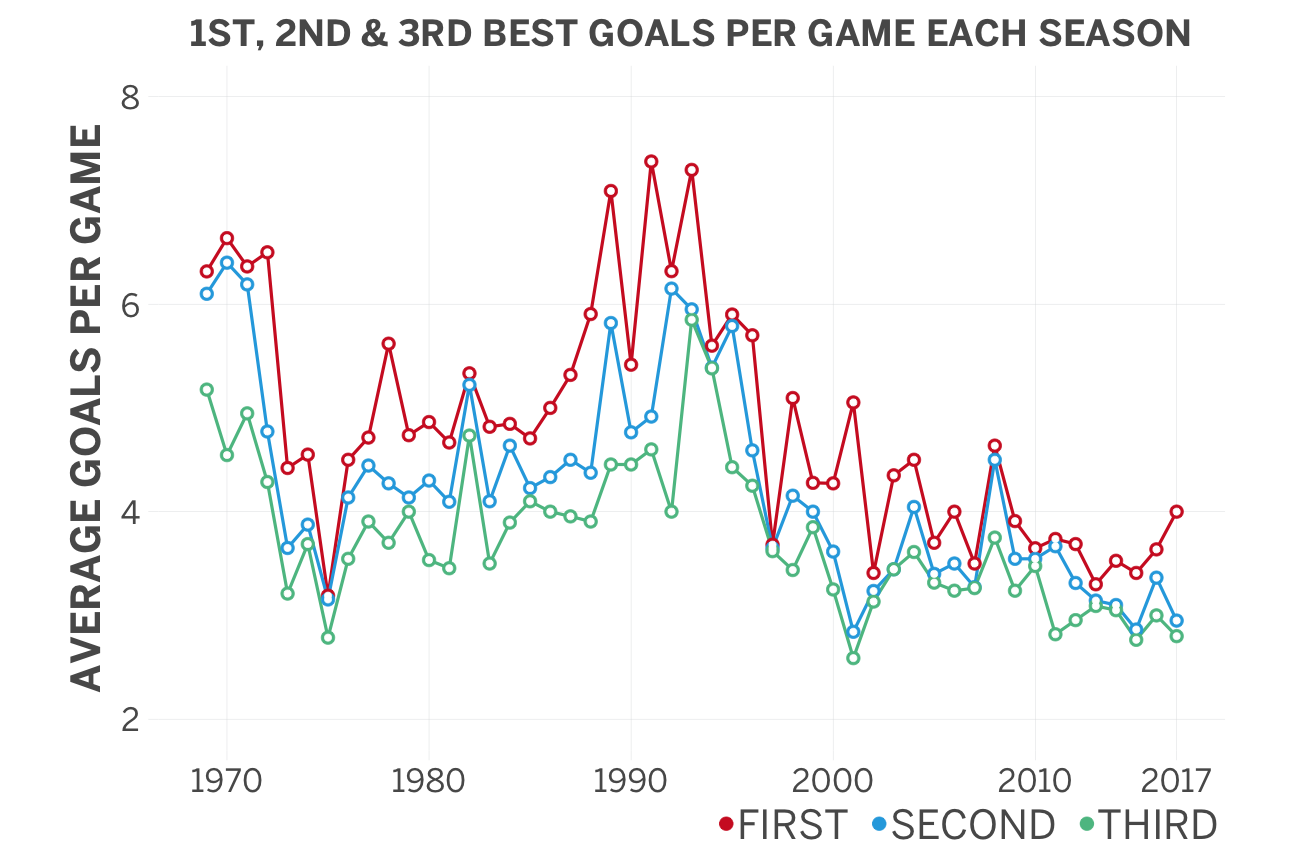 Often, the player with the second highest goals-per-game rate is right up there just behind the league leader. But not this year. So far this season, Joe Daniher has the second highest goals per game at 2.95 - Kennedy has been therefore going at 1.36 times Daniher's level, putting the big Eagle well out in front of the pack. In fact, it's among the most dominant performances by a key forward ever.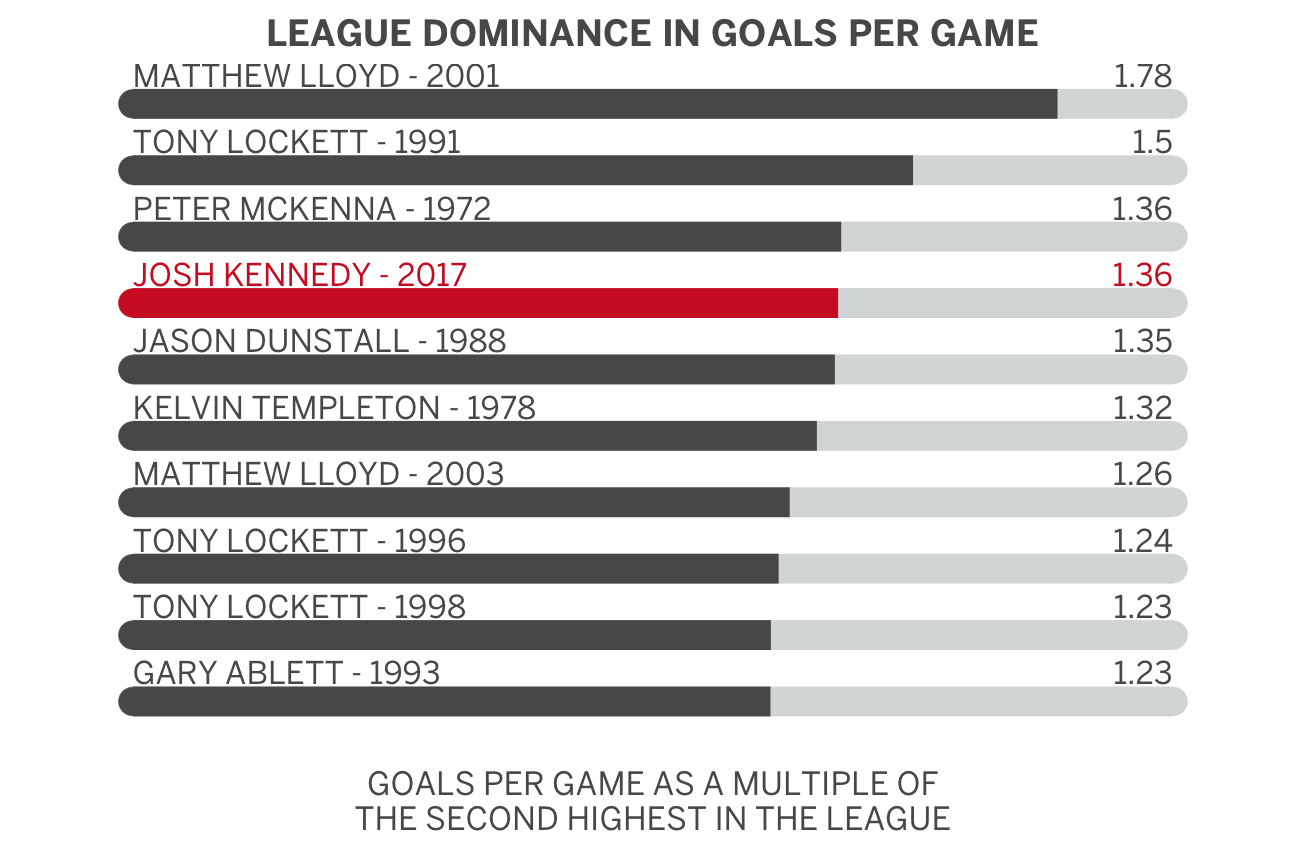 Back in 2001, Matthew Lloyd averaged 5.05 goals per game, light years in front of Matthew Richardson in second place, who racked up 2.84 goals per game. Lloyd scored 1.78 times as many goals per game as Richardson that year - the highest ratio between the league leader and the second place-getting on record. Kennedy's 2017 season is right up there - he's kicked 1.36 times Daniher's average, which makes Kennedy's the equal third most dominant season on record.
It's clear that Kennedy's season has been a truly impressive one. When we compare his goal-scoring rate to other key forwards this year, he's among the most dominant ever.
Of course, other forwards' roles aren't all quite the same as Kennedy's. To get a sense of the different roles played by the key forwards across the league, let's look at a range of stats for the five leaders in the Coleman race.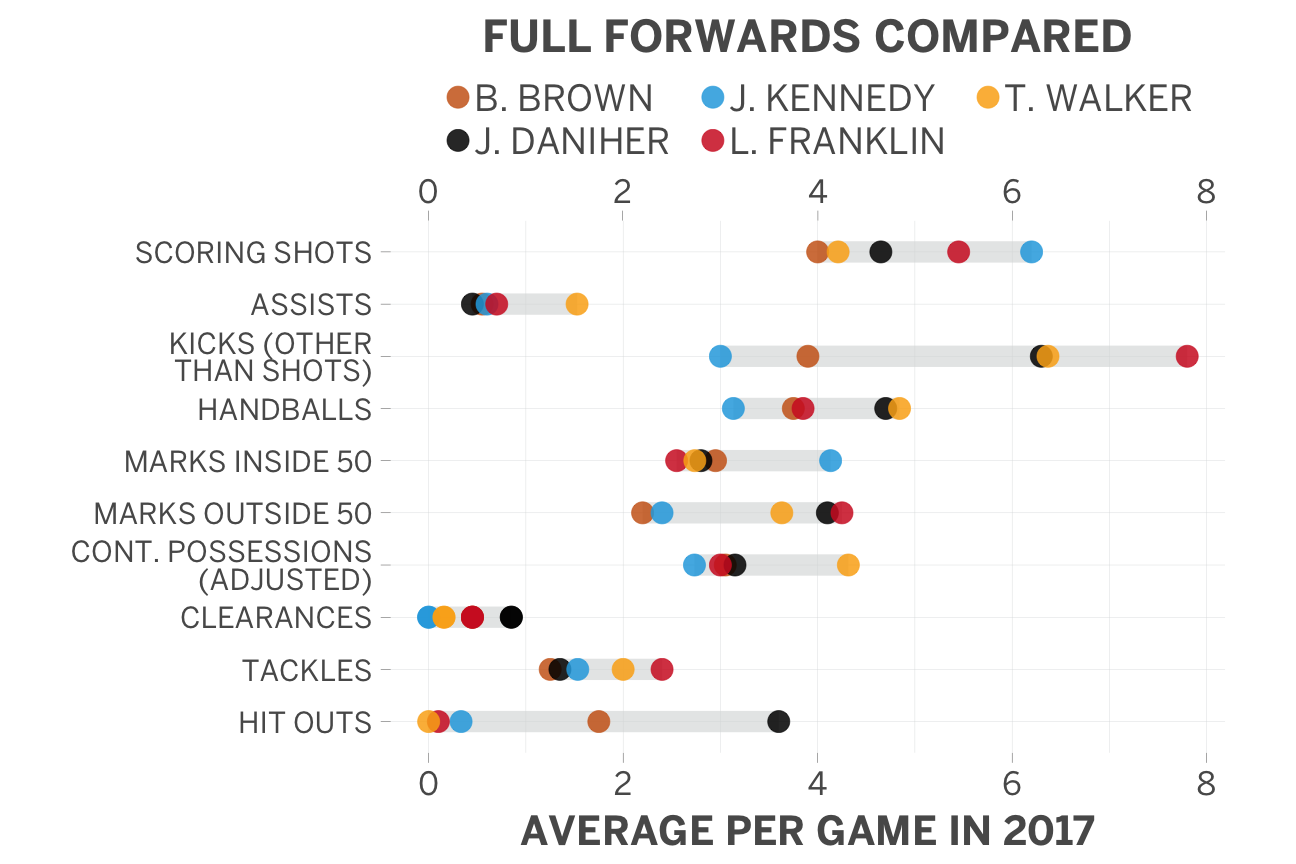 Kennedy has averaged over six scoring shots per game so far this year, the clear leader in that area. But among these key forwards, Walker is the clear leader in goal assists, as you might expect given that he's just one weapon among many in the Crows' dangerous forward line. Walker is averaging about 1.5 assists each game in 2017, while the other key forwards are each on about 0.5 assists per game. Walker also leads this group in contested possessions per game.
The forwards also clearly differ a lot in how involved they are general play. Franklin averages nearly eight kicks per game, other than scoring shots - more than any of the other dominant forwards and far more than Kennedy's three per game. Kennedy also handballs less the other forwards, takes more marks inside the forward 50 arc, and is similar to Ben Brown in that doesn't take many marks outside the 50. Franklin lays more tackles - though Walker's not far behind - while Daniher pinch hits in the ruck far more than the rest.
All up, this talented bunch are clearly playing somewhat different roles, even though they are all key forwards and the top five goalscorers in the competition. Given this diversity in roles, it's tough to compare players but just looking at the goalscoring picture, Kennedy's 2017 season really does stand out - this year, and historically.