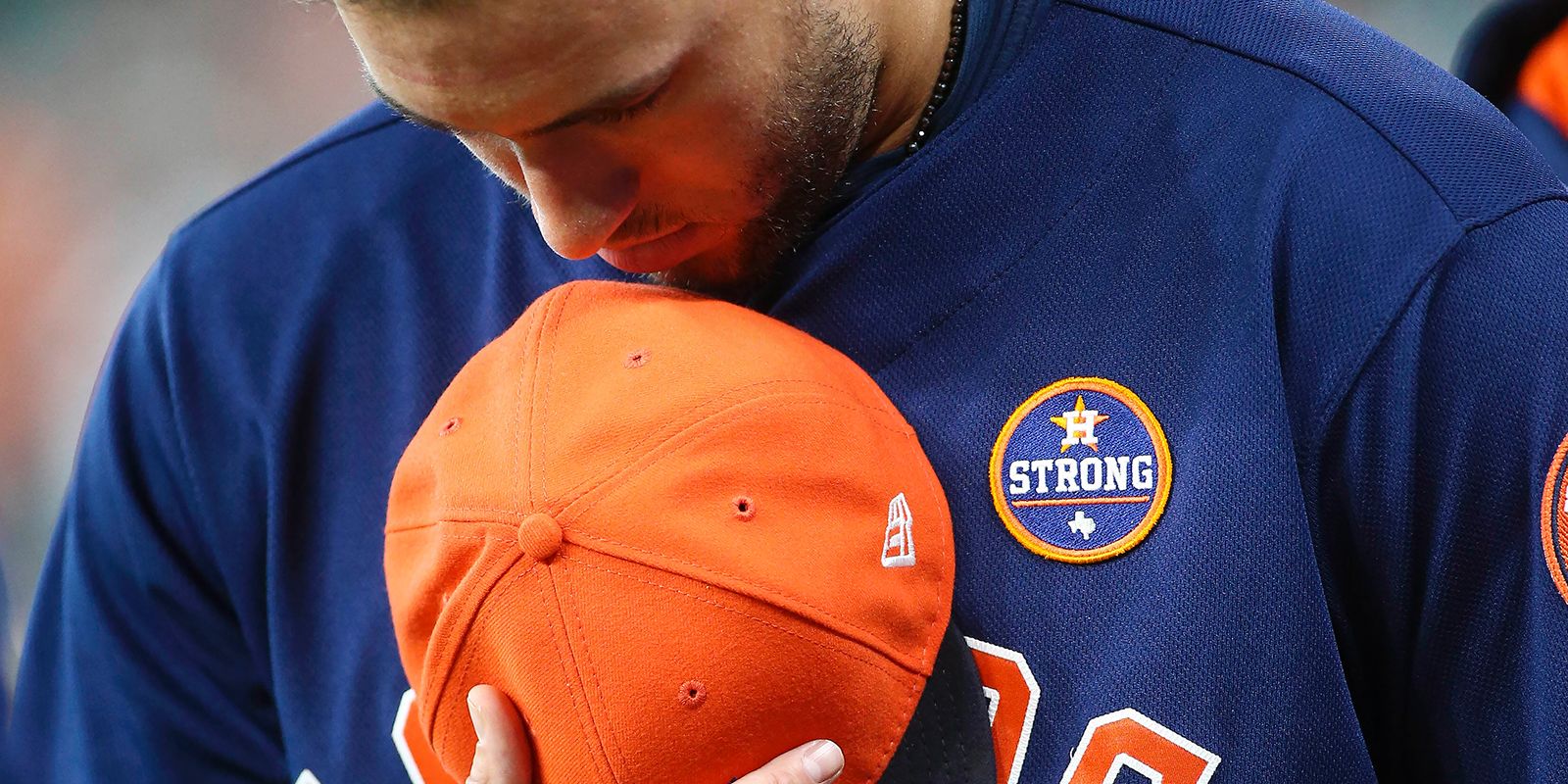 Bringing It Home
The behind-the-scenes story of the Astros' fight to bring hope -- and a first World Series title -- to Houston in the wake of Hurricane Harvey.
This story appears in ESPN The Magazine's Oct. 2 MLB Playoffs issue. Subscribe today!
Aug. 31, 20,000 feet above Texas
All the navigation instruments indicate that the Astros' team plane is back over Texas and, at long last, approaching Houston. But below, all anyone can see is water.
Anxious players and coaches retreat from the windows and sag back into their seats. After several minutes, they try again to sight land, pressing their foreheads against the top of every window. Nothing has changed: water, everywhere.
From his seat in the emergency exit row near the middle of the plane, outfielder George Springer says it looks "like we're over an ocean somehow." No one speaks.
Flying back from Tampa, Florida, where their home series against the Rangers had been relocated due to Hurricane Harvey, the Astros sit together for the final 30 minutes of the flight, staring down at the colossal swath of destruction left behind by one of the worst storms in U.S. history.
Seated in his usual spot in the front right seat of the plane, manager A.J. Hinch checks the map, the TV and the internet. Then he checks again. "They all said we were over land again, except we weren't -- the water, it never stopped, nothing was spared," he says. "I took a picture on my cellphone and I'll keep it forever. That was our first bit of reality."
---
General Manager Jeff Luhnow was desperate to deliver a savior to Houston. With an Aug. 31 deadline to finalize playoff-roster eligibility hours away, Luhnow and owner Jim Crane suddenly found themselves on the edge of a potential blockbuster deal -- the chance to land 2011 AL Cy Young winner Justin Verlander.
As Luhnow put it to Hinch in Tampa, the feeling around the Astros had become "pretty bleak." Injuries and a lack of action at the July 31 nonwaiver trade deadline had sent the young and explosive team into a deep August funk. The Astros had lost 14 of their last 25, and when Harvey hit, the streaking Indians had already begun chopping away at the team's overall lead in the American League.
Hinch was back at home with his wife, Erin, and two teenage daughters when the flurry of texts began. He'd gotten off the team plane and into his car, then struggled to find his way back to his neighborhood, his normal exit blocked by flooding. Hinch and Erin caught up about the storm and the trip they were taking downtown the next afternoon to visit evacuees at the George R. Brown Convention Center. He hadn't given much thought to the trade deadline. He was actually texting with his coaches about college football when he noticed a call. It was Luhnow with news about the prospect of acquiring Verlander -- a last-chance effort for the Astros to upgrade their roster for a legitimate run at the World Series. "Disbelief is the wrong word, but I was shocked, definitely," Hinch says. "I knew right then I wasn't going to bed any time soon."
Aug. 27, Houston, 12:15 a.m.
With floodwaters pushing past the sidewalk and the giant old oak tree out front about to give way, Katie Bracamonte calls to update her husband, longtime Astros bullpen catcher Javier Bracamonte, who is riding out the storm with the rest of the team in Anaheim, California. "The water's coming," she tells him. "Be safe," they repeat to each other. A few hours later, the water inching closer, Katie and her two groggy daughters pile into a closet for safety after a string of tornadoes threatens the area.
Sitting in the dark, Katie notices her half-asleep teenager clinging to something in her hand.
"What's that?" she whispers.
"It's a Sharpie," replies the girl. "We're supposed to write our names and Social Security numbers on our arms ... so they can identify us."
Similar stories unfold across Houston. Houses with 14 feet of water in them. Storm surges so strong they swept away huge concrete traffic barriers like twigs in a stream. Neighborhoods hit with such destruction and despair that people nail their house keys to the front door with notes that read: "You can have it."
---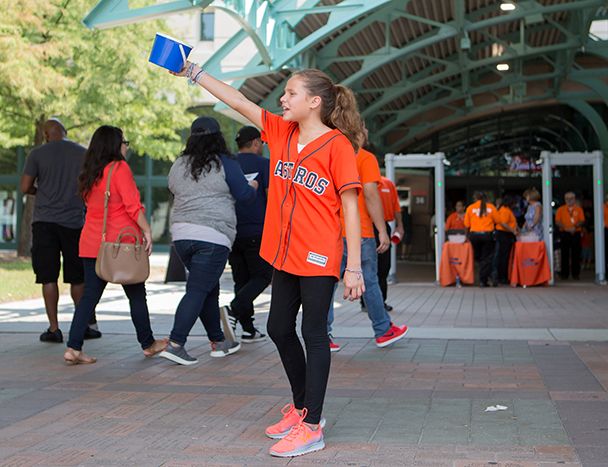 HINCH COULDN'T BELIEVE what he was hearing. The Astros had been pursuing a deal for Verlander, the Tigers' ace, since July. And now, with 45 minutes until the roster deadline, the negotiations had heated up once again. Luhnow would call Hinch, say things are looking promising, then hang up. A few minutes later he'd call back, say the deal was likely off, then hang up again. Twitter was going nuts.
With every new update, the mood in the players' group-text chain shifted wildly. A series of sad and angry GIFs were followed by a long string of smiling-face-with-waving-hands emojis. There are unconfirmed reports of a cat GIF, or three.
"A move like this can make good teams great and great teams legendary," says Astros lefty Dallas Keuchel, who was critical of the front office's paralysis in July. "So it was like putting something big on your Christmas wish list as a kid. You didn't want to get your hopes up too high."
In between calls, Hinch nerded out with pitching rotation combinations. By his estimate, Verlander's last 10 starts were some of the best of his career. His résumé would also instantly double the postseason experience of the Astros' starting pitching staff. But there was more. "Credibility, presence, I mean, just listen to him, look at him, talk to him," Hinch says. "Verlander is as big of a potential impact as we could possibly imagine."
The two teams were in agreement on the major components of the deal -- Verlander and $16 million in exchange for three of the Astros' top prospects -- but they had reached an impasse on granting Verlander full no-trade rights and, especially, voiding the option year (2020) in his contract. It seemed like a small price to pay after what Astros fans have endured during a rebuilding process that included 502 losses from 2010 to 2014. "If I was an Astros fan in 2012, I wouldn't want to come to the park either," says Keuchel, who was a rookie that season. "It was awful."
Finally, before going back to the Tigers one more time about voiding Verlander's option year, Luhnow and Crane discussed the third party in the negotiation: Harvey. "It led to the last concession we needed to get the deal over the top, wanting to give something back to this city in its time of need," Luhnow says. "Our fans have supported us through thick and thin, and there was a lot of thin in there. We wanted to repay the favor. It's not always about something more than baseball, but this time it was."
A minute after the deadline, Hinch's phone buzzed. He read the text from Luhnow and, without saying a word, turned the phone toward Erin.
WE GOT HIM, it said.
Aug. 26, Anaheim, 4 p.m.
As the storm continues battering Houston, the Astros are 1,500 miles away, trapped in Anaheim. Hinch glances in the clubhouse and sees Jose Altuve, his second baseman and American League MVP front-runner, staring at the Weather Channel.
Altuve's wife, Nina, made the trip to Anaheim, but the couple's infant daughter, Melanie, is back in Houston with family. A few minutes pass, Altuve watching the radar, its purple and red and orange blobs pouring 50-plus inches of rain onto Houston and everywhere around it. Nearly broken, Altuve walks over to Hinch.
"How long am I going to have to play like this?" he asks.
No one knows. The next day, they finish out a 2-1 series against the Angels, but catastrophic flooding prevents an immediate return home. Instead, the Astros fly to Dallas, where they wait for word on where they'll play the Rangers. They're only 240 miles away and they can feel it. As time wears on, the Astros begin considering something along the lines of a humanitarian-driven clubhouse mutiny.
"There's just such a detachment and isolation from what had actually happened," pitcher Charlie Morton says. "You feel guilty that you weren't there to do something."
Altuve, Morton, pitcher Luke Gregerson and others begin planning a mission to reach their stranded families. Renting a helicopter is discussed. There is also talk of buying inflatable rafts in Dallas, packing them into rental cars and driving as far south as they can get before ditching the cars for dinghies.
Once word begins trickling back in that Melanie and others are safe and dry, for the most part, the plans are put on hold. But not the guilt. That remains.
---
After 13 YEARS in Detroit, Verlander cleaned out his locker in Comerica Park and sneaked down the dugout tunnel to hug a few of his former teammates.
Says Verlander: "Someone says, 'Hey, you got 30 to 35 minutes to decide if you want to move somewhere else, you don't know anybody, don't know anything about it -- go.' That's a tough decision to make. The emotion of it subsided. The excitement started the next morning when I woke up thinking, 'All right, I'm going to a playoff atmosphere, this is what we play this game for.' This is the start of a new journey for me."
Verlander landed in Houston on Sept. 2, the first day of the Astros' emotional return to Minute Maid Park and their series against the Mets. He arrived at the stadium just in time to join the postgame handshake line. After the game, he threw his first bullpen session under the watchful eye of several Astros coaches and longtime bullpen security chief Kurt Rogers, a 37-year veteran of the Houston Police Department, fresh off a grueling stretch of hurricane relief duties.
Since the deal, Hinch's friends across the league had been texting their hot takes and scouting reports. Great guy. Huge competitor. Gets stronger as the outings go. And his favorite: Dude's an animal! As a former catcher, Hinch was eager to pick Verlander's brain, to quickly establish expectations and trust with his new ace and gauge for himself whether the losing in Detroit had dampened Verlander's legendary competitive fire.
For most of the second game of the Mets doubleheader, Hinch and Verlander sat together on the Astros' bench, getting acquainted through the common language of baseball. Hinch mentioned his philosophy regarding pitching around batters. It creates a lot of mistakes, he said. It takes you out of your rhythm. Forces you to be too careful. It's all downside.
He turned to Verlander. What do you think?
Verlander agreed. In 13 seasons, pitching well over 2,500 innings, he'd never thrown around a batter. The response left Hinch giddy, counting the minutes until Verlander's Astros debut in Seattle.
You could feel the optimism spreading among the fans in Houston too. "The same people who'd been affected so personally by the storm and worried about the cleanup, all of a sudden the tone changed, and for a short period of time we gave them something completely different to think about and get excited about, and it's only continued from there," Luhnow says. "We are in full go-for-it mode now. And there's another chapter to be written with this team -- in October."
"We needed to get the deal over the top, wanting to give something back to this city in its time of need."
- Astros GM Jeff Luhnow on the Verlander trade
Aug. 28, Houston, 2 a.m.
For about 20 hours a day for four straight days, bullpen security chief Kurt Rogers drives Houston first responders through floodwaters in a massive white dump truck. It's the height of the storm.
Trapped at the station but unwilling to stop their rescue operations, most of his crew have worked in the same wet clothes and boots with little to eat during their entire 96-hour stretch. Rogers keeps working even after his own home in Friendswood, some 20 miles southeast of downtown Houston, is flooded up to the second floor, trapping his wife, Vicki. He keeps driving into the storm even after, he says, a looter shoots out the windows of one of his unit's police cruisers.
Late Sunday, or early Monday, the days remain a blur, Rogers and fellow police officers wade through chin-high floodwaters to save dozens of people from a stranded Ryder truck.
Rogers' arms are dotted by red welts from his extended exposure to floodwater. But he's one of the few sergeants with a commercial driver's license, and the snorkel exhaust on his dump truck allows him to drive into 4 feet of water.
In the middle of his biggest evacuation, the floodwater starts rising so rapidly, he screams at his deputies to hurry or they'll all be underwater, or worse. "We gotta go, we gotta go!" he yells out the window as brown sludge engulfs the cab of his truck.
None of the first responders budges. They know the last several evacuees are infants. "The water is up to their chins and there's a strong current," the silver-haired Rogers will say later. "If you fall or stumble and drop that infant into the water -- it's dirty, it's dark, they're gone. You'll never find them."
---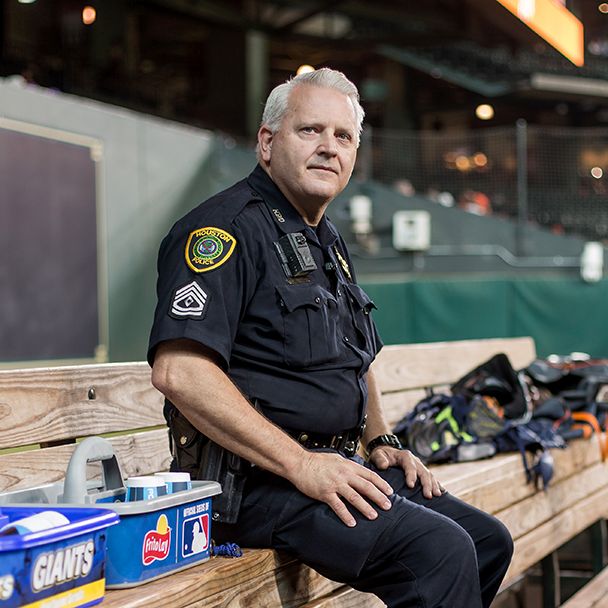 AT 5-FOOT-6, Jose Altuve was once sent home from a tryout in Maracay, Venezuela, because team personnel didn't believe he was actually 16. On Sept. 5 in Seattle, though, when the clubhouse TV showed Hurricane Irma bearing down on Puerto Rico, Altuve's stature provided something of a momentary reprieve. He curled up sideways and practically disappeared into the back of his clubhouse stall, blocking out any more news about natural disasters for a few precious minutes before the game. Outfielder Jake Marisnick, 6-4, contorted his frame to join him. "Not sure we can handle much more from Mother Nature," Keuchel says. "She's thrown a lot at us in a short amount of time."
Across northwest Washington, wildfires raged in the Columbia River Gorge, giving the sky above the Mariners' Safeco Field the opaque feel of nuclear winter. Tiny bits of ash fluttered down like snowflakes. It was apocalyptic. It also happened to be Bark in the Park night in Seattle, which means the howl of hounds occasionally echoed across the field.
The Astros had a plan to fight back, though. Verlander was taking the field for his first start as an Astro. He'd fully embraced his role helping the team and Houston recover from a natural disaster -- he just never dreamed he'd have to actually pitch through one in Seattle too.
Early on, he battled through Opening Day-like nerves and command issues with his curveball. With the scored tied 1-1 in the sixth, Seattle's Robinson Cano drilled him in the right wrist with a 103½ mph line drive. Cano's infield single was followed by a base hit by Nelson Cruz. Verlander scowled, then threw a single test pitch. He dug deeper, forcing the next batter to ground into a double play before freezing poor rookie Mitch Haniger with a nasty 99 mph fastball to kill the rally. It was, remarkably, his fastest pitch of the night.
"That sixth inning was worth the price of admission," Hinch says after the 3-1 win. Houston won six games in a row after the Verlander trade.
"We've got reinforcements, and now we're going all-in," Keuchel says. "That's how everyone in the clubhouse reacted to the deal. We're gonna do this thing. We're all-in for the next couple of years, and our window to win [a World Series] is wide open."
In his debut, Verlander had battled through pain, a blazing wildfire and the pressure of delivering on the high hopes of hurricane victims back in Texas.
He had already become, in every way, a Houstonian.
Fleming is a senior writer for ESPN.