College Football Bachelorette
It's never too late to fall in love with a team, and that's exactly what Sarah Spain plans to do. Follow her this season as she embarks on a journey to find her college football soulmate.
The Desire
It happens every year, always right around the same time, when the summer fades to fall and Chicago weather gets as unpredictable as Issa's next blunder on "Insecure." I'll be busy checking the Bears' depth chart and planning early-morning tailgates at Soldier Field when I remember the other football season and descend into a funk. While friends and colleagues count down the days until college football begins, I scramble to cover for my complete and utter apathy.
Yep, I've got no team and -- until recently -- no interest in college football. My parents, both graduates of small liberal arts schools, didn't raise me with a Notre Dame pacifier in my mouth or dress me in a Clemson onesie on Saturday afternoons. My alma mater, Cornell University, has a football team, but the Ivy League is one of just three FCS conferences that don't take part in the annual NCAA Division I football championship, and the only league that doesn't participate in any postseason play at all. So you can see how I made it past the age of 30 without any interest in major college football.
My indifference was all well and good for a while; in fact, I kind of liked having my Saturdays free. But I've been feeling left out the past few seasons. My work assignments have gone from covering Chicago, where college football talk is limited, to gigs on national radio and TV shows, where I've been thrust into debates about Florida's best quarterback and Alabama's defense. Not only have I been forced to up my knowledge, I've also gotten a glimpse into all the fun I've been missing.
So I've decided it's time to take control of my college football destiny. It's never too late to fall in love with a team, and that's what I plan to do. I'm declaring myself the College Football Bachelorette, ready to be wooed by the best that the game has to offer. Over the course of this season, I'll take a group of 24 teams and whittle them down until I find my ideal squad. When two teams remain, I'll hit the road for "Fantasy Taildates" to get to know each one a little better. At the end, I'll pick a winner.
With no ties to anyone and every right to bandwagon, I'll get to make decisions based on where the good vibes take me. Cool mascot? I'm in. Baller alumni? Love that. Legendary game-day traditions? Sign me up. And I'll need you all to help me, too, by pumping the tires for your favorite squad. You can help me each week by answering questions and sending videos and photos that give me major CFB FOMO and make me want to rock your colors.
Let's do this, college football. I'm ready for love, and I'm here for the right reasons. Come season's end, we'll make this the most dramatic College GameDay ceremony ever.
THE JOURNEY
After each round, I'll post about which teams got eliminated from the competition and why. Come back every week to check in on my progress and to see if your team is still in the running.
Nov. 29: Fantasy Taildate Recap Team Visited: Michigan
Last week, when I was supposed to be announcing the winner of College Football Bachelorette, I was instead calling an audible to bring the Michigan Wolverines back into the race.
Which means while you all were dozing in and out of a tryptophan-induced slumber the day after Thanksgiving, I was hopping a flight up north to squeeze in a third and final Fantasy Taildate. Because of the last-minute nature of my trip, I traveled without a wingman, so Michigan didn't get quite the same treatment as Ohio State and Wisconsin, but I did my best to make the most of my limited time in Ann Arbor and enjoy one of the best rivalries in sports, OSU-Michigan.
I arrived in Detroit and drove the 45 minutes or so west, pedal to the metal, to get situated in time to do my radio show, "Izzy and Spain," live from my hotel room. I was hoping to grab dinner at the famous Zingerman's Deli, a UM hot spot since 1982, but I quickly discovered it closed right when my show ended. (I'm coming back for ya, "Leo's Friendly Lion," and I'm gonna put ya in my belly.)
With a long day of tailgating ahead and no one to hit the bars with, I had the "World Famous Bread Stix" from Pizza House delivered, per the recommendation of former on-campus tour guide Emma Sutherland, and called it a night. No chance to relive the glory days at college bars like I did in Columbus and Madison, so I'll have to get back and check out the Ann Arbor nightlife scene another time.
Saturday morning I headed out to meet one of my hosts for the day, Gordie Fall (named in honor of Gordie Howe), at the famous MGoBus. The tailgate featured craft beer from Wolverine State Brewing Company, loads of breakfast food and, of course, the maize and blue MGoBus owned by Matt and Sara Demorest. While I was there, I learned more about life on campus and the UM scene with Brian Cook and Seth Fisher, of popular Michigan sports site MGoBlog.com. I also met former Wolverines running back Vincent Smith (you may remember him from this), who's now running community gardens in Flint, Michigan, and his hometown of Pahokee, Florida, to increase access to healthy foods, reduce juvenile crime and use gardening-based intervention to curtail violence. Very cool.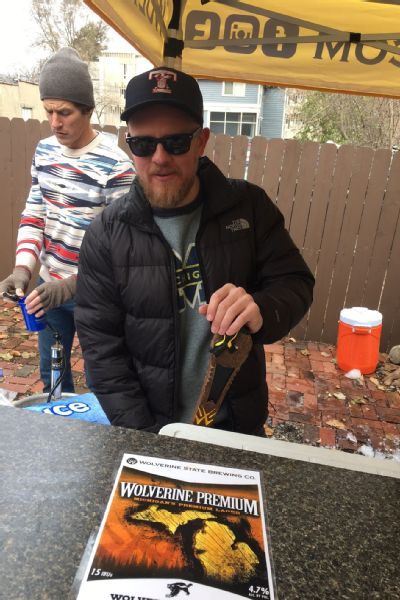 I bounced a few blocks down to meet my good friend Steve Smith and two more hosts, Frank Line and his daughter, Emily. A district judge in Calhoun County, Michigan, Frank has been a Wolverines season-ticket holder for more 50 years and throws a tailgate at the "Big Blue Barn" for every home game. A plain-spoken, joke-cracking, old school kind of guy, he told me he was cut out to be a judge because he's "been there, done it" when it comes to making mischief, and the No. 1 rule he told his kids growing up was, "Don't get caught." His daughter, also a UM alum and mother to a dog named Jimmy Harbaugh, said her father chose to name her Emily because it was as close to "MGoBlue" as he could get.
The Lines are tailgate pros, serving up perfectly cooked brats, cold beers and even providing a "ladies only" port-a-potty, complete with a drink holder, space heater and a bit of Michigan basketball propaganda.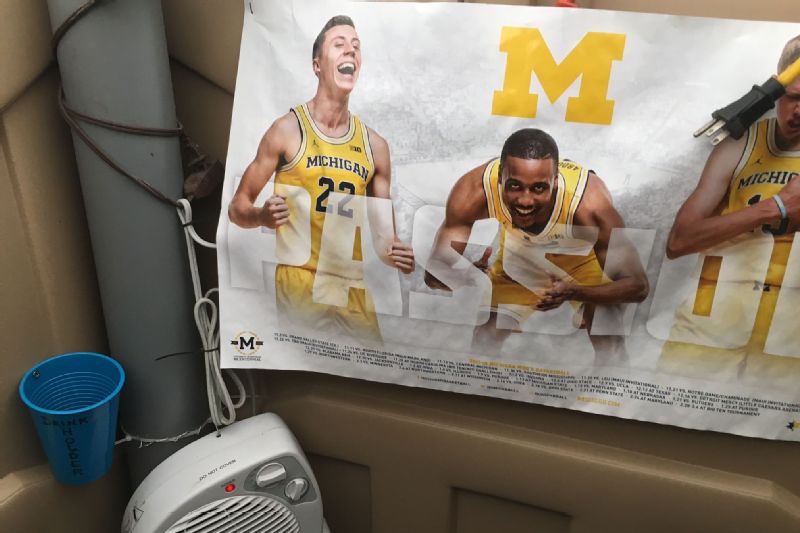 Down the street I met up with my final host for the day, Ryan Walsh, at his incredible maize-and-blue house right across from the tailgates at Pioneer High School and Ann Arbor Golf & Outing Club, just a few steps from the entrance to the stadium. "By The Big House," as he affectionately calls the place, used to sit at what is now the 40-yard line of Michigan Stadium, and the building was cut in half and moved down the street per the request of the owners, the Fisher family, when they sold their land to the school. You can still see "The Fishers" on the front door knocker.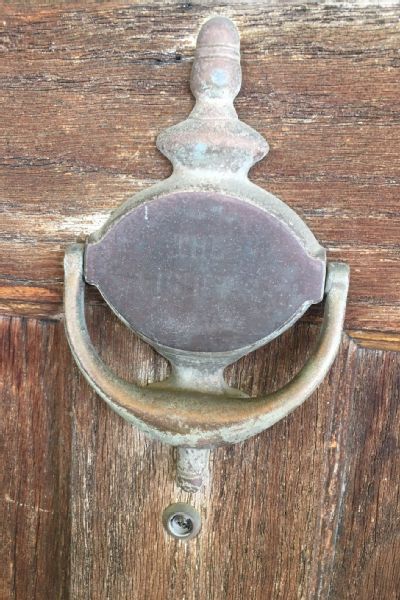 Walsh bought the house in 2011 to serve his crazed Michigan fandom and to give himself a chance to get back to his alma mater for every home game. He rents out the house for nine months of the year and then takes it back for September through November to host ragers pre- and postgame, complete with a Jim Harbaugh prayer candle, an ever-changing trash talk sign out front and an oft-used megaphone to get passers-by pumped up for the game. A few years ago a man in his 70s came by during a pregame tailgate, claiming he grew up in the house. He said he was thrilled to see Walsh and his friends keeping it full of UM spirit.
I walked down the street to head into the game, only to be turned away by security, who informed me that Michigan Stadium doesn't allow any bags. More draconian than NFL rules, which limit size or require the bag to be a clear material, this joint makes you stuff your pockets like a pack mule. I left a few things back at the house, shoved what I needed into my coat and finally made my way into the stadium. I'd snagged a solo ticket on StubHub the night before, right by the 50-yard line and up about 30 rows. It was the perfect view, a great spot for my first time at the Big House. I chatted it up with my seat neighbors and watched the Wolverines stick with the Buckeyes for most of the game, until a terribly ill-timed interception from John O'Korn sealed it for OSU.
I loved the feel of the stadium and its surrounding area, the fans, cheerleaders and band -- everything felt super traditional and old school. Like most college stadiums, no beer at the Big House, and they shut down all concessions right at the start of the fourth quarter, claiming they were out of everything. Not great planning considering the OSU/UM game is always one of the biggest of the year -- more than 112,000 people there for this iteration. Plenty were Buckeyes fans, and they made themselves heard starting a loud and proud O-H-I-O chant that did circles around the stadium in the game's final minutes. (Like a song that reminds you of an old, lost love, the O-H chant sure did tug at my heartstrings and reminded me of my time in Columbus.)
Unfortunately, I didn't get to stick around postgame and hit up any of the bars or check out more of campus. I popped by to say goodbye to the Lines then hit the road to catch a flight to Foxborough, Massachusetts, for a feature I'm working on. Like Zingerman's, I guess Charley's, Rick's and the rest of the watering holes in Ann Arbor will have to wait for another time. It was a quick trip and not nearly as involved as the other two, but I'm glad I made it up there so I wouldn't regret not giving Michigan a fair shot.
It's hard to believe my College Football Bachelorette journey is almost over. When I started my search for a team at the beginning of the season, I was not only hoping to find my one, true college football love, but also to finally understand what I'd been missing out on every Saturday. Mission accomplished. From an on-the-field view of Longhorns vs. Sooners smack dab in the middle of the Texas State Fair, to raucous college football bars in Chicago, all the way to game-day tailgates in Columbus, Madison and Ann Arbor, I dove in headfirst and soaked up all the good vibes. My trips, plus all the videos, photos, tweets and stories you guys sent helped me understand your passion and see how crazy -- and cool -- a college campus with big-time college football can be. It was quite a wake-up call for a girl from a sleepy Ivy League town.
Now the only thing left to do is declare my love. Since my audible to visit Ann Arbor threw off the timeline a little bit, I won't be making the announcement from College GameDay. Stay tuned for the big reveal next week -- I've got a surprise or two up my sleeve.
THE SUITORS
Of the hundreds of college football teams across the country, only 24 qualified to be a part of the College Football Bachelorette. These select few made the cut via a combination of rankings (gotta ride with a winner), geographic proximity to my hometown of Chicago ('sup Northwestern) and ties to my favorite athlete of all time, Michael Jordan (hey there, UNC). May the best team win!