Total Tweets About LaVar
0
LaVar's initial outlandish comments do little to move the needle.
"UCLA gonna win the NCAA championship."
LaVar to ESPN during the UCLA-Portland broadcast
"I've told them this since Day 1, since they've been babies: 'Somebody's gotta be better than Jordan, why not you?'"
LaVar to TMZ Sports
LaMelo, the youngest of the Ball brothers, scores 92 points on 61 shots for Chino Hills in a high school game.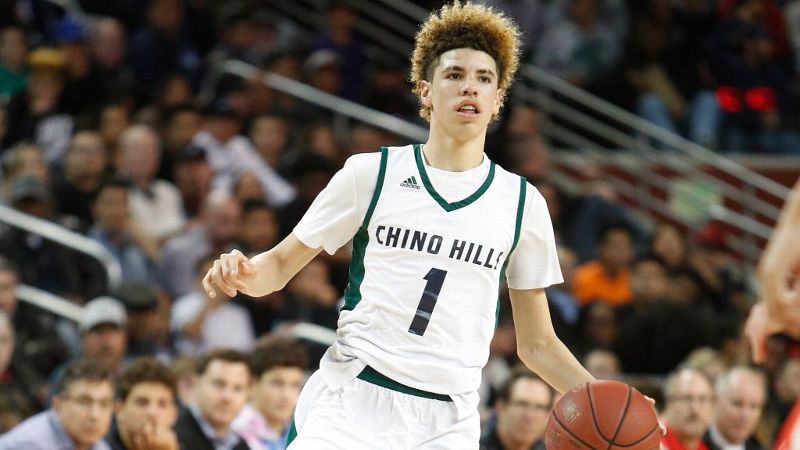 "[LaMelo] loves to score. That's the type of things he's going to do next year on a daily basis. It's easy for him."
LaVar to ESPN after the game
Josh Lefkowitz/Getty Images
"You know, the kid was waiting at half court most of the game. Never went back on defense. So I had a problem with it, to be honest with you."
Charles Barkley on Mike & Mike
A February 2017 New York Times profile on the Ball brothers makes just a passing reference to LaVar.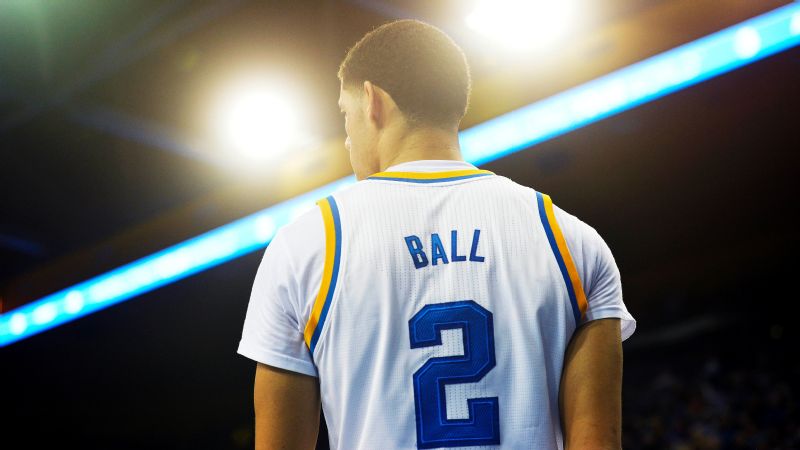 "[Lonzo] is going to be better than Steph Curry in the NBA."
LaVar to TMZ Sports
Gary A. Vasquez/USA TODAY Sports
"Here, put Steph Curry on UCLA's team right now and put my boy on Golden State and watch what happens. ... Steph's going to have problems trying to guard my boy. Play one-on-one!"
LaVar to FS1 during UCLA-USC broadcast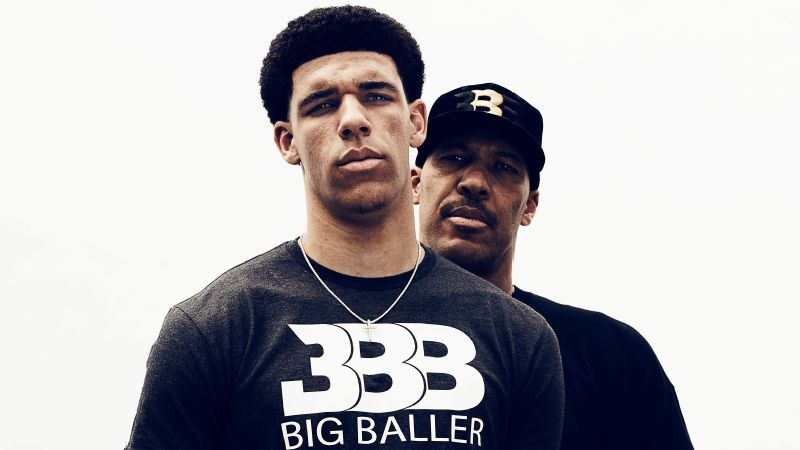 "I've been living with him since I've been born. He's always been like that. ... I let him do all the talking and I just try to play"
Lonzo to the Los Angeles Times
Marcus Smith for ESPN
3,120
Total tweets about LaVar on Feb. 18, which doubled his total from the previous 86 days.
LaVar links Lonzo to the Lakers for first time on KCUB in Arizona, saying he would discourage other teams from picking his son in the NBA draft.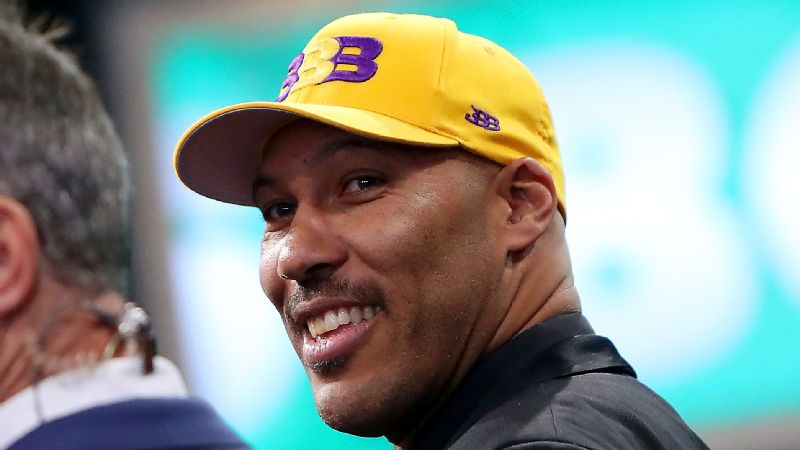 "I'm going to speak it into existence."
LaVar to ESPN's Jeff Goodman
Mike Lawrie/Getty Images
"If Lonzo doesn't sign with Adidas, Nike or Under Armour, guess what -- I'll sign the Big Baller Brand. ... Lonzo is going to be the first one drafted with his own brand."
LaVar on ESPNLA 710
Charles Barkley starts a war of words with LaVar as Lonzo's NCAA tournament debut approaches.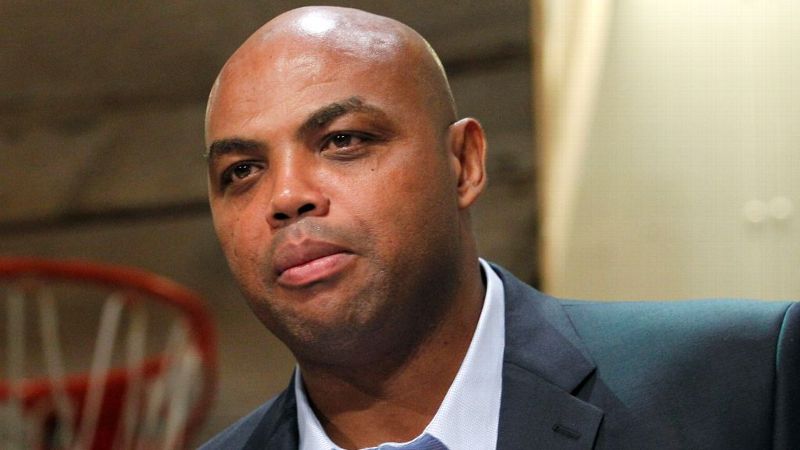 "You can't say a guy is going to be better than Steph Curry, a guy who has played 30 college games. I know you can be proud of your son, but at some point, it becomes stupidity."
Barkley to SportingNews.com
AP Photo/Elise Amendola
"If Charles thought like me, maybe he'd win a championship. He says sometimes when stuff comes out of people's mouths, it's just stupid. Guess what? You talking, too."
LaVar on "The Herd with Colin Cowherd"
LaVar doesn't stop there, adding LeBron, M.J. and sneaker companies to the fray.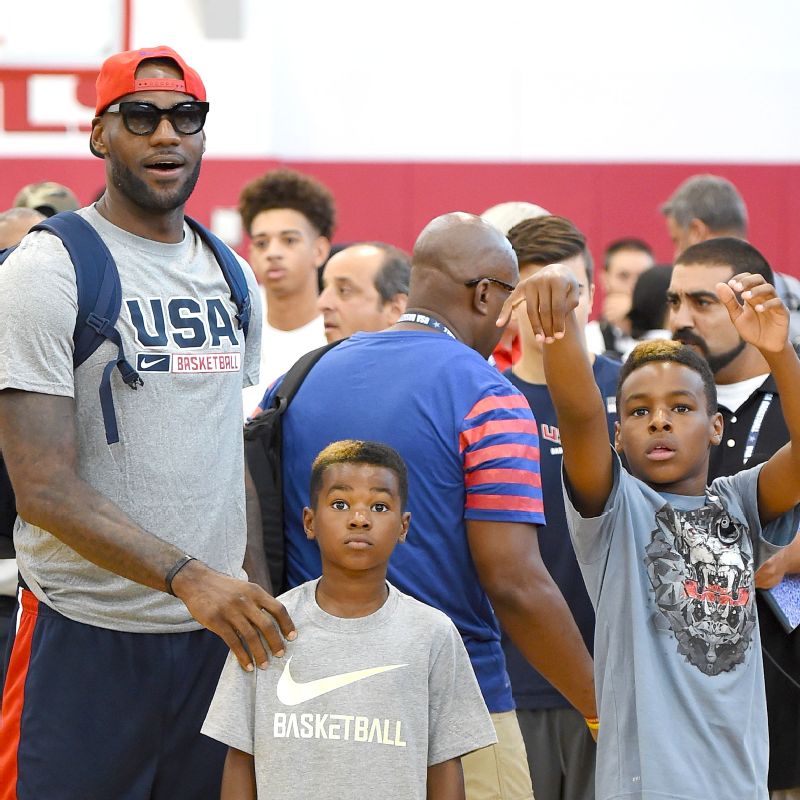 "You got LeBron, it's going to be hard for his kids because [fans] are going to look at them like, 'You got to be just like your dad.'"
LaVar on Chris Broussard's "In The Zone" podcast
Ethan Miller/Getty Images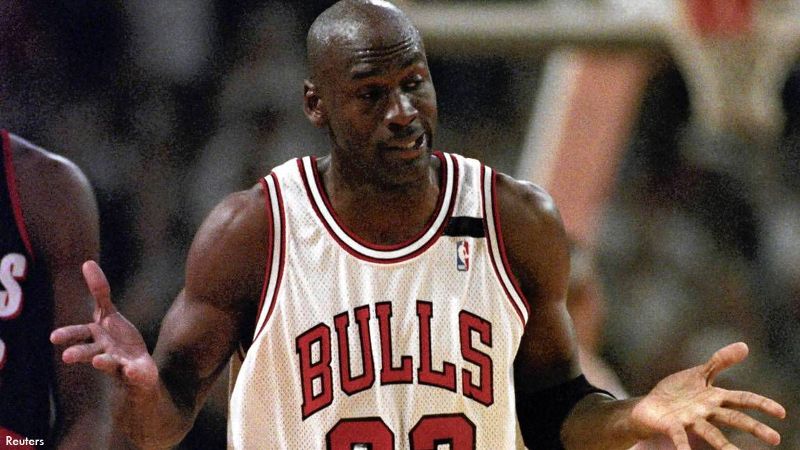 "Back in my heyday, I would kill Michael Jordan one-on-one. ... He better make every shot 'cause he can't go around me. He's not fast enough."
LaVar to USA Today
Reuters
"A billion dollars, it has to be there. That's our number, a billion, straight out of the gate. And you don't even have to give it to me all up front. Give us $100 mil over 10 years."
LaVar to USA Today on his sons' future shoe deal
109,493
Over a seven-day span from March 7-13, LaVar saw an 861 percent increase in tweets about him compared with the previous seven days (11,393).
"I'm too old and fat to play basketball, but I'll challenge Mr. Ball to a one-on-one. No guy who averaged 2.0 points a game is going to beat me one-on-one."
Charles Barkley on Mike & Mike
"I know [Barkley] don't want to play no one-on-one 'cause he's too big. He better stay behind ... at TNT and eat them donuts."
LaVar on SportsCenter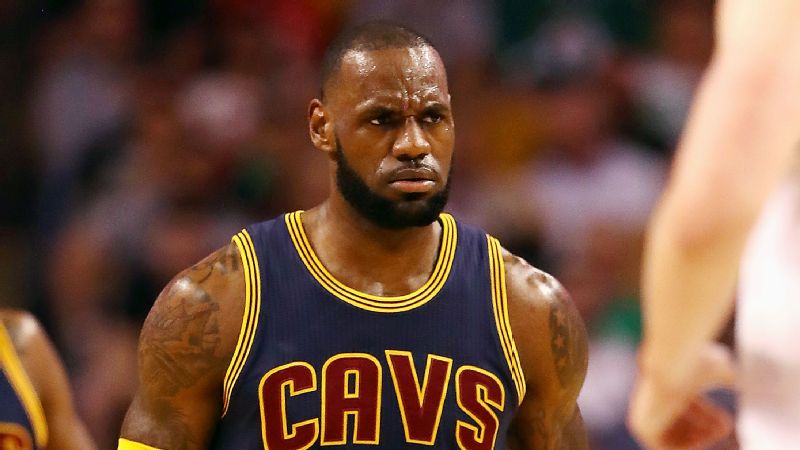 "Keep my kids' name out of your mouth. Keep my family out of your mouth. This is dad to dad. It's a problem now."
LeBron James to ESPN's Dave McMenamin
Elsa/Getty Images
91,320
The day after LeBron's comments, LaVar gets his most tweets ever in day (up to that point).
On the eve of UCLA's Sweet 16 game, ESPN's First Take has LaVar on air.
UCLA loses to Kentucky 86-75 in the Sweet 16 as Lonzo (10 points, 8 assists) gets outplayed by De'Aaron Fox (39 points, 4 assists).
"That was my final game for UCLA."
Lonzo to ESPN's Jeff Goodman in the locker room postgame
Three days after UCLA's loss, LaVar struts his way back onto First Take, this time with Lonzo.
"UCLA lost this year, but check this out: We gonna win it next year. I'm gonna take one Ball and bring in another one. How's that?"
LaVar on First Take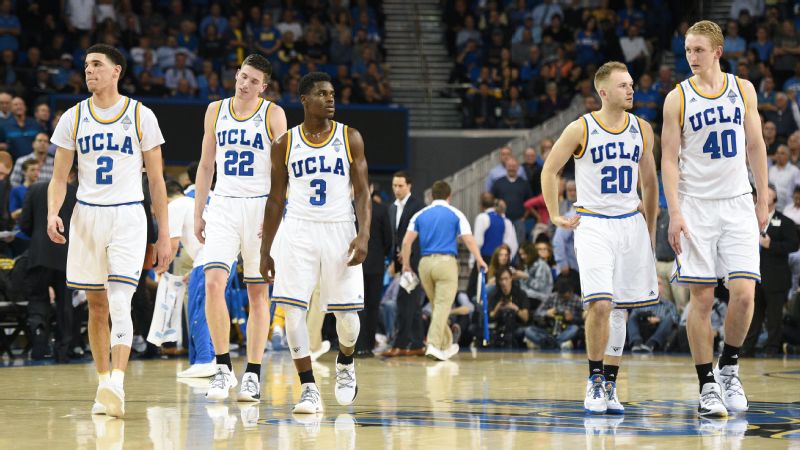 "Realistically you can't win no championship with three white guys because the foot speed is too slow."
LaVar to the Southern California News Group, referring to white UCLA starters TJ Leaf, Bryce Alford and Thomas Welsh
Brian Rothmuller/Icon Sportswire
LaVar quickly backtracks on his comments.
"I love those guys. ... I am not saying I don't like the white guys and we lost because of them. No, that's how they twisted it up."
LaVar to ESPNLA 710
After a back and forth with Nike exec George Raveling, LaVar insists that the big shoe companies would need to license his Big Baller Brand to sign Lonzo. Later, Nike, Under Armour and Adidas all walk.
"We've said from the beginning, we aren't looking for an endorsement deal. We're looking for co-branding, a true partner. But they're not ready for that because they're not used to that model."
LaVar to ESPN's Darren Rovell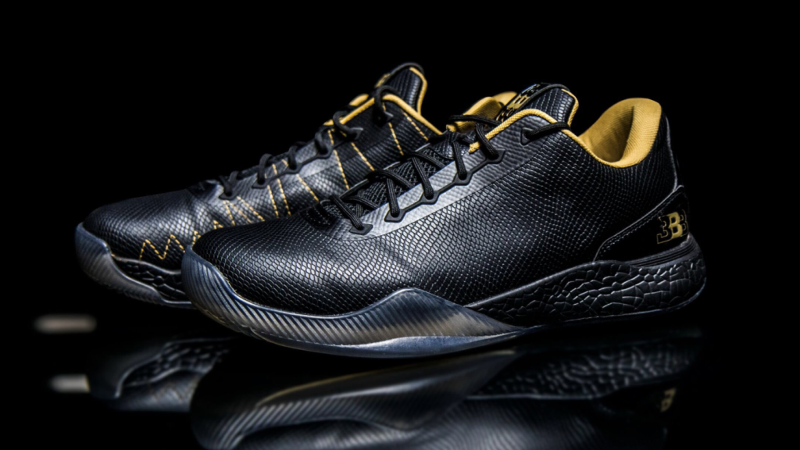 Lonzo's signature shoe from the Big Baller Brand, the ZO2s, go on sale for $495.
Big Baller Brand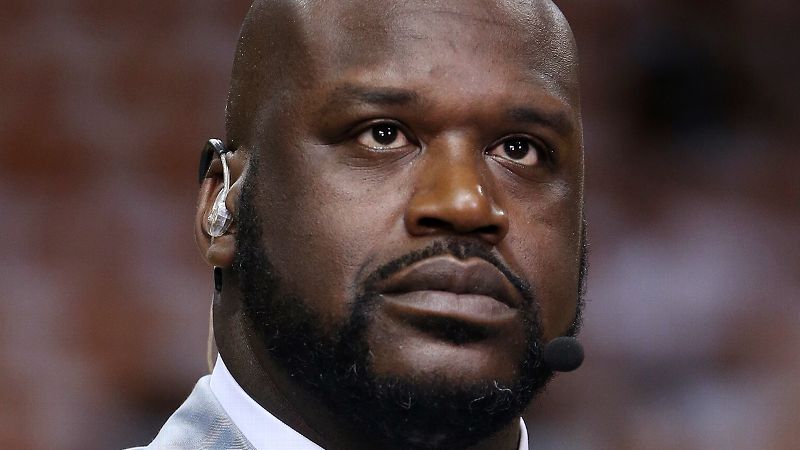 "Real big baller brands don't overcharge kids for shoes."
Shaq on Twitter, responding to the price of the ZO2s
Christian Petersen/Getty Images
56,995
The sticker shock from the shoes -- and Shaq's response -- results in the second-highest number of tweets about LaVar in a single day since Lonzo was eliminated from the NCAA tournament.
The Lakers get the No. 2 pick in the NBA draft lottery.
"I told him he was gonna go to the Lakers!"
LaVar to KCBS after the lottery announcement
"That's all we working out for is the Lakers. Just the Lakers. There's nobody else that we need to work out for."
LaVar to LakersNation.com
"Stay in yo lane."
LaVar to Kristine Leahy on "The Herd with Colin Cowherd" as Leahy attempted to ask a question.
284,986
The two-day tweet fallout from the draft lottery announcement and LaVar's insensitive remarks toward Leahy.
The Lakers select Lonzo No. 2 overall in the 2017 NBA draft.
"Lonzo Ball is going to take the Lakers to the playoffs his first year. Come see me when he does."
LaVar on ESPN's NBA draft broadcast
LaVar, Lonzo and LaMelo make a planned appearance on "WWE Monday Night Raw" in L.A. with The Miz.
"You don't want none of this."
LaVar to The Miz
188,292
This is the most tweets about LaVar in single day during this time span, surpassing May 16, when the Lakers won the No. 2 pick.
"Rookie of the Year, it's already a done deal."
LaVar on the ESPN broadcast of Lonzo's Summer League debut
LaVar brings his fury to the AAU circuit, where he coaches his Big Baller Brand team.
LaVar pulls his AAU team off the court after he was whistled for a technical for arguing a foul call and uttering a profanity toward a referee.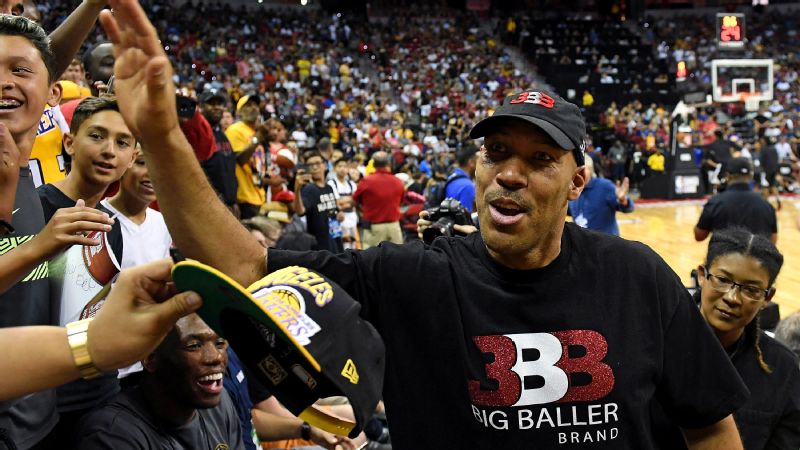 "They're gonna have to get a bigger venue. When the Big Baller Brand come to town, better get something big."
LaVar said after massive crowds delayed the start of a Big Baller Brand AAU event in Las Vegas
Ethan Miller/Getty Images
"Unreal, never seen anything like it."
Kansas coach Bill Self on the scene at the Big Baller Brand AAU event. Adidas representatives estimated between 3,000 and 4,000 people were at the game, with another 1,500 people waiting outside.
A female referee who's officiating the Big Baller Brand AAU team gets replaced midgame after LaVar says, "We need to get someone else in here."
"She's not in shape, she's not calling the game right. ... She needs to stay in her lane because she ain't ready for this."
LaVar calls out the female ref
"It's not about me hating that lady or something like that. ... She's probably a great ref with the women. But this men's stuff? It's a difference between women's basketball and men's basketball."
LaVar doubles down on his criticism of the female referee
53,074
Tweets about LaVar during the three-day span of AAU news and controversy, surpassing the total from the previous 10 days.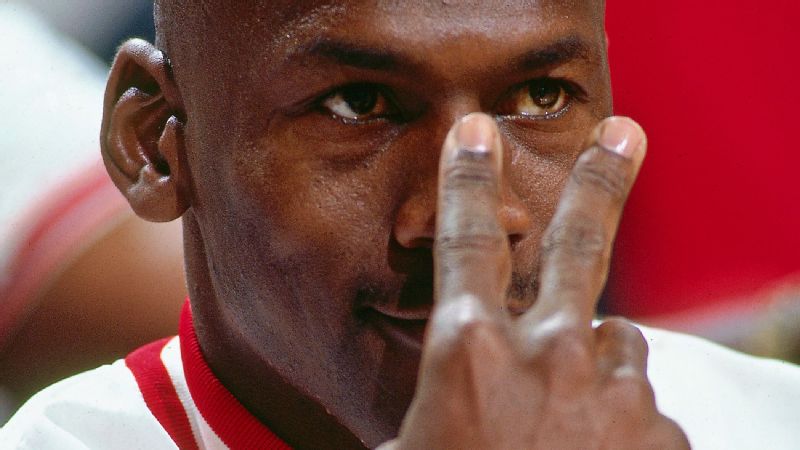 "I don't think he could beat me if I was one-legged."
Michael Jordan responds to LaVar
Barry Gossage/NBAE/Getty Images
"[Rob] Gronkowski can't hang with me back in my heyday. Too fast, too strong."
LaVar to ESPN 850 in Cleveland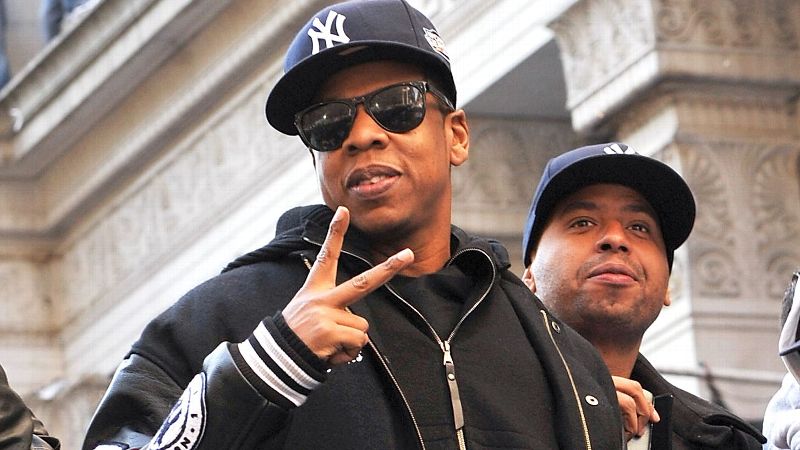 "He may go about things wrong, he may have a big mouth. But I bought three pairs. Why did I buy three pairs? That man has a vision of his own."
Jay Z to the Rap Radar Podcast on LaVar and the $495 ZO2 shoes
Bobby Bank/Getty Images
The "Ball In The Family" reality show debuts on Facebook. The first episode had 17 million-plus views at the time of publication.
"Everything my dad does is definitely planned, so even if people think he's crazy, he knows what he's doing."
Lonzo in the premiere of "Ball In The Family"
The youngest Ball brother, LaMelo (16), gets his own signature shoe (with a $395 price tag), which sets off NCAA eligibility questions.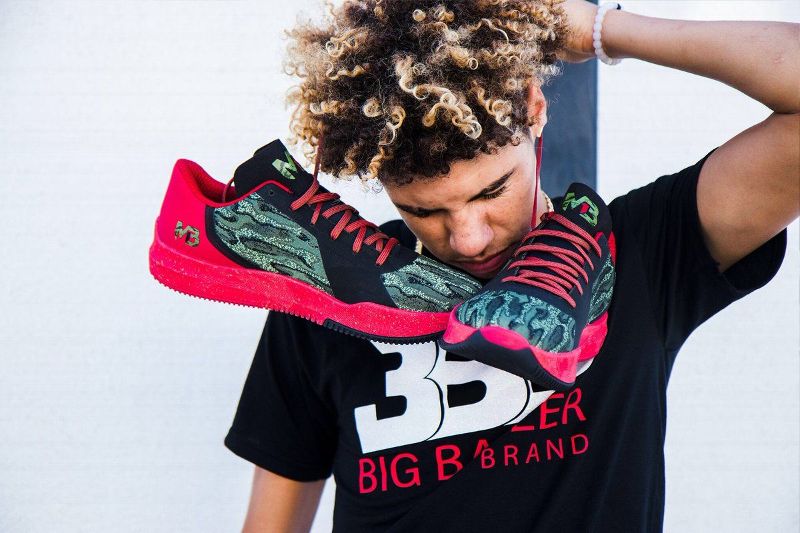 "The NCAA ain't going to tell me s---. ... We'll sit out a year or two."
LaVar to ESPN's Baxter Holmes
@bigballerbrand/Twitter
"You can start spelling his name 'L-A-BRON.' He'll be here."
LaVar on ESPN's First Take in response to rumors linking LeBron to the Lakers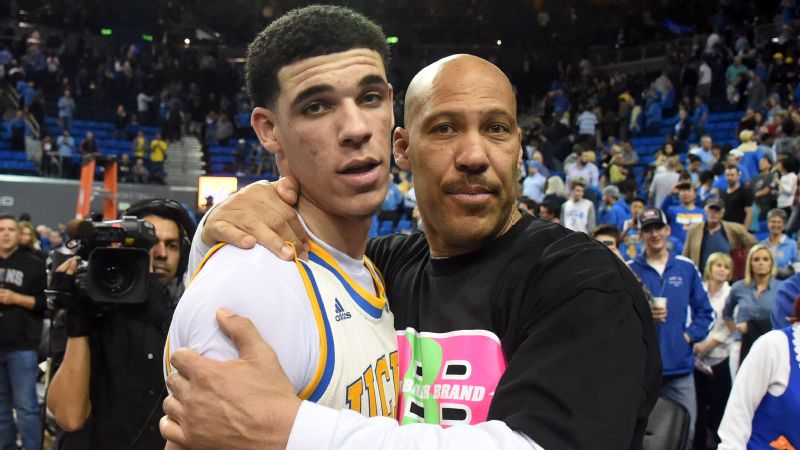 "The goal is to have my kids' kids be trust-fund babies. That eternal wealth."
LaVar on "The Ellen Show"
Richard Mackson/USA TODAY Sports
LaVar says he plans on pulling LaMelo out of Chino Hills High School and home-schooling him for his final two years before college.
"I'm not dealing with the coach over there. I'm not dealing with the administration over there. I don't want no distractions on Melo. So therefore I'm going to home-school him and make him the best basketball player ever."
LaVar to ESPN's Ramona Shelburne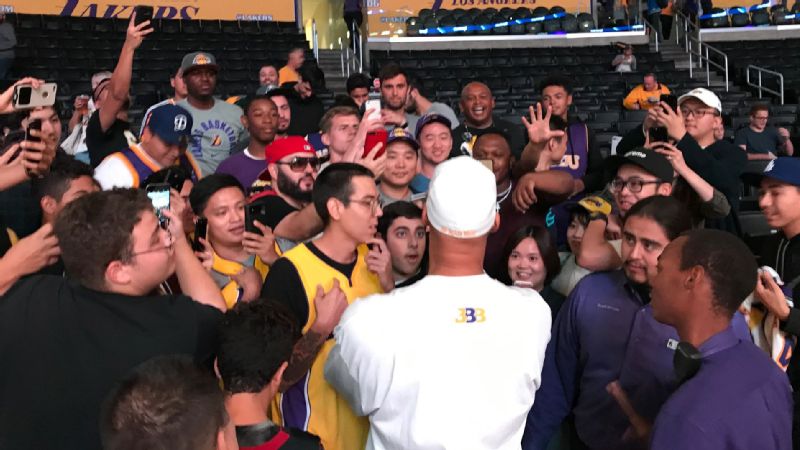 "Welcome to the Ball era. ... That's what Big Baller Brand does. It grows."
LaVar to ESPN's Ohm Youngmisuk after Lonzo's preseason debut
Jovan Buha/ESPN
If you think there hasn't been a method to all this madness, consider: LaVar Ball has been the most-talked-about member of his family on Twitter since March 1. Lonzo Ball -- who played in the NCAA tournament and was drafted No. 2 overall by the NBA's most popular franchise during that span -- trails his father's tweet total by more than 60,000.
Illustration by Alexander Wells; Twitter data via Spreadfast (current through Oct. 2)