You win some,you lose some
Two dramatic streaks will define the Dodgers' 2017 season -- unless they can pull off something even more memorable in October.
This story was originally published on September 21, 2017 and appears in ESPN The Magazine's Oct. 2 MLB Playoffs issue.
Sunday morning, Dodger Stadium, Dave Roberts' office, about 90 minutes before game time. You can feel the Sunday morning pregame sag emanating from the clubhouse, but Roberts is having none of it. He is upbeat in the relentless but unforced way of a teacher in an inspirational Hollywood adaptation, and he's got important work to do. One unfinished task is nagging at him: Game time is nearing, and he has yet to have an individual conversation with every player on his roster.
It's something he does before each game, he says, and today there are four players in the room down the hall who might feel forgotten. When I ask him to name them, in a sort of testing way, Roberts says "Corey Seager, Justin Turner, Alex Wood and Luis Avilan," without pausing or breaking eye contact.
"As a player, I remember the coaches and managers who made a point to connect with me," Roberts says, and as I barge in with another question, he raises a finger -- "and I remember the ones who didn't."
A baseball season is a search for rhythm. Teams strive to impose flow onto a schedule that resists it. Elements exist outside a continuum; there is no natural connection between games or plays or pitches. Is a season 162 one-act plays or one long, sprawling novel with 162 subplots? It's up to the individuals to provide the connection, to link at-bats and pitch sequences and win streaks.
Times are good as Roberts bounds out of his office in search of the neglected four. It's mid-August, and his team is rolling. Everyone's happy and cared for. His capital-C Culture is working. But the eternal question that guides Roberts today is the same one that will soon haunt him when those connections snap: How does a group of big-ego big leaguers, each convinced he's the leading man in his own story, recognize that he is instead a supporting actor in everyone else's?
In August, I spent 11 games with the Dodgers -- three in Arizona, five in Los Angeles, three in Detroit -- chasing the answer to that question. During those 11 games, I watched Justin Turner hit two homers in a game twice, each time running around the bases with a sly grin on his face, slightly behind his beard and ahead of his hair. I witnessed Cody Bellinger homer against Zack Greinke and explain it by saying, "It felt great because I didn't feel it." I listened as Yasiel Puig said he doesn't get tired of winning because when he was 15 or 16 he played on a team that lost 58 of 60 games. Day after day, I saw Hyun-Jin Ryu sprawled on a clubhouse couch, phone in hand and earbuds inserted, watching videos from what appears to be the Korean version of the Food Network. The Dodgers won eight of the 11, reaching a peak of 53 games over .500, and over the course of that stretch I heard every possible mutation of the question How do you explain this?
But later that month, something extraordinary and oddly compelling happened: The Dodgers' season became a rebellious teen, requiring constant surveillance lest it devise something even worse. And so I returned during a series against the Rockies -- and saw three losses that ran their streak to 16 in 17 games, and 11 in a row -- chasing answers to slightly different questions. I listened as Ed Sheeran's sugarcoated walk-up song for Turner began to sound like a funeral dirge. I watched a grumpy Puig stand at his locker after a Saturday night loss and put on a sharp gray suit with the force and vigor of a firefighter unrolling a hose. I saw a group of young men avoid eye contact with an intensity I never thought possible. Over the course of those games, I heard every possible mutation of the question How do you explain this?
The Dodgers' ridiculous first half -- which led to a ridiculous margin in their division -- allowed the team in the season's final months to adopt the role of animals of the Galapagos, free to evolve without fear of predators. They experimented with different lineups, used the 10-day disabled list at will and began the mental assembly of their playoff roster.
A late-August/early-September reset invites skepticism, especially one that amounts to a series of spring-training-like workouts: Adrian Gonzalez off the disabled list and at first base, a decision that led directly to Bellinger spraining an ankle after an awkward catch in right field in Detroit; call-up Alex Verdugo getting starts amid a search for a left-handed-hitting center fielder; Corey Seager, with a tender elbow, being rested for almost two weeks as a precaution against further injury.
Taken individually, considering the Dodgers' place in the division and the historic pace they were then on, each move could be defended as measured and well-considered. Cumulatively, though, they amounted to a backfire caught in a shifting wind; it created something it was intended to prevent, and something they were powerless to stop. As the losses accumulated, my mind went back to something Roberts said in Detroit: "We've turned over every stone looking for a potential weakness." As one player described it, "It wasn't broke, but we fixed it anyway."
---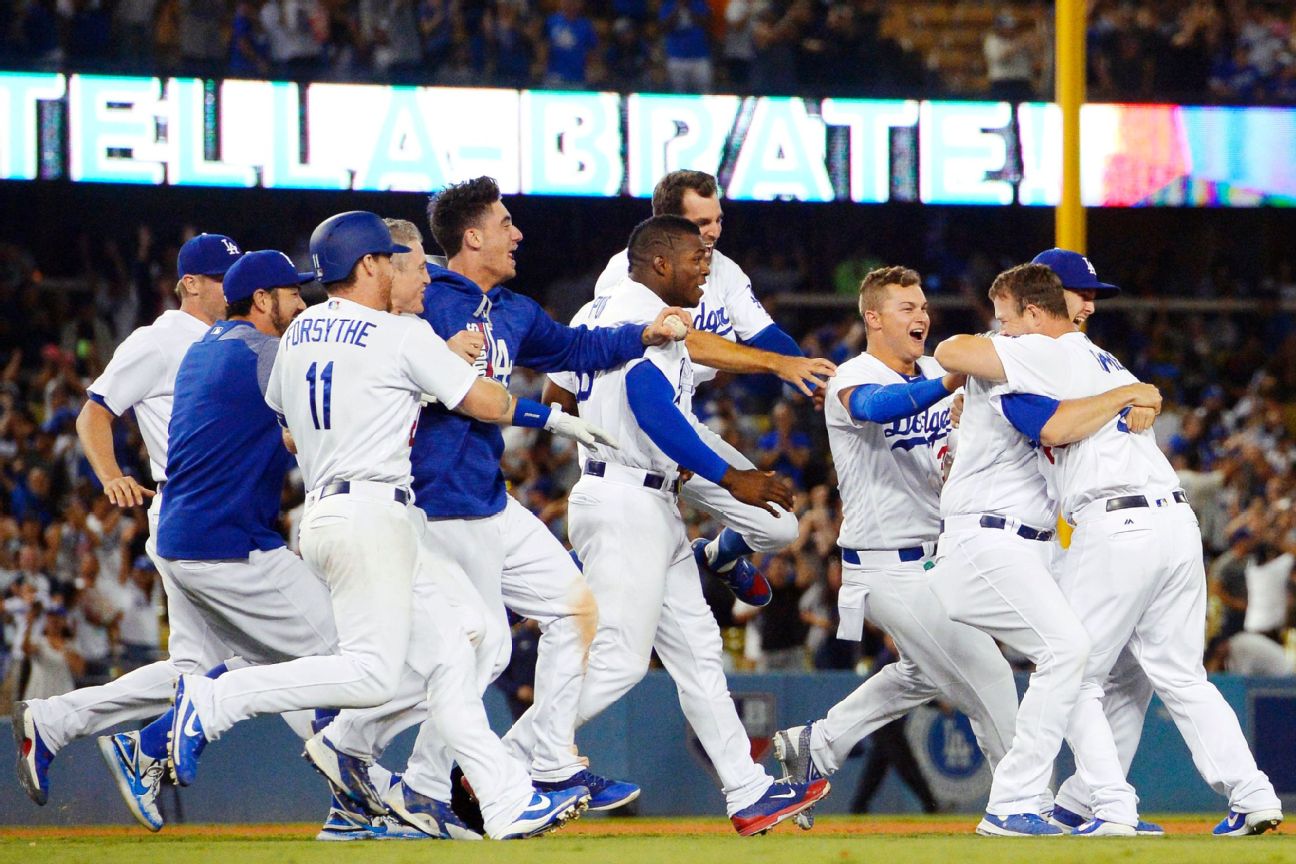 SOUND IS A living organism in sports. Losing must be endured amid a penitent silence. The stillness feels parentally invoked: Just sit there and think about what you did. Winning, of course, is the loudest sound there is, a boisterous affair, full of music and laughter and verbal savagery.
Game one of my first trip, Phoenix, a 6-3 loss to the Diamondbacks, and more than 45 minutes after the game, all but one Dodger has showered. Several have departed the clubhouse, and every other player -- except one -- is in the process of leaving. The room is underwater quiet. Catcher Yasmani Grandal sits in front of a computer at a table in the middle of the room, in full uniform, spikes still on his feet, his body curled into a comma, the screen in front of him presenting the frame-by-frame forensics of every pitch from the past three hours. He seems unaware of anything around him: the emptying room, the muttered curses, the frenzied but surreptitious cleanup. His head leans, his eyes strain to pick up the subtlest clue, his hand hovers over a notebook that contains all his secrets. His printing is meticulous.
What is he looking for, and why can't it wait? "I look for anything I can see," he says. "I look for location, sequence, with runners on, what they're trying to do. What the base coaches are doing, what the guy on deck is doing. If it just so happens they're trying to pick up signs, I look for that too. I like to sleep on things, and watching that video after every game, win or lose, gives me reassurance of what we need to do the next day." (The next night, the Dodgers win, pushing their record to 80-33 . How much of it is related to Grandal's work is unknowable.)
A month later, on a Tuesday night in San Francisco, music is thumping through the visiting clubhouse in AT&T Park. Just minutes earlier, the Dodgers finally broke their 11-game losing streak. Roberts has commemorated the evening by saying, "Usually there are a lot of handshakes, but tonight there were more hugs." Puig has just finished dancing on a couch. Bellinger gets dressed and says, "This is awesome. I haven't heard music in 12 days." As reporters wait for Clayton Kershaw to arrive at his locker, someone turns the music off. Puig is having none of it, and the music returns.
Amid the joy and the chaos, Grandal sits at a computer, the notebook beside him, going through every pitch in silence as if he's sitting in an empty classroom. He has taken off his jersey and exchanged his spikes for shower shoes. The difference between winning and losing? Sometimes the difference is less obvious than others. Sound is one tell. Grandal's footwear, apparently, is another.
---
APPROXIMATELY 3:20 P.M. on Aug. 8, a Tuesday, Bellinger walks out of the players' lounge in the visiting clubhouse in Arizona eating a Good Humor Strawberry Shortcake ice cream bar. He gazes at it in rapt wonder, turning its intoxicating pink-and-white-speckled goodness around in the air before taking a bite. Almost 45 minutes later, after he finishes dressing for batting practice but before he heads to the field, he enters the players' lounge and emerges with another one.
"They're so good," he says. "I can't help myself. They're in every clubhouse -- so convenient. It's ridiculous how much ice cream I eat."
The next day, at 3 p.m., Bellinger stands at his locker and confesses that he just consumed another Good Humor Strawberry Shortcake ice cream bar. "That's the only one today, though," he says, the hurt evident as his voice lowers. "There aren't any more left in there."
Bellinger is 22, just turned, which means he has another six to eight years of unlimited ice cream consumption ahead of him before Scott Boras convenes an intervention. The larger point, though, is Bellinger's willingness to laugh at himself, rather than stare in doe-eyed panic when a reporter notices the sheer volume of his ice cream intake. He exudes a level of professional cool that doesn't seem possible at his age. (His father, Clay, has three World Series rings from the Yankees and Angels, but Cody was little and doesn't remember much. Mostly just the parades.) Unlike 23-year-old teammate Corey Seager, who projects himself as a baseball life-form devoid of personality, Bellinger dropped into stardom like it's an old couch that long ago formed to his body.
"I guess I'm mature," he says. "I mean, I'm really immature, I'm just a kid, but I have a lot of feel around the clubhouse. I just figure, who knows if any of this" -- he opens his hand to the room to encompass this team, these teammates, this season -- "is ever going to come around again?"
As we stand at his locker (I'm careful not to step on, kick or brush against his Yeezy 350s), he wants to talk about the time Joey Votto reached first base and said, "Listen, man, just because you're young doesn't mean you have to fail."
It's a swipe at one of baseball's most enduring adages: No matter who you are, pitchers will figure you out. You're going to fail, it's just a matter of time.
In Los Angeles before the Dodgers' ninth straight loss, at 2:40 on a Saturday afternoon, Bellinger and Walker Buehler are talking quietly while the televisions hanging from the ceiling show a replay of the Chiefs-Patriots game. Unlike the good times, when 25 guys free-ranged through the clubhouse, it now feels like an oversubscribed viewing. The September roster sits at 39, and there are a lot of wide-eyed, close-mouthed young guys tiptoeing around like the carpet is filled with land mines. Every day that they keep clear of veteran Chase Utley, who marches to his locker with his state trooper bearing and yoga instructor posture, is a good day.
There's an edge to the room, like its strung with razor wire. I ask Tony Watson how he's doing and he says "Good." I ask Ross Stripling and he says "Fine." Their answers are friendly but clipped, pre-emptive and a little challenging. I'm good. Anything else? I get it, nine losses and counting -- and then I ask Bellinger, and he smiles and says, "Just trying to finish strong."
Hey, the crash may happen. Votto might be wrong. Still, Bellinger refuses to accept the inevitability of a catastrophic fall. The disposition he's showing the world right now is pretty much one big shrug. It's all new, the winning and the losing, and it may never come around again.
---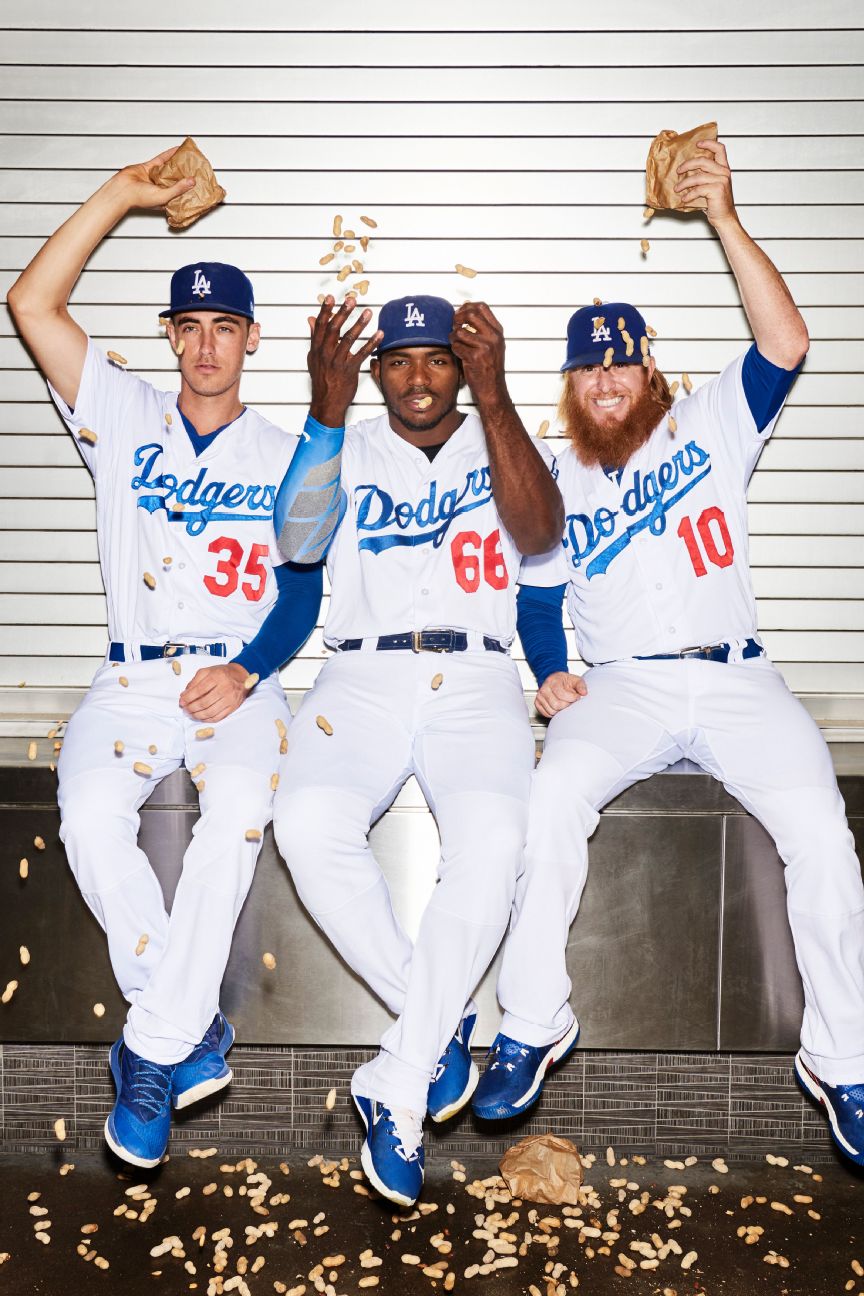 JUSTIN TURNER IS -- and I mean this as a fierce compliment -- a spore, capable of multiple mutations and resistant to adverse environmental conditions. He challenges our idea of what an athlete looks like: the sun dog beard, the bright red hair bouncing behind him as he runs. Be honest: If you looked at his profile photo without knowing his occupation, how long would it take to guess $12-million-per-year professional athlete?
It would take longer still to guess that a guy who looks like such a goofy prankster is the amiable leader of a reserved group that comprises the highest-paid roster in the sport. His path to this point is well-trod soil; the rough years with the Mets, ending in his nontender in 2013, followed by a revival born of a lift-and-elevate rebuild of his swing.
"It's a game full of labels, and usually you're getting labeled for something negative," he says. "After that, you're working your whole career to get out from underneath that label. I feel I was labeled in New York, and it took them letting me go and coming here to get away from the label."
I ask what the label was, and his voice acquires a brittle edge. "Apparently after I left they said I didn't hustle, so I guess that was the label I didn't know about." He looks down and starts shuffling with something in his locker, like he's trying to distract himself from going any further. After a few seconds, he looks back up and says, "The change of scenery, getting away from that, obviously did wonders."
On my return visit, I keep waiting to hear that tone: defiance mixed with a bilious grudge. But the losses are met with a strange, uneasy calm. No raised voices, no outward signs of anger, none of the cliched spread-flipping that's been the tantrum of choice for managers throughout history.
The players feel it too. Says Logan Forsythe, "At some point, someone's going to have to stand up and say, 'I'm tired of saying "It's coming, it's coming."' Someone needs to say, 'Let's go now.'"
There's a hierarchy to such things. Forsythe can say it should be said, but he isn't in a position to actually say it. Clayton Kershaw could say it, but he'd spent a large part of the summer on the disabled list, observing the team like a boss who decided to let his employees run the shop for a bit. Turner, however, can say it, and on the afternoon of the 10th straight loss, he tells the Los Angeles Times, "Just sitting back and saying 'We're still the best team in baseball' isn't the answer. Because regardless of what the record says, right now we're the worst team in baseball. What we did three months ago doesn't mean a whole lot right now."
---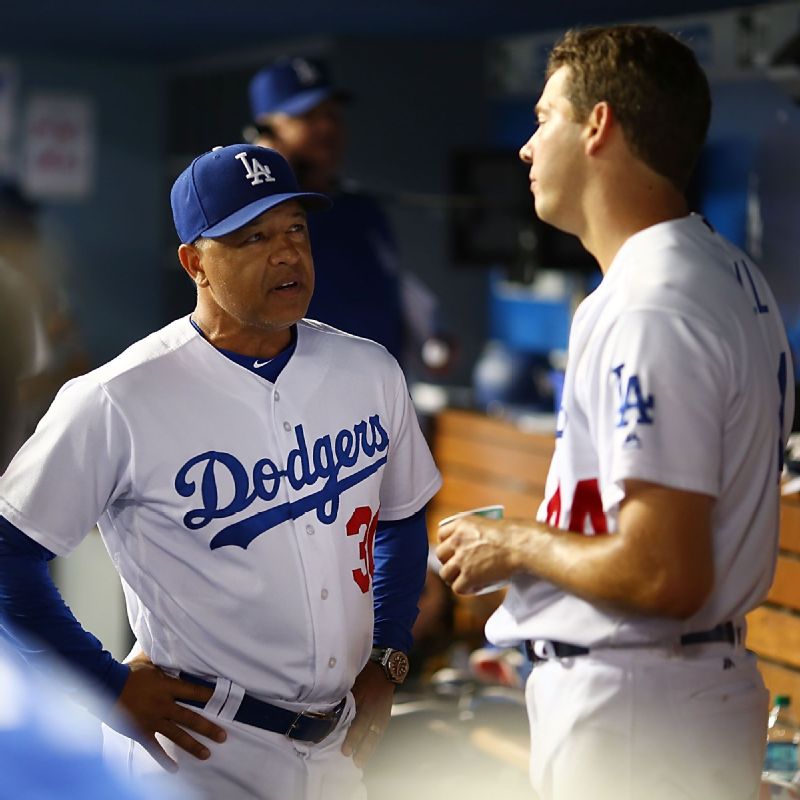 THERE'S THIS THING Rich Hill does that is totally unique to Rich Hill: He finishes his pitches with a weird, hopping reverb leg kick, like a guitarist finishing an epic solo. Except that Hill, with suction-cup bags under his eyes and an on-mound demeanor that oozes annoyance, looks more like a beleaguered sitcom dad finishing an epic air-guitar solo.
Within a clubhouse environment, where the standard of discourse rarely rises above sea level, a 37-year-old starter with Hill's quirks and personality is a walking greenhouse for nicknames. Hill has no fewer than 10,000 of them (Psycho Rich, not to mention many off-color variations of his first name), most originating in the fevered minds of Austin Barnes and Kike Hernandez.
Hill's career is scarcely believable on many fronts, mostly for how he overcame personal injury (labrum surgery, Tommy John surgery) and the unimaginable death of an infant son, Brooks, in 2014. He's played on eight big league teams, including the Red Sox twice, and one independent-league team. He once went more than 2,000 days between starts in the big leagues. He is revered by the younger Dodgers -- so, everyone but Chase Utley -- in ways that even he might not recognize.
On Friday, Aug. 11, the fourth game I witness, Hill throws six innings against the Padres, allowing two runs. Over the course of those six innings, Hill will rage at himself for giving up a home run, shake his head in disgust at his own fastball command and get his daily steps walking around in search of himself. He will look at the home-plate umpire after close pitches the way a prosecutor looks at a witness he knows is lying. Guys who get undeserved hits can find themselves nearly meeting him as he snarls his way, post-reverb, toward the first-base line.
He runs through every human emotion but joy. It's safe to say you watch him pitch and come away thinking he's working through some stuff.
Two starts later, Hill will take a perfect game into the ninth against the Pirates, lose it on a Forsythe error and take a no-hitter into the 10th inning before losing everything -- the no-hitter, the game -- when Josh Harrison hits a walk-off homer.
He will handle it with laudable grace, both on the mound and afterward. ("It falls on me, this one. One bad pitch," he'll say after the game.) Two days later, he will don a Players' Weekend jersey that ignores every one of his 10,000 clubhouse nicknames. It will say, simply: BRICE, a tribute to his 5-year-old son.
Rich Hill, man. He is the losing pitcher in the 10th straight loss, and after he puts on a crisp gray road-trip suit with his back to the room, he turns and answers questions with a level of composure that belies the pain in his words. "Tomorrow's another day," he says on his way out the door. He's had enough perspective to last awhile, thanks.
---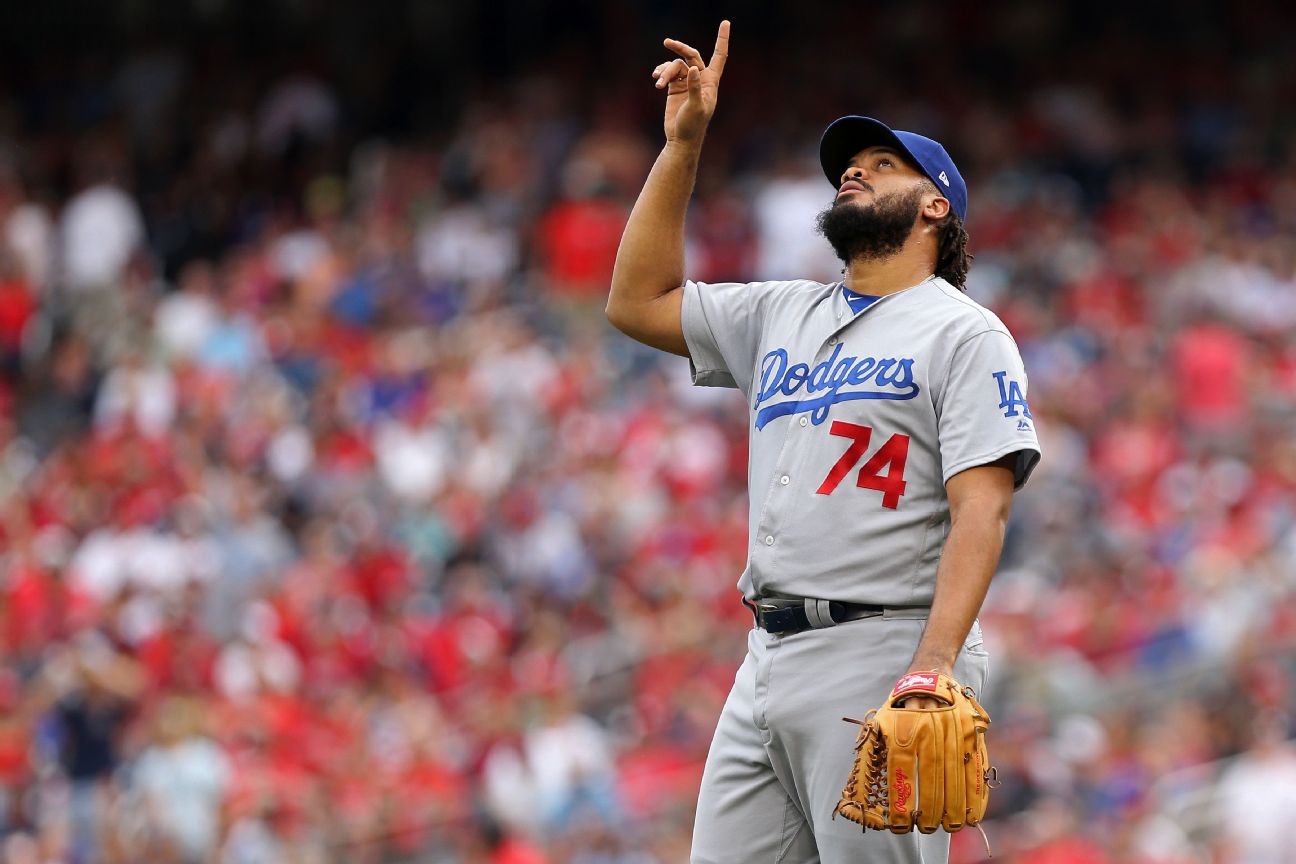 LOSS AFTER LOSS, he sits. Imprisoned in the bullpen, a Kafkaesque figure waiting to protect something that does not and will not exist, closer Kenley Jansen recedes from memory. His role makes him utterly dependent on the performance of others, which makes him the one Dodger left most unscathed by the team's collapse.
There are no rules relegating him to inactivity. As the season wears on, though, Roberts grows more resistant to using Jansen in high-leverage but non-save situations. He pitches just twice in the 11-game losing streak, depriving the sports world of one of its most cinematic moments.
It starts with Jansen jogging slowly from the bullpen to the infield dirt, accompanied by the bounce of Tupac's "California Love," and then throttles down from there. From the dirt to the mound, he really takes his time. The walk is undertaken as an act of great personal courage: slow, trudging steps, the interminable lean to pick up the ball, the heaving sigh before the first warm-up pitch. The bayonet-charge aggression we've come to expect from closers? Nonexistent. Baseball's best reliever (objectively) approaches his job like he's thinking, "I've got to prove this to you guys again?"
Anybody can look up Jansen's statistics; they're just a few keystrokes away and every bit as dominant as you'd expect. But after a week of watching him, I'm obsessed with knowing how. Just about every other Dodgers reliever throws harder, and every one of them has a bigger arsenal.
Over the course of several discussions, a theme recurs. Jansen's long arms and endless rocking-chair stride make 92 or 94 look a lot faster. "I don't think you can really understand until you stand in the box against him," says Stripling, a fellow reliever. "He cuts down so much distance, and he throws a pitch no one else throws. A normal cutter is more horizontal, but his looks like it goes sideways and upward. It's very hard to describe and very strange."
Jansen's off-mound personality is about what you'd expect from a laid-back big dude from Curacao. Over the course of my first trip, he closes out five of the Dodgers' eight wins. Each one ends with nothing more than a labored finger to the sky.
"I don't show emotion," Jansen says. "I feel like I want to protect myself. If I show weakness, I give something up."
With the Dodgers three outs away from ending their 11-game losing streak, Jansen takes the mound. At long last, there is a lead to protect, but the Giants load the bases thanks to three hits that, taken together, could barely dent a pat of butter. "You get annoyed a little bit," Jansen says afterward. He strikes out Buster Posey and Nick Hundley to end it, and when the final strike avoids Hundley's bat, Jansen slaps his chest three times and roars at the sky.
"You love the game, but the game doesn't always love you," he says. "I just know we're not going to go home and hang our heads again tonight."
---
IT'S MORE THAN three hours before game time on a mid-August Friday afternoon in the home clubhouse at Dodger Stadium when an arrhythmia-inducing sound serrates the air. I'm looking around, checking for damage, ready to dive under a doorway, wondering if we might need a generator. Somehow, nobody else seems the slightest bit shaken. "Puig's here," says a chorus of about five uninterested voices. No big deal -- Puig's whistle is hell's wake-up call.
What to make of him? In his fifth season, Puig is universally lauded as being a more team-centric ballplayer, exemplified by his acceptance of hitting eighth in the Dodgers' lineup through most of the season. But inside the cocoon, with the echo of the hell-whistle still alive in the air, it's hard to tell if he is accepted or merely tolerated.
A year ago, Puig was banished to the minors in August for 24 games, and his future as a Dodger was uncertain. As the team headed toward its fourth straight division title, Roberts met with several veterans and asked them whether they wanted Puig to be recalled. They voted yes, but when he returned from his own road to Damascus, a handful of those same veterans called their own meeting.
"We sat down and talked to Yasiel and told him we wanted him to be here, and we felt he could help us win a lot of ballgames," Turner says. "We just wanted him to want to be here and want to do things the right way. To his credit, he has. I don't think he's ever felt more a part of the team."
Puig remains a collection of amusing eccentricities. I can attest that you haven't really lived until you've watched Bad News Bears with him. The off-programming staple of MLB Network is, of course, playing in the Detroit clubhouse on this Sunday morning, and Puig is sitting at a table, minutes removed from eating a two-plate breakfast that looked like a dare. (Says a teammate, watching in admiration: "I've never seen anyone eat as much as him.") He is providing a stream of commentary, musing loudly to himself about which Dodgers remind him of which Bears -- Joc Pederson is Mike Engleberg, the fat catcher; Jansen is Amanda Whurlitzer, the clutch pitcher -- his laugh like a backfiring car. No one pays him any attention, and he doesn't seem to care.
Truth is, though, this entire story could consist only of overheated descriptions of Puig's defense, and every word would be editorially justified. Diving catches, a leap above the wall to rob J.D. Martinez of a homer, a no-hop throw home to get the Padres' Hunter Renfroe -- the sheer volume of tremendous plays has a strange effect; it makes it harder to be impressed.
In the ninth inning of a Wednesday night game against the White Sox, the last of a 4-1 homestand that would soon be viewed through sepia tones, Puig drives a game-winning two-run double to left-center to give the Dodgers their 10th walk-off win of the season. (It was an intense at-bat; at one point, he bit a ball he fouled off his foot.) The celebration includes a customary kiss for hitting coach Turner Ward, whose epic discomfort with the whole enterprise -- there are now shirts that read "Puig Kisses" -- ensures it will continue. And as Puig's on-field interview is ending, he thrusts his hands in the air and addresses the crowd directly:
"I'll see you in the World Series, guys!"
The Dodgers haven't won a World Series since 1988, and they've shriveled to an early playoff exit too often in recent years, so the fans throw their arms to the sky in response to Puig's words. They're unaware they're witnessing a felonious breach of Dodgers protocol, which demands today be dealt with and tomorrow be ignored. The more superstitious among them might point to that day -- or the Rich Hill near-no-hitter day, or the day someone wore the wrong socks or a different T-shirt or his unlucky underwear -- as the moment something shifted beneath them.
There are a million reasons. There are no reasons.
Two days after his proclamation, Puig stands at his locker in Detroit with his back to the clubhouse, shuffling hundreds like they're stress balls. So about that World Series guarantee? He stops fiddling with the bills and looks out of the corner of his eyes in a mock-threatening way. And then, in a theatrical voice that seems to travel through a foot of loose gravel, he says, "Yeah, I got a little excited.")
He draws the last two words out and puts his index finger an inch or so from his thumb to indicate how small his level of excitement really was. And then he laughs, sharp and loud, and goes back to his knot of bills. The Dodgers had won the night before, and they were about to win again. No one pays him any attention, and he doesn't seem to care.
---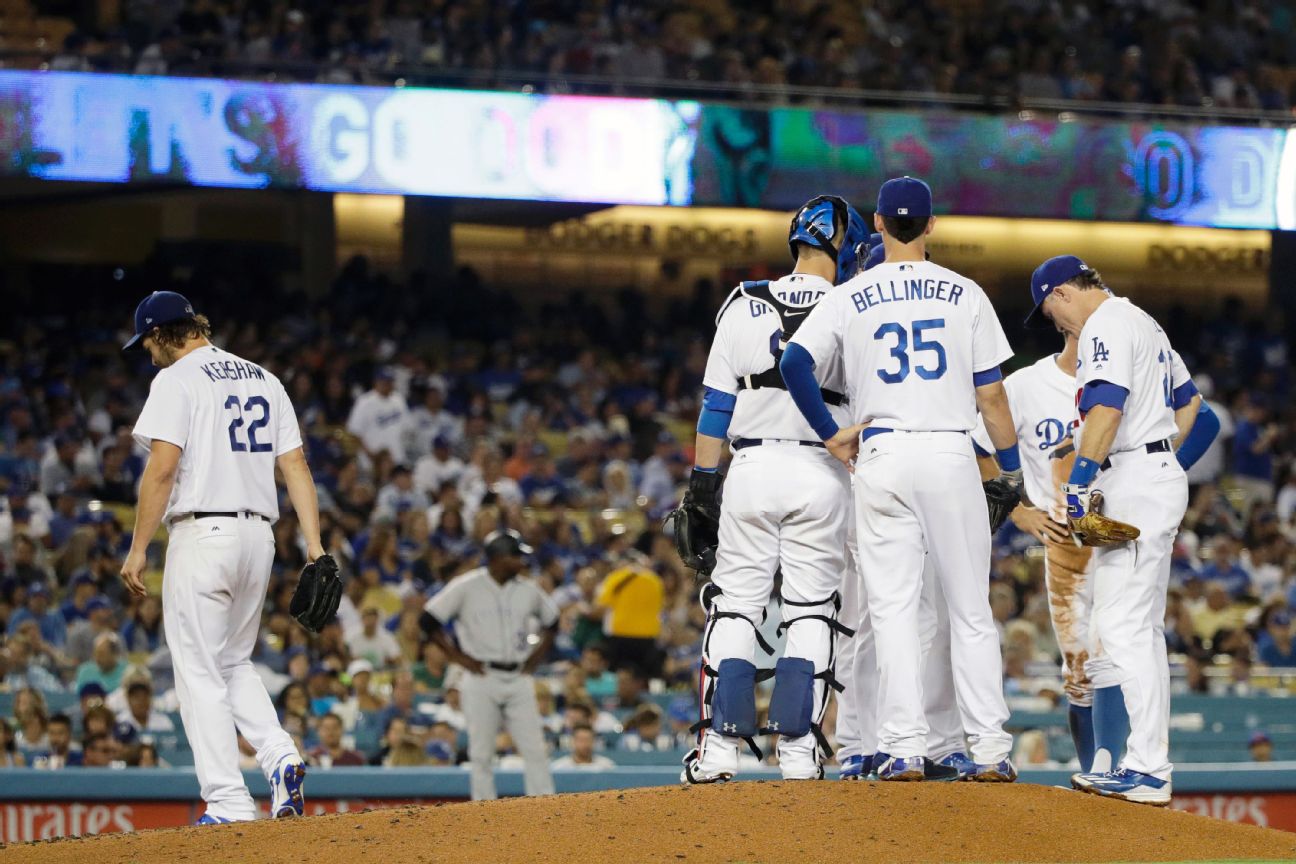 WHAT DO YOU trust when everything you trusted disappears?
I was there, day after day during a stretch of unprecedented winning, as every Dodger adopted the same attitude: If I don't do it, someone else will. And I watched that mentality undergo a subtle shift: If I don't do it, nobody else will. A team of supporting actors became a team of failed leads.
After the Saturday night loss to the Rockies, the 14th loss in 15 games, Forsythe stands at his locker and says, "The way we were playing earlier in the year? That's our team." No one pressed for proof. The next day, amid a soundless pregame gloom, I ask him where he finds his confidence. "That's my opinion," he says. "Every guy in here has his opinion. Guy to guy, we have conversations. We know what we have to do, we know what we need to do, and we know what works. This slapped some guys in the mouth a little bit, and I think that can be a good thing."
Together, they try to make sense of it while trying not to think about it. Sixteen losses in 17 games can alter a team's sense of identity.
Are they that team or this team? Perhaps to avoid the answer, they suggest karmic balance, weighing the number of joyous comebacks through mid-August against the grim surrenders since. Bellinger, standing at his locker as his teammates around him sit in numb confusion and barely tethered anger, tells reporters, "Maybe it's a blessing." It is soothing, somehow, to put the responsibility on uncontrollable forces, or to turn it into a nebulous positive. He looks around to see if anyone's buying it. Nobody is.
It's jarring to watch a team that considered winning a byproduct of its existence profess a joyless pride in a minimal level of competitiveness. Twice a day, Roberts talks about signs of life as if assessing the vitals of a comatose patient. The Dodgers had the best 50-game streak in 105 years and the franchise's longest losing streak in 73. Same team, same season. On the day his team broke the losing streak, Roberts said, "A lot can change in three weeks. We've lived it."
It's what you say when everything around you ceases to make sense, and when you're trying to preserve your sanity, and when you've got no choice but to question who and what you are. It's what you say when you've seen everything, and have no earthly idea what's coming next.
More From Doubletruck
Doubletruck is the home for ESPN storytelling, a space to find great features, investigations and character portraits. Doubletruck home »
Bringing It Home
The behind-the-scenes story of the Astros' fight to bring hope -- and a first World Series title -- to Houston in the wake of Hurricane Harvey.
This story was originally published on September 22, 2017 and appears in ESPN The Magazine's Oct. 2 MLB Playoffs issue.
A
UG. 31, 20,000 FEET ABOVE TEXASAll the navigation instruments indicate that the Astros' team plane is back over Texas and, at long last, approaching Houston. But below, all anyone can see is water.
Anxious players and coaches retreat from the windows and sag back into their seats. After several minutes, they try again to sight land, pressing their foreheads against the top of every window. Nothing has changed: water, everywhere.
From his seat in the emergency exit row near the middle of the plane, outfielder George Springer says it looks "like we're over an ocean somehow." No one speaks.
Flying back from Tampa, Florida, where their home series against the Rangers had been relocated due to Hurricane Harvey, the Astros sit together for the final 30 minutes of the flight, staring down at the colossal swath of destruction left behind by one of the worst storms in U.S. history.
Seated in his usual spot in the front right seat of the plane, manager A.J. Hinch checks the map, the TV and the internet. Then he checks again. "They all said we were over land again, except we weren't -- the water, it never stopped, nothing was spared," he says. "I took a picture on my cellphone and I'll keep it forever. That was our first bit of reality."
---
GENERAL MANAGER Jeff Luhnow was desperate to deliver a savior to Houston. With an Aug. 31 deadline to finalize playoff-roster eligibility hours away, Luhnow and owner Jim Crane suddenly found themselves on the edge of a potential blockbuster deal -- the chance to land 2011 AL Cy Young winner Justin Verlander.
As Luhnow put it to Hinch in Tampa, the feeling around the Astros had become "pretty bleak." Injuries and a lack of action at the July 31 nonwaiver trade deadline had sent the young and explosive team into a deep August funk. The Astros had lost 14 of their last 25, and when Harvey hit, the streaking Indians had already begun chopping away at the team's overall lead in the American League.
Hinch was back at home with his wife, Erin, and two teenage daughters when the flurry of texts began. He'd gotten off the team plane and into his car, then struggled to find his way back to his neighborhood, his normal exit blocked by flooding. Hinch and Erin caught up about the storm and the trip they were taking downtown the next afternoon to visit evacuees at the George R. Brown Convention Center. He hadn't given much thought to the trade deadline. He was actually texting with his coaches about college football when he noticed a call. It was Luhnow with news about the prospect of acquiring Verlander -- a last-chance effort for the Astros to upgrade their roster for a legitimate run at the World Series. "Disbelief is the wrong word, but I was shocked, definitely," Hinch says. "I knew right then I wasn't going to bed any time soon."
AUG. 27, HOUSTON, 12:15 A.M.
With floodwaters pushing past the sidewalk and the giant old oak tree out front about to give way, Katie Bracamonte calls to update her husband, longtime Astros bullpen catcher Javier Bracamonte, who is riding out the storm with the rest of the team in Anaheim, California. "The water's coming," she tells him. "Be safe," they repeat to each other. A few hours later, the water inching closer, Katie and her two groggy daughters pile into a closet for safety after a string of tornadoes threatens the area.
Sitting in the dark, Katie notices her half-asleep teenager clinging to something in her hand.
"What's that?" she whispers.
"It's a Sharpie," replies the girl. "We're supposed to write our names and Social Security numbers on our arms ... so they can identify us."
Similar stories unfold across Houston. Houses with 14 feet of water in them. Storm surges so strong they swept away huge concrete traffic barriers like twigs in a stream. Neighborhoods hit with such destruction and despair that people nail their house keys to the front door with notes that read: "You can have it."
---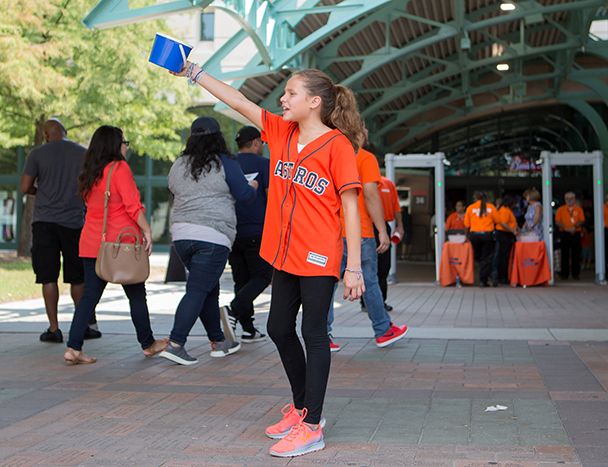 HINCH COULDN'T BELIEVE what he was hearing. The Astros had been pursuing a deal for Verlander, the Tigers' ace, since July. And now, with 45 minutes until the roster deadline, the negotiations had heated up once again. Luhnow would call Hinch, say things are looking promising, then hang up. A few minutes later he'd call back, say the deal was likely off, then hang up again. Twitter was going nuts.
With every new update, the mood in the players' group-text chain shifted wildly. A series of sad and angry GIFs were followed by a long string of smiling-face-with-waving-hands emojis. There are unconfirmed reports of a cat GIF, or three.
"A move like this can make good teams great and great teams legendary," says Astros lefty Dallas Keuchel, who was critical of the front office's paralysis in July. "So it was like putting something big on your Christmas wish list as a kid. You didn't want to get your hopes up too high."
In between calls, Hinch nerded out with pitching rotation combinations. By his estimate, Verlander's last 10 starts were some of the best of his career. His résumé would also instantly double the postseason experience of the Astros' starting pitching staff. But there was more. "Credibility, presence, I mean, just listen to him, look at him, talk to him," Hinch says. "Verlander is as big of a potential impact as we could possibly imagine."
The two teams were in agreement on the major components of the deal -- Verlander and $16 million in exchange for three of the Astros' top prospects -- but they had reached an impasse on granting Verlander full no-trade rights and, especially, voiding the option year (2020) in his contract. It seemed like a small price to pay after what Astros fans have endured during a rebuilding process that included 502 losses from 2010 to 2014. "If I was an Astros fan in 2012, I wouldn't want to come to the park either," says Keuchel, who was a rookie that season. "It was awful."
Finally, before going back to the Tigers one more time about voiding Verlander's option year, Luhnow and Crane discussed the third party in the negotiation: Harvey. "It led to the last concession we needed to get the deal over the top, wanting to give something back to this city in its time of need," Luhnow says. "Our fans have supported us through thick and thin, and there was a lot of thin in there. We wanted to repay the favor. It's not always about something more than baseball, but this time it was."
A minute after the deadline, Hinch's phone buzzed. He read the text from Luhnow and, without saying a word, turned the phone toward Erin.
WE GOT HIM, it said.
AUG. 26, ANAHEIM, 4 P.M.
As the storm continues battering Houston, the Astros are 1,500 miles away, trapped in Anaheim. Hinch glances in the clubhouse and sees Jose Altuve, his second baseman and American League MVP front-runner, staring at the Weather Channel.
Altuve's wife, Nina, made the trip to Anaheim, but the couple's infant daughter, Melanie, is back in Houston with family. A few minutes pass, Altuve watching the radar, its purple and red and orange blobs pouring 50-plus inches of rain onto Houston and everywhere around it. Nearly broken, Altuve walks over to Hinch.
"How long am I going to have to play like this?" he asks.
No one knows. The next day, they finish out a 2-1 series against the Angels, but catastrophic flooding prevents an immediate return home. Instead, the Astros fly to Dallas, where they wait for word on where they'll play the Rangers. They're only 240 miles away and they can feel it. As time wears on, the Astros begin considering something along the lines of a humanitarian-driven clubhouse mutiny.
"There's just such a detachment and isolation from what had actually happened," pitcher Charlie Morton says. "You feel guilty that you weren't there to do something."
Altuve, Morton, pitcher Luke Gregerson and others begin planning a mission to reach their stranded families. Renting a helicopter is discussed. There is also talk of buying inflatable rafts in Dallas, packing them into rental cars and driving as far south as they can get before ditching the cars for dinghies.
Once word begins trickling back in that Melanie and others are safe and dry, for the most part, the plans are put on hold. But not the guilt. That remains.
---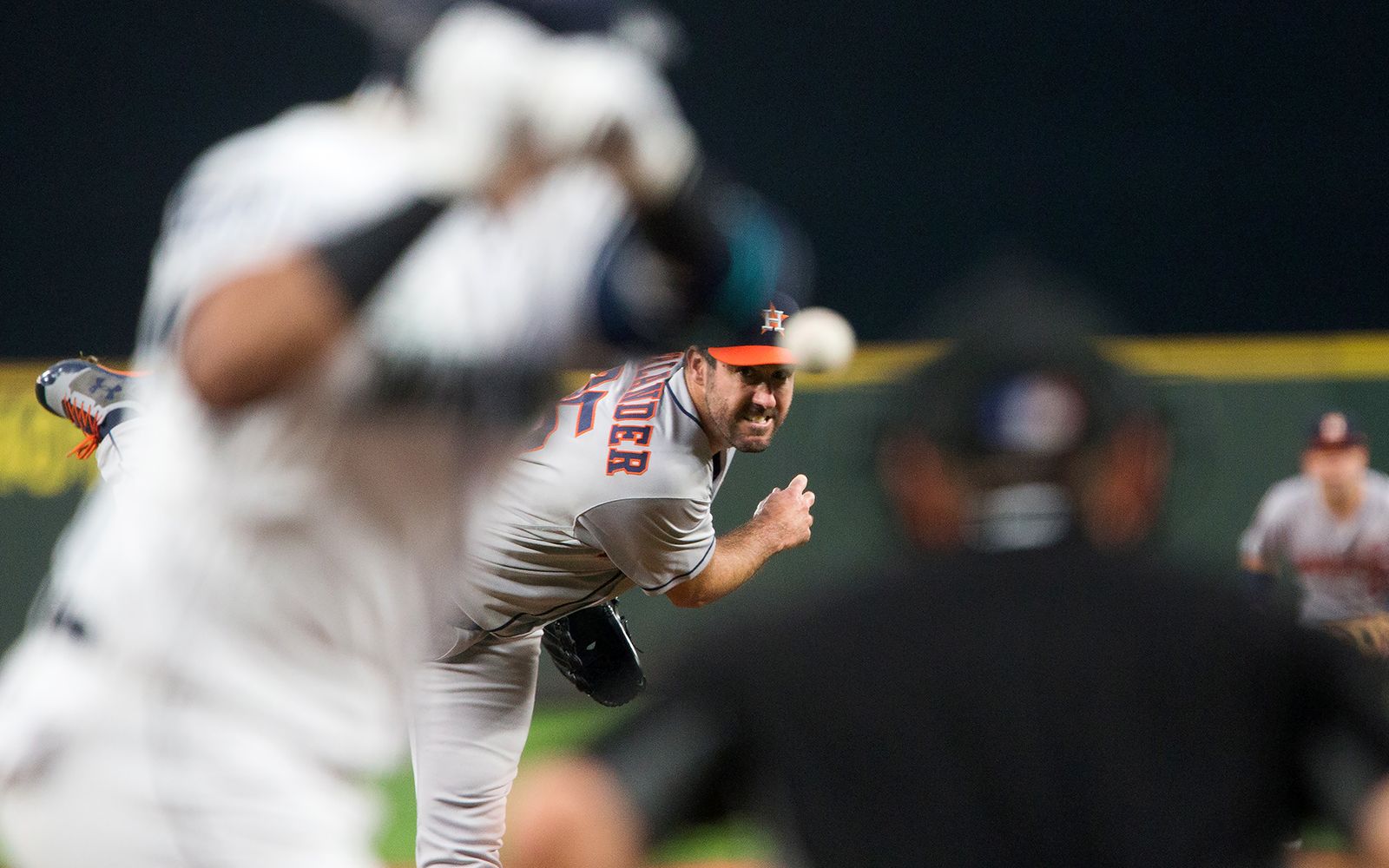 AFTER 13 YEARS in Detroit, Verlander cleaned out his locker in Comerica Park and sneaked down the dugout tunnel to hug a few of his former teammates.
Says Verlander: "Someone says, 'Hey, you got 30 to 35 minutes to decide if you want to move somewhere else, you don't know anybody, don't know anything about it -- go.' That's a tough decision to make. The emotion of it subsided. The excitement started the next morning when I woke up thinking, 'All right, I'm going to a playoff atmosphere, this is what we play this game for.' This is the start of a new journey for me."
Verlander landed in Houston on Sept. 2, the first day of the Astros' emotional return to Minute Maid Park and their series against the Mets. He arrived at the stadium just in time to join the postgame handshake line. After the game, he threw his first bullpen session under the watchful eye of several Astros coaches and longtime bullpen security chief Kurt Rogers, a 37-year veteran of the Houston Police Department, fresh off a grueling stretch of hurricane relief duties.
Since the deal, Hinch's friends across the league had been texting their hot takes and scouting reports. Great guy. Huge competitor. Gets stronger as the outings go. And his favorite: Dude's an animal! As a former catcher, Hinch was eager to pick Verlander's brain, to quickly establish expectations and trust with his new ace and gauge for himself whether the losing in Detroit had dampened Verlander's legendary competitive fire.
For most of the second game of the Mets doubleheader, Hinch and Verlander sat together on the Astros' bench, getting acquainted through the common language of baseball. Hinch mentioned his philosophy regarding pitching around batters. It creates a lot of mistakes, he said. It takes you out of your rhythm. Forces you to be too careful. It's all downside.
He turned to Verlander. What do you think?
Verlander agreed. In 13 seasons, pitching well over 2,500 innings, he'd never thrown around a batter. The response left Hinch giddy, counting the minutes until Verlander's Astros debut in Seattle.
You could feel the optimism spreading among the fans in Houston too. "The same people who'd been affected so personally by the storm and worried about the cleanup, all of a sudden the tone changed, and for a short period of time we gave them something completely different to think about and get excited about, and it's only continued from there," Luhnow says. "We are in full go-for-it mode now. And there's another chapter to be written with this team -- in October."
AUG. 28, HOUSTON, 2 A.M.
For about 20 hours a day for four straight days, bullpen security chief Kurt Rogers drives Houston first responders through floodwaters in a massive white dump truck. It's the height of the storm.
Trapped at the station but unwilling to stop their rescue operations, most of his crew have worked in the same wet clothes and boots with little to eat during their entire 96-hour stretch. Rogers keeps working even after his own home in Friendswood, some 20 miles southeast of downtown Houston, is flooded up to the second floor, trapping his wife, Vicki. He keeps driving into the storm even after, he says, a looter shoots out the windows of one of his unit's police cruisers.
Late Sunday, or early Monday, the days remain a blur, Rogers and fellow police officers wade through chin-high floodwaters to save dozens of people from a stranded Ryder truck.
Rogers' arms are dotted by red welts from his extended exposure to floodwater. But he's one of the few sergeants with a commercial driver's license, and the snorkel exhaust on his dump truck allows him to drive into 4 feet of water.
In the middle of his biggest evacuation, the floodwater starts rising so rapidly, he screams at his deputies to hurry or they'll all be underwater, or worse. "We gotta go, we gotta go!" he yells out the window as brown sludge engulfs the cab of his truck.
None of the first responders budges. They know the last several evacuees are infants. "The water is up to their chins and there's a strong current," the silver-haired Rogers will say later. "If you fall or stumble and drop that infant into the water -- it's dirty, it's dark, they're gone. You'll never find them."
---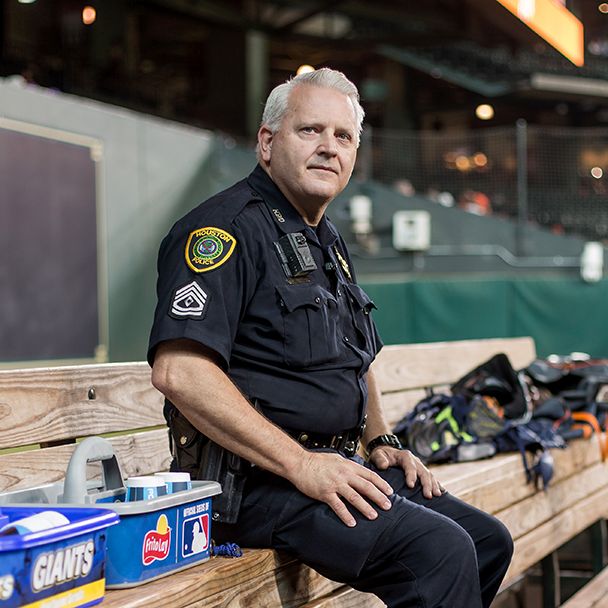 AT 5-FOOT-6, Jose Altuve was once sent home from a tryout in Maracay, Venezuela, because team personnel didn't believe he was actually 16. On Sept. 5 in Seattle, though, when the clubhouse TV showed Hurricane Irma bearing down on Puerto Rico, Altuve's stature provided something of a momentary reprieve. He curled up sideways and practically disappeared into the back of his clubhouse stall, blocking out any more news about natural disasters for a few precious minutes before the game. Outfielder Jake Marisnick, 6-4, contorted his frame to join him. "Not sure we can handle much more from Mother Nature," Keuchel says. "She's thrown a lot at us in a short amount of time."
Across northwest Washington, wildfires raged in the Columbia River Gorge, giving the sky above the Mariners' Safeco Field the opaque feel of nuclear winter. Tiny bits of ash fluttered down like snowflakes. It was apocalyptic. It also happened to be Bark in the Park night in Seattle, which means the howl of hounds occasionally echoed across the field.
The Astros had a plan to fight back, though. Verlander was taking the field for his first start as an Astro. He'd fully embraced his role helping the team and Houston recover from a natural disaster -- he just never dreamed he'd have to actually pitch through one in Seattle too.
Early on, he battled through Opening Day-like nerves and command issues with his curveball. With the scored tied 1-1 in the sixth, Seattle's Robinson Cano drilled him in the right wrist with a 103½ mph line drive. Cano's infield single was followed by a base hit by Nelson Cruz. Verlander scowled, then threw a single test pitch. He dug deeper, forcing the next batter to ground into a double play before freezing poor rookie Mitch Haniger with a nasty 99 mph fastball to kill the rally. It was, remarkably, his fastest pitch of the night.
"That sixth inning was worth the price of admission," Hinch says after the 3-1 win. Houston won six games in a row after the Verlander trade.
"We've got reinforcements, and now we're going all-in," Keuchel says. "That's how everyone in the clubhouse reacted to the deal. We're gonna do this thing. We're all-in for the next couple of years, and our window to win [a World Series] is wide open."
In his debut, Verlander had battled through pain, a blazing wildfire and the pressure of delivering on the high hopes of hurricane victims back in Texas.
He had already become, in every way, a Houstonian.
More From Doubletruck
Doubletruck is the home for ESPN storytelling, a splace to find great features, investigations and character portraits. Doubletruck home »
When there is no tomorrow
In watching the Indians on their historic streak, it became clear the most remarkable thing about the team wasn't the wins.
This story was originally published on Sept. 19, 2017 and appears in ESPN The Magazine's Oct. 2 MLB Playoffs issue.
The Cleveland Indians, return home in the middle of the night, winners of 15 straight and counting, and the feeling on the plane is something like an army or a rock band marching across a continent, exhausted but connected on a soul level: brothers in arms. The next day, the players head back into work. A light breeze blows across the stadium's empty concourses, which smell like popcorn and butter. They haven't lost in two weeks, pounding down the season's backstretch, playoff-bound. Their manager, Terry Francona, makes the two-block trip from home on his scooter, waving at cops and other working men. In the clubhouse, he swims to help the circulation in his injury-ravaged legs. He had heart surgery two months ago and missed only six games, the son of a pro ballplayer and the father of a combat-hardened Marine.
---
An old security guard named Bill, who brought his lunch in a plastic sandwich bag, sits outside the clubhouse. A sign on the doors says PRIVATE. It specifies no wives, no agents, no attorneys, just "immediate male family members" -- listing as appropriate fathers and grandfathers, brothers and sons. Nothing in pro sports is quite like a baseball clubhouse. Not merely a place for dressing and undressing, it's a shadow opponent -- more akin to a golf course than a football locker room. Individual games might be won or lost on the field, but seasons are won or lost in the endless hours between, 162 games in 183 days, the grind itself as difficult as any other physical aspect of the sport. Ballplayers are famous for superstitions and hardwired routines, for talking to bats and pissing on their hands, for destroying coolers and screaming at reporters and at each other. All those things are outward reflections of the inner anxiety that grows day by day, series by series. They often publicly mock their fragile attempts to impose order on chaos, whistling past the graveyard of broken baseball dreams.
This brings us to the shrine in the back left corner of the Indians' clubhouse.
The centerpiece is a large statue of Jobu, the Voodoo god from the movie Major League, which is of course about a winning streak. It's evolved over the past two seasons to include the main Jobu plus three smaller satellite Jobus. Two cigars rest beneath the large idol, and another stands upright in a shot glass. Someone has left an offering of Yves Saint Laurent cologne. A fan has sent in a potato; they've dutifully put it on the altar, which is actually just a plastic office cabinet. Now the potato is sprouting. It's a little gross. There's an incense holder that says "Party at Napoli's House" and a package of incense. There are three airplane bottles of Bacardi and, standing sentry on either side of the centerpiece statue, two fifths of Jobu brand rum, which is actually a thing.
"Very bad to touch Jobu's rum," says two-time All-Star Jason Kipnis.
The shrine is clever, a pop culture reference, mocking the very idea of a streak, even a meta commentary on the premise that a group of guys can put aside differences in pursuit of a common goal. It's clearly a joke, right? Well, of course it is, because what kind of crazy person creates an altar for a pagan movie god? Except ... a local television station wasn't allowed to film it. Freshly back from an 11-day road trip, Kipnis looks down and sees a yellow Post-it note with a carefully drawn henna-tattoo-looking design, left without explanation, an offering to whatever fickle forces control baseball streaks. The drawing wasn't there when they left town.
He smiles.
"This is new," he says.
---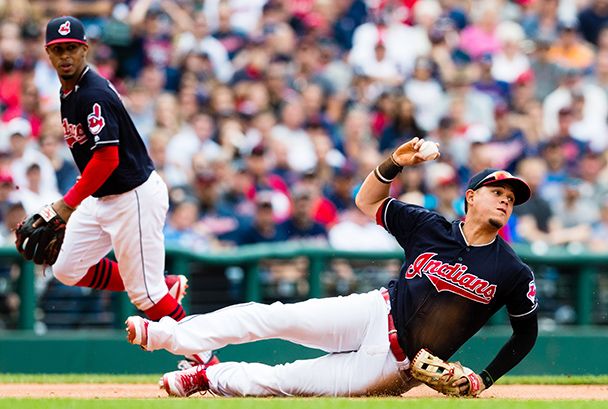 The Indians win seven more before losing to the Royals, setting a record of 22 straight victories, passing such teams as the 1947 Yankees and the 1935 Cubs. For the players, the streak doesn't feel like an assault on history. They live the same mundane day over and over again. They come in early and do their work, studying film and reading scouting reports, stretching and lifting weights. In between, in lieu of talking about the streak, they engage in the activity ballplayers do best.
They kill time.
The days blur into one long endless day, with three hours of baseball thrown in, before the players return to the clubhouse once again. At lockers to the left of Jobu, two players work out a fantasy football trade. The newly called-up rookies try to find the kitchen. Other guys pass the time with dominoes or cards. A hand of solitaire sits half-played on a table. Catcher Roberto Perez engages in an epic Mario Kart battle with one of the clubhouse attendants, known affectionately as clubbies. Perez screams and laughs -- "That was a good one" -- when he clips him at the finish to win. Perez's son, wearing his dad's number and eyeblack, toddles around the room. When he rounds a corner and sees his father sitting at his locker, the kid dashes across the room. They hold hands leaving the clubhouse.
The Indians win on Friday -- 16 in a row.
Decks of cards and cribbage boards are scattered around. Francona hosts a daily cribbage battle in his office, perhaps the only manager in baseball to play cards with his players. The Indians love the old-fashioned game, which is also wildly popular in the wardrooms of American submarines. That's fitting. A clubhouse really does feel a lot like living on a warship or a tour bus. The world moves past at a million miles an hour, but in the bubble, they're still and isolated. Little ever changes. Seventy years ago, Joe DiMaggio faithfully ordered half a cup of coffee from a Yankees clubbie; he did it his entire career, including the 19-game win streak he and his teammates ran off in 1947. There's not much difference between that world and the one the Indians occupy now. The ballplayer family lives by the same hand-me-down codes.
They win on Saturday: 17.
Rookie outfielder Greg Allen gets called up on Sept. 1 and meets the Indians in Detroit; he phones his father, who's been suffering from a bad back, and slips in the news. Allen smiles big and makes plans to send his parents the ball from his first hit. In his new life as a pro, he's stayed quiet, watching the veterans, trying to figure out the food chain and his place in it. On his second day in Cleveland, between wins 15 and 16, he politely asks a clubbie where he might park his car instead of paying the expensive daily valet rate at the hotel where he's staying.
"You can always leave it in the players' lot and walk over," the guy says.
"OK, OK," Allen says, thankful.
The winning streak is longer than his entire big league career.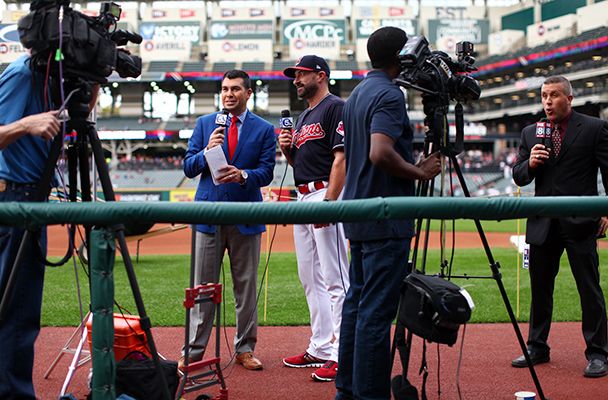 They win on Sunday: 18 and counting.
Joe Smith and Cody Allen arrange car rentals with the traveling secretary for an upcoming road trip to California; they plan to play golf on an off-day. Earlier, they bought two rodeo bucking bulls along with Bryan Shaw. Shaw goes online and buys a signed Ted Williams baseball. Now a steady stream of boxes arrives daily. Rising star Francisco Lindor buys everyone matching oversized blue plush robes with their name and number on the back. Pitcher Mike Clevinger gets himself an embroidered denim jacket like something found in a 1970s Laurel Canyon time capsule.
Josh Tomlin and Cody Allen wear matching ostrich skin cowboy boots.
"He bought his after mine," Cody says, defending himself.
They win on Monday: 19.
Tomlin and Smith argue about who throws harder. They crowd around a website called Baseball Savant. Smith points at a stat called perceived velocity.
"I'll dominate in that," he says.
"I bet you don't dominate me in that," Tomlin fires back.
They call up the fastest single pitch.
"I've thrown a pitch harder than you!" Tomlin says triumphantly. "That means I can throw harder than you!"
"Nononononono," Smith says.
"I gotta do some s---," Tomlin says, as they both laugh. "I ain't got time to Mickey Mouse bulls--- with you."
They win on Tuesday, No. 20, behind a shutout from ace Corey Kluber.
Kluber has a reputation as a baseball robot, but in the clubhouse, the hilarious Tomlin makes Kluber laugh, which might be why their lockers are side by side.
They consolidate two half-full Copenhagen cans into one. They try on shoes.
They drink lots and lots of Muscle Milk.
Andrew Miller pulls up the online security cameras from his home in Florida to monitor the damage from Hurricane Irma. He switches a television to the Weather Channel. He checks on his mother, who'd evacuated from the east coast of Florida to his house in Tampa, then evacuated again to Gainesville. As the storm closes in, he thinks about his World Series ring and his collection of jerseys in the house. Craig Breslow walks past and sees the images from Naples, where he lives, and recognizes the street in the shot, scarily close to his home. Miller worries about his ring.
"Where's yours?" he asks.
"Boston," Breslow says.
The Indians win Wednesday: No. 21, breaking the AL record.
Inside their underground home, on the lower level of the stadium -- LL on the elevator button -- they argue and encourage each other. At one point, closer Cody Allen leans over to congratulate starter Trevor Bauer. They've lived shoulder to shoulder for months. Bauer loves physics and advanced analytics, and Allen loves belt buckles and rodeo bulls. They couldn't be more different, but in this room they understand the most important things about each other. That's a clubhouse.
"Great job, Trevor," Allen says. "You were amazing."
They talk to their families on the phone. They work crossword puzzles. They talk packing philosophy for a long road trip.
"One pair of jeans," Allen says.
"One pair of jeans!?" Joe Smith says, laughing.
"I'm in 'em for two hours a day!" Allen replies.
The Indians win on Thursday, No. 22, the most consecutive wins in baseball history. (Only the 1916 New York Giants went more games without losing, 26, with one tie.) Afterward, they do what they've done all year. They check the schedule on the wall to find out what to do next. That's the nerve center of the clubhouse, the three dry-erase boards that tell the players where to be and when. Every day it lists stretching, batting practice, national anthem and first pitch, along with any special events. The schedule keeps them from drifting into the future or lingering in the past.
Yoga is at 2. Chapel is at 3:30. The barber is in.
---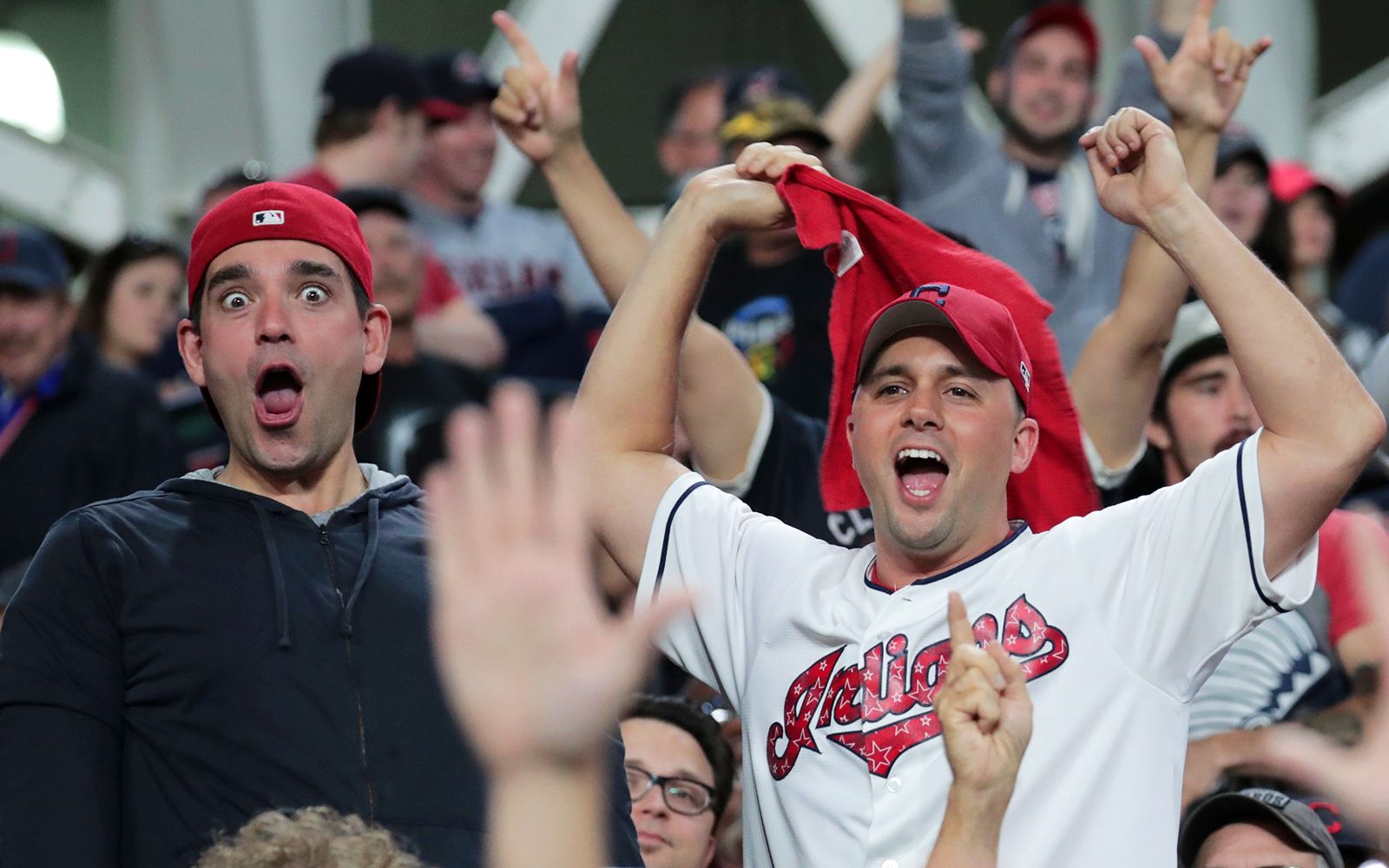 THE INDIANS DO all these things and more, but what they do not do, except under the duress of direct questioning, is talk about the streak, at least while it's happening.
"The mindset really isn't on the winning streak," Greg Allen says.
"We're not wrapped up in it," Kluber says.
"We're not talking about it as much as you guys are," Cody Allen says.
Everyone else certainly talks about it. Some analysts call it the most dominant stretch of baseball ever played. Led by Edwin Encarnacion and Carlos Santana, Cleveland hits more home runs than its opponents score runs. Kluber and Carlos Carrasco lead the pitching staff to an ERA under 2.00. Their run differential across the 22 wins is greater than their run differential for all of last season -- and that team won the pennant.
They sweep the Orioles and the Tigers.
They steadfastly say they aren't that concerned with the record.
"We haven't talked about it at all," Kluber says.
"We're playing good baseball," outfielder Jay Bruce says.
Ballplayers are always concerned about anything that might upset the delicate equilibrium they have constructed one routine day after another. Only the rare team can be like the 2017 Indians; nearly every other team would let the streak consume them, including last year's Indians. One of the players quotes a former Cleveland coach, Scott Radinsky, who pitched in the big leagues and fronted an underground but important punk band, a kind of free spirit who allows a clubhouse to function, to balance the prima donnas and the insane.
He always said he wanted to play with the kind of men he could lose with.
The same idea applies to winning.
"Success will mess with you," Bauer says. "Sometimes you get, 'I can skip this because I'm good.' It takes a lot of mental discipline to stick with it regardless of outcome."
The Indians say the streak brings lightness and air to the room. But they refuse to chase it, or revel in it, or pretend that it has its own meaning or value, other than getting them back to the postseason, where they came up one run short a year ago.
A streak brings attention and pressure, which continue to exist after the spark that creates it is extinguished. So they've spent six months in present tense, taking cues from their manager, who conducts 22 postgame news conferences while sidestepping and tap-dancing and refusing to say the streak carries any significance. "That's why Tito is so good at what he does," Allen says after a win, as Pitt and Penn State play on a television near his locker. "Regardless of if we won 10 in a row or lost eight in a row, he's the same guy."
---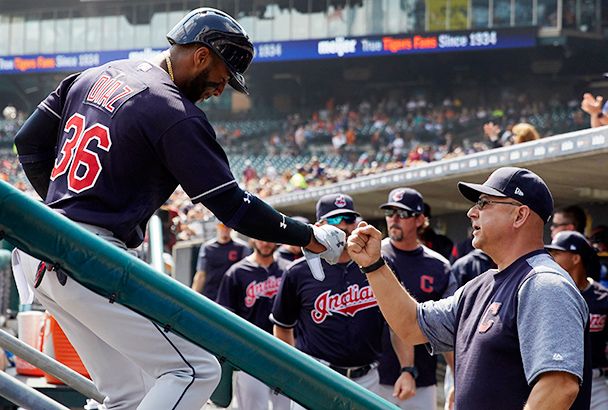 DOWN THE HALL, Francona sits in his office behind a huge framed picture of himself as a child, in the Indians dugout with his dad. He is, perhaps more than anyone else in the game, a creation of this weird, subterranean clubhouse world. "I'm probably more comfortable here than I am anywhere," he says, gesturing around at the concrete walls. "I think I have an advantage because I grew up here."
Some of his earliest memories are from clubhouses.
His father, the original Tito Francona, played for nine teams, including six seasons with Cleveland. Young Terry once walked across a field before a game to shake Ted Williams' hand. "Mr. Williams," he said, "I'm Mr. Francona's son, and he wanted me to come over and say hello."
Williams grinned at the boy.
"Well, you are a great-looking kid!" he replied. "Now I want to know one thing, young man. Can you hit?"
Francona saw how his father's friends treated each other and the game, and every lesson he got about how a man behaved was taught by ballplayers. His humor, his ethics, his personal code -- all shaped inside a stadium. As an 11-year-old, Francona got to go with his dad on a three-city road trip, through Minnesota, Chicago and Kansas City, riding the planes and buses, hearing the dirty jokes and lining his pockets with free clubhouse candy. His mom sent him off with combed hair and a sport coat and got back a road-busted mess of a kid, who loved every minute.
"It was probably the 10 funnest days of my life," Francona says during the streak.
So he's been happy these past weeks, not because he's managing a team into the history books but because he's been at a baseball stadium. Sitting in his office, which was exactly 68 degrees, he brings up something his old boss Theo Epstein once said about him. "He loves the game," Epstein told Boston Globe baseball writer Dan Shaughnessy. "He physically loves the clubhouse. Emotionally, I think he loves to let go of the outside world. Some people compartmentalize the job. Tito compartmentalizes the real world and throws himself into the clubhouse. He loves every aspect of the clubhouse."
Francona smiles at the insight.
"I remember when I read that," Francona says. "I was like, damn. I obviously know Theo was smart, but if I was going to be candid, that's pretty damned close. To me, this is probably my real world. I admit that."
The clubhouse cost him a marriage and his health, and he can't count the nights he's spent on a couch in a stadium, curled up beneath a blanket, alone. In his office in Cleveland, there's a red and blue Indians-colored afghan that clearly looks as if it's for more than decoration. Most days, he gets to his office early, not because he's a hard worker, he says, but because he feels at home. Watching a stadium wake up makes him happy. Sitting in an empty cathedral like Fenway or Wrigley calms him; the present and past combine, the things he sees and the things he remembers washing over him together. He liked the way the boards creaked at the old Yankee Stadium because Babe Ruth probably heard that same noise. Even now, he enjoys hotel lobbies, because he'd hang out there when visiting his dad on the road, giving his old man space to sleep in and get ready for the game.
He will, when asked, cop to at least one superstition.
There's a friend, whom he has nicknamed Gray Cloud, who's always brought bad luck.
"I will not talk to him," Francona says. "He is text only. He's cost me one job, he's not getting in the way again."
Simplicity is the primary goal when he's constructing his existence. In Boston, he even spent most seasons living in a hotel. For Francona, every day is the same, down to the number of water bottles he lines up in the dugout, and the hourlong swim he takes and the cribbage game he organizes. "I have a car here that I use about three times a year," he says. "I got a little moped. I take it everywhere downtown. I know all the police. It's Cleveland. After games, I'll go down the one-way and they're like, 'Hey, good game.'"
He points out his office door.
"It's parked right here in the hallway."
He played 10 seasons in the big leagues and jokes to his players about what a lousy career he had. But he played through severe injury and pain, a grinder who understands the hopes all players bring with them into the clubhouse. He understands doubt and fear and ego and swagger, and what internal problem each of those things is an attempt to solve. During the streak, as more reporters arrive every day in the small interview room to talk about the streak, he's more interested in finding out why the Browns released Pro Bowler Joe Haden, refusing to engage in record-chasing narratives, talking about how a season is fluid and how only today exists. He smiles and sighs when people keep asking questions, as if they think he's spinning them and not living by the codes he internalized as a boy.
---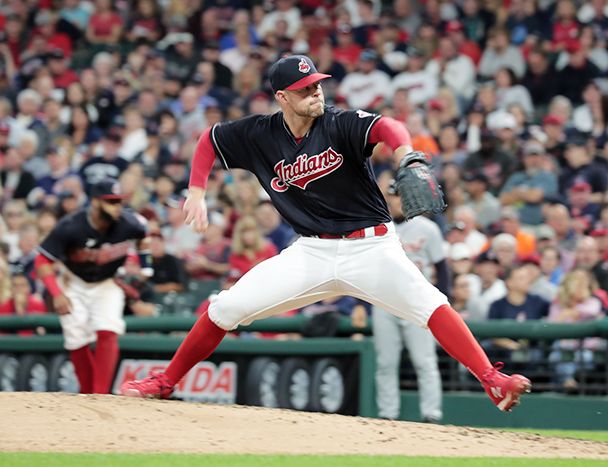 THE STREAK WILL mean nothing come October. A year ago, the Indians took 14 in a row, rolling through opponents, and they still came up a game short in the World Series. That Game 7 loss influenced many things about this season, including the 22 games the team just won. Kipnis, the clubhouse monk in charge of Jobu, took the World Series loss harder than most.
"A lot of things got smashed," he says.
He pauses a beat.
"I was one of them."
In the ninth inning of Game 7, he launched a ball down the right-field line that just went foul. Standing in front of his locker, he says he's watched that replay a lot. "Fraction of an inch," he says, then demonstrating with his hand the slight bat angle that would have changed their lives. His hand doesn't seem to move at all. It's a tiny difference. "The following month you're at home in your boxers eating pizza," he says, "and you're watching Rizzo and Bryant on late-night television and on SNL and you're like, the fork in the road."
When baseball people look at the Indians, other than wondering what kind of analytics the team uses to help its pitchers scout opponents, that is what they talk about. How did the team not let last year's close call derail this season before it even began?
That's Francona.
At the beginning of the season, the team did suffer from a hangover. Kluber says the starters were slow and sluggish. Kipnis says the games didn't seem to matter as much. Francona called a rare meeting early in the summer, feeling his team caught in the back draft of last season, not living day to day, breaking the code. The players say things turned around after that, and the winning streak is the clearest and most outward example. There are others.
Last year's streak took on meaning and affected the clubhouse dynamic in small but real ways. If the music wasn't on in the clubhouse, someone would say something. Winning changed the mood in the room, and by the time it ended in Toronto, that's all they could think about.
"That's been the most impressive thing about this streak," Bauer says. "You come to the field and it doesn't feel like we have a winning streak going. We had a streak last year, and the intensity ramped up and then it got to the point where it just caught up to us. This year it feels completely different."
Bauer's been watching Francona closely and thinks Tito's life growing up in clubhouses, and the decades of experience in them as an adult, has built up this almost sixth sense about the subtle interpersonal dynamics some managers don't even know exist.
"He's in tune with how this environment works," Bauer says. "He gets here, and something might seem off. Before anyone is even at the field, he's aware that something is off. Or something is on. Or something is different. He doesn't realize he's picking it up. It's just his sense for it. It's flow state. It occurs to him, and he doesn't even realize it."
No team has won as many games in a row as the 2017 Cleveland Indians, which is not how they want this season remembered. Last October left them longing to feel that joy and stress again, and they have almost made it through a long 183 days.
The streak ending is almost a relief because now the real business can begin.
The postseason is less than a month away.
"You're like ..." Kipnis says, and then he inhales deeply, like someone stepping out into the fresh air for the first time, "... we're back. You can see how we're playing. The team's been waiting for it. You see us getting close to it, and we're almost back there again."
More From Doubletruck
Doubletruck is the home for ESPN storytelling, a space to find great features, investigations and character portraits. Doubletruck home »