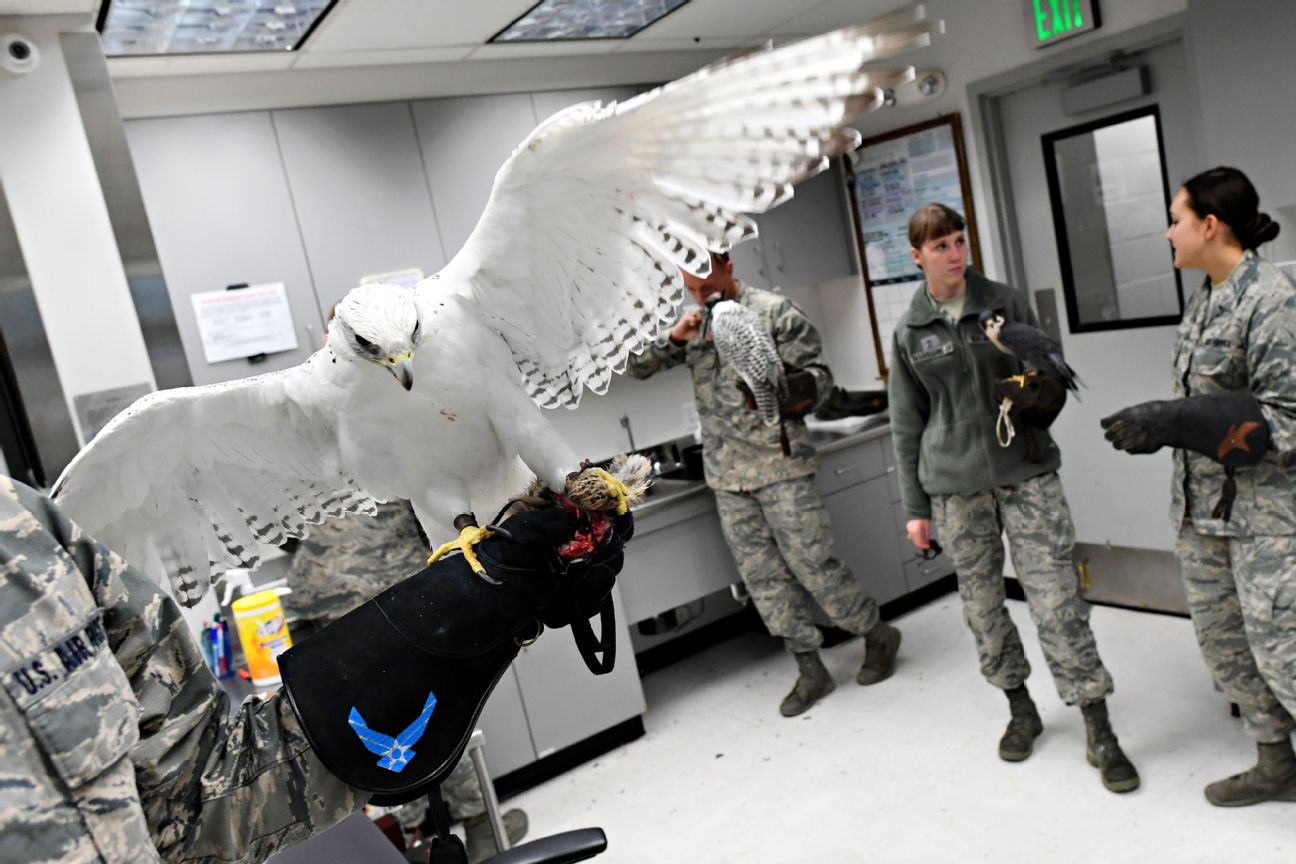 The Secret Life of Live Mascots
Uga, Bevo and Rameses are all household names to many college football faithful. See what life is like off the field for these living symbols of school pride.
Since 1892, when a Yale student showed up at a sporting event with his pet bulldog, Handsome Dan, collegiate sidelines have been like Disney's Animal Kingdom, crawling with critters big and small, chosen to represent their school's very literal spirit animal. In the days before such acts became (thankfully) more regulated, football teams shared the field with actual bears and cougars, led around loosely with little more than leashes of rope.

"When I played at Houston, ol' Shasta the cougar, he'd be right there on the sideline with a rope around his neck, looking very unhappy about it," James Mayfield, father of Oklahoma quarterback Baker Mayfield and himself a former Houston backup QB, recalled over the summer, sounding like Ricky Bobby not wanting to get in his father's race car. "Thank goodness someone eventually said, 'Hey, you know, this feels like a bad idea, doesn't it?'"

Indeed it was, as many schools spent the 1960s and '70s swapping out real animals for students in suits. But the truly iconic beasts of football burden are still on the job every Saturday, from Smokey the bluetick coonhound at Tennessee to Tusk the razorback at Arkansas to Traveler IX, the Arabian horse who leads USC into the Coliseum.

They perform in front of rock star crowds and as a result enjoy the posh perks of living in the spotlight. Don't believe us? Here's a look at the secret life of six of collegiate athletics' archetypal animals.
Texas Longhorns • Bevo XV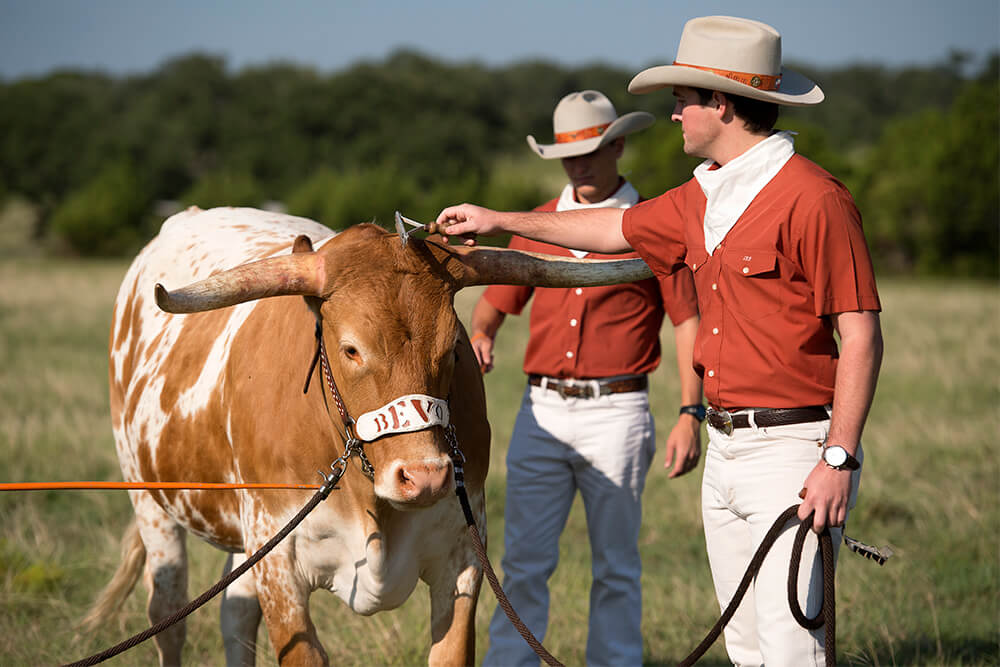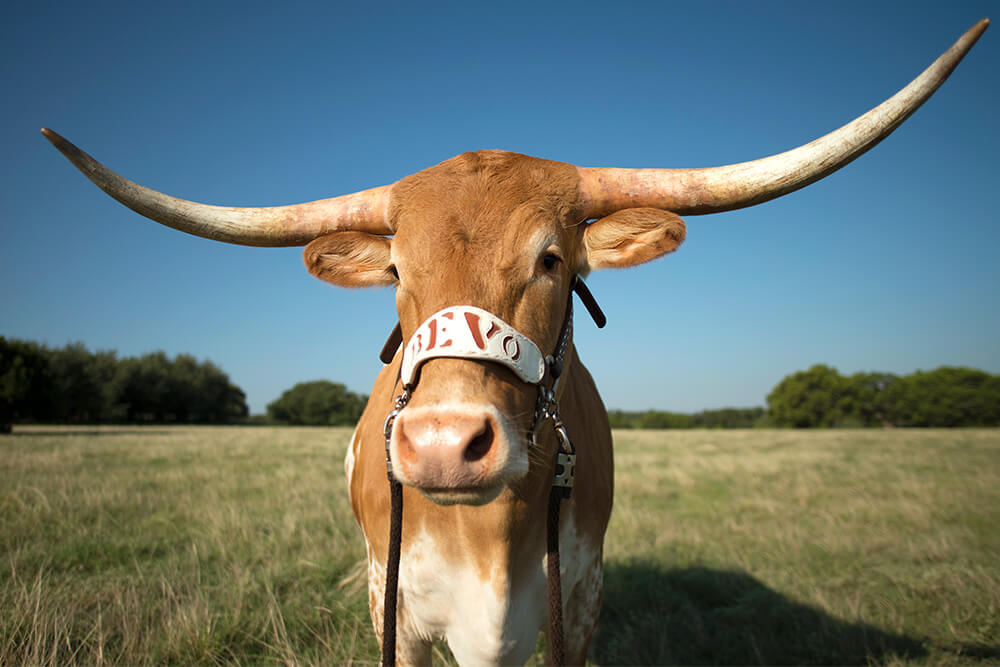 A ranch is located 45 minutes north of Darrell K. Royal-Texas Memorial Stadium, a quiet, grass-fed counter to the 100,000 roaring fans who show up to watch their beloved Texas Longhorns play.

"When you take the job as head coach at the University of Texas, you realize two things real quick," says Mack Brown, who held that job from 1998 to 2013. "1. You will be required to make a lot of appearances, everything from high school coaches conferences to birthday parties of the school's biggest supporters. And 2. Even if you think you're the headliner, if you show up and Bevo is also there, you are merely the opening act. He's the star."

Make that a child star. Bevo XV took over the job in 2016, the centennial celebration of a live longhorn's first game appearance, at the 1916 Texas A&M contest, replacing the previous mascot, a pit bull terrier named Pig. Historically, only steers of some age were considered for the job. But after the heartbreaking death of Bevo XIV, who succumbed to leukemia during the 2015 season, a Texas-wide search led back to the same ranch where beloved XIV had lived. After sifting through hundreds of entries, Sunrise Spur, who'd electrified the longhorn show circuit, was chosen. When he walked into DKR last fall, he was only 19 months old, years younger than any previous UT live mascot.

"He's just a magnificent animal," new Texas head coach Tom Herman says of his sideline companion. "More importantly, he's steady as a rock. There's chaos going on around him, and he's just like, 'Hey, wassup?' I wish I could stay that calm in the middle of all that."

That's no accident. Part of his audition process was to bring the noise to the ranch, from fireworks to band instruments. Even with the booming and blaring, Spur just stood there. And why not be calm? The steer is pampered at the ranch, watched over by John Baker, former president of the Texas Longhorn Breeders Association of America, and his wife, Betty. They also looked after Bevos XIII and XIV, all living alongside a barn turned bed and breakfast. He keeps such a chill profile that overnight guests often have no idea that their stablemate spends his days rolling to 40 to 50 appearances, looked after by a group known as the Silver Spurs, whose sole job is make sure Bevo has the best of everything. He even has a scholarship named in his honor, having already awarded nearly $700,000 to local students.
---
Colorado Buffaloes • Ralphie V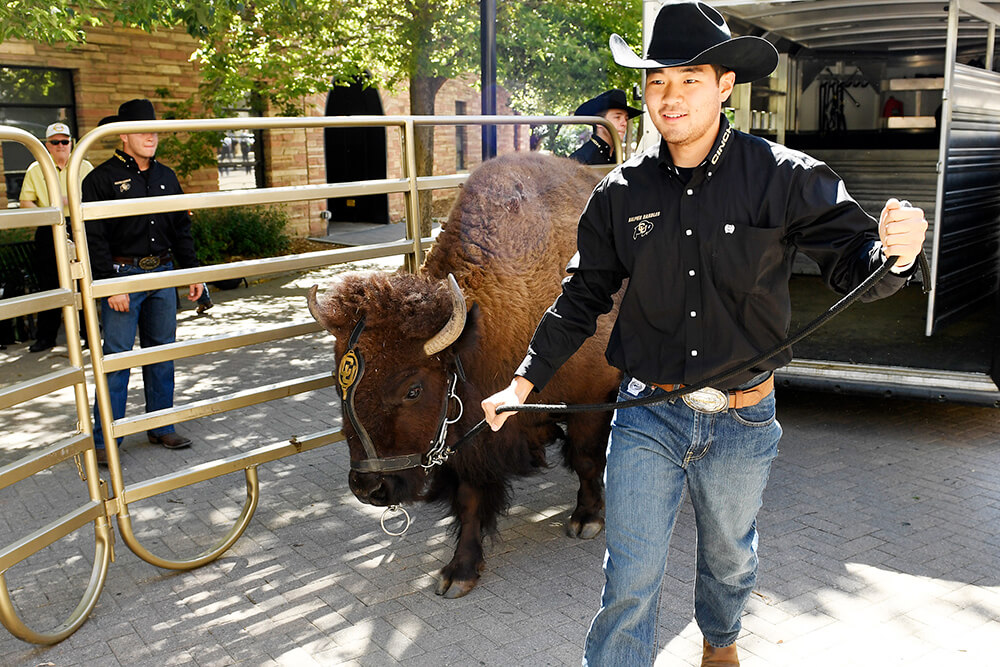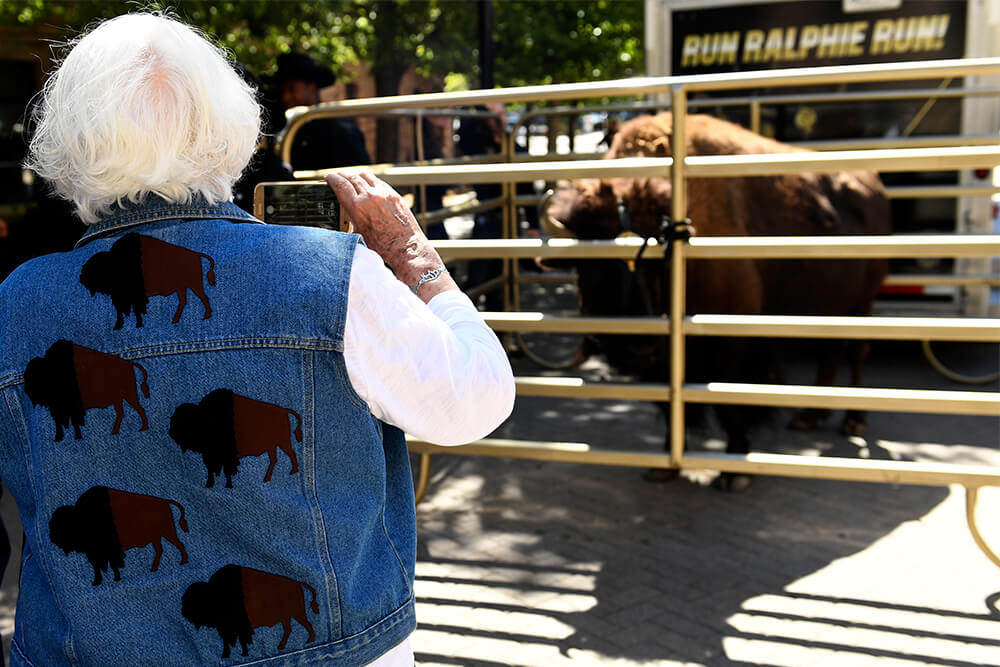 When Bevo made his debut in 2016, he weighed in around 1,100 pounds. That's good for only the second-heaviest live mascot. The biggest load is located somewhere near Boulder, Colorado. Her name -- yes, her -- is Ralphie, and she weighs in at 1,200 pounds. Unlike Bevo, her horns aren't long. And much unlike Bevo, there's nothing docile about her, particularly during pregame ceremonies. That's when she dashes across Folsom Field at speeds up to 25 mph surrounded by a quartet of handlers.

The story goes that in the logistics meeting held the night before the 1990 Orange Bowl, a game between Colorado and Notre Dame with heavy national title implications, everyone in the room was perfectly clear on every detail of the night but one. As the meeting wrapped up, Fighting Irish head coach Lou Holtz stood and shouted, "Wait! How the hell does this work with the buffalo?!" The room laughed. Then everyone realized he was serious.

"Hell no, I wasn't joking," he recalls now. "All I could envision was that gorgeous animal getting loose and running over [Notre Dame quarterback] Tony Rice before we'd even played a down. But when I saw how well it was run, I was amazed. I'm still amazed by it."

Before every dash, Ralphie's handlers describe the just-turned-11-year-old as being like a big puppy dog, wagging her tail and even sticking her tongue out of her black and gold trailer to give them a playful slurp. If she isn't acting hyped before her big moment, they take notice.

"We never make her do anything she doesn't want to," explains John Graves, CU's live mascot program manager. "We all know her very well. She lets us know when she's ready or not ready."

Graves has known her nearly since birth. He was a student handler in 2008, when predecessor Ralphie IV hung up her running hooves. When he started, Graves was taken to the pasture where IV grazed, and he was tasked with cleaning, feeding and shoveling whatever she left behind. Today, dozens of students apply for the half-dozen spots that open each season. A larger group helps with her rehearsals and transportation to the stadium. But no matter one's duties, everyone spends time at the pasture to bond with the Buff.

Just don't bother asking where that pasture is.

This is Ralphie's 50th anniversary season, and for all but the first three, the location of her home has been guarded with secrecy befitting the nearby military installations. You can blame that on, well, the military. In 1970, Ralphie I was abducted by a group of Air Force Academy cadets. Ever since, no unauthorized soul has been allowed to visit. (Not even sportswriters and their photographers.)

By the way, Ralphie's gigs aren't limited to football. The day after CU's close home loss to Arizona earlier this season, Ralphie dashed across the field to support the Buffalo soccer team. Hey, you can see it for yourself via her official Twitter feed, @CUBuffsRalphie.
---
Air Force • Aurora and Ace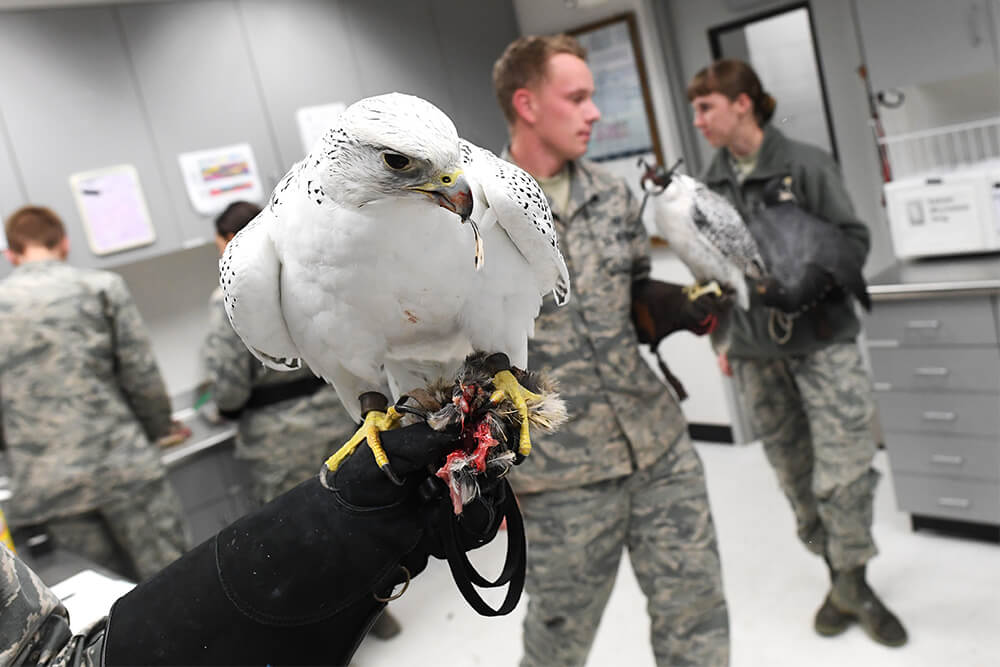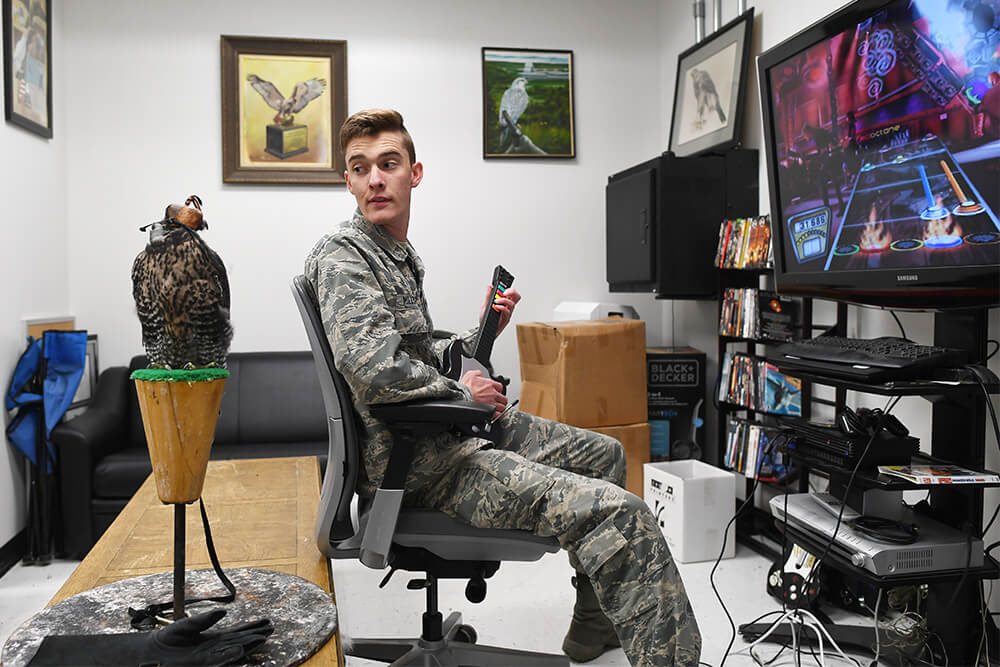 In 1955, the first cadets to enter the Air Force Academy selected the falcon as their mascot because they said the predatory bird hunted with the same skills they hoped to use as pilots. A falcon is, in fact, the only bird that attacks its prey midsky, just like the fighter jets that streak through the skies above Colorado Springs. Capable of reaching speeds of 200 mph, they're nearly as fast as those jets.

In those same skies, albeit at much lower altitudes, cadets learn how to hatch, raise and train rescued falcons through a falconry program run under special permits from Colorado Parks and Wildlife and the U.S. Fish and Wildlife Service. Through a careful process honed since the start of classes in 1974, birds are trained to fly and hunt until they prove they are ready to be released into the wild. Some are sent to educational centers to teach others about birds of prey.

The best of the best, the ones who don't mind people and show a little flamboyance in their hunting tricks, become part of the Air Force mascot program, which boasts a dozen birds watched over by a dozen cadets. A youngster named Ace (bottom photo) handles most of the halftime shows, but for 21 years the feathery face of the program has been Aurora (top photo), the rarest of birds. This isn't a cliché. She is literally one of the rarest of birds, a female white phase Arctic gyrfalcon. Gyrs only make up around 5 percent of the falcon population, with only 3 percent being true white phase. She is all of the above ... and she totally knows it.

"I remember posing for photos with Aurora at the Daytona 500," former NASCAR driver Ricky Rudd recalls. His race car carried Air Force sponsorship during Aurora's early years on the job. "She'd done tricks in front of 150,000 people, and they brought her over. There was 50 photographers lined up, and she just posed. She looked at me like, 'Are you going to stand there or are you gonna turn and face the cameras, dummy.'"

On the Academy's sprawling campus, you can catch falconry students training the newest members of the team. If you look into mountains above the campus, you'll see those birds' cousins gliding around the wild. What keeps Ace and Aurora from bolting for those hills to join them?

"These are very smart animals," cadet Kim Webb said in the summer of 2015, her trainee swooping around her. The rising senior held up her other hand, the one with bits of food in it. She explained that back in the training center, each bird is spoonfed Japanese rock quail. "The eating is pretty good down here."
---
Georgia • Uga X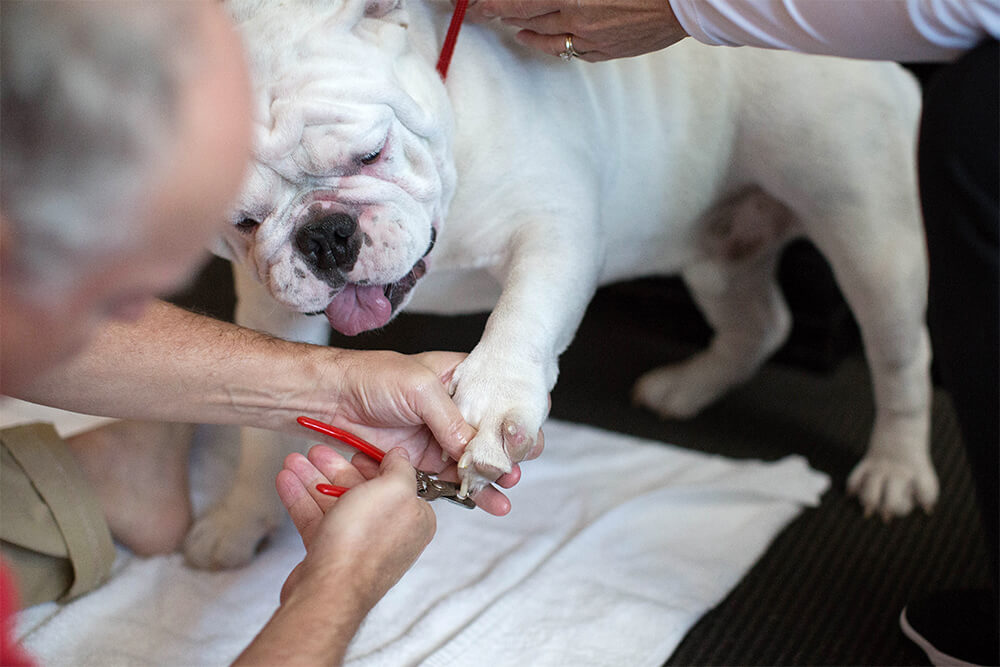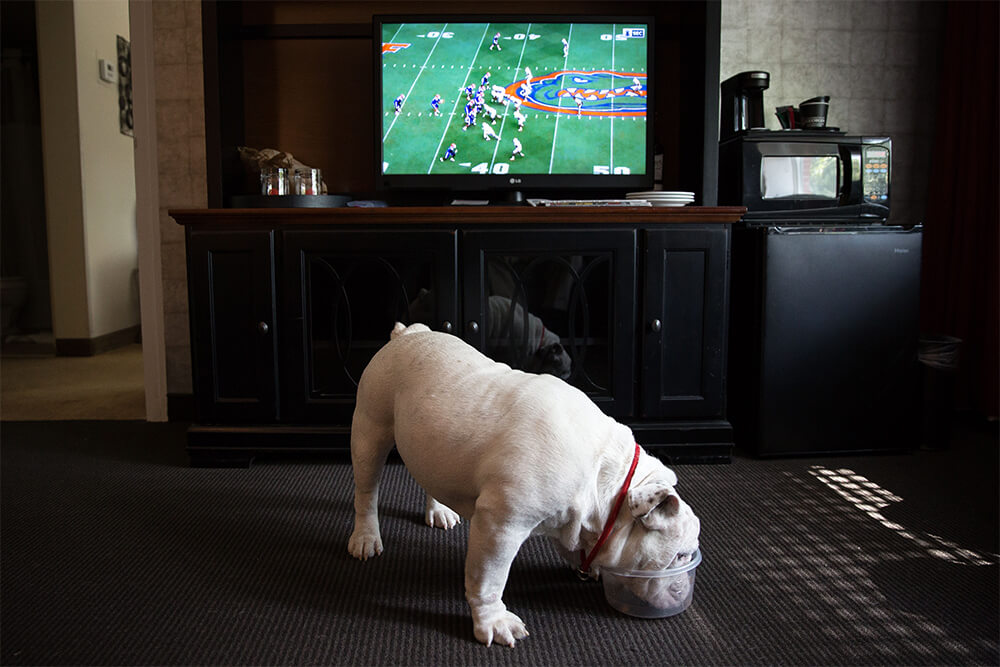 Wake up on game day in a fancy Savannah, Georgia, homestead? Be chauffeured in a tanklike SUV with a personalized license plate? Preferred parking that's basically inside the stadium? Lifetime access to a field-level, air-conditioned luxury box?

This is precisely how Uga X, aka Que, attends every home game at Georgia's Sanford Stadium. The direct descendant of a British bulldog bloodline that dates back to 1956, Uga is carried to games held Between the Hedges by a direct descendant of the man who carried his ancestors. Today, the driver/owner is Charles Seiler. Back in the day, it was his father, trial attorney Sonny Seiler. The dog who became Uga I was a late wedding gift to Sonny and Cecelia from (Georgia fans might want skip this next part) a former boyfriend of Cecelia's who attended Auburn and realized that a Tiger had no use for a bulldog. They named the dog Hood's Ole Dan and began taking him to Athens for home games, continuing a tradition started by four previous bulldogs, owned by three different families. The last of those, Mike, is the bulldog rendered in bronze outside Sanford Stadium.

Over time he became known as Uga (pronounced "Uh-guh"), and his attendance went from novelty to mandatory.

"Growing up, to me he was just our pet," Charles Seiler says of his earliest trips up U.S. Highway 221 from Savannah, then in a station wagon. "But as I got older, I realized how important our pets were to so many people."

Each dawg-gone generation moved the families -- human and canine -- from regional heroes to national celebrities. Uga V, whom you likely remember for lunging at Auburn's Robert Barker in 1996, portrayed his father, Uga IV, in Clint Eastwood's "Midnight in the Garden of Good and Evil." Sonny Seiler, who defended accused murderer Jim Williams in real life, was played by another actor, but Seiler himself played the judge who presided over the trial.

Today, Que & Co. still reside in the Seiler's backyard as Charles works with breeding experts to help future Ugas avoid the health issues long suffered by British bulldogs, from respiratory problems to heart ailments. No matter the cause, whenever a Uga finally departs this mortal coil, he makes one final fancy trip to Athens, to rest for eternity inside a mausoleum by Gate 9 of Sanford Stadium.

"Those funerals are like something you'd see from the memorial service of some head of state," says former head coach Mark Richt, who buried three Ugas during his time at Georgia. "And that's exactly how it should be."
---
LSU • Mike VII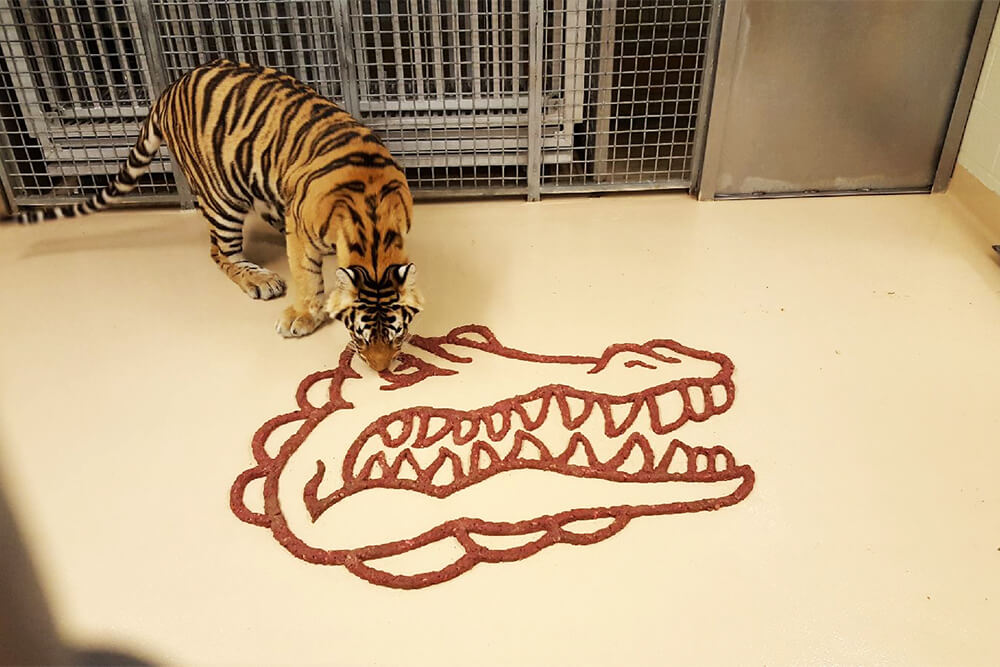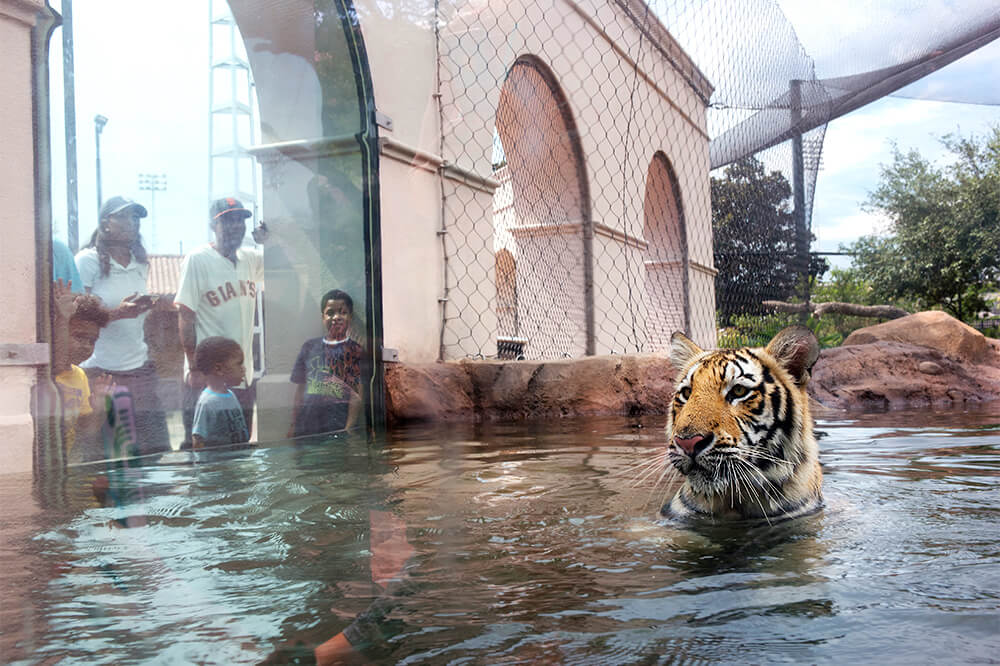 On Aug. 21, the first day of classes for LSU, students were joined by another new Baton Rouge resident. After a week of indoor observation, Harvey, an 11-month-old rescued Bengal-Siberian mix tiger, was given the green light to step out into his outdoor habitat, alongside the stadium named for his species.

His new home is an obvious improvement over the living quarters of his predecessors, who have lived adjacent to Tiger Stadium since 1936. Back then, it was just an old, steel-barred zoo cage. Eventually, those quarters expanded to 400 square feet, still way too small for a 500-pound, 10-foot-long cat. In 1981, his digs grew to 2,000 square feet. One night, Mike IV managed to sneak out and wandered campus until he was spotted, tranquilized and returned. Finally, in 2005, the space grew into its current roomy area of 14,010 square feet, 15,105 if you include the indoor night house.

"What you see now looks like something you'd pay money to see at the San Diego Zoo or something, but it's on a college campus," says former LSU star Leonard Fournette. "I used to check in on Mike. But I saw those old photos of that cage they had and that wooden box they'd use to bring him into the stadium. I probably would've been too scared to go over there then!"

At first glance, the new cat's home looks no different than it did before his arrival. But it's much more comfy than it was when it was occupied by the tiger he replaced, Mike VI, who broke hearts across the South during his fight with cancer one year ago, dying on Oct. 11, 2016. Between occupants, the area where the tigers tend to spend most of their time was covered in synthetic rock, like you might find at Walt Disney World, filled with synthetic fluids that can be warmed in winter and cooled in summer. Harsh, ground-based lights were replaced with softer, LED downlighting, and his air-conditioned night house got new flooring that's easier to grip with his massive paws. The makeover was overseen by LSU's School of Veterinary Medicine in conjunction with zoo habitat constructor Ace Torre, an LSU alumnus. The final bill of $950,000 was covered by the Tiger Athletic Foundation. Now Mike VII and all those who follow him can chill out in peace, posing for photos on their new heated seat while consuming a weekly feast of 140 pounds of vitamin-infused meat logs.

Even with that investment and oversight, to some, that's not enough to justify keeping the animal on campus. Both PETA and the Humane Society have repeatedly criticized how the school obtains its Mikes and for subjecting the animals to stressful conditions

At least some of that stress has been relieved. Those caged-up trips across the parking lot on game days are gone. When Mike VI became ill in 2015, the school suspended his pickup-truck-towed trips around Death Valley and its 100,000 screaming fans. Those laps, to the relief of many, especially the nervous big cat, were the last.
---
UNC Chapel Hill • Rameses XXII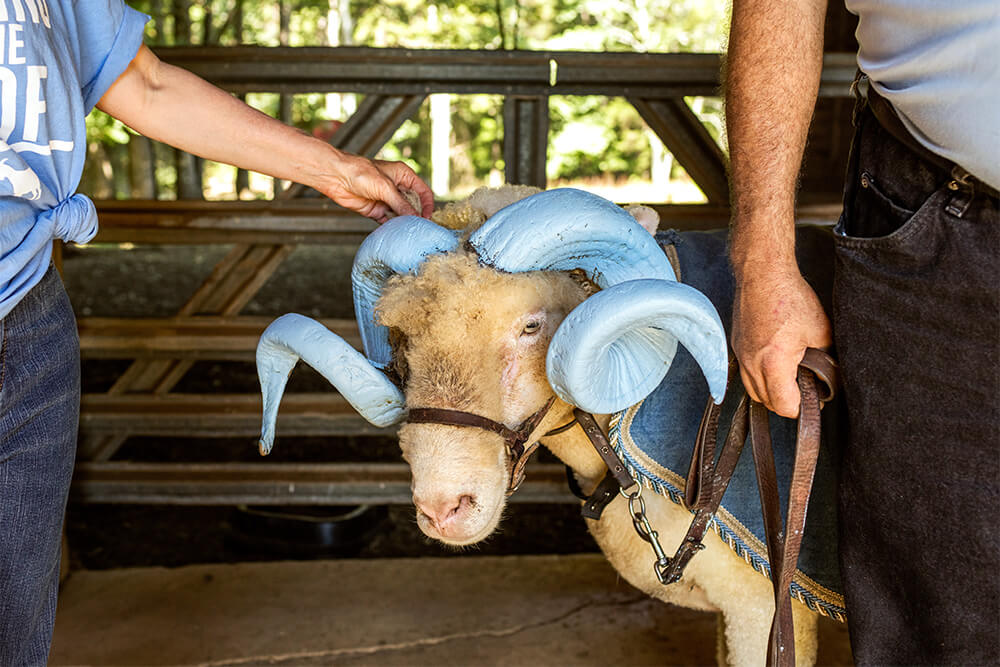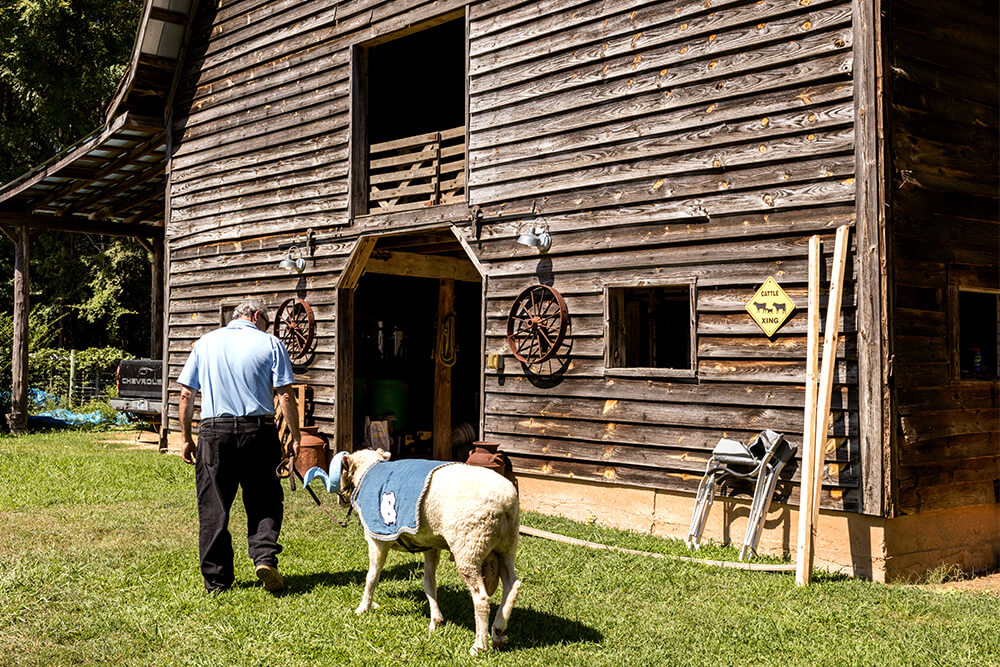 First things first, Rameses has no tar on his heels. He does, however, have red clay, mud and sawdust on his hooves. He picks up those each day as he frolics around Hogan's Magnolia View Farm, located only 5 miles west of his Saturday afternoon workplace, UNC's Kenan Memorial Stadium.

In 1924, head cheerleader Vic Huggins decided his school needed a live mascot to compete with rivals such as NC State, which at the time would trot out a live wolf for games. The Heels' star player was fullback Jack "The Battering Ram" Merritt, so Huggins went to the university and asked for $25 to purchase a Dorset Horn sheep from a ranch in Texas. The school agreed. They named him Rameses, and Huggins approached friend and local farmer Henry Hogan about housing. The Hogan family has been spoiling the rams ever since.

"You'd be doing well to be living this ol' boy's life right here," says Don Basnight, Hogan's grandson, as he pets Rameses XXII with one hand and slips him a handful of sheep feed with the other. "Honestly, with the exception of Michael Jordan, no one around here is more popular. And Michael gets pretty excited when he sees Rameses, too."

On game day, Basnight and family lure Rameses out of the woods, where he wanders with his harem, offspring and a posse of goats and cattle. They wash him and paint his horns with a latex-based hue mixed exclusively by a local hardware store. Then he's dressed James Brown-style in a blanket hand-stitched by Basnight's aunt Carolyn, who has sewn Rameses' clothes for nearly 60 years, decorated with an ornate, rope-style trim and the same locked "NC" emblem awarded to UNC lettermen. Then he's loaded into a trailer and taken to the stadium, making stops along the way like sorority row and Franklin Street's biggest tailgates.

"You'd think he'd get spooked by the attention, but he loves it," says Basnight's wife, Ginger. She points as a photographer circles Rameses, and the ram does indeed follow him, posing along the way. "But we do tell people, don't get down on your knees into his face. He's still a ram. If you challenge him, he will butt you."

Unlike some live mascots, Rameses' location is no secret. The family welcomes visitors to check in on the animals and their century-old barn. But that's also why, as kids, Basnight and his cousins would take up hay loft lookout posts on the eve of big games, their BB guns at the ready to run off any would-be abductors from Raleigh or Durham.

"That's how it is for any celebrity who lives their lives out in the open, right?" Basnight says, only half-joking. "You know you're a big deal when you've got your own secret service."