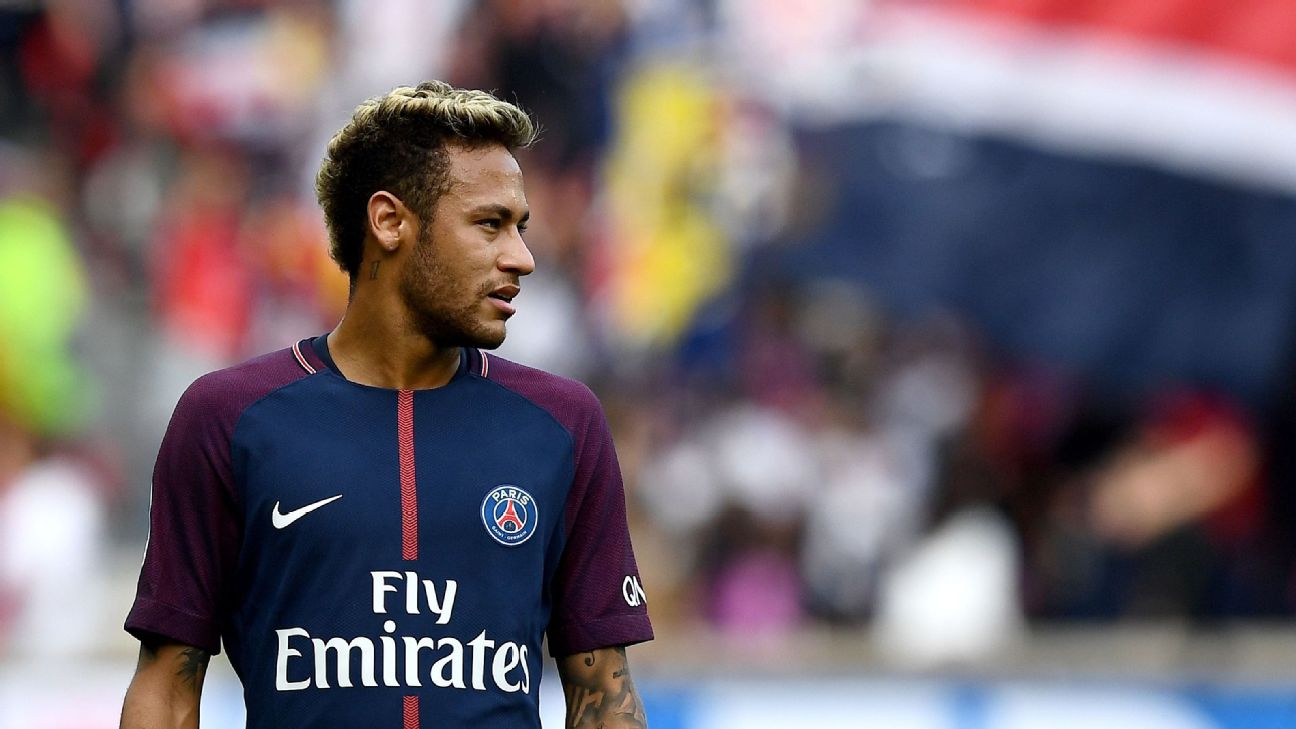 First Neymar, now world domination
With an eye toward building world football's biggest brand, Paris Saint-Germain spent $613 million to sign Neymar. But has the oil-fueled deal also changed the sport forever?
WooootttWOOOOOOOO! The noise carries across the two practice fields, where some Paris Saint-Germain players are finishing an early September workout with an informal game of five-on-four. It breaches the fences that surround the practice complex, permeates the offices of the administration building beyond. WooootttWOOOOOOOO! If you are nearby, you can't help but hear it.
It is a noise of exuberance, a noise of joy, a noise that seemed delightfully inappropriate for world football's carefully scripted soundtrack. Every few minutes, it shatters the tranquility of Camp des Loges, PSG's training ground in tidy Saint-Germain-en-Laye, beyond the Paris perimeter. WooootttWOOOOOOOO! And afterward, always: peals of laughter.
The explanation comes later, once the team has showered and lingered to talk and probably laugh some more. "It was us Brazilians," Dani Alves admits. "You have to enjoy yourself. You have to have a romp every now and then." Then midfielder Lucas Moura, known simply as Lucas, adds context. "We're always like that," he says. "We do something with the ball, we speak something funny, and everyone says 'Wooooo!'" He grins. "The French players don't understand. They just look at us, like, 'What are they doing?'"
PSG has six Brazilians on its 24-player roster this season, though one overshadows the rest. Neymar da Silva Santos Jr. is now the most expensive footballer ever, following his $349 million contract and $263 million transfer from Barcelona, a move that rearranged the balance of power in European football -- and might have changed the sport irrevocably. His arrival is the most dramatic manifestation yet of a plan by PSG's Qatari ownership to transform a team with virtually no football history into one that matters, and eventually the one that matters most.
Neymar's deal came as a surprise to nearly everybody, including the Barcelona hierarchy. He'd been coveted by Nasser Al-Khelaifi, the Qatari businessman who runs PSG, for more than a year, but the effort gained momentum after Barcelona's comeback in March's Champions League round of 16 match between the clubs. Down 4-0 after the first leg, Barcelona scored an impossible six goals in the second to win on aggregate 6-5. Neymar scored two and set up a third, yet all anyone talked about was Leo Messi, who had also been rather brilliant despite scoring just a single goal. At that moment, people close to him say, Neymar understood that he wouldn't emerge from under the vast shadow cast by his diminutive teammate as long as he stayed in Barcelona.
PSG intensified its efforts to land him. One by one, the Brazilians made contact. "I talked with him," says Thiago Silva, who captains PSG. "We all did." Maxwell, the former Brazilian international who retired this spring after five seasons with PSG to become the assistant sporting director, says: "We had a family here ready to receive Neymar." Then in July, with the season looming, PSG made an extravagant deal for Alves to help deliver Neymar.
In 2013, when Neymar was leaving the Brazilian club Santos and offers from two of the world's biggest clubs sitting on his father's desk, Barcelona's Dani Alves persuaded him to choose his team over Real Madrid. This summer Neymar and Alves discussed teaming up again. What matters is how well you live when you're playing somewhere, they agreed. "Because you can't get back the time," Alves says now. "That's the calculation you make. Not the money."
Alves was set to sign a two-year, $15.4 million contract with Manchester City this summer. A physical had been scheduled, a flight booked. Then PSG swooped in. For years, Alves played a crucial role in guiding Barcelona's attack from the right wing, but PSG's $30 million offer was double what anyone else was willing to pay a 34-year-old defender.
The additional $14.6 million? Apply it to the Neymar recruiting budget. "He said to me, 'If we can go together, let's do it,'" Alves says. He spreads his arms wide. "And here we are."
---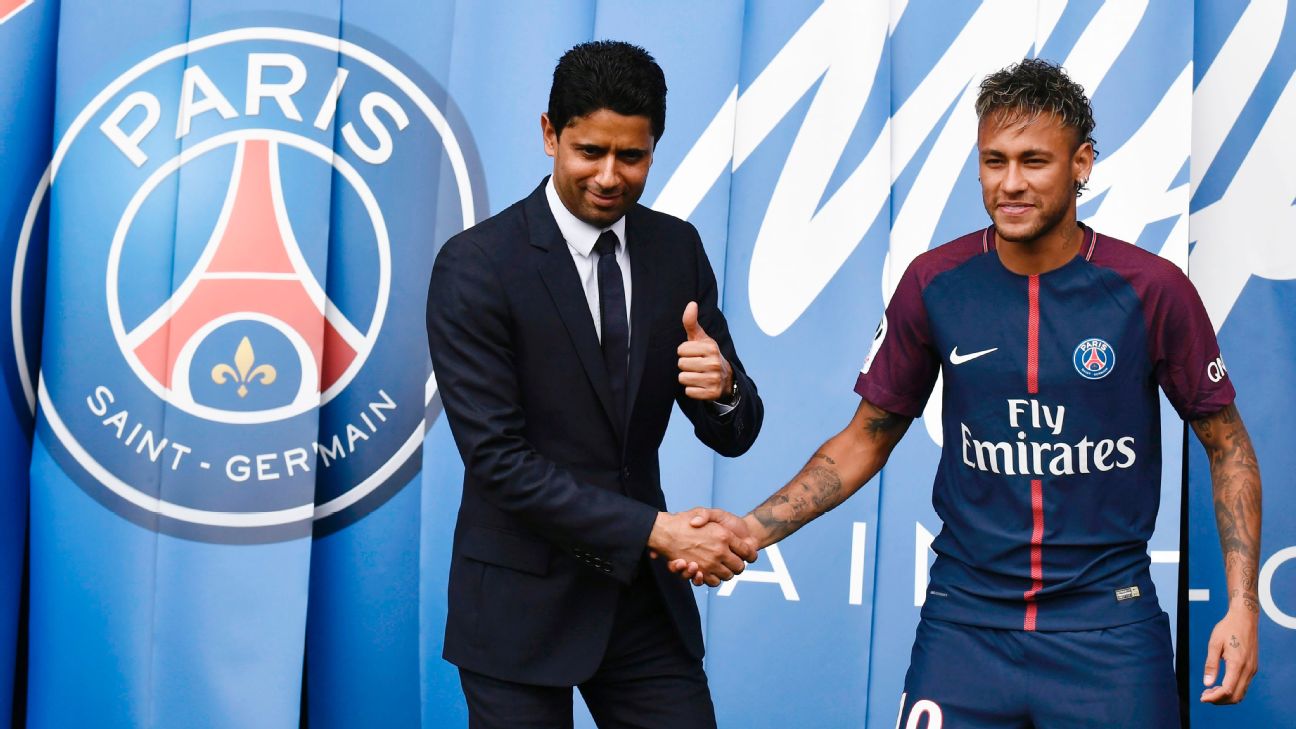 Is Neymar worth such an intensive effort? Could anyone be? We're about to find out. If he is, and PSG eventually supplants Real Madrid as the world's most successful team and Manchester United as the most popular, his achievement will have been unparalleled. If he isn't, PSG can find another superstar -- which it may already have done by filching 18-year-old Kylian Mbappe from Ligue 1 rival Monaco for $214 million more -- and start again. But the half-billion dollars that the Qataris have lavished on Neymar, including a $80 million annual stipend to serve as World Cup ambassador, will be read as a cautionary tale: how one team nearly bankrupt an entire sport.
Billionaires have owned teams before, of course, but never through an arm of a national treasury. Tiny Qatar is using sports as a way to rebrand, and eventually broaden its economic base. And once a country owns a club, Arsenal's Arsene Wenger has said, "anything is possible."
Since 2011, when he gained control of Qatar Sports Investments, the entity that owns PSG, Al-Khelaifi has shown a disregard for convention that threatens football's traditional norms. Currently, he is under investigation both for, among other charges, allegedly bribing a former secretary general of FIFA and circumventing UEFA's financial fair play regulations, which tie a club's budget for player procurement to its annual revenues.
Qatar has already blown up world football twice. In 2010, the Qatar Foundation negotiated the largest sponsorship deal ever ($198 million) with Barcelona, the only major club that hadn't yet branded its jersey with a corporate logo for commercial gain. And then, in what ranks as probably the most stunning development in the history of the sport, the country managed to overcome an utter lack of football tradition and the oppressive summer heat of the Arabian Peninsula to get the 2022 World Cup in a spare-no-expenses effort that also was marred by allegations of impropriety.
So when Qatar Sports Investments bought PSG in 2011, it was hardly a surprise to see Al-Khelaifi start spending. He bagged Zlatan Ibrahimovic in 2012 and an aging David Beckham, then 37, six months later. PSG won four consecutive Ligue 1 titles but couldn't advance past the Champions League quarterfinals. And crucially, it never captured the world's attention. In New York, Los Angeles and Miami, where PSG played over the past three summers, its entourage was surprised to see so many Americans wearing replica jerseys of European teams. "Except we didn't see any of ours," Maxwell says.
There was only one remedy. Neymar might not be the sport's best player, but he's not far behind Messi and Cristiano Ronaldo -- and at 25, he's the one who has his best days ahead. Equally important, he's extroverted, dazzling to watch and commercially savvy, yet countercultural enough to appeal to trendsetting teens. While Messi comes across as a sort of socially inept goal-scoring savant, Neymar is the confident, cool kid who happens to play transcendent football. "The dimension of Neymar off the field is much bigger than any other player we could have signed," Maxwell says. "With his image, he can make the club so much stronger in the U.S. and everywhere else."
Neymar cost Barcelona some $70 million in 2013. Four years later -- 105 goals in 186 games later -- what might he be worth on an open market? Barcelona calculated his value as a complement to Messi and as the future centerpiece and face of the team. But to Al-Khelaifi, he represented far more. The BeIN network, which is owned by QSI and run by Al-Khelaifi, has paid more than half a billion for Ligue 1's international television rights through 2024. The World Cup will cost billions. Neymar is programming, he's a marketing plan, he's a loss leader, he's a moon landing. PSG had to have him.
No stranger to rule-bending, Barcelona was stunned that another team would raid its roster so brazenly. "Neymar is difficult to replace," Albert Soler, one of the club's directors, recently understated. Soler never believed that Neymar would voluntarily leave the largest commercial platform in sports, certainly not for a team that hasn't reached a Champions League final and plays in a domestic league few outsiders follow. But Al-Khelaifi sees it differently: Unlike with Barcelona or Real Madrid or Manchester United, in Paris, Neymar has the chance to make history with a club that doesn't have any.
PSG is the amalgamation of a small Paris club and one from the suburbs. Such mergers were common in football's early days, the late 19th century and early 20th, which is why so many clubs have "United" as part of their name. But PSG's creation didn't happen in Toulouse-Lautrec's Paris, or even Hemingway's. It happened in 1970.
Alone among the major cities of Europe, Paris has never quite taken to the sport. While London has 12 teams, including five in the EPL, Paris has only PSG and two more in lower divisions. Until Neymar's arrival, the most popular athlete in the city was a judoka, Teddy Riner. "There are a lot of people in Paris who don't care about football," says Rai, the former Brazilian captain who played with PSG in the 1990s. "I actually came there from São Paulo because I wanted more privacy." For the five years Rai played with the club, he traveled everywhere by Metro. He even took classes at the Sorbonne. Not once, he says, did anyone notice him.
No longer. These days, PSG's home games are sold out, and its road matches are too. Neymar can't jump into a waiting car without attracting a Beatles-like commotion. "Paris has been changing," Maxwell says. "And now, with Neymar, everybody's talking about him, everybody wants to see him, the stadium is full because of him."
Neymar debuted at Guingamp with a goal and an assist. In his first game in Paris, where he was living at a Qatari-owned hotel because he hadn't had time to find a house, he scored twice with two assists against Toulouse. Still, nobody knew what it meant. Those Ligue 1 games were exactly the sort that PSG had long been able to win.
On the first Monday of September, the team practiced at Camp des Loges. Then it boarded a plane for Glasgow to get the first real evidence of whether this grand plan was actually going to work.
---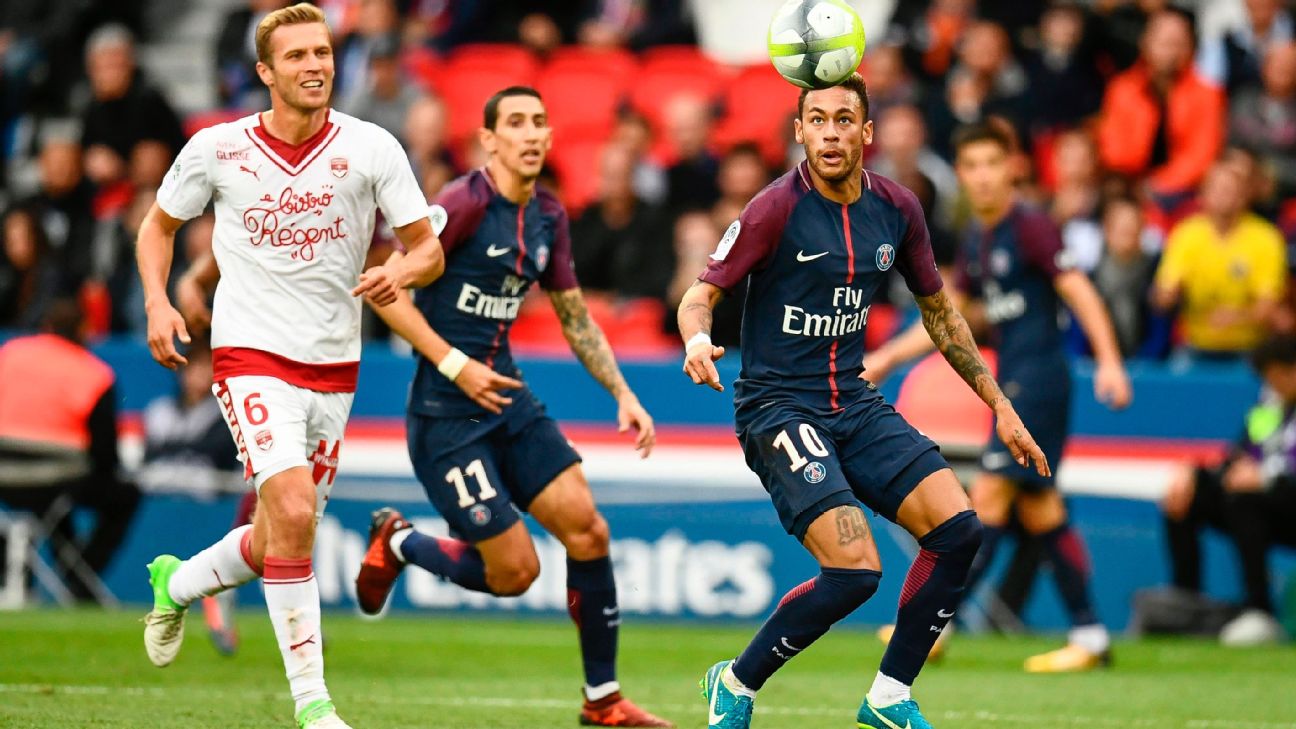 It is dusk when the PSG bus arrives at Celtic Park, where the team will play its first Champions League game the following evening. Wearing warm-ups and sneakers, with headphones looped around necks, players spend time getting used to the field. A roving knot of Brazilians moves in syncopated rhythm, like a box of pingpong balls spilled to the floor. At the center, with everyone else facing him, is Neymar.
Part of that is the money, which tends to create a pecking order among professional athletes as it does among everyone else. But Neymar also exudes a magnetism that collects people around him, even as it offends a few. One ruffled teammate is Edinson Cavani, from Uruguay, who suffered Neymar's wrath when he stepped up to take a penalty that Neymar believed was rightfully his earlier this year (and then had the audacity to miss it). For better or worse, Neymar acts like a star. "He's so charismatic," Rai says. "He looks like a teenager, but he loves to take responsibility. And the older guys can feel that. When it's difficult, he gets stronger."
PSG's first group stage opponent is its antithesis. Celtic was founded in 1888, and until the recent decline of Rangers F.C., it served as half of one of Europe's most bitter rivalries. The crowd that fills Celtic Park could have been lifted from the 1970s. Everyone wears a dark overcoat and a green scarf. When the first name of each starter is announced, the crowd supplies the surname. Celtic won its only European title 50 years ago with an entire team from around Glasgow, and its players are still regarded with the easy intimacy of someone who might turn up in line at the fishmonger's.
It is heartwarming, and a striking contrast to PSG's arrivistes, a team culled from the rosters of the biggest clubs in Europe and South America. The front line of Neymar, Mbappe and Cavani alone represents $560 million in value, while the entire Celtic roster doesn't touch $100 million. Before the game, Celtic executives are heard saying that beating PSG, or even staying competitive, would be striking a blow for football as it once was.
They won't be saying it afterward. Led by Neymar, PSG races past a team that had gone undefeated in the Scottish League all last season, inflicting a 5-0 beating that is Celtic's worst defeat at home in more than a century. "Their pace is astonishing," says Craig Gordon, the veteran Scotland goalkeeper. "It's faster than anything else we will come up against; I don't care who we play."
We will soon learn that it isn't just Celtic. Bayern Munich comes to Paris two weeks later with three Champions League finals this decade and a reputation as one of the continent's most dominant clubs. It leaves, after a 3-0 thrashing, in such a panic that head coach Carlo Ancelotti is fired the next day. Next, PSG routs Anderlecht 4-0. It seems astonishing, considering Neymar had been playing in an entirely different system in Barcelona than the 4-3-3 Unai Emery has implemented in Paris, and has been with his teammates only a few weeks. "The transition on the field has been easy because I'm playing with such good players," Neymar explains. "We have already reached the point where we look at each other and understand exactly what the other one is going to do."
It helps that four of them also play with him for Brazil. They gather several nights a week, usually at Marquinhos' home, or occasionally Silva's, to eat or listen to music, with the playlist usually curated by Neymar. "We're very much like a family," Alves says. "The result on the field represents what a team is like off of it. It really matters. We've created a great team off the field, and you can see the result on it."
Surprisingly, this team within a team hasn't fostered resentment. Despite not speaking their language, Neymar has already forged warm relationships with French standouts Mbappe and Adrien Rabiot. Even Cavani is said to have settled his problems with Neymar, who went out of his way to hug him during a recent game. "The Brazilian players bring the happiness," Lucas explains. "The love of life. Even if we have a lot of problems, we smile. And on the field, that helps. We love playing. And everyone knows the quality of the players."
---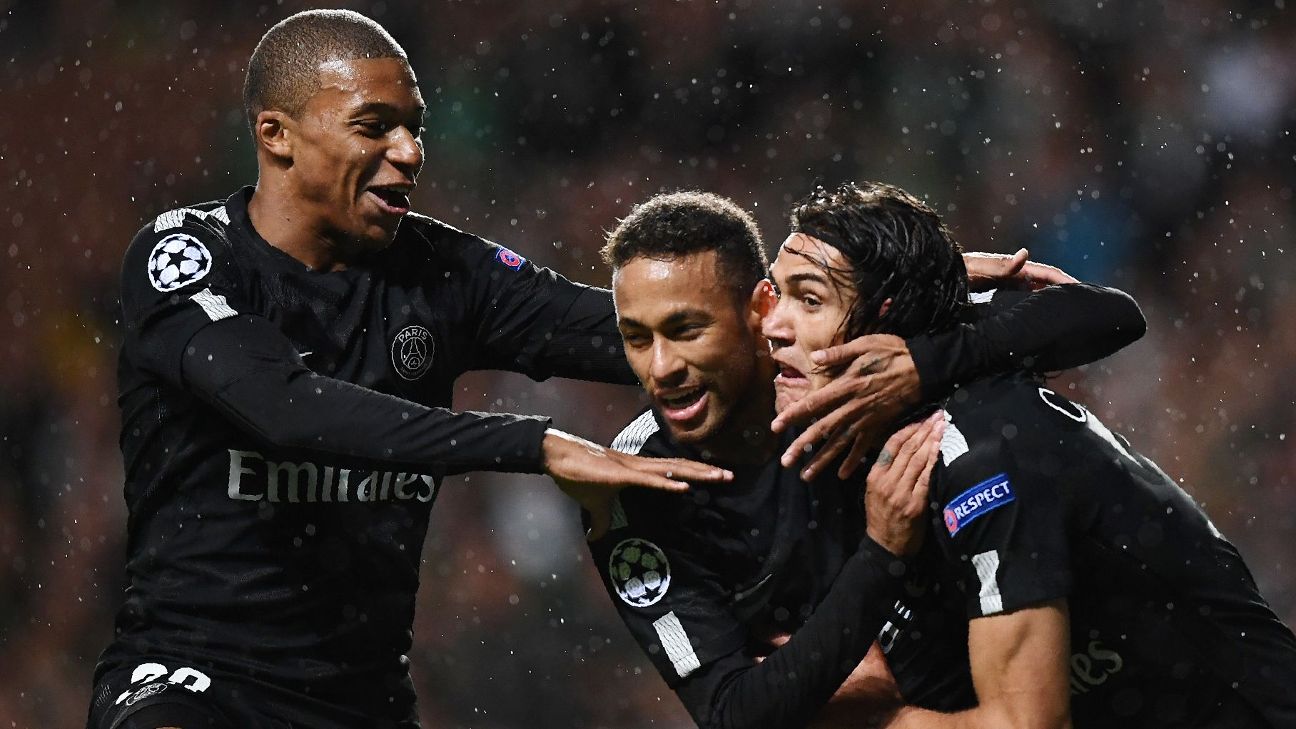 PSG's early Champions League dominance has thrust the team into the unfamiliar role of European favorite, though Al-Khelaifi hasn't focused on winning this season, or any one season. Rather, he's aiming for a period of sustained relevance that will lead to a period of sustained dominance, creating an image for PSG that one of Al-Khelaifi's advisers compares to what the New York Yankees might have if they played the world's most popular sport. While in Los Angeles recently, he ducked into a Nike store to see how PSG jerseys were selling but couldn't find any. Disappointed, he asked if they might be ordered. The club was gaining popularity. And Neymar ...
The clerk cut him off. They'd had a rack full of shirts, he explained, but they'd been bought. "Top seller," he said. "Ahead of Messi." The proof is anecdotal, but it pleases Al-Khelaifi at least as much as the team's flying start. "We can't control the results on the field, although it has been going extremely well so far, thank god," he says. "Our vision is longer-term. Everything is about the plan. I can already see that the club is going really fast worldwide, even in America. It's not like last year. It's much, much more."
After Glasgow, it seemed almost silly for PSG to return to the anonymity of Ligue 1. The next game was a Sunday night showcase against Lyon, the team that has criticized it more than any other for its profligate spending. (If PSG has become France's Yankees, it's in more ways than one -- the club is now hated by everyone who isn't a devoted fan.) Yet everyone seemed to be looking ahead to Bayern, 10 days away.
Considering that PSG plays more Ligue 1 games than anything else, that's a problem. But nobody else in Ligue 1 can spend $477 million, or even one-third that, on a pair of strikers. "When we had our period of domination," says Lyon CEO Jean-Michel Aulas, referencing seven consecutive national titles ending in 2008, "it was through our own means. We didn't have the financial support of a country." In early September, Aulas wrote a letter to Al-Khelaifi accusing him of ruining the sport in France by making it uncompetitive.
Beyond that, PSG's spending can't help but upend the finances of even the world's biggest clubs. One answer might eventually be the establishment of a superleague, in which the Juventuses, Barcelonas and PSGs of the world play one another every weekend rather than games in regional backwaters against outmanned opposition. Giving up domestic competition would be heartbreaking, of course, but would PSG care? More than any other club, it looks toward the future, which is far easier to do when you don't have a past.
For now, though, that pesky Ligue 1 schedule needs to be played. For the first few minutes of the Lyon game at Parc des Princes, PSG's fans seemed uncommonly quiet. It turned out that, in the most French gesture ever, they'd gone on strike. They were protesting the confiscation of banners criticizing Aulas, the Lyon CEO. Fifteen minutes in, they started singing, sounding like nothing so much as a fan base that has been supporting its team for generations. They didn't stop when a Lyon defender put the game's first goal into his own net, nor when another Lyon defender did the same.
Inevitably, cracks will start to show -- if not in PSG, then in other clubs as they struggle to keep pace. It's hard not to rejoice in the beautiful game PSG is playing, talents harmonizing with a grace and fluidity reminiscent of Pele's Brazil. Still, the sense that it could pull even the world's largest clubs to the brink of bankruptcy looms over PSG's success. When it wanted Neymar, PSG was able to steamroll even mighty Barcelona with its Qatari financial might.
With that in mind, what team is safe?