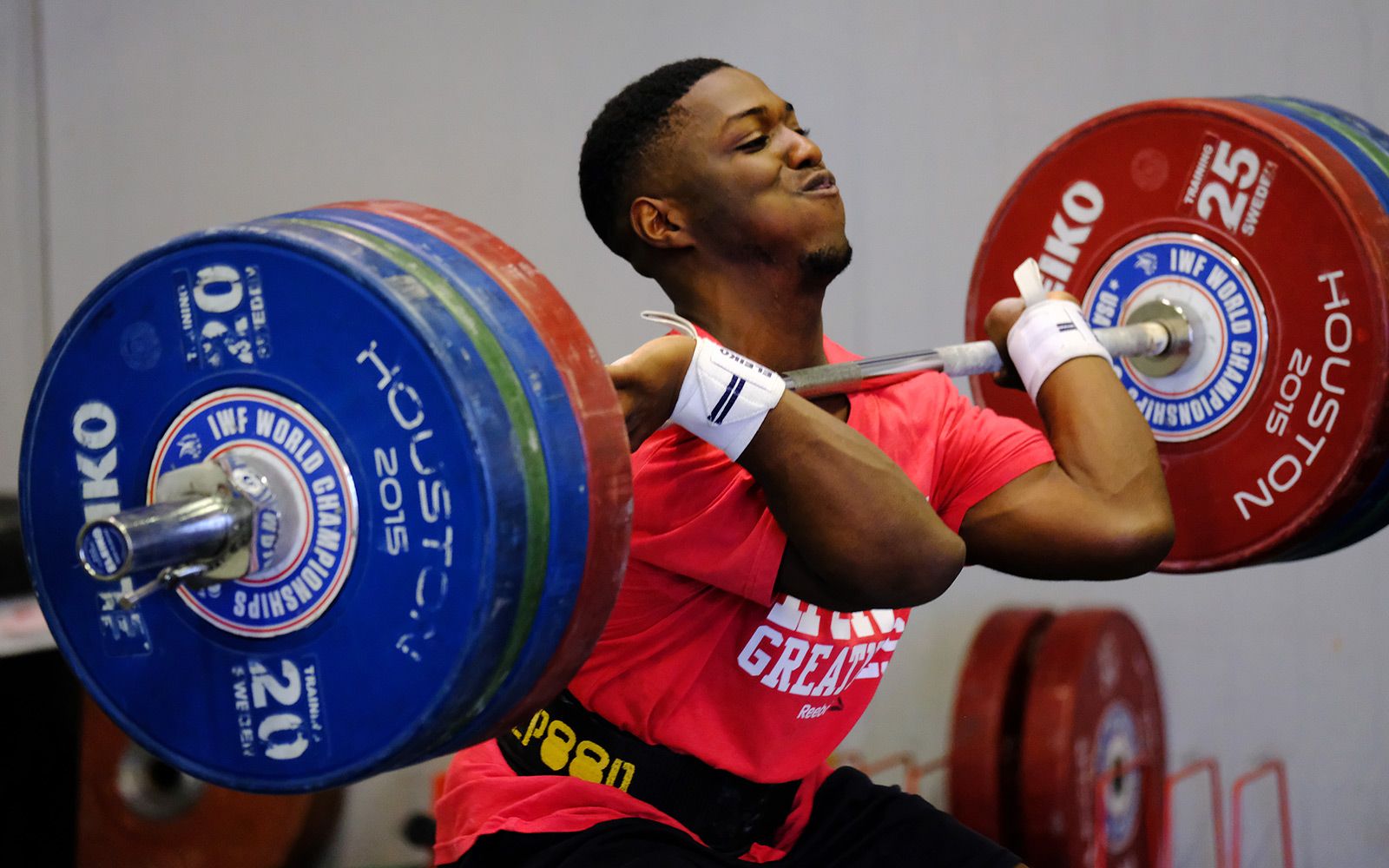 Raising The Bar
Decimated by doping, weightlifting could face Olympic exile. But one of its brightest hopes is a humble, gifted South Carolina teenager who wants to be part of a new wave of credible winners.
The kid in the video is noticeably sturdy but still green, like a sapling that carries hints of its future girth in its trunk and branches. He is standing on a metal plate embedded in a wooden platform in one corner of a university research lab, ready to have his technique studied. He's 14 and one of the strongest people in the world for his age.
He pulls the bar off the floor with a quick, explosive motion in the Olympic-style lift called the snatch, lowering into a squat, then straightening into a standing position, arms spread overhead in a V shape. Twelve high-speed cameras capture information from motion sensors placed on his body and the bar. Software tracks the bar's trajectory, which allows calculations of velocity, energy output and force exerted.
The platform, constructed with 3/4-inch plywood set on 12-inch centers, is ostensibly designed to withstand anything a young lifter can throw at it. But when the kid casually casts the bar to his feet, the plates on one end punch a hole in the floor.
"And then he thought it was funny, because every time he dropped it, splinters were flying," says Bryan Riemann, the Armstrong State University sports medicine professor who oversaw the session three years ago. "So we had to come back and CJ-proof it, basically." Riemann patched the platform and packed 2-by-6 supports beneath it, with no space in between. He knew CJ Cummings would come back even stronger.
Now a 17-year-old senior at Beaufort High School, CJ is preoccupied with many of the same things as his classmates. He's keeping an 18-month Snapchat streak going with his girlfriend. He's trying to maintain a B average so he can get into the college of his choice. He works a couple of nights a week in the projection room of the local movie theater and has a weakness for fast food.
Yet CJ's rare and precocious talent has led to responsibilities that set him apart. As a top athlete in his sport, he must report his daily whereabouts to the U.S. Anti-Doping Agency, which first collected a urine sample from him when he was 12. He got to choose the black-and-gold color scheme of his hard-soled weightlifting shoes designed by his sponsor, Reebok. Another sponsor ships him healthy frozen meals -- broccoli, brown rice, chicken and beef -- that he is supposed to stick to in the weeks leading up to competitions.
And he carries one additional, intangible burden: His sport is in dire need of credible winners. He would like to be one.
"What I expect of myself at this upcoming world championships is to, you know, go out there, do my best and have fun," CJ says earnestly after a recent workout. "Several countries are banned for doping, so I will probably have a legitimate shot to place. But just for my personal goal, go out there, have fun and do the best that I can do."
Weightlifting, an original sport at the Olympics, is one of its purest skills and one of its most tainted disciplines. The International Olympic Committee has threatened the sport with expulsion from the Paris 2024 Games if it can't curb its doping culture.
Who better to help rescue it than a humble kid from the languid, lush expanses of the coastal South Carolina Lowcountry whose progression has been examined and documented since he was 11 and whose most apparent vice is french-fried potatoes?
His coach, Rayford Jones, embraces the thought but tries to buffer his protégé from the pressure that could accompany it, especially at this year's world championship in Anaheim, California, which began Tuesday and continue through Dec. 6 (complete coverage on ESPN3/WatchESPN). CJ, the reigning youth world champion and American record holder in the 69-kg (152.1 pounds) weight class, will test himself against much older men Friday.
"We're keeping it simple, and we're going there looking also at him staying healthy, enjoying what he's doing, and this is just one step," says Jones, 61, a former military team and Masters age group weightlifter and a gym owner who has coached kids and adults for the past 37 years. "This is not the be-all and end-all."
CJ's family and his coach have worked to keep his feet firmly planted in reality. But he has broken a few molds, along with the platform at the Biodynamics and Human Performance Center at Armstrong State in nearby Savannah, Georgia, where he was analyzed again last year.
Health sciences department head and professor Robert LeFavi, a longtime gym owner and weightlifting enthusiast, became deeply intrigued with CJ when he saw him compete in person. "He's got braces on and he's watching cartoons, and then he goes out there and lifts more than an adult male," LeFavi says.
On the monitor at the lab, CJ appears as a three-dimensional image of a headless, animated skeleton lifting an unseen object, the bar's path tracing a bright green line on the screen. The data provide some clues to his prowess. He jumps backward when he pulls the bar up but is unusually efficient in pulling vertically, with very little arc, and does that consistently whether he is lifting a little or a lot.
LeFavi ticks off other factors that make CJ a 5-foot-4-inch "perfect storm'' for the sport, including short femurs and bowed shins, which make his arms longer relative to his lower body and facilitate a quicker pull off the floor. "He's had great coaching, supportive family, supportive environment," LeFavi says.
"A big part of CJ's success is his mental approach," he continues. "He just doesn't get overly anxious. For something as psychologically sensitive as weightlifting, that really can make a big difference. He does not appear to be sensitive to a lot of things a lot of other lifters are. He shuts things out, he focuses and he doesn't ever get shaken by anything."
But over the course of two interviews, LeFavi always returns to the same conclusion:
"We still cannot completely explain CJ Cummings."
---
The 1988 "Saturday Night Live" "All-Drug Olympics" skit, in which actor Phil Hartman, playing a bulked-up Russian, rips his own arms off and spatters the set with fake blood, plays like nonfiction now. Weightlifting has been hemorrhaging for years. Anabolic steroids have seeped into nearly every corner of sports since the early 1960s, but they are more directly useful performance enhancers to lifters than to almost any other athletes. The sport developed a collective dependence.
When a new, more sensitive test for steroid metabolites became available in recent years, the IOC targeted weightlifting in its stored sample retesting program for obvious reasons. Thirty Olympic medalists have since been stripped. The men's 94-kg weight class at the 2012 London Games was so decimated by disqualifications that the fifth-place finisher became the gold medalist. Lidia Valentin of Spain, fifth in the women's 75-kg weight class at the Beijing 2008 Olympics and fourth in London, is now the 2008 silver medalist and 2012 champion.
Canada's Christine Girard finished fourth in the 63-kg class in Beijing, a result she says was both devastating and encouraging to an athlete who rejected drug use. "I knew then it was possible to get a podium while being clean," she says. "But it was still my biggest failure." She missed her last two lifts. Had she made them, she would have won Canada's first medal of the Games and its first women's medal in the sport. "It was hard to take then, but harder to take now," she says.
Girard retired on a redemptive note after a bronze medal performance in London. In the summer of 2016, retesting bumped her to the bronze medal position for Beijing. Her London bronze was upgraded to silver, and a gold is pending. "I don't want to lose myself in the what-ifs," she says. "I learned I will never really know how good I was."
Poignant and disturbing as those Olympic stories are, the public bottoming out for weightlifting might have been the 2015 world championship in Houston -- the first time the event had been held in the United States since the 1980s. That gap coincided with a precipitous slide in U.S. results at the global level.
"I want to keep hope, but I know my sport is in danger. ... I hope we come out of this stronger."
- Former Canadian Olympic weightlifter Christine Girard
The last world championship gold won by an American lifter was in 1969. The last worlds medals of any color came in 1997 (men's) and 2005 (women's). Widespread doping on other national teams is thought to have played a part in the decline, but the sport withered for many reasons, frustration not the least of them. In recent years, the popularity of CrossFit has reversed that trend, propelling thousands of new members into USA Weightlifting's ranks to learn Olympic-style lifts and unearthing some athletes who have excelled at the elite level.
In 2015, the International Weightlifting Federation and USADA skirmished over which entity should conduct drug testing in Houston. After an agreement was reached, USADA aggressively target-tested athletes from teams at high risk for doping and asked hotel security and cleaning staff to report when they found syringes and vials in wastebaskets.
Twenty-four samples taken at worlds tested positive, a stunning number for in-competition collection. The aphorism in anti-doping circles is that failing an in-competition test equates to flunking an IQ test. Weightlifting's elite were guilty of extreme stupidity -- or perhaps simply didn't believe their sport would ever be policed to that extent.
"The 2015 world championships were a break point that showed the international federation and others the depth of the problem," says USADA CEO Travis Tygart. "Some would argue that cycling in the late '90s and early 2000s was in a similar situation. I think some sports have had to face this crossroads where it's either time to double down and save it and clean it up, or it's time to change the rules and let everybody do what they want."
Confronted with issues too embarrassing to ignore, the IWF banned Russia and Bulgaria from the Rio 2016 Games and later suspended Russia and another eight nations -- China, Kazakhstan, Armenia, Azerbaijan, Belarus, Moldova, Turkey and Ukraine -- for a year. Legal wrangling kept the sanction in limbo until September 2017.
With that backstory, why would the U.S. want to host worlds again this year? When Malaysia, the original host, withdrew, USA Weightlifting and its then-new CEO Phil Andrews stepped in. Andrews candidly admits CJ's medal chances and those of Colin Burns (94 kg) and Sarah Robles (plus-90 kg) -- along with the chance to showcase young talents Mattie Rogers (69 kg) and Harrison Maurus (77 kg) -- factored into the desire to bid. Those chances have increased since the nine rogue countries were excluded. USADA will conduct testing at the 2017 worlds after amicable talks with the IWF.
The dapper Andrews -- who at 31 is the youngest current chief executive of a U.S. national sports governing body -- grew up outside London, has a background in event organization and promotion, and still sometimes takes the microphone to announce events. He lingers at the periphery of meets to hail athletes and coaches by name and is a fount of statistics. Andrews is a strong advocate for trying to appeal to a younger demographic and making events more television-friendly. But it all starts with better competitive results.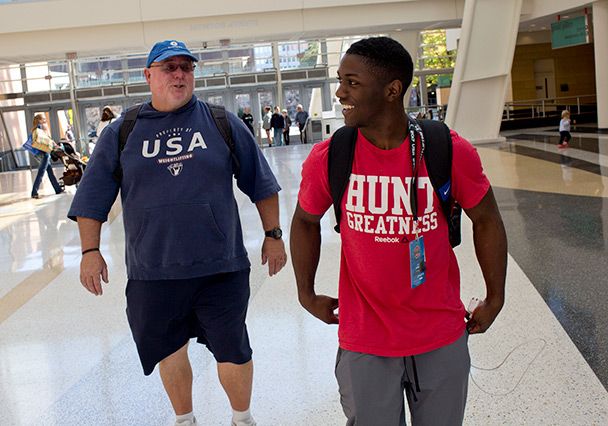 USA Weightlifting has started a concerted effort to recruit athletes from other sports, led by Mike Gattone, a former NBA strength and conditioning coach. Triple Olympic gold medalist Pyrros Dimas of Greece joined the federation as technical director this past June. Longtime U.S. Olympic Committee executive Lance Williams was hired to coordinate athlete development and coaching education. "If we could make changes in weightlifting, we can do it anywhere," Williams says bluntly. "It's gotta get cleaner, or it's gonna be gone. Simple as that."
Andrews is careful not to cast the U.S. athletes as saints among sinners, simply underscoring more rigorous testing and concerted efforts at culture change. Nineteen anti-doping violators, largely lower-level athletes, have been sanctioned by USADA in 2017. Some cases were based on evidence outside of testing, including one 12-year ban on a coach from Oregon for possessing, trafficking and administering testosterone to athletes. Robles, whose Rio 2016 bronze medal was the first for a U.S. weightlifting athlete at the Olympics in 16 years, served a previous doping suspension, a case she contested on medical grounds.
USADA has upped its weightlifting sample collection under a "Lift Clean" partnership with the national governing body: The tally is 617 through the third quarter of this year, compared with 478 the entire year before. That puts the sport in the upper echelon of scrutiny, along with track and field, cycling and swimming. (CJ has been tested nine times in 2017 by USADA and also can be tested by the IWF.)
Weightlifting will be on the schedule for the Tokyo 2020 Games, where CJ hopes to qualify, although the IOC has reduced the total number of athletes eligible to compete. In the first step toward determining the sport's Olympic future, the IWF executive board, meeting in Anaheim on Monday, approved a series of anti-doping strategies that will be submitted to the IOC in a report next month.
"I want to keep hope, but I know my sport is in danger," Girard says. "You take a small girl who has no confidence … to see how people can change through the sport is amazing. That's why I love coaching. I hope we come out of this stronger."
---
CJ's weightlifting career germinated on the day his older sister, Crystal, talked their father out of $10, the fee for one of Ray Jones' after-school clinics.
"She came home one day about third grade and asked," says Clarence Sr. ("CJ" stands for "Clarence Junior," rather than a first and middle initial). "I said, 'Lift weight? That's not for girls.' I blew her off. She came back again. It was something to keep her out of trouble. It took off from there."
Clarence is sitting in the dining room of the family's four-bedroom mobile home on a wooded lot on Lady's Island, which lies to the east of Port Royal Island and downtown Beaufort. Half a dozen vehicles are parked in a ragged row outside, and a chicken coop occupies part of the backyard. Kids' sports trophies adorn many of the surfaces in the house.
Crystal was gifted, bound for international competition if she hadn't succumbed to peer pressure in high school and opted to play basketball instead. To this day, Jones wishes she had stuck with it. Crystal, who has worked in security and as a 911 dispatcher and has one daughter, says she regrets it sometimes, too.
She brought her baby brothers, Omar and CJ, to the gym with her when they were too little to remember. Coach Ray has been a mountainous presence in the family's life since then, physically and otherwise, alternately bantering and exhorting, supportive but frank, a guru with a wad of bubble gum. "He paid for our team out of pocket -- our room, flights, the van," Crystal says. "He just likes to see people do good. He's a good man."
In the summer of 2010, fretting that her brothers were too idle, Crystal brought them back to Coach Ray's clinic at Beaufort Middle School. "They were sitting here playing video games all summer, sucking up all the AC," Crystal says, rolling her eyes. Jones gave CJ a wooden dowel about the width and length of a broom handle and instructed him to practice his footwork at home. The 10-year-old carried it everywhere. He still has it.
His gifts didn't take long to manifest.
In a local meet at age 11, a then-99-pound CJ executed a 90-kg (198-pound) clean-and-jerk lift, in which an athlete hoists the bar first onto the upper chest and then overhead in two distinct motions. "Double body weight," in the sport's parlance, is a significant milestone in many careers and generally is not achieved by a kid who isn't shaving yet.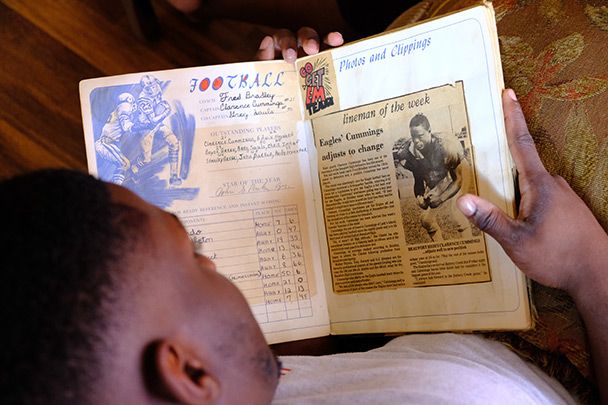 "It was so crude -- technically it wasn't the greatest -- but it showed the absolute fearlessness he had," Jones recalls. "'Hey, if you're telling me I can do it, I'm gonna go do it.'"
Omar, a year older and a few inches taller than CJ, also had tremendous talent. He won a bronze medal in the 77-kg class at the 2015 youth world championship -- the same meet where CJ, dehydrated and down a few pounds from his normal weight after a bout with the flu, staggered, dropped the bar and briefly passed out on the platform.
But Omar had his heart set on playing football and is a redshirt freshman on a full ride at South Carolina State. He also has a baby daughter and asked Jones and his wife, Laura, to be godparents. "You took me under your wings and helped me mature, you taught me character," Omar wrote the coach in a text.
CJ gave up football after eighth grade and put himself in Jones' hands. From age 12½ to 15, his personal best in the clean-and-jerk progressed from 108 to 175 kilos, as shown by video clips assembled by Hookgrip.com, a site dedicated to the sport of weightlifting.
It opened the door to a different life. CJ's first trip out of the country was for the youth world championship in Uzbekistan. He was just 12, but he already possessed an elite athlete's ability to switch on and off as necessary. Jones walked into the waiting area half an hour before CJ was supposed to lift and found him dead asleep on a cot, drooling on his pillow.
"Going in, seeing all those people and staying at a place that was totally different from the United States -- it was appealing to me, made me want to explore more," CJ says. "It was pretty awesome. And the food was all right. I was kind of scared at first because people kept staring at me. They'd never really seen African-American people, so they thought I was like Michael Jordan or something."
CJ's family made sure he stayed grounded despite the rising fascination around him. They live modestly. The burly, reserved Clarence retired from a maintenance job at the state Department of Transportation. CJ's mother, Savasah (pronounced Sah-vay-zhah), a warm, gregarious woman with a contagious laugh, has taught pre-K in the Beaufort system for 21 years.
"He's got braces on and he's watching cartoons, and then he goes out there and lifts more than an adult male."
- Professor Robert LeFavi on weightlifter CJ Cummings
Jones has never charged CJ for coaching even though "I've told him he should," says CJ's Charleston-based agent, Trey Robinson. The coach helped the family find Robinson when he saw sharks start to circle CJ, trying to leverage his growing celebrity in the sport: "This really upset me, people contacting a minor and trying to get him to do stuff," Jones says.
Robinson negotiated the sponsorship deal with Reebok, the terms of which are confidential, when CJ was 15. He doesn't formally represent Jones but has taken it upon himself to help the coach find opportunities for paid appearances and ways to expand his business. "You can sense the love the athletes have for him," Robinson says.
It would seem natural to view CJ as Jones' psychic payback for all these years in the trenches, but the coach insists he is more interested in overall development than in competitive narrative. "He's my kid, and whatever he does, I love him unconditionally," Jones says. "It's been a great ride to be on."
Photogenic and disarmingly polite, CJ has become practiced at being filmed and interviewed. His sport is part performance art, a one-man show that unfolds on brightly lit platforms in hotel ballrooms and convention centers, with music blaring and announcers intoning names and numbers with dramatic inflection.
Yet he remains fundamentally shy. His theater teacher at Beaufort High, LaRaine Fess, says he blends in with the diverse student body and avoids drawing attention to himself. "You would never know he does the things he does," she says. He won the part of Bob Crachit in "A Seussified Christmas Carol'' this fall, but Fess says she had to work to get Cummings to loosen his body language and give more inflection to his soft voice. She finally hit on the idea of playing to his strength, and has him lift two taller classmates -- twirling one in the air, carrying another -- in different scenes.
The feedback is important to CJ. He thinks he might like to go into acting and plans to apply to Savannah College of Art and Design, encouraged by his girlfriend, Sidney Johnson, an aspiring singer. She knows how expressive he can be and caught him on video showing sheer joy after she played a song she had written for him. "When did you have time to do that?" he asks on the video, over and over, as if unconvinced he could have inspired it.
The most challenging part of his dual existence is diet. CJ dreams of "French fries, juice, burgers, wings ... all the good foods that are pretty much unhealthy for you,'' and sometimes indulges in them. But he is never out of whack to the point where he needs to cut weight with drastic measures as some lifters do regularly, especially in lighter weight classes. All Jones asks is that he eat smart in the two or three weeks leading up to a major competition. The coach tries not to nag him, reasoning that there has to be some room for rebellion in every teenager's life.
CJ's parents put their faith in Jones and let their son's prodigious talent take its course. They travel to see him compete when they can. At September's American Open in Grand Rapids, Mich., Savasah walks into the warm-up area and gives CJ a quick kiss before finding a place on one side of the platform to take pictures. Clarence watches intently from the front row, calling out, "Come on, C!" It's not a path they ever could have imagined for him, but they recognize its blessings.
---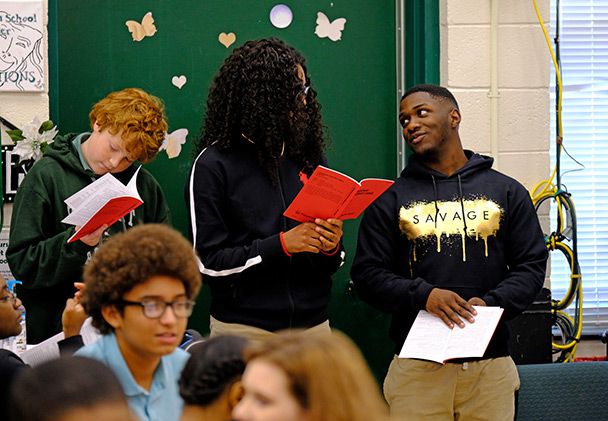 There is a lot of waiting in weightlifting: waiting between sets in the gym, waiting to see which competitors pass on their turn or change their announced lift attempts.
Ordinarily, sitting still is not CJ's strong suit. He often fidgets during conversations, picking up the nearest object on a table and turning it over, or unfolding and refolding a napkin to keep his hands busy. At rest, he is in the habit of tucking his chin down and looking upward so the whites of his eyes are prominent, giving him a slightly wary look.
But put him on a stage with a loaded bar in front of him, whether it's at his home gym or in front of a crowd of a couple thousand, add his coach's familiar booming voice -- Jones often shouts "Big reach!" at the apex of a lift -- and serenity descends on CJ.
"If you start thinking, overdoing it, you're more than likely gonna mess up," he says. "I want to look sharp and be sharp to the audience. I usually give it my all, and I try to like, I guess, be cool with it. After I lift, I do a casual wave and walk off the stage. Sometimes I might get excited, but I usually try to look calm and casual. I may or may not show how hard it is."
The nature of the sport can suit an introvert. It is individual work with a coach, mapping incremental progress, pound by pound, technical tweak after technical tweak, that separates the great from the good. CJ has been his own stiffest competition for most of his career. He is capable of winning on a subpar day, as he did at the American Open.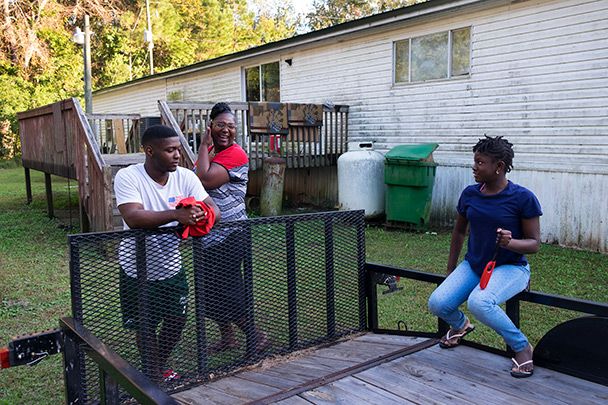 His prospects at the senior world championships are less predictable. CJ's personal best of 185 kg in the clean-and-jerk lift is a youth world record as well as an American senior men's record in his weight class. His total of 322 kg -- the combination of the snatch and the clean-and-jerk -- is also an American senior record and ties the youth world record. All three senior world-record holders and all three 2015 world medalists in his weight class are from nations banned from the Anaheim event.
When CJ approaches the bar at his home gym in Beaufort on an ordinary weekday in mid-October, he moves deliberately but purposefully, focused on what is immediately in front of him. He swipes one wristband across his forehead, bends down and firms his grip. A compressor hums loudly. Mild afternoon light streams in through open doors. Jones watches from under the brim of his ball cap, wielding his usual prop, a length of PVC pipe planted on the floor like a wizard's staff.
Jones' regular group of amateur lifters, who range from grade school kids to women in their 50s and 60s who compete in Masters meets, have paused their own workouts to watch CJ. His bar is loaded with red and yellow bumper plates on each end totaling 180 kg (396 pounds), 5 kilos shy of his personal best in the clean-and-jerk.
"Solid feet," Jones calls out. "Come on, CJ. Best one. Best one!"
CJ readies himself by pumping his hips up and down. Then he heaves the bar up to his collarbone and squats in one explosive motion. His butt nearly touches the ground. His elbows protrude out. When he snaps back upright, he lets out a hissing breath. His abdomen puffs in and out slightly over the edge of his tightly cinched belt.
"Exactly," Jones says. "Here it comes."
When CJ squats again, not as low this time, then straightens, raising the equivalent of a medium-sized motorcycle above his head, his neck cants forward, his arms flex back and it looks as if he'll have to drop the bar behind him, but he hangs on. Then he rolls his wrists forward and his tongue shows briefly out of the side of his mouth. He doesn't drop the bar so much as fling it away, an inert object conquered and discarded. It's still bouncing as CJ swings his arms at his side and beams. The small audience claps and whoops.
It is the first time CJ has lifted that much weight with the technique called a squat jerk, in which he squats for both the first and second movement, keeping his feet parallel. He told Jones he wanted to try it in September. It's a big departure from the split jerk he's done since he started, in which he stays largely upright, his feet landing one in front of the other, when he executes the second part of the lift.
Jones posts a video of the 180-kg lift, and the 170 and 160 before it, on the Team Beaufort Weightlifting Instagram account the same day with the succinct notation "all solid." In person, he can't contain his excitement. CJ hasn't even started his focused training cycle for worlds. This was "a ho-hum Monday training, but I asked him if he was all-in, and he said he was all-in," the coach says.
By mid-November, Jones' original Instagram post has more than 25,000 views, and another 98,000 on the Hookgrip account, which reposted the video. People want to know whether CJ is sticking with the squat jerk. They pepper their comments with exclamation points and emojis and "WTF"s. Many of them are openly rooting for him. They want to believe what they see.