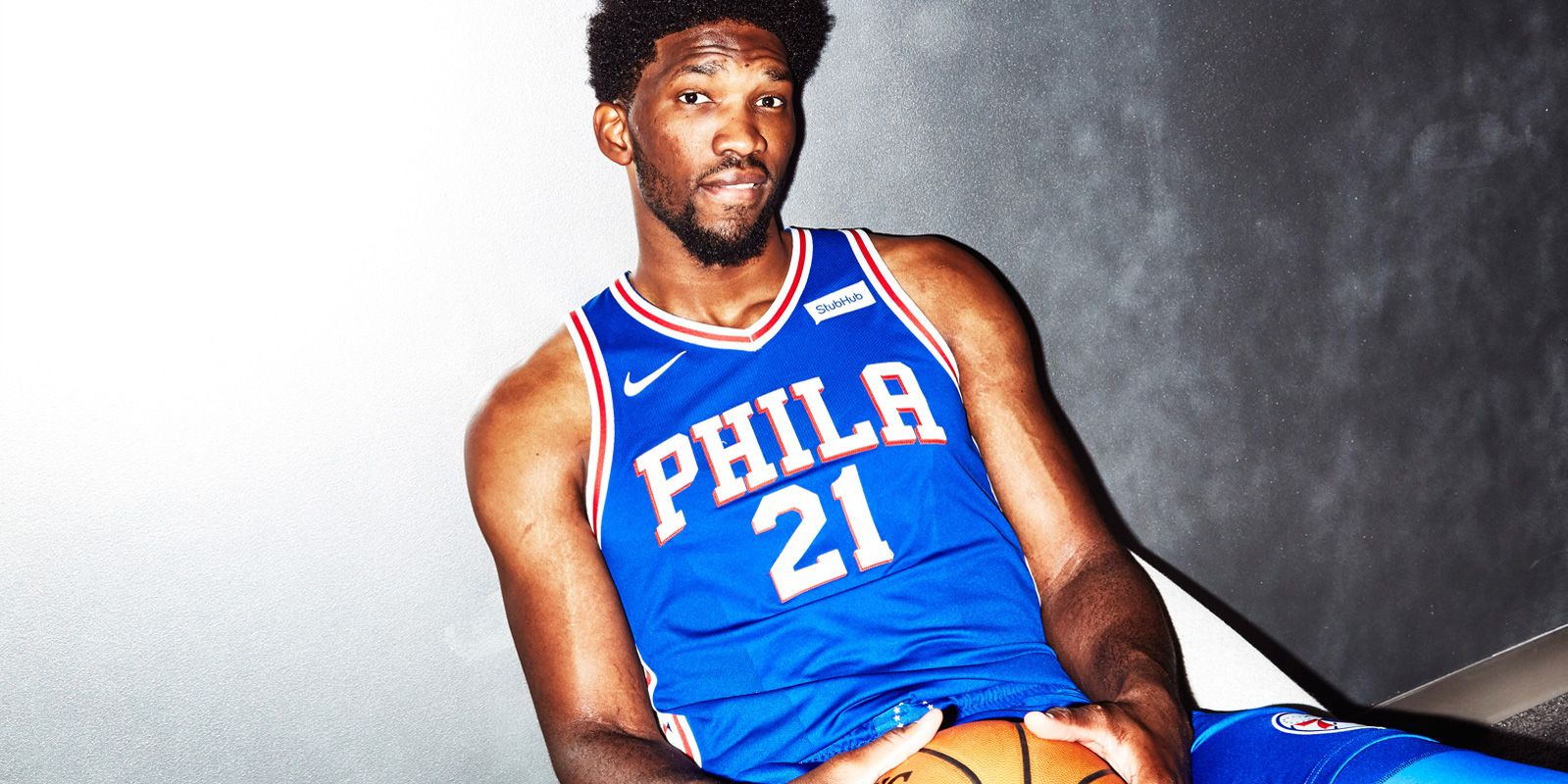 The Greatest Story Ever Trolled
Joel Embiid has turned the Sixers' famed process into performance art, and everyone is feeling merry and bright -- for now.
This story appears in ESPN The Magazine's Dec. 25 'Tis the Season issue. Subscribe today!
Joel Embiid has a theory. It's a Game of Thrones theory. He doesn't know anyone with the production team, hasn't read the books the show is based on and isn't active in Reddit chat rooms with the other crazy fans and GoT theorists. But "I've studied the whole show," he says, and it's clear to Embiid that Kit Harington's character, Jon Snow, will not end up on the Iron Throne.
"That's what everybody thinks is going to happen," Embiid says. "But the whole show has been that you don't know what's going to happen. Jon Snow will not be the king."
We've been in a car together for about 30 minutes, driving from San Francisco to Sacramento, where the 76ers' irrepressible young star will meet his teammates for a game the next night. Already Embiid has made predictions about Game of Thrones, this year's NBA Finals-- "[The Warriors] will be ready to go seven games with the Sixers in June!"-- and how his own ride on the fame cycle might turn.
"People love you at the beginning," Embiid explains. "But at some point they're gonna start hating you. LeBron. Russell Westbrook. All the superstars. Even Steph. He's so likable. He does nothing wrong, but some people still hate him. It just comes with the nature of it. I've seen it.
"I feel like I'm about to go through it. I think it's coming. People always want something new."
To be clear, no one appears anywhere close to turning on Embiid. After four years of former general manager Sam Hinkie's YOLO tanking in pursuit of future greatness, the Sixers have come to life in the first part of this NBA season, with Embiid as their trash-talking, Dream Shaking leader. Social media adores his blend of right-up-to-the-line trolling and self-deprecating humor. NBA coaches and veterans marvel at his unique skill set-- low-post dominance like Shaquille O'Neal, footwork like Hakeem Olajuwon, a shooting touch like Dirk Nowitzki. "He's a problem," Lakers coach Luke Walton said on Nov. 15, after Embiid torched his team for 46 points, 15 rebounds, 7 assists and 7 blocks. Even the hardened, cynical fans in Philadelphia seem smitten with Embiid.
The Process, the nickname Embiid gave himself last year as an homage to the Hinkie era, has become a civic rallying cry. It can be heard at road games in Boston and Washington, D.C. A viral video featured a Lyft driver who shouted it as he followed Embiid on a Rocky Balboa-style run through the streets of Philadelphia one night.
Embiid loves it. When Sixers fans chant it as he shoots free throws, he'll wave his arms, imploring them to chant louder.
"It's like Happy Gilmore out there," former teammate Nik Stauskas says. "Most people like the place to be quiet when they're shooting. Jo's like, 'Come on, man, make some noise!'"
And if they don't, he's not happy about it.
"Oh, he eggs the crowd on," Sixers swingman Robert Covington says. "He loves it."
All in all, it's clear that Philly-- not to mention NBA Twitter-- is still firmly in the honeymoon phase with its young star. So why does he think the world might be about to turn on him?
Is that what he's afraid of?
Or what he wants?
---
To understand Embiid, you must first understand the psychology of the troll. As anyone who has ever checked his Twitter mentions knows, there are all sorts of trolls. Mean ones, funny ones, bullies, racists, pranksters. They all have the same goal: to get a reaction.
Embiid is a playful troll.
"I don't go over the line, but I feel like I'm always right there," he says with a grin. Of course he is aware it makes people within the organization crazy that their budding superstar keeps giving shoutouts to the deposed general manager who led the franchise to one of the worst stretches in NBA history. That's kind of the point.
"I won't mention names, but a lot of people weren't happy" with his call-outs, Embiid says. "I don't care. To me it was like, we've gone through so much, and I get that Sam Hinkie wasn't the most loved in Philly, but that was the guy who drafted me. I still like him. He did a lot for me."
So he calls himself The Process, over and over, mischievously defusing its bite with humor and hashtags but still cutting right up close to the quick.
"I'm not doing it to hurt anybody's feelings or create a situation," Embiid says. "I just think it's funny."
This is the essence of Embiid. Always flexing. Kidding but not kidding. Trolling on social media, trash-talking on the court, playfully tweaking people to see what they'll do about it. But Embiid is pushing himself as much as he's pushing buttons.
"I love that stuff. That gets me going," he says. "That makes me want to score and block a shot and dive on the floor. That makes me want to make a great play. I hate when we go on the road and other teams don't really have fans who cheer. ... I feel like it makes me sleepy.
"I want to get into the fans, I want to hear their voices and hear people talking s--- and hear people get into the game crazy and chanting 'Ref sucks' or 'Trust the process' or 'Joel, you suck!'"
So he likes the pressure it puts on him?
"I love the pressure."
---
This fall, the Sixers gave Embiid a five-year, $146.5 million contract extension after seeing him play just 31 games in his first three seasons. They saw enough talent, star power and character to believe he can be the face of their franchise for a long time.
But Embiid has felt like the star of this team for far longer than he's been paid like one. Back in May 2015, Embiid spent the better part of a week destroying people in three-on-three games at the 76ers' practice facility. Young players, veterans, the wayward coach who jumped into one of the games to get a closer look: Nobody could stop Embiid, including Nerlens Noel, whom the Sixers had picked sixth overall in 2013 and had high hopes for.
"I played against him," Embiid says. "And actually, I killed it."
After sitting out his entire rookie season with a foot injury in 2014-15, Embiid was finally back on the court, and he looked like some mythological creature sent to destroy opponents and resurrect a basketball franchise. It didn't take long for word to reach Hinkie, who was off scouting in California.
Hinkie texted Covington, wanting to make sure this was real and not just sycophants trying to make him feel better about using a lottery pick on an injured big man.
"[Embiid] literally almost ran all our bigs out of the gym," Covington says. "It was the first time I'd seen him, and for him to dominate like that, it was like, 'Well, damn.'"
A few weeks later, Embiid started playing against veterans at pickup games in Los Angeles.
"It was a joke how good he was," veteran NBA guard Jamal Crawford says. "I saw then that the league had nothing for him."
Less than a week later, an MRI revealed that the bone in Embiid's foot wasn't healing properly. Today, the foot, knee and back injuries that derailed Embiid's first three seasons are as much a part of his story as his incredible journey from Cameroon to NBA stardom. His health is the giant blinking asterisk affixed to every prediction about his destiny and the great expectations for the Sixers' future.
He was the first rookie to average at least 28.7 points per 36 minutes played since Wilt Chamberlain. With Embiid and rookie point guard Ben Simmons on the court, the Sixers, through Dec. 11, had outscored teams by 9.9 points per 100 possessions-- a net rating behind only the Warriors and Rockets.
Embiid's health hangs over all of these dreams.
He and the team are proactive: Embiid has gone to Aspetar, a state-of-the-art sports medicine facility in Qatar, where experts study everything from his sleep patterns to his gait, trying to build his body in the most sustainable way possible. During interviews at his locker, a world-renowned physiotherapist digs into the quadriceps muscle above his knee. He used to love rich, buttery French food but gave up dairy because it causes too much inflammation. He sits out the second night of back-to-backs on orders from the front office.
Embiid stopped trying to fight these modifications a long time ago. His protests about sitting out feel more spiritual than philosophical.
"I'm not OK with it," he says. "But it's best for the future. They know that once I'm on the court, if you let me stay on the court, I'm going to lead."
---
Embiid was a teenager in Cameroon when he first saw Kobe Bryant in all his swaggering, gunslinging glory during the 2009 NBA Finals. Embiid didn't speak English and had never played organized basketball, yet he knew he wanted to be like Kobe someday.
"I just liked his mentality, the way he was playing. He just didn't care," Embiid says. "I think I needed to figure out a way to be like that more."
In another life-- or another body-- Embiid would probably be out running sand dunes like Bryant did at 4 a.m. as a way of channeling the restless id inside him. But Embiid's body would never tolerate that, so the competitiveness manifests elsewhere. It's why he trash-talks and taunts on the court right up to the line where someone might swing at him. Why he plays video games deep into the night, even bringing his PlayStation on road trips. "I just love winning," he says. "When I play, I rarely lose, so it makes me feel good about myself. And I keep winning, winning, winning."
"I played [PlayStation] with him once and said I'll never do it again," Sixers guard T.J. McConnell says. "He talks the most crap ever. ... I wanted to throw the controller out of his apartment building."
Embiid says he's reached out to Bryant on several occasions, drawn to Kobe's supreme confidence. How do you shoot 30-plus times in a game and never feel even the smallest twinge of guilt about it?
"After 15 to 20 shots, I feel like my teammates might be looking at me," Embiid says. "I don't want that to be on me. But I feel like sometimes I need to."
Bryant didn't take all those shots because he had no conscience. He took them, Embiid says, because he knew he could make them. "He was always working on his shot, so that's why he felt like he could.
"When everyone else was partying, he was working on his shot. I have to get a little of that."
So Embiid doesn't drink alcohol or spend much time at parties. He studies classic NBA games like they're textbooks. He watches his contemporaries, like Karl-Anthony Towns, Giannis Antetokounmpo, Kristaps Porzingis, Anthony Davis and Nikola Jokic, knowing he'll likely do battle with them in the playoffs someday.
He studies his own team and thinks there is still room to grow. Simmons' game is limited by his lack of outside shooting, which collapses the space Embiid has to work inside. There will also be an adjustment period when rookie point guard Markelle Fultz returns from a shoulder injury and tries to find his place in the offense.
"We're still working on our chemistry, especially with me and Ben on the court," Embiid says.
"I think with everything, the main thing we have to do is just stay together, because I feel like there's going to be some type of situation where people say who is better between us three. And that's how it splits."
---
IT IS NOW Embiid's job to ensure that it doesn't. That's part of accepting the $146.5 million contract and wanting to be the face of the franchise. You have a responsibility to lead it.
In many ways, the 23-year-old is a natural-born leader. His infectious personality is like a gravitational force. Teammates flock to him after games and on off-days. But if Embiid is the sun at the center of the Sixers' solar system, Simmons is the moon. The young Australian mostly keeps to himself and has a natural quietness to him.
"Night and day," Sixers wing Justin Anderson says of his teammates' personalities.
"I don't go over the line, but I feel like I'm always right there."
- Joel Embiid
For Embiid to take this team to its full potential, he has to do it with Simmons, which means they need to foster a relationship that has at times been distant.
"They have a role to play in each other's success," coach Brett Brown says. "What interests me more than going out to dinner or being together off the court all the time is respect on the court. And the respect is generated because you look at somebody and know they care, know they work, know the team is in their best interest."
Brown spent 12 years working under Gregg Popovich in San Antonio, and he says it took years for Tim Duncan, Manu Ginobili and Tony Parker, the core of the Spurs dynasty, to find out how to play-- and win-- together. Popovich was always the strongest voice in the room, Duncan led by example, Parker was the beating heart, Ginobili was the conscience. Brown says he used to get emails from Duncan at all hours of the night, musing on how to address an issue the team needed to work on.
"Everybody's got their own way to deliver a message," Brown says. "To try to force a style of leadership on anybody is not what I'm interested in."
Of course, Embiid's style of leadership isn't always the most politically correct.
"Having your teammates' backs-- that's what I feel being a leader is," Embiid says.
This year that's meant Brown and the Sixers have to bite their tongues when Embiid criticizes the way they've handled situations with Fultz, whose mysterious shoulder injury has kept him from any meaningful action, and former lottery pick Jahlil Okafor, who was finally traded to the Nets on Dec. 7, more than a month after requesting to leave.
"The whole thing with Markelle is messed up," Embiid says. "It should not have happened. Obviously, it has something to do with his shoulder-- I saw that they said it wasn't the shoulder, but I don't believe it.
"With Jahlil, I really appreciate that he didn't want to cause a scene," he says. "If it was me, I feel like I would have lost it. I don't know if I could have handled it."
Embiid makes headlines and ruffles feathers when he talks like this. Same as he did when he co-opted "The Process" as his nickname. Teammates mostly are amused by it. "He loves to poke the bear-- he thrives on it," Stauskas says. "I've never really seen anything like it. It's different, but it works."
In the end, trusting the process really means trusting Embiid.
"We encourage him to explore and be a little bit unfiltered," Brown says with a smile. "That's how he lives. And that's how he plays."
---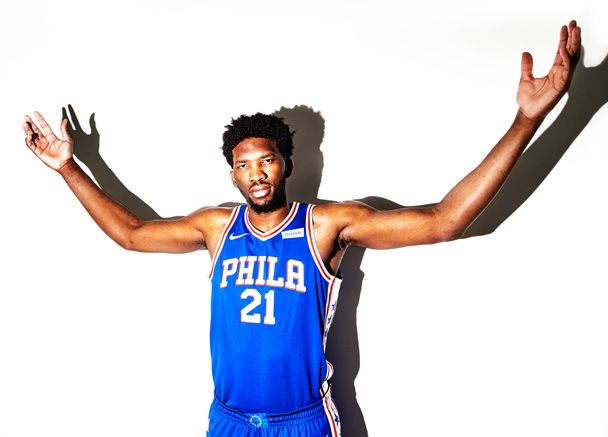 EMBIID HAS DONE so much in his young career-- through 50 games, he scored more points than Olajuwon, grabbed more rebounds than Patrick Ewing, had more assists and 3-pointers than Olajuwon, Ewing, O'Neal, Dwight Howard and David Robinson-- that it's easy to forget how quickly this has all happened.
Seven years ago, the man didn't speak English, let alone play basketball, and now he's wickedly funny in another language and one of the most skilled big men in the sport. He jokes that he learned English by listening to rap music and how to shoot by "watching [videos] of white people." But clearly there's more to it.
"I look like I'm not listening, but I'm actually listening," Embiid explains. "I like listening to everything, observing everybody, just taking everything in and then in my mind, figuring out what's good for me and what's bad for me."
So far he's figured it out pretty well. For every testy Twitter exchange that goes right up to the line, Embiid does 10 more playful, irreverent things that seem solely motivated by a boyish sense of adventure.
He's out shagging fly balls during the Home Run Derby at the MLB All-Star Game. He's at the World Series, tweeting "Let's Go Astros!" while wearing a Dodgers jersey. He's playing tennis on a public court at night with strangers who challenge him to a game.
On the one hand, Embiid is an anthropologist, using what is obviously a brilliant mind to study our culture with fresh eyes. On the other, he's Tom Hanks in the movie Big, testing out games meant for children while in the body of a man.
Before the NBA draft, his first agent, Arn Tellem, hired a social media coach for Embiid. At first, Embiid followed his instructions to post unassuming, sports-focused updates. "But unfortunately I got hurt and I didn't have anything to do," Embiid says. "I found social media was a way for me to open up and show the world who I was and also keep my name out there."
Pretty soon he was asking Rihanna out on a date and recruiting LeBron James via Twitter.
"On social media, I can hide behind the computer or the iPhone," Embiid says. "Internet courage."
There's the playful troll again. The kidding-not-kidding wink that masks why Embiid likes to play so close to the fire.
He doesn't want to get burned. He just needs to feel the heat. All this trolling, this button-pushing, it's just a warm-up-- his way of summoning the greatness to back it up.
Shelburne is a senior writer for ESPN. She spent seven years at the Los Angeles Daily News.