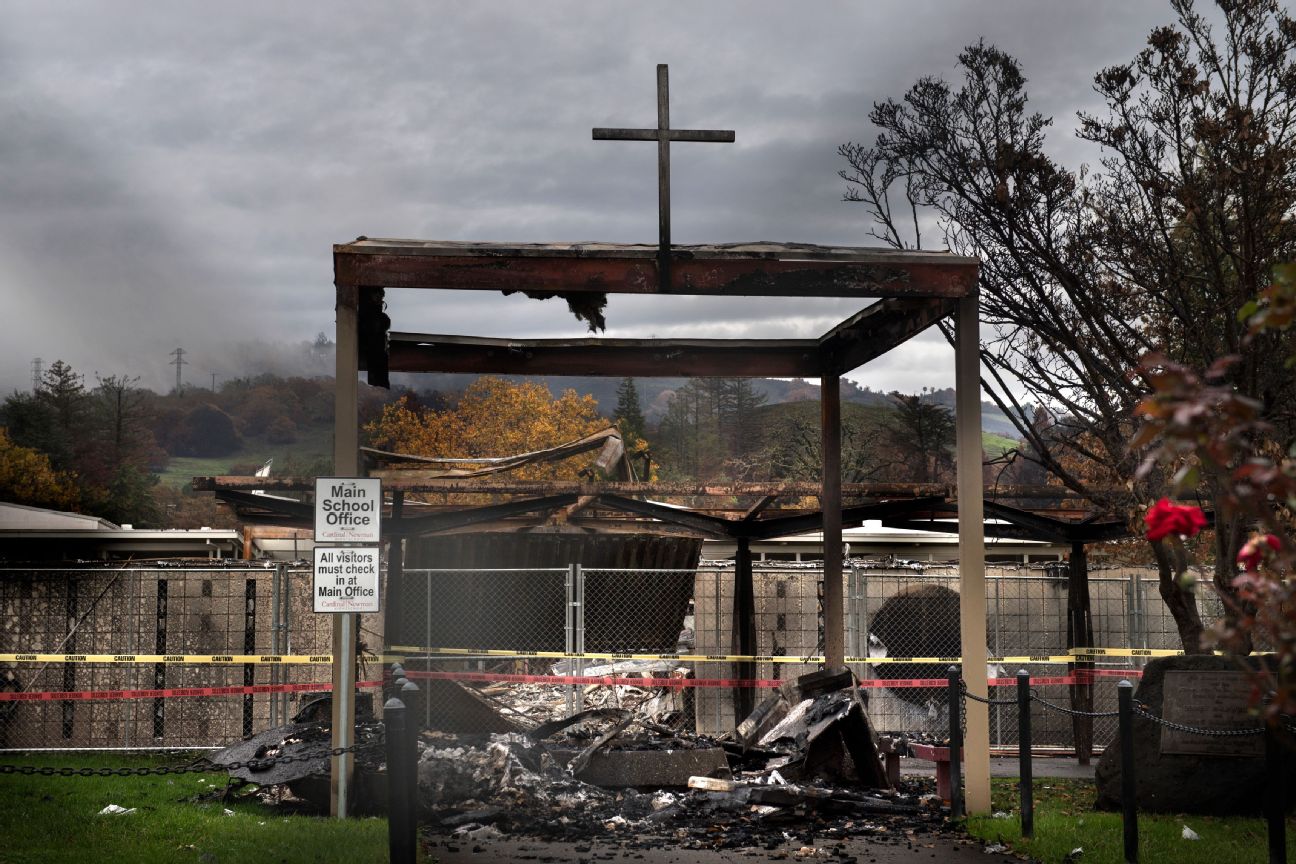 Firestorm and Football
After California wildfires destroyed their school, Cardinal Newman football still fought to win.
In the middle of Cardinal Newman High School's football season, the most destructive fire in California history ripped through Sonoma and Napa counties in Northern California, propelled by winds stronger than 50 mph and destroying 5,643 homes in its path. Quarterback Beau Barrington, receiver Kyle Carinalli and receiver Nikko Kitchen were among the seniors on the varsity team who lost their homes.

On Oct. 9, around 1:15 a.m., Beau's mother, Kristi, woke him and told him they had to evacuate. He grabbed his football, computer and yearbook. The next day, they learned there was nothing left of their home. A few miles away, Kyle's mother, Heather, woke him about 12:40 a.m. His father was away on a trip, so Kyle jumped on a tractor and tried to make a firewall around their property. When they returned the next morning after evacuating, they saw their home had burned to ash. Nikko and his father, Brian, saved a disabled woman as they narrowly escaped the fire ripping through their Coffey Park neighborhood, which lost nearly 1,300 homes.

As the community tried to recover, football became a way to unite and bring some healing from the devastation. Team dinners were held in a family's barn next to horse stalls, with players sitting on hay bales. Schools and churches created space for the Cardinal Newman students, who lost close to half of their campus to the fire. Beau, Kyle and Nikko attended classes at St. Joseph Catholic Church in Cotati. Rain fell as the team practiced at El Molino High School, which provided a field for Cardinal Newman.

The team continued to win games and advanced in the North Coast Section playoffs. At practice, some students wore T-shirts that said, "Play Through the Burn" to show their strength and resilience. In what turned out to be the final game of the season, against Marin Catholic for the North Coast Section Division 3 championship, Kyle and Nikko wore different numbers than usual because their regular jerseys were burned in the fire. With nuns cheering from the sideline, the teammates played their hearts out as the rain came down on a crushing loss for Cardinal Newman.

SC Featured returns Sunday with the story of the Cardinal Newman football team's quest for a championship in the aftermath of the most devastating fire in California's history. Watch "Through the Fire" at 10 a.m. ET on SportsCenter.