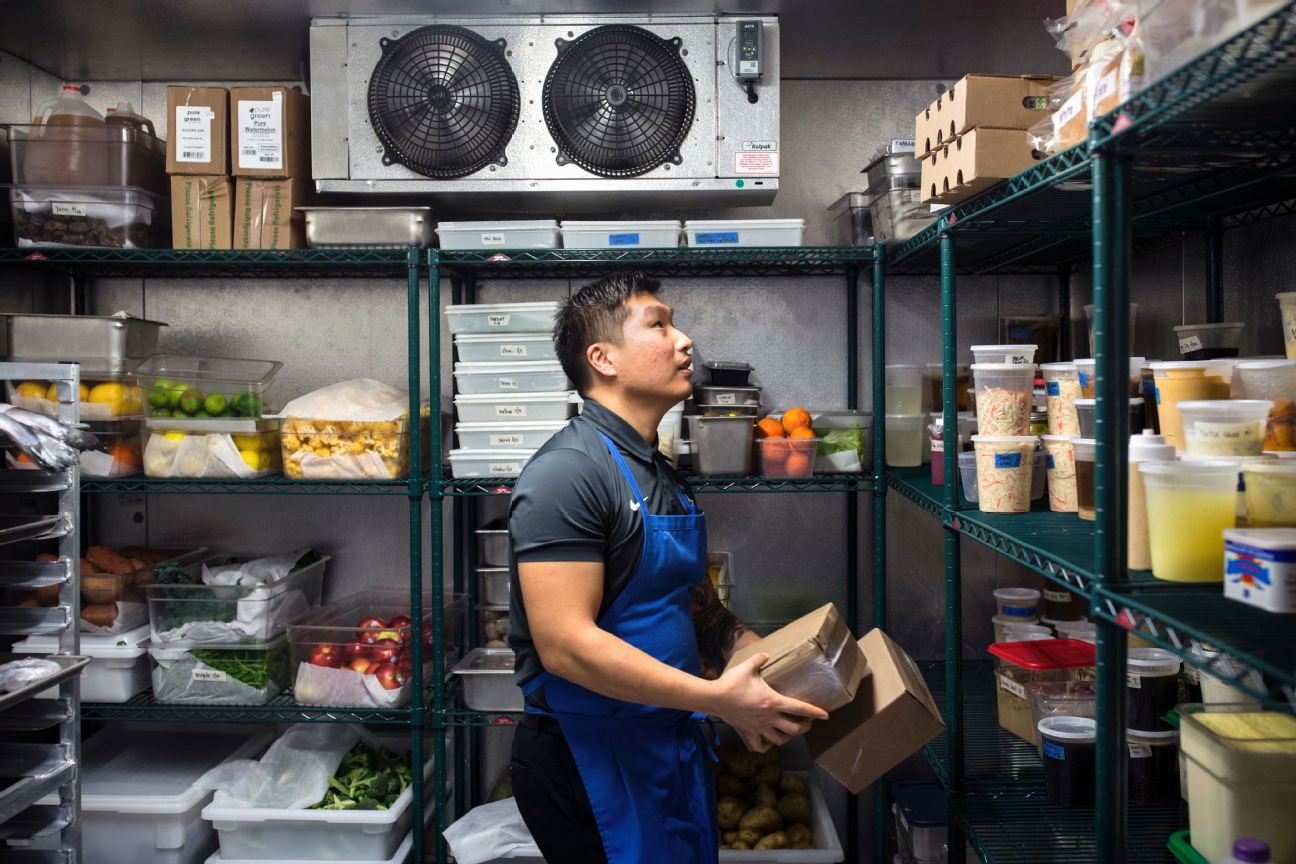 Inside the NBA's Foodie Franchise
In Philadelphia, the 76ers can order yakisoba noodles for breakfast and drink bone broth during film sessions. It's all part of the team's food program under executive chef JaeHee Cho.
When JaeHee Cho first auditioned for the executive chef job with the Philadelphia 76ers, he was going to wow the brass. He composed a menu titled "Chicken & Egg." He'd take four or five chickens and showcase every part of the bird -- use the bones to make a broth of incomparable depth, confit the legs and craft an elevated salad from the meat, concoct an East African-style stew by braising the thighs in a berbere spice, and even bake chawanmushi, a Japanese egg custard tart, three ways.

Sixers president of basketball operations Bryan Colangelo received the suggested menu over email and winced. He appreciated Cho's ambition, but this might be a little bit too ... chefy.

"I was looking to show off a skill set, and how I could use creatively every part of a chicken," Cho says. "but they were like, 'Can you make a good pancake?'"

The Sixers countered by suggesting a meal that would start with basic breakfast items, then move toward crowd-pleasing lunch and dinner fare. Cho would also need to pay attention to the nutritional composition of the dishes because he'd ultimately be feeding world-class athletes.

Inside a friend's brick-walled restaurant a couple of blocks off the Italian Market, Cho started Colangelo and a few other Sixers execs at around 1 p.m. with omelets featuring fresh produce, then brought out three kinds of pancakes: one from his own sourdough culture mix, another made with flaxseed milk, and a more traditional pancake made with buttermilk sourced from a local dairy.

Over the next two hours, the plates kept coming. Beef fajitas were followed by grilled salmon skewers served with couscous. When the meal was over, Colangelo and company could barely move. Pending a background check, Cho would become the executive chef of the NBA's most comprehensive, sophisticated and well-equipped food program.

The NBA is living in a golden age of infrastructure -- gleaming new training facilities populated by cutting-edge sports scientists and space-age machinery, analytics departments larger than entire basketball operations departments were a decade ago and amenities that cater to seemingly every need of the modern NBA player.

The Sixers have put food at the center of the team's daily existence. Situated on the second floor of the Sixers' training facility in Camden, New Jersey, the team's enormous, light-filled dining room and professional-grade kitchen with a view of the Philadelphia skyline function not only as a fueling station where players receive nourishment, but also a hub for the communal life of the team.

"It's always good to break bread with people, with your teammates," says Sixers wing Justin Anderson. "I've learned as much from my teammates in here or on the road at dinner or inviting them over. Food has been a great way over my career to get to know my teammates."

The meals prepared by Cho, 34, and his team on game days power the Sixers. These athletes rely on Cho to deliver the goods specified in their individual nutrition programs, to make food that will sit well and will make them feel good, and to be discreet about their habits. It's an enormous investment of trust from players and from a franchise that has developed a taste for championship contention.

Sixers shooting guard J.J. Redick calls Cho's operation, "a top-10 Philadelphia restaurant." Over four days in February, we embedded ourselves inside that establishment.