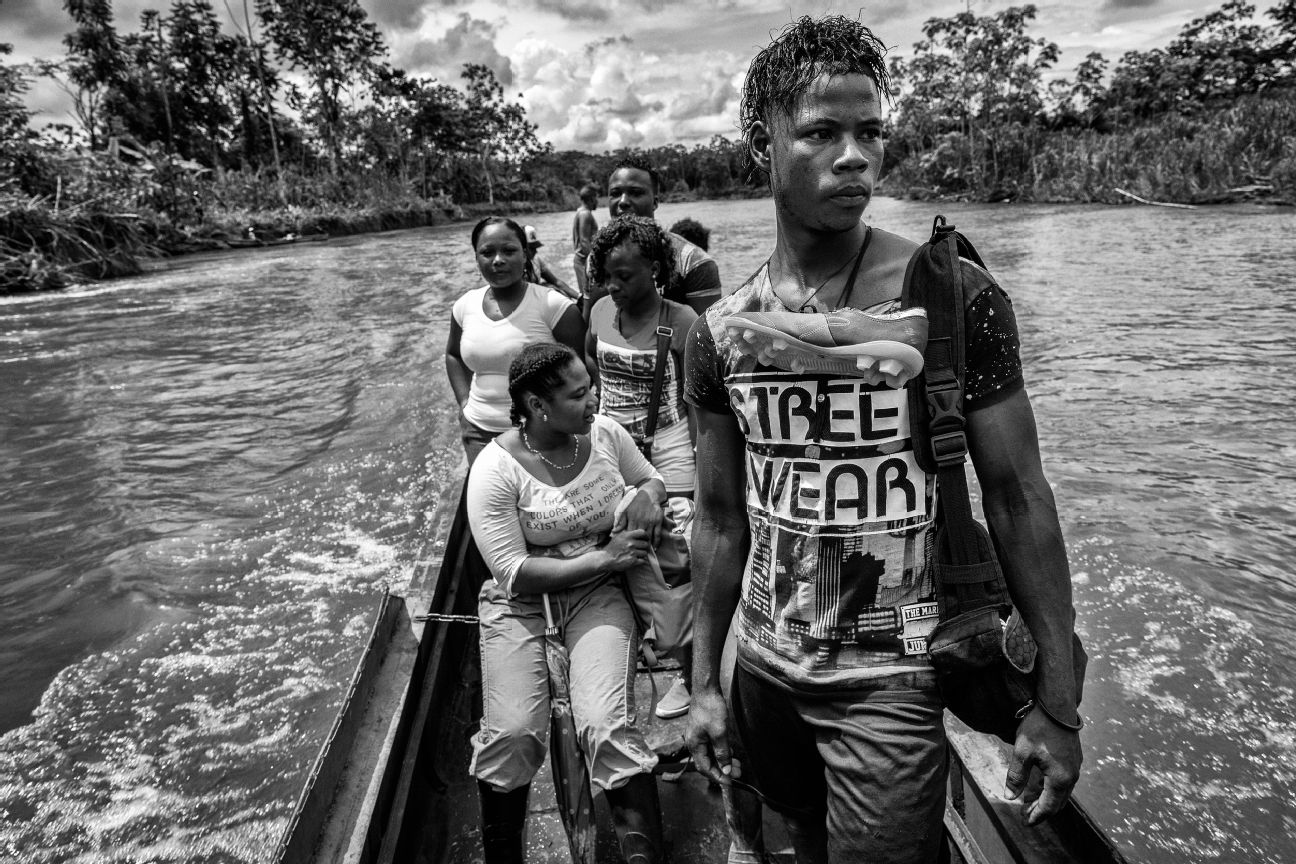 Former rebels trade rifles for footballs
After 53 years of warfare, kidnappings and massacres, former rivals now meet in peace for the one sport that ignites passion in Colombians.
After more than 50 years of warfare characterized by intense fighting, a rash of kidnappings and bloody massacres, Colombian rebels signed a peace accord with the government in November 2016 and, seven months later, laid down their weapons. The former rebels of the Revolutionary Armed Forces of Colombia (FARC in Spanish) turned to soccer as one of the ways to integrate into civilian life.

Editor's note: Because of safety concerns, all subjects interviewed for this photo essay are under assumed names.

Kleider Palma put on rubber boots, the ones used for patrolling as a guerrilla, and hung his soccer cleats around his neck. He boarded the metal boat, or panga, and, along with some assembled FARC comrades, headed toward the nearby village of Vegaez in northwestern Colombia. The stated mission was not a skirmish with government forces as in the past but an afternoon of soccer, the sport that ignites passion in war or peace.

"We would carry 70 kilos [154 pounds] on our backs and walk up to 30 km [19 miles] a day up on the mountains. The first thing we would do before camping would be to clear a field with our machetes so we could play soccer. Sports have always been part of our guerrilla way of life," said Kleider, who saw his dream of becoming a professional soccer player cut short by the civil conflict in Colombia.

After 53 years of guerrilla warfare, in June 2017, the Revolutionary Armed Forces of Colombia, or FARC, turned in their weapons to the United Nations, signaling a new era of peace for Colombia. Now FARC is transforming itself into a new political party and reinserting thousands of former guerrillas into civilian life. Some local media reports even point to eventual participation in the national soccer league.

"We approached Dimayor [Colombia's professional soccer authority], and we asked if we could include two B division teams, one of women and another of men, all former fighters, in the association. We have the talent to play against professional teams, like América de Cali or Nacional de Medellín. We should give our men and women that chance," said Walter Mendoza, the sports director for FARC, who spoke with an assumed name because of security concerns.

The first step in this ambitious endeavor of launching a FARC soccer club involves scouting talent through clinics set up in the majority of the 26 transitional settlements where the estimated 7,000 former rebels have demobilized. This is compounded by the overall financing of such a club, as FARC notoriously funded itself during war by means that included drug trafficking and kidnapping ransoms.

Meantime, in most of the FARC settlements, former fighters are playing in and winning local soccer tournaments. At the Tumaco settlement on Colombia's Pacific coast, self-sustaining projects are underway, and the players are selling raffles to buy equipment and cover travel to tournaments.

"We've started to see an increase in local communities participating in sports events. Soccer is a way for us to win hearts and minds," said Edison Romana, an alias for the once-feared FARC commander who now runs a settlement. "For example, women's soccer teams' participation has increased. The fact they see our [FARC] women play has empowered women in these remote communities to organize and play."

At the village of Vegaez, on a recent afternoon, soccer matches were played to the rhythm of reggaeton blaring in the background. The last game that day was something no Colombian would have imagined a year ago. Once enemies on the battlefield, the Colombian Army and the FARC former guerrillas met on the pitch, without weapons and with a soccer ball.