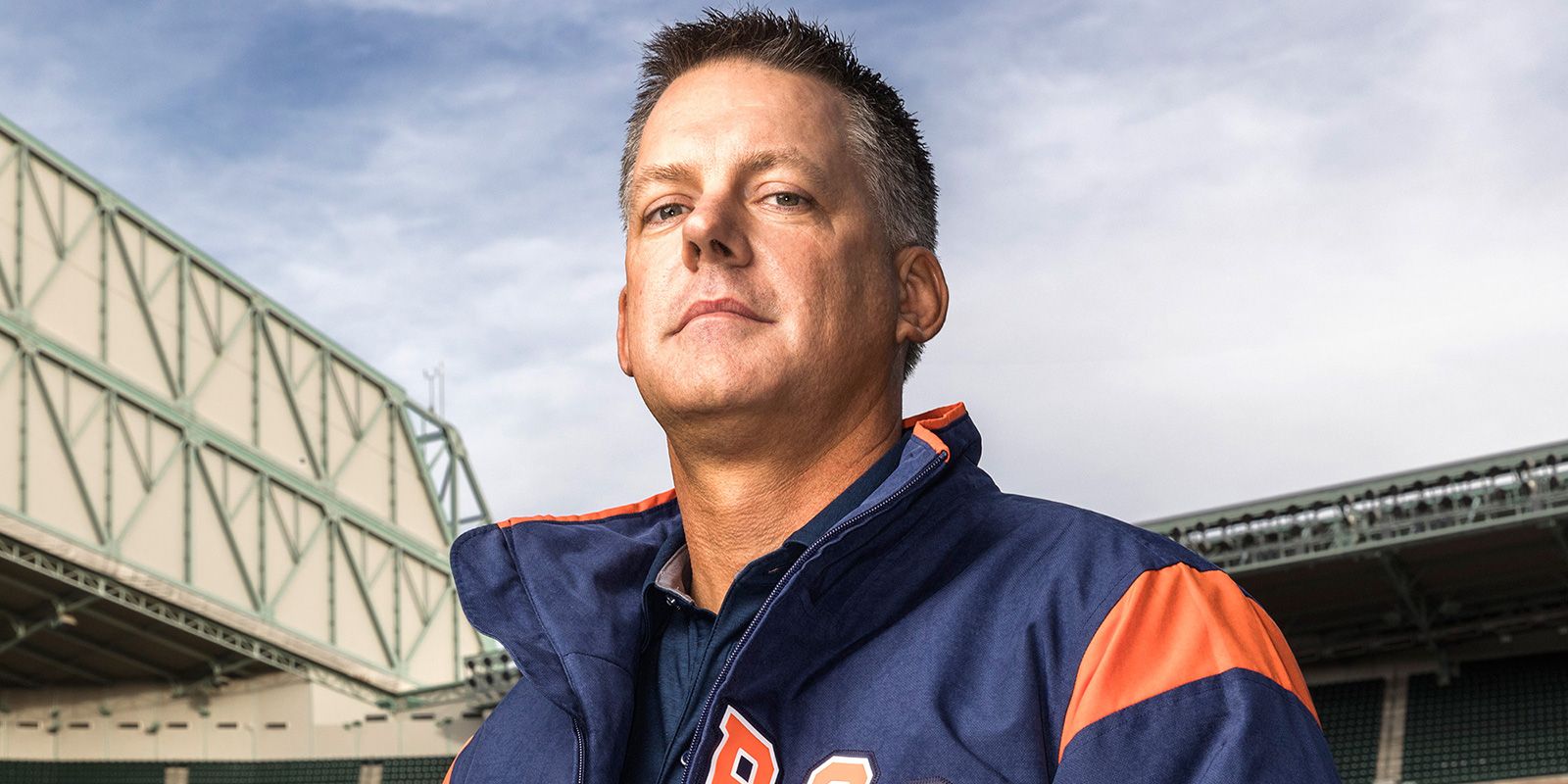 The Second Act of A.J. Hinch
In 2010, the manager was a failed experiment. Now he's a World Series winner. What changed? Only the entire philosophy of MLB.
This story appears in ESPN The Magazine's April 23 NEXT issue. Subscribe!
George Springer had snagged thousands of baseballs out of the air through his 28 years, most without a thought, but he had never caught one that possessed such power. Catching this ball -- a lazy, unambitious sigh off the bat of the Yankees' Greg Bird -- required conscious effort. As soon as it landed in Springer's glove, ending the American League Championship Series, the calculus changed: Now, what to do with it?
He jammed it into his pocket and started to run toward the pitcher's mound, where everyone associated with the Astros was about to meet. But this baseball, bouncing with every step, was the heaviest 5¼ ounces he could ever imagine. This baseball carried responsibility.
It was tempting but hubristic to keep it for himself. It would be cool to have, but what had he done to deserve it? Chance had sent the ball his way, not fate. He, one of 25, had simply caught it.
Springer ran and screamed and surveyed the aftermath of victory. For the most part, he got what he expected: jubilation and relief and maybe a glint of disbelief from his teammates as they rushed out of the first-base dugout like bats from a cave.
But toward the end of the exodus, Springer saw A.J. Hinch race out of the dugout, a first-to-third smile on his face. It's strange how many memories that smile evoked, and how quickly they arrived: the way Hinch managed the shredded nerves and panicked uncertainty during Hurricane Harvey; the text messages Springer and his teammates received when Hinch knew they were struggling or needed a day off; the quiet equanimity -- "It's OK to fail," Springer says, "just know why you failed" -- that sanded away the rough edges of a long season.
Springer might not have known all the particulars: how Hinch's über-prospect status in high school and at Stanford was overshadowed by an underwhelming professional career; how he almost quit and stayed home in Midwest City, Oklahoma, after his father died before he could watch Hinch play a college game; how his brief and bitter first managerial experience in Arizona made him wonder whether he would ever get, or even want, another chance.
But in those seconds between shallow center field and the mound, Springer's mind flashed back to the speech Hinch gave the Astros in spring training of 2015, his first year as manager. Hinch had taken over a young team in peak growing season, with burgeoning talent but three 100-loss seasons in its past four. Springer was about to start his first full season, Jose Altuve was a star, Carlos Correa was raking his way through the minors, and one of Hinch's first questions after getting the job was "Why isn't anybody around here talking about winning?" He asked it with a mystified tone to everyone in the front office, and then, standing before his players before they'd played a game for him, he said, "We're not doing this just to get better. We're doing this to win. The talent in this room is good enough to win right now, and it's not OK to be mediocre anymore."
Watching his manager run onto the field, arms raised and inhibitions flung aside, Springer thought: "Here we are, winning." The smile sealed it: Hinch would get the baseball.
Springer got the ball authenticated and found Hinch and his wife, Erin. He handed Hinch the ball and hugged him before turning to Erin. "Make sure they don't take this ball from him," Springer told her. And knowing his manager's personality, Springer felt obligated to deliver an additional instruction. "And make sure he doesn't give it to somebody else. He deserves this."
---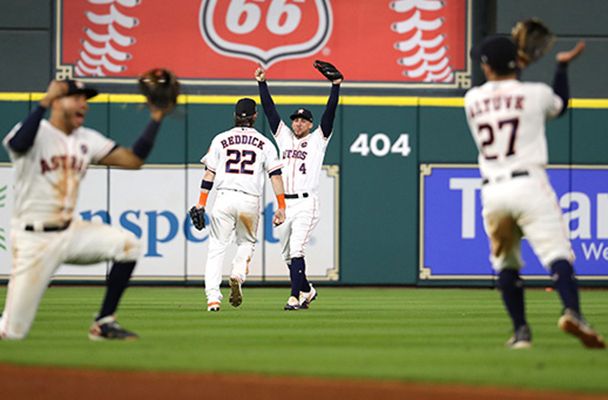 Throughout the history of baseball, there's always been a defined protocol to becoming a big league manager. First he is a player, often of undistinguished talent but excessively visible tenacity. He becomes a manager in the low minors, imparting hard-won wisdom along the two-lane state routes of America. From there he builds a résumé, eyes forward, putting a foot on one rung while hovering over the next. The years pass, the jobs improve: Triple-A manager, big league hitting coach, big league bench coach. And then, finally, a chance. These rules have been the game's catechism.
In 2009, at the age of 34, Hinch became an unwitting disrupter. He was the Diamondbacks' director of player development when the team's general manager, Josh Byrnes, offered him a managing job. Hinch, who had never coached or managed at any level, thought he was being asked to run one of the minor league teams. No, Byrnes said, he wanted Hinch to take over for Bob Melvin in Phoenix.
It was unexpected and more than a little weird. For decades, the separation between the manager's office and the front office was sacrosanct: One controls the lineup card, the other the roster. Even Billy Beane, whose Moneyball philosophy included significant input on managerial decisions, never hired a manager with no managerial experience.
"When Josh made that decision, I was rooting for them," says Astros general manager Jeff Luhnow, then with the Cardinals. "It's always worth rooting for people who are on the outside edge, pushing the envelope and not following the traditional model."
Once Hinch agreed to take the job -- he ran off to South Bend, Indiana, to watch Class-A ball for a week to think about it and signed on only after being convinced Melvin was gone either way -- his approach was more an impression of the job than the job itself. Against his nature, he affected a Mount Rushmore visage. "How would a manager act?" he asked himself. It got into his head a little bit. Visions of baseball's stoic leaders unspooled in his mind: hard, grizzled men who never show weakness or emotion; stern, serious, never underestimating their self-importance.
"I was trying to be what I perceived to be managerial," Hinch says. "From the very beginning, I had to justify just the sheer fact that I had the job. That created a shell around me that is a little bit different than the true me." Some of the players in the dugout were older than he was. He had hosted Eric Byrnes on a recruiting trip to Stanford; later they became teammates in Oakland, and now he was deciding whether and how much Byrnes would play. "Whatever his internal battle was back then, he did a great job of hiding it from his players," says former D-back Adam LaRoche. "I never picked up on any of it. I loved talking life with him, and he'd do it 20 minutes before a game or all day in the offseason." Hinch brought innovative and sometimes unpopular ideas down from the front office: He used his best relievers in high-leverage spots rather than preordained roles; he made out the lineup card with an eye on analytics; he relegated an older catcher (Chris Snyder) who was well-liked by pitchers and promoted a younger one (Miguel Montero) he thought could be a star.
It didn't matter that the bigger notions -- bullpen usage, analytics -- were just three or four years away from becoming accepted practice and the smaller notions -- Montero, for one -- proved wise. To critics, he wasn't an innovator or a shrewd evaluator of talent; he was a first-time manager with no experience, and everything -- seriously, everything -- was filtered through that lens. The first time a player was ejected under his watch, he was asked afterward whether he felt he could have gotten onto the field and separated his player from the umpire faster.
"To the media, if anything went wrong, it wasn't the move that was wrong," Hinch says. "It was the wrong move by a guy with no experience who was doing it for the first time. It just attached to every single thing."
He once brought J.C. Gutierrez, the right-handed eighth-inning guy, into a game in the seventh inning to face three right-handed hitters in the middle of a lineup. In 2010, this was borderline revolutionary. Gutierrez got through the seventh easily enough for Hinch to leave him out for the eighth, which he rolled through to set up an easy Chad Qualls save.
After the game, a buoyant Josh Byrnes was thrilled to see research and common sense minister to a bullpen awaiting hospice. He bounded into the manager's office and asked whether reporters noticed the mastery of his bullpen usage. Hinch just shook his head.
"We were trying to be more dynamic with seeking out matchups and choosing our relievers by game situation," Byrnes says. "You could say we were ahead of our time. We tried to knock some walls down between the manager's office and the front office."
The word "trailblazer" sounds funny to Hinch, who considers himself more of a forward scout, running ahead and finding danger. He never got a full season in Arizona; he, along with Byrnes, was fired in July 2010 after going 89-123. A first-time manager with a tenure as short and unsuccessful as Hinch's doesn't always get a second chance. Failure like this -- quick, thorough and the result of a professional leap many believed was unearned -- is a disease whose first symptom is often death.
He went to San Diego and got back into front-office work as the assistant GM, but the Arizona thing nagged. He dipped his toe in by interviewing with the Astros before they hired Bo Porter in 2012. ("Saved A.J. a couple of hundred losses," Luhnow says now.) A year later, he met with the Cubs, who hired Rick Renteria. In his second interview with the Astros, before the 2015 season, after it became clear he was close to securing the job, Hinch asked Luhnow, "What's your biggest fear with me?"
"We're not sure how you're going to handle players," Luhnow said. "We know everything else -- Stanford degree, information skills, people skills, good with the media -- but how are you going to handle players?"
This was the ghost of Arizona talking, and Hinch had to work to control himself. "I'll be fine with the players," he said as nicely as he could. He went home and vented to Erin: "Are you sh---ing me? My No. 1 skill is going to be dealing with players. If that's what you're worried about, you should give me the job. I'll get the players." He stops and shakes his head. "I'm just glad Jeff gave me the chance."
Luhnow had cause for confidence. His former club, the Cardinals, had flourished after they hired Mike Matheny in 2011 despite his having no previous managing experience above Little League. And the Tigers had won the AL Central in 2014 with first-time manager Brad Ausmus, four seasons removed from his retirement as an active player. The wall between the front office and the manager's office is now a permeable membrane. In Los Angeles, Dodgers president Andrew Friedman and general manager Farhan Zaidi -- backpacks and laptops at the ready -- make their way into Dave Roberts' office before and after nearly every game.
"I was ahead of my time," Hinch says with a clipped laugh. "I disrupted the natural flow of building a career."
Hinch's success -- the Astros went from 70-92 in '14 to a wild-card-winning 86-76 in '15 -- has earned him baseball's most facile and unilluminating reputation: players manager, which evokes images of backslapping and towel-snapping and a lovable refusal to act your age. It feels almost ironic in Hinch's case, considering that a few years before, his reputation as a stathead was the very thing that gave Luhnow pause. "I love players," Hinch says. "I love being part of their lives, I love developing relationships. They're not all perfect friends or perfect guys, but I really enjoy seeing them happy."
Alex Bregman, the No. 2 pick in the 2015 draft, was promoted to the Astros in late July 2016, and there were immediate expectations. Bregman responded with a grim debut, going 0-for-17 in his first five games, a stretch that suggested he might have been pushed too early. Hinch's response appeared to be counterintuitive, and maybe counterproductive: He moved Bregman up in the lineup, from seventh to second. Bregman got his first hit and hit .288 the rest of the season. "How many managers would move a rookie from seventh to second when he hadn't had a hit?" Luhnow asks, laughing. Apparently one who understands psychology and motivation and the individual. "Alex sweats confidence," Hinch says. "It's a lovable trait that some people can't get away with, but he can."
Brodie Van Wagenen is Hinch's agent, an ex-Stanford teammate and the best man at Erin and A.J.'s wedding. "I think A.J. spent most of his time using his psychology degree on himself," he says, "and now he's getting the opportunity to use it on other people."
The sheer lunacy of the Astros-Dodgers World Series lessened the urge to dissect every strategic decision, and Hinch might be remembered most for the look he wore in the dugout: a bemused smile that suggested he couldn't make any sense of it either. "He's good at putting on the right face at the right time," Van Wagenen says. "No one should mistake that for a lack of competitiveness."
"I was ahead of my time. I disrupted the natural flow of a career. "
- A.J. Hinch
Springer's favorite anecdote from the World Series is telling of Hinch's marriage of player management and analytics. After a 3-for-26 ALCS, Springer struck out four times in Game 1, and in the news conference afterward, Hinch was presented with two options: A) bench Springer, or B) slide him down from the leadoff spot in the order to an allegedly less pressure-filled location.
"One thing I tell players all the time is 'I have your back,'" Hinch says. "I wasn't going to abandon George. He'd had one bad game. Why on earth would I move him in the order?"
Hinch sent Springer a text:
It's not about the 0 for 4 or the strikeouts. It's about you going out and having fun and enjoying the best time of your baseball life because you never know if you're going to get back here. I've got your back. You're going to hit first tomorrow and set the tone for our team.
Springer, the World Series MVP who hit five homers and drove in seven runs over the next six games, responded immediately:
I'll be there for you.
---
In the photo, taken less than an hour after the Astros defeated the Dodgers in Game 7 of the World Series, Springer is being interviewed in the center of the platform in the middle of the Dodger Stadium infield, and Hinch is off to the side, looking straight into the night sky.
"When I see that photo, it's like an out-of-body experience," Hinch says. "I know exactly what I was doing: sharing the moment with my dad."
Hinch, the national high school player of the year from Oklahoma, was a freshman at Stanford in February 1993 when a Stanford administrator came down to the field and called head coach Mark Marquess away from practice. Marquess, known as Nine for his uniform number, never allowed interruptions, and soon every player was asking "Where's Nine going?" When he got to his office, Marquess was told Hinch's mother, Becky, needed to talk to him. Becky told him that A.J.'s father, Dennis, had died of a heart attack at 39. Too distraught to talk to her son, she asked Marquess to deliver the news.
"Toughest thing I had to do in all my years of coaching," Marquess says.
Dennis Hinch worked for a funeral home and later a concrete contractor. "He worked himself to death," A.J. says. Dennis' children -- A.J. has an older sister, Angie -- were his outlet. On A.J.'s 16th birthday, he offered his son a choice: a car or a batting cage. With gentle nudging from his father, A.J. chose the cage. "I should have bought a slider machine too," he jokes. When he got off the plane in Oklahoma City for the funeral, he decided not to return to Stanford. "My family talked me out of it," he says. "They told me there was no reason to stop life; it was just going to be an altered life." Instead of A.J. moving home, Becky moved to Palo Alto, where she got a job at the university. She remained there until A.J graduated with a degree in psychology, was drafted in the third round by the Athletics and represented himself -- "I always had the feeling I could do anything," he says -- in his first contract negotiation.
"My dad was my first thought when we made the last out of the World Series," Hinch says. "He was the whole reason I loved baseball. I get my work ethic from him, I get my stubbornness from him; my love for the game came through his eyes originally. He was my best and toughest coach. He was my buddy that I talked baseball with all the time. He never saw me play in college or professional, certainly not manage, but he's been close to me the whole time."
Before he returned to Stanford after the funeral, A.J. was cleaning out his father's briefcase when he opened a sleeve and found an airline ticket. Without telling his son, Dennis had bought a round-trip ticket from Oklahoma City to San Francisco to watch A.J. play in college for the first time.
"Finding that ticket ... that was the most touching thing," A.J. says. "He was going to surprise me and come out and see me play."
That airline ticket, its dot matrix printing like something from another geologic era, is in a memory box in Hinch's home office. Now 43, Hinch takes it out every once in a while and thinks about his dad, and then his own two daughters, and everything that's happened since Dennis Hinch slid that ticket into his briefcase.
---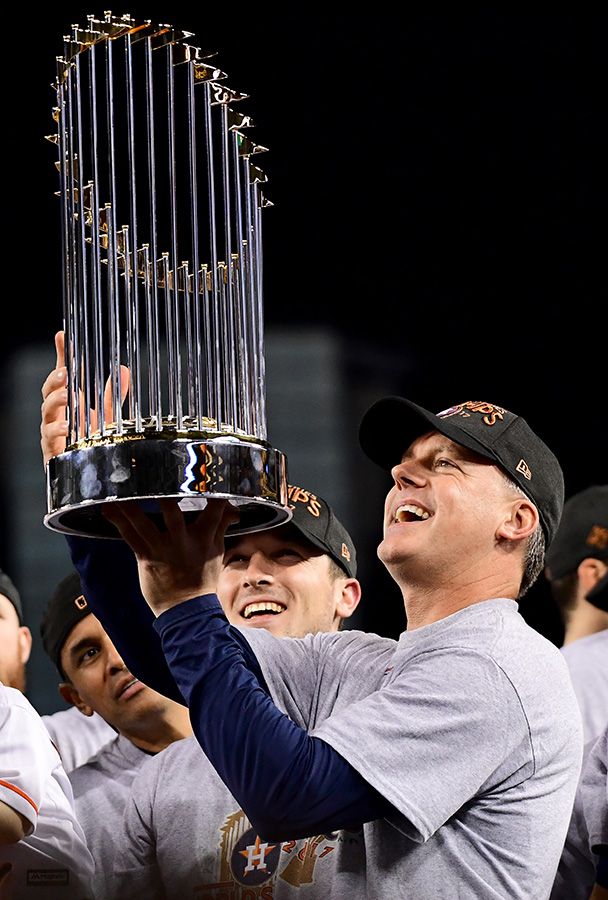 It's mid-November, the memory of one season fresh, the next too distant to entertain. A.J. and Erin are sitting in the great room of their monstrous home in the Houston suburb The Woodlands, a place archaeologists may someday christen the Easter Island of McMansions. The kids are at school, and a young guy carrying a bucket of chemicals appears in the backyard to service the pool. Nobody seems to notice. A.J. and Erin have been together since he was a cocky Triple-A catcher with the Athletics and she was a student at Arizona State. On their first date, he thought he'd impress her by saying, "I'm going to be in the big leagues next year."
She nodded, assuming from the pride in his voice that it was something she should be happy to learn.
"OK," she said. "But what are the big leagues?"
On this day, though, the conversation never strays far from one topic: how cool it is that the Astros won the World Series. It wasn't only the championship, though; the Hinches and everyone else in this town are convinced it meant something more, that this team, with its approachable core of young players and its humane response to Hurricane Harvey, left an indelible mark on the city. In fact, the Hinches' favorite image from the postseason isn't from the field; it's a photo of a Houston family sitting in a badly damaged house -- floors bare, walls down to the studs, cooler-as-coffee-table in the middle of the room -- watching playoff games on a TV run by a generator.
"In 2015, I stood in front of our team and said, 'Anybody in the room that has been to the World Series, raise your hand,'" A.J. says. "There were one or two older guys and that's it. Well, I can't use that speech anymore." He laughs a little and for a moment stares off into the middle distance, as if he's starting the process of crafting a new speech. "At some point I'll have to be the bad guy that tells everybody we're going to stop talking about it and move forward." They're not there yet, though. Just that day Erin stood in line at a sporting goods store along with several customers wearing and buying Astros gear.
"I just stood there and watched with a smile on my face," Erin says. "It just felt so cool."
"Did you tell them who you are?" I ask.
"Oh, no," she says, embarrassed by the mere idea of it. "That's not me."
A.J. throws his hands out and stares at Erin.
"Ho-ney," he says with mock annoyance. "Don't you know? Now's the time to tell them."
Keown is a senior writer for ESPN The Magazine and a columnist for ESPN.com.