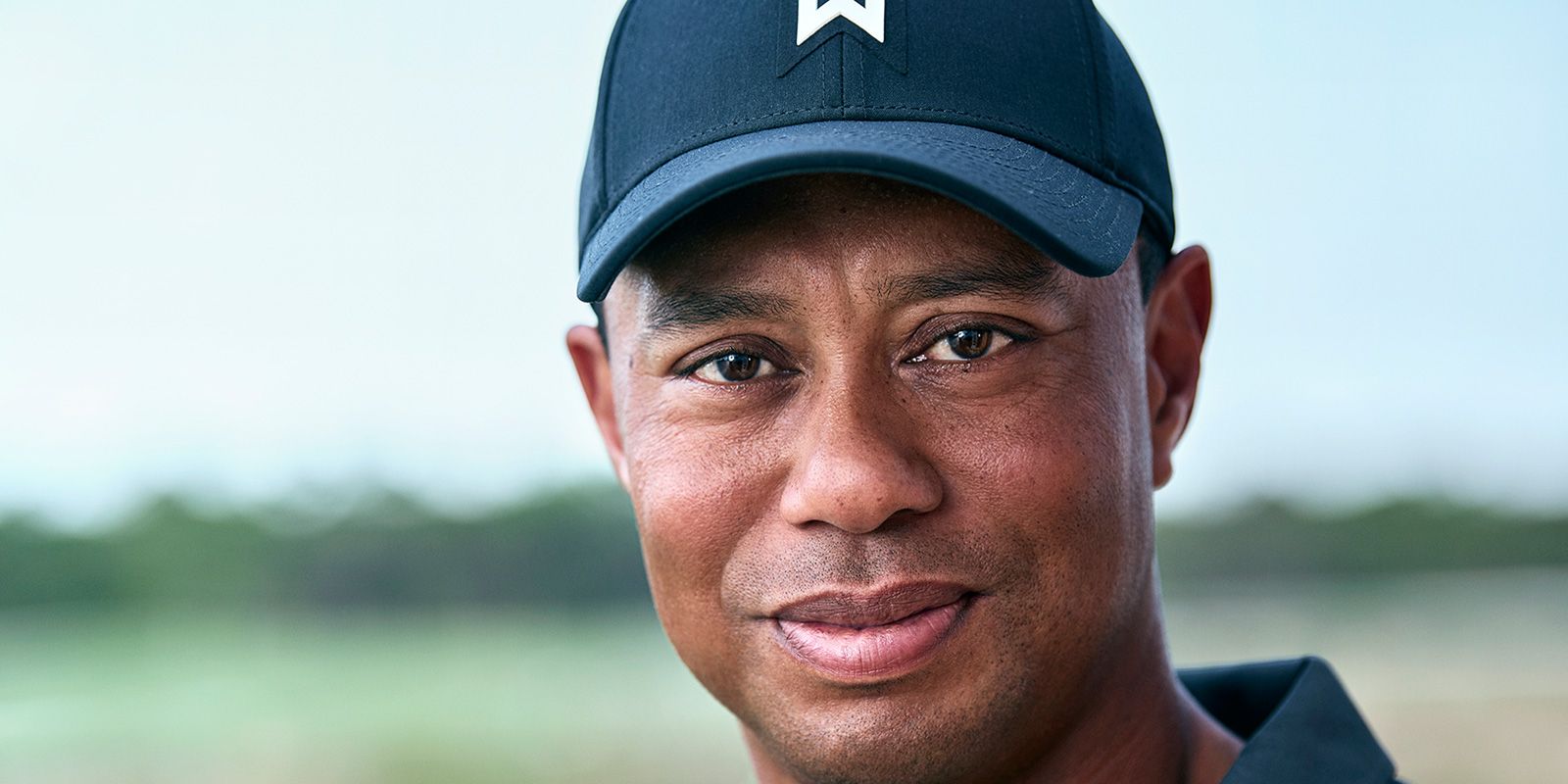 Get ready, golf fans: Tiger Woods' Masters return is upon us
With Tiger Woods set to descend upon Augusta National, another generation of fans will get to witness some golf magic that not so long ago seemed improbable.
"SportsCenter @ The Masters" coverage from Augusta National begins Wednesday, April 4, on ESPN, WatchESPN and the ESPN App.
It's hard to watch Tiger Woods play golf right now.
I don't mean that in the sense that it's hard to watch him, at 42 years old, try to recapture the glories of his astonishing, but now distant, prime. Quite the contrary. Yes, watching and writing about Tiger at his peak was a thrill. But I've grown to believe watching Tiger wrestle with time, seeing him relearning the rhythms of his body as he attempts to summon one last run at Jack Nicklaus' majors record, has a chance to be the most enjoyable era of his career.
You might disagree -- because who in their right mind wouldn't prefer to have the 2000 Tiger or 2006 Tiger back? -- but consider this: Tiger was never meant to play the underdog. He has always been golf's Goliath, a dominant force who didn't beat other players; he steamrolled them. It was awe-inspiring, but, at the height of his powers, it sometimes felt like rooting for a corporation. Yet, here we are, the week of the 2018 Masters, with a healthy Tiger having a realistic chance to chase an unexpected, improbable finish.
When I say it's hard to watch him play, I mean it literally. You have to push and elbow your way through a gallery that feels more like a crowded street bazaar. You have to crane your neck and invade someone's personal space just to get a glimpse of him on the tee as he mulls whether to hit driver or 3-wood. Often, right when you finally get a sliver of daylight and an unobstructed view, a person near you will thrust their cellphone into your line of sight, camera rolling, because he or she is desperate to take home a pixelated souvenir.
This phenomenon isn't limited to a particular demographic. People of all ages, races, tax brackets, and parts of the country are back by his side, and most of them cannot resist shouting encouragement to a man who almost never acknowledges it. Spend a day following Tiger around and you can't help but notice that one word pops up over and over again. Frat boys, socialites, finance bros, lawyers, hippies, soccer moms, biker dudes and little kids all shout out some version of it as he strolls by, in a way that feels like a mixture of reassurance and longing.
It's the word "still."
I still love you, Tiger!
You're still the man, El Tigre!
I still believe!
He is still the magnet we cannot help but feel drawn to. How did we get here? It was barely more than a year ago that we were watching dashcam footage of him, on the side of the highway, overmedicated to the point he couldn't stand on one foot or speak without slurring his words, looking broken and lost, physically and emotionally. Now he's crushing 330-yard drives, twirling his clubs, walking in putts. How? I've spent the entire spring thinking about him, watching him, reading about him and studying him. I'm hardly alone. An entire book about him was just released. TV ratings are soaring again, and we all know he's the reason. Even players who grew up watching him can't help but feel as if something from a previous era has returned.
"He moves the needle. He's the reason probably why the attendance this week was as high as it was," Justin Thomas said after winning the Honda Classic in a playoff, a tournament where Woods finished in 12th place. "They weren't coming out here to watch Luke List and Justin Thomas. They were coming out here to watch Tiger, so I don't blame them. I'd go watch him, too, instead of me."
---
It wasn't like this three years ago, when Tiger grimaced as he climbed out of bunkers and explained that his game was a mess because he couldn't activate his glutes.
When he hit balls into the stands, we pretended he was doing it on purpose. When he used his putter from the rough instead of a wedge, we claimed it was strategic. Those rounds were more like a sad parade, and people wanted to look away as much as they wanted to watch. This is different. Maybe it won't reach the fever pitch of Tigermania in 2000, but it's still early. I was a cynic for the longest time, convinced a genuine Tiger comeback was a ridiculous pipe dream. I was ready to move forward, the same way my parents' generation was forced to move on from Jack and Arnie nearly half a century ago. It's the natural cycle of life, and sports. If you try to hold on to the past forever, you end up wallowing in nostalgia and missing the joys of the present: Why not transition to teaching, Tiger? You can't tie your shoes, how are you ever going to compete in the Masters?
Now I'm on the cusp of believing again. If he wins this week, Augusta National should replace the pimento cheese sandwiches with crow. I'll happily down a whole plate of them.
Who cares if no one has ever overcome the chipping yips, or won five majors in their 40s, or rebuilt their game after a spinal fusion? Who else has done the other things Tiger has done?
He is living out a classic, irresistible narrative trope. A prodigy comes of age and reaches the greatest of heights only to eventually squander some of his promise. He is humbled by time and injuries, plagued by doubt. In the final act, when nearly everyone has written him off, he gets his shot at redemption. It's a cliché, sure, but it's still impossible to resist.
Save the privileged few, most of us have been digesting this comeback on television, and no one is happier about how it's playing out than the people who run television networks.
With Tiger in contention, more people watched the final round of the 2018 Valspar Championship (6.9 million average views per minute) than last year's final round of the U.S. Open, The Open and the PGA Championship. Even if Tiger is not Goliath, the rating is a pretty good testament to the Tiger Effect.
But if you have the chance to see Tiger in person in the coming months -- or years, assuming his spinal fusion holds up -- don't pass it up. Fork over your money, fight your way to the front of the rope line and soak in the circus. Hold your breath as he mashes a drive and bends over to snatch his tee out of the ground before the ball reaches its apex, already certain he's found the fairway.
There are so few experiences in sports that truly live up to their hype, but here is one: Standing in deathly silence as Tiger begins his backswing, and then feeling a wave of sound reverberate off your body a half second after the ball leaves the club and the gallery roars to life. I was standing a few feet from him earlier this year at the Genesis Open when he hit a 4-iron out of the rough on the 11th hole that I keep replaying in my mind, because it seemed as if it defied physics. He hit it low enough to keep the ball under a tree branch 30 yards in front of him; then, inexplicably, his shot began to rise and simultaneously curve to the left, almost as if he was a Jedi controlling it with his mind. It mattered little that he ended up making a bogey on the hole. His game had a heartbeat.
The difference between watching Tiger on television and experiencing it in person might be as vast as the gap between watching Prince play guitar on YouTube compared with sitting front row at one of his concerts. How many of us would jump at one more chance -- perhaps never seized while they were alive -- to see Prince or Tom Petty play music?
No matter what you have thought of him over the years, Tiger is the sports equivalent.
Tiger's mother, Kultida, longed to see her son play in person badly enough this year that you could spot her, at age 74, gingerly making her way through the crowds at Riviera Country Club during the Genesis Open.
She didn't walk so much as shuffle, holding the arm of Glenn Greenspan, Tiger's publicist, as they navigated the crowds following the 14-time major winner.
Kultida, her face mostly hidden behind a large pink hat and sunglasses, couldn't see much of her son through the sea of people constantly jostling for position, but that seemed unimportant. Just being there was enough. So much ink has been spilled about Tiger's rich and complicated relationship with his father, Earl, that his mom has become something of a forgotten figure in the narrative of his public life. So many of the people who were part of Tiger's ascent -- Butch Harmon, Steve Williams, Hank Haney, Mark O'Meara, Sean Foley, Charles Barkley -- have essentially been phased out of his life for various reasons, excommunicated for sins big or small. The one constant has been his mom. She was the parent who gave him a ride to practice every day as a kid, who taught him to take no prisoners on the course and never forget a slight off of it.
She doesn't grant interviews these days, and hasn't in years. And Tiger typically deflects personal questions like Bill Russell swatting away a layup in his prime, but I took a chance and asked him whether this was the first time his mother had seen him play in some time.
"Yeah, she misses it," Woods said. "She's seen me go through the struggles, and for her only child to go through those struggles was a little rough on her, so she's very proud of me getting back out there and playing. She's very excited about it."
---
Why did he risk coming back, especially when success seemed so uncertain? Did he worry at all he would be a ghost to his old self?
The truth is, he didn't. He just wanted to try to play again. If he stank, so be it. He didn't care how it made you feel. If you understand that, you have a better understanding of what makes Tiger Woods tick. "I missed it so much," he said. "I used to bring my son out [to the course] and he'd play and I couldn't. I could barely ride in a golf cart. I missed my buddies calling me up and saying 'Hey, let's go play a quick nine,' and me saying 'OK, let's go.'"
It's easy to forget, now, what he said while serving as an assistant captain for the United States at the Presidents Cup in September. He could definitely see a scenario in which he never returned to play professional golf. "I don't know what my future holds for me," he told reporters then. "As I've told you guys, I'm hitting 60-yard shots."
Still, he continued to rehab, his back getting stronger each week, his brain calculating a new way to swing, until the unlikely became a reality. He was healthy enough to look, for the moment, like an average PGA Tour player. Even if that's all it ever was, that was OK. "I have to just enjoy all of this, because at one point, that wasn't, man, that wasn't even a thought," Woods said during the Honda Classic. "I didn't ever even think about playing out here."
We sports fans have a strange habit of trying to rush our heroes to the exit when they get a little gray around their temples, probably so we never have to see them look mortal. As long as they're young, we feel young. We cringe when we think about Willie Mays in a Mets uniform, falling down in the outfield as he's chasing a fly ball, but we never pause to consider it from Mays' perspective. What if the great ones don't care if their late-career stumbles besmirch our memories? What if they just want to fight to play another day?
Even Tiger couldn't resist a smirk when reporters started asking him at the Arnold Palmer Invitational whether he was going to be satisfied with anything other than a victory. "You guys are asking different questions than you did when I first came back, and that wasn't that long ago. That was two months ago," Woods said. "The narrative has completely flipped from how you guys ask me questions. I want to just remind you guys that it wasn't that long ago that you were asking a different set of questions. I enjoy just playing again. After what I've been through? Playing feels good."
Watching Tiger this spring reminded me of an old Roger Federer quote. The 20-time Grand Slam winner uttered it before his recent resurgence, when it seemed as if he was being nudged toward retirement by just about everyone, particularly the media. There are very few athletes in the world who can realistically understand what it might feel like to be Tiger Woods, but Federer is one of them. There are reasons beyond their individual greatness or their shared corporate sponsors that they've always been friendly. They understand each other.
"Sometimes you're just happy playing," Federer said. "Some people, some media, don't understand that it's OK just to play tennis and enjoy it. They always think you have to win everything, it always needs to be a success story, and if it's not, obviously, what is the point? Maybe you have to go back and think, 'Why have I started playing tennis? Because I just like it.' It's actually sort of a dream hobby that became somewhat of a job. Some people just don't get that, ever."
It might sound like a stretch, but there are more parallels between Tiger and Prince and Petty than you might realize.
Like those two iconic musicians, Tiger spent years relying on prescription medication to help him cope with debilitating physical pain. For the three of them, it seemed to be the only way they thought they could continue doing their job, performing in front of millions of fans.
With Prince and Petty, their discomfort was mostly a secret, known only to their closest friends and associates. But with Tiger, it was harder to hide. It became part of the legend, a testament to his toughness. All those times we wrote hosannas about his willingness to play through discomfort -- like the time he said he popped his wrist bone back into place during the final round of the 2015 Masters -- feel a little uncomfortable in retrospect. Did his chipping issues, which he attributed to the pain in his back and his inability to practice, have something to do with how much medication he was using? At the Arnold Palmer Invitational, he said he didn't even realize how much day-to-day pain he was living with until he got his back fixed. Agony was just a way of life. For close to six months, he said, someone had to help him get out of bed every day.
"Coming back and playing golf was never in my thoughts," Tiger said. "It was just 'How do I get away from this pain? How do I live life again?'"
Only Tiger and his doctors know how heavily he relied on opioids such as Vicodin or Dilaudid, two drugs that showed up in the toxicology report when he crashed his Mercedes-Benz on a Florida highway last May and was found asleep at the wheel with two bent rims and two flat tires. Tiger spent nearly a month in rehab to address his issues -- always stopping short of calling it an addiction -- and assured us upon release that he was fine. Prince and Petty couldn't control theirs, and now they're no longer with us.
One of the struggles of living your life in a fishbowl of fame is there are so few people who can understand your experiences, your anxieties, but when Tiger was in rehab, he got a call from someone who had experienced a remarkably similar rise and fall: swimmer Michael Phelps. They talked, according to friends, for nearly two hours. A friendship gradually began to form. Phelps, who spent eight weeks in a rehab facility treating his depression and substance abuse, saw in Tiger a version of himself, a lost soul crying out for help. Phelps understood, better than anyone, that you didn't magically cure your issues. You learned to keep wrestling with them, and hopefully winning, forever.
Sometimes I wonder how close Tiger came to losing his life that night, or, equally scary, how close he came to taking someone else's life. It's an upsetting thought, a possibility we mostly want to ignore or move beyond so we can hurry up and get back to golf, but I wonder whether the same hypothetical horrors ever enter his own mind.
Does he now see every day he has from the perspective of a man who nearly lost everything? A recent quote he posted to his own website suggests as much.
"I got a second chance on life," he said. "I am a walking miracle."
---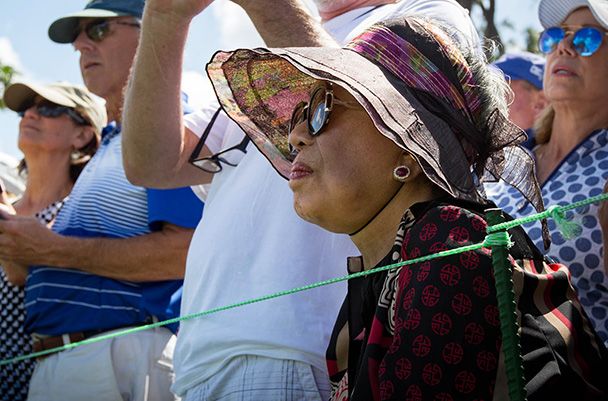 He does seem happier these days. More at peace.
I've spent a lot of time contemplating whether it really matters. It's always dangerous to speculate about the mental side of famous people, because who really knows what's genuine and what's a committed performance. But there is plenty of evidence that Tiger has softened in recent years, no longer approaching every human interaction like a zero-sum game. A new Tiger biography released March 27, written by Jeff Benedict and Armen Keteyian, exhaustively details Tiger's childhood, his meteoric rise and fall, scandals and all. What comes across in the narrative is how robotic and cold Tiger was to so many people in his orbit. Even in private, people would extend their hand in greeting and he would look right through them as if they weren't even there. Was that the price of chasing golf's holy grail? Or was he just a jerk? It was often hard to tell. "When Tiger got famous, he got mean," one person told the authors.
Yet, there he was cracking dirty jokes with reporters at the Farmers Insurance Open while standing on the cliffs of Torrey Pines, staring down at dolphins as he waited to hit his tee shot. There he was at the Genesis, grinning on the range with Phil Mickelson, whatever animosity that once existed between them now forgotten. The man who once refused to make eye contact with his playing partners for entire rounds could be seen patting Rory McIlroy on the back after good shots, then asking McIlroy for advice on how to hit his TaylorMade driver.
"The old Tiger used to walk onto the range with a presence that would intimidate people," Padraig Harrington said in a February interview with the Irish Independent. "This was not the old Tiger. He was talking and smiling and joking and high-fiving. I had a chat with him on the range. I spent longer talking to him on the range in San Diego [than] I ever have. I think we're both at a stage where we realize, 'You know what? You've got to make an effort to enjoy what you're doing out here.'"
There was a moment at the Arnold Palmer Invitational, on the fifth hole during Tiger's final round, that seemed to confirm Harrington's conjecture. Tiger hammered a drive that went forever but landed in the rough. He was near the green, but had a gnarly lie and was faced with an awkward chip. All he could do was try to run the ball up the bank and get it within 20 feet from the hole. He hit a decent chip, but it clipped a sprinkler head on the way up the bank -- an unfortunate, but not unheard of, break -- and stopped just on the fringe, leaving Tiger with an almost impossible birdie putt. Judging the speed would be nothing but a guess. Tiger hit it too hard and knew it right away. He immediately began walking after the putt in semi-disgust when the ball, like a magnet, began tracking toward the cup and hit the flagstick dead center. It stopped a half inch from the hole.
It wasn't the shot that surprised me, because he's hit hundreds like it. What surprised me was Tiger's reaction. The crowd was groaning, but Woods was laughing. I'd almost call it giggling. As he walked to clean up his par putt, he couldn't stop. "I don't know if I've ever seen a reaction like that from Tiger Woods," NBC announcer Dan Hicks said on the broadcast.
There were moments of intensity and frustration still to come. Birdies, fist pumps, putts lipping out and a drive he would smash wildly out of bounds because -- he candidly said after the round -- he couldn't commit to making the swing he wanted.
But that moment when he couldn't stop laughing, in the middle of a round when he was in contention, was refreshing in its own uniqueness. That too is Tiger Woods.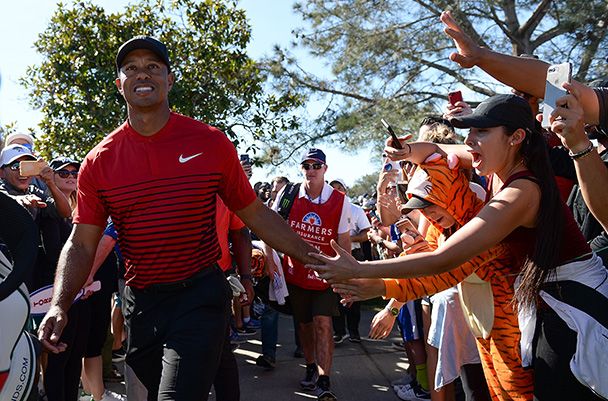 "Hello, world. There are still courses in the U.S. I'm not allowed to play because of the color of my skin."
Remember that commercial? That's how Nike announced Tiger was turning professional in 1996. Tiger didn't write the ad copy, of course -- it was advertising titan Jim Riswold -- but he loved the sentiment behind it. "I feel it's a message that has been long awaited because it's very true," Tiger said that year, in an interview on ABC News' "Nightline." "Being a person who is, I guess, how could you say, non-wanted, I had experienced that. The Nike campaign is just telling the truth."
It's easy to forget what a controversial statement it was at the time, how quickly golf writers insisted Nike and Tiger produce the name of a single course that wouldn't have him. (They could not.) Thinking back on it, I couldn't help but think about another great athlete who grew up in California and had a multiracial background, an athlete who seemed, briefly, as if he was going to change his sport: NFL quarterback Colin Kaepernick.
How would we view Tiger now if he continued to talk about race in ways that made a lot of people uncomfortable or angry? It's what his father, Earl, seemed to want, to get in people's face and face some difficult truths. Would the backlash have been as severe as what Kaepernick has faced? Or were Tiger's skills so transcendent he eventually would have been seen as another Muhammad Ali, perhaps initially divisive, then almost universally revered later in life?
"I got a second chance on life. I am a walking miracle. "
- Tiger Woods
There are no real answers to any of those questions. Tiger never quite felt comfortable in the role of provocateur. "My goal all along had been that, by playing and winning golf, I could somehow help golfers, and perhaps people outside the game, be color blind," Tiger wrote in the book "The 1997 Masters: My Story" co-written with Lorne Rubenstein. "Wouldn't that be the best situation to come out of my win, that we could see each other as people and people only?"
Over time, there became little expectation for Tiger to comment on social issues. Both he and Rory McIlroy played golf with President Donald Trump during the past year, and McIlroy was bombarded with criticism. The Northern Irishman clarified that he didn't agree with Trump's views and likely wouldn't play with him again, if asked. Tiger's two rounds with Trump (just before Christmas in 2016 and Thanksgiving weekend in 2017) received little criticism by comparison. The second time Trump and Tiger played, "Get Out" director Jordan Peele retweeted a video of Trump and Tiger together with the caption "Now you're in The Sunken Place" and the tweet went viral, but any controversy over the round quickly faded. Tiger never commented publicly on any of it.
Over the years, he has chosen, instead, to quietly focus on making a difference through the Tiger Woods Foundation, a charity organization he and his father founded in 1996. The foundation helped set up learning labs and scholarship programs around the country to help kids in need, even if they had no connection to sports. Thousands and thousands of kids have received tutoring through the Tiger Woods Learning Lab in Anaheim, California, and nearly 100 minority students have gone to college because of the Earl Woods Scholar Program. Eighty-eight percent of the students involved in the TGR Foundation are minorities, and 85 percent of them live at or below the poverty line.
Who's to say that hasn't made an equally important impact?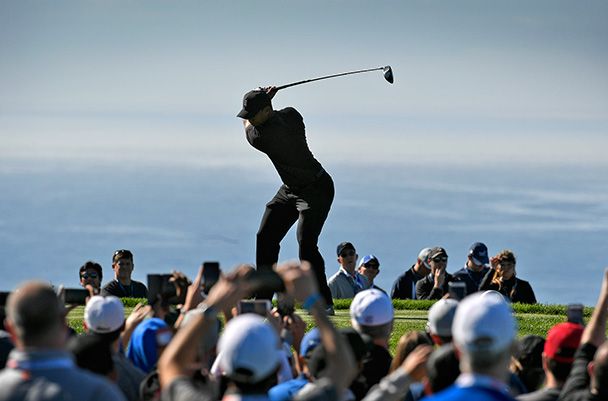 Every time Tiger tries to pulverize the ball, I'm worried his back is going to explode.
He still swings with so much violence -- his spine recoiling like a Slinky that's been stretched to its limit and then let go -- I'm concerned this comeback is going to end just as its picking up steam. The last thing anyone wants is to see Tiger double over pain at the 13th tee at the Masters because he has just seen Bubba Watson drive one over the trees and carry the dogleg and his ego can't resist swinging so hard and Tiger reaches his breaking point.
Tiger had three separate microdiskectomies to relieve pain in his back and legs. After each procedure, he seemed fine at first. His comments after each procedure began to feel a bit like golf's version of the movie "Groundhog Day." He would state he was confident this surgery would do the trick and help him return to action. For a few months, the results looked promising, but then he would grimace climbing out of a bunker and you'd know it was just a matter of time.
Dr. Andrew Hecht, chief of spine surgery at the Mount Sinai Hospital, assures us that any concerns of Tiger reinjuring his back are unfounded. A lower lumbar spinal fusion, the fourth back surgery Tiger has undergone since 2014, might have been portrayed as a Hail Mary, but that's not the right way to look at it. Hecht didn't perform the fusion of Tiger's L5 bone and S1 bone, but he has performed it on a number of professional athletes whose names you would recognize immediately.
"The recovery from that is very successful, especially for someone who has had a previous diskectomy, because you know where the pain is coming from," Hecht said. "In football or baseball or hockey, you might see a 10 or 15 percent performance decline, and that may be enough for you not to make the team again. But for a golfer, you're a team of one. Even though the swing is a very physical act, with a lot of violence and torque and twist, the chances of returning to a very high level is even better than for someone who plays a contact or collision sport."
But what if Tiger can't resist pushing himself to the limit again and every swing in practice or in a tournament brings us closer to the end? Won't he put more pressure on other areas of his spine that will eventually fall apart? It doesn't work that way, Hecht said.
"He should be able to play as long as his physical capabilities will take him," Hecht said. "What's great about this is, all of the decisions going forward are really going to be up to him. When you're pain-free, it's based on your skill again. I think his prognosis is excellent, and it's a testament to what a great athlete he is, not just as a golfer."
I have two daughters, ages 8 and 6, who are semi-obsessed with golf.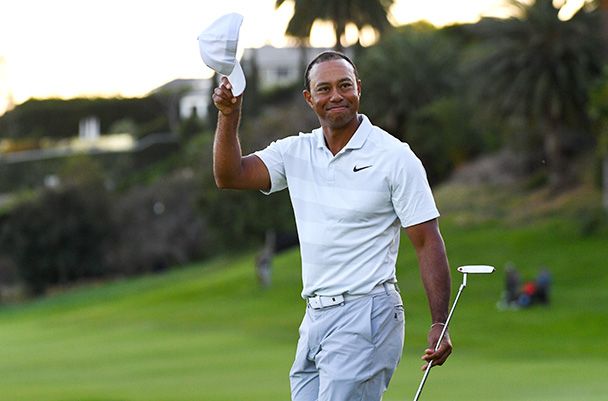 They are always asking me how Jordan Spieth or Rory McIlroy are doing, whether Lydia Ko, Michelle Wie or Lexi Thompson is in contention. When we watch tournaments, or go to the driving range to whack balls, they will ask me what I think about various players. They are more familiar with Brandt Snedeker and Billy Horschel than LeBron James.
They seemed confused, though, when I mentioned this winter that I was going on the road to watch Tiger play. It dawned on me they had only a vague understanding of who that was. Where do you begin? Do you have an obligation, as a father, to bring up any of his personal foibles? Or do you merely focus on the physical gifts? I started by showing them a clip of the delicate chip from Sunday at the 2005 Masters, the one that trickled down the bank on 16, the ball almost pausing on the lip of the cup, only to drop in for an improbable birdie.
When CBS' Verne Lundquist uttered the phrase I've jokingly said with my buddies a hundred times -- "In your life, have you ever seen anything like that?" -- I realized the answer for my kids was literally no. The answer for Tiger's kids, Sam and Charlie, is also no.
They missed all of it. Pebble Beach in 2000. The "better than most" putt at Sawgrass. The birdie putt on the 72nd hole at Torrey Pines. Sure, they missed the embarrassing news conference and jokes about crashing an Escalade into a fire hydrant, but they missed the fun. Even those of us who lived through them never imagined those moments would dry up as quickly as they did. Golf spoils us because you can convince yourself that, on the right weekend, a miracle will unfold for the right player, even if he's in his 50s. People would laugh if you suggested LeBron would hit a jump shot to win a championship at age 59, but Tom Watson had a putt to win The Open at that same age. Why couldn't Tiger?
Maybe that's why I feel so hopeful, watching him now. So many of us were convinced it was over, a belief that earned us no small amount of scorn from the Tiger True Believers. I recently spoke to Golf Channel analyst and occasional Tiger Woods skeptic Brandel Chamblee, and we were joking about what it's like to be on the record, as both of us are, about how a Tiger comeback was unlikely.
"You have no idea how many people come up to me and say, 'You were wrong! You were wrong!'" Chamblee recalled. "I just say, 'You're absolutely right. I was wrong, and very happy to be wrong.' I had no clue he would ever swing a club this fast or chip this good. If you saw that one coming, you've got powers of perception that are unreal. You should be calling the stock market."
What's going to happen next? There is no point in making predictions. But it's possible the past was just prologue. What if he wins five more majors and they are the most memorable of all? What if it's just one more major, but it's more satisfying than any of the other 14? Whether it comes true or not, I will forever love Tiger's answer when then PBS TV host Charlie Rose asked him two years ago whether he thought he still had a chance to break Nicklaus' record.
Rose: Do you believe you'll get 18 majors?
Tiger: To be honest with you, no.
Rose: You don't?
Tiger: No.
Rose: You've accepted that?
Tiger: I've accepted I'm going to get more.
The two men started laughing, but ... what if Tiger is right?
Another generation of golf fans -- my kids, your kids, Tiger's kids -- will get to witness some magic that seemed, not long ago, improbable. There is still time. They still might have a memory of Tiger they get to call their own.