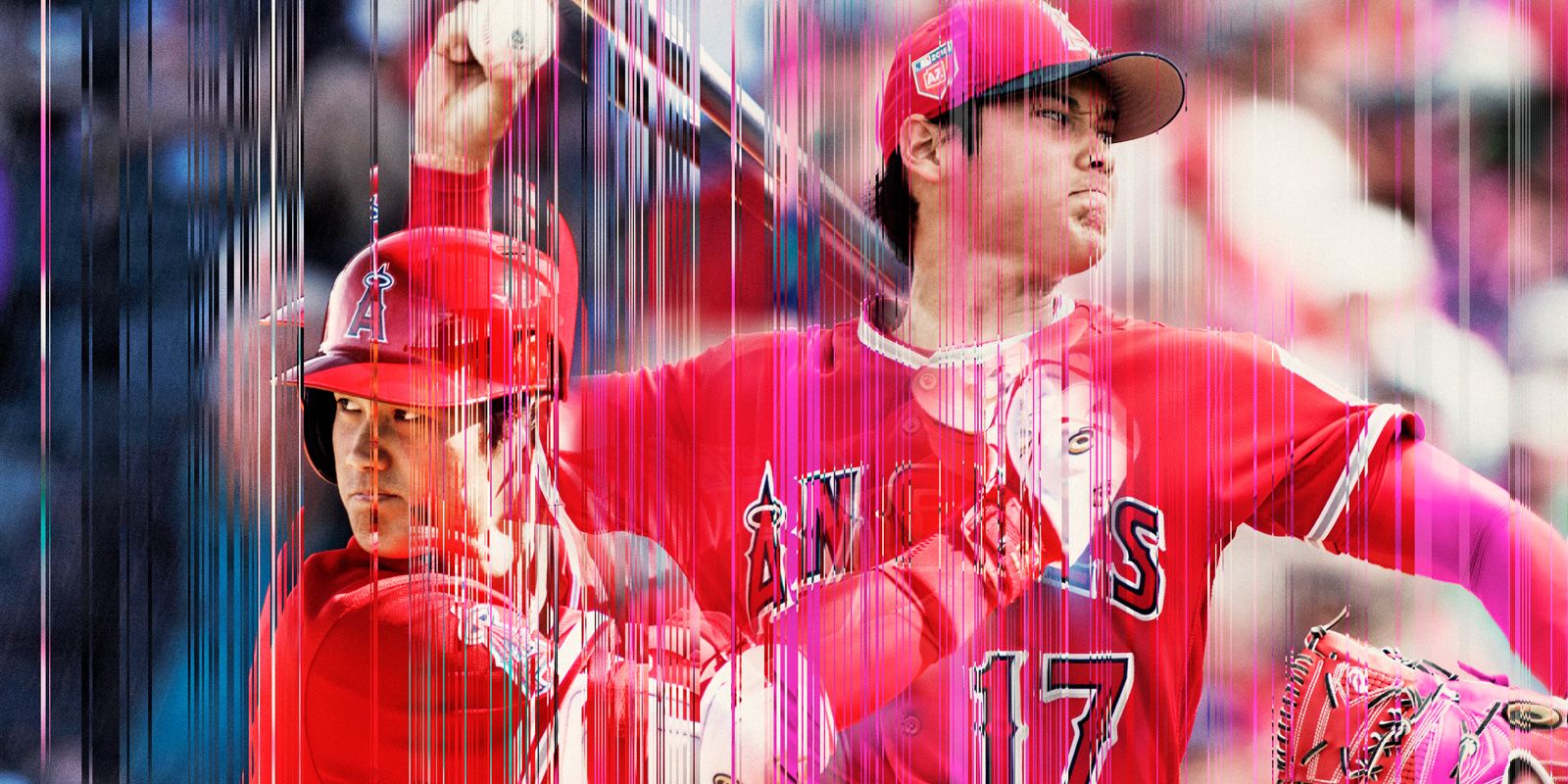 The one baseball's been waiting for
So far, the two-way sensation is living up to Ruthian expectations. But how will he possibly keep this up? We trace his journey back to Japan in search of the surprising answer.
A version of this story appears in ESPN The Magazine's April 23 NEXT issue. Subscribe today!
Luis Valbuena bears witness. The Angels third baseman watches Shohei Ohtani finish the first inning of his first start with a three-pitch strikeout that starts with a 100 mph fastball and ends with an 89 mph splitter that takes a late, cartoonish dive to avoid a bat held by Oakland's Matt Olson. Valbuena starts jogging toward the dugout with his eyes down and his head slowly shaking -- just a guy from Venezuela appreciating a guy from Japan as they play together in California. By the time he passes Ohtani near the first-base line, Valbuena's head is tilted up and he is staring at the sky, laughing at something only he finds funny, and the temptation on this Easter Sunday afternoon is to attribute his beatific look to a spontaneous religious experience. Which, in its own way, why not? It fit all of the categories: wonder and excitement and surprise.
After the game, and after Ohtani spends six innings making the wondrous look relatively routine, Valbuena says: "It just made me happy. I was watching him and thinking how much fun this is." Valbuena's reaction carries with it a statement --that's what everybody's been talking about -- and a question -- where the hell did that come from?
To that point, hints were hard to find. Ohtani made just two spring pitching appearances against big league lineups, and both went poorly. He went 0-for-4 in a game against minor league pitching and hit just .125 through the spring. But as the days piled up, he exuded serenity when everything around him implied panic.
After each game, as questions turned to doubts, Ohtani stood in a blinding white events tent in a parking lot in Tempe, Arizona. Hands clasped behind his back, neck bowed, he stared out at a group of people who stared back with the vigor of a stakeout. His pose suggested a man awaiting a cigarette and a blindfold. The routine took on an ambient sameness. He was asked a question, it was reformulated into his language and he began to talk. His Adam's apple ascended and descended like a freight elevator. He made eye contact. He was clearly polite. He was meticulously humble. His words were reformulated back into the language of the questioner and relayed as the most banal of possible answers. The repetition made it feel like a concerted effort to extract all personality, like wiping clean a hard drive.
Through it all, Ohtani was so contained, so unerringly regulated that it became easy to forget the enormity of his quest. He has come here to hit three days a week and pitch once a week, at a level he has yet to experience, in front of a vast, impatient audience. The task is fascinating, difficult and so rare, the last person to do it was Babe Ruth 99 years ago.
Even as spring training gives way to the start of the season, there is no indication that Ohtani feels the burdens of pressure or expectation or -- honestly -- much of anything else. And so, dutifully, day after day, we stand and watch as he stands and watches. His mannerisms become a fascination: the way he touches the tip of his cap and bows slightly every time the umpire tosses him a new baseball; the way he flicks away whatever minor clods of dirt might have congealed in the batter's box; the way he responds to giving up a home run by dropping his glove and aggressively retying his already-tied shoelaces; the way that, in his pitching debut in Oakland, he repeatedly thanks a teammate who makes a good play behind him until he is sure the teammate knows he is being thanked. We search for an external sign of the unease that must be -- that simply has to be -- hiding deep inside.
And day after day, there is none.
---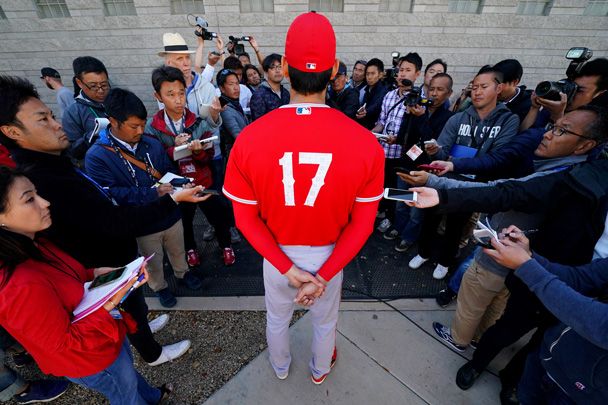 The infield skin is rich, dark earth. The dormant grass in the outfield is bleach blond, broken only by three patches of bare dirt, like scuffs on a floor, where the fielders stand. This baseball stadium in Himeji, Japan, is up the road from a castle first built in 1333. The castle is a towering, wedding-cake structure perched above the town like an eagle's nest. It is the largest intact example of Japanese feudal architecture, largely untouched by the bombs of war, built during a time when the country was run by warriors whose name -- samurai -- translates roughly as "those who serve." That Bushido code endures up the road, in the ballpark where Ohtani's high school, Hanamaki Higashi, is playing an exhibition doubleheader in preparation for the spring Koshien tournament. Spring Koshien is a little brother to the Summer Koshien, which is Japan's version of March Madness.
On this wintry Sunday in late March, more than 600 miles from their home in the northern prefecture of Iwate, Hanamaki players wear their uniforms in the same styleless manner. Tight pants pulled up on the waist a few inches higher than cool, the elastic cuffs three inches below the knee, as if measured with a ruler. Their caps are pulled tight over teamwide buzz cuts, the brims curled slightly. After an intricate pregame infield-outfield, they line up from the mound to home plate, facing the home team's dugout. They take off their caps as one and bow toward their coach, thanking him for helping them improve. They turn toward their hosts, thanking Shikama Himeji Municipal High School for the opportunity to take infield. They turn and face the fans, bowing and thanking them for attending. And finally they turn toward the mound and bow to the field itself, thanking the earth for being there. Without it, the game would not be possible.
It is impossible to overstate the level of attentiveness required of the boys who wear these uniforms. Adults in Japanese high school baseball are not allowed on the field, so players coach the bases, and if a manager needs to instruct his fielders or calm his pitcher, he sends a player as messenger. If the manager were to do the unthinkable and leave the dugout to question a call by the umpire, he would be stripped of his spot in the federation; essentially, he would lose his license to coach. There are no sagged heads, no dirt-kicking or pouting. When the second baseman for Shikama High makes his second error in as many innings, his manager calls out, "Don't make a sad face. Keep on smiling."
It is a world of structure and obedience, camaraderie and respect. Much of what takes place in Japan is bound to the centuries-old code that built that hulking castle. You can see it in the dark-suited businessmen weaving their bicycles through Tokyo sidewalks late at night, their ties still smartly knotted. You can see it in the schools, where lunchtime is not a break from education but an extension of it. Students grow their own vegetables, serve one another and are responsible for everything from preparation to cleanup. And you can see it on the baseball field, where the remnants of the Bushido way have taken hold in the minds and bodies of teenage boys and the men who coach them.
Throughout most of Hanamaki's doubleheader, its coach, Hiroshi Sasaki, sits in the corner of the sunken dugout, a subterranean sage. When he speaks, even during play, his players remove their caps and form a semicircle around him, standing at attention. After six hours of baseball and two wins, the Hanamaki players head to a side field to practice for another 90 minutes. The players do this without complaint, picking up their bat bags and shoes and walking briskly from one field to the other, stopping only to bow in thanks to those who took time out of their weekend to watch them play.
All of which is to say: We've been looking for Shohei Ohtani in the wrong places. He cannot be found in a crowded clubhouse, where he sits at his locker with his translator and friend, Ippei Mizuhara, never more than three steps away. He can't be found working on his splitter on a too-hard mound with a too-slippery ball on a back field, and he definitely can't be found perfecting the art of the polite banality in a rented tent in a stadium parking lot.
---
Every baseball player who chooses Hanamaki Higashi High School is given a complete physical and an MRI when he arrives on campus. It is considered one of Japan's better baseball schools, so the competition for a spot in the school, let alone on the team, is rigorous. The season is year-round, and each player must live in a team dormitory, regardless of how close to campus his family resides. The players are responsible for cleaning and maintaining the dorm. The coach, Sasaki, assigns the tasks. One of his rules is that pitchers must clean the toilets.
"The pitcher, especially in Shohei's case, is literally and figuratively at the highest point on the field," Sasaki says. "Once they get up there, they are at the pinnacle, so for the rest of the day I tell them, 'You have to do the lowest job.' Shohei never complained."
Ohtani's MRI showed growth plates so far apart it was obvious he was going to be tall, and therefore his potential far exceeded the already-developed 15-year-olds who entered Sasaki's program with hair under their arms and closed growth plates. Sasaki does not claim to have predicted what Ohtani would become -- by 19 a household name, by 21 the country's best hitter and pitcher, by 23 the most sought-after international free agent in baseball history. He had no idea that those growth plates would remain ajar until Ohtani reached 6-foot-4, or that a major league international scouting director would tell me last spring that "Ohtani could be the best pitcher in the history of baseball, and I don't say that lightly. He has equal if not better stuff than all of them." Sasaki didn't predict that Ohtani would quickly transform himself from a high school kid with an unreliable fastball and quick hands at the plate into an international sensation whose name was attached to Babe Ruth's so reflexively that it seemed like a mandate. No, Sasaki knew only that Ohtani's best days would not take place within his jurisdiction.
"Because of what we were seeing in those images, we knew Shohei's goal was not to achieve success in high school but beyond," Sasaki says. "Ohtani was someone who would peak at the end of his 20s, so that had to be the way we approached his training."
The granular details of Ohtani's childhood remain unknown; his parents are as elusive and private as their son. In one of his few interviews, Shohei's father, Toru, emphasized his son's normal childhood and says he indulged Shohei's baseball dreams after long shifts at an auto assembly plant made it difficult for him to coach Shohei's brother. "I've got to give Shohei what I couldn't give his older brother," Toru told the Mainichi newspaper. Sasaki says Ohtani's parents are "nothing like the monster parents who are around these days. They are the most humble people you will meet in your life."
America is an ongoing subplot to Ohtani's career. With Sasaki's blessing, Ohtani wanted to sign with a major league team when he graduated from high school in 2012, but Nippon Professional Baseball's Nippon-Ham Fighters drafted him anyway, then put together a successful recruiting pitch that sought to enlighten the then-18-year-old and his family on the cultural rigors of the minor leagues. Last season the focus shifted: With MLB changing its rules regarding international players, Ohtani could have stayed in Japan and been a true free agent after two more seasons. Instead, he announced his decision to leave Japan in November 2017 and immediately became the most sought-after-and cheapest-arm and bat on the market. A frenzied and somewhat odd courtship ensued, with Ohtani and his agent narrowing the field to seven mostly West Coast teams before choosing the Angels.
"Shohei Ohtani outside the baseball uniform is a mystery."
- Nippon-Ham Fighters pitching coach Masato Yoshii
Asked for his opinion on Ohtani's decision to forgo potentially $200 million by joining MLB this year, Angels second baseman Ian Kinsler asks back, "What is he, 23? What's he making, the minimum? Most everyone in here made the minimum at that age." Kinsler shrugs and sends his lower lip forward with a that-settles-that finality. Ohtani's new teammates keep their observations light, their words like stones skipping across a flat lake. The team has erected a fortress of positivity around Ohtani, and when he warms up in Oakland before his first start, the metaphor becomes literal: A total of eight teammates and coaches stand behind the bullpen mound.
General manager Billy Eppler recites a list of outings Ohtani embarked upon with teammates this spring -- golf with Mike Trout, H-O-R-S-E with Andrew Heaney, a hockey game with Garrett Richards and Tyler Skaggs -- as evidence that he is fitting in with his new teammates. "He is very simple," Eppler says. "Very focused, very meticulous in everything he does." Rangers reliever Chris Martin, Ohtani's teammate for two years in Japan, doesn't remember the two having a meaningful conversation. After Ohtani's celebrated high school career and five years as a star in NPB, even the aggressive Japanese media failed to turn up anything worthy of headlines. "Yu Darvish and Ohtani are different personalities," one tells me. "Darvish always had groupies after him. Ohtani is boring."
Ohtani made several million dollars in Japan, and he lived in the team dormitory for all five years, which means this year is the first time he has ever lived outside of his family home or a team facility. He never bought a car or bothered to get a driver's license. His mother handled his money, doling out a meager monthly stipend that her son rarely spent.
"There were times when I would ask him, 'Don't you want to go out and have a few drinks and loosen up?'" says Hideki Kuriyama, manager of the Fighters. His voice rises, and he waves his arms in front of him as he mimics Ohtani's hurried response: "No, no, no. That's not me. I'd rather go to the gym and work out because the only joy I can find is on the field." The way Kuriyama tells it, with his arms wishing away the question, the thought itself embarrassed Ohtani.
I ask Masato Yoshii, a former major leaguer who was Ohtani's pitching coach with the Fighters, a simple question: What are Ohtani's interests outside of baseball?
Yoshii takes a deep breath followed by a long sigh. He tilts his head back as if he's pondering something deeper than what's been asked.
Finally, he says, "Shohei Ohtani outside of the baseball uniform is a mystery."
---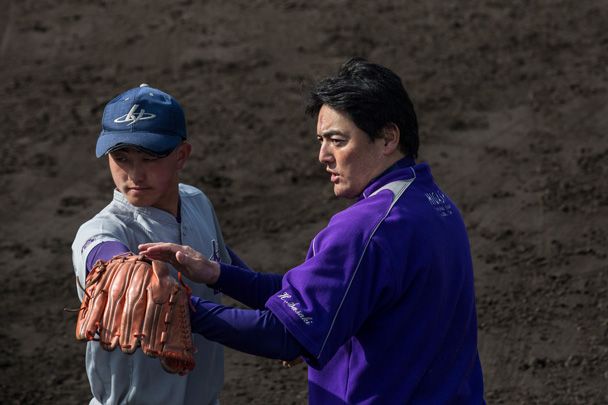 After a long night game roughly halfway through the 2016 NPB season, Kuriyama called Ohtani into his office. Ohtani was scheduled to pitch and hit the next day, and his manager had a proposal to make. He'd noticed Ohtani's struggles in the first inning of road games, and he attributed it to his hitting third or fourth in the batting order. The inning would end with Ohtani either on the bases or on deck, leaving him to rush to the mound with scattered thoughts, so Kuriyama looked across his office desk and said, "I want you to lead off tomorrow."
Kuriyama stared and waited. This was as much a challenge as a strategy.
"He looked at me and nodded with fierce eyes," Kuriyama says. "After a while he said, 'I know what you're telling me.' It gave me goose bumps all over. Even for someone who has been in this game as long as I have, it was an awesome moment."
The next night, in another chapter in the legend, Ohtani led off with a homer and pitched eight shutout innings in a 2-0 win. Martin pitched the ninth for the save, and as he stands in the Rangers' spring training clubhouse he can recall the game as if it's happening in front of him. "The first two months of the season his command was bad, and his off-speed was just OK," Martin says. "I was like, 'I've seen guys way better than this guy. Why is he such a big deal?' After that game, I was like, 'OK, this is why.'"
Kuriyama, like Sasaki, wanted Ohtani to leave for the States earlier. He felt he always had a good read on his best player, and even though his team would feel the loss, he believed Ohtani needed the challenge. There was the game four years ago when Ohtani got hit all over the park and had to be pulled in the second inning. When Kuriyama got home and logged on to his computer, he found an email from Ohtani. "I always know when he wants something," Kuriyama says. "Everything is 'Mr. Manager' -- so polite." Ohtani wanted to hit the next day to rid himself of the metallic tang of the bad outing. "Please use me tomorrow because I can't sleep, Mr. Manager," he wrote. "I am so frustrated."
He has thrown 102 mph from the mound and hit home runs of 500-plus feet, two facts that go a long way toward creating a myth but don't guarantee success with the Angels. NPB is considered the world's second-best league, but the gap is wide and the peculiarities notable. His talent, it seems, has always provided a layer of protection. One example: Ohtani is a right-handed thrower and a left-handed hitter, and his importance to his country's baseball culture kept most pitchers from throwing inside and threatening his exposed pitching arm. Yoshii says one of the biggest adjustments between countries is the canyon that exists between the respective codes, a difference Martin describes by saying, "When you hit someone over there it's a big deal. The pitcher bows to the hitter to apologize and make sure everyone knows it wasn't intentional. Over here it's not like that. Over here it's: We'll do it again."
(During a spring training game for the Mets in 1998, Yoshii drilled a hitter one at-bat after the guy had homered off him. Afterward, veteran starter Al Leiter asked, "Did you hit that guy on purpose?" Yoshii hadn't -- "a mere accident," he says --but he quickly told Leiter, "Oh, yeah." Now Yoshii laughs and says, "I noticed I got immediate respect from the pitchers.")
Ohtani is strong and broad, his physique at odds with his nearly prepubescent face, but his career in Japan was marked by injuries. Last season he pitched just 25 innings due to ankle and hamstring problems that lingered through August. "They babied him," Martin says. "We were wondering why he wasn't at least pitching. My ankle was blown up and they were trying to get me back in two weeks. You learn not to ask questions." After Ohtani was activated but before the team was comfortable allowing him to hit or pitch, he would emerge from the dugout late in games and swing a bat in the on-deck circle. "Never seen anything like it," Martin says. "Fifty thousand people cheering a guy standing in the on-deck circle like he's Michael Jackson or Justin Timberlake." There was never any intention of letting him pinch-hit, but Martin laughs and says, "I guarantee you the guy hitting got a few more pitches to hit because of it."
Kuriyama, who believes Ohtani's personality is better suited to hitting (the id) than pitching (the ego), fought forces within his organization who wanted Ohtani to concentrate solely on pitching. Arms like his are rare, and any risk is seen as too great. But the first thing Kuriyama told Ohtani after the Fighters signed him directly out of high school was, "Let's do something nobody's done before."
Through a meaningless spring training, Ohtani was halting and mechanical on the mound, jumpy and impatient at the plate. The Japanese baseball has higher seams and a velvety feel. Even straight out of the box it feels like it's been through a few rounds of batting practice. The mound feels less steep in Japan, the dirt is softer, and Ohtani's hesitance can be attributed to an inability to stride out and fully trust his body to follow. His spring training starts were broadcast live on national television at 5 a.m., and despite the language barrier, it was easy to detect the disappointment in the voices of the Japanese announcers when the Rockies scored seven runs in an inning.
But by his first regular-season start, with the ball jumping out of his hand and nearly 70 percent of his pitches thrown for strikes, nothing that came before mattered. It looked as if he'd arrived on the mound fully formed. In his first at-bat in Angel Stadium, he hit a three-run homer that cleared two walls: the one in right-center and the one that had been holding back Ohtani's emotions. He entered a dugout that gave him the silent treatment and tried to play along, high-fiving the air, before his joy overwhelmed him and he hugged Ian Kinsler from behind, setting off a wild celebration. It was a late-arriving echo from the words Chris Martin spoke about his time in Japan: OK, this is why.
"For his sake, I want him to struggle for at least two years," Sasaki says. "For his sake, as a person, for him to grow and further blossom, the struggles he will go through are something that is needed. That is why he is constantly smiling. He is definitely enjoying this struggle, and he will find the ability to overcome within himself."
He senses that this is not the expected answer. He laughs, clearly enjoying the disconnect. He holds up his right hand as if requesting time. He needs a moment to think as he tries to come up with the precise metaphor to explain what he's trying to say. "Right now, Shohei is crouched," he says. "He must go down before he rises up."
---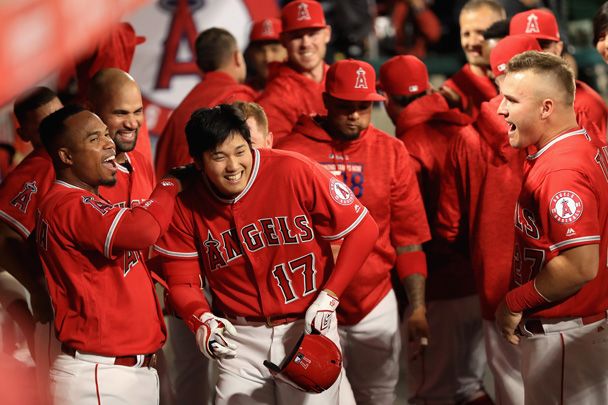 Sasaki had been cut by his university's baseball team and thrown out of the school's dormitory, thinking life couldn't get much lower, when he walked through a bookstore with a friend and picked up a book written in 1937 by the American self-help guru/huckster Napoleon Hill: Think and Grow Rich. Sasaki held the book up to his friend, pointed to the title and deadpanned, "Yeah, this'll help me." He bought it, mostly as a joke, and more than 20 years later his cheeks color and he smiles bashfully as he tries to explain the book's impact on his life.
There's one chapter in particular -- "Auto-Suggestion: The Third Step Toward Riches," about putting thoughts into action -- that Sasaki has incorporated into his coaching philosophy. As one of their first tasks (presumably after the MRI), Sasaki's players are told to write down their goals. The idea is to force them to transfer their dreams from the ephemeral to the tangible. He made a point to keep and share Ohtani's list. Some of them are typically lofty musings of a teenager, but others reveal a self-awareness unusual in a high schooler.
Age 24: Throw a no-hitter and win 25 games.
Age 26: Win the World Series and get married.
Age 36: Break the strikeout record.
Age 37: First son starts baseball.
Age 38: Stats drop; start to think about retirement.
Age 40: Throw a no-hitter in my very last game.
Sasaki draws great significance from coincidence. In Japanese, the words "vision," "target" and "achievement" all start with the same symbol. He is not just teaching his players to cover a base -- he is teaching them to help one another, to care for one another, to not leave someone to fend for himself. He mentions the 2011 Japanese earthquake, which devastated Iwate and its neighboring cities, and wonders what Americans thought of the communal response by the Japanese people.
"I care about covering a base for your teammate and telling your teammate where the next play is going to happen," he says. "These things aren't just necessary in baseball but also in life and work. Salarymen have to care about each other. Families have to care about each other. I believe baseball is the perfect textbook to teach the ethics of society."
Sasaki has one more coincidence he would like to note: Inazo Nitobe, the first man to bring the concept of Bushido to the English-speaking world, was from Iwate Prefecture. Back when Ohtani was in his final year at Hanamaki and thinking seriously about going directly to the United States instead of playing professionally in Japan, Sasaki told him the story of Nitobe as a way of encouraging him to chart his own course. Doing something nobody else has done, bringing a new way of thinking to America -- Sasaki believes Ohtani is setting out to be a pioneer in much the same way. "I don't know if Shohei feels it," Sasaki says, "but there is a bond."
The first syllable of Ohtani's given name -- Sho -- is in honor of the Japanese military commander Minamoto no Yoshitsune, one of the most honored samurai from the area near Oshu, Ohtani's hometown, and Hiraizumi. "Hei" comes from the first kanji symbol in the written form of Hiraizumi. It's an indication of how intrinsic history is to the culture that Ohtani is named after a warrior who died in 1189.
Nitobe wrote, "Nurture men of character rather than mere talents."
Sasaki says, "I believe it is my duty to teach these kinds of Bushido lessons through baseball."
So take another look at Ohtani standing there, hands clasped behind his back, neck bowed, shoulders straight. Maybe it's a posture designed not only to invite attacks but to withstand them.
"I would like everyone to perceive his success in the longer term, to have patience and understanding in what he is trying to achieve," Sasaki says. "You must understand: He is searching for a way that does not yet exist."
Nobility in the pursuit, joy in the pain: Much of this is taking place at a frequency we no longer possess the capacity to hear. The struggle, as Bushido demands, is a gift that must be honored. It will clear a path for whatever comes next.
Keown is a senior writer for ESPN The Magazine and a columnist for ESPN.com.