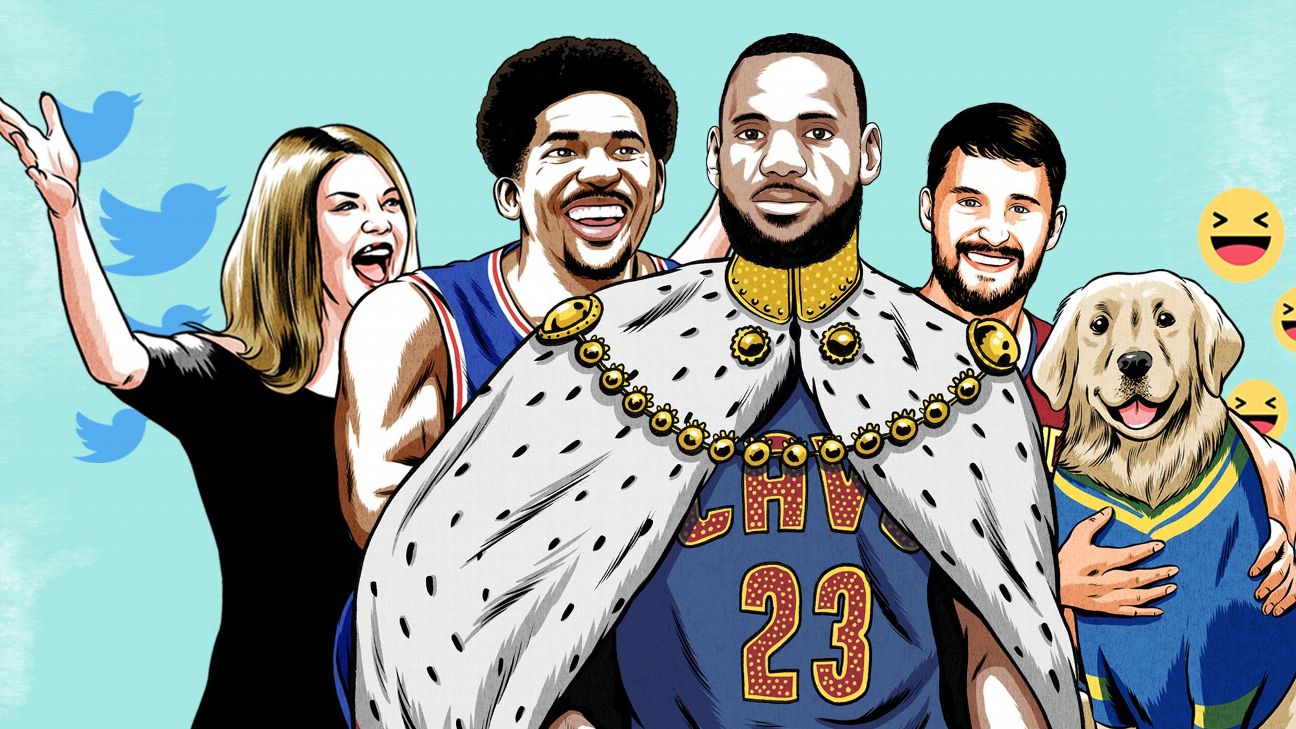 The trolls, tweets and memes that defined the NBA season
From LeBron James backing up Stephen Curry to Joel Embiid taunting victims on a weekly basis, if you weren't locked in to social media, you weren't getting the full story of the 2017-18 NBA season.
On social media
On the court
U bum @StephenCurry30 already said he ain't going! So therefore ain't no invite. Going to White House was a great honor until you showed up!
@KingJames
The Golden State Warriors were uninvited to the White House by the president of the United States. Considering that Stephen Curry wasn't going anyway, the revoked invitation rang hollow. But one of Curry's contemporaries still came through to back up the two-time MVP.
Oct. 17

2017-18 regular season tips off; Gordon Hayward breaks ankle in Celtics debut
Oct. 22

Bledsoe in the salon
I Dont wanna be here
@EBled2
The Phoenix Suns lost their first three games by a combined 92 points, and a day after that third loss, Bledsoe sent this tweet -- which he later said was about being stuck in a hair salon. Still, the damage was done. The point guard wouldn't play another game in a Suns uniform, eventually being traded to Milwaukee.
Oct. 22

Hours after Eric Bledsoe's cryptic tweet, the Suns fire Earl Watson just three games into the season
Nov. 6

The Arthur Meme begins
Mood...
kingjames
LeBron James posted Arthur's fist with the caption "mood" at an interesting time. Not only was James' team 4-6 following a loss to the Atlanta Hawks, but former teammate Kyrie Irving scored 35 points against that same Atlanta team in a Boston Celtics win the night James posted on Instagram.
MOOD
money23green
Draymond Green has been an antagonist in the LeBron James narrative before, most notably during the 2016 NBA Finals, where Green lost a game due to suspension because of interactions with James. Although Green was one of many NBA players to have a reaction to James' Arthur post from the day before, his was the most notable, of course.
Nov. 14

LeBron's NYC coronation
You're welcome.. 👑 of NY #myfavoriteplayground #striveforgreatness 🚀
kingjames
LeBron James has enjoyed sticking it to the New York Knicks in his career. In November, he added yet another memorable moment at Madison Square Garden, leading the Cleveland Cavaliers to a 104-101 comeback win against the Knicks after trailing by as many as 23 points. During the game, James, Enes Kanter and rookie Frank Ntilikina got into an altercation. Kanter said postgame, "King, queen, princess, whatever you are ... nobody out there is going to punk us." When that was relayed to James, he said he's the king, his wife is the queen, and his daughter is the princess. And he reinforced that message when he returned to MSG in the season's final week, wearing shoes with a custom "I'M KING" message on them.
King of Cleveland 👑 #HisFavoritePlayGround #StriveForGreatness
@Enes_Kanter
Later in November, LeBron James met the first referee to eject him from a game, Kane Fitzgerald. Enes Kanter wasn't happy about James' "King of New York" proclamation, first presenting teammate Kristaps Porzingis as the real king of New York, then serving up this comeback when James got ejected against the Heat.
Nov. 16

Embiid trolls LaVar Ball
WHAT A NIGHT !!!!! #TheProcess
joelembiid
The LaVar Ball-Joel Embiid beef started well before the season, so when the Lakers and Sixers met for the first time, Embiid was more than happy to troll Lonzo Ball's father, posting a picture of him finishing a layup over a falling Lonzo and tagging the location as "Lavar, Fars, Iran." Trust the geotagging process.
Nov. 20

The Celtics extend their win streak to 16 games after an 0-2 start
Nov. 27

A day after losing their seventh straight game to fall to 7-12, the Grizzlies fire head coach David Fizdale.
Dec. 2

Embiid trolls Andre Drummond
Exciting and fun game tonight... Great battle against the big fella #TheProcess
joelembiid
After putting up 30 points in their first meeting of the season, Joel Embiid said of Andre Drummond, "He doesn't play any defense," to which Drummond responded on Twitter, "See you Dec 2nd." On that day, Embiid finished with 25 and 10 and forced Drummond to foul out, leading to yet another troll-worthy Instagram post after the game.
Dec. 6

The Cavaliers beat the Kings to extend their win streak to 13 games as part of a run of 18 wins in 19 games.
Dec. 14

LeBron and Lonzo meet
Respect.
@espn
LeBron James had to send a warning to LaVar Ball in the spring of 2017 when the elder Ball suggested that his children would be better set up for success than James' children. But James also happens to be Lonzo Ball's favorite player, and James has no beef with the younger Ball. After James' Cavaliers defeated Ball's Lakers, the two had a postgame chat that they tried to hide by talking through their jerseys. The audio leaked anyway.
Dec. 29

The refs miss Giannis Antetokounmpo stepping out of bounds before his game-winning shot, resulting in another controversial loss for the Thunder.
@BLAKEGRIFFIN23
The first (and ultimately, only) meeting between former LA Clippers teammates Blake Griffin and Chris Paul turned chaotic on MLK Day at Staples Center. Griffin would be ejected, but not before giving the Houston Rockets 29 points, plenty of trash talk and a loss. After the game, several Rockets players tried to use a hallway between the home and visiting locker rooms to confront Griffin, Austin Rivers and the Clippers. Griffin would be traded to Detroit two weeks later.
I feel like I need to do an emergency pod explaining the schematics of the Staples Center locker rooms
@JJRedick
Philadelphia 76ers guard JJ Redick spent four seasons with the LA Clippers, debuting as a popular podcast host along the way. Who better to provide a breakdown of the locker rooms at Staples Center?
Jan. 22

Having lost four of their past five games and sitting just a game above .500, the Bucks fire head coach Jason Kidd.
Jan. 23

LeBron James becomes the seventh player in NBA history to score 30,000 regular-season points in his career.
Jan. 27

Lou Williams snubbed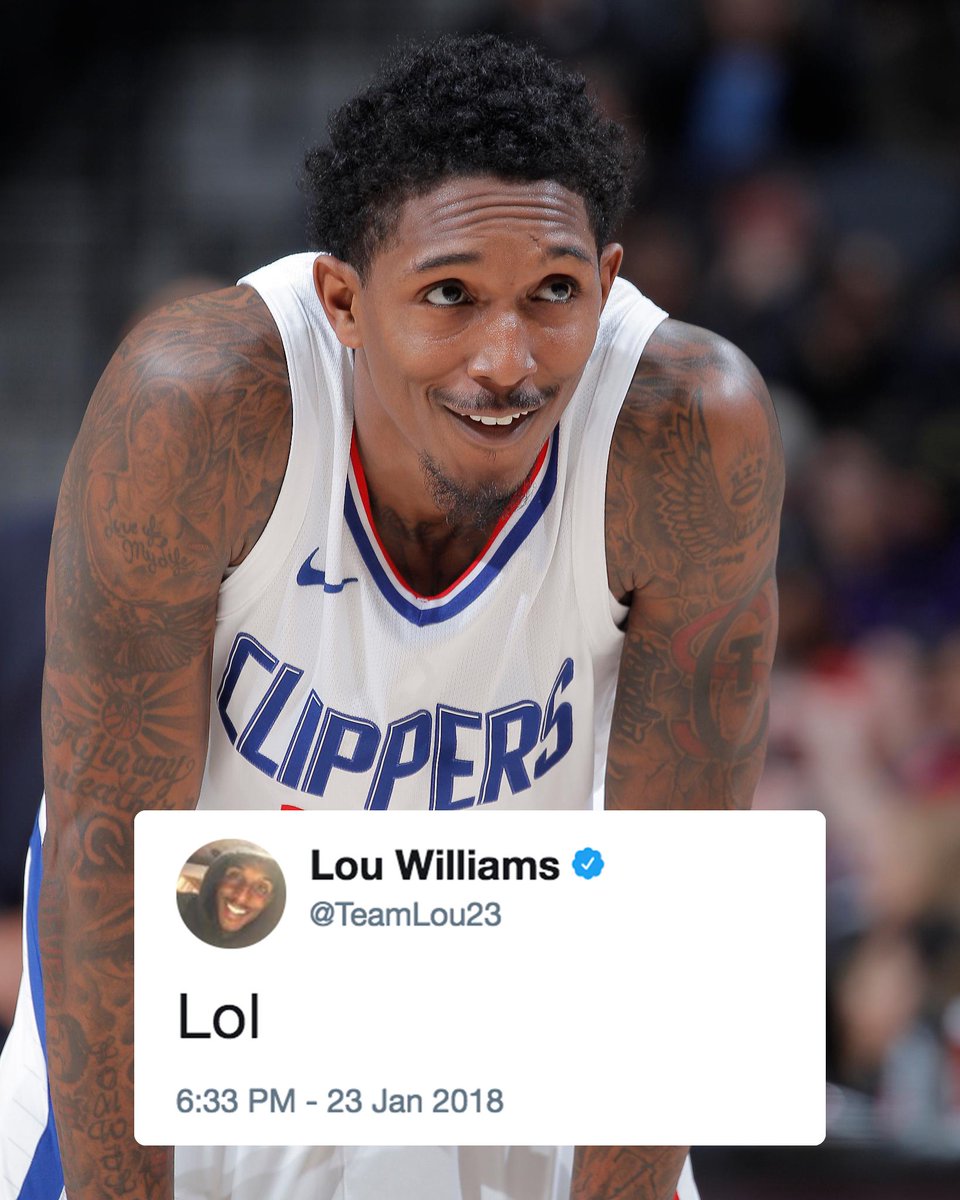 Was Lou Williams referring to being snubbed from the All-Star Game?
@ESPNNBA
The announcement of the All-Star reserves did not sit well with Clippers guard Lou Williams, who was having a career season for a team that had climbed back above .500. Williams had said he was keeping his expectations low to temper the potential disappointment of not making the team, but he was still taken aback by the exclusion.
Damn right. Smh
@TeamLou23
What's crazier than 1 snub??? 2
@TeamLou23
When the injuries started taking various All-Stars away, Williams held out hope that he would be rewarded with an alternate spot. He was still not selected despite injuries to John Wall, DeMarcus Cousins, Kevin Love and Kristaps Porzingis. After the All-Star Game, Williams noticed that Jimmy Butler didn't play. But at least Williams competed in the skills contest.
Jan. 28

Embiid trolls Westbrook
Tough loss #TheProcess
joelembiid
In December, the Philadelphia 76ers hosted the Oklahoma City Thunder, a game that saw Russell Westbrook wave goodbye to Joel Embiid in the closing moments of a Thunder overtime victory. When the two teams got together in Oklahoma City, Embiid flattened Westbrook with a dunk. The Thunder won the game, but Embiid had no mercy for the reigning MVP.
Jan. 29

Blake Griffin traded
@blakegriffin23
Blake Griffin was the No. 1 overall pick of the 2009 NBA draft by the LA Clippers, and he played a major role in the first respectable era in the franchise's history in Southern California. Griffin bought into LA's free-agency pitch of him being a "Clipper for life" during the summer of 2017, re-signing with the team for five seasons. So you would be surprised too if you didn't even make it to February of that new deal before getting traded to Detroit.
Jan. 30

James Harden torches the Magic for 60 points, 10 rebounds and 11 assists, the first 60-point triple-double in NBA history.
Feb. 2

Wizards got beef... with the Wizards?
Unbelievable win tonight ! Great "team" victory!
@MGortat
Despite the absence of John Wall, the Wizards beat the Raptors, leading center Marcin Gortat to send this cryptic postgame tweet. Wall then retweeted it, adding "LOL" before deleting his tweet. Wall then went on SportsCenter and said he was surprised to see the tweet from Gortat, who "gets the most assists from me and the most spoon-fed baskets ever." The two eventually had a meeting to clear the air.
Feb. 8

The Cavaliers remake their roster at the trade deadline, acquiring four new players and sending away six.
Feb. 16

LeBron fires back at Ingraham
#wewillnotshutupanddribble
KingJames
During LeBron James' Uninterrupted x Uber ride with Cari Champion and Kevin Durant, James revisited his criticism of President Trump. Cable television network host Laura Ingraham responded to James by dismissing his intelligence and commentary and telling him to "shut up and dribble." James was quick to respond, first on social media with his declaration that he would not shut up and dribble, and then again through both his media availability and play during All-Star Weekend.
Feb. 18

Fergie anthem reactions
Players' faces during Fergie's rendition of the national anthem ...
@darrenrovell
The top trending topic for an extended period of time after the All-Star Game? Not LeBron James' MVP performance or the closing defense on Stephen Curry. It was Fergie, the singer of the national anthem. Fergie put quite the spin on her rendition of the anthem, so much so that several players were caught struggling to maintain a straight face throughout her performance.
Feb. 21

The NBA fines Mavericks owner Mark Cuban $600K for comments on a podcast in which he said the team would be better served by losing.
Feb. 24

Lillard Time: Damian Lillard's buzzer-beater caps a 19-point fourth quarter, giving the Trail Blazers a win over the Suns as part of a 13-game win streak.
Feb. 28

Harden ends Wesley Johnson
SHEESH!!! @JHarden13 👀👀👀
@TheofficialEG10 (Eric Gordon)
The rematch of the Tunnel Game at Staples Center between the Rockets and Clippers had a new participant: James Harden, who missed the previous meeting with an injury. The Rockets blew the game open in the first quarter, and it was punctuated by Harden's crossover of Clippers forward Wesley Johnson. Harden looked down at Johnson's prone body after the sick move before measuring a 3-pointer. After the game, Harden admitted he was confused at Johnson's attempt at defense.
March 2

Crowder-Butler beef
I DONT TWITTER BEEF ILL LEAVE THAT TO U.. BUT U GOT MY PHONE NUMBER AND KNOW MY HOME ADDRESS..!! THE REST CAN BE HISTORY 😈 😈
@CJC9BOSS
The Minnesota Timberwolves' visit to Utah on March 2 did not go well. Minnesota was on the wrong end of a nationally televised blowout, and Jeff Teague was ejected after hip-checking Ricky Rubio into the Minnesota bench. Jae Crowder backed up his teammate by getting into Teague's face, prompting the injured Jimmy Butler to end a Twitter hiatus and call out Crowder, his former Marquette teammate.
March 7

The Rockets beat the Bucks to extend their win streak to 17 games, the longest streak in the NBA in 2017-18.
March 20

Air Bud chimes in
Kevin, WYD? 😂
@ESPNNBA
Some people fall after shooting a jump shot and get up and run back to play defense. After ending up on the floor against the Bucks, Kevin Love decided to stay there and take a backward swim, earning a supporter in Air Bud.
Nothing wrong with getting some quality back scratches in during a game 🐶 @kevinlove
@Airbud
Air Bud I f*cking respect you for this...
@kevinlove
Air Bud took notice of Love's unique moves on the court, and earned Love's respect in doing so.
March 23

In his first game back from an ankle injury, Stephen Curry leaves with a sprained MCL which will likely keep him out until the second round of the playoffs.
April 6

Brotherly love in Philadephia?
FRESH PRINCE X KING JAMES 👑
bensimmons
After a 76ers win over the Cavaliers -- one that featured a near-30-point comeback and dueling triple-doubles from LeBron James and Ben Simmons -- the possible Rookie of the Year and the former four-time MVP posted the same picture with nearly the same caption on their respective Instagram accounts. A glimpse into Philadelphia's future, perhaps?
April 11

On the final day of the season, the Timberwolves and Nuggets face off, with the winner claiming the final playoff spot.
The battle for the Larry O'Brien Trophy begins Saturday and ends in June, but the battle to crown the king of NBA social media will go on ... and on ... and on ...
Text by ESPN.com staff; Illustrations by Joel Kimmel