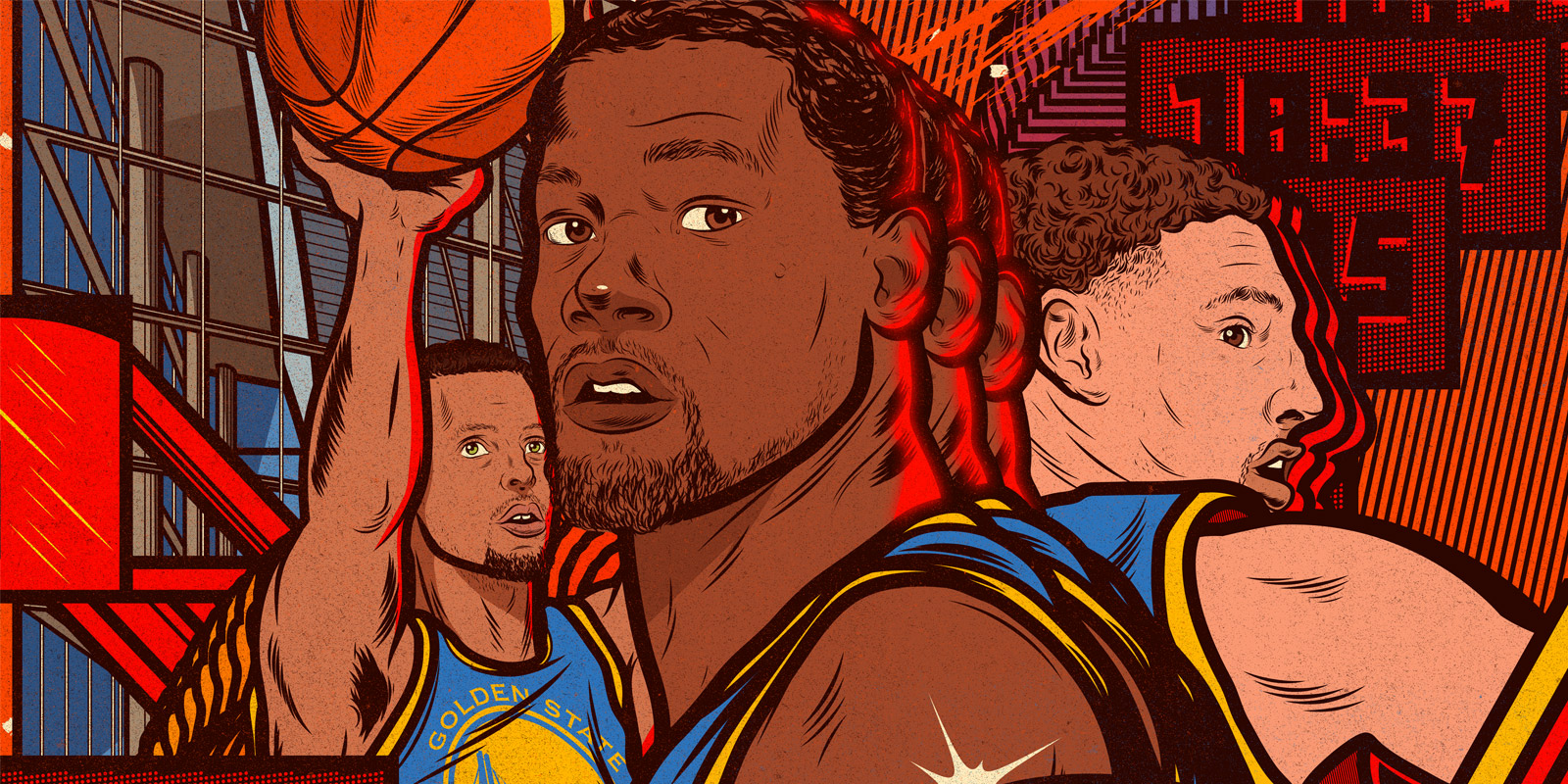 When The Dubs Hit The Turbo Button
By the time opponents know what's hit them, it's already too late. This is how the Warriors crush -- and how the NBA fails to fight back.
This story appears in ESPN The Magazine's May 7 Mayhem issue. Subscribe!
Cotton-thick snow flutters from an endless white ceiling, choking downtown Cleveland on this mid-January night. On steeper terrain, snow can turn sinister, transforming into a screaming wall of white that buries anything in its path. The NBA's most destructive force acts in similar fashion. Inside Quicken Loans Arena, it has lain dormant for three quarters, and now in the fourth, with the score tied at 93, it arrives slowly, subtly, like a snowflake falling from the sky.
It begins like this: Cavs guard Dwyane Wade misses a jumper, Warriors forward Draymond Green devours the rebound and rifles a length-of-the-court pass to teammate David West, who is fouled and sinks two free throws. Warriors guard Klay Thompson blocks a layup, Green collects the ball and feeds teammate Shaun Livingston, who races through the lane and lays it in. Four points, 20 seconds. Cavs players stare at the floor, their shoulders starting to sag. Coach Tyronn Lue calls timeout.
After the break, Cleveland misses twice more, then Thompson drills a turnaround baseline jumper. The Cavs score, West counters with a driving dunk. Another Cavs layup is blocked, then they miss again and are blocked again, then miss twice more before Livingston nails an uncontested one-handed floater on the other end. LeBron James shakes his head.
Assistant coach Mike Longabardi, the Cavs' defensive coordinator, drops his hands in despair. A sellout crowd of 20,562, once electric for this matchup between Finals foes, falls quiet. Lue calls timeout again, his team having scored two points in the past 5½ minutes, having missed 14 of its past 15 field goals. Kevin Durant springs off the Warriors' bench to celebrate with teammates. Coach Steve Kerr balls his hand into a fist.
After the second break, Green makes a wide-open layup after a laser pass from Livingston, and now -- in just 3 minutes, 23 seconds -- the Cavs trail by 10. They continue to splinter. James misses a free throw, his teammate Isaiah Thomas turns it over, two Cavs draw personal fouls, then James hurls a dreadful pass toward the corner that Nick Young steals -- before burying a corner 3 right in front of Cleveland's bench.
Before this game, Lue had warned, "They're the only team that you look at the game and it's a two-point game, and then you go to the bathroom, come back out and they're up 15." And now, exactly that has happened. In a span of 5 minutes and 36 seconds, the time it takes for that bathroom pit stop, his team has been hurled into a 14-point deficit. And now the Cavs players droop onto the bench. And now the Cavs fans begin to leave. And now Durant is waving his arms like a boxing referee stopping a fight.
---
Over the past four years in the NBA, if there's been an abiding certainty, it's this: At some point in most every Warriors game-and far more often than with any other team in the league-Golden State will reach to the side of its controller and press a turbo button that seemingly only it possesses.
When it happens, as it will throughout these playoffs, it is swift and efficient -- and devastating. "Whenever we play against them, we're excited and scared at the same time," says Bucks forward Giannis Antetokounmpo four days before the Warriors buried the Cavs, "because we know that at any point in the game, they can embarrass us."
The facts: In the four regular seasons since Kerr became the Warriors' coach in 2014, his club has gone on 10-0 runs 253 times, the most in the NBA. The Warriors' record in such games is 165-20, meaning they win these games at about the same rate that Stephen Curry hits his free throws. In the same span, they've dropped 27 devastating 15-0 runs, also tops in the league, to the tune of 25 wins and two losses.
The Warriors will tell you that they don't always know when it will happen, cannot always sense the start of an avalanche. But it has happened enough that the team believes, just as its foes do, that one will arrive at some point.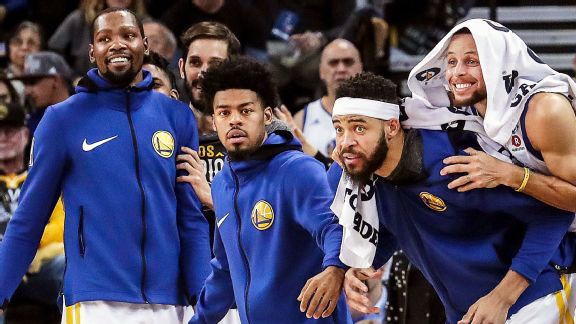 It happens in the first quarter, when the Warriors have reeled off 74 runs of 10 or more unanswered points over the past four seasons, and in the third (70), the second (66) and fourth quarters (43) too. It happens when the game is close, with 82 runs when the score is within one possession. It has happened 116 times in the past four years when they were behind and 125 times when they were ahead -- again, the most in the NBA.
It happens when they're way ahead too -- they've racked up 21 10-0 runs when they're already up by 15 or more. And this, the burning of an already-sacked village, is a thing they especially love to do to the Cavaliers. In the past four seasons, the Warriors have three times gone on 10-0 runs against the Cavs when up by 15. On Jan. 16, 2017, they did it twice in one game.
If you're an opposing coach, or opposing player, you'll surely look for the patterns in the Warriors' runs. And you will find them. But then you'll find others, and others still. Eventually you'll find so many patterns that you'll succumb to the scariest notion: There is no pattern at all.
---
Hey, guys, you gotta stay focused. You ... gotta ... stay ... focused. And you can't let them have the runs." It's Dec. 4, 2017, and Pelicans coach Alvin Gentry is preaching to his players what he always preaches before facing the Warriors. He says it before tonight's matchup in New Orleans and then again at halftime, with his team ahead 69-49.
"You fear it," Gentry says now. "You turn it over, they hit a 3. You come back down, you take a good shot, but it doesn't go in. They come back down and now they hit a layup. And now you come back down again, you throw it inside, you miss an easy basket; they get a 3 and you're saying, 'God, we just need good shots.' And you look up, you're down nine."
Indeed, on this night, the Warriors open the third quarter on a 15-0 run -- Gentry's fears realized in 3 minutes, 47 seconds -- outscoring the Pelicans 39-22 in the frame on their way to a 125-115 win. It would mark the third game of the season in which the Pelicans had a double-digit lead over the Warriors only to lose.
What can you do? Gentry pauses and begins telling the story of Game 1 of the 2017 Western Conference finals, the Warriors hosting the Spurs -- the mighty, unshakable Spurs. San Antonio goes up by 25 points. And though Spurs star Kawhi Leonard is lost to an ankle injury in the third quarter, the Spurs are still the Spurs. If anyone can hold on, it's them. Yet as Gentry watches the lead slowly wither alongside 17-year-old son Jack from their home in New Orleans' Lower Garden District neighborhood, a familiar dread overtakes him. "I don't know if San Antonio's going to be able to stop it," he tells his son.
"No, no," Jack replies. "All they gotta do is get a basket. A couple of baskets here and there and everything is back to normal."
"No," Gentry says. "You don't understand."
Sure enough, the Warriors, on the strength of an 18-0 second-half run, come back to win 113-111 -- and sweep the Spurs.
Gentry understands this all too well. Over the past four regular seasons, the Warriors have gone on 10-0 runs against four teams 14 times, their most against any team. Those teams are the Rockets, Kings, Lakers and ... Pelicans. To Gentry, this thing is personal. When these runs arrive, part of his job is to keep his players from sliding into a mental abyss. But what can he say? What can they do? Take Halloween 2015 in New Orleans, when Curry scored 53 points, including outscoring the Pelicans by himself, 28 to 26, in the third quarter as the Warriors turned a close game into a blowout win.
In that game, Pelicans guard Toney Douglas was guarding Curry on three consecutive possessions. "He's doing a great job, not a good job, a great job," Gentry said. But Curry was volcanic and at one point sank three 3-pointers in 92 seconds over Douglas, who turned to Gentry on the sideline with a look that said "What am I supposed to do?"
"You're not supposed to do anything," Gentry told Douglas. "You can't. Just roll with it, OK?"
"But Coach," Douglas told Gentry, "I'm right there."
Pity the Pelicans, whom the Warriors ambush often ... but they turned downright cruel during the recent conference semifinals matchup. In the five-game series, the Warriors crushed the Pelicans with seven different 10-0 runs -- with two each coming in Games 1, 2 and 5. And in Games 1 and 5, the Warriors' two 10-0 runs happened in the same quarter.
The Pelicans aren't the only squad on the wrong end of these playoff blitzes. Entering their tantalizing conference finals showdown with the Rockets, the Warriors have unleashed 49 different 10-0 runs in the four postseasons under Kerr, the second most of any team in that span behind the Cavs' 51.
As for Gentry, well, he tried his best to stop the spate of onslaughts, burning through three timeouts in the second quarter of Game 1 and then four of them in the third quarter in Game 5 -- all potential tourniquets to stop his squad from bleeding out. But alas, when it was over, he sat at the postgame news conference table in the bowels of Oracle Arena, wearing a helpless grin.
As he rose to walk away and into the offseason, Gentry leaned back down toward the microphone. He had one last thing to say -- the same phrase former Lakers guard Nick Van Exel used to break the team huddle when his overmatched squad was being crushed by a superior playoff foe in 1999, a phrase that admitted defeat but also looked ahead to better days, sunny skies and sandy beaches.
Gentry smiled, then recited Van Exel's now-famous words.
"1-2-3 ... Cancun."
---
What can anyone do? Well, there is one thing. We know it because we've seen it tried, again and again, especially by Gentry as his team was being buried: Try to find the pause button for the horror movie -- and call a timeout. Who employs it the most? Swears by it the strongest? Many Warriors answer quickly: "Carlisle." That would be Mavericks coach Rick Carlisle, who defends his propensity to call early timeouts by arguing that the first quarter is almighty, a holy harbinger of everything to follow.
"It's such an undervalued statistic in our league," Carlisle says with a touch of bewilderment -- one that few others acknowledge what he considers to be mathematical law. The statistic is this: Teams that led after the first quarter were 67 percent more likely to have a lead going into the fourth this past regular season, and those that had a lead going into the fourth were 82 percent more likely to emerge victorious.
"If you get hit by big runs early in the first quarter, you've got to be willing to take two timeouts in the first quarter, because it's a first-quarter game," he says.
Consider a Jan. 3 matchup in Dallas. The Mavericks lead 14-13 in the first quarter. But then Curry drills a step-back jumper, which is followed by a pair of Jordan Bell free throws, then a Durant driving floater -- all in a span of 44 seconds. Carlisle calls time. After a 6-2 run to open the second, Carlisle calls time again. After a 7-0 run just before halftime? Carlisle calls time. After two straight Draymond Green buckets in the third? Carlisle, you guessed it, calls time.
"Certain coaches, you realize their whole goal is to use their timeouts to break that run up," Green says later. "Sometimes it'll break the run up, but it's more enjoyable when they try to break it up and we come and score eight straight out of the timeout."
Does it work?
On Nov. 18, 2016, Celtics coach Brad Stevens called two timeouts to try to stop an 18-0 run. Didn't work. On Nov. 4, 2017, Denver coach Mike Malone called two timeouts, then benched all five players on the court to try to stop a 24-4 run. Same. On Feb. 15, 2017, Kings coach Dave Joerger used three timeouts to try to stop a 26-2 run. A lot of good that did him. "It gives us a nice little break, actually," Klay Thompson says.
"What makes us dangerous is that it can happen at any time."
- Steph Curry
In fact, in 25 of the 27 games in which the Warriors have gone on a 15-0 run since 2014-15, their opponents used a timeout -- on average, opponents called 1.44 timeouts during those Warriors runs -- and every time Curry ignited such a run, the opponents called a timeout. But in the 25 games in which the Warriors went on a 15-0 run and their opponent called their first timeout, the Warriors' run continued each time. In short, that first timeout means nothing -- and calling a second or a third doesn't do much to help either. "Yeah, it doesn't do anything, really," Curry says. "Once a couple of shots go down, our confidence goes through the roof, so a timeout doesn't bother it."
And so it is that at the end of this game, after Mavericks forward Harrison Barnes ties the score at 122 on a driving layup with 12 seconds left, Carlisle might well have wanted to call a timeout to set up his defense, to come up with a scheme for a game-saving stop. But he can't. He doesn't have one. He used them all up trying to stave off these runs.
He can only stand there in those final seconds, shouting instructions from the sideline while watching the Warriors inbound the ball to Curry. The Warriors MVP calmly dribbles the ball upcourt, receives a screen from Green and curls off it, finding himself wide open at the top of the key. Dirk Nowitzki is nearby but not close enough, and Carlisle helplessly watches Curry take aim with three seconds left and ... well, what can you do?
Curry smiles looking back, considering his warning and how it played out for Carlisle and the Mavericks on that final play. "Hopefully," Curry says, still smiling, "we'll get you either way."
---
Kevin Durant is sitting off to the side of a Chicago court after a morning shootaround in mid-January, hours before he and his teammates will force the Bulls to, in the words of Chicago coach Fred Hoiberg, "lose their minds." Durant is almost giddy, describing how when teams scramble to respond to the Warriors' ball movement and collapse on a guy like Zaza Pachulia, a guy like Pachulia can feed wide-open teammates for an easy bucket.
"Everybody is touching the ball, so everybody is feeling it. It's good," he says. "And Coach is clapping on the sideline. Everybody on the team is clapping. It's just good energy."
It's also damn effective. Since Kerr took over, the Warriors have led the league with 38,958 possessions with at least five frontcourt passes -- 2,066 more than second-place Cleveland. They score 1.13 points per possession on those, which also leads the league. Which is to say, when everyone on the Warriors is touching the ball, they're lethal. "You've got guys that are just simmering," Durant says. "Steph is simmering when he don't got the ball. Klay is simmering. Everybody is just simmering."
Trying to diagnose the why of how it starts leads to a chicken-or-egg dilemma. Do the stops lead to the runs, or do the runs lead to the stops? But what is true, by and large, is that the Warriors believe it's the former. That's why Kerr preaches three stops, three stops, three stops, trusting that if his team strings together three in a row, it can lead to three straight 3-pointers. "Three possessions is the difference between a close game and a blowout," Curry says. "That's what makes us dangerous -- that it can happen at any time."
Ask Curry and he'll tell you that some runs are the product of the Warriors' wearing teams down for 48 minutes, water rising until the dam bursts. When the Warriors start a possession after a live-ball turnover or defensive rebound, they average 1.18 points per possession, tops in the league. But there are also quick-strike runs -- we'll call them "bursts" -- 30-second runs that skyrocket a team's chances to win, and the Warriors are the masters of these. A "knockout" occurs when a team has a greater than 90 percent chance to win a game at the end of a burst, and the Warriors are the masters of these as well.
In fact, over the past four seasons, the Warriors have 37 third-quarter knockouts, best in the league. And once the Warriors land a knockout, their opponent feels the effects. During these, the Warriors' opponents move at an average on-court speed of 4.8 mph, but once the Warriors land the knockout, they slow down by over 10 percent, averaging just 4.2 mph.
Kerr, for his part, preaches singles, not home runs -- make the simple, routine play -- and after a few of those? "That's when the home run hits," Thompson says. "A backdoor dunk for somebody or a pull-up 3 or a heat-check from Steph."
Then here, the Warriors say, is when teams start becoming frenetic. "Teams start thinking about so many things out there because of our movement, and that's how we go on runs," Durant says. "It's not the 3s that kill teams. Because we don't make all our shots from the 3-point line. It's the movement and the body movement and the ball movement, boom, we drop off to Zaza, he hits a layup. That's what will crush a team."
What starts as a spark becomes an inferno -- the Warriors hitting 3-pointers, defenses spreading out to cover the perimeter more to try to stop this gusher, the Warriors in turn slashing, moving, shifting, cutting backdoor.
The scoreboard lights up like a slot machine at jackpot. "Then they're thinking about defense when they're on offense and we're applying pressure," Warriors swingman Andre Iguodala says. Teams buckle like a bridge carrying too much weight. The Warriors first sense a shift in body language, say, after a big shot, with opposing players looking at their bench, helpless, throwing their hands up. As then-Nuggets coach Brian Shaw said in January 2015, after enduring a 15-0 second-quarter run that helped lead to a 122-79 loss: "We looked like we were scared."
Often, it's as simple as the other team fraying from the fear of such a run -- of being so mentally taxed by staying so intensely focused for so long that eventually the players' focus slips. Maybe they make a poor decision. Perhaps it's a bad shot on offense or a turnover. "That's what is tough about the NBA -- to focus every possession," Durant says. "That's hard as s--- to do. It's not the physical part. It's not making 3s. It's not how many sets can we run, how many dunks can we get. It's about staying focused every play."
If they're home, where they've gone on 142 10-0 runs, the Warriors and their bench are going wild; their crowd too. On the road, where they've gone on 111 runs? They savor the silence. "To silence Cleveland is spectacular because it's so f---ing loud in there," Green says. They can see it on the sideline, players losing confidence. They see opposing players looking at each other, saying, "Hey, man. We're in this, we're in this, we are good."
"But you can tell sometimes that they don't even believe it," Green says. "You can definitely feel teams quit."
---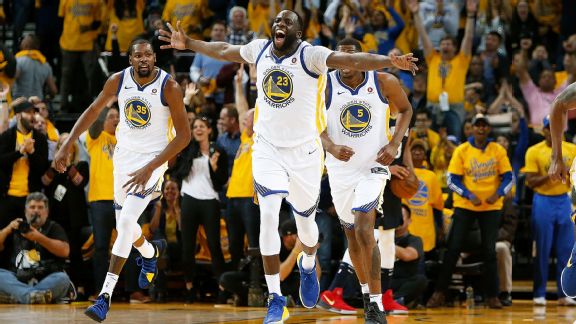 Back in college, at Davidson in North Carolina, Steph Curry took part in a drill called Bolts of Lightning, a 55-second period during which all the players would launch 3-pointers. They did so because their coach, Bob McKillop, believed that 3-pointers, like lightning, cause opponents to run for cover. What, after all, can you do about lightning? So during games, if Davidson would make a 3-pointer, then on the very next possession its first look would be to make another, then repeat on the next possession -- with the goal of getting three in a row, potentially a 9-0 run.
McKillop devised another strategy called Daggers, whereby any time the Wildcats recorded an offensive rebound, that player would first look to the arc to feed a teammate for a trey. They noticed that a team could defend well for 30 seconds but then give up a 3-pointer and become deflated. They also noticed how much Curry enjoyed those shots.
"He has a relentless appetite for putting a dagger in people," McKillop says. "He found great joy in winning but particular great joy when one shot, one play, could just completely demoralize somebody."
Years later, Warriors assistant coach Bruce Fraser can watch Curry bring the ball upcourt and know exactly what will happen next -- Curry will be a little lower, almost crouched, with a certain focus in his eyes, everything heightened about his disposition. "It's like a lion on a hunt," Fraser says.
As for Kerr? "It's like an animal sensing that there's some prey and it's time to eat," he says. "It's like a primal force. It's time to pounce. Steph senses it as well as anybody I've ever seen."
The only other person who comes close, in Kerr's eyes? Larry Bird. For as much as the coldblooded Celtics legend is known as a 3-point sniper, he didn't shoot that many -- his season high in attempts was just 3.3 per game. "But back in the day," Kerr points out, "Bird would purposely shoot 3s in those situations because he sensed that same fear of the opponent and he'd go for the jugular, and that's what Steph does."
Here is how Draymond Green knows it's coming. Green will set a screen, then he'll roll toward the basket and be open. And nine times out of 10, Curry will pass him the ball. But not this time. This time, when Green sets the pick and rolls to the hoop and is open, Curry won't even look at him.
So Green will, in his words, "get the f--- out of the way."
He'll stand near the hoop, maybe, and just watch, like a fan. It's at this point, usually, when his teammate is one-on-one with a defender near the top of the key, that he'll begin dancing, as Durant says, and that is Durant's cue. "When that first person starts dancing at the party," Durant says, "you can tell the party is about to ramp up."
Curry is crossing it over, left to right, back again, behind his back, through his legs, he and the ball becoming one, a string of actions that unfold so fast they fold into one another. His defender will try to deny the game's most lethal shooter a sliver of distance, but -- what can you do? -- eventually, those carefully orchestrated dribbles will leave the defender off balance.
Curry hunts for these moments when an opponent is staggering. "We call it a dagger shot," he says. So after dancing for a moment to earn whatever distance he needs, which isn't much, Curry will fire from distances unfathomable to all but him -- and there is a reason he takes such deep shots in such moments.
"It's the one that takes the energy, it's the one that takes the heart," Green says. "And you look, and all of them are just like, 'Oh my god ... this is crazy.'"
"If he pulls up for a deep 3, that's him saying, 'All right, I'm trying to get this s--- over with,'" Durant says. "He's trying to knock you out. He's trying to end you. That's what killers do. That's what mentally strong people do -- like psychopaths.
"Steph," Durant adds, "wants to stab you in the heart."
Relay all this to Curry and he laughs. He gets this all the time. He's had this mentality since college, he says. He knows that when the avalanche comes, there's nothing they can do. And he knows, more than most, that the best part of a run is the shot that ends it.
"And I can do it," he says, "with a smile on my face."
Research contributed by ESPN Stats & Information's Vincent Johnson
Holmes is a staff writer for ESPN.