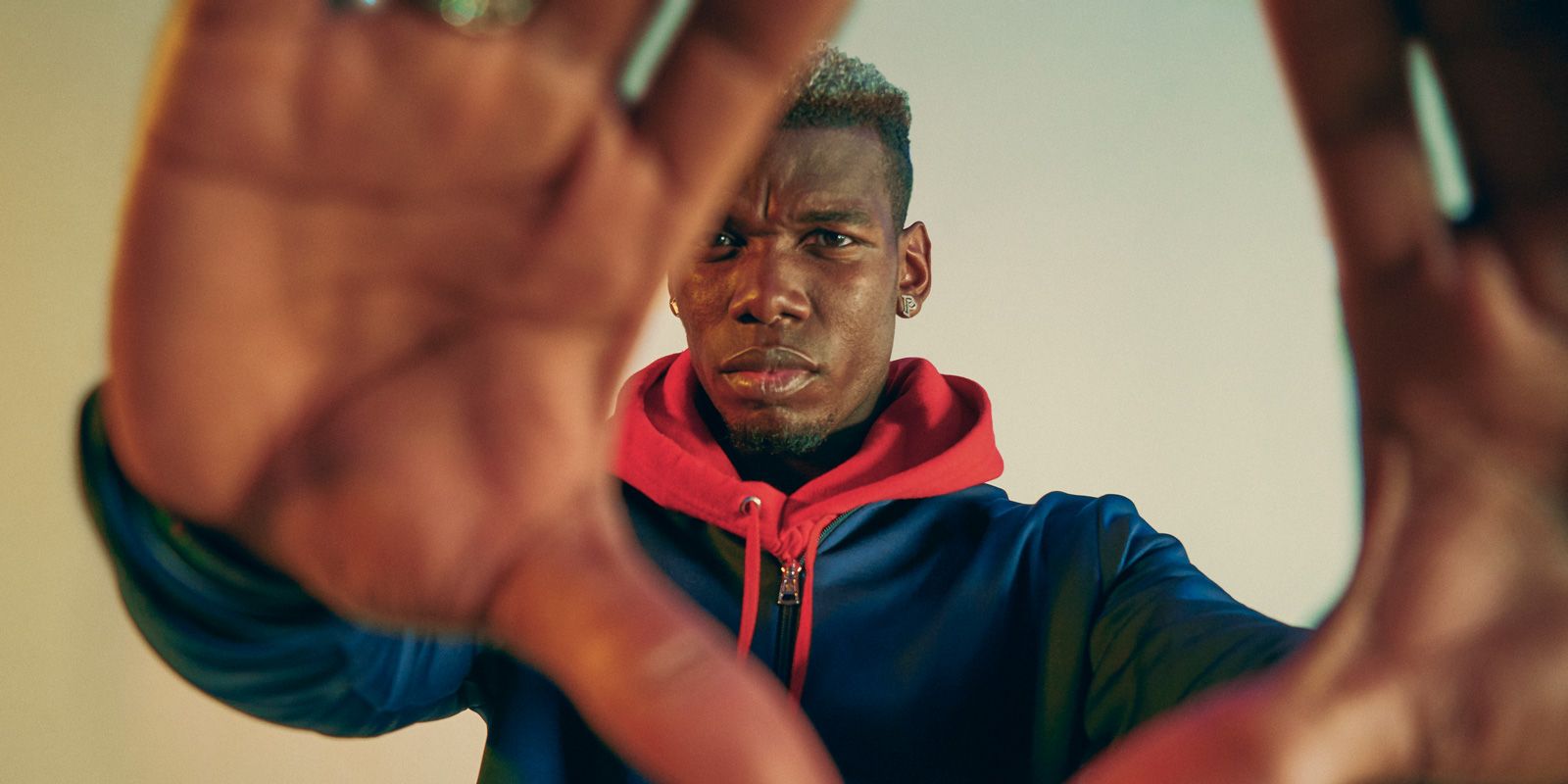 Paul Pogba Is Ready To Shine
After a hellish club season, Paul Pogba is determined to reclaim his joy in Russia. And if he happens to disprove his critics -- and his coach -- in the process? Even better.
This is the cover story for ESPN The Magazine's June 18 World Football issue. Subscribe today!
Paul Pogba stands in his kitchen and mists himself with cologne. The Pogmood is Pogtense. A strong Arabian musk crossed with bright athletic notes might chase away his uneasy feeling. He gives a generous spray on each side of his neck, one spray for each arm, with a torso shot or two for good measure. You can always smell Pogba before you see him. Its work done, the fragrance bottle goes back into his white snakeskin dopp kit, which he can always identify as his because of the enormous gold-plated No. 6 on the side. Like all people who started in obscurity and live in fear of returning to it, his name and image are never far from his line of sight: excessive branding as a sophisticated method of clawing at a crumbling cliff's edge. It's a Tuesday between the end of Manchester United's season and the team's FA Cup final down in London, and Pogba had been feeling good until he opened a text message from the team. Now he's thrown off-center, and this creates widening ripples in the Pogforce.
"The club changed all the travel plans," his manager says. "They unbalanced him."
The Red Devils are now leaving tomorrow at 7 a.m., the whole trip pushed up a day. Since players are due at pre-World Cup camps, losing a day means losing time to close up houses and carefully pack. Pogba, just 25, lives in a Manchester suburb that's home to dozens of current and former Premier League stars who whip around the leafy streets in luxury cars. Hanging around his house today are his Parisian boyhood friend and gofer Mamadou, his Bolivian-model girlfriend Maria Zulay Salaues, his Brazilian manager who lives in Monaco and speaks six languages, and, of course, his cook, who hails from Naples and chatters away in Italian as she futzes around the kitchen.
These four friends, along with his mom and two brothers, protect him from the circling wolves of criticism. He's in that dangerous career zone in which his immense potential, long the source of his wealth and fame, could become the central exhibit in the case for his failure. Manchester United bought him in 2016 from Juventus for upward of 89 million pounds, the largest transfer fee in history at the time, and he's worn that scarlet number around his neck. Tabloids compare him to the other biggest busts in football history. Sometimes he doesn't even start.
It's not all his fault. Most people can see that Pogba's free-flowing game doesn't fit with manager Jose Mourinho's conservative style. He's a sequined jacket in a hit man's closet. These could be his final days living in this house and city as he decides whether to run again or stay and fight for his future. Russia is coming at the perfect time for him. No other player on the planet needs the psychic reboot of a World Cup as much as Pogba. "He is at an important crossroads," says Mamadou's brother, "Papis" Magassa, who coached Pogba in their neighborhood in Paris.
Today's anxiety over schedules and packing clashes with the boyish spirit of the house, which is a bedroom poster dream of where a footballer might live. Nobody should ever feel sad in such a ridiculous place. Big windows look out onto trees and hedges. The kitchen glows green when the afternoon sun shines through the limbs and branches. Out front rises a towering fir tree just like those in the common area of the French public housing complex where Pogba grew up. The interior is decorated with pictures, trophies, murals and, obviously, his interlocking "PP" logo. He's got the logo on his pool table and on his custom black-and-gold foosball table and on the four throw pillows fluffed and ready on his giant L-shaped couch. A logo is on the center of his small, caged indoor football pitch -- which is where the indoor pool used to be -- and there are paintings of him in celebration on the wall. He's got the logo in his ears, one on each earring, in case he happens upon a mirror. Some people design for comfort or aesthetics. His house is designed for confidence, a place where he can celebrate one of those missile shots he calls a PogBOOM! The white marble floors shine. The lines are cold and modern. The stairs are hard plastic trays filled with fake diamonds, and in the stairwell, a huge taxidermied lion rests its left paw on a soccer ball, as if it might launch a well-timed and kingly cross to a streaking kudu.
"I make it the Poghouse," Pogba says.
---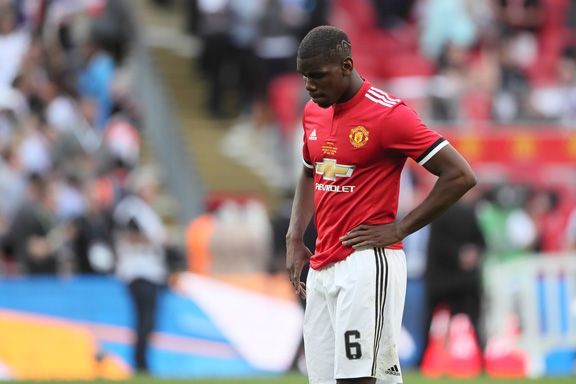 As he says this, Pogba is facing his enormous fish tank. The Pogtank! He's a Pisces, Mamadou explains, hence the fish. They dart in and out of the tower of coral, hiding in the shadows and zooming through the blue light, oblivious to faces pressed against the glass watching them swim. The new Taurus moon tells all Pisces to trust their inner voice, to let the past go and look toward a clear future. All of which is ridiculous because what kind of lunatic actually believes in horoscopes -- and yet the fish tank.
This is an odd and important time to drop into Pogba's world, which is exactly as weird and singular as you'd want it to be. The last Premier League season, which ended two days ago, exposed clearly the conflict that will dominate the rest of his career: Can the joy and whimsy that define his play survive the pressures seeking to harden him into something serious and mathematical? If Pogba succumbs to Mourinho's system, he might become the best player of his generation. Or he might lose the most important part of himself and his game. "It has to be fun," Pogba says. "It started like that. It started fun. So why does it have to change?"
Friends describe him as one of the happiest people they've ever met, a trait he inherited from his mother, who looks on every good thing in her life as a blessing to be celebrated. The people closest to him believe his joy serves as a kind of pilot light for his talent. Two of those people stood in their kitchen two days ago, on the morning of Man United's final league game, and remembered Pogba saying years ago, "I'll play football wherever it makes me feel happy."
Paul and Carol Dalby served as Pogba's host family when he first came to England as a teenager to attend the Man United academy. He spent three years there before joining Juventus in 2012. They remember the drama of his departure, after he fell out of favor with Sir Alex Ferguson and was allowed to leave for nothing. Pogba confided in the Dalbys at the time, "I like them, but they don't seem to like me." When he signed with Juventus, they knew before nearly anyone in the world, and when Pogba struggled to deal with the aggressive Italian fans -- one time in Turin, a Juve fan got into the passenger seat of his car at a red light to take a selfie -- he'd talk to them about it. Once when Juve came to play Man City, Pogba asked the Dalbys to visit him at the team hotel. Sitting in the second-floor restaurant overlooking the river in the old textile mill town, he shared his frustrations.
"What are you going to do?" they asked. "You don't seem too happy at Juventus."
When he left Italy, he returned to a feeling as much as a geographical location, something deeper and more personal than chasing dollars and prestige. It seems strange that he should be searching for something most observers think he's already found. He makes millions a year playing a game -- and yet that seems to be the central question. Is it still a game? Grown men have been fighting one another in court and in public over his talent since he was a boy. His second agent and his first engaged in a yearslong dispute over the first contract Pogba signed, a predatory deal in which he relinquished the rights to his own name and likeness. He tries not to let messy international commerce dampen his enthusiasm. That gets harder with each passing season.
It's been especially hard during this season that just ended.
On the morning of United's final league game, the Dalbys thought about the difficulty of watching a young man they consider an adopted son be trashed day after day. They've bristled at how easily critics, even former United players who should know better, engage so guiltlessly in a market in which players are characters and not former 16-year-old boys a long way from home, asking Carol and Paul for seconds of pasta.
"It's so cruel, you know?" Carol says. "It's so cruel. He's just been battered."
That day found them writing the obituary and eulogy for Paul Dalby's brother, who died suddenly while on vacation in Spain. When Pogba heard the news, he reached out. When he scored in a United game a few days later, he sent the Dalbys a note saying that the goal was a gift for their grieving family and that he'd be delivering the shirt he wore while scoring. He stops by whenever he can -- not long ago, he and Zulay showed up for a visit wearing matching bright-red Adidas tracksuits. The Dalbys could only smile and shake their heads. That's the Pogba they've always known. They remember him rushing to the fridge in the morning to find the word of the day, which he'd use in conversation. Even when Pogba got a flat in Manchester, he would still spend lots of time with his "second family," as he's written on some signed shirts they keep. They made sure he didn't live on just Chinese takeout.
Pogba is family to them. He bounded around their home with the same youthful enthusiasm that he took to the pitch, where he'd bounce before games, smiling and joking with teammates and opponents alike. He found the purest expression of his inner self on the field. At least he once did. "He used to prance around the pitch," Paul Dalby says. "A little bit of that has left him now."
They can take one look at him and know how he's doing. Earlier this year, Carol walked through the room where their big television played the United game. Paul grew up watching Bobby Charlton and George Best and loves to see his local club play. Almost accidentally, Carol caught a glimpse of Pogba on the pitch.
"He doesn't look very happy," she said.
"He's not," he said.
---
Pogba is standing in the long, narrow hallway that runs from the kitchen to his garage. The lion and fake-diamond stairs are almost directly behind him. The fish zoom and dart in the blue light. Hanging from his neck is a pendant with a man's face on it.
"That's my dad," he says.
Fassou Antoine Pogba -- Pogdaddy on his youngest son's social media -- is on Paul's mind. He died a year ago yesterday in a Manchester hospital at the age of 79. Fassou began life in a jungle village in remote Guinea and ended it receiving the full weight and support of Manchester United, thanks to his wealthy and devoted son.
He always told his son exactly what he thought, face-to-face, blunt and real.
"The only way to be No. 1 is to have pillars in your life who help you and protect you," says Magassa, Pogba's former coach. "You can't be the best if you're alone."
During the toughest year of Pogba's career, when he most needed straight talk, there's been nobody to give it. He feels his father's loss acutely and has shouldered this grief almost entirely in private. The football-viewing world got a glimpse of what he's been feeling during a March friendly between France and Russia: Pogba lifted his jersey to reveal a homemade white T-shirt with a written message of remembrance and love to his late father. Perhaps it's a coincidence, but in that game, Pogba played with the kind of magic and creativity that has made him among the most sought-after and frustrating players of his generation. He scored a goal and recorded an assist, and with the exception of his two-goal performance against Man City looked quite different from the player Man United fans have watched this past year. When Pogba plays for Didier Deschamps' France, he dances and floats around the pitch. For Mourinho's United, he looks paralyzed from overthinking. With Juventus, he shared a five-man midfield with dominant players such as Andrea Pirlo, Arturo Vidal and Claudio Marchisio, and his 6-foot-3 frame gave him an advantage against most of his smaller counterparts. With United, he plays with just one other true midfielder and must shoulder a greater offensive load in the more physically demanding Premier League. His role with France more closely mirrors his role at Juventus than at Man United.
Some of the difference, then, is clearly tactical, but it's also deeper than that. Both Deschamps and Mourinho play counter-attack football, so this goes beyond a player flourishing in a specific style. The difference is within Pogba himself. He seems to feel something about himself and his game -- a soaring Pogmood! -- when he is playing for his country. He's got that prance the Dalbys noticed all those years ago.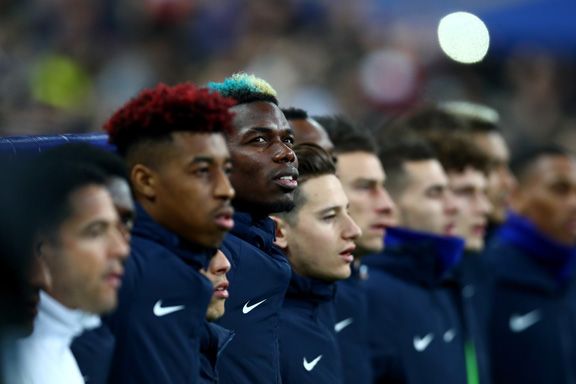 When he takes the pitch this summer, his pregame prayer will include his dad. Fassou wanted to play football as a child in Africa, but his own father told him he needed to forget such childish things. Pogba's coaches remember Fassou as a serious, intellectual man who wanted his son to have a better life. He demanded good grades before Paul was allowed near a ball. Pogba's joy on the field is both an act of rebellion against his father -- the exuberant, free son of a grinding immigrant father -- and a way to live out the dreams his father was never allowed to chase.
Now Pogba is 25, and his father has been gone a year and a day.
Rafaela, his multilingual Brazilian manager, is often telling him to soak up every part of the ride. She's been in this business a long time now and knows how quickly a 25-year-old phenom becomes a 35-year-old has-been. "This doesn't last forever," she says. "This is such a short experience. You have to live it and enjoy it and have fun."
He is trying to live that advice while playing for a manager who believes matches are won by strangulation and not wild abandon. Every now and then, like in that dominating performance against Man City, a glimmer of what Pogba might become breaks through for a moment. Someday he'll be fully realized, right? The first part of that answer will come in Russia. There are many things to be decided; summer will bring rumors of a transfer to PSG or Real Madrid, or even a possible return to Juventus, something in him forever wistful and chasing. Either of those would be oddly predictable -- another return to a happier place, another do-over. "In football," he says, "you're not allowed to make mistakes."
---
Tuesday is nearly over for him. All day he's been subdued, redoing his schedule in his head and doing the four media interviews his team set up for him. Watching him has been like feeling an engine bumping up against an electronic governor, never really letting go, forced into a high, revving idle. He's been mostly quiet -- until he's on a video chat to wish his friend (and former France captain) Patrice Evra a happy birthday. This is the first and only glimpse of the actual Pogba, the one the Dalbys met and the one Zulay loves and the one who makes managers go gooey when he channels his talent.
He is screaming into the camera as loud as he can.
He is dancing and making cat noises.
"I look nice just for your birthday!" he crows.
"Oui!" he yells, pronouncing it "whey."
Pogba isn't turning anything on. This is the him that's always trying to get out, the one his friends and family want to protect from the public grind of his job. Sometimes, when you drop in on the biggest stars on the biggest stages, you see nothing real. Most of the time, honestly. But every now and again, you catch a glimpse of someone moving at breakneck speed toward a true crossroads, as Pogba's friend and former coach said. You see a man choosing a path. Pogba talks about playing Barcelona and being close enough to Iniesta to understand his genius or what he learned by sharing the field with Paul Scholes. He dreams of being one of those men. But he's also rich and famous, and maybe that's enough.
"It has to be fun. It started like that. Why does it have to change?"
- Paul Pogba
Whatever the path, his future is being written in real time.
Sitting in a chair in his billiards room on Tuesday, he feels legitimately hopeful about winning the FA Cup and salvaging the team's season. A trophy might redeem them all. He couldn't know the future then. He didn't know they'd go down to London and lose or that he'd miss a wide-open header in the 82nd minute. Chelsea didn't even mark him, and he still didn't get the ball on frame. At its most simple, his entire world -- from the PogMondrian Poghouse to the PogWAG to the Pogchef -- is designed to keep information like that safely on the other side of the hedges and gate.
He's trying to remain positive and upbeat; during a 20-minute interview just before his photo shoot, he repeatedly avoids easy chances to dig into Mourinho. His manager actually seems a little disappointed that he didn't take any shots; she says she told him that the story wouldn't come out until after the FA Cup final and that he should feel free to speak his mind. The closest he comes is when he's asked what he thinks Man United needs to do most urgently. "We all think about the old Manchester United, the Ferguson United," he says. "I think it's time for people to realize that time passed. He won't come back. You have to look ahead. Now we have to think about the future. We have to find the next Ferguson."
He stands in the indoor football pitch and looks tough for the camera.
Zulay looks at his expression on a monitor and laughs.
"He always makes that face," she says.
Everyone shakes goodbye. The stylists and Adidas people navigate Pogba trying to take home all the clothes they brought for the shoot. Pogba heads upstairs to start packing for London. It never ends when you're 25 and making your reputation, not in boardrooms or meetings but on football fields around the world, every action and reaction dissected. Change happens fast. His manager says the Poghouse could be stripped and turned into a Poglesshouse in a matter of days should he ever need to sell. Even this football pitch where he's standing can be returned to a pool with a little work. She points at the walls that would have to come out, breaks it down step-by-step.
Pogba heads off toward the staircase, past his fish and his lion and his stairs filled with the fake diamonds. Zulay is chasing her tiny dog past two pink food and water bowls in a hall covered with logos. Long live Pogworld! Before he leaves, he is congratulated on not going after Mourinho. Pogba smiles. Russia is the canvas he needs. He's got to remind people that his vision of himself is more powerful than anyone else's.
He doesn't need to rip Mourinho.
"Not yet," he says.
Styling by Kerry Saxon; Grooming by Louise McCann; Production by LS Productions
A senior writer for ESPN.com and ESPN The Magazine, Wright Thompson is a native of Clarksdale, Mississippi; he currently lives in Oxford, Mississippi. Previously, he worked at The Kansas City Star and the New Orleans Times-Picayune. In 2001, he graduated from the University of Missouri School of Journalism.