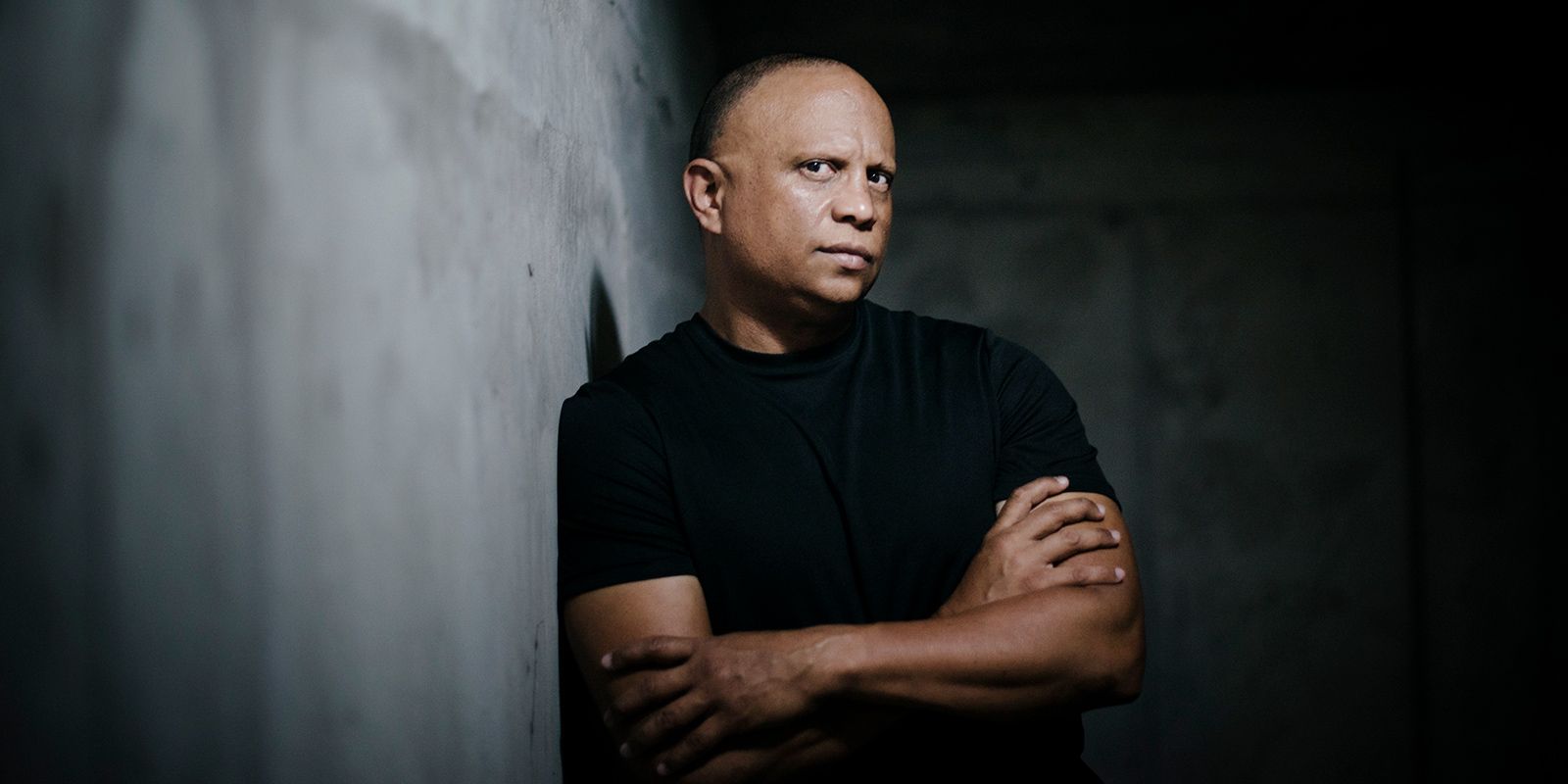 Dead Man Walking
Boxing trainer Ramon Sosa was marked for death by his wife. This is the story of how he survived, thanks to a surprising savior.
The police camera clicked. Click. Click. Click. Each snap shattered a silence brought on by Houston's suffocating summertime heat. The lens pointed into a waist-deep hole.
At the bottom of the freshly dug grave lay a man in his late 40s with what appeared to be blood running from a gunshot wound to his right temple. More blood trailed from his nose. The man, clad in nothing but his underwear, had his arms pulled beneath his back as though he'd been bound.
Detectives from the Montgomery County Constable's Office already knew his identity: Ramon Sosa, one of the best-known boxing trainers in southeast Texas. A former professional fighter, he'd taught pros and Olympic hopefuls how to spar the fast-paced Puerto Rican way. Dozens of kids from gangs and troubled backgrounds had funneled through his nonprofit Young Prospects Boxing program.
He also owned a successful gym less than two miles from this spot, surrounded by heavy forest on all sides and well-hidden from the bedroom community known as The Woodlands. The detectives knew too that Sosa's gym brought in about $20,000 a month, allowing the trainer and his wife to buy a fancy new house, cars, motorcycles and designer shoes and watches.
Gangs and money. That's what might have been behind this grim scene. But this wasn't a predictable crime at all. Once the camera stopped clicking, the lead detective spoke: "We're done, Mr. Sosa. You can get up now."
And with that, the man at the bottom of the grave opened his eyes.
---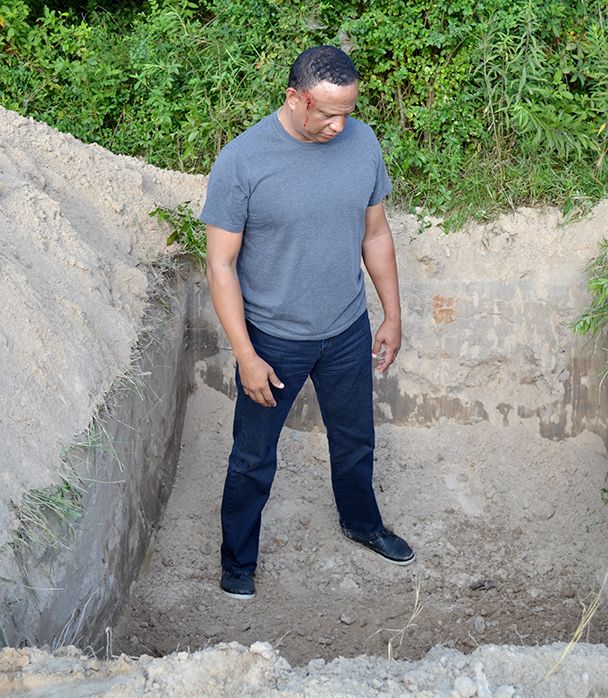 A DECADE EARLIER in another part of Houston, a young man known as Mundo walked out of jail. He'd just been acquitted after spending 14 months inside on a violent felony charge. Mundo joined his local gang when he was 12 and was shot six times in three incidents before he went to jail. When he got out, his future wife gave him an ultimatum: Pick her or pick the violent neighborhood where he grew up. He chose her and moved to the other side of town.
He was looking around the area for gyms and stumbled on a little place where one of the trainers, Ramon Sosa, always seemed to be surrounded by young fighters. "His technique was different -- Puerto Rican boxing," Mundo says. "He looked like a professional boxer. And I was like, 'I want that.'"
Sosa was from Puerto Rico, having moved to Houston when he was very young. He had returned to the island when he became a professional boxer at 17 but quickly grew disillusioned with a business in which "people are trying to make money off you in so many different ways. I was nothing but a piece of meat."
He returned to Houston and discovered that his real calling wasn't in the center of the ring but in the corner. Sosa began training pros from the Houston area, traveling to fights in Las Vegas and New Jersey. He visited the Playboy Mansion and posed for photos next to Hugh Hefner and Mike Tyson. "Boxing at the professional level, it's entertainment," he says. "You get to see a lot of celebrities. All bills paid and everything."
But he soured on the pro scene again and turned to young amateurs. "They do it for the heart, for love, for something other than money," he says.
He had been a trainer for some 20 years when Mundo appeared in the little gym in 2005. "He was different," Sosa remembers. "He said he didn't want to fight, he wanted to learn how to box."
The relationship, Mundo says, was the first time any male figure took an interest in his life. "He set the ground rules," Mundo says. "He took it upon himself to check up on me. He didn't have to do that. It meant a lot." Recalls Sosa: "He told me what had happened to him, the problems that he had with the law, that he was a gang member."
Mundo walked away from the gang and into Sosa's corner. Sosa, in turn, would later launch a nonprofit as a way to reach other kids like Mundo, who remembers thinking that he and Ramon "could save one and every kid that came into the gym."
And so it went for the next two years, until a night in 2007 when a woman stepped on Ramon Sosa's toe.
---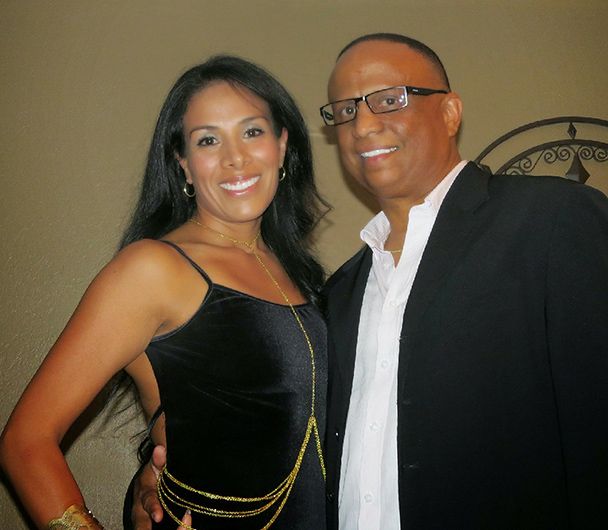 HER NAME WAS Maria de Lourdes Dorantes, but everyone called her Lulu.
She was long and lean, with dark hair and swaying hips. "I saw her when I first walked in. She was on the dance floor. They were playing salsa. I said, 'Man, this is a beautiful lady!'"
Ramon had worn a Versace sweater and one of his most expensive watches to get inside the trendy Latin club in The Woodlands. He bought a beer and planned to just watch Lulu dance. But when she walked past him, she stepped on his toe with what he swears were 6-inch heels. They hurt. "I was like, 'Oh my goodness.' I see stars. I bent down, and she was asking, 'Please, I'm sorry. I'm sorry. What can I do?'"
Ramon asked her to dance. It was the start of a whirlwind courtship.
"I think she caught me, captivated me," he says. "This is a person that gives you massages, manicures, pedicures. If I had a drink, she would not even let me finish my drink. She would give me another one. Serve my plate. She was just overboard as far as the way she treated me."
Lulu had followed a wave of Mexican expats to The Woodlands, entering the United States on a visitor visa. Not legally allowed to work in the States, she paid the bills cleaning houses and working as a masseuse until she and Sosa married in 2009. A year and a half later, they opened Woodlands Boxing and Fitness. "I was very happy," Ramon says. "Very happy to see my dreams come true."
The gym pulled in about 200 clients. "We are talking $18,000 to $20,000 a month," says Ramon, who has always worked a full-time job at a shipping company in addition to training boxers. "We bought a brand-spanking-new two-story home. We bought motorcycles and cars. And Lulu liked to dress nice. She always loved to go into the store and buy everything you can think of. Money was spent. It was very good."
Mundo vividly remembers the first time he saw Lulu. "She walked into the gym just calling the shots," he says. "She put in a lot of work. She basically took care of the business."
The Sosas embraced Mundo, making him a part of their family. "I wasn't even looking for a father," he says. "But that's what Ramon acted like. And Lulu acted like a good friend."
Ramon sponsored Lulu, her mother and her two teenage children to help them obtain U.S. citizenship. It took about three years. Only then, Ramon says, did cracks appear in their marriage, including an altercation during a vacation to Puerto Rico.
"She knew what buttons to push to agitate me," Ramon says. "We got into a little back-and-forth." When Lulu told Ramon she was going to call his mother, he remembers pulling the phone out of her hand and telling her, "The problem is between you and me, not my mother. I'm a grown man."
He says Lulu called hotel security and claimed he was abusing her. After listening to both sides, the head of security told them to sleep in separate bedrooms.
In March 2015, Lulu filed for divorce. "She wanted everything," Ramon says. "She just wanted for me to leave and she keeps everything." He remembers telling her, "If you want a divorce, we are going to divorce the right way. We split everything.
"But no, she wanted it all," he says. "And that's where things get rough."
According to Ramon, Lulu contacted sponsors of his nonprofit and accused him of embezzling money, causing them to drop Young Prospects and forcing the group to close. Lulu also told friends and clients that Ramon had abused her. His relatives, including his mother and adult daughter, tell E:60 they never witnessed him hitting any family member, including Lulu.
Investigators would later say they found no evidence to suggest any malfeasance involving Young Prospects, nor any evidence that led them to believe any of the abuse allegations against Ramon.
Lulu also complained about Ramon to Mundo, who tried to stay out of the situation. "Tried. Tried is a good word," Mundo says. "More like dragged into it."
Three months after Lulu filed for divorce, Mundo walked into the gym on a hot night. Lulu was in the office with her teenage daughter. "They were having a talk regarding some kid that had been at the gym, about his uncle being some kind of killer down in Mexico," Mundo says. "They were saying he cuts up bodies."
Mundo walked into the office when he next heard Lulu wonder aloud if the uncle could help "with our situation."
He was pretty sure "the situation" was Ramon and encouraged Lulu to confide in him. Mundo says Lulu started to talk the next morning. "I'm just tired. I'm frustrated," he remembers her saying. "I wish he will leave. I wish the cops would pick him up. I just wish somebody will make him disappear." According to Mundo, he asked, "What do you mean 'disappear'?" When he made a pistol sign with his fingers, Lulu replied, "Yeah."
"I'm numb," Mundo remembers. "I know what she wants." He walked to a punching bag to start his workout. But instead of hitting the bag hard like he normally would, he barely tapped it, too distracted by the thoughts swirling in his mind. He punched one last time and returned to Lulu.
"I might know somebody," he said.
---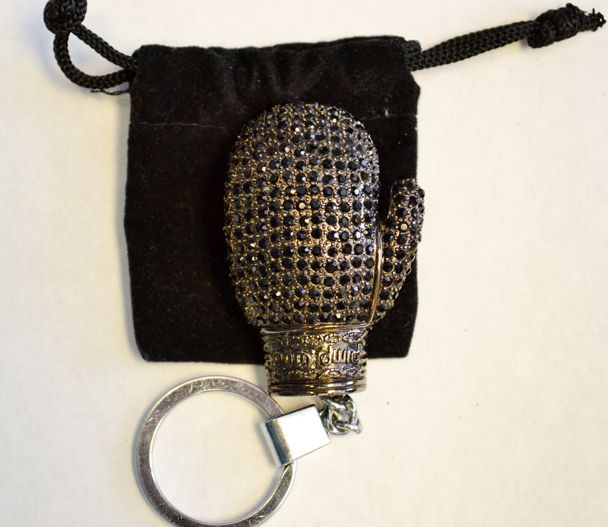 PACO WAS SO revered in his gang that his face had been painted on a mural at least two stories high. "Paco is like the badass," Mundo says. Paco and John Boy, those were the men he'd contact.
At least, that's the story he concocted for Lulu.
As soon as he walked out of the gym, Mundo made the call -- but not to "Paco." Instead, he called Ramon, saying, "This lady wants to kill you."
"Shut the f--- up," Ramon told him. "Stop playing. Don't play like that."
Ramon remembers Mundo saying, "I've seen that look in people that want to kill before, and this lady wants to kill you."
"I was in shock. I was angry. I didn't know what to do," Ramon says.
But Mundo had a plan: "I told Ramon, 'Look, you're going to play the hit man. You're going to buy another phone, a throwaway.'" Mundo explained that the phone would be used as if it were Paco's. They went over the details and agreed Mundo should relay the message on the new phone that, for the right price, Paco would be willing to kill Ramon. Later, as Lulu watched, Mundo texted the burner phone back with her offer: $1,000 cash, along with Ramon's pickup truck.
Mundo: "Paco im here with the Patrona ... y'all guys take a truck and 1g after job done? 07 white single cab 20 inch rims Si o No?"
Paco: "I talked with johnboy n its all good homi just need the tools"
Mundo's choice of the name "Paco" wasn't random. He was a character in the 1993 crime drama Blood In Blood Out, the story of three Chicanos navigating gang life in Los Angeles. Paco, played by Benjamin Bratt, was so admired and feared that another character paints his portrait on a concrete wall alongside the Los Angeles River.
"At the end of the movie, Paco, it turns out, is an undercover cop," Mundo says. He was sending Lulu a warning. "It was cryptic," Mundo says. "But you know, it just felt right."
Mundo started to secretly record his conversations with Lulu, hoping to gather evidence for Ramon.
In one recording, she sorts through Ramon's watch collection. "A golden one, a Bulova," she says in Spanish. "And a black one, which is a Fossil." She decides to use various watches, inexpensive jewelry and an additional $500 cash as a down payment.
Just before the July Fourth holiday, Lulu handed Mundo $100 for the fictional hit man to buy a stolen gun. With the cash in hand, Ramon and Mundo agreed that Ramon should go to the police. But Ramon wanted Mundo to go too, a difficult step for a former gang member sworn to never talk to police about anything. "Even if I try to make people understand that it's to save my friend's life," he explains, "it's still seen as snitching. Ratting."
Just walking into the Montgomery County Precinct 3 Constable's Office caused Mundo physical pain. "My heart got knotted up," he remembers. "The back of my head was all knotted up."
In the interrogation video, a detective asks Mundo, "Has she specifically used the word 'dead'?" "Yeah," Mundo responds, pointing to a text message on his phone. "Muerta."
In the video, Mundo spends more than an hour telling detectives everything Lulu told him. He hands over the $100 and the recordings he's made and allows the detectives to download the text messages she had sent to his phone.
Near the very end of the video, Mundo decides to reveal his past. "I used to be a gang member," he says. "I've got a criminal past. So I'm pretty sure that's what attracted her to me."
He tries to explain to officers that coming forward could put him in danger. "I broke a major code," he says. "There will be consequences."
---
LT. MIKE ATKINS describes sitting across the table from Mundo as "kind of surreal." He remembers thinking, "Is this legit? Because there is a divorce that is pending."
He checked out Lulu's complaints about Ramon and found no evidence to support them. When he sorted through Mundo's criminal record, "his background coincided with the story of his life," Atkins says. "Yes, he did get into a bit of trouble when he was a youngster, but there was no recent activity."
That background, maybe more than anything, convinced Atkins to believe Mundo. "Knowing the code where he came from, people who snitch are not looked at favorably," the officer says. "So his coming in this office, under his own free will, showed a lot of character."
Atkins ultimately determined that "Ramon's life was seriously in danger." He asked Mundo to keep recording Lulu. Mundo hated the idea but agreed.
"I can't say no," he says. "Somebody's life is in the balance."
Mundo recorded at least 12 conversations, all in Spanish, over the course of three weeks, according to records E:60 obtained from the constable's office. In one, Lulu tells Mundo that Ramon might sign divorce papers on July 22. "Mundo, I'm desperate. I can't stand this anymore. I have a giant headache," she says in the recording. "I have everything to lose. I'm sick, sick, sick of all this paperwork."
She complains that she won't get any alimony, that Ramon is no longer paying the mortgage and that she's running out of cash. "That f---er hasn't given me a single penny since February," she fumes. "Nothing!"
She adds: "They better kill him before the 22nd. That way I'll have insurance for life, a pension for life. My life will be all figured out. Mundo, do you know what I'm saying? He has worked hard all his life for his retirement. Well, now it's time for me to work hard on my retirement. This is my retirement, Mundo. His life is my retirement."
Mundo asks, "So from here until the court date, do you want to have him killed?"
"Yes."
On the recordings, Mundo tells Lulu several times that she can abandon her plan. "If you changed your mind, you changed your mind. Nothing happens. Nobody's forcing you to do it."
"It's a decision I already made," Lulu says. "If I say it, I do it."
In one final attempt, Mundo texted Lulu, "Nomas aquerdese ... que ya Muerto ya va ser muy tarde pa que se aga pa atras entendido?" Just remember, once he's dead, there's no coming back from that.
Lulu wrote back: "Mas claro que el agua." Clearer than water.
Brandon Thibodeaux for ESPN
---
THE HIDDEN-CAMERA video pans up the side of a car with the words "Woodlands Boxing" emblazoned on the door. A woman with dark, glossy hair and a Mona Lisa smile sits in the driver's seat.
Mundo, wearing the hidden camera, encourages Lulu to get out of her car to meet Paco, sitting in a pickup parked nearby. Lulu never suspects that Paco is actually an undercover officer as she climbs into the front seat of the officer's truck. Just as Mundo gets into the back seat, the officer's deep voice asks in Spanish, "What's up?"
Lulu vents in Spanish: "Well, what hasn't he done to me? That SOB. I mean, I just can't deal with all of this."
The undercover officer replies, "This guy, do you want him to be pretty beaten up? Well, f---ed over? Do you want us to beat him up or what?"
"No. No beating," Lulu says without hesitation. "I want him dead."
"Do you want to talk to him? Give him a last message?" the officer asks.
"No. I don't want to talk to him," Lulu says.
"You just want him f---ed over? You want him dead?"
"I want him dead," Lulu affirms. "For me, it is better if he is dead than for him to continue screwing up my life."
Atkins watched from another undercover vehicle as Lulu handed over her down payment. "I was struck by the lack of emotion," he says. "When you deal with someone who has no emotion, shows no empathy, no sympathy, those are truly, truly dangerous individuals."
Mundo remembers getting out of the truck with Lulu. "We shake hands. I don't want to touch her. Not because of hate. It was just sadness. I feel like I betrayed her as a friend," he says.
But Lulu pulled his arm in for a hug. "I think I held on for, like, two more seconds because I knew what time it was," he says. "You know what is about to happen. But they don't."
---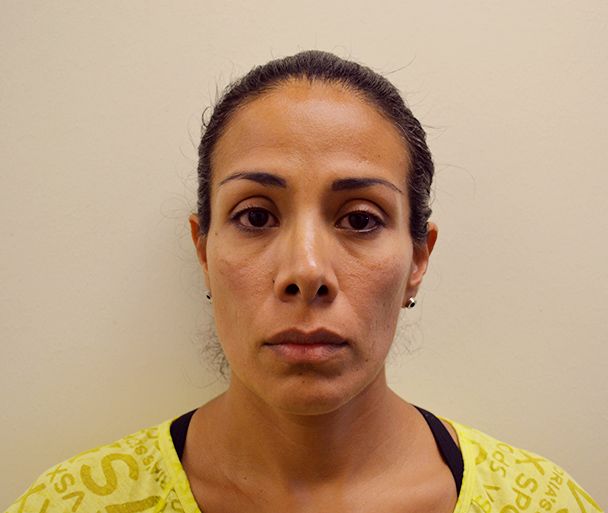 OFFICERS LEARNED HOW to fake Ramon's death by watching makeup tutorials on YouTube. They went to the grocery store for corn syrup and food coloring to make the blood and borrowed the makeup kit normally used for disaster drills. "It looked like Halloween stuff they used for kids," Ramon says. "It looks very, very amateur what they were doing. But they did it right."
Ramon remembers Atkins telling him, "We need something that is going to be a slam-dunk case." The detectives had enough evidence to arrest Lulu but worried a jury might feel sorry for a beautiful woman with no police record.
Which is how Ramon found himself on the floor of an unmarked SUV as officers drove into a restricted area where dump trucks unload debris collected from county work sites. It was there, among the piles of earth, that they dug the grave. "It wasn't cold, but it was eerie," Ramon says. "I was sitting there with my eyes closed, thinking, 'What am I doing? What the heck am I doing here?'
"I thought about Lulu. Like, why did it have to come down to this? It could have been a simple divorce. It should never have happened."
In that moment, he says, he realized, "She never loved me."
On July 22, Lulu climbed back into a truck that was supposed to be Paco's. This time, two hidden cameras capture her face as the officer tells her in Spanish, "We got him in the morning." Lulu shows no visible reaction. She simply states, "I've got $1,000."
The agent holds out a phone, showing her a photo of Ramon in the grave. "What do you think?" he asks.
Lulu still betrays no emotion. Instead, she digs for details. The undercover officer gives her just enough. Ramon fought for his life. He didn't want to die. The truck is at a chop shop. Lulu calmly suggests they use FaceTime to prevent the police from tracking their communications.
She pauses a moment and then says, "He won't get up anymore."
And that's when she laughs. "That was bone-chilling," Atkins says.
The next morning, with Ramon in hiding, officers went to the gym, telling Lulu they received a missing person report for her husband. "She doesn't have an explanation of where Ramon is. She hasn't seen him," Atkins says. "So we have her lying to us immediately."
Police video shows officers placing Lulu in handcuffs in front of her mother and teenage daughter. They transported her to the same interrogation room in which they interviewed Mundo.
"At this point, I think she has accepted that she was duped," Atkins says. "It's all coming to her now." She told police she wouldn't speak without her lawyer, and with that, police took her to jail.
Fifteen months later, in October 2016, Lulu pleaded guilty to solicitation of capital murder. She never looked at Ramon as a judge sentenced her to 20 years in prison. No one from her family ever spoke publicly in her defense. Lulu's last attorney of record said he was not authorized to speak on her behalf.
Lulu, now 44 and housed in a state prison in Gatesville, Texas, never responded to letters ESPN wrote seeking her side of the story. Through a prison spokesman, she refused an interview request. Ramon's last image of Lulu was of her leaving the courtroom in a pink jumpsuit and handcuffs.
---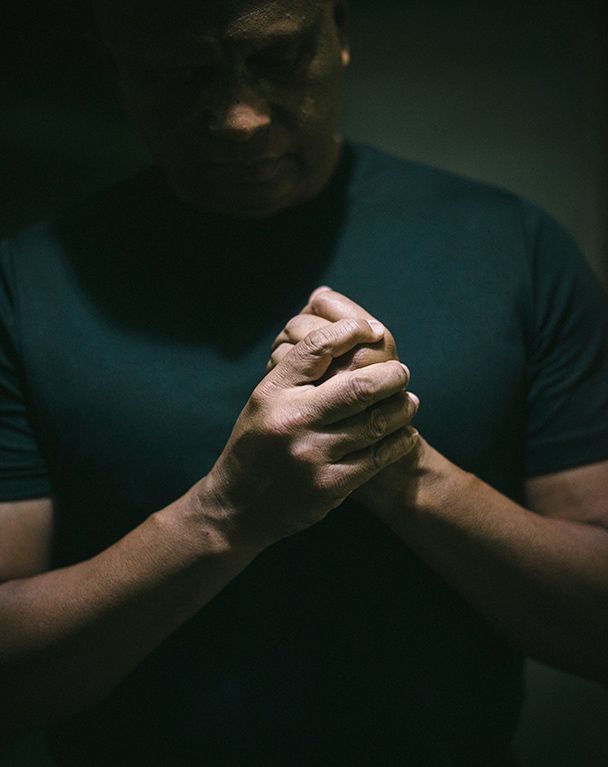 MUNDO SITS NEAR the spot in the gym where he told Lulu he might know somebody. The lights have all been turned off, the gym's door has been locked and its regular clients told to come back later.
Only a single light shines behind Mundo, creating a dark silhouette of his head on the camera monitors as he is interviewed by ESPN for TV. "I appreciate this opportunity," he says. "Because nobody, nobody ever, had asked me how, you know, how do you feel?
"Everybody was broken in a certain way," he says. "It wasn't just Ramon. Lulu as well. Me as well, you know?"
Lulu's case was widely covered by the Houston media, with Ramon giving quick sound bites at her sentencing. But then a TV show outed Mundo and an undercover officer, showing their faces on television and revealing Mundo's legal name. The constable's office got involved, and the story was pulled off the internet. But it was already too late. The time had come to pay the consequences.
"It was like a wave, man," Mundo says with a huge sigh. He's received threats of home invasion, threats against his life and against his wife, children and other family members who still live in the old neighborhood.
"Everybody's alive. That's how I try to reconcile everything," he says. "Somebody is alive, and nobody's dead. At least for right now." He pauses. "I hope nobody ever dies."
He closes his eyes and takes a deep breath. "I'm just thinking of my family; that's all I think about now."
He self-published a novel titled My Son Mundo. It's a story of a man "forced to make a final decision" after he's "drawn back into conflict with the law due to a threat to his mentor and boxing trainer." Some of it really happened, Mundo says, but some of it didn't.
He wrote the book to make enough money to get his family out of Houston. "For me to have a happy ending is security for my family," he says.
But what about Mundo? Is he worried about himself?
"No."
And then his eyes well up. He covers his face with his hand. Just as quickly he pulls it away. He tips his head back and takes an angry breath through his nose. He's pissed, ready to fight. Not box. Fight. "I don't like your question."
"Mundo's a tough cat," Atkins says. "He grew up in a tough neighborhood. I think he's a tough customer." He gave Mundo his direct line and told him to call anytime. However, Atkins says, "I have not spoken with him since."
Mundo has taken precautions to protect himself, but he says he has not received the help he was promised. "Certain people said they are going to help me with security, you know? Upgrade my security. They didn't do s---. You're left for yourself. No, it shouldn't be like that."
Is he talking about Ramon? Mundo almost doesn't answer. "If somebody helps you and helps save your life, you shouldn't leave them out to dry. You shouldn't do that."
Ramon, now 51, doesn't shy away when asked about Mundo's intimation. "We don't talk as much as we used to, you know? We kind of drifted a little bit apart," Ramon says. "He doesn't understand that Lulu left me with a lot of debt."
Ramon, who continues working his day job while also training fighters, recently declared bankruptcy and has moved out of his house and the gym he and Lulu shared. He lives in a small apartment and has put all of their possessions into storage. "This is all she left me with," he says, pulling out clear plastic bags containing his watches and the cash Lulu paid. "Evidence of how she tried to kill me."
"Maybe one day I'll have a bonfire," he says. "You know, just burn everything."
He locks up the storage space and gets in his pickup, the one with the 20-inch rims. "I spend a lot of time alone now, to be honest with you," he says. "Psychologically, I'm still not doing well. I still have nightmares."
He wonders whether Lulu stepped on his foot intentionally in that nightclub.
"I was a good husband. I treated her well," he says. "All I've got to say is God, my God, knows what really happened."
Ramon says he's repairing his life one issue at a time. "Mundo's always going to be on that list," he says. "He's always up there, a priority. He's very special to me. Very, very special."
"He's trying to find himself again," Mundo says. "I'm trying not to take it personally."
Atkins considers Mundo -- a boxer who never competed, whose face you'll never see, whose name you'll never know -- a hero for having "the moral courage to come in here and stand up and do what was right."
"I appreciate his point of view," Mundo says. "But you know, to some people I'm still a rat." He pauses for a moment and asks rhetorically, "What would you do in my situation?"
He knew the rules. He knew the consequences.
"I saved my friend's life. That's all that matters."