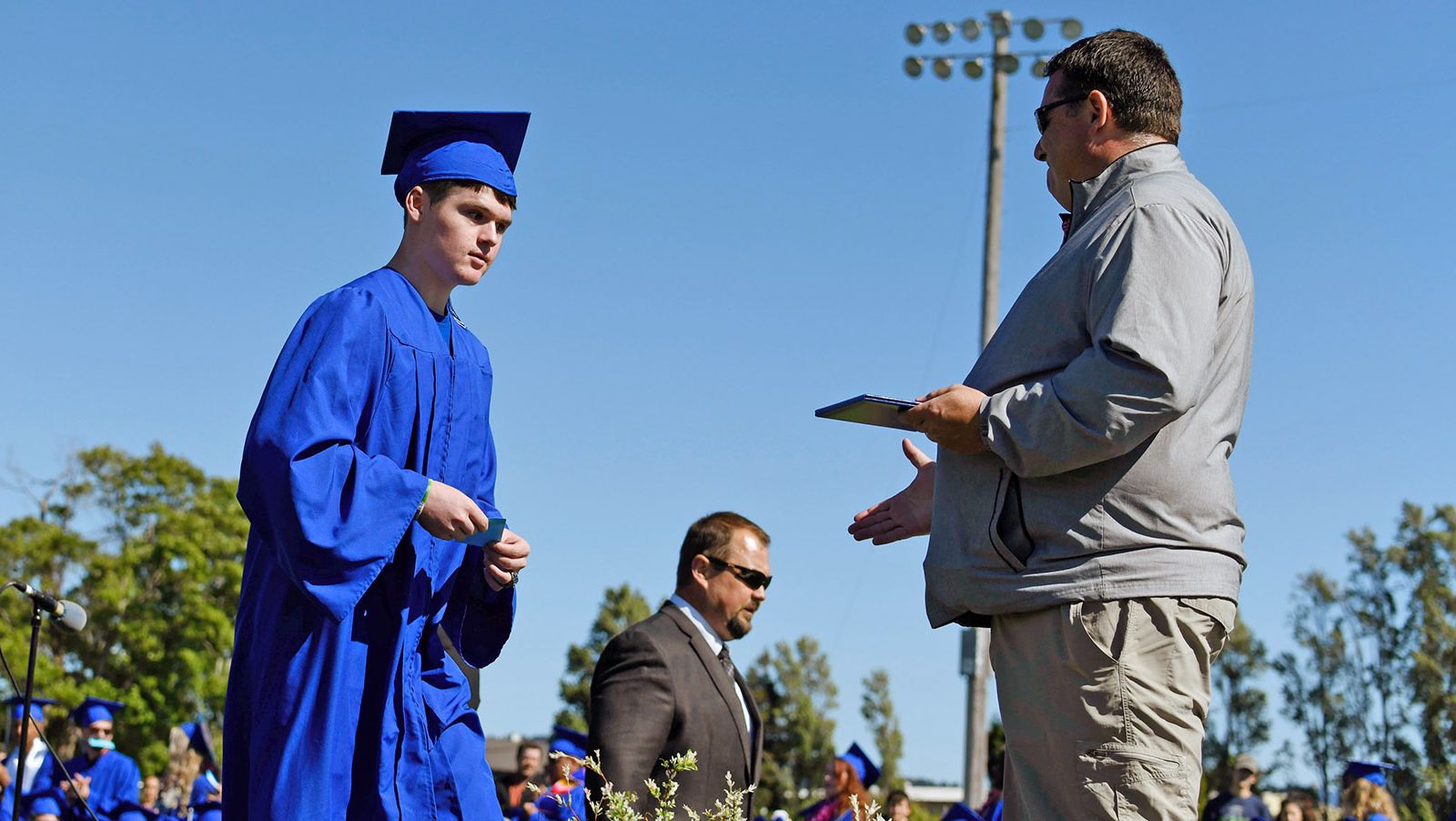 The fearless Bailey Foley
The incredible story of a high school star's recovery from a terrifying brain injury and how it changed the way he and his family, friends and coaches see the sport.
A version of this story appears in ESPN The Magazine's Aug. 20 College Football Preview issue. Subscribe today!
The coach doesn't want to think about how many times he's watched the game. He knows it's an unhealthy number, a troubling number, maybe even a shocking one. But he takes the laser pointer and sits down, preparing to attack it with forensic intensity, one more time. He's a detective, unable to shake the cold case that haunts him.
He pulls down the screen at the front of his classroom and cues up the kickoff, hopeful he might see something he missed the first 50 or 60 or 100 times. He is immediately taken back to Aug. 25, 2017: the knot in his stomach, the helplessness, the grim knowledge of how many lives would change before it's over. He can stop the film before every play and describe it. He'll tell you what the alignment is, what play is called, how it turned out.
"Now, what I want you to look out for here is ..." he'll begin.
We are sitting in his classroom at Fortuna High School, 270 miles north of San Francisco, watching a game that took place at Cardinal Newman High School in Santa Rosa, the first game of Mike Benbow's 10th season as Fortuna's head coach. The objective, as always, is to follow one player, senior Bailey Foley, No. 20, a 5-foot-11, 180-pound defensive end and part-time running back with a reputation for throwing his body around like it didn't belong to him. "God, he was a tough-ass kid," says his teammate and best friend, Ethan Higgins. "Best word is fearless." Benbow tried Bailey all over the field before settling on weakside end, where he was all-county as a junior the year before. "I just put him out there to blow things up," Benbow says. "He wasn't much for assignment football, but he could destroy plays."
Benbow, 48, is a beefy, affable guy who teaches U.S. history and AP U.S. government in cargo shorts, a T-shirt and either a John Deere cap or a Harvard visor. (His daughter, Haley, will be a freshman there in the fall.) It's the last day of finals; graduation is tomorrow, and he is repeatedly interrupted by students asking him to sign their yearbooks. There are team photos on the wall and a sticker that reads "Hit or Be Hit" attached to the lectern at the front of the room.
Before he cues up the game, he runs through his interactions with Bailey from that day. There were no signs of confusion on the 3 1/2-hour drive from Fortuna to Santa Rosa, he says, nothing alarming during warm-ups, no fuzzy interactions during the game. He's been coaching long enough to see the signs: A kid wanders or looks lost in the huddle or stands off to the side trying to collect his bearings. Benbow starts the game, and it plays uneventfully before us. There are plays when Bailey gets hit and plays when he does the hitting, but he never drifts on the outskirts of the huddle or needs help getting off the field. Benbow stops the film on one play early in the fourth quarter. Bailey chases a play across the field from the far hash to the sideline and pulls up as the runner heads out of bounds. "See?" Benbow asks, playing it one more time. "To this point, he's doing all the right things." He's right: The game, and Bailey's role in it, is stunningly ordinary.
A few plays later, Benbow stops the film again. Cardinal Newman scored the final touchdown of a lopsided win, and as the teams line up for the kickoff, he says, "OK, so Bailey's going to return this kick. Watch and tell me what you see."
It's a short kick, to the right side of Fortuna's return team. Foley catches it on a bounce and is almost immediately at full speed. He runs hard and straight -- nothing in his manner suggests even the slightest interest in elusiveness -- until he's hit at the waist and brought down 25 yards downfield. Benbow runs it back twice more, going frame by frame on the tackle. "Is that it?" he asks. "I'm sitting here over and over trying to figure out exactly what could have happened, and that kickoff return is the one thing. He must have gotten hit, but then you look at it and he runs ... he turns ... he's tackled. Where is it? It's not there."
The film doesn't show what comes next. Only a few plays later, Foley jogged off the field, mumbled something about cramps and took off his helmet. He flopped down on the grass and told Higgins, "It feels like someone's squishing down on my head." Higgins ran to Benbow and said, "Coach, something's wrong with Bailey." By the time they reached him, Foley was lying near the 25-yard line. First he vomited, over and over, and then the seizures began. The whole thing, from taking off his helmet to beginning to seize, took 15 seconds. The game was called with less than four minutes remaining. The final image on the screen that hangs in the classroom is a circle of men surrounding a boy on the ground. There is no sound, but the panic is obvious.
The screen goes dark. The image of the boy on the ground and the men surrounding him burns into the darkness. Part of coaching is finding answers: pick up the blitz and a receiver runs free; block the linebacker and a hole opens; stay home on a reverse and the play fails. Find a problem and fix it. Repetition is the universal solvent, and so Benbow watches again and again, seeking a resolution, something that will save someone else from this torment.
"Everybody wanted to find that one thing and say, 'There it is, and now we know,'" Benbow says, his voice rising, his right fist punching the air like a judge's gavel. He gets up from his desk and walks around the front of the room, his eyes never leaving the screen. He is quiet for what feels like forever. Finally, he looks down and says, "I guess that would have been easier. But I don't know -- would it?"
---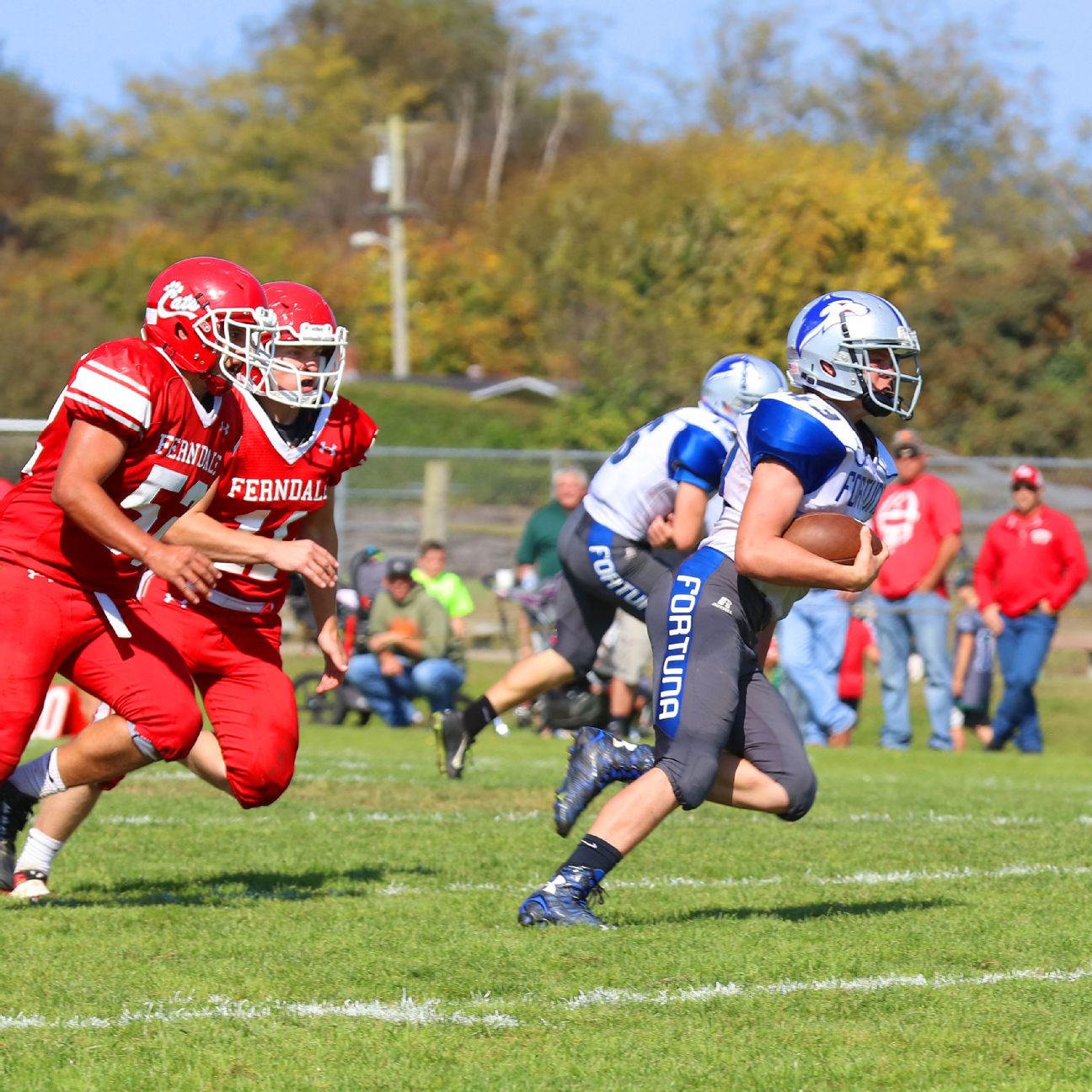 Bailey Foley could bench-press 215, more than 30 pounds over his weight, and his wiry body was toughened by riding motorcycles and dirt bikes in the coastal mountains and the loamy bed of the Eel River. He was a starting infielder on the varsity baseball team who liked to spend weekends fishing for lingcod 20 minutes away along the Pacific's Lost Coast or for steelhead in the river down the street. He was the kind of kid who is typical of Fortuna -- "the Friendly City," population 12,191 -- but rare most other places: the kind who lived outside. The air in Humboldt County is like damp wool, the climate and topography ideal for growing redwoods, marijuana and tough kids. On the football field, Bailey had a reputation among his teammates and opponents as an eager and sometimes savage hitter.
"I came here from the city," says Higgins, who moved to Fortuna from the Phoenix area after his freshman year. "We didn't have kids like that in the city. Rough, tough kid that will deal with you if you start something." Higgins hesitates, says he doesn't want to get his friend in trouble, but there were times when he was out with Bailey when someone decided to cross him-or worse, one of his friends. The fights were quick and definitive. Higgins says, "I'd be thinking, I'm glad you're my best friend, because right now that other guy wishes he was."
School was a problem. "We always had to worry about him," Benbow says. "Is he going to be with us or not? When we had him, he was great. The issue was getting him there." The spring of Foley's junior year, Benbow dogged him to get his grades up so he could be eligible as a senior in the fall. This was a constant fight, and Bailey grew to believe Benbow had it out for him. "I finally just left him alone," Benbow says. "I told him it was up to him."
As Benbow's voice trailed off, Higgins' gained volume. An honors student on his way to the University of Arizona, Higgins encouraged his friend to take the 10 summer credits he needed to regain his eligibility: "Our team is going to be good, but it'll be so much better with you. We want you out there."
The easy call was to pass on a summer of schoolwork and forget about football. Get a job, fish, ride his dirt bike. He wasn't going to college, so what was the point? But he had played football in this same town with these same teammates since he was 8 years old. He loved the feeling of Friday nights, of taking the field with his friends and getting a clean hit and feeling the air leave the other guy's lungs.
Benbow and assistant coach Clint Duey -- Fortuna High's principal -- are sitting in Duey's office taking a moment to consider what football did for Foley. They exchange a look that contains all 10 years they've coached together. Benbow, the more diplomatic of the two, starts to talk about grades and eligibility. Duey cuts him off.
"Football kept him in school," Duey says. "Bottom line."
It's common for Fortuna's players to be the third or even fourth generation to wear Husky blue, and Midnight Madness is the kind of event that brings them all back. On the first day in pads, at the stroke of midnight, the Huskies take the field for a controlled scrimmage. Fans are charged $5 to watch. After sundown before the first practice last August, Bailey knocked on the door of Benbow's office.
"Bailey -- what are you doing here?"
He answered by handing his coach a piece of paper, signed by an administrator just the day before, showing he had completed 10 summer school units and was now eligible to play his senior year.
"I'm playing football," Bailey said.
---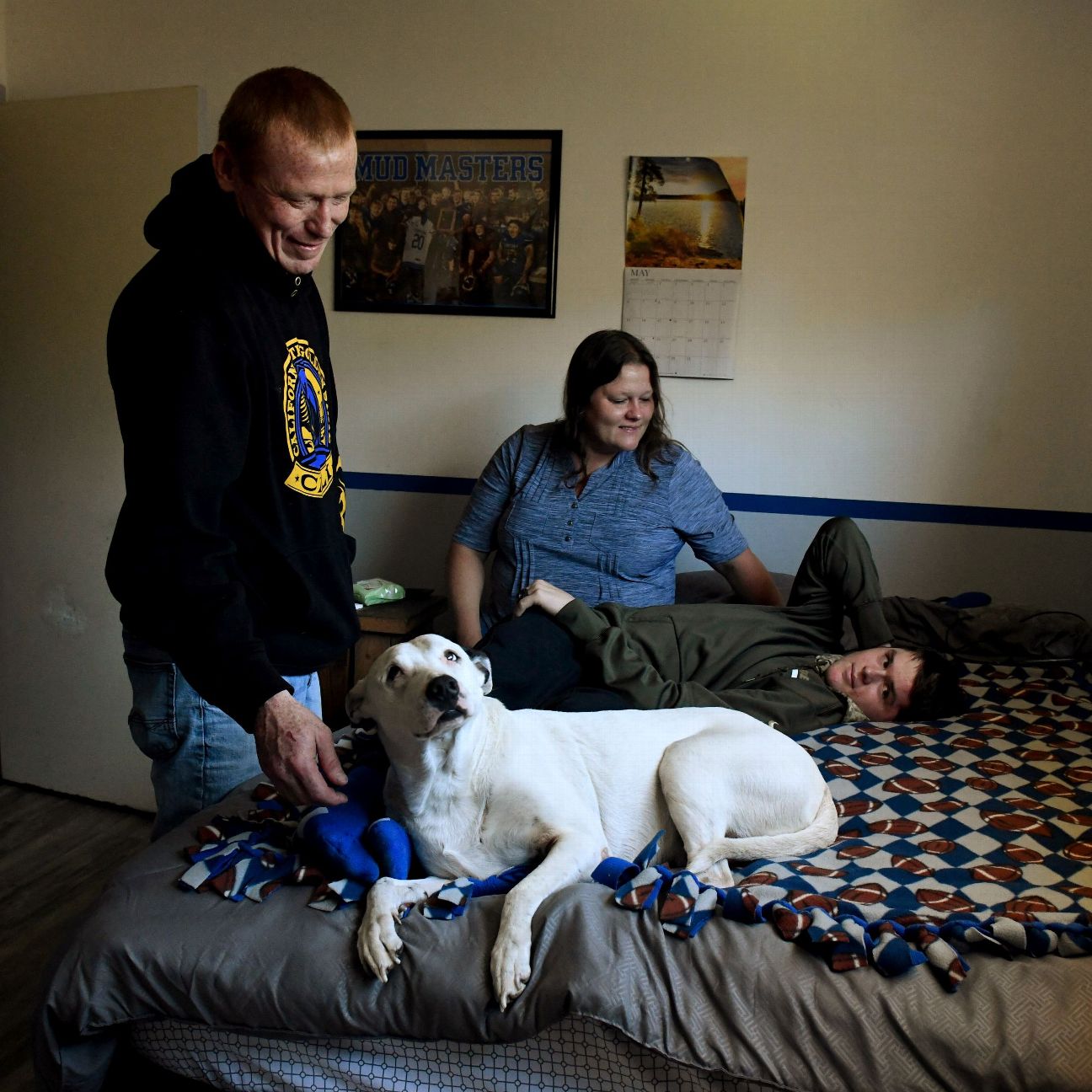 The ambulance arrived. Bailey's jersey and shoulder pads were cut off his body. Through it all, Bailey kept seizing. His teammates looked away. Star running back JB Lewis started praying for his friend to stop, to please just stop. He called his teammates together and led a quiet prayer. Dr. Gary LeKander, a pulmonary and critical care specialist who is among a group of doctors who volunteer at Cardinal Newman during games, was one of the first to reach Bailey. He knelt over his twisting body and attempted to keep his airway clear. "There wasn't much more we could do," LeKander says. "I'll just never forget how quiet it was." Higgins watched, crying and thinking, Could my best friend really be dying right now? The rational and irrational blurred. Is this my fault? What if I didn't push him to take summer school?
"I think we all left there thinking Bailey was going to pass away."
- Fortuna assistant coach and principal Clint Duey
Bailey was lifted onto a gurney and rolled into the ambulance as Benbow got into the passenger seat. He was still seizing when they closed the doors. He was still seizing when Benbow called his wife, Tracy, back in Fortuna and told her he wouldn't be coming home. He was still seizing when they got to the hospital, a 12-minute drive.
Two hundred miles away, Tara Johnson sat in her kitchen in Fortuna and streamed the game on the local radio station. She inched closer to the speaker when the announcer said the game was halted so medical personnel could tend to her son. The broadcast got so quiet it sounded as if it were coming from a studio and not a high school stadium. Tara began to rationalize: The high in Santa Rosa was 87 degrees that day, and even after sundown it was hotter than the boys from Humboldt County were accustomed to. Probably just heat exhaustion, Tara thought. When the announcer told her -- because by this point she felt like he was speaking only to her -- that an ambulance had arrived and the game was over, she promoted her son's illness to heatstroke. He'll get hydrated at the hospital and be fine.
She was already arranging a ride when Benbow, the crack in his voice betraying his attempts at composure, called and said she needed to get to the hospital. Bailey's 19-year-old cousin, Max LeRoy, showed up at the door and said he would drive Tara and Bailey's father, Sage Foley, the 200 miles from their home to the hospital. They talked about how it was probably no big deal -- "Bailey's a tough kid," LeRoy kept saying -- until an hour down the road LeRoy got a text from one of Bailey's friends: It's not going to be OK. A few minutes later a neurosurgeon called Tara to ask permission to remove half of her son's skull to relieve the pressure caused by an intracranial bleed. "From that point on," LeRoy says, "I'm not sure we said another word the rest of the trip." Tubes were placed in Bailey's brain to drain the accumulated blood, and the removed piece of skull was preserved in a freezer.
Back at the field, Duey, the assistant coach, stood in front of the team in the locker room. He looked out at the stricken faces and listened to the sobbing and thought, They may have just watched a teammate die. He was terrified, but he was the adult who had to find a way to say something -- anything -- that made sense. He had no idea how. He took a deep breath and said, "It's OK to hurt right now. I know you're all scared, so you need to go hug your families and be with your families and just be there for each other. When we know more, we'll let you know."
Duey was fully aware of his talk's futility as soon as his words hit air. "Nobody knew anything," Duey says. "I think we all left there thinking Bailey was going to pass away."
---
Benbow is convinced that football creates better, stronger people. This is the central verse of his faith. Kids like Bailey present a conundrum; they are the biggest challenge and the biggest reward. Something shifted in their relationship the night Bailey showed up with the summer school transcript. "He worked his ass off, and he did it all on his own," Benbow says. "I was proud of him." After three weeks of inspired practice, Bailey had earned Benbow's highest honorific, one reserved for the handful who can be relied upon no matter the circumstances: Dude.
In the surgery waiting room, the stunned silence hung in the air like a physical presence. Tara and Sage arrived at the hospital and stepped out of an elevator at the same time their son was being wheeled toward the ICU after surgery. At first they didn't recognize him: eyes closed, black hair covered in bandages, tubes everywhere. Nobody slept. Benbow, his whole body like an exposed nerve, left the hospital after daybreak and drove the 3 1/2 hours back to Fortuna in a school van.
Benbow called Duey as he drove away from the hospital. "I feel good about him being alive," Benbow said. "I just don't know what that means." The conversation came around to the question they'd been asking themselves since the ambulance left the field:
How can we keep doing this?
"We talked seriously about whether we wanted to move forward and continue to do this," Benbow says.
"And how to address it," Duey adds. "How to move forward with them? Whether we even should. We spent hours. We talked for weeks."
It would be ignorant to suggest football had nothing to do with what happened to Bailey, but it's equally true that no obvious event could have either foretold it or prevented it. For Benbow, it was an endless back-and-forth. One minute he was telling himself the game didn't cause it, that a healthy 17-year-old boy could fall off the curb and get hit by a car. The next minute he was wrestling with the harsh reality: It happened during a game.
No one can tell for sure when the veins burst and the bleeding in Bailey's brain began or when he became conscious of the growing pressure under his skull. A neurosurgeon can connect certain dots -- traumatic brain injury that caused a subdural hematoma that caused a stroke was the diagnosis -- but it's impossible for a neurosurgeon to look at the blood pooling in an exposed brain on an operating-room table and say the damage was caused by a collision with a pulling guard with four minutes left in the third quarter.
At Cardinal Newman, Paul Cronin and his assistant coaches stayed long past midnight, poring over the film in a fruitless search for something that made sense. There was self-interest for their team involved: If there was a definitive hit, Cronin wanted to take it off the team's online video library. "The worst thing is to be Bailey in that hospital," he says, "and the next-worst thing is to be the one who caused it."
The ripples spread. The next morning, Cronin got up early to drive his 8-year-old son to his youth game. "What a rough drive," he says. "I mean, it's 8-year-old football, so it's basically bumper cars, but I'm driving to that game with my son next to me, and I'm thinking, What am I doing?"
That morning in Fortuna, football captain JB Lewis called a team meeting. Benbow let the players have the floor. They talked about loss and confusion and fear. They couldn't understand how this happened to Bailey. "It didn't make sense," Higgins says. "They always say be the hammer instead of the nail, and Bailey was always the hammer." Higgins said he was sure Bailey would want them to continue playing. Lewis said they could turn this into a positive, to play for a higher purpose. Toward the end of the meeting, they decided that anybody could walk away without repercussions. They vowed to never use the word quit. Only one player decided to stop playing.
Lewis delivered a final message: "If we're going to play for Bailey, then we're going to play like Bailey."
---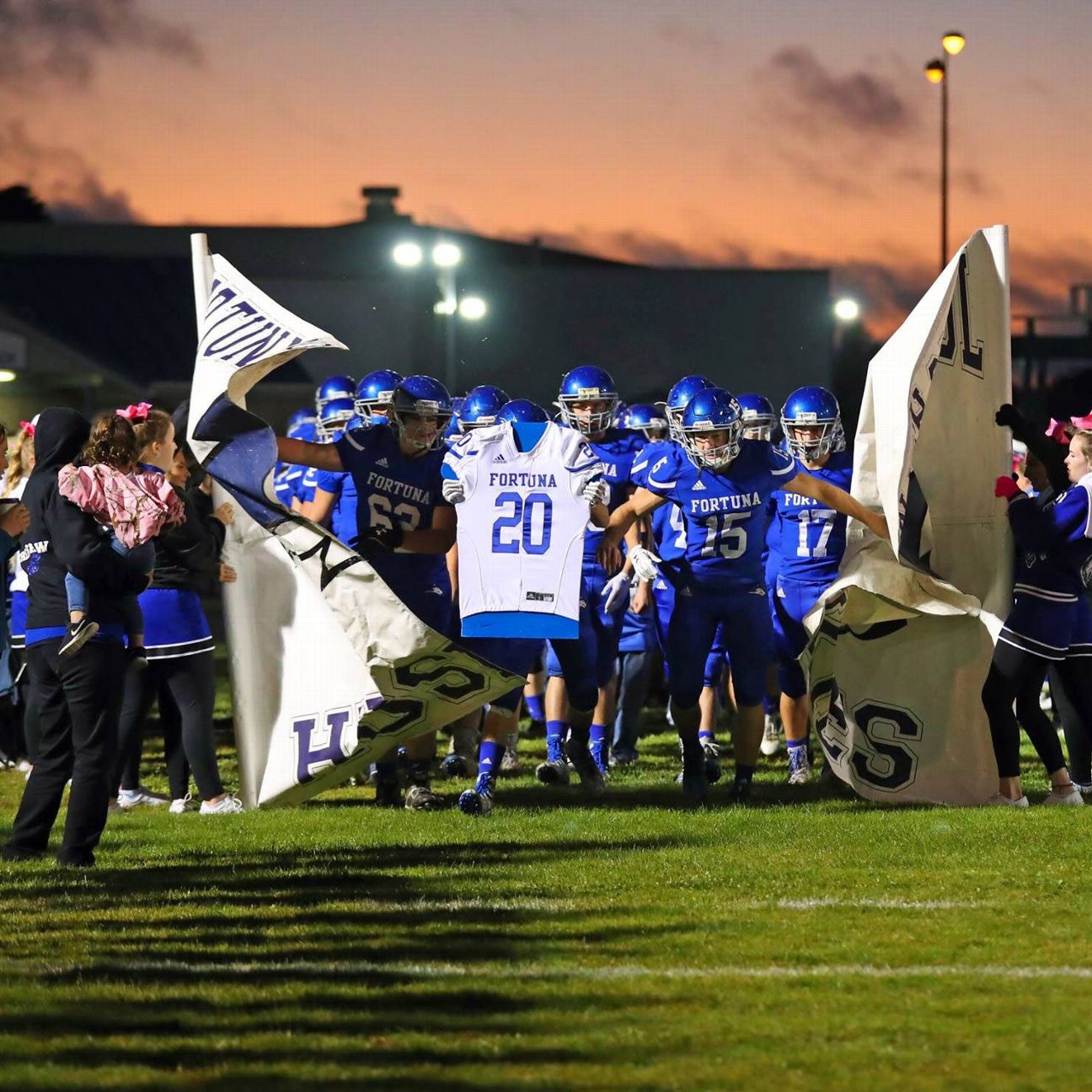 Within days, Bailey's No. 20 jersey had been stitched together and mounted on plywood, and a week after the injury, Higgins carried it at the front of the line when the Huskies entered the stadium for pregame warm-ups. He carried it onto the field for the coin toss and sat it next to Bailey's helmet on the sideline and then held it aloft as he walked off the field. Benbow saw that jersey as he walked onto the field beside his players, and he caught random glimpses of it when he turned around on the sideline to talk to his coaches, and every time it forced him to reckon with his conflicting thoughts. The jersey had a presence; it cautioned as it inspired, and its influence arrived in unexpected ways.
Benbow, as if subconsciously rubbing a scar, hammered home the importance of being honest about injuries. No complaint, no matter how minor, was dismissed. Hard hits were followed by a wincing silence rather than the usual howls. Benbow made sure Bailey was his team's last thought before taking the field and the first upon leaving it. They prayed for him before and after every game.
"If we're going to play for Bailey, then we're going to play like Bailey."
- Fortuna teammate JB Lewis
Bailey remained in a medically induced coma for more than three weeks. He was transferred from Santa Rosa to the Children's Hospital in Oakland on Sept. 25, exactly one month after the injury. In Oakland, Tara slept in a cushioned window seat in Bailey's room. Sage slept where he could: in the hospital's family house, across two chairs in the waiting room, even in the passenger seat of Bailey's Hyundai Tiburon that sat in the parking garage. Weeks became months; Tara and Sage returned to Fortuna just once, for one night. It took Bailey six weeks to say his first words, and they proved to be an endless source of amusement. "I'm drying meat," he said. When Tara repeated the words back to him questioningly, he replied, "Yeah ... to sell."
Tara kept a journal for Bailey, documenting the days he would never remember. On Nov. 12, Bailey's 80th day in the hospital, she wrote:
Slept in until 10:00. Got up and used walker to go to the bathroom. Watched football. Took a shower. Watched more football. Used walker again. Got weighed -- 143 lbs. Watched more football. Played Lumosity.
Bailey and Sage would watch every possible football game from Thursday night through Monday night. Every Friday, Tara would post a photo on Facebook of Bailey holding up a sign that read "Go Huskies." The student body voted Bailey homecoming king, and the mounted jersey rode through town in the parade and took the field at halftime with Haley Benbow, the homecoming queen.
Through it all, the Huskies kept playing for Bailey and like Bailey. They entered the playoffs seeded fourth in their division, but upsets on the other side of the bracket brought them a few extra home games. Teams from the Bay Area not only had to make the drive to the Lost Coast but also had to play on Fortuna's muddy grass field, so saturated by late fall that it practically oozed. The Huskies, accomplished mudders, won playoff games 61-0 and 60-6. They won the section championship 44-0. They won a Northern California bowl game to earn a spot in the CIF State Division 5A championship game. "All of the stuff we'd been through," Higgins says, "we just piled it onto that jersey."
The state championship game was in Anaheim, an 11 1/2-hour drive from Fortuna, and the Huskies stopped in Oakland to visit Bailey. Benbow presented medals for the North Coast Section and NorCal Division 5A championships and promised him one more. Many of Bailey's teammates hadn't seen him since the ambulance doors closed. They couldn't see the steady, incremental improvement that sustained Tara and Sage. They were stunned. He had lost nearly 30 pounds. His voice was weak. He was hunched in a wheelchair, his eyes unfocused. It was unclear whether he recognized them.
Some players hid their faces so Bailey couldn't see them cry.
When it was time to leave, JB Lewis leaned down to hug his friend. "I love you, Bailey," he said. Lewis immediately wondered: Did that sound weird? It didn't to him; since Bailey's injury, Lewis and his teammates had spent hours in the locker room and the parking lot and on the field discussing topics traditionally forbidden: gratitude, mortality and, yes, even love. But now Lewis wondered whether Bailey, one of the toughest kids they knew, would sense weakness or even condescension in those three words.
Bailey took a breath to summon the volume to be heard.
"I love you too, JB," he said.
---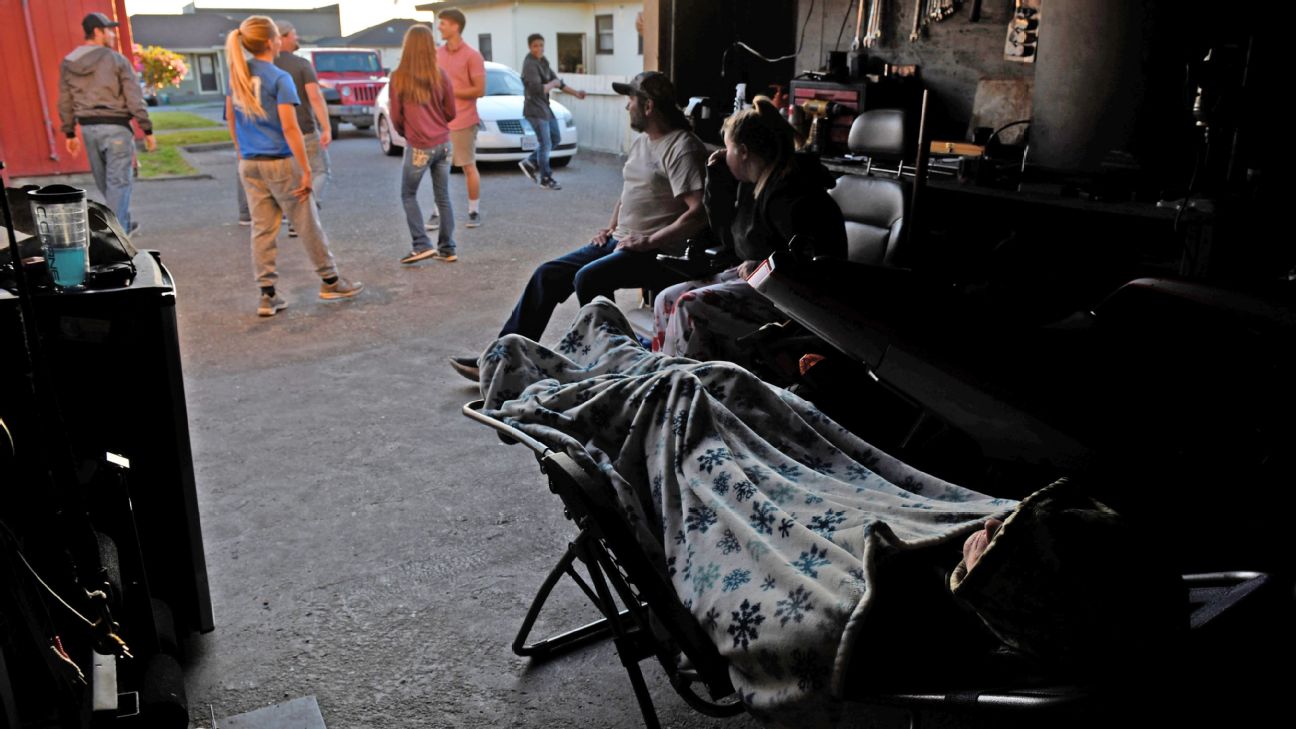 The next night, Sage connected a laptop to the television in Bailey's room to stream the game between Fortuna and Katella of Anaheim. Bailey got to see Ethan carry his jersey to midfield for the coin toss and hear the announcers recount days and weeks and months he can't remember. He watched as the Huskies, with Benbow in the middle, broke the team huddle before kickoff the way they had since the second game of the season: by yelling "Bailey!" and taking the field.
In another improbable twist, Lewis, playing with a broken left hand that needed surgery over the summer, moved to quarterback at halftime after Fortuna's starter left with an injury. He helped lead an offense that outscored Katella 26-6 in the second half of a 54-33 win.
When it was over, Benbow walked off the field and fought the churn of emotion. Something terrible happened, he kept thinking as he watched his team celebrate, but something wonderful came out of it. So many inexplicable events conspired to make Benbow wonder who, or what, was dictating it all. "None of this seems real, even now," he says. His team embodied the qualities that form the basis of his faith in high school football. The players fought through their fears and their sadness and broke through the traditional structure of teenage masculinity to bring their little town something it could never imagine. Yet that jersey was still mounted to that piece of plywood, and that boy was still propped in a hospital bed with no recollection of anything that happened in the four months after his brain began to bleed and his body began to seize.
It's remarkable how closely Bailey's recovery paralleled the Huskies' run through the playoffs. He was discharged from the hospital a few days after Christmas, 13 days after the Huskies won their first state title, and returned to school on April 3, about the same time the Huskies' championship rings were delivered. Benbow presented Bailey with his ring, gave him a hug and said, "You were a big part of this."
Bailey rolled the ring around on his finger and looked up at his coach.
"I'm never going to take this off," he said.
By then, there was no chance Bailey could make up the schoolwork he'd missed, but Tara didn't want Bailey to be handed a diploma out of pity. Duey worked with the district to approve a modified curriculum to be completed outside of the classroom, which left one important task: finding a teacher willing to tutor Bailey at his home three days a week until graduation.
Duey and Benbow are sitting in Duey's office when I ask them how they chose that teacher. They look at each other as if debating with their eyes -- Do you want to tell him, or should I?
Duey pauses for effect and nods toward Benbow, the man who always pushed Bailey and sometimes angered him and ultimately learned more from him than he could ever teach.
"I made the call," Duey says. "I knew there was not going to be a teacher on campus who cared more about Bailey's well-being."
---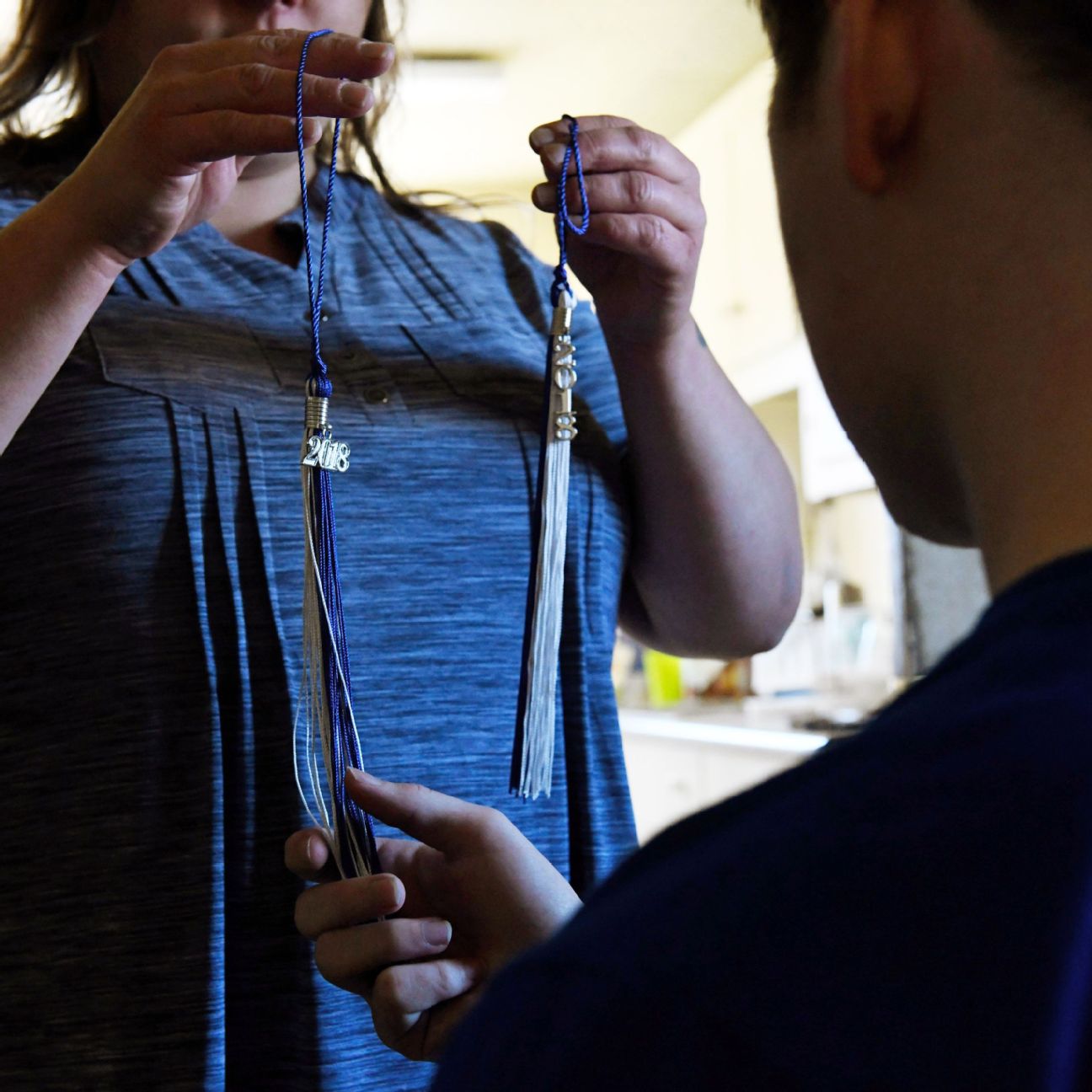 On a cloudy Wednesday afternoon two weeks before graduation, Bailey and Benbow are at the kitchen table in the little house one block off the main drag. Tara joins them as Benbow patiently helps Bailey read through an outdated chart on the gross domestic product of South American nations. Eight months of watching her son's progress has calibrated her mind to detect the granular elements of his recovery: how his fingers grasp and regrasp the pencil, how his attention waxes and wanes, how his weakened right eye follows the words across the page through a special magnifier on the lens of his glasses. She watches closely as Benbow moves on to charts documenting the rate of infant mortality in various undeveloped countries and the number of TV sets per 1,000 people and per capita health spending as it relates to gross national product.
"Whenever I see him, I wonder if there was something that could have been done, something I didn't see."
- Fortuna coach Mike Benbow
"How does the population of Nepal compare to the population of Australia?" Benbow asks.
Bailey tries to find the right column, his finger moving slowly across the page.
"This row is gross domestic product," Benbow says, directing Bailey's finger to the right column. "And this row is population, so we're looking at this row. So how does the population of Nepal, which is --"
"Twenty-three million," Bailey says.
"Good. How does that compare to Australia, up on top?"
"It's kind of close?"
"Yeah! Write that down."
"What do I write?"
"Write 'It's kind of close.' Exactly what you said."
Bailey picks up the pencil in his right hand and begins to write the answer on the line under the question. The tip travels across the page slowly and carefully.
Close to an hour passes like this. There are four or five questions on each page. They finish three pages.
"This is all you've got right here, brother," Benbow says, holding up the remaining unfinished pages. "Five pages and you're done. Five pages and you're a high school graduate."
Benbow reaches out a fist for Bailey to bump.
"Good job, brother," Benbow says. "Nice work today. You pumped?"
"Yeah, I can't wait to get out of school."
Benbow laughs and says, "I don't know what you're talking about. It's not that bad, is it?"
"I think it is."
Benbow bundles the papers and tells Bailey that he'll see him tomorrow, and that by the end of the day he'll be a ceremony away from being a high school graduate. Tara, quiet to this point, congratulates her son and thanks his coach as he leaves through the garage and walks down the driveway. The cab of Benbow's truck is quiet as we drive the mile back to the school. He sees the progress Bailey has made, the way the young man's kindling-dry wit occasionally re-emerges -- quietly, unexpectedly -- like a mouse from a hole. The week before, Bailey came into Benbow's classroom and they spoke for almost 10 minutes about their favorite fishing spots. "It was as close to normal as it's been," Benbow says. Three afternoons a week he sits at that little table and finds hope in the smallest victories -- a quicker response to a question, a smoother curve on a lowercase G, a sharper edge to a cutting remark -- and three afternoons a week he walks away from that little table and feels the promise of the present yield to sadness and uncertainty.
"It's been really good for me to be with him," he says. "There is some guilt. I think that's probably natural. Whenever I see him, I wonder if there was something that could have been done, something I didn't see. I don't control what happens completely, but it's hard because when they're under my care, they're my boys."
Over and over the game film reveals no cause, and therefore no blame, yet the guilt weighs heavily on Benbow, and Higgins, and Sage Foley. What if the friend didn't persuade Bailey to complete the summer credits? What if the dad didn't instill a love for football in his son?
Benbow drives on. In many ways it's the best time of his life. He will forever be a legend in his hometown for winning his alma mater's first state championship. His son, Blake, is home for the summer from Boise State. His daughter is spending the summer preparing for her freshman year at Harvard. He can walk out of Bailey's life and back into his own.
"I just want him to be a normal kid," he says. "But when I leave, I start thinking about the future. I can't shake the thought: Oh, my goodness, what is life going to look like for him? And it bothers me. It bothers me a lot."
---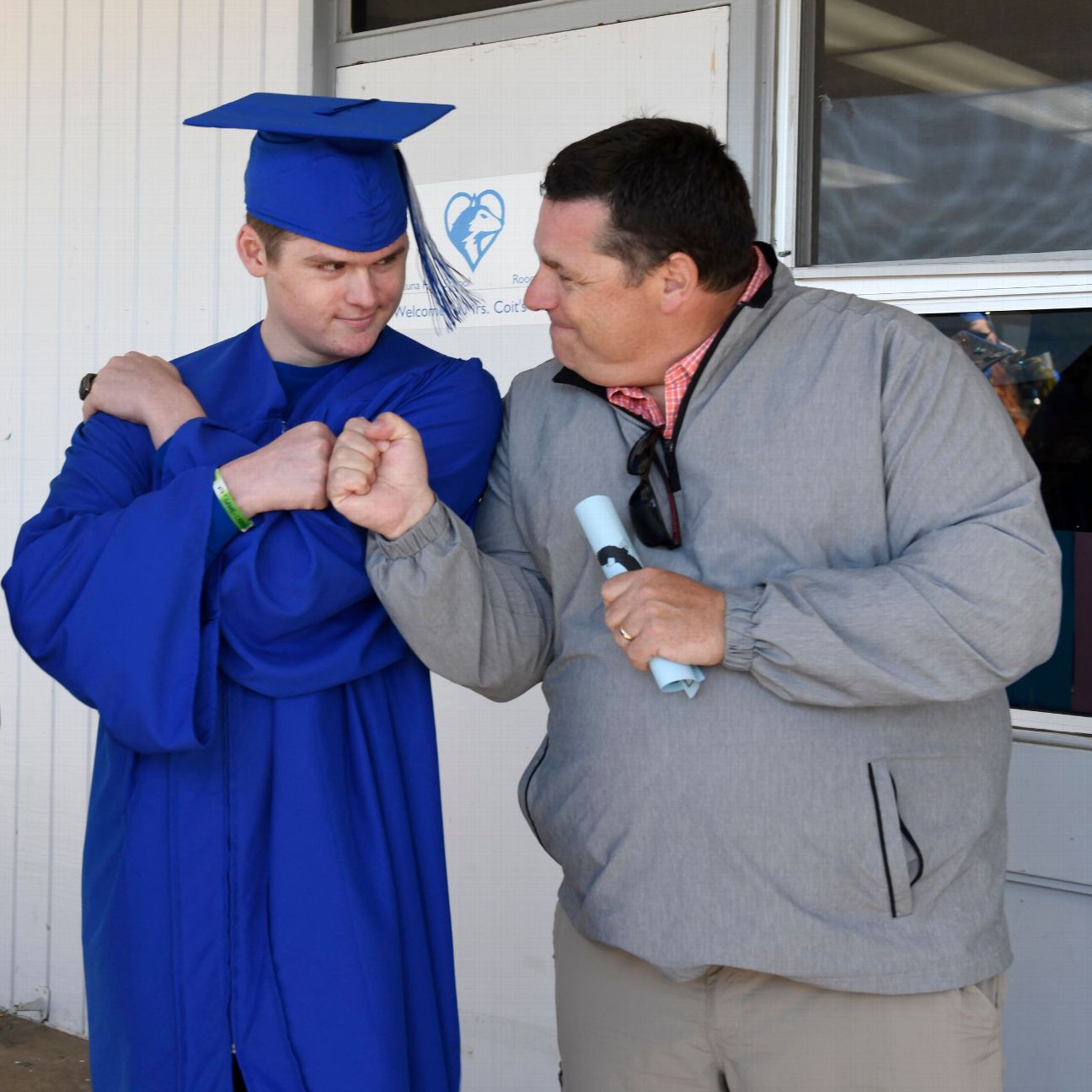 Graduation Day breaks cloudless and sparkling, the breeze sweeping in from the Pacific like an old friend. Bailey lies on the couch next to his father; he's been awake since before 7 a.m. A college baseball game plays idly on the television. The days and months ahead will be filled with physical therapy and occupational therapy and the vision-therapy treatments that are a three-hour drive away. He's working for the day when he can regain his driver's license and climb back onto one of his two-stroke dirt bikes. His friends will scatter. Higgins will attend Arizona, and his eyes water and his voice breaks just thinking about it. "I'm going off to start my life," he says. "How am I going to say goodbye to him?"
But none of that matters today. Before long the house will be filled with family members, and one of Bailey's friends will swing by to pick him up and take him to the school. As Tara massages his feet, Bailey turns to his father and says, in a voice barely above a whisper, "I can't believe I'm graduating."
"Yeah, dude," Sage says. He laughs and reaches over to grab his son's shoulder. "What are you going to do with the rest of your life?" It is an innocent question, something Sage's father probably asked him the day he graduated from Fortuna High. But Bailey, unsmiling, looks at his dad, and for a long moment they stay like this, Sage's right hand on his son's left shoulder, the silence filling the room. Bailey's dark brown eyes fix on his father's, pleading, awaiting an answer of their own.
A few hours later, with the majestic redwoods to the east of the Fortuna High football field covering the mountains like green shag carpet, the stands are packed, as is every overflow chair. Blankets and strollers and wheelchairs cover the sections of the field that aren't roped off for the graduates. The clothing is a mixture of cowboy hats and suspenders, tie-dye shirts and hemp pants. One of the girls has inscribed her graduation cap with "Save the Bees." An elderly woman wears a T-shirt bearing a handgun and the words "Come and Take It."
Bailey sits and listens to the talk of college and futures and where the class of '18 will disperse to pursue their dreams. Speakers recount all the silly moments he either didn't experience or can't remember: the bad lip-syncing that's apparently epidemic in Fortuna; the epic impatience of a certain teacher; and who can forget the time Zach baptized himself in the ocean during Senior Sunrise.
What were the odds -- the moment those ambulance doors closed -- of Bailey Foley sitting in an aisle seat two rows from the back, wearing a cap and gown.
The valedictorian ends her speech by telling the crowd, "You do not peak in high school, no matter what you're told." And as the diploma roll call passes through the D's and E's, the announcer abruptly stops reading. The Fortuna High School class of 2018 -- many wiping away tears -- stands and begins cheering as a slacks-wearing Benbow walks past the rows of chairs and stops to help Bailey to his feet. The coach smiles and asks him whether he's ready, and Bailey nods. By now the entire crowd understands the enormity of the moment -- this boy, the one they had read about and prayed for and donated money to -- is not only here but somehow walking across the stage to graduate with his classmates. They stand and cheer and wipe away their own tears.
In the stands, one of Bailey's cousins tries to send the moment out live but stops when her sobs make it impossible to steady her phone. As Bailey and Benbow reach the base of the stairs, the announcer attempts to say the words "Bailey Jamen Foley" loudly enough to rise above the roar, but it's pointless. Benbow lets go of Bailey's elbow and walks ahead. Bailey climbs the stairs alone, slowly but with determination, his body listing a bit to the left. It is strict protocol for the superintendent to hand out the diplomas in the Fortuna Union High School District, but exceptions can be made in extraordinary circumstances. And so when Bailey Foley, outwardly oblivious to the ovation, stops on the X at the center of the graduation platform, he looks up to see Benbow emerging from the other side, smiling but fighting back tears, holding a diploma in his outstretched hand.
Keown is a senior writer for ESPN The Magazine and a columnist for ESPN.com.