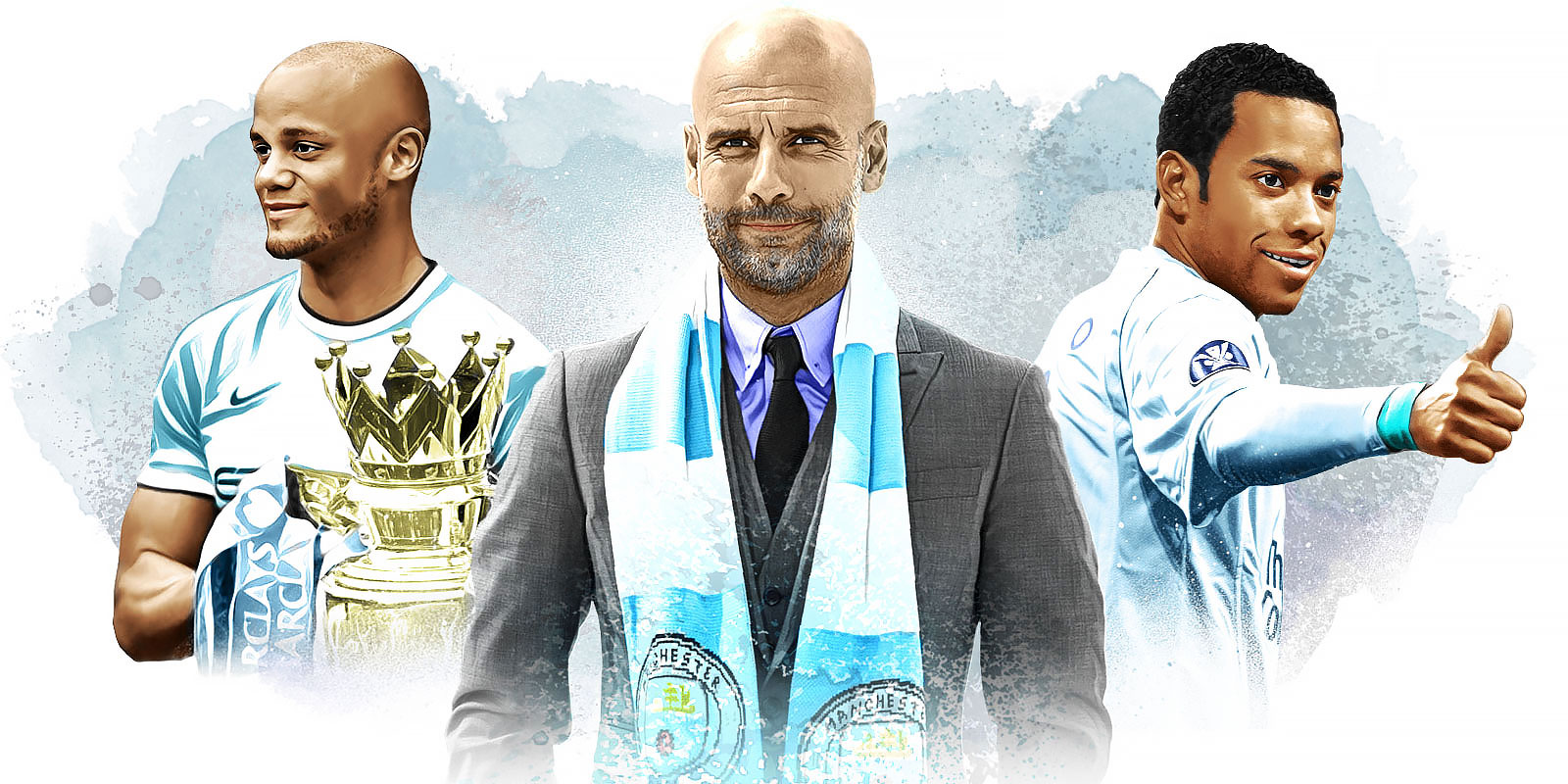 How Man City changed football forever
Ten years ago, Sheikh Mansour of Abu Dhabi bought Man City, transforming the club from Premier League punchline to a dynasty in the making.
Sept 1, 2008: Transfer deadline day. Manchester United are haggling with Tottenham Hotspur over a £30 million deal for Dimitar Berbatov. On the blue side of town, all is quiet. Aside from the anticipated sale of Croatian defender Vedran Corluka to Spurs, Manchester City are not causing any waves over Berbatov, and why would they? This is a club in the midst of a financial crisis and whose owner, Thaksin Shinawatra, is on the run from the Thai authorities. He is seeking political asylum in the United Kingdom after having £800m of his assets frozen because of criminal proceedings against him in his native Thailand.
City finished the previous Premier League campaign in ninth ending with three straight defeats, the last of which was an 8-1 drubbing at Middlesbrough. Mark Hughes replaced Sven-Goran Eriksson as manager. During the summer, they signed a mixed bag of players -- Jo, Tal Ben Haim, Vincent Kompany, Shaun Wright-Phillips and Pablo Zabaleta -- but the squad remained short of finishing in the top four and qualifying for the Champions League.
Then news breaks that Shinawatra has sold the club to Sheikh Mansour bin Zayed al Nahyan of Abu Dhabi in a deal worth £210m just 14 months after buying the club for £81m. Even then, City do not dominate the headlines; that honour belongs to United for their growing frustration with Spurs over delays in completing the Berbatov deal. As the hours pass, the stalled transfer develops into something more than a tale of two clubs refusing to budge on the value of a player.
Another bidder has entered the race, Manchester City, with deep pockets and the desire to make a statement of intent.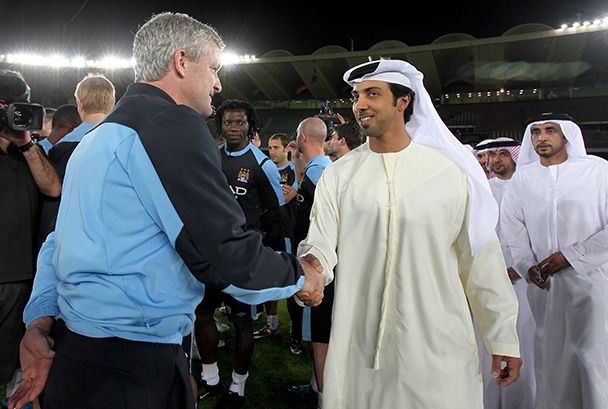 Berbatov boards a plane to Manchester, but where is he heading? Have United done the deal or is he about to choose the newly minted City? Reporters camped outside Old Trafford and Eastlands, the City stadium, are delivering conflicting messages. Behind the scenes, City are also considering moves for Michael Owen, David Villa and Robinho, the Real Madrid forward, who is on the verge of signing for Chelsea.
In the end, Berbatov joins United, leaving Manchester City in a mad dash to land a star in the dying moments of deadline day. And what better way to demonstrate your new financial might than to battle Chelsea's owner, Roman Abramovich, who's used his fortune to turn the Blues into the most powerful club in the world.
So, in what becomes one of the most dramatic moments of deadline day, and with the kind of surprise that fans have now come to expect of the much hyped event, Manchester City seal a £32.5m deal for Robinho -- a figure that breaks the British transfer record and is marginally less than the £34m offered for Berbatov (who eventually costs United £30.75m, a price inflated by City's late move).
"Being a City fan of a certain age, I didn't know who Robinho was because I had no interest in European football," Lee Jackson, City's long-serving groundsman, tells ESPN FC. "I had to go on Wikipedia to look him up. It was staggering."
While City do not sign their top target, Berbatov, losing (again) to Sir Alex Ferguson & Co., it will be one of the few setbacks they'll suffer over the next 10 years. Sept. 1, 2008 represented the start of a new era that will eventually have planet football shaking on its axis.
Today, Manchester City stand on the verge of becoming a dynasty. Under the control of the Abu Dhabi United Group, owned by Sheikh Mansour, they have won three Premier League titles, three league cups and an FA Cup, surpassing United, Chelsea and the rest of the Premier League. No longer in the shadows, they are a global power with rock-solid foundations and Pep Guardiola, the most sought-after coach in world football, pulling the tactical strings to create a weekly feast of champagne football.
"Two words: extraordinary journey," Khaldoon al-Mubarak, the City chairman, tells ESPN FC. "I've really enjoyed every part of this 10 years and I think where we are today, compared to where I thought we would be 10 years ago, has far exceeded all my expectations."
To tell the story of where Manchester City are now, you must turn the clock back to the late 1990s.
The club has failed to win a trophy of any kind since 1976. Maine Road, their stadium, is an outdated relic, while successive failures have relegated the team from the Premier League to League One, the third tier of English football. Making matters worse, their crosstown rival, Manchester United, are the dominant force in the game.
Francis Lee, a key member of City's 1968 title-winning team, attempted to salvage the club from its downward spiral by ousting the unpopular owner Peter Swales in 1994 to become City chairman -- a role he'd hold for four years -- but the footballer-turned-businessman walked into a nightmare.
"If Sheikh Mansour had taken it over when I did, even he would have been scratching his head," Lee says. "The club was completely bankrupt. After I had been here for 18 months, I had only just finished paying off the creditors who were owed money for years. I can't even begin to describe it ... The toilet facilities in the stadium were from the 1920s.
"It was a ludicrous situation."
Lee discovered that City didn't even own the club badge, with the old regime selling off the commercial rights. "The club didn't have the facility to sell their own shirts or memorabilia because it was contracted out for £60,000 -- £60,000 for the lot."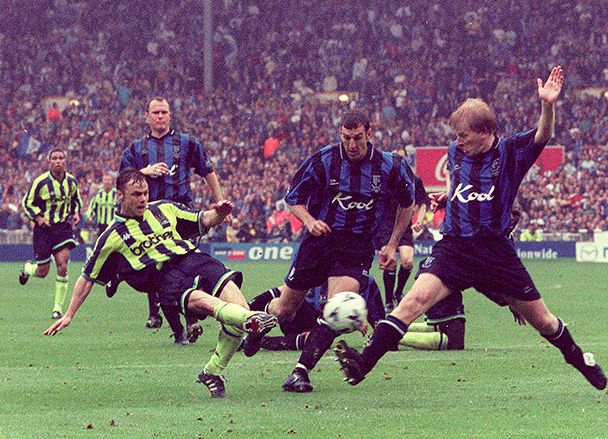 Joe Royle, who eventually kickstarted Man City's resurgence with back-to-back promotions in 1998 and 1999, coined the term "City-itis" to describe the club's peerless ability to make a mess of everything and anything.
"The club was in a bit of a shambles," says Paul Dickov, who arrived at City from Arsenal in 1996. "In my first five months, I had five managers. There was just instability all the way through. We had a season where we had to wash our own training kit."
City can afford more than laundry service these days. Under Sheikh Mansour, the club has experienced an era of unprecedented success, defined by one surreal moment: Sergio Aguero's title-winning goal in the dying seconds of the 2011-12 season. But supporters of an older generation believe Dickov's equaliser in the League One Playoff final against Gillingham in May 1999 is the real spark that lit the City turnaround. Without Dickov's goal -- City trailed 2-0 at Wembley with 89 minutes played -- the club may not have survived to become the superpower it is today.
"Leading up to the game, we knew the importance of winning promotion, but it wasn't until afterwards that we found out just how much of a mess the club was in," Dickov says. "The club was in serious threat of administration, if not worse. They were in negotiations with Manchester Council at the time to move into what would become the Commonwealth Games stadium -- now the Etihad -- and there was a good chance that would have been pulled, too.
"I dread to think what would have happened [if we had lost]," Dickov continues. "The momentum and belief from that game -- being 2-0 down on 89 minutes and still being promoted -- it gives me goosebumps thinking about it.
"The spirit of the club changed that day."
Much has changed at Manchester City since Sept. 2008. Managers and players have come and gone, senior executives, too, but one constant thread has been the presence of Al-Mubarak as chairman.
Al-Mubarak has preferred to let actions speak louder than words, choosing only to give one-on-one interviews to club media during his time as chairman until talking exclusively to ESPN FC ahead of the 10th anniversary of the takeover. Abu Dhabi-born and U.S. educated -- he has a degree in economics and finance from Tufts University in Massachusetts -- Al-Mubarak cuts an imposing figure. Forty-three years old, over 6 feet tall with glasses and designer stubble, he is one of the Abu Dhabi royal family's most trusted advisers and was hand-picked by Sheikh Mansour to run Manchester City in September 2008. He is also the chief executive and managing director of Mubadala Development Company, the Emirate sovereign wealth fund whose assets in 2017 totaled $100 billion.
Al-Mubarak runs the club on Sheikh Mansour's behalf, ensuring that the Abu Dhabi strategy is played out at the Etihad.
"The last 10 years have been a lot harder than I anticipated, a lot more challenging, but because of that, a lot more rewarding," Al-Mubarak says. "People who care to research Manchester City, particularly what we have done, this has been a carefully crafted strategy that has been executed successfully ... our record speaks for itself across the board in terms of success, economically, community."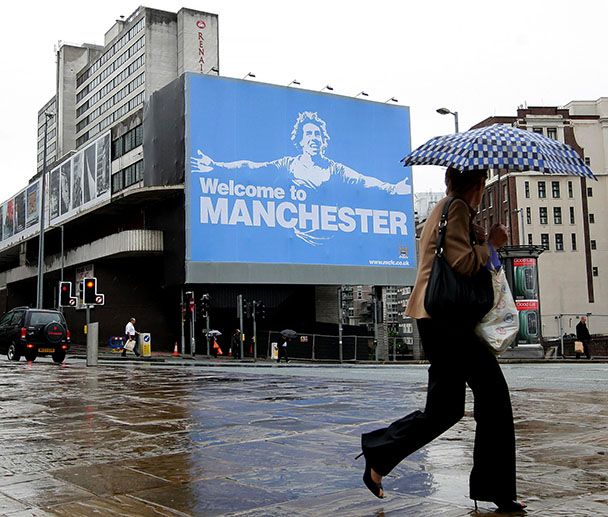 Football is a different entity than it was when Sheikh Mansour bought Manchester City 10 years ago. State ownership (or backing) of football clubs has become a game-changer. While City maintain that Sheikh Mansour's ownership of the club is a "personal equity play," or personal investment, the link to Abu Dhabi's vast wealth cannot be denied.
Elsewhere, Paris Saint-Germain have been transformed by the gas-fuelled wealth of their Qatari owners. Emirates, the Dubai-owned airline, pump money into Arsenal, Real Madrid, PSG, AC Milan and Benfica through shirt and/or stadium sponsorship, while Etihad Airways are one of a number of Emirati financial sponsors of Manchester City. Qatar Airways once sponsored Barcelona and now back AS Roma.
Chinese investment in the game has grown rapidly in recent years as well: City sold a 13 percent stake worth £265m in the City Football Group to a Chinese consortium in December 2015, one month after President Xi visited the club's training complex during a four-state visit to the U.K.
Football is an alluring business for oligarchs and states keen to associate themselves with a glamorous product, which can be a thorny issue in the modern game -- and certainly not one unique to City. When asked what the ownership of Manchester City has done for Abu Dhabi, Al-Mubarak insists that Sheikh Mansour had two objectives when buying the club and both have been fulfilled.
"Number one, he wanted a sustainable, long-term investment in a football club," Al-Mubarak says. "And number two, he wanted a club in a sport, in a league, that he is passionate about. There is an investment angle, and there is a passion in football. Over the last 10 years, that objective has been fulfilled completely, as an investment and from the pure enjoyment of following his team succeed."
"The biggest challenge, I think, was getting a seat at the table." Al-Mubarak says, recalling the first 10 years of Abu Dhabi ownership at City. "That was the hardest thing. It quickly dawned on me that football in Europe had a main table, with a set of clubs, and that was the status quo.
"Breaking into that status quo was incredibly difficult, very challenging. Now it's completely different, and we are now part of the establishment."
English football had seen clubs transformed by financially powerful owners before Sheikh Mansour's arrival, and the new kids on the block are rarely given the red carpet treatment by the old guard. Jack Walker, the steel magnate, transformed his hometown club Blackburn Rovers from faded also-rans into Premier League champions in the 1990s. Then along came Abramovich at Chelsea in 2003. Sir Alex Ferguson once accused Chelsea of being "hell-bent on ruining football" after the London club's emergence as a new force in the game.
But no club has upset the elite quite like Manchester City. As we approach the 10th anniversary of Sheikh Mansour's takeover, we reflect on a story of success, growth and spectacular off-field development in terms of the club's state-of-the-art City Football Academy (CFA) and the City Football Group, which now consists of six clubs across the globe. The progress was rapid, with any mistakes and missteps eventually overshadowed by success and rising expectations. Now City embody an efficient -- and efficiently ruthless -- operation that mirrors their football on the pitch: everything, from player development to groundskeeper, is part of a plan to take the club forward.
In 2010, after a £120m summer recruitment of Yaya Toure, David Silva, James Milner and Mario Balotelli, Ferguson accused them of "kamikaze spending." A year earlier, the United manager, feeling City breathing heavily down United's neck, dismissed them as a "small club with a small mentality" after Carlos Tevez's defection from Old Trafford to the Etihad, a move that was celebrated (or denounced, depending on your point of view) with the now infamous "Welcome to Manchester" billboard in the heart of the city.
But Tevez, more than any player including Robinho, made the football world take notice. Manchester City had truly arrived.
"Carlos was the one," says Brian Marwood, a key member of the City hierarchy since his arrival in 2009. "With what surrounded it as well -- coming from Manchester United, he came to City and the rivalry became a little bit more intense after it happened. I think everyone is aware of the billboard, which people still talk about now, but that was a moment in time when one of the early changes for good happened.
"He [Tevez] dragged people along with him and gave a lot of people belief that we could be successful."
City's ambitious spending hasn't come without a cost. In May, 2014, UEFA fined City £49m for violating financial fair play (FFP) and forced them to accept restrictions on their spending and the size of their Champions League squad, cut from 25 to 21 players -- a penalty for breaking the European governing body's financial strictures.
But in April, 2017, City were refunded £33m of their initial fine after subsequently complying with FFP regulations, underlining Al-Mubarak's insistence that the club were playing the long game.
"The team needed transformation and ironically there was no talk of financial fair play [around 2008]," Brian Marwood, a Manchester City administrator, tells ESPN FC. "And ironically there was such accelerated growth we probably wouldn't be able to do it now if the owners bought Manchester City."
"The first stage, up to 2013 in that growth period that we had embarked upon, we had to pay premiums and go out of our way to attract the talent we wanted to Manchester City," Al-Mubarak says. "But then two things happened -- we started winning, and winning is a wonderful formula to attract, and secondly, the CFA was done.
"Ten years ago, what are you selling? You are a selling a dream or a vision, but there is nothing there. Now, you are the most successful club in the Premier League and consistently challenging in Europe. We have the best coach in the world, the best coaching staff, organisation and infrastructure. Now you have it, it sells itself, and I think we are far more in control of our destiny than we ever were."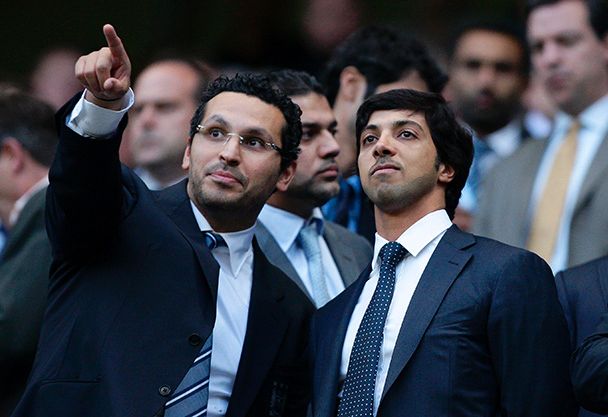 Sergio Aguero cost Manchester City £38m when he arrived from Atletico Madrid in the summer of 2011. Had City been able to push through a deal for Manchester United's Wayne Rooney less than 12 months earlier, Aguero would almost certainly have gone elsewhere and who knows how the history of the club would have played out?
But Aguero and Manchester City are forever connected by his goal against Queens Park Rangers, after 93 minutes and 20 seconds, in the final game of the 2011-12 Premier League season. Without that goal, United would have won the title and the Premier League would have been denied its most memorable moment.
"The truth is that this memory will always stay with me," Aguero tells ESPN FC. "It had been many years since City had won the league, so it is something that will always stay in the memory.
"I have scored important goals," Aguero continues, "but I think that was one of the most important because, if we did not score, we lost the league. I thought that we were going to lose the title when we went 2-1 down. I thought it was over because we had to score two goals in six minutes. In my head, I thought, 'I have to have one chance ...' but obviously I always think that, and sometimes I do not have it. And well, I just had an opportunity, one more chance ..."
Bosnian forward Edin Dzeko equalised with a 90th minute header but with United having won 1-0 at Sunderland, City needed to score again. The sands of time were disappearing until Mario Balotelli found Aguero inside the penalty area.
"There are two seconds in which you have to decide what to do: shoot or continue the run a little bit more," Aguero said. "At that time, I wanted to continue a little bit, thinking that maybe the defender would give away a penalty. But nothing ... Then I continued, shot hard at the near post, and luckily it was a goal. I think that winning the league was a blow for other clubs in England and for other teams in Europe. That title was the beginning of this Manchester City."
For Al-Mubarak, it was a moment in time.
"It was once in a lifetime and I don't think most of us will ever get to see a thing like this where you win the Premier League in the last game of the season, in the final minute, having needed two goals, with your rival playing at same time having won the league technically two minutes earlier and you just win it. That entire drama, and winning our first title after so many years, was an important milestone."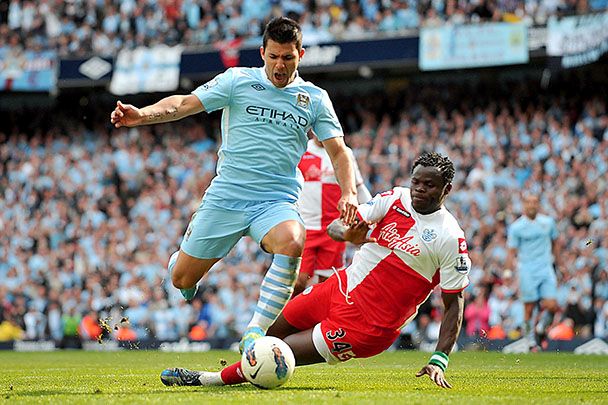 Through the Abu Dhabi era, City have signed some of the biggest stars in the game and come close to landing others -- John Terry, Wayne Rooney, Eden Hazard and Neymar have all been pursued by the club at some point over the past 10 years -- but the most important acquisition has been Guardiola. Not only a serial winner from his time as coach of Barcelona and Bayern Munich -- three domestic titles in both Spain and Germany, plus two Champions League successes -- the Catalan has also been one of the game great innovators, proving that fantasy football can also be winning football.
City's progress under Abu Dhabi ownership up until they hired Guardiola in the summer of 2016 was uneven. But Guardiola, 47, has taken the club to a whole new level, as borne out by last season's record-breaking title success, which saw City become the first club to amass 100 points in a Premier League season.
"I think Pep is the pinnacle of what we have been doing over the years," City chief executive, Ferran Soriano, tells ESPN FC. "It [hiring him] was not an isolated decision and Pep has taken [the team] to the top level in terms of tactical sophistication and intensity. But it was part of a plan. We have been working on this idea for years."
Soriano and City's director of football, Txiki Begiristain, both recruited by Al Mubarak in 2012, worked closely with Guardiola at Barcelona, with the two men promoting the then-coach of the club's B-team to the top job at the Nou Camp in preference to appointing Jose Mourinho to the position.
Soriano and Begiristain's arrival at City was the first step in luring Guardiola to the Etihad, but Soriano insists that his appointment as manager was more than simply hiring a guy to deliver trophies. "Pep is very important for the club for two reasons," Soriano said. "First, because he took us to the top in terms of beautiful football, but second, he will leave a legacy so when he leaves one day, the next coaches and administrators and fans will always remember what we are doing now as the benchmark. They will not accept less, and this is very important for the club.
"I have seen this happening elsewhere, like at Barcelona," continues Soriano, "where they don't accept less. I think this is what is going to happen at Manchester City. If we do well, and the next administrators do well, it will last for decades."
Guardiola has already extended his City contract until the end of the 2020-21 season, and his importance to the club, if not already abundantly clear, was emphasised by the recent fly-on-the-wall Amazon documentary, "All or Nothing," which showed clearly how he is the focal point of an increasingly slick and successful operation.
Simply put: Manchester City could be poised for a decade of dominance.
"We are now one of the top teams in England, which means one of the top teams in the world, and that will not change," Soriano says. "Once you get to this level, you have to do some bad management to step back, and we will not do that."