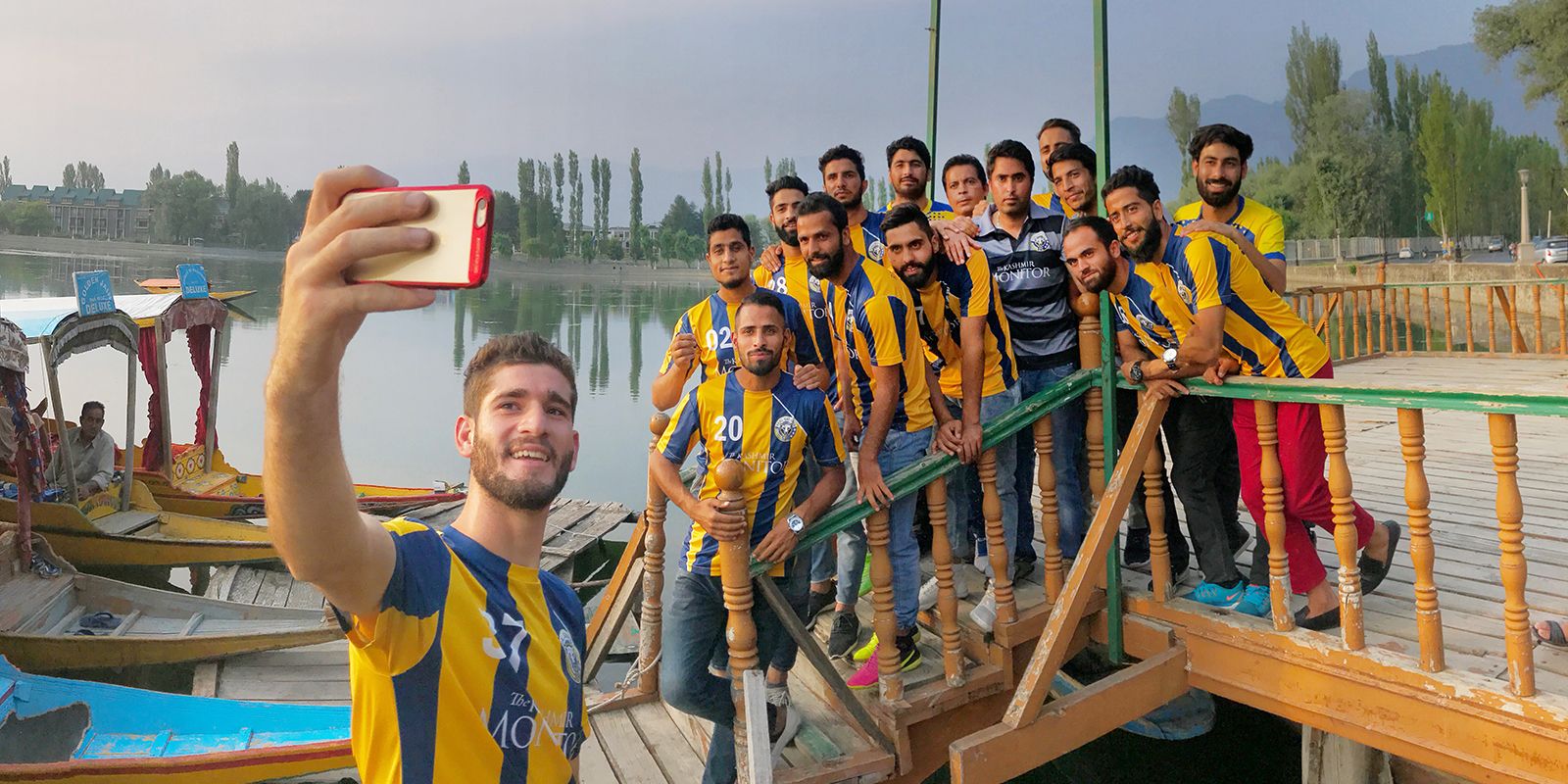 Un-Real Kashmir
A fledgling football club breaks barriers and unites people to bring hope in a region battered by years of violence.
Shall we begin on an evening in May? Real Kashmir FC (RKFC) are playing the biggest match of their brief life at the FSV Arena, in a northern corner of Bengaluru. In the crowd are RKFC's owners, their families, support staff, assistants to assistants, standing on benches, soaked to the skin, thunder growling overhead.
With ten minutes to go RKFC are 3-2 up against Delhi's Hindustan FC, their fiercest rivals in the I-League's Second Division, the lowest professional rung of national-level football. Both sides are undefeated this season and now, after 12 matches in 11 weeks for each team, only one team will be promoted to the First Division. It's the final match of the final round and it has come down to this.
Real Kashmir have played the game their coach wanted them to: no passing in the first defensive zone of the pitch, play the ball into the midfield and have them fight for the second ball and feed the wings and the forwards. Watches are being madly checked every few seconds and there are shouts and screams in multiple languages - English, Football, Urdu-Hindi, Kashmiri. At referees, at the opposition, at the heavens above. Days and weeks have condensed into the last ten minutes on a football field a couple of thousand miles from home, on the verge of a breakthrough that could cause a tremor through their state's sporting history.
The scoreline holds, Real Kashmir become the first Kashmiri club in Indian football's top division. Their players rain-dance like there's no tomorrow, while Hindustan troop off disconsolate after their first defeat of the season. Real Kashmir's coach, Scotsman David Robertson, feels for them. "It's heartbreaking, it so easily could have been us." It is hard, though, to find any Indian First Division football club sharing off-field circumstances with Real Kashmir.
After the medals and the trophy are handed out, club owner Shamim Meraj says the victory is a "tribute to the people... especially the young men of Kashmir who refuse to give up despite all that is going on there. Finally, Kashmir has something that they can own and cheer at the highest level possible in India."
Given what Real Kashmir had begun to stand for, though, maybe we should begin a month earlier.
---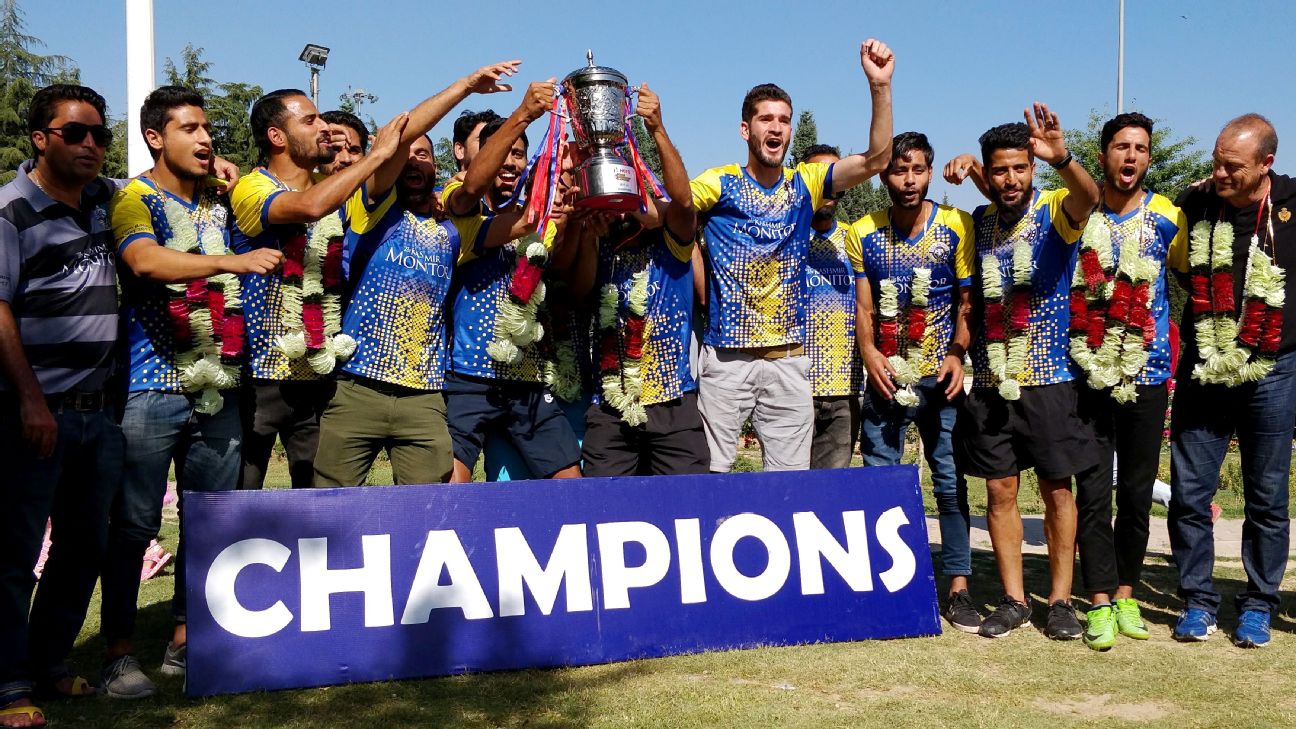 APRIL 21, AN afternoon of crisp spring sunshine at the Tourist Reception Centre (TRC) Turf Ground in Srinagar, an overused, weather-beaten match venue whose training times and shabby toilets are shared by around 20 city teams, including Real Kashmir. Another match against Hindustan, this time an I-League Second Division group match. Real Kashmir went 3-0 up, their fans roaring them on. Within two minutes of the third goal, Hindustan responded and by the final whistle had stood the match on its head, 3-3. In appreciation, the away team were given a rousing standing ovation; the visitors may have nicked two points off their club but the home fans thought they should show Hindustan some love.
This fact itself needs processing: a standing ovation in Srinagar to a football team from New Delhi in the most charged political climate across the Kashmir Valley in more than two decades.
The state of Jammu & Kashmir, at the heart of boundary disputes between India and Pakistan on the west and China on the east, has been in political turmoil since the partition of India in 1947. Coveted by both India and Pakistan, the then ruler of Kashmir agreed to his kingdom's accession to India but its strategic location means that it has never been far from the centre of disputes between the two countries. That has placed the local people in a position of vulnerability and eventually fuelled the insurgency.
Decades of militancy in the Valley - the heart of the separatist movement - have been met by the heavy presence of uniformed, armed personnel (no less than 210,000) across its towns and villages. Casualty figures for civilians, military and suspected insurgents oscillate between 30,000 and 70,000 in the period 1989 to 2002, depending on who is doing the counting. Adding to the potential for discord is the fact that Jammu & Kashmir is India's only Muslim-majority state.
For generations of Kashmiris, normal was steering clear of uniformed or armed men and their weapons and coping with the unpredictable. Every outbreak of trouble on the streets led to either the administration imposing curfew and, a more recent practice, shutting down the internet, or the separatists calling for a hartal (a curfew-like general strike, when everything shuts down). Both acts brought a halt to movement and the daily business of living.
After a relative period of calm from the early 2000s, the Valley has, in the past three years, once again slipped into repeated twisting cyclical patterns of violence, attacks and deaths. A June 2018 report of the UN High Commissioner for Human Rights said the key challenges in Jammu and Kashmir were "impunity for human rights violations and lack of access to justice." Between July 2016 and March 2018, the report said, civilian deaths had been estimated by local civil society groups as 130-145 (at the hands of security forces) and 16-20 (by militants); government figures of casualties are far lower but put 'incidents' at 322 in 2016 and 342 in 2017, almost one a day across two years. Distrust - to put it mildly - of Delhi, of the Indian state, has rarely been more pronounced in the Valley.
That's why, of the many tales in Indian football that twist stereotypes into incomprehensible facts, few can match Real Kashmir of Srinagar.
But the Valley can also regularly breathe a more peaceful air. The standing ovation for Hindustan, locals will tell you, is as normal in Kashmiri football as is the chanting that echoed around the TRC when Real Kashmir's Atinder Mani from Punjab and Ritwas Kumar Das from Bengal scored goals for the home team. With Kashmiriyat - the essence of being Kashmiri - at its core, Meraj is proud that the team today is also a rainbow coalition of ethnicities and faiths. Real Kashmir - the "Real" to reflect the "true spirit" of Kashmir - is owned by Meraj, a Muslim, and his partner in the Kashmir Monitor newspaper Sandeep Chattoo, a Hindu. In the squad, among the Dars, Qayooms, Wanis, Mirs and Bhats, ethnic Kashmiris all, are Thapa, Das, Bhutia, Jhamat, Singh, Enyinnaya of Nigeria, the Scot Robertson and Ivorian Kousassi Bernard Yao. Muslim, Hindu, Sikh, Buddhist, several denominations of Christian.
"I see the team as the bridge between India and the Valley," Meraj, 37, says. The three stars on the club crest represent the state's three regions: Jammu, Kashmir and Ladakh. For the rest of the country, watching shrieking nightly newsclips, Kashmir is always a paradise riven by perpetual conflict. In the new I-League season, though, RKFC, by its presence alone, could give India another way of looking at Kashmir.
---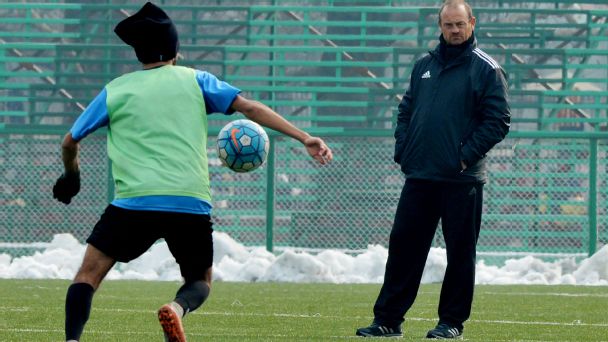 THE CLUB WASN'T meant to be aspirational, symbolic. It was supposed to be a small unit that took part in a few local events in Srinagar. After the devastating 2014 floods, where the death toll crossed 100, Meraj and his friends spent evenings walking around the city. "We would see kids hanging about, not doing anything" and it bothered him. Meraj, who played football in school and college, asked a friend to supply 1,000 balls and distributed them across the city. Starting a club was the next step: A footballing patch of happiness, snaking past the political bloodletting, like the Dal Lake and its ageless chinars, ringed by regular outbreaks of public anger and statist hostility, themselves always serene.
After a couple of years knocking on doors seeking permission for his club, Meraj was - to his utter astonishment - handed a letter in early 2016 from the All India Football Federation (AIFF) sanctioning Real Kashmir as an I-League Second Division club. From local to national has meant a five-fold increase in player and staff salaries, travel expenses and attendant fanfare. RKFC now run junior teams as well: under-18, under-15, under-13. This season, the under-15s qualified for the final 16-team round of the Nike Premier Cup from among 70 under-15 teams nationwide.
Family, friends and private donors have stepped in to help with funding but it's still a big ask. "I still don't know how we're doing it," Meraj says cheerfully. Then adds, laughing: "Ours is a very simple budget model: beg, borrow, steal."
The clutch of the local Real Kashmir players belongs to Srinagar and its surrounding areas, from a demographic that is a mix of working-class and white-collar. These are sons of tradesmen, government employees, former footballers. Some studying for degrees, others in contract labour or even in full-time jobs like goalkeeper Ujawar Nabi Bhat. He holds a master's degree in information technology and has been an assistant accounts officer at the Comptroller & Auditor General's office for the past five years. RKFC's 2017-18 I-League roster had 17 Kashmiris out of 28, and six locals in the starting line-up for the Bengaluru decider.
Holding all these disparate threads is an unlikely hero: their coach David Robertson.
In July 2017, after an indifferent first season, the team travelled to Scotland, Robertson's home, for pre-season warm-ups. Robertson had reached out to his friends in the local leagues looking for fixtures against Scottish clubs. Twenty young Indian men without full-time jobs travelling to the United Kingdom - imagine the mad scramble for visa clearances. The planned 15-day trip turned into five days, four matches. But along the way the players discovered that this coach with the strange accent had been a member of Glasgow's Rangers FC team during their nine-in-a-row League-winning streak in the 1990s. His photographs hung on clubhouse walls and autograph hunters lay in wait wherever he went. It was like he had another name: "Rangerslegend Robertson."
The man laughs that off: "It was a long time ago." After a career as a defender with Aberdeen, Rangers, Leeds United and Montrose, Robertson moved into a football management role in Phoenix, Arizona. When the RKFC offer came his way, he had spent ten years with Sereno Soccer Club as they climbed from a 350-strong membership to 2,500 and was head coach of Phoenix FC, which played in the United Soccer League (USL), one rung below the MLS. Robertson was itching to move, offers had come in from Uganda and China but it was the novelty of India and complete ignorance about Kashmir that got him hooked.
"Many of the clubs I've had an opportunity to work for before were always at a certain stage," he says. "They can't go any higher and if they go lower, you're going to get fired. This was just a whole new experience." He describes himself as "laidback" and there is no better way to take on India. Wherever you may be, whatever it can throw at you - the squad's early general mood of grey, quietness, the sudden death of internet connections, training delays due to reasons like a stray dog caught in the nets.
When asked about their hurdles or struggles, though, there was only one answer from Real Kashmir.
Not violence, not curfew, not the fragility of "normal", but infrastructure.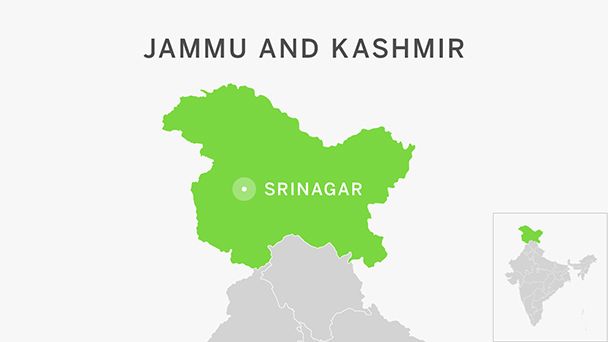 Specifically, the lack of grounds for competitive footballers to train and play on. The sheer paucity of good standard turf, real or artificial, the utter absence of floodlights and their benefits in a state with a long winter. With Srinagar's iconic Bakshi Stadium now razed for renovation, which could take between one year and eternity, the only other artificial surface available, at TRC, is worn out from overuse. The Polo Grounds, where some football is played, is a mud-covered moonscape. Kashmir's heavy winter needs at least ten artificial turfs to ensure it can sustain the seasonal pressure. Noted local coach Hilal Parray says Srinagar itself needs 20 to find quality players.
When the subject of strikes and curfews being part of their obstacles comes up, the reply is usually, "Oh that... we're used to it." "You've got a find a way to work," says Robertson. "I've always found in the leagues I've coached in Scotland, England, America, there might be a way I want to be play football, but you can't do it. You have got to find a way... to be successful here, what works here."
His time with the team at the start of the season, drilling his method into the squad, found him players, "nine or ten of them" who "really work hard and are physical and want to get to the next level." Robertson even showed them what the level looked like with the pre-season trip to Scotland. It is why players like Ujawar say RKFC has given local players "the step ahead" with the chance to test themselves and "the courage of how to play at a higher level."
The presence of a successful professional club in the state, says Ishfaq Ahmed, one of the rare Kashmiris to make a mark outside the Valley, could be game-changing, a marker for opportunity and ambition. "Football is the only sport that will attract crowds, it can bring fans altogether. Nothing else can. Not even political rallies can do what football can do in Kashmir."
---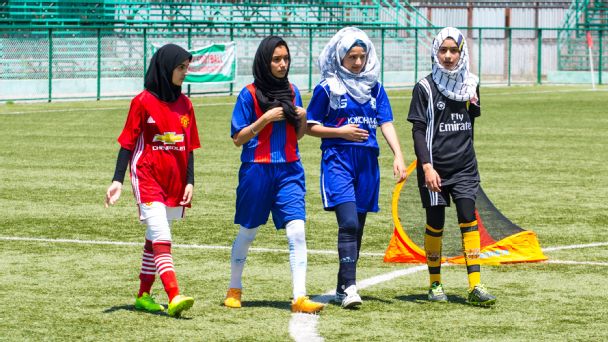 AT DELHI AIRPORT, the Real Kashmir players heading home to Srinagar from Bengaluru after their match against Hindustan make a striking group. They are in their yellow-and-blue travelling kit, tall, fit, personable. Eyes are drawn to the hefty silver-looking trophy that defender Farhan Ganie cradles in his hands. Toddlers pull at the ribbons hanging around from it, people walk over and ask, "What is the cup?"
"I-League football trophy," and he considerately explains, "India-League."
It's messy, this business of India, I-League, football and being Kashmiri. Each player finds his way through this knotty awkwardness. Firstly, you accept and you manage. The most euphoric week of their lives, itching to return home after a month away, the team have learnt that a hartal has been called across Kashmir on the day. Not the best time to welcome football teams.
The lads from Downtown - Srinagar's old northern neighbourhood, which sits on a knife-edge between simmering anger and eruptions of violence - will have to take alternative routes home. They know how, they have done this before. Training during curfew, training during hartal, travelling to and from training or sporting contests during seasons of rage. Leave early, 4am sometimes, to make it to the ground for practice or matches. Walk or cycle long distances or take two-wheeler rides on full alert. Eyes straight, head high, but not so high as to seem menacing. Moving quickly to get to the ground in time, but not so quickly as to imply a hurried getaway. Get home before the administration cracks down to impose the curfew or the strikers began roaming the city to ensure it is at a standstill.
"Our mothers always ask us to return home early," says one player on the flight back from Bengaluru. "To our locality by 5, home by 8." The players talk about boys they grew up with, strolling with them to college one day, nipping out for a bit in the evening, then vanishing, never to be seen again. Everyone knows someone who has been caught in the madness. Pellet marks, bullet wounds, stone pelting, tear gas, schools closed, colleges closed, empty streets, unending silences. Stay indoors, don't go out. Some players try not to be too visible in photographs with establishment figures - politicians, bureaucrats, police, army. "Aap samajhte hain. Dost hain hamaare. Football se rokte nahin hai. Toh respect ke liye thoda..." (You understand, they are my friends. They don't stop me from playing football, so out of respect...)
Kashmiris feel shifts in on-ground temperatures through their bones. The football community has internalised the anxiety of moving around with busloads of young men. Meraj finds the nuts and bolts of running the team - getting past, through, around obstacles - "cathartic." "We are not worried about safety per se, we are just worried and concerned about the uncertainty at times. We were always safe among the people. But what is not in our hands is the uncertainty."
Playing in the I-League's Second Division in 2017 made home and away matches mandatory. With that came the responsibility for not one but two busloads of young men. Imagine, Meraj says, a team arrives from Delhi and a hartal is called or a curfew imposed. The Valley comes to a halt, the streets empty out, the internet is shut down. But there is a match to be played. RKFC's backup plans then kick in: the local boys are made to move into a hotel booked for the non-Kashmiris. "Their safety is also our concern, there's no point them having travel up and down from home."
Two years ago, during curfew, another team, Lonestar Kashmir, scheduled a match at 8am in an empty stadium. RKFC's first I-League season began in January-February 2017 with south Kashmir in political turmoil. "You cannot imagine the anxiety we had while matches were on, one small incident and everything comes to a shutdown within minutes. You just keep your fingers crossed, the visiting team who are also your responsibility."
When a sudden heavy snowfall (in India!) left Robertson high and dry two days into the job in January 2017, with zero internet and a hotel room far away from family, Meraj brought him home and had him sleep off jet lag and panic for 48 hours straight. Now, Robertson and his assistant Jimmy Lindsay, when in Srinagar, live in a corner of the Meraj home in Barzulla.
Everyone manages.
---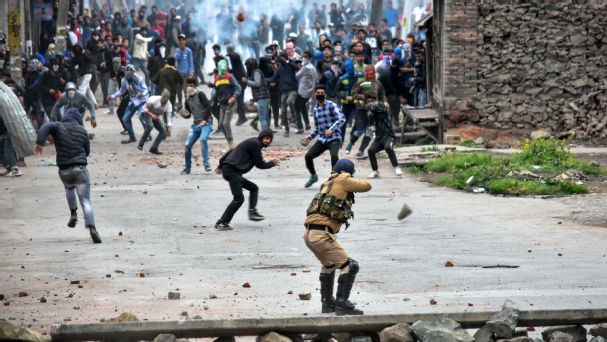 IT MUST BE mentioned that we've brought this conversation on. No one in RKFC, or even in Kashmiri football at large, has cited the Valley's political strife and the unpredictability it creates as the stumbling blocks in their situation. Indeed, the team's non-Kashmiris may arrive with some trepidation but quickly find themselves in a parallel universe from what their teammates may be going through.
Defender Mohammad Hamaad says the non-Kashmiri newbies thaw quickly. "With the love they are given here, hairaan reh jaate hain sab (they are all amazed)." They begin to understand that the internal strife is not as severe as is seen on television. They are visitors protected by the Valley's tourism bubble. Robertson often gets asked about being in Kashmir. "I have no issues at all, I can walk the streets, people are very friendly... I haven't seen any issues at all. If I'd had any fears for my safety I wouldn't have been here."
Forward Atinder Mani played for both Lonestar and RKFC; he is practical, making daily safety assessments. Curfew, he knows, is "serious maamla (business)." But players like him, he says, don't worry because "we are not in their sights." It is a blanket reference - their, they, them - to every manner of protestor and separatist at odds with the government in Delhi. Atinder says it helps that matches and practice take place at a good distance from the hot spots.
Those are Downtown, where some of his teammates live; it's a generation of young Kashmiris handling a very high degree of political and civic upheaval for the first time in their lives. Ubaid Haroon studies for a degree in psychology in his free time, and says, "Bardasht nahin hota (I can't bear it)." Then his internal defence mechanism kicks in. "These things keep happening in Kashmir," he says, "because they have their own profession, we have our own profession..." Again, they, their, the unspoken behind the headlines lined up against the Army. Ubaid has put his energies into starting an academy at a local college, the Bar Bar Shah Academy, aiming to pull kids into football and keep them off the streets. He says he will try to put in a similar programme at a local school as well.
Because football has long been the buffer. "Football has a long tradition in Kashmir, much before cricket," says Professor Amitabh Mattoo, native Kashmiri, scholar in international relations, and former advisor to the chief minister of Jammu & Kashmir. "It became a popular game because of the fact that everyone could play it. There was always some kind of a class divide between those playing football and cricket. Football was the game of the masses."
"You cannot imagine the anxiety we had while matches were on, one small incident and everything comes to a shutdown within minutes. You just keep your fingers crossed, the visiting team who are also your responsibility."
- Shamim Meraj (Owner, Real Kashmir FC)
What is not remembered these days is that despite the region's messy history, the first player from the Valley to play for India in October 1983, also went on to become national captain - at the 1987 Nehru Cup. Abdul Majeed Kakroo, 55, today coaches the Power Development Corporation (PDC) team he helped set up. Three decades ago, in the prime of his youth, he was forced to cut short his pro football career with Mohun Bagan, East Bengal and India (30 matches) due to threats from militant groups. He was 25.
Today, the chances of a Kashmiri captaining any national sports team are close to zero. Yet, paradoxically, there appears to be an ease of movement for Kashmiri footballers and less pressure on them to conform to political diktats. Ask the Real Kashmir players about their 'armaan' (desire) in football and the answers are the same - to play for the biggest clubs, at the highest level, in the glamour league with famous international names - the Indian Super League (ISL). "India khelna."
It should be political heresy but it is not; Kakroo's misfortune has not been repeated. Much has to do with the two Valley pioneers of the sport - India defender Mehrajuddin Wadoo and India under-23 winger Ishfaq Ahmed, who were spotted together in the same national under-21 tournament in Bengaluru in 2002. In 2003, they became the first militancy-era Kashmiris to leave the Valley for successful careers. After more than 30 matches (2005-11) for India, Wadoo is now the under-18 coach for ISL team Pune City.
Today he is the rare man allowed to drive his car through a barricaded Srinagar street to get to the State Football Academy (SFA) where he is coach emeritus. Ishfaq is assistant coach at Jamshedpur FC, part of the ISL, which runs parallel to the I-League, and a member of the AIFF technical committee. Not bad for someone who spent his early years trying to convince people "that a Kashmiri could play football" and dealing with paranoid landlords who now treat him as family. Neither man faced what Kakroo did. "I never got a call from anyone saying why are you playing for the national team," Wadoo says. "I was very fortunate." Ishfaq understands the irony of a Kashmiri featuring on a committee that takes decisions on Indian football at large and wisely stays away from social media.
---
IT IS 8AM during the month of Ramzan, and Srinagar has not even half-opened its eyes. The Eidgah maidan is empty but for a few grazing sheep. It is an open space used for community prayers twice a year; for the rest, it appears tailor made for ten, maybe more, football pitches. At one end is the Aali Masjid, the second-largest mosque in the Valley, slope-roofed, brownstone and timber, originally constructed in the late 15th century, finally open to the public again. At the other is the Eidgah Gate, within what used to be the old walled city.
In the heyday of Kashmiri football in the 1970s and the 1980s, the best footballers came from the ten-odd neighbourhoods around Eidgah. In the decade that followed, militancy expanded its footprint, the area's football suffered. The number of events died down and players began to emerge from further south in the city, gravitating towards the Polo Grounds closer to Srinagar's high-security zones. There is now, however, a footballer the fans call Kachroo (Blondie) for his light hair, a player from this area who is generating interest around the state and beyond.
Real Kashmir midfielder Danish Farooq, 22, grew up in a family of competitive footballers - at least three generations. His 81-year-old grandfather Mohammed Ali, lean, sparse, chatty, says he remembers his own grandfather playing, like he did, for local clubs. Danish's father Farooq "Bhulla" Ahmed also played - for RTC - in front of the crowds at Eidgah. Danish traipsed along for early morning training from the age of six or seven, and ran in between the legs of the adults. Today he is a tall, spindly, presence on the pitch, electric heels, calm mind and a physical fearlessness. It made him RKFC's talisman in their successful 2017-18 season: 13 matches, eight wins, zero defeats. "We were well-prepared, we didn't only want to participate in the competition, we wanted to win it," he says. "We didn't know when this opportunity would have come again."
Opportunities had presented themselves to Danish before the season began. He was a prodigy identified at the age of 14 for the Jammu & Kashmir Bank academy and inducted into its senior squad two years later, going on to become its captain. Before this season, the world had come calling. Big clubs with big names and ISL squads sought him out for their ecosystem. Trials in Bengaluru, Delhi and Pune had won him a spot in ISL reserve teams participating in the Second Division. Danish remembers his trial with Bengaluru FC, the most professionally-run club in India. "It was a great experience for me, I saw the big players up close - our India captain Sunil Chhetri, Gurpreet Singh. It was fantastic, I loved it."
The reserves were interested but Danish knew one thing. Only the best-performing community clubs, not the ISL second XIs, were promoted into the First Division. RKFC had skin in the game. Danish chose to stay. When the final whistle went in Bengaluru, he sank to the ground, offering his thanks before leaping into the arms of his mates.
Of RKFC's three goals on the night, Danish had assisted in the first and scored the second. He was at the heart of the first Kashmiri team to compete amongst the big boys in the I-League. They would play in Srinagar, in front of their fans; the opponents would include those two Calcutta clubs his father had run into during two years with Mohammedan Sporting. Danish's decision to stay had paid off.
His father Bhulla knows that within a season or so there's a very good chance his son will be invited to leave. "They will call the good kids... that will happen," he says. "There are opportunities to earn a good income in India these days if you go out. We never had that." Sitting at the other end of the long drawing room, with its carpeted floors and wooden walls and a case full of football trophies of fathers and uncles, Danish - the only boy among six siblings - knows that by staying with RKFC, he has charted out his own path to go.
Few Kashmiri players, barring Wadoo and Ishfaq, have managed lengthy careers outside the Valley. Hilal Parray, a student of Kakroo's in his playing days, has worked with many local boys on RKFC. "Mehraj and Ishfaq's success is only because they sacrificed to go outside," he says. "If a player want to get something good, he has to sacrifice." The breakthrough by local boys to a higher grade of football, says Parray, can only happen with the willingness to risk a little.
Many Kashmiri footballers have been in two minds, venturing out and then staying out in the great unknown that is referred to on Srinagar streets as the distant, forbidding "India." An "Other". RKFC now gives Kashmiri boys that perfect mean between rootedness and adventure. The team's general manager Showkat Ahmad Yatoo said their success meant that a "huge change" was coming. "To be seen elsewhere, to play at a higher level around the country. The boys always thought they will never get this opportunity to play in higher divisions... but this was our plan - to go for bigger things."
---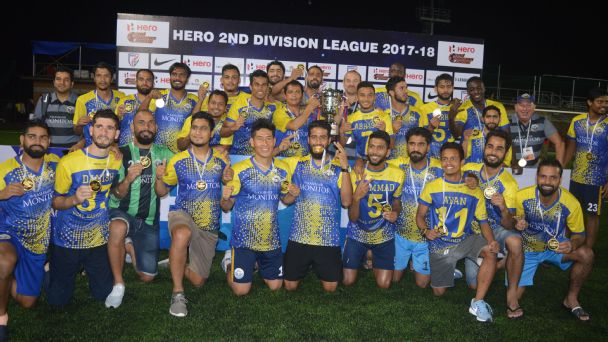 THINGS HAVE MOVED fast since that sodden May evening in Bengaluru. Adidas have signed a deal to kit RKFC out in the coming season -- jerseys, boots with different cleats for different positions. It's not a partnership based on profitability; like with Aizawl FC two seasons ago, improbable winners of the I-League First Division title, Real Kashmir have now become an enchantment and who thinks straight when in love? In July-August, their U-19s travelled to the Borussia Dortmund training facility in Germany for a week-long clinic working with the club's junior coaches. The senior team went into training from the beginning of September, signing on five foreign players to their previous two and nine "mainlanders" i.e. non-Kashmiris. Towards the end of September, corporate giants Reliance hosted the team for ten days at its headquarters in Navi Mumbai, staging five pre-season friendlies at the Reliance Foundation Young Champs football academy premises.
The distance covered by Real Kashmir in a little over two years - from local aspirations to the team whose presence will draw attention towards the I-League First Division - is one that other clubs yearn for. To the club's owners, it is like scaling mountains minus oxygen. "It's been way beyond what we thought," says Meraj. "It's a completely different world, in terms of budgets, logistics, emotional investments, the talent level between the league's two divisions. We've worked our way out but let's see..."
On the ground in Srinagar, however, there has been unexpected movement. Uncertainty about staging home matches at the decrepit TRC ground - which fell well below the I-League First Division criteria - has dissipated. Within 48 hours of the first round of meetings between league officials and the state administration, their request for refurbishment was tabled, approved and put into action. In the matter of a few months, there will be new dressing rooms for both teams and match officials, a VIP gallery, toilets for the public, facilities to get broadcast vans in. When the season begins, night will arrive early in Srinagar, and temperatures will fall. RKFC at home vs anyone from the "mainland" will be a handful. Snow or no snow.
Kashmiri football has a chance at reinvention and it is Real Kashmir that moved the dial. Ishfaq has helped set up a new private club, ARCO FC in Sopore, apple country, in north Kashmir. After RKFC and the SFA, where Wadoo is involved in off-season training and coaching, a wider world could be opening up. "This is like a factory," Wadoo says. "We are trying to produce the players to follow after me and Ishfaq - I want many of them to play for the national team. It is good for the state, it is good for us."
Professor Mattoo is similarly upbeat about the presence of RKFC in the I-League. "I see it not as a panacea but an injection of positive thinking in a very gloomy atmosphere." He makes a reference to the army's "WHAM (Winning Hearts And Minds)" policy in Kashmir and says, "WHAM might be a doctrine, but this is WHAM in letter and spirit."
In the afterglow of qualification in Bengaluru, midfielder Shahnawaz sends a message home through a newspaper reporter: "Celebrate our victory, we are coming home with the cup." Then he adds, "But wait for me. We're going to have big celebrations together." Two days later, everyone is making jokes about flying home on a hartal day. "Use up all the internet you can on your phones, it's going to be cut off now."
The team doesn't expect fanfare at the airport - and predictably, there is no one from the state footballing body or the government. The players are about to be overwhelmed anyway. A giant placard saying "Champions" has got past the security of the heavily fortified airport. A busload from the Real Kashmir academy of under-13s, -15s and -18s awaits, garlands in hand, messages printed on A4 sheets of paper in hand and cheers at the ready. At the bottom of the escalator taking them to the baggage belts are team owners and an unexpected guest - the state's inspector general of police (traffic) Basant Rath. In a state where men in uniform are enemy No.1, this policeman is a cult hero among the Valley's young. The players surround him, take selfies, hang on to his every word and let him lead them out of the airport, I-League Trophy Second Division in hand, into the summer glare.
In his college days at St Stephen's, New Delhi, Shamim Meraj studied English honours, a devotee of Gabriel Garcia Marquez. In the past four years, his life has been strung through with the implausible. The aftermath of a terrible flood has led to the creation of a football team. Coached by a Scotsman who had zero knowledge about Kashmir and no idea that it snowed in India. Which went on to do what no other team from the state had done before. At a time when the rest of India is seeming even more distant than it has in a quarter of a century, this team is going to be appreciated by the country's footballing community when it shows up to play again.
Real Kashmir FC, Meraj must surely recognise, has become magic realism in boots.
ESPN
's lead writer in India, travelled to the Kashmir Valley in May and June 2018 for this story.
Sharda Ugra,