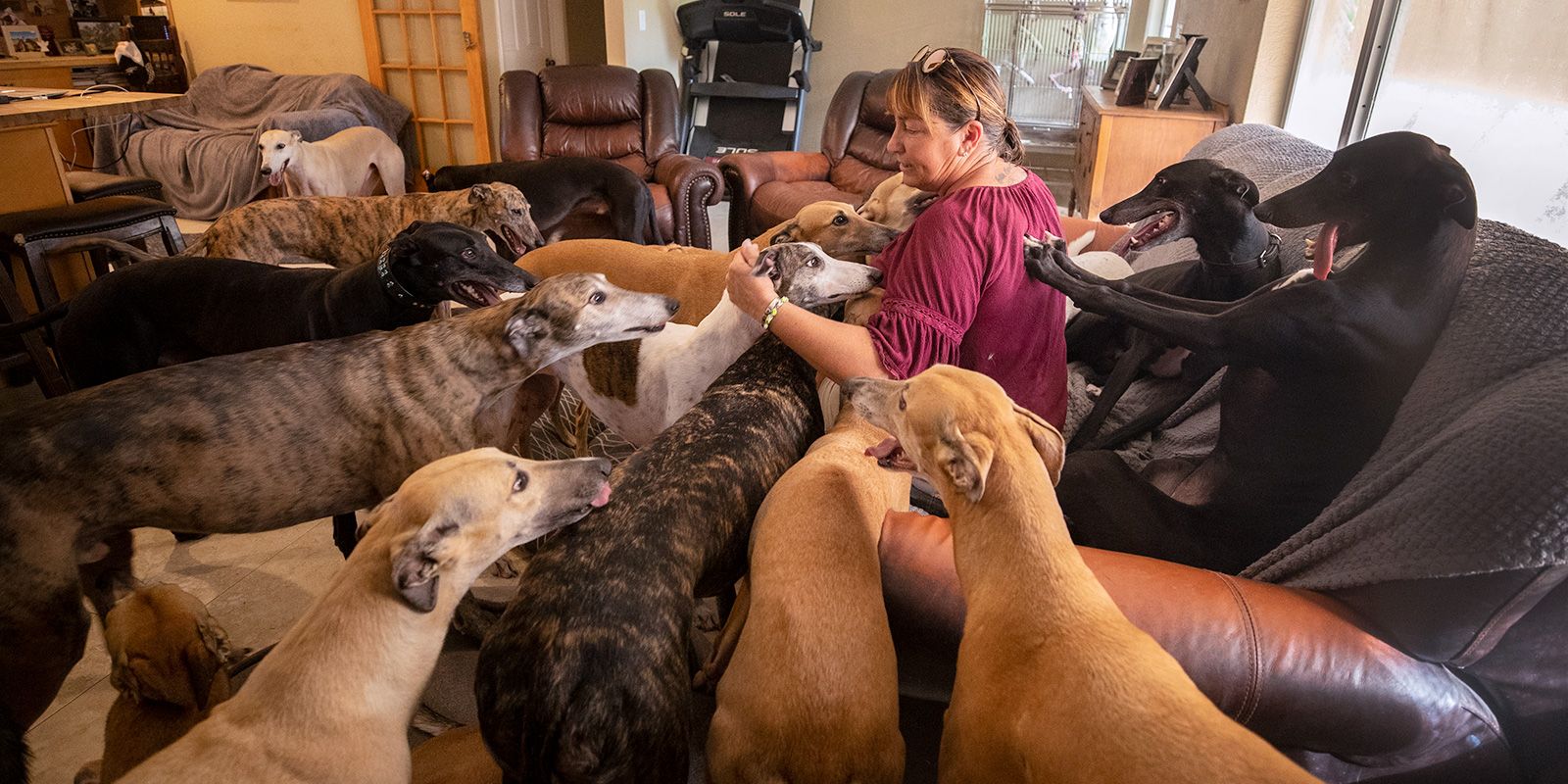 Race to the Finish
Why Florida voters could deal a fatal blow to greyhound racing this Election Day.
This story is an Outside the Lines feature.
LOXAHATCHEE GROVES, Fla. -- Sonia Stratemann's greyhounds come bounding out to greet and paw visitors when she opens the door to a concrete-slab porch on a muggy September morning. So many dogs live in the house that she and daughter Alexandra can't immediately agree on a number. "We think 15," Stratemann says.
Another seven live in a kennel behind the home, which sits on five acres about a half-hour's drive northwest of Palm Beach. Stratemann says she got the dogs primarily from greyhound racing owners and trainers during the years she was willing to keep their secrets.
No longer silent, Stratemann has become one of the most vocal supporters of Constitutional Amendment 13, which would phase out greyhound racing in Florida by the end of 2020, though tracks could continue to do business as poker rooms. To pass, the amendment needs 60 percent of the Nov. 6 vote.
Florida, with 11 of the nation's 17 remaining greyhound racetracks, is the sport's epicenter, making the ban a potentially fatal blow to an industry that already has seen annual betting receipts drop from $3.5 billion in 1991 to around $500 million today. The election shapes up as a battle between greyhound owners and trainers who fear for their livelihood and activists who say the vote is a watershed moment for animal protection.
Stratemann, 46, says she has taken in and adopted out more than 2,300 racing greyhounds since 2003. Hundreds of them, she says, had broken bones, and some came with yellow-stained fur from lying in their own urine in crates.
She decided to speak up in late 2017, when she took in three racing greyhounds with broken legs in the span of 10 days. Then there was Bart. Now 85 pounds and with a jet-black coat, Bart is noticeably bigger than the other greyhounds in her care, but his history becomes apparent as he moves with labored gait among the mango and tropical almond trees on the property.
A day after Christmas 2017, in the 13th race at Palm Beach Kennel Club, Bart was in the lead pack heading into the back turn, when racing greyhounds routinely reach speeds in excess of 40 mph. He appeared to get tangled up with another dog and went down in a heap, tumbling several times. His back right leg was shattered.
"We saw the bone sticking out of the skin," Stratemann says, recalling the first time she saw Bart at the veterinarian. "They didn't treat him with anything because they were taking him in to kill him."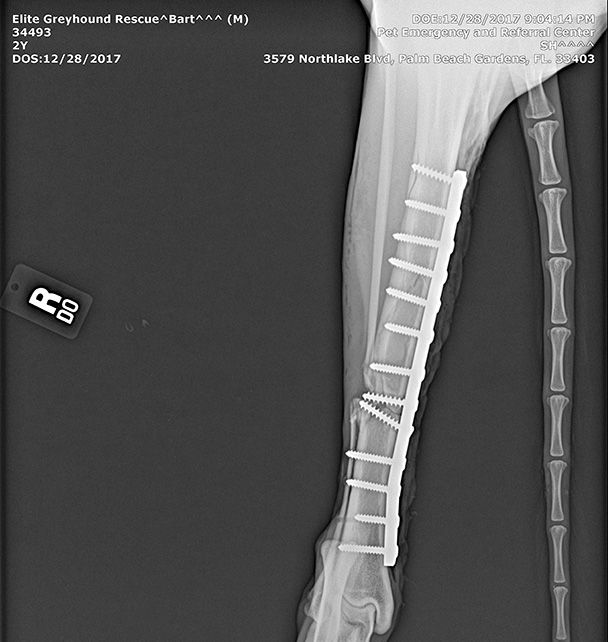 Bart had competed for Rader Racing, run by noted trainer Norm Rader and his wife, Yong. It has been one of the most successful racing operations at the Palm Beach Kennel Club over the past two decades. Without the knowledge of Rader Racing, and with help from another greyhound adoption agency, Stratemann rescued Bart from euthanasia.
Rader did not respond to multiple interview requests from Outside the Lines, but he said through a track spokesperson that he did not take Bart to the vet to be put down.
A plate and 13 screws were required to hold Bart's broken leg together. For eight months, he could hardly leave his crate. Nearly a year later, and after more than 100 vet visits, the 3-year-old still walks with a noticeable limp.
For years, Stratemann took dogs from Palm Beach Kennel Club and accepted an average of $12,000 a year from the track to help cover vet bills. The payments stopped when she became a more vocal critic of the sport on social media and made it clear to track officials she would no longer quietly accept injured dogs.
"I went from going along to telling the track, 'I don't care about your money,'" she says.
---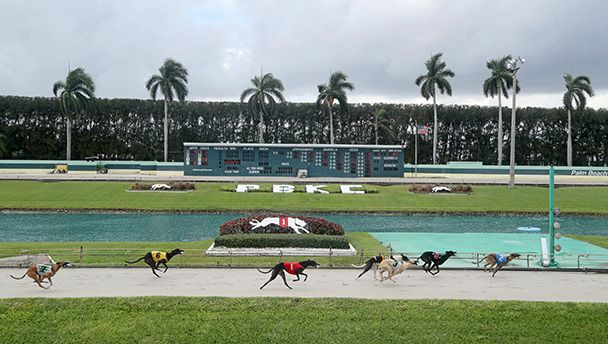 EVERYTHING ABOUT THE Palm Beach Kennel Club feels like an anachronism. Even the sign at the entrance looks like a relic from 1960s Las Vegas, a kitschy outlier among the sprawl of modern development that has grown up around it. From the grandstand, a row of stately palms and 25-foot arborvitae hedges frame the background of the track. They've been there since 1932, when the club opened and immediately became the place to see and be seen in the Palm Beaches.
The Paddock Room Restaurant overlooks the track's first turn. It's mostly empty now, but if you let yourself imagine this room in its glory days, you can almost see the late Art Rooney Sr., founding owner of the Pittsburgh Steelers, at his favorite table in the far right corner, his back to the wall, smoking a cigar and watching the dogs as a steady stream of friends and businessmen stop by.
Rooney, still referred to affectionately here as The Chief, bought the Palm Beach Kennel Club in 1970, after years of visiting the track on his drive back to Pittsburgh from Miami, where he bet the horses at Hialeah Park.
Theresa Hume is the director of publicity now, but she was a server in the Paddock Room when she started in 1980. She remembers some 7,000 to 8,000 people coming through the track on peak days in the early 1990s. Today, a good day brings 1,000.
"Back in those days, this track would be packed," says Joe Rooney, who started as a restaurant prep cook the same year Hume arrived. He has since taken over track ownership from his grandfather, who died in 1988. "You would have to know somebody to get a reservation in the Paddock Room."
The decline is evident in the grandstand, where a few patrons -- mostly men, mostly older -- gather around a simulcast from another track in between post times. It's a quiet scene, save for the same booming announcement for the faux-rabbit lure that has preceded the starting bell for decades: "Here's Rusty!" Even with such nostalgic touches, the scene feels far from the pageantry of the past.
George Webb, 89, and his wife, Mary, 72, have been coming to the track at least five times a week for the past 23 years. A worker at the betting window knew where to find them -- at a table near the deli in the air-conditioned section of the main grandstand.
Mary says she and her husband plan to vote "No" on Amendment 13 -- "It would be getting rid of one of the things that a senior citizen can do to stay active," she says -- and she dismisses complaints about animal abuse.
"Accidents happen, but it's not because anyone is mistreating the dogs or anything like that," she adds.
Likewise, Joe Rooney says the claims are "a gross exaggeration of a few incidents."
"Why would you mistreat what's making your living?" he asks.
Rooney blames the decline in track attendance -- he estimates it at roughly 6 percent per year -- mostly on the rise in simulcasting and online betting. Most people who wager on greyhound racing today do so from the comfort of their own homes.
"There's literally no denying statistically that greyhound racing ... is in decline," he says. "If [racing] made no financial sense, I'd stop doing it. But I'd rather do that on a market-driven decision, not one imposed upon us."
The amount wagered annually on Florida greyhound races has dropped from $406 million in fiscal year 2007-08 to $226 million in 2016-17, according to the state agency that regulates racing.
But there is one area of the club where in-person business is booming. Behind a pair of tinted doors off the grandstand, the 64-table poker room is nearly full with people playing Texas Hold 'em, three-card poker, Omaha Hold 'em and stud poker. It's dark and cool, a reprieve from the relentless humidity outside, and waitresses bustle by with trays of concession food and drinks.
The state says card rooms, now allowed only at greyhound tracks and horse tracks and at several facilities that allow waging on jai alai, had gross receipts of $157 million in 2016-17, up from $91 million in 2007-08.
The poker room in Palm Beach opened in 1997. In the most recent fiscal year, the track had a betting handle of nearly $38 million from dog racing while recording nearly $15 million in card room gross receipts.
As it currently stands, Florida kennel clubs can't operate their profitable card rooms without live greyhound racing. Amendment 13 would "decouple" racing from other forms of gambling, allowing the racetracks to keep their card rooms without the presence of greyhounds; Rooney says his track would reconfigure its footprint, sell most of its 19 acres to developers and reduce its current staff of 600 to about 100.
The prospect has meant "a lot of sleepless nights" for Alton Butler, who has worked at the Palm Beach Kennel Club for 17 years. He started as a "lead-out," one of the workers who lead the greyhounds on a leash from the holding area, or "ginny pit," to the starting gate. Inside the ginny pit, two state inspectors gather urine samples to test for the presence of performance-enhancing drugs.
Now, Butler is a race official, serving as a traffic cop of sorts, lining the dogs up before post time and checking the tattooed identification numbers inside their ears to ensure bettors are wagering on the right greyhounds.
If Amendment 13 passes, the father of nine doesn't know what he'll do.
"I'm 41 years old and not looking forward to starting over again," he says.
---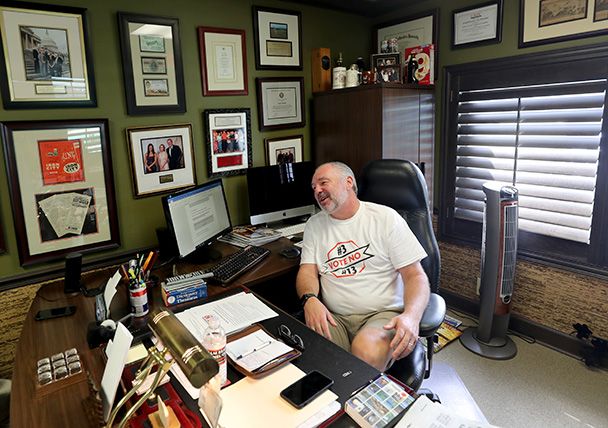 MORE THAN 90 PRIVATE greyhound adoption groups in the United States and Canada have formed a coalition, Greyhound Adopters for Racing, to oppose Amendment 13. These groups say that through their experience in adopting and fostering former racing greyhounds, they know allegations of cruel, inhuman treatment are false, and they believe the continuation of racing is in the best interests of the breed.
The coalition also says statistics cited by anti-racing groups such as GREY2K USA -- that a dog dies every three days on a Florida track -- are being used in isolation as an effort to mislead voters.
"It's what we like to call 'de-contextualizing,'" says John Parker, an attorney who lives in Moreland, Georgia, and serves as vice president of Greyhound Adopters for Racing.
In 1998, Parker started Southeast Greyhound Adoption, and he estimates he has adopted out more than 2,800 racing greyhounds, most from tracks in Florida.
"Generally, the dogs we received were in good shape," Parker says. "The ones with the ticks and fleas were the exception. Not everybody in racing is perfect."
A three-hours' drive north of West Palm Beach, the barking starts at A.J. Grant's kennel as soon as visitors approach the door. Eighty dogs are housed in the low-slung, concrete building, in stacked, carpet-lined crates -- and they're all eager to say hello.
Grant and trainer Kathi Lacasse tell stories about each of the dogs -- how they got their names, their best race, the foster home they'll go to after retirement. Outside, in two large turnout pens, Grant says the dogs are let out for 2½ hours early in the morning, again for an hour mid-morning and early afternoon, then from 6-8 p.m., with a half hour of sprints built in after morning turnout. On days when they don't race, the dogs spend the rest of the day and night in their crates.
Grant and Lacasse strongly deny claims from animal rights groups that racing greyhounds are confined for up to 23 hours each day.
"We only get paid if they run first through fourth. So if they're not fed well, if they're not healthy, if they're not happy, if they're not in good condition, they're not going to make any money, and we're not going to get paid. So it's only common sense that these dogs are healthy and happy," Lacasse says.
The kennel facilities are subject to unscheduled inspections by the state and Seminole County officials, including on the day Outside the Lines visited. The dogs are friendly and quick to offer hand licks and nuzzles, which Grant cites as further proof the dogs are not mistreated.
"Twenty, 30 years ago, the dogs were treated as a commodity, as a product, but not anymore," he says. "Why would I put a dog down if I can call a rescue and they'll be here within a day?"
Grant also is concerned about how shelters and adoption groups will handle the influx of the 8,000 dogs actively racing in the state, along with what he estimates are 7,000 more in training.
"Why is there not a provision for the dogs in the bill if this is actually about the welfare of the animals?" he says. "After greyhound racing, we don't have any income, so it's going to come out of our pockets to take care of these dogs, and we will."
Kurt Trzeciak, a trainer affiliated with Palm Beach Kennel Club, says he and others have grown weary of being vilified by groups like GREY2K USA.
"I take pride in the condition of my kennel and the condition of my dogs," he says.
Trzeciak was eager to show his kennels to Outside the Lines to help dispel allegations of mistreatment, but officials at the Palm Beach Kennel Club denied access, citing a potential fine from the state for allowing unlicensed people into the facilities.
Instead, he shares videos of the dogs. He shows their grooming bench, the food preparation area and a fawn-colored greyhound leaning out of her kennel and onto his shoulders in what he describes as their good morning hug.
"They're more like family to me than my own family," he says.
---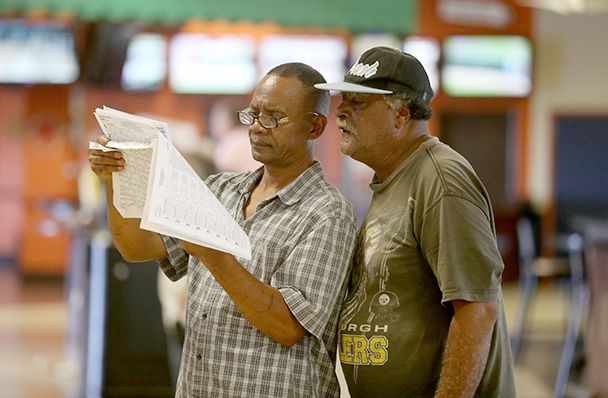 SINCE ITS FORMATION in 2001, GREY2K USA, a Massachusetts-based animal rights group, has lobbied against greyhound racing in five states that ended the sport. As of late October, the group and others combined to spend $2.8 million on TV ad buys in an effort to sway Florida residents to vote yes on Amendment 13.
"We've been in a bare-knuckle fight with an incredibly powerful industry for nearly 20 years," says Carey Theil, the group's executive director, who describes the Florida battle as "the most significant thing I will do in my lifetime."
Carey and other opponents of racing say the dogs' situation is too dire to worry about job losses or wait for the market to decide the fate of the sport. He cites a state report, reviewed by Outside the Lines, that shows 485 greyhound deaths from Florida tracks between May 2013 and May 2018.
In the report labeled "death report," the causes of death reads like a grim litany of the dangers involved in racing a pack of eight dogs at more than 40 mph around a tight oval: "Found dead in crate"; "Dog fell during race and broke his back ... was euthanized at the trainer's request"; "Hit rail."
Parker, the racing supporter, points out that those deaths represent a small fraction of the tens of thousands of greyhounds that raced on Florida tracks during that same span of time. Some dogs, he notes, simply died of illness.
"I find that argument strange," Theil says. "They're constantly looking for ways to rationalize away. It's pretty callous."
Theil says his organization's analysis of Florida greyhound deaths revealed that 57 percent of the fatalities were directly due to racing.
Florida, like other states, also has had alarming, if isolated, cases of greyhound abuse.
In October 2011, trainer Ronald Williams was convicted of animal cruelty and sentenced to five years in prison when state inspectors found 32 of his greyhounds dead from starvation inside his kennel at Ebro Greyhound Park. Investigators found dog food rotting in a broken freezer and several greyhounds with duct tape wound around their jaws and necks.
Trainers including Trzeciak insist those horrific discoveries are outliers that shouldn't be used to condemn an entire industry.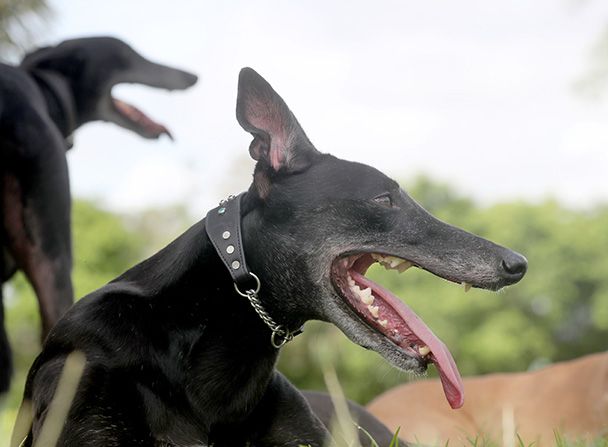 Back in Loxahatchee Groves, Bart limps heavily toward a patch of shade where 10 or so other greyhounds lay flopped in the grass. Stratemann, now a board member for GREY2K USA, believes public sentiment is on her side. She has been touring the state in recent weeks, making public appearances in the run-up to election day.
"It will be historic," she says. "It will save thousands and thousands of dogs of being bred into cruelty."
A few miles away at Palm Beach Kennel Club, the starting bell rings and eight of the fastest dogs in the country explode out of the gate. They sprint in an all-out chase for the lure and then, as quickly as it began, the race is over. The dogs bark and pace at the edge of the rail where the lure tucks away. They're unaware of the longer, larger race that surrounds them -- the one for the future of the sport. Their fates, along with those of all involved, now rest with voters.