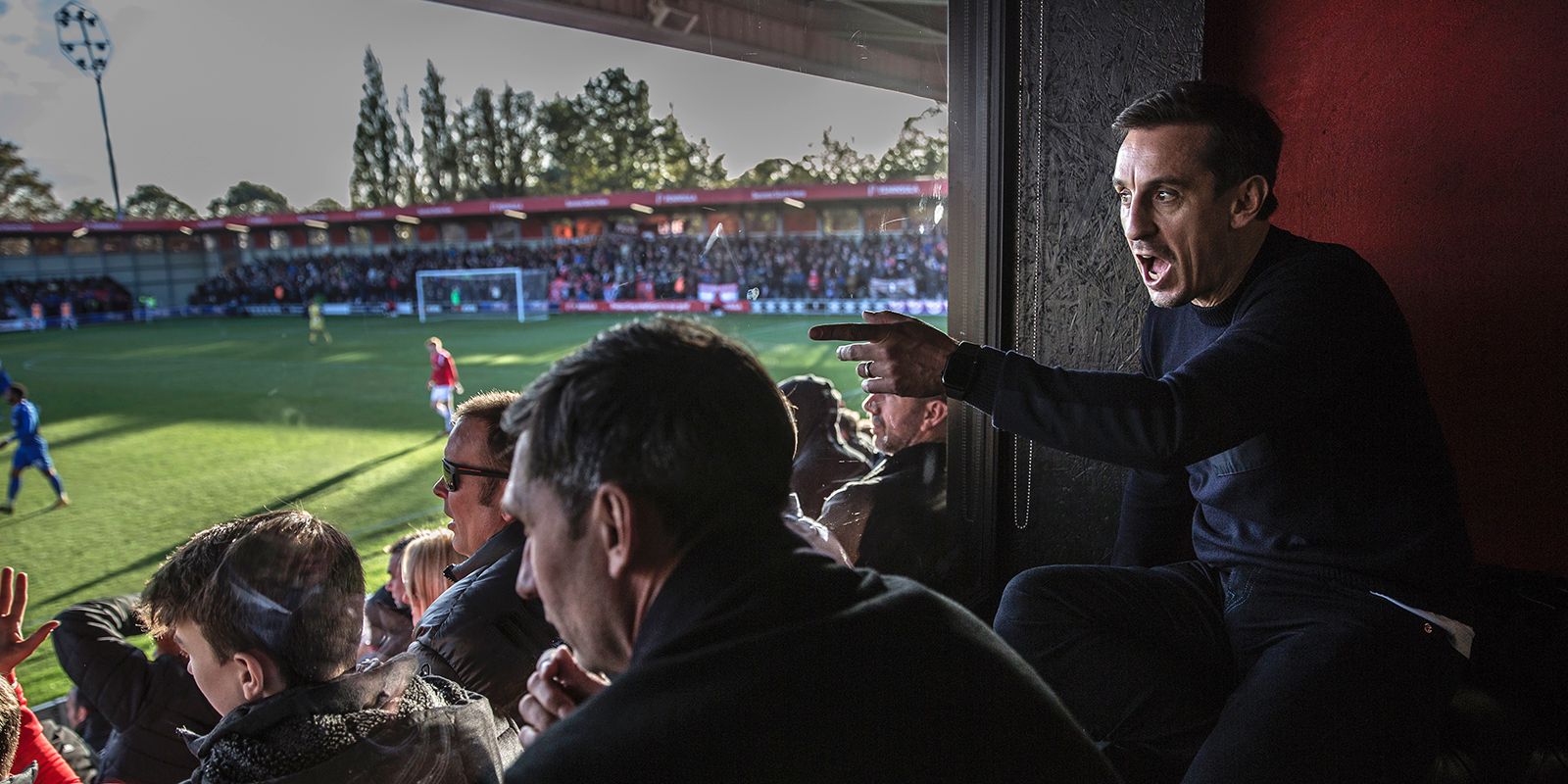 Man United legends dream big with Salford City FC
The Class of '92 made their names at Old Trafford. Now they're trying to take a tiny, working-class team to the Premier League.
This is an ESPN FC feature.
Gary Neville is getting agitated. Twenty years ago, he was a crucial member of the Manchester United side that won the Champions League, Premier League and FA Cup Treble. Now, on a sunny autumn day in October, he is sitting in his usual spot, the windowsill in the executive box at Salford City's Peninsula Stadium, and smacking his hand against the glass.
Salford start the day atop the National League, in the fifth tier of English football and four promotions away from the glamour of the Premier League -- considering that only 49 teams have ever played in the top tier, it had might as well be another sport. The team is being held 1-1 by lowly Ebbsfleet United, a club that until recently was owned by 27,000 online fans.
"Nooooooooo!" Neville shouts, as possession is lost again and the visitors go close to scoring a second.
Salford (for the uninitiated, it's not "Sal-Ford", it's "Sol-ford") have been on quite the roll. They won promotion from the National League North last season, their third rise in four years. But it's a tight race with former Football League clubs such as Wrexham and Leyton Orient vying with Salford and similarly ambitious and well-funded outfits like AFC Fylde, Harrogate Town and Solihull Moors for the title.
"Fylde are losing 3-0," Neville tells Chris Casper, Salford's sporting director and a friend dating back to the pair's time together as trainees at Manchester United in the early 1990s. "Oh hang on, they're winning," Neville says after checking his phone before shaking his head and exhaling heavily at the realisation that Salford's promotion rivals are also on course for victory.
The former Manchester United captain is a co-owner of Salford, with a 10 percent stake. His brother Phillip, Paul Scholes, Ryan Giggs and Nicky Butt -- all members of Manchester United's famed Class of '92 crop of homegrown stars -- also each own 10 percent, with Peter Lim, the Singaporean billionaire, owning the remaining 50 percent (he also owns Valencia, where both Nevilles have worked in the past).
"He [Neville] is a nightmare to watch a game with," Scholes says. "He's an emotional wreck."
"We want it to go as far as we possibly can and the model that Bournemouth have looks achievable to me."
- Paul Scholes
Neville is consumed by every kick. Scholes and Giggs are away on holiday, while Butt works for United as head of the Academy and Phillip is the head coach of the England women's team, but the five regularly watch together. When they bought Salford in 2014, the club was languishing in the Northern Premier League Division One (North) -- eighth tier in the English football pyramid -- attracting crowds of 300 to their tiny Moor Lane stadium, which was virtually all-standing save for a small concrete seated stand built in the 1950s.
Stadium improvements funded by the Class of '92 have transformed the ground, with all four stands newly built into a 5,100-capacity arena and adorned with modern seating, executive boxes and corporate hospitality. Everything is so new that you can still smell the fresh paint. More construction is planned, with temporary cabins serving as dressing rooms for the players. The color scheme is all red, white and black -- not a mini-Old Trafford, per se, though the connections to Neville's old stomping ground are hard to ignore.
Salford's training ground is a mile away, as the crow flies, from Manchester United's Carrington training ground and about 5 miles from Old Trafford, but Salford is the here and now for Neville, Scholes, Giggs & Co. It's a working-class city, once a powerhouse built on mining, dockyards and heavy industry, captured in the "matchstick men" paintings of Salford-born artist L.S. Lowry --appropriately, the team runs out to "Dirty Old Town" by The Pogues. It's also the home of The Cliff, the legendary Manchester United training ground where the Busby Babes developed and became the team that crashed in the 1958 Munich air disaster, which killed eight, just when they were hitting their dominant prime.
The Class of '92 also took their first steps at The Cliff but now they have the Premier League on their radar, encouraged by the growth of their fan base. The original hard core of 300 fans has increased to more than 2,500 after the three promotions. "In our year four business plan, we had budgeted for crowds of 750," Neville says. Salford also have a women's team and a thriving academy (the youth team are in the FA Youth Cup second round for the first time in the club's history this month). The first-team has an FA Cup first round replay against League One side Shrewsbury Town on Nov. 20; victory would put them in the second round for just the second time in club history, and potentially 90 minutes from a tie with a Premier League opponent.
Even though the season is just 19 games old, with 27 fixtures remaining, Salford are knocking on the door of League Two, the basement division of the football league. "We need to get into the Football League," Butt said at the time of the takeover. "Once we are there we can reach for the stars." If they get there, next comes League One, the Championship and then, finally, the Premier League. Impossible? You only need to look at AFC Bournemouth for inspiration. When Eddie Howe took charge as manager 10 years ago, they were one spot off the bottom of the fourth tier. This season they are pushing for the top six in the Premier League.
"You'll probably laugh here, but I think about Bournemouth," Scholes says. "At the start, I'd say the ambition was to get to the Football League, but you're not going to get to the Football League and be like, 'That's it everything's done, we don't care anymore.' We want it to go as far as we possibly can and the model that Bournemouth have looks achievable to me."
---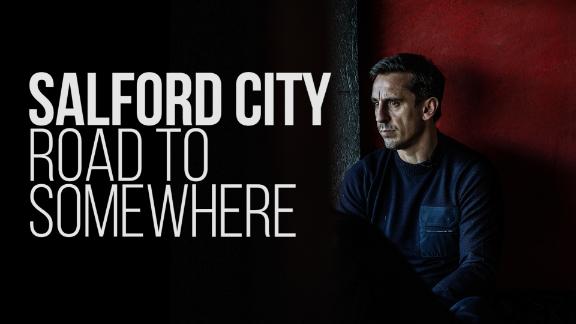 SOME SALFORD SUPPORTERS GRUMBLED when the Class of '92 changed the team's badge and colours from tangerine-and-black to red-and-white. This is a tough, uncompromising city; Salfordians speak their mind as Scholes, Salford-born, regularly proves in his post-retirement role as a pundit. But during the four years of Neville & Co. ownership, any resistance -- it was minimal -- has melted away, with the group focusing on building links to the local community, developing youth talent and offering affordable ticketing. Adult admission is £10, with entry just £5 for under-16s and over-60s. Kids under 5 get in for free, and the sense of carnival, with face-painting, colourful banners and a "walk anywhere" mentality within the grounds, all add to the feel of a club in sync with its fans.
"The good thing for me is that you see kids wearing Salford shirts now," Scholes said. "You'll always see [Manchester] United shirts around here, but people are embracing the club."
In April 2018, the group launched Foundation 92, an independent charity focused on improving the lives of people with an emphasis on physical and mental wellbeing and supporting those experiencing homelessness or young people who have committed offences. "It's something Gary, Phil, Paul and Nicky and I have been working on for some time," Giggs said. "This helps to realise our ambition to give something back to the community through a sport that has served us so well."
So why Salford and not Manchester United?
The Class of '92 did well out of their playing careers. All five members won multiple Premier League titles and cups and were key figures in Manchester United's Treble success. They are millionaires, handsomely rewarded for their contributions under Sir Alex Ferguson. Despite their old manager's determination for them to remain part of the fabric of the club, only Butt now works for United, as head of the Academy.
In terms of buying a football club, United was never a realistic option. Worth over £3 billion, the world's most valuable sporting franchise is beyond the Class of '92's financial reach. With all of them harbouring a desire to remain in football and give something back, they clubbed together to buy Salford. It made sense. Scholes was born there, Giggs raised in nearby Swinton, with the two Nevilles from neighbouring Bury. That said, did they have to invest in a club so far down in the English pyramid?
"To be honest, with the money we've spent [in the millions] we could have definitely taken over a club in League One or League Two in the local area, there's no doubt about that," Neville said. "But we felt that, when you're going into a club that's already established, the clubs that we are close to like Oldham or Bury..."
Scholes interjects: "There isn't much you can do with them. It feels like it's, I know it's not a brand new club, but it feels like it is going to be a brand new club. This is the start of something we are trying to create."
Karen Baird has seen the transformation first hand. The chartered accountant became Salford chairman -- she prefers chairman to chairwoman -- in 2013 after initially fulfilling the role of treasurer. "I knew the old chairman from the local pub," she says. "The club were three years behind with their accounts, so he asked me to help out. That was it. I've been here ever since."
The Class of '92 retained Baird, who runs the club on a day-to-day basis, although as a lifelong Liverpool supporter, working with five Manchester United legends doesn't come easy. "I would have preferred it if Robbie Fowler had bought the club," she says, perhaps only half-joking.
---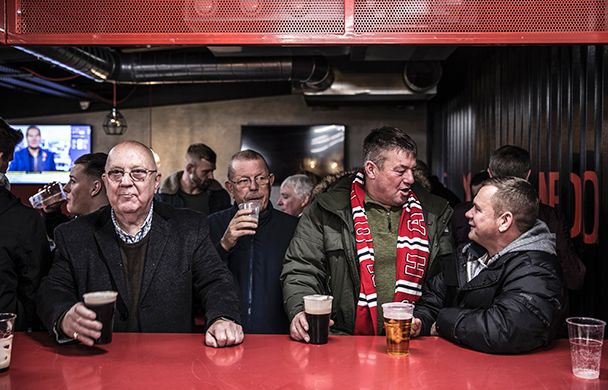 THE ENGLISH FOOTBALL PYRAMID allows dreamers to dream. The 20-team Premier League is the tip, with a 72-club Football League beneath it. Then you have the National League, with regional feeder leagues below that. With at least 22 teams per division at that level, Salford were almost 200 positions away from Manchester United when the Class of '92 arrived. Now the gap is less than 90; their accelerated progress brings to mind the rise of Wimbledon, who once made the climb from the non-league to the top division in nine years in the 1970s and 1980s.
Salford still have a way to reach the Premier League, but they also started from a lower level than even Wimbledon. Fleetwood Town, now in League One -- the third tier -- have made a similar rise from the lower echelons thanks to the backing of a millionaire owner, while Bradford City, Swansea City, Bournemouth and Fulham have climbed from the Football League's basement division to the top flight since the Premier League began in 1992-93.
Yet Salford's success hasn't been welcomed by everyone. The involvement of Lim, who also owns Spanish club Valencia after failing with a £320m takeover bid for Liverpool in 2010, has led to the inevitable charge that the club is "buying" their way up the pyramid.
Lim's associates describe his investment as "philanthropic interest in youth development," and he has a relationship with the Class of '92 that dates back to his previous ownership of United-themed cafes in the Far East. He also owns a majority stake in Hotel Football, which overlooks Old Trafford and is part owned by the Class of '92, and he appointed Neville as coach of Valencia during the 2015-16 season. But with each promotion for Salford, the criticism becomes louder. Ebbsfleet supporters chanted, "You can stick the 92 up your a---!" during the 1-1 draw last month.
Neville even became embroiled in a public spat with the Accrington Stanley owner Andy Holt earlier this year after he accused Salford of "trying to steal" a Football League spot following the summer signing of striker Adam Rooney for a reported £300,000 from Scottish Premiership club Aberdeen.
"We've been called many things," Neville says. "The Man City of non-league, that we're ruining football, yada yada. I always take criticism as a compliment. If I took criticism as criticism, I wouldn't be here! [Holt] is the owner of the football club at Accrington and he accused us of stealing the place from a club that really deserved it. Well with respect, Chelsea and Manchester City would have never won a Premier League title if there hadn't been that budget increases at those clubs."
"Are we now saying that basically the same club every year should win the league," Neville continues, "or we shouldn't have a pyramid system, where clubs come up and down and that new clubs can't go up to the very top? If we remove that in English football we would have removed everything. We may as well just set up in the MLS and have a franchise."
Even Manchester City seem irked. When the Premier League champions tweeted a list of 13 local non-league fixtures last month in support of National Non-League Day, they conspicuously failed to include Salford's home game against Braintree. Neville, never one to miss a chance to bite back, simply replied with a laughing emoji.
---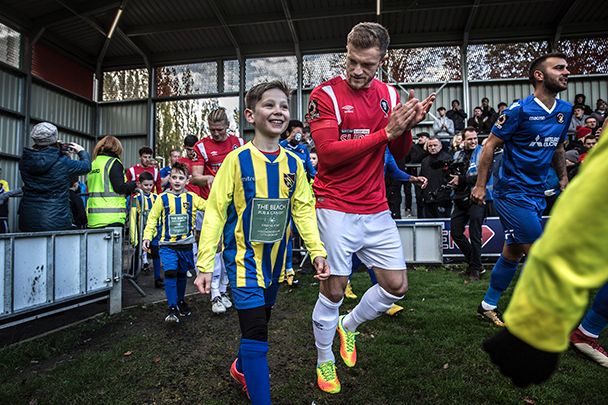 SALFORD CITY ARE NOW a full-time operation, far removed from the part-time outfit that the Class of '92 acquired four years ago. Back then, the club was run by volunteers and the squad formed by players who would supplement income from full-time jobs -- painters, decorators, firemen -- with an extra £100-200 in appearance money from Salford. "We lost some players because they didn't want to give up full-time jobs that they have had while having a semi-professional career," Phillip Neville said. "It meant we had to sign a lot of players -- 10-12 -- but it was a necessity for us to challenge for our ambitions."
Gareth Seddon was Salford's statement signing in 2014. A former professional with Bury in the Football League, he had become a prolific goalscorer in the non-league, earning good wages to top up his off-field earnings as a fitness instructor and part-time model. "Everyone said we were paying Seddon £800 a week," Neville said. "But he was actually on £400. Everyone always gets our wages wrong."
Seddon was signed to score the goals that would ignite Salford's success and he delivered.
"I remember when Gary called me," Seddon says. "I thought one of my mates was taking the p---, but it was him and he told me all about the plans for Salford. He said they were fully focused on a 10-year plan to get Salford City into the Premier League. It might sound ridiculous, but look where they are now after just four years.
"I remember my first training session," Seddon continues. "Scholes and Giggs joined in and I'm just stood there thinking, 'This is surreal!'"
Seddon admits that Neville's ultra-professional drive did not always sit easy with a group of players juggling their 9-to-5 jobs. "I was offered a modelling job in Germany which meant I'd have to miss a game," Seddon says. "It was worth a few thousand pounds and was big money for me, but I don't think Gary initially realised why I had to prioritise that. He'd been a successful footballer for 20 years, so I had to make him understand what a few grand meant to a part-timer like me. He wasn't happy, but I think he got it eventually."
Like all of his teammates in those early years, Seddon has moved on. Rooney, the big-money signing from Aberdeen, is here to take Seddon's place, while the academy is producing young players who will soon be capable of challenging for a place -- perhaps even generating Salford's own version of the Class of '92. "Salford and this area of the north-west is a real hotbed for young players," Casper, the sporting director, says. "And I'd like to think that we've got young players on the fringe of the first-team that will get an opportunity."
Once there, they'll be under the direction of manager Graham Alexander. He played in the Premier League with Burnley and managed in League One with Scunthorpe before dropping down to Salford. "That [dropping down] was the biggest hurdle for me," Alexander said. "But to not take this opportunity, I think I'd have been missing out on something."
---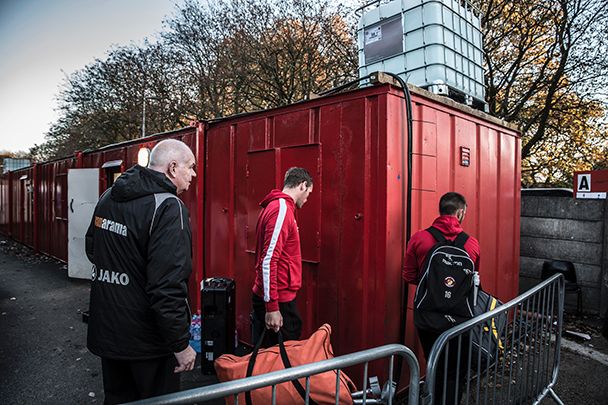 THE CLASS OF '92 have a monthly meeting to discuss their plans for Salford. The group of five have just wrapped up a 90-minute session in a side-room at Partington Sports Centre, a basic, public facility officially opened by Sir Alex Ferguson years ago. The atmosphere feels like the old changing room at The Cliff when the group were teenagers, mercilessly goading each other as only close mates can.
Scholes has arrived late for the meeting after navigating the notorious Manchester rush-hour traffic. Neville asks him if he has read the latest report. Scholes shrugs and rolls his eyes. "You were talking to Phil for about five minutes while I was speaking and trying to organise something," Neville tells Scholes, chiding his old teammate. "You're muttering in the corner, not listening, not interested."
Scholes, arms folded and leaning back in his chair, hits back. "We have meetings and nothing happens, nothing gets decided," he says. "We've just had a meeting there for an hour and I don't know what's happened. The only thing I've gauged is that we need a third centre-forward. That came out of an hour. You could have just texted me and told me that!"
"My view is that it was a fine meeting," Neville responds with a smirk.
This is no bad-tempered exchange of views. Neville and Scholes know how each other ticks, and the same applies to Butt, Giggs and Phillip. Between them, their combined personalities have helped breathe life into a previously unremarkable and inconsequential football club, so heavily in the shadows of Manchester United, Manchester City and the other local league clubs that Salford was only ever mentioned in a sporting sense when the city's rugby league team pulled off a memorable result. Times are changing, though, and Salford City is a club on the rise. Promotion to the Football League if, or more likely when, it happens will be a major milestone. Giggs is expecting a race to the wire.
"It will go all the way," he says. "We play Wrexham twice over Christmas, so they're going to be really important games."
"If we can get into League Two, our average crowd will go up to 3,000-3,500," Neville says. "If we went to League One it would 5,000-plus. If we went to the Championship, I think we would be near 10,000. We're miles away from that, but you can see the trajectory now over the four years of evidence that we've got from where we've come to where we are."
But Neville is never satisfied. Salford's adventure consumes him. "I wake up in the middle of the night, thinking," Neville says. "I'm always imagining."
Ogden is a senior football writer for ESPN FC. "