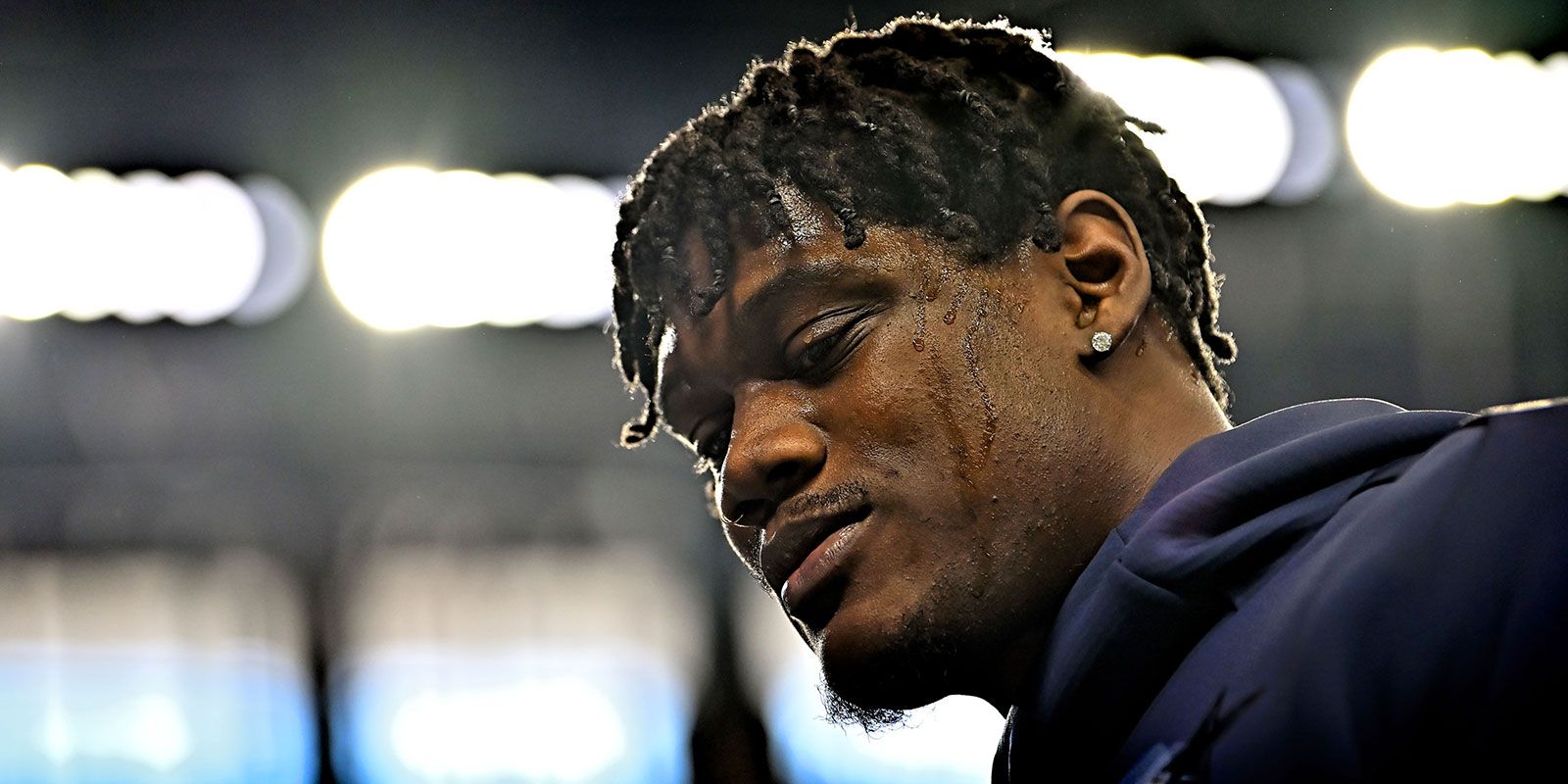 'I was just in a real bad place'
Dallas Cowboys pass-rusher Randy Gregory bottomed out a year ago and sought help for depression, drugs and other issues. Today, he is playing football again, fighting to stay clean and help his team to the playoffs. It's December, and there's hope.
Just after dawn, in the middle of a relapse last winter, a fleet of dark SUVs rolled up and took Randy Gregory away. He was half-awake and had been partying the night before, so his recollection of the details probably isn't exact. He remembers about 15 men, most of them clad in dark suits. They looked like the feds.

The men worked swiftly, ushering him into one of the SUVs bound for the airport. They did not give him time to pack.

Gregory, once a promising defensive end for the Dallas Cowboys, had spent the better part of 2017 underground. He had been suspended from the NFL for repeatedly violating the league's substance abuse policy, was still smoking pot and had very little chance of ever returning to the NFL. In early December 2017, he sent a text to his lawyer:

" ... I'm a 25-year-old pro athlete with no friends. No income/job. Can't make my own decisions or go as I please. Have to check in with everyone for approval ..."

He couldn't go home because his relationship with his soon-to-be ex was disintegrating, and he couldn't be with his 2-year-old daughter, Sophia, the one perfect thing in his life. He could not see his coaches or hang out in the locker room because NFL rules prohibited him from being in the facility.

He had taken his belongings and moved into the Hyatt House, an extended-stay hotel four minutes away from the Cowboys' headquarters. He would sit at the hotel bar, drink Coronas and wonder what could have been. He had lost roughly 40 pounds from his 6-foot-6 frame, making him look more like a shooting guard than an NFL player. One day, a bartender asked whether he was a ballplayer, and Gregory flashed an embarrassed smile. He didn't really know who he was.

His lawyer, Daniel Moskowitz, had been on his case to check into a rehab clinic in Southern California. Moskowitz booked flights, but Gregory resisted. Moskowitz tried the good cop route first, sending texts saying encouraging things like, "You're better than this, Randy." But eventually, the words devolved to, "You're f---ing going!"

Moskowitz watched from a distance when the men in the dark SUVs came for Gregory. Moskowitz will not say who they were. "I made an extreme call," he says, "and the cavalry came."

"The cavalry" took Gregory to a flight to California, where he spent more than six months in a rehab center and a sober-living house. He acknowledged his addiction and mental-health issues and worked to get sober. Today, he is back in the NFL, on a Cowboys team surging toward the postseason.

Moskowitz says Gregory is a great American comeback story. "It's f---ing 'Rudy' on steroids," he says. But for now, let's take his four sacks, 15 tackles and the sight of him exploding off the edge for what it is, a hopeful start. Gregory's story isn't just about where he has been; it's where he still has to go.

Tonight, he will go home, to his apartment near the Cowboys' facility, and he'll probably run into his accountability partner, who lives with him. Gregory will be drug tested frequently this month, possibly as many as 10 times. His status as an active NFL player is tenuous. Another slip-up and everything could be gone.
---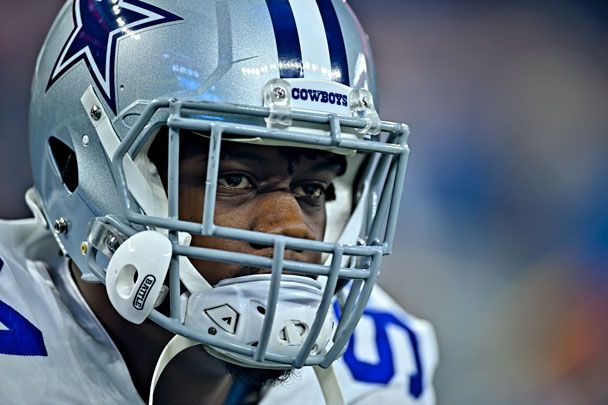 The first time Randy Gregory tried marijuana, he was a senior in high school. He'd skipped a basketball practice shootaround, gathered with a bunch of giggling teenagers and took a hit. They went to McDonald's afterward, to cure the munchies, but Gregory realized that he was not high or even buzzed. He didn't feel a thing.

He tried it again a week later, with much different results. "I was stuck standing," he says. "I felt like if I moved, I was going to float away."

He eventually found comfort in that feeling, of things slowing down. He would eventually smoke marijuana by himself, believing it made him feel more normal.

From the outside, "normal" is a word that could be used to describe Gregory's childhood. He grew up in a supportive home, with a mother who ran pass drills with him in the yard and a father who played football at Northwestern. Ken Gregory went on to a successful business-consulting career in the medical field, and the only downside to his promotions was that it meant the family was often on the move.

They shuffled to Alabama and Florida and Tennessee and Ohio and Missouri and Indiana, and oftentimes when Randy walked into a new classroom, he didn't see many kids who looked like him. Each place carried a common theme: That Gregory didn't fit in.

The move to Ohio was particularly hard. He was about 8 years old. He wanted to look good for his first day in school, so he got a haircut at a barbershop. The clippers gave him an infection that left a large bald spot in the back of his head. And when he sat at his desk, he could hear the children behind him, laughing. He couldn't understand how the same kids who picked him for football at recess, because he was good, would turn around and tease him and beat him up later.

"They would do things that would affect me physically and mentally," Gregory says. "I wasn't always 6-6. I was always taught to defend myself, but I was never one to look for trouble. I never understood why kids would mess with me."

Years later, a doctor at one of the treatment centers Gregory attended as an adult would say that Gregory experienced post-traumatic stress disorder from the bullying. He also has dealt with self-esteem issues, depression, anxiety and panic attacks.

His father did not know that he was struggling. "The funny thing about him," Ken Gregory says, "is that he was so good at everything he did." Randy was smart. He procrastinated, sure, but he always got by. Every sport he played, he was a natural. He would pick up a golf club and hit it better than any adult in Ken's foursome. He won the first wrestling meet he ever competed in when he was 8 or 9. It was at that meet that Ken got a glimpse of Randy's struggles.

"He'd been presented his trophy," Ken says, "and we were in the locker room, just me and him. And he kind of had what I would describe as a panic attack. And it baffled me. I was like, 'Son, it's OK, you don't have to worry about this anymore. You won.' Years later I look back on that day saying, 'Was that the first sign that he was really struggling with some anxiety?'

"You question yourself. What could I have done better? What did I miss? You question everything."

The bullying abated by eighth grade when the Gregorys moved to Fishers, Indiana, a fast-growing suburb of Indianapolis. A growth spurt made Randy bigger and stronger, and the change of scenery offered a clean slate. The kids at Hamilton Southeastern High School didn't know about the bald spot, the torment or his fragile confidence. Gregory could dunk a basketball and terrify quarterbacks. How could he not exude confidence?

Gregory was tardy a lot, especially his senior year. In 2011, he signed a letter of intent to play at Purdue, about an hour away from his new hometown. His SAT scores were good enough; his grades weren't. "Senioritis," he'd later tell a reporter doing a pre-draft story on him. Gregory would have to go the junior college route, to Arizona Western College. He was on the move again.
---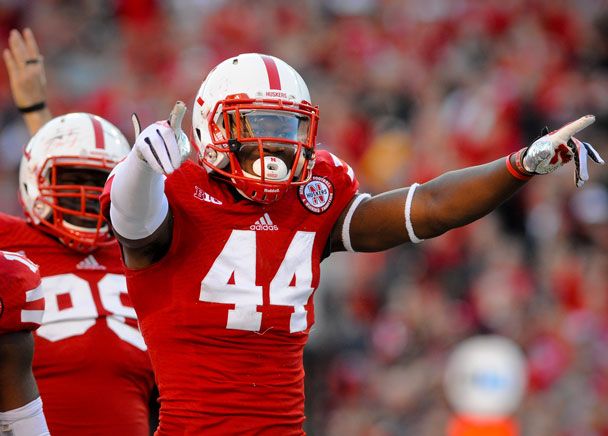 Before he left for Yuma, Gregory decided he would stop smoking pot. He was going to college now, his future was right in front of him, and he needed to focus on his grades and football. But once again, he did not fit in.

Many of his teammates did not have a mom who played football in the yard or a dad with a job that could keep his family in the suburbs. Some of his teammates were, well, pretty rough characters. They came from rough backgrounds.

"It was like I'm too proper for the black kids and too black for the white kids," Gregory says. "It was a different breed of guys, and a lot of times there I would be smoking by myself just to kind of get away from people."

He had nine sacks his freshman season and helped take the Matadors to the national championship game. Though he broke his leg the following season, the University of Nebraska's interest didn't wane.

Gregory arrived in Lincoln in August 2013. His first time on the field, the Cornhuskers ran a five-man blitz, and the offense completed a slant pass on a hot read. Gregory was dropping into the boundary, chased down the ball and caught the receiver. Nebraska's coaches looked at each other in wonderment.

They went up to Gregory and told him that it was a hell of a play. An NFL play.

"He looked at us like that was what he was supposed to do," says former Nebraska defensive line coach Rick Kaczenski. "I don't think he understands he can do things that other people can't do."

Kaczenski calls Gregory a once-in-every-20-years talent -- fast, explosive and unbelievably fluid for a 6-6 frame. And he was tough, Kaczenski says, playing through the 2014 Holiday Bowl with a knee injury, turf toe and a sinus infection.

Gregory picked up the Huskers' defense so fast that first season that he led the Big Ten with 10½ sacks. He also reportedly failed two drug tests while he was there. But that would not be a deal-breaker when Gregory decided forgo his senior season to enter the 2015 NFL draft.

Let's face it: Young men, including young football players in the NFL, smoke marijuana. In a 2016 ESPN NFL Nation confidential survey, nearly a quarter of those polled said they knew of an NFL player who smoked marijuana before a game.

Gregory says he smoked every day during his pre-draft training in Atlanta, and he wasn't alone. One of his NFL-bound training buddies smoked right along with him. Gregory was making around $6,000 a week, and how cool was that, getting paid to work out? "I'm thinking I'm like a big baller," he says. He would wake up at 6 a.m., train and be finished at noon. He'd go to the mall and smoke the rest of the day.

He and his friend, who Gregory won't name, got some solid advice: They needed to stop smoking a month away from the combine to avoid testing positive. The friend stopped at the one-month mark. Gregory decided to push it a little and waited an extra three or four days. His friend did not test positive for marijuana. Gregory did.

And so started the pothead jokes and the smoke-filled memes. He was hurt by the critics who called him stupid and annoyed by the ones who suggested that he actually blazed up during the combine. (He said he didn't smoke at the combine.) He is convinced that the positive test isn't what turned teams off. No, Gregory believes a pre-draft questionnaire did him in. It asked whether he had ever been depressed or thought about killing himself. Gregory checked "yes" for both.

"I was honest about it," Gregory says. "There are teams that took me off their board because they're like, 'This kid's not here.' Or he's got issues."

He acknowledges that he made some bad first impressions, like the missed interview with the Oakland Raiders because he fell asleep at the airport gate. He headed to his next stop, San Diego, but his luggage headed to Oakland. The Chargers gave him some clothes to wear, and in hindsight, it probably wasn't a good idea to show up for the next interview in Arizona wearing Chargers gear.

The mock drafts that projected him so high had him plummeting now. Some teams took him off their boards.

"You could tell he's a big marijuana guy," says one NFL decision-maker who spoke on the condition of anonymity. "He couldn't stay focused. His eyes were everywhere. And I felt bad for him. ... But I would not draft the guy no matter what after I got done with the interview.

"The tape said yes; the interview said no."

Despite the free fall, Gregory insisted on attending the draft in Chicago. Ken and Mary Gregory accompanied their son. He was the last one in the green room. At 9:09 p.m., as the first night of the draft wound down, Gregory sent a text to Cowboys coach Jason Garrett.

Gregory felt as if he had connected with the Cowboys. In the weeks before the draft, he had a heart-to-heart talk with owner Jerry Jones.

"He cried," Gregory says. "He said, 'I know what it's like to be publicly scrutinized.'"

Dallas selected him the following day in the second round, with the 60th overall pick. Gregory says the coaches printed out the text he'd sent Garrett on draft night and have reminded him about it over the years.

"... I learned from this," the text said. "I know players say things like this all the time, but with everything going on, I can really see how this can all go away in a minute. ... I know you can help me be great. Please believe in me!"
---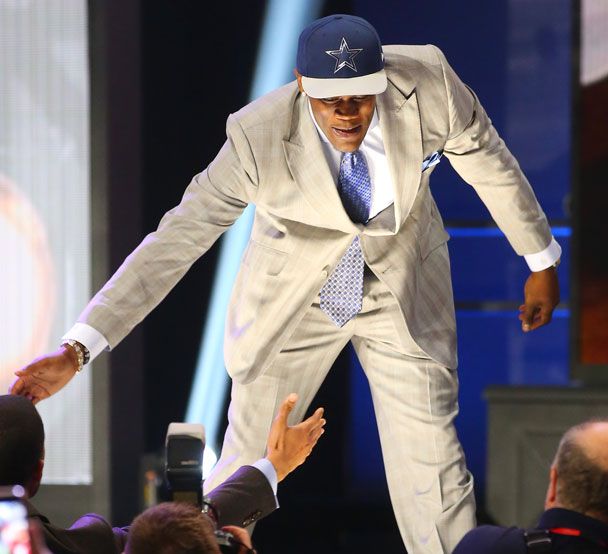 Gregory wanted to live up to his pledge. He flashed great promise at the start of his rookie year. He had three sacks in the preseason, and on opening day against the New York Giants, he applied pressure to Eli Manning three times in just 18 snaps. But he suffered a high-ankle sprain in the fourth quarter, was out for a month and did not look the same upon his return.

He didn't record his first tackle until week 10 of the 2015 season. He was not one to open up about his disappointment.

"I don't want people worrying about me," he says. "If I'm in a f---ed-up mood, I want to be in a f---ed-up mood by myself. That's where the isolation comes into effect. It probably doesn't help."

In February 2016, Gregory was suspended four games for violating the league's drug policy. He failed another drug test a couple of months later and was suspended 10 more games. In November 2016 came another failed test. This time, he was facing at least a yearlong ban.

Dr. Vernon Williams, director of the Center for Sports Neurology & Pain Management at Cedars-Sinai Kerlan-Jobe Institute in Los Angeles, says that young adulthood is often a time when depression and anxiety emerge. Williams says that young professional athletes also face many mental health stressors such as new financial responsibility, travel, disordered sleep and intense scrutiny on social media.

"They often have pain because of injuries, so there's kind of this perfect storm in that period of life where they may be subject to emotional and psychological issues," Williams says, "and it's right at the same time when there's this increased availability of marijuana. Most people use it in the company of others, so it's kind of a personal storm."

But Williams, who also is the team neurologist for the Los Angeles Rams, says that marijuana can actually exacerbate mental health symptoms. Street-use marijuana, he says, often contains higher levels of THC, which "can contribute to cognitive impairment, it can contribute to other mental-status changes and possibly contribute to anxiety. There's a mixed picture there," Williams says, "and a potential for depression, as well."

Gregory had previously tried to quit drugs during his NFL banishment. He went to a renowned rehab clinic in Texas in the summer of 2017. He was stripped of his cellphone -- he needed to get rid of the bad influences in his life -- and was handed a flip phone. He was an inpatient with a number and placed in the Professionals In Crisis program. He estimates that he was the youngest person in the group.

Gregory was supposed to make $781,813 in base salary that year. He was in Texas, but a planet away from football. For as many keyboard critics who belittled Gregory, none of them was as critical as Gregory was on himself. He did not think he would ever play again. He did not think he was deserving of happiness.

Still, lawyers and agents would call Gregory's parents, offering their services. Gregory didn't want to spend what little money he had on an attorney, and he certainly didn't trust any of them.

In the spring of 2017, Moskowitz reached out to the Gregorys. And by that summer, Moskowitz had his first meeting with Gregory in a mall in Houston.

"He had a level of confidence about him," Gregory's father says of Moskowitz. "It was almost like he was saying, 'I know I can do this. I can't promise you anything. The only thing I can promise is that I'll work my tail off to make it happen.'"
---
Daniel Moskowitz has dealt with anxiety and fear. He has attention deficit hyperactivity disorder, goes days without sleeping and thrives in chaos. In the spring of 2017, he got Arizona Cardinals linebacker Daryl Washington reinstated after a three-year suspension from repeated violations of the NFL's drug policy. Growing up as one of the only Jewish people in Marion, Virginia, Moskowitz says he understands what it's like to feel different.
Gregory was in the middle of a rehab stint when he met Moskowitz. "Look, man, I'm going to be straight up," Gregory told Moskowitz. "If you f--- this up, my mom's gonna kill you."
Moskowitz showed up at the treatment facility nearly every day with fast food. If visiting hours ended in 20 minutes, he would stay two hours. They would develop an unconventional attorney-client relationship, bickering like a married couple, with Moskowitz becoming invested in Gregory's recovery.
Example No. 1: When Gregory started spiraling in late 2017, he asked Moskowitz to stay with him because he didn't want to be alone.
Agent Blake Baratz calls Moskowitz "diligent," "passionate" and a "savant." The NFL's substance abuse policy is complicated, Baratz says, and can leave offenders feeling isolated and abandoned.
"[Moskowitz] sees something wrong and he wants to fix it," Baratz says. "I just think [with people] like Randy, when they get to the point when they're suspended a year or two years, and they have to follow all these rules and regulations, they don't really have anyone guiding them that's experienced in the drug program, that's experienced in the legal side of things. So they kind of get abandoned.
"If you've got a guy who's smoking weed every day and all of a sudden you take away the one constant in their life, you don't have to be a rocket scientist to say, 'Well, he's probably not going to get out of that rut.'"
When Gregory completed his 2017 Texas rehab stint, he had so much anxiety that he was shaking on the drive back to Dallas. "He was very scared to go back," Moskowitz says.
One of the first things Gregory needed was structure. He took a marketing job at Genesco Sports Enterprises. One day, Gregory made an attempt to bond with his coworkers by offering to pick up the tab for their drinks. When he went to pay, his card was declined.
Everything in his life seemed to be a failure. He had no money and no hope, and he became consumed with negative thoughts.
"I was just in a real bad place," Gregory says.
Moskowitz had one request for Gregory: If he started smoking again, please tell him. But by December, Gregory wasn't just smoking marijuana. He was out of control.
---
This time, Gregory had a support system to guide him. He wouldn't just go to inpatient treatment for 60 days and then leave and hope that it took. He'd have safeguards to help ensure his sobriety. He'd move into a sober-living house and go to daily meetings and psychotherapy sessions.
He admitted he was an addict, and put his fears and regrets down on paper. He estimated that he'd lost millions, and regretted that he wasn't the father he knew he could be.
Inspiration sometimes comes from unexpected places, and one of the people who had a big impact on Gregory in California was Mike Ornstein.
Ornstein, who was at the center of the Reggie Bush extra-benefits scandal, told him that life is not defined by the mistakes you make but by the people who you help.
There is symmetry in the fact that Ornstein and Gregory's agent, Steve Weinberg, helped get him back in the league. Weinberg was decertified and barred by the NFLPA for about a decade. And now here they were, two guys cast away from the NFL, helping Gregory's comeback.
While Gregory was in Los Angeles, Moskowitz put together a 2,000-page petition for reinstatement. The paperwork filled six boxes. In June, NFL commissioner Roger Goodell granted them a meeting in New York.
The meeting was supposed to be at 1 p.m., and Gregory and Moskowitz were supposed to meet in the hotel lobby at noon. Moskowitz wasn't there, so Gregory went up to Moskowitz's room.
"He was sitting in front of his laptop," Gregory says, "with just underwear on, no T-shirt, s--- everywhere in the room, earplugs on. I was like, 'We gotta go, man.'"
Somehow, they made it in time. The meeting lasted about two hours.
A month after their meeting, Moskowitz was at a Jamba Juice eating an acai bowl when he got an email. Gregory had been conditionally reinstated. Moskowitz dropped the acai bowl all over the floor, and ran out to the parking lot and screamed with glee. He cried when he called Gregory.
The guy who was never supposed to play in the NFL again was going to the Cowboys' training camp in Oxnard, California.
"In Randy's case, our eyes were wide open with some of the issues he had when we drafted him," Jason Garrett told reporters during training camp this past summer. "We were committed to providing a structure around him that would hopefully help him address some of those issues and eventually be a really good player for us and be a great citizen on our team and in our community."
A spokesperson for the NFL declined to comment for this story, saying the league does not discuss specific players because of confidentiality provisions in the drug policy. In September, ESPN's Adam Schefter wrote that the NFL has become more tolerant when a player violates the drug policy, emphasizing treatment and support rather than discipline. When asked about this via email, the NFL spokesperson did not respond. Would the NFL punish the Cowboys if they were connected to "the cavalry," even if it might have saved Gregory's life? Dallas owner Jerry Jones declined to be interviewed for this story.
---
It was opening day of the 2018 NFL season and everyone was excited. Children with sparkly stars on their hats were roughhousing in the lobby of an upscale hotel in Charlotte, North Carolina. The Cowboys were in town to play the Panthers, and here was the best thing yet: Randy Gregory was going to play football in a regular-season game for the first time in 616 days. He brought a freshly pressed suit jacket and tan pants for the bus ride over to Bank of America Stadium.
Moskowitz took a seat in the hotel restaurant and ordered a breakfast befitting a man who represents legally challenged players -- a pot of coffee and a diet Red Bull.
Sometime after 10 a.m., old highlights of Gregory flashed on a TV, and then came breaking news from ESPN's Schefter: Gregory had relapsed, sources said. He could face discipline.
Moskowitz's phone immediately blew up with texts from reporters. He ignored them for a call with Mary Gregory.
"Have you been crying?" he asked her.
"Mrs. Gregory, don't cry. He's going to make it."
Gregory says he did not fail a drug test. Relapse, in Randy Gregory's ultra-controlled world, does not necessarily mean he did drugs. It could mean he skipped a treatment plan or missed a drug test. Gregory's camp won't comment on exactly what happened, but he has not been suspended for any of the Cowboys' 12 games.
He did play in the game against the Panthers, but his debut was over before halftime. He collided with teammate DeMarcus Lawrence and suffered a concussion.
Cowboys defensive coordinator Rod Marinelli says the plan was to wean Gregory back this season. In some ways, he was more behind than the rookies. He was not at OTAs and hadn't played in a game since 2016. He also had his knee scoped in October.
The Cowboys have needed him, and he has been a disruptive force on a defensive line that is considered one of the best in the NFL. He had three sacks in a four-game stretch. On Thanksgiving against the Washington Redskins, Gregory was in such an intense battle with Pro Bowl tackle Trent Williams that Williams wound up in the hospital with a bruised rib.
Defensive ends often rate their happiness and success on the number of sacks they have, and when Gregory brought down Blake Bortles in a win against the Jacksonville Jaguars on Oct. 14, his confidence soared. It was his first sack since 2016.
Cowboys defensive tackle Maliek Collins, who roomed with Gregory at Nebraska, says Gregory seems more comfortable with himself now.
"Seeing him back is a testament to his hard work," Collins says, "and the things he had to do to get better."
---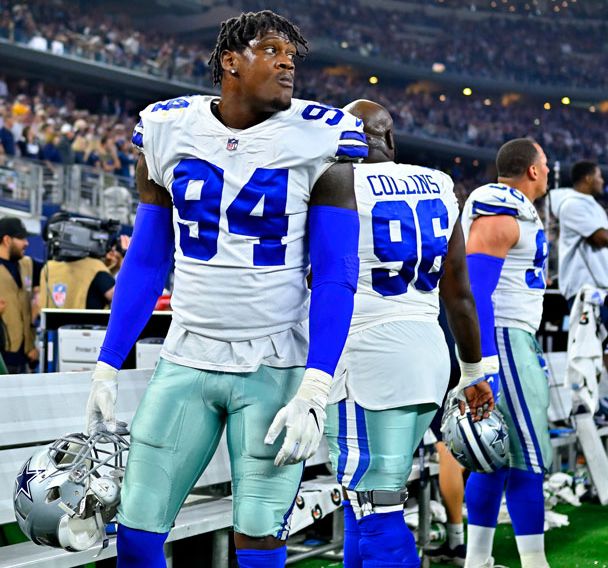 Gregory is eating steak and fried rice at the Shoji Sushi and Hibachi in Frisco, Texas, 6 miles away from the Hyatt House where he used to live. It's a festive night -- it's always festive when shrimp is flying -- and every 20 minutes or so the drums beat for someone's birthday.
Moskowitz and his boss at Gordon & Rees, Bob Bragalone, are seated at the table. Bragalone is called "Cowboy Bob" because he has one of the world's largest collections of Cowboys memorabilia. Moskowitz is wearing one of Gregory's sweatshirts, and the blue hoodie hangs down to his legs.
A guy stops at the table and asks for an autograph, and it seems to make Gregory happy. It's affirmation that he's back and that people know who he is: a ballplayer.
"Some people consider my life boring," Gregory says. "I don't. It's what keeps me out of trouble. I see how hard it was before, and I see how easy it can be for me now. Go to practice, come home, hang out. My day's pretty simple."
For now, he is back on the field. It hasn't been perfect, of course. Progress never is. Thursday night, in one of the biggest games of the season against New Orleans, Gregory was flagged for three crucial second-half penalties. Twitter erupted, fans were livid, but the Cowboys still won, and, like most things, the outrage quelled and people moved on. After the game, Gregory did not talk to reporters. He wanted to clear his head, so he got in his car and took a drive. He loves driving because it represents freedom. He drove past the stadium lights and the leaves turning brown.
Jerry Jones and Jason Garrett spoke in support of Gregory. They're not giving up on him. The calendar turned to December, the one year-anniversary of Gregory hitting rock bottom. Maybe the penalties seemed smaller. Randy Gregory is playing football again. He's drawing a paycheck, and fighting to stay clean. It's December, and there's hope.
Elizabeth MerrillMerrill is a senior writer in ESPN's features and enterprise unit. Before joining ESPN in 2007, she covered the NFL and wrote features for The Kansas City Star. She is based in the Midwest and can be reached at
Elizabeth.Merrill@espn.com
.