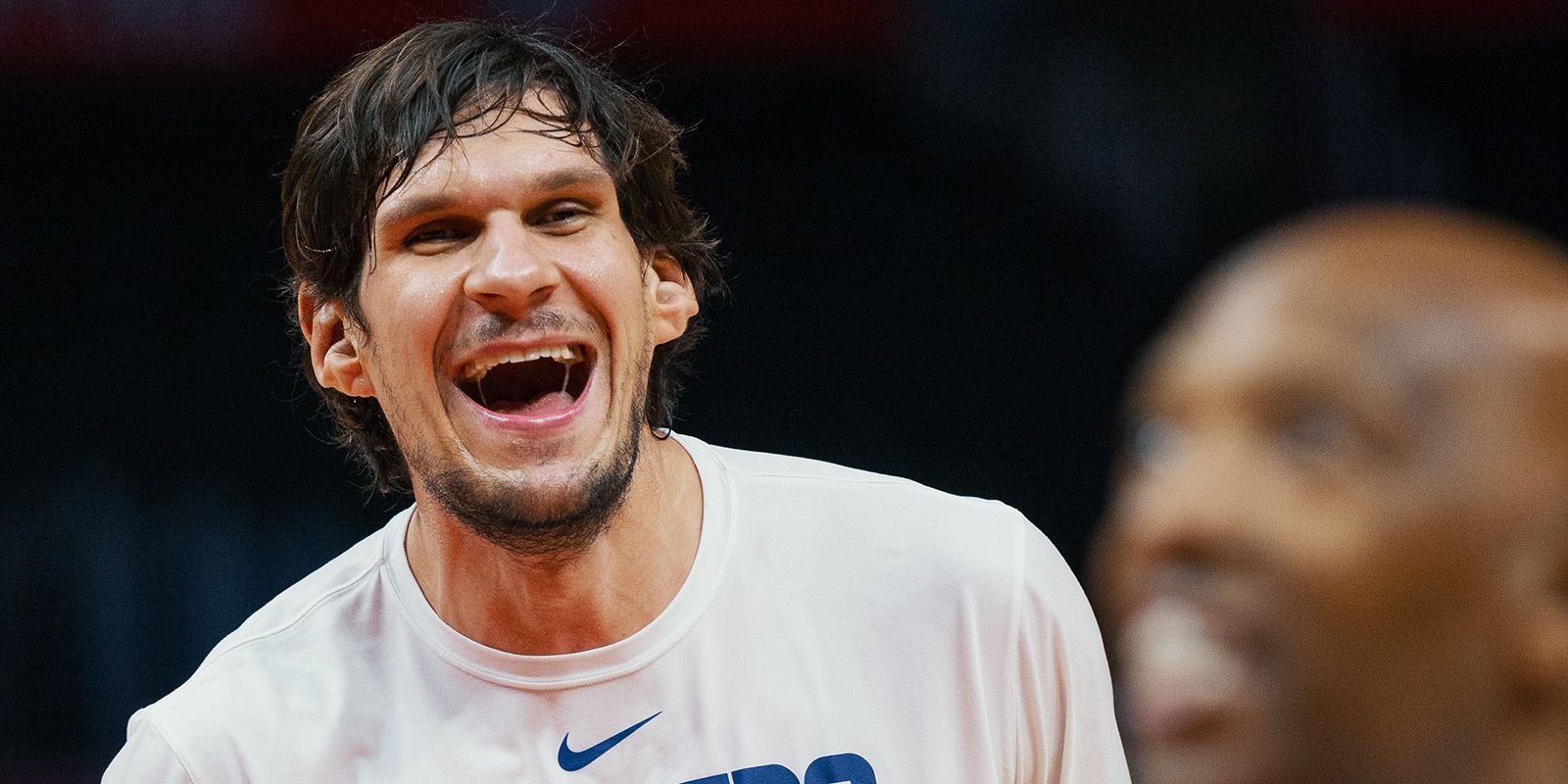 The legend of Boban Marjanovic
Boban Marjanovic is 7-foot-3 and -- no joke! -- the most efficient scorer in NBA history. He's also a career backup. Does that bother him? Less than you'd think.
B OBAN JUST BONKED his head. It happens. Not the first time, won't be the last. When you're 7-foot-3, it's a fact of life: Your head is always a collision risk. It tends to be better outdoors, but today outside the Clippers' training facility, the parking lot is filled with four food trucks and about a dozen picnic tables shielded from the Playa Vista sun by umbrellas that bloom almost precisely at Boban height.
It's an early October afternoon, two weeks before the start of the regular season, and for 15 minutes now, Boban has been going table to table, shaking hands with Clippers employees. Doc Rivers is right over here by the sidewalk. Jerry West, the NBA logo himself, is over there. Marcin Gortat is hitting up the Texas barbecue truck, then the beignet truck. Tobias Harris, Boban's best friend on the team, is getting a kale salad from the superfoods truck. Boban is hungry, his Serbia-sized stomach empty and his 290-pound body depleted -- practice just ended -- but he won't eat for a while. He'll still be out here two hours from now. He'll be the last one to leave. He'll help pack up the chairs.
At each table, people line up to shake (Boban's hand. "You gotta shake his hand!" one guy implores his tablemate. It's a little discomforting to hear someone say it aloud like that -- a little zoo-animal-y maybe -- but on the other hand, the guy is right. You really should go shake his hand. It delivers. Boban likes to cup his left hand over his right one, the one that has swallowed yours, and his palms are surprisingly soft and cool, creating an asteroid-sized cocoon with the bouncy texture of a Casper mattress. It was so nice, I wanted to crawl inside and take a nap.
Boban loves shaking hands. He gets this look every time, like, I know, right? His face has so much skin that when he smiles, his cheeks crease seven times and rise to rounded peaks like Jack Nicholson's Joker, only Boban's smile projects whatever the opposite of menace is. When something delights him, which happens often, he'll let out a high-pitched "wooooooo!" like Ric Flair opening a birthday present. At one point on his lap through the parking lot, he ducks down to greet someone and catches his forehead on the canopy, then he laughs before anyone can worry that it might not be OK to laugh.
"I got stuck on umbrella," he says, rubbing his forehead, all 14 of his cheeks reaching out and up, and everyone else laughs too.
His accent is thick, and just four years into his American basketball career, his English remains a work in progress. ("I think it's actually getting worse," one Clippers employee jokes.) It's not from a lack of practice. Boban is the largest social butterfly in human history. Imagine everyone you meet -- everyone -- being delighted by the mere sight of you. Now imagine never getting tired of it. That's Boban.
Indeed, Boban Marjanovic might well be the most popular guy in the NBA right now based on sheer approval rating. Everybody loves Boban. He has zero haters. He has melted the fickle hearts of NBA Twitter and tamed the trolls of countless NBA subreddits. He even has his own subreddit: a photo thread of Boban holding various things in his massive, perspective-warping hands. It's called Boban Holding Things. He's gone viral with a video of him doing something he and Harris call "The Chicken Soup Dance." He's gone viral for a clip of him palming the ball over Anthony Davis' head and Davis, who is 6-10, swatting at it helplessly until he realizes Boban is messing with him and he starts to laugh. He's gone viral for a photo of him standing next to Kristin Chenoweth, who, standing, reaches Boban's waist. This past summer, he co-starred with Harris in the year's best new reality series, The Bobi and Tobi Show, a three-episode love letter to the NBA's oddest couple.
And then there's the coup de grace, the truest sign that we're in the presence of an honest-to-goodness NBA icon, not to mention a masterstroke of stunt casting: Boban has a small role as a bad-guy hit man in John Wick 3, the next installment of the action franchise, which comes out in May.
Boban hits every table in the parking lot, but he never hits another umbrella with his head. Then he takes a brief detour to cheat shamelessly through a game of cornhole against Clippers assistant GM Mark Hughes. "He's a breath of fresh air, I'll say that," Jerry West says. "But I think the thing people don't know about him is how skilled he is. He is a really good basketball player."
Finally, as the crowd starts to thin, Boban sits down with two plates of food: a slice of pizza, which is what he wants to eat, and a bowl of organic mixed greens, which he's eating because it would mean a lot to Tobias. "He play good, he look good," Boban says. "Maybe they help me." Eventually, though, he puts the salad aside because his plastic fork is too small. "I can't eat this fork."
People keep coming up to him, and they all ask the same questions. They ask about John Wick. ("You watch some movies more than once many times? When you watch, I know what they say," Boban raves, which I think means he's memorized every word of the first two John Wicks.) They ask if he gets to shoot anyone. ("I'm in movie, and this is it," Boban says with sneaky joy. "I cannot say nothing else.") They ask what Keanu Reeves is really like. (He is very nice, Boban says.) People ask about his buddy Tobias. (Never heard of him, Boban says.)
But the thing people want to know most of all is whether Boban is going to play more this season. Is he ever going to get a real shot? Or did Boban, through some evolutionary twist of fate, miss his moment?
BOBAN MARJANOVIC'S LIFE is a modern-day fable: the gentle giant with a Disney first name who through decency and boundless charm has become a folk hero. But his career has been considerably less storybook. He is on his third team in four years. Heading into this season, he'd started just six games. He's been a healthy scratch for nearly half his career. It's not tragedy or anything. Boban makes $7 million a year. He's got a house in Manhattan Beach. Two kids. He's fine.
But in terms of basketball history and the thin line between who goes down as a legend and who winds up as a colorful footnote, yes, Boban is a tragic figure. The reality is that in any other era, he'd be a monster scorer, a likely All-Star and maybe even a Hall of Famer -- but in this era, he has been deemed borderline unplayable. Too lumbering, too slow to chase around all these unicorns who play above the rim and hit pull-up 3s. At a moment in league history when the NBA has made it more or less against the rules to guard people, it's peculiar that one of the most efficient scorers in NBA history -- that's a fun fact, by the way -- can't get onto the floor because of his defense.
This isn't just a failure of imagination or a scene from one of those sports movies in which the pigheaded coach refuses to play the magical stud at the end of his bench. Boban was discovered by Gregg Popovich and the Spurs. Stan Van Gundy signed him to a three-year deal in Detroit. Rivers and West traded for him in LA. The best minds in basketball see his potential. But so far, he's been like a sword that no one can pull from the stone, or a killer hook that somehow doesn't fit into any song.
The problem isn't so much what Boban can or can't do -- it's how he does it. With the possible exception of Yao Ming, the NBA has never seen an ultrabig as skilled. He releases his jumper with the touch of a neurosurgeon. He plants himself in the low post like the Demogorgon from Stranger Things. He blocks shots into the Upside Down.
He also simply can't chase stretch-5s out to the 3-point line and can't race baseline to baseline against a pace-and-space offense. He is a game-altering presence the moment he checks in ... but the moment he checks in, opposing coaches go small and try to run him off the floor. If teams make their shots, and if the Clippers don't, it works.
And then, sometimes, the Clippers are the ones who want to do the running. A physical presence like Boban can drive an entire offense, but he can also drag it into a ditch.
But there is hope. In a span of 12 months, the Clippers shed themselves of their franchise-altering trio -- first Chris Paul, then Blake Griffin and finally DeAndre Jordan, who left for Dallas via free agency last summer and this time did not change his mind. Everyone assumed the Clippers would crater and the clown car of old would return. Instead, they've been the surprise of the Western Conference. Boban's BFF, Harris, is a versatile 6-9 slasher who, unlike Boban, was born into the perfect era for his skills and has bloomed into a borderline All-Star. Meanwhile, the thrumming tension that permeated the team, a byproduct of the hostility between Paul and Griffin, is gone. The Clippers are loose and happy now. Unburdened.
The team's on-the-fly rebuild has also opened up the possibility of more playing time for Boban: To replace Jordan, the Clippers traded for Gortat, 34, a serviceable big man whose wicked screen-setting is his only plus skill at this point. Marjanovic, on the other hand, had shown flashes of dominance as last season wound down, pouring in 18 points in just 15 minutes in a February road game against the Nuggets and ending the season with a four-game run during which he nearly averaged a double-double.
"Just keep being big," Rivers tells me when I ask how Marjanovic can get onto the floor more. He lays out all the usual reasons Boban won't be clocking 35 minutes a game (matchups, flow, foot speed, etc.). But he also makes it clear that things will be different this season.
"We plan on using him."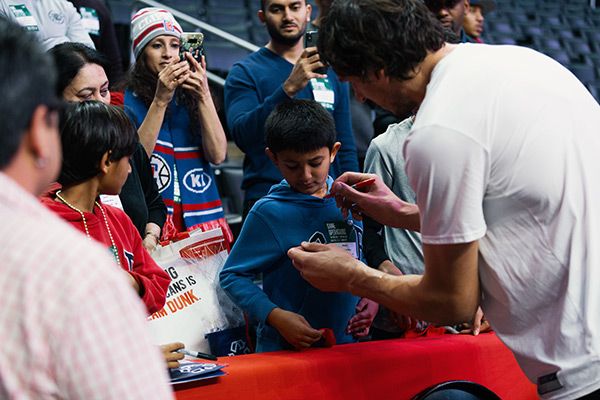 THE NEXT NIGHT, thousands of LA-area basketball fans flock to the Honda Center for the chance to bear witness to a singular physical specimen as he plies his trade against the NBA's mere mortals, and also because LeBron James is going to be there.
This preseason matchup between the Clippers and Lakers loses a considerable amount of its charge with the pregame announcement that LeBron will be in street clothes tonight. But for the deranged fans who stay until the end, Boban delivers a jolt of electricity, playing seven fourth-quarter minutes and rolling up 11 points and six rebounds. Sure, it's against the Lakers' third unit -- but he's beasting it.
Then comes opening night at home against the Nuggets. Even though the Clippers lose by nine, the undisputed winner of the night is Marjanovic, who scores 18 points in 18 minutes, including a dunk that is noteworthy for three reasons: 1. He does it over two Nuggets. Both of them are very tall. 2. He jams the ball so hard that he bends the rim, forcing a stoppage that lasts five minutes. 3. His feet never leave the floor. As in: He dunks without jumping.
In the Clippers' second game, a win over the Russell Westbrook-less Thunder, he nets 13 points in 16 minutes as LA pulls away in the fourth. But then he plays just 10 minutes over the next three games and gets mop-up duty in the two games after that. He's logging minutes every night, yes, but he's still last in the rotation, the guy closest to being out of it.
We plan on using him.
Maybe this was all Doc had meant, literal to the letter, nothing more. Boban is playing. But holy crap, is he playing. Through the first three weeks of the season, he shoots 76 percent, scoring at a per-36-minute pace topped only by Steph Curry and Kemba Walker, breaking rims and driving fans bonkers. Even the analytical revolution that has turned the NBA into a 3-point-shooting gallery -- and has turned big men like Boban into relics -- is starting to tilt in his favor. After all, the core inefficiency of taking 2s over 3s vanishes if you're making 76 percent of those 2s. As FiveThirtyEight's Chris Herring pointed out last spring, Boban Marjanovic is actually, on a per-minute basis, the most efficient scorer in NBA history.
"It's simple math," Harris says. "But everybody makes it more complicated. He can be a dominant player in this league."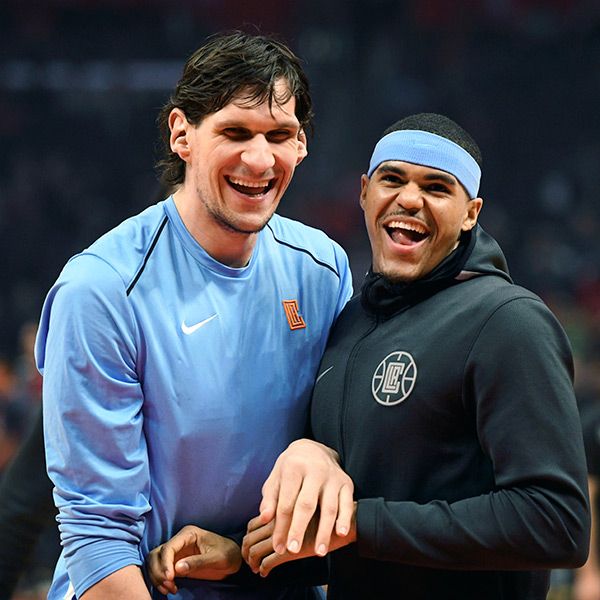 THE FRIENDSHIP BETWEEN Boban and Tobias -- Bobi and Tobi -- began in the same spirit as so many legendary duos: with Boban going up to Tobias and telling him, "I don't like you."
Boban is a man of many words, most of them joyful but none of them minced, and in his limited experience to that point, he'd found Tobias far too cocky for his liking. And so, by way of introduction, he told him.
"I was kinda taken aback," Harris tells me before a game in Philadelphia the day after Halloween. Until he arrived in LA last winter, Harris had spent his career on the most distant margins of the NBA map, drafted by Charlotte, traded to Milwaukee, shipped to Orlando in the middle of his second season, then to Detroit in the middle of his fifth, then yet again in the middle of his seventh to Los Angeles. As a result, fans around the league are just now getting wise to how perfect he is for LA. Bright, funny and, in a word, dreamy, Harris is also cocky -- and a born performer. In other words, he is not accustomed to people disliking him. "It was a first," he says.
He and Marjanovic are sitting next to each other at the baseline, lacing up sneakers and pulling knee pads into place before shootaround. Marjanovic takes clear pride in this origin story, but he excuses himself to go shoot so that Harris can tell his side.
Did you care? I ask. Did it bother you?
"Yeah, it definitely did bother me," Harris says. "I was like, 'That hurt. This guy don't like me?'"
So how did it start to change?
Harris grins and gives me a look like, Come on. "He only didn't like me for, like, one day."
And then you just won him over with your charm?
"Pretty much."
From a distance, to the hardened cynics of the hot-take sports universe, the Bobi and Tobi friendship can seem a bit too made-for-TV to take at face value. A black kid from Islip, New York, and a giant Serbian from Boljevac, a farming town of 3,332. Best friends? Really? If you spend any time at all around the Clippers, though, you'll see it for yourself. It's really cute. They're always sitting next to each other. In the locker room. Before shootaround. They stretch together at the training facility. "I'm his manager and his agent," Harris says. "He's from a different way of life, different country, so different things are presented to him, and I'll be like, 'No, that dude's full of it' or 'That ain't the right thing.'"
This past summer, when their real-life buddy comedy was adapted into YouTube's The Bobi and Tobi Show, it was an instant hit. The second episode, in which Bobi and Tobi go to a SoulCycle class but the only bike they have left for Bobi is the instructor's and so -- plot twist! -- he has to teach the class and Tobi is not happy about it, is like their "Pine Barrens" episode.
A few hours later, that night in Philly, the dam finally breaks for Boban: Joel Embiid is an unstoppable force, leaving Rivers with no option but to try putting an immovable object in his way. In 14 first-half minutes, Embiid draws three fouls on reserve big Montrezl Harrell. Doc had hinted before the game that he might try Boban on Embiid if things got gory, and now, with two minutes left in the first half and Gortat in foul trouble, the wound is gushing. Boban time.
"Here he comes," I hear someone call out behind me. "Here's Boban."
Marjanovic opens the second half back on the floor and converts on three straight attempts with such nimble ease that a Sixers press guy one chair over from me asks, "Why doesn't he start?" He's a big bald Philly guy and deaf in one ear, so he has to turn his head to hear me shout that Boban's LATERAL FOOT SPEED MAKES IT VERY DIFFICULT TO USE HIM AGAINST SMALLER LINEUPS. Still, over seven minutes, Boban scores six points on 3-of-4 shooting and grabs four boards, leading the Clippers all the way back from 22 down, the team tying the game at the 5:11 mark in the third. Behind the basket at the opposite end, the press corps buzzes, and Clippers media relations chief Chris Wallace races around with glee. "See?" he yelps. "What'd I tell you?!" We have reached Peak Bobanity.
Embiid gets going again in the fourth, hitting a 3 the Clippers were daring him to take, and the Sixers pull away in the final two minutes. When Doc finally sits him down with a few ticks left, Boban's hair is a black mop and his face is downcast and curled into a scowl.
A day later, Doc puts him in the starting lineup.
---
BOBAN IS HOLDING a phone and scrolling through Boban Holding Things until he stops on a picture of Boban holding a phone, which makes him do another Ric Flair woooo! I take out my phone and take a picture of him looking at a picture of him looking at his phone so that I can post it on Boban Holding Things, thus completing the M.C. Escher loop.
Boban Holding Things has been around for three years and, as of this writing, has 2,500 subscribers and 55 posts. But somehow no one ever told Boban about it. Until now, Boban had never beheld Boban Holding Things. And go figure, Boban loves it.
In sports, the word "freak" is the highest of compliments, but historically speaking it hasn't been such a nice thing. And no matter how well-intentioned everyone is around Boban, sometimes people treat him in ways that seem to blur the line. I've noticed myself doing it too. Like we're watching him through glass. Without realizing it, we make a caricature of him -- the big friendly giant or the NBA oddity -- and it can be hard to avoid when he's so happy to play the part.
It bothers people close to Boban much more than it seems to bother him. Popovich, the closest thing America has to a conscience right now, once got pissed about it in a presser after a Spurs game in which the hometown fans chanted "MVP" at him while he shot free throws late in a blowout win. "Sometimes it actually worries me," he said in 2015, Boban's first season. "I think the crowd -- they really get a kick out of him. But he's a basketball player. He's not some sort of an odd thing."
And that's got to be a drag for him sometimes, right? Doesn't any of it -- the stares and the comments, the bonked heads, the narrow miss that his NBA career seems destined to wind up as -- ever get him down?
I'll paraphrase what Boban says in reply, because it'll be easier for all of us -- you should see the transcript -- but what he wants me to understand is that, sure, yes, of course there have been challenges in his life. He grew up during the Bosnian War and remembers little of it besides Serbian fathers and sons being away from home and sometimes not coming back. His family didn't have a lot of money. He had no connections in the basketball world. He didn't go to AAU camps. He was not recruited by American college programs. Between 2006 and 2015, he played for eight different European teams, which meant a lot of bus rides from Vrsac to Belgrade, and lots of tiny hotel rooms to fold himself into.
And yes, he is aware that after toiling all those years in all those cold, gray Eastern European cities, he finally made it to the NBA two decades too late. After Doc inserted Boban into the starting lineup for three straight games, LA hit a run of poor matchups for him and he caught three straight DNPs. It will always be like this. He'll put up big games here and there, have stretches where he plays 25 minutes a night, and then he'll slide back to the bench. He's got five years left in his career, maybe a few more, and the NBA will not undergo a big man counterrevolution before he's done. He will not have Yao Ming's career. He won't even have Rik Smits' career.
But just because it breaks the hearts of narrative-obsessed NBA fans doesn't mean it has to break his.
And besides, look at his life! He could write a book about it! He wants to write a book about it! He wants it to be inspirational, he says, not because of what he's overcome but because none of it matters if you're always having fun.
Thanks to his itinerant career, he found a best friend in the unlikeliest of places -- Detroit -- and then, even more unlikely, got traded with his friend to LA, where they've helped each other become stars. Being 7-foot-3 has made Boban Marjanovic rich. It's enabled him to build a life around himself where, at least most of the time, all the picnic-table umbrellas are just the right height and all the things in his hands feel just the right size. Boban puts this part more neatly and eloquently, though, so this time he should just say it for himself:
"I love being big."
This story appears in ESPN The Magazine's Place Your Bets issue.
GQ, The Atlantic and The New York Times Magazine.
Gordon is a writer based in New York City. His work has also appeared in