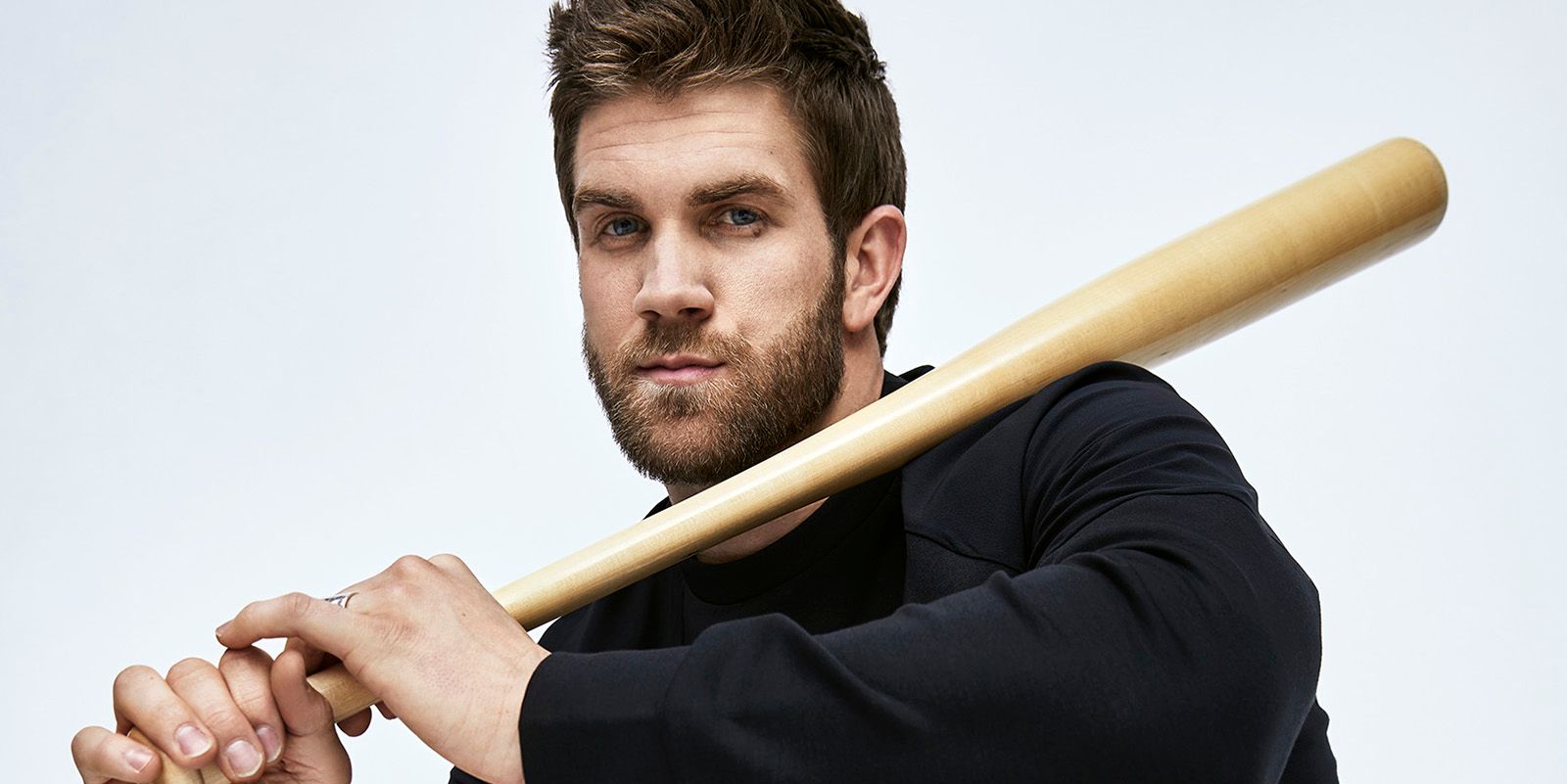 Bryce Harper Is One Very Big Deal
He's baseball's best-known face, and now he's getting paid like it. In this exclusive interview, the All-Star talks rejecting $300 million, recruiting Mike Trout and becoming a Phillie for life.
Bryce Harper is sinking deeper and deeper into the couch, like a handful of loose change. The sky outside this luxury waterfront condo somewhere in the vicinity of Clearwater, Florida, is the color of faded denim. A few feet from the windows, pelicans interrupt their lazy glides by tucking their wings and firing their bodies, kamikaze-like, into the bay.
Harper has deemed today the first day he can relax and consider the enormity of what's taken place in his life over the past few months. His wife, Kayla, sits next to him, and there's a dazed vibe in the room, as if a major storm blew through and nobody can summon the energy to take inventory. It sounds strange to suggest they need to recover, since Harper's story over those recent weeks is based on the central notion that he has done so little: not signed a free agent contract, not met with team after team after team, not arrived at spring training until the first day of March. Like those patient birds outside the window, he floated freely for a long time before diving headlong into a 13-year, $330 million contract with the Phillies.
But now that he has done something, and now that his Phillies gear hangs in his locker a few miles away -- and will remain hanging there for 13 springs, thanks to his for-better-or-worse, no-trade, no-opt-out contract -- this feels like a day for big thoughts, for trying to wrestle with the weighty questions and deeper meanings of a 26-year-old who just made the decision of a lifetime.
The moment was foretold, of course. When he was 9, he told his father, Ron, that he was going to be the No. 1 pick in the draft. He left high school after his sophomore year and played a year at a junior college to fulfill this prophecy. Ever since he was called up to the Nationals at 19, today was seen as a foregone conclusion: Bryce Harper, a free agent at 26, would demand and receive the most lucrative contract in American sports history.
"During the seven years I spent in DC, all everybody talked about was me going somewhere else," Harper told The Magazine in his first extensive interview since signing with the Phillies. "From the day I signed, it was: 'He's going to the Yankees'; 'He's going to the Dodgers'; 'He's going to the Cubs.' I didn't want to hear that. I was in that city, and I wanted to be in that city. So now I'm just so happy that I'm able to sit here right now and say I can play until I'm 39 years old and I don't have someone sitting around the corner saying, 'He's going to go here next.'"
Washington, where Harper was an MVP, rookie of the year and a six-time All-Star, made a 10-year, $300 million offer in October. "I grew up in front of those fans and that city, and I enjoyed every minute of it," Harper says. "But I didn't know if I fit into their plans. About $100 million of that contract was deferred 'til I was 65 years old." He stops and turns his palms to the sky in disbelief. Few people can turn down a $100 million retirement fund; Bryce is one. "It's like, 'What does that do for me? What does that do for my family?'"
From there, the offseason got weird. Through the silence of the winter meetings in his hometown of Las Vegas, through the holidays and the start of spring training -- nothing happened. It was clear from the beginning that a majority of teams -- those that didn't see the need or simply didn't care -- would sit it out. Still, the torpor was stunning. One of next year's top free agents, Nolan Arenado, signed before Harper.
In the end, just six teams held meetings with Harper and only three -- the Phillies, Dodgers and Giants -- stayed relevant through late February. But in a parallel world of weirdness, Harper's fame grew. The longer it lasted, the more his story seeped outside sports. Can you believe a ballplayer turned down $300 million? The saga reached Peak Bryce on Feb. 26, when the Twitter feed of the band Smash Mouth made headlines with an unhinged, unsubstantiated screed about a fracture within the Giants' front office. Ownership was all-in, Smash Mouth said, but new president of baseball operations Farhan Zaidi wasn't. Amazingly, insiders with direct knowledge say the tweet caused Zaidi to refute Smash Mouth -- half-jokingly -- during the team's final face-to-face meeting with Harper.
"It was fun to go through the meetings and feel wanted," Harper says, "but it was something I'll happily never go through again."
He tried to make it a normal offseason: workouts, Pilates twice a week with Kayla, batting practice with his dad. He added one goal: to stay away from the "news."
Mostly, anyway. He laughs and says, "Sometimes I'd get my phone and say, 'Let's check: What rumors are hot today?' "
Kayla says, "Oh, remember when we bought an apartment in New York and we were going to be living there with three other guys? That was my favorite."
"My favorite was the time we met with Magic Johnson and the Dodgers," Bryce says. "That was a good one. We never met with him."
"It was a disappointment that I didn't get to meet him," Kayla says, "but at least everyone thought I did."
---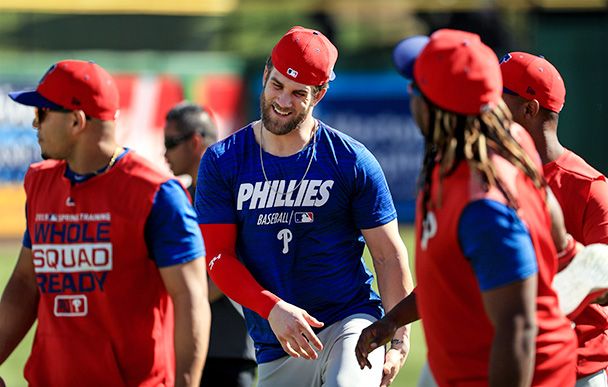 The gun is a Winchester Model 94 Golden Spike Commemorative 30-30 rifle, never fired, one of 69,182 produced in 1969. It was given to Ron Harper by his mother, who won it in a promotion through the grocery chain that employed her. Ron kept it in the family's Las Vegas home until Bryce cracked an aluminum bat when he was 13. Bryce had already been identified as a prodigy by then. Superagent Scott Boras was less than a year from riding into town to marvel at the kid's forearms in person. Bryce was two years from hitting a 570-foot home run as a high school freshman.
But at this point, Bryce was also a seventh-grader with a broken bat and a tournament to play. Ron was an ironworker without much work, so he carried that Golden Spike across the street to see if his neighbor Cal, a gun collector, might want to buy it.
"As an ironworker, things get slow and you sell things," Ron says. "A car, or whatever, to pay a bill."
"Living paycheck to paycheck," says Bryce's mom, Sheri. "And $350 for a bat? That was hard."
Cal bought the gun for $500. "It paid a bill and bought a bat," Ron says. "That's a good day."
The Harpers moved soon after, and the gun was mostly forgotten. This past winter, though, Bryce's sister, Brittany, had the idea to track down the gun and give it to Ron for Christmas. They had no idea whether Cal was still in the old neighborhood, or whether he still had the gun.
Bryce and his brother, Bryan, went to Cal's old house. Cal answered the door, and Cal's wife went a little nuts. "Oh my god," she yelled. "Bryce Harper's on my porch!" Bryce and Bryan told the story of the grocery checker and the cracked bat and the unpaid bill and asked Cal if there was a chance he might sell the gun back to them.
Cal brought them in, handed them the gun and said, "This belongs with your pops. I bought it for $500, I'll sell it back to you for $500." Bryce insisted on $1,000, and Cal ultimately relented.
On Christmas morning, after all the gifts had been opened, the three Harper siblings handed Ron one more.
"Holy cow, where did you find one?" he asked.
"No, Pops," Bryce said. "That's yours. We went to Cal and got it back."
Neither Sheri nor Ron can tell the story without breaking down. They're standing on the infield in front of the first-base dugout at Spectrum Field, the Phillies' spring training stadium, after the news conference to announce their son's record contract. They're wiping away tears.
"I'd like to think he got some of his commitment from us," Sheri says.
"That's what leads you to stuff like this," Ron says.
---
The idea is to plop down, with Olympian certainty, in one place and let the rings come to him. Plant roots, grow our family. Those five words have become Harper's mantra, his commitment. In that sense, the decision could be the meta-contract that delivers a performative middle finger to the Durant-ian, seek-your-ring mentality.
When Harper told his agent, Scott Boras, that he wanted a lifetime deal -- with a no-trade clause and none of the agent's signature opt-outs -- Boras said, "Well, teams don't want to employ you at 35, much less 39, so we're going to have to give something up to get that." The casualty, to use the term loosely, was the average annual salary -- $25.3 million. Manny Machado's, to pick one, is higher. Harper didn't care.
"We knew going into the offseason it was going to be tough," he says. "I didn't think it was going to be tough for guys in my age group to find a job, but we knew it was going to be tough.
"[But] it's an $11 billion industry, and the players should get a piece of that pie. Fans want to look at their team and say they have a Mike Trout, say they have a me -- whoever. They want to see the best players. Some teams just ..."
He stops himself, takes a breath, swigs some water, reconsiders. He was sprinting toward the edge, and now he's come to a complete stop. Younger Bryce probably would have kept right on going. Younger, brasher Bryce -- the kid with the face full of eyeblack, the young star who was labeled polarizing, the language's most tedious word -- that guy would have said something he might regret. This decision, to hold back rather than say what's been running through his brain for the past four months, feels like an act of personal courage.
It also answers an unasked question: The contract might buy a certain measure of freedom, but it does not buy an unedited voice. This contract, with its length, money and inescapability, makes Harper as close to a franchise partner as any athlete in history. If that makes him more of a company man, oh well. He'll recruit free agents like a member of management; he's got 13 years of equity. One of his prime offseason confidants was Mike Trout, who grew up outside of Philadelphia -- and who will become a free agent after the 2020 season.
"I want to respect the fact that he has two more years with the Angels," Harper says, "but everybody knows he's from there, he loves it there, so if he comes to Philly, it wouldn't be a surprise. I'd be more than happy to open my arms and say, 'Heck yeah -- come to Philly.'"
Before the news conference announcing Harper's signing, the Phillies built a 12-step staircase to allow Harper to make a grand entrance to the top of the visitors dugout at Spectrum Field. The contractor tells me, with a shrug, that he built it in two hours.
He is standing with his foot on the bottom step, dripping human interest, right hand poised over an electric drill holstered on his right hip. Once everyone leaves, he says, he'll tear it down in half the time it took to build.
"Kind of a shame," I say. "All that work."
"Yeah," he says. "I'm trying to figure out a way to save it for the next big signing. I hear there might be one a couple years from now."
---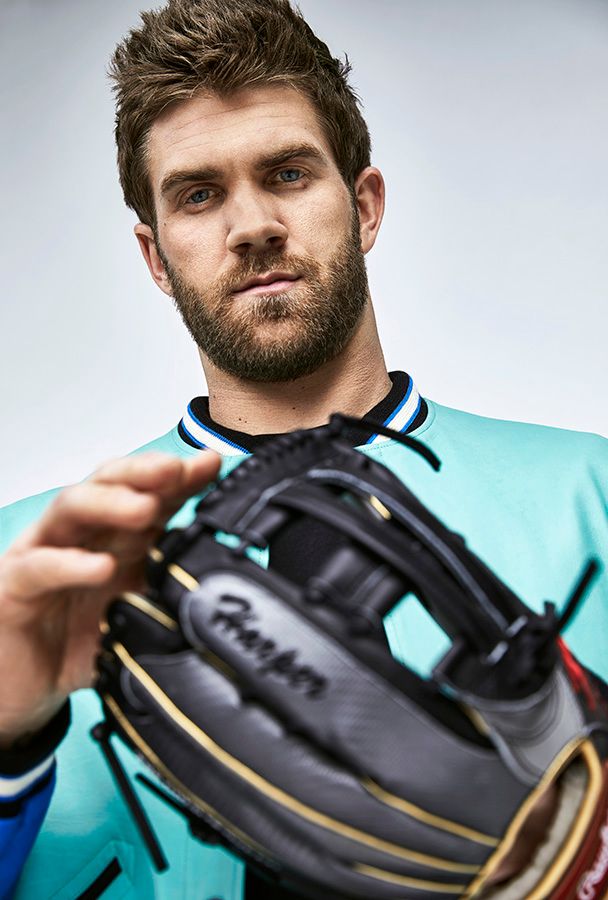 The Phillies' principal owner is John Middleton, a blond, boyish, greyhound-thin 64-year-old multibillionaire who is perhaps the last man in America to trace his family's wealth to pipe tobacco. During Harper's first workout, Middleton capered around the field and afterward angled himself to watch his newest player sign autographs for a few ravenous fans. He's positively giddy, and his giddiness is grounded in old-fashioned economic analytics: The Phillies sold 220,000 tickets in the first three days after the signing was announced, an estimated $8.8 million (at an estimated $40 per ticket); Fanatics, the official retailer of jerseys, announced that Harper's set a sales record in the first 48 hours of its release, dropping LeBron James' Lakers jersey to second place.
"That's the thing: Bryce Harper is different," Boras says. "Superstars are different. The marketing part, ticket sales -- he's just different. I had to tell teams, 'You don't discuss money. You discuss Bryce Harper.'"
Bryce Harper: The Face of Baseball. This too was foretold. And make no mistake, he's got ideas:
On pace of play: "Pitch clocks and all that? If you don't want to come to a baseball game, don't come. We're not a timed sport."
On defensive shifts: "[Former Nats coach] Randy Knorr and I had a thing. I would line out to center, and I would walk in and say, 'Gosh, how long's that guy been playing there?' He'd say, 'A billion years.' Then I would line out to right field with the third baseman standing there and I'd say, 'How long's that guy been playing there?' And he'd say, 'Two years.' There's got to be a line. You can't play your third baseman in right field. That's not third base."
On free agency: "Dallas Keuchel's not signed yet. Craig Kimbrel's not signed yet. Adam Jones isn't signed yet. (Jones reportedly signed a one-year deal with the Diamondbacks on Sunday.) There shouldn't be any hesitancy to put them on your team, especially if you're trying to rebuild. Why not have Adam Jones come in for four or five years, be a starting center fielder every day and have him teach young kids how to play the game? That's something the game needs."
Clearly, the state of the game animates him. He's been the center of attention since he was 19, and he has used that platform for a variety of causes, most famously a call for the loosening of baseball's unwritten rules. ("Make Baseball Fun Again," his cap implored.) Still, there's a question I need to ask: "What did you learn about yourself through all of this?"
"I don't know," he mumbles, sinking deeper into his couch.
Kayla won't allow it. "I think you learned a lot about what you really wanted." He shrugs. She sighs. "More than baseball -- family and what he really wants out of his life and career. I feel like he grew up a lot. We had to make some really big decisions that not a lot of 26-year-olds have to make. Where do we want our kids to live? Where are the good hospitals? All the stuff we haven't had to discuss before."
Bryce nods along grudgingly. "She's right," he says. "Just don't say I had to grow up."
---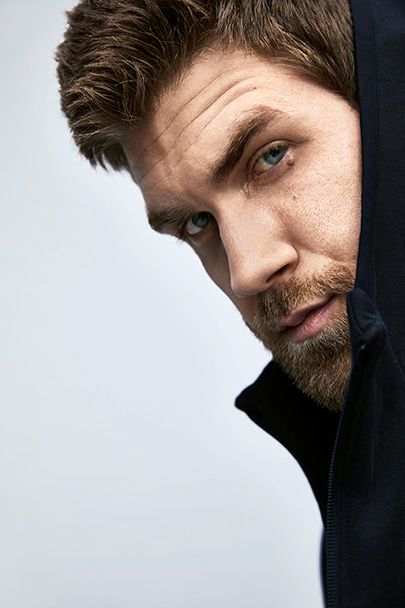 THIRTY-NINE. HE'LL be 39 when this contract ends. It's difficult to imagine a 39-year-old Bryce Harper -- the prodigy in middle age: thicker, slower, perhaps extending his usefulness as a first- or second-generation National League DH, perhaps finishing his last years proud but broken, like so many others. How does a prodigy -- especially one raised in the three-game-a-day travel-ball era -- age? Gracefully? Quickly? We don't really know. Harper says there will be good years and bad, boos and cheers, hundreds of different teammates. This is a strange and powerful moment: the beginning of whatever comes next and an early glimpse at how it might end.
"Yep," he says, laughing, "unless Vegas has a team when I'm 39."
The ink on the contract is barely dry, but you can still detect the faint whiff of finality. No trade, no opt-out, 13 years. The most speculated-upon man in baseball has put a near-permanent lid on future speculation, and that's perfectly fine with him. His phone sits on the coffee table between us, silent and ignored.
Grooming By Brittany Peterson, Wardrobe Styling by Jason Rembert/The Wall Group