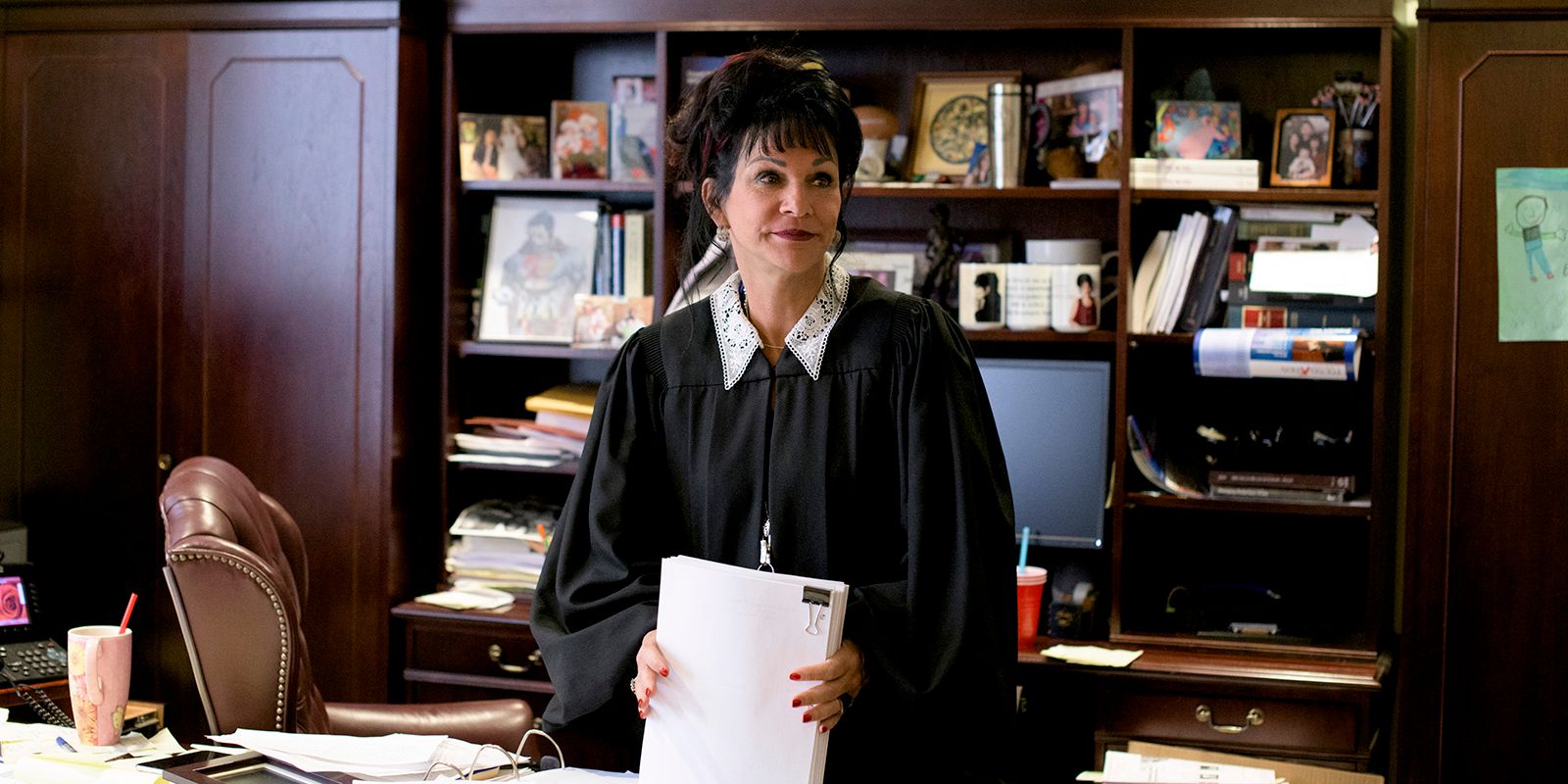 Judgment Call
Since gaining national attention for her handling of Larry Nassar's extraordinary sentencing hearing, Judge Rosemarie Aquilina has continued to use her voice, drawing both applause and criticism.
Ingham County Circuit Court

Lansing, Michigan

January 2019

The few scattered souls in the courtroom rise as Judge Rosemarie Aquilina takes the bench, wearing a white lace collar over her black robe, carrying a pink coffee mug in one hand and a plastic cup of water with a straw in the other.

A year before to the very week, this same room was packed with survivors of sexual abuse and thick with tension at the start of an unprecedented seven days of victim impact statements that preceded Aquilina's sentencing of sports doctor Larry Nassar -- a collective catharsis of grief, anger and resolve that felt like a thumb pressed on the scale of delayed justice, balancing it at last.

Aquilina's extensive time on camera instantly transformed her from obscure local jurist to national personality. But she hasn't quit her day job -- or the myriad of small decisions it entails. Each of them has the potential to alter a life.

She apologizes to a transgender woman who pleaded guilty to fleeing a police officer and has been held in isolation for four months, calling the situation "a product of ignorance'' before ordering probation. She lectures a woman being sentenced on a domestic violence charge who stands before her weeping, four months' pregnant.

A 29-year-old man who has entered a guilty plea on child pornography charges glances at Aquilina, clearly cowed, arms held awkwardly at his sides. He says he stopped taking medication for diagnosed bipolar disorder nine years ago. "I don't deserve anything," he says, "but I want to make it right."

The defense attorney says his client is remorseful, has started counseling for addiction issues and could be rehabilitated with a treatment-based approach. The prosecutor pushes back, saying it's not a victimless crime, and cites hundreds of "depraved" images on the defendant's computer.

Aquilina wonders aloud how the defendant could be so morally numb to the acts he watched. "Those were human beings who couldn't protect themselves,'' she says.

The man shakes his head.

"I don't know if putting you in jail would numb you out more,'' she says.

The judge sentences him to five years' probation, with close monitoring, including regular checks of his internet browsing history. She reminds him he will be on the state sex offenders' registry for 15 years. "I'm giving you a break here,'' she says. "I don't know if I'm doing the right thing. You will be on a very short leash.''

Then, Aquilina utters a variation of the compassionate sendoff she gave dozens of Nassar survivors after their victim impact statements last year: "Do great things in the world and come back and show me what you've done. Put this behind you.''

The echo feels odd. Why invest that kind of hope in an admitted child porn addict? Yet contrary to the hellfire she directed at Nassar before sentencing him to 40 to 175 years in prison -- the florid language, theatrical gestures and unabashed advocacy that now form the basis for Nassar's only pending appeal in state court -- Aquilina rarely views people as irredeemable. Nassar was an enormous exception that has changed her life.

In the 18 months since Nassar's sentencing, Aquilina has emerged as a symbol for survivors of sexual abuse, a listener-in-chief and authority figure who voices both outrage and the need for change. Her new celebrity also has opened her to scrutiny by legal experts and caused concern among some of the women she addressed as "sister survivors.''

Aquilina has been a near-constant media presence in recent months, everywhere from news programs to awards dinners to red carpets to a Congressional office in Denver, where she was a featured speaker at a mid-June news conference when U.S. Rep. Diana DeGette (D-Colo.) announced legislative proposals to reform the United States Olympic Committee.

Civil rights lawyer and activist Nancy Hogshead-Makar, an Olympic swimming medalist, enlisted Aquilina for that appearance, calling her a "gem.''

"Sexual abuse is a symptom of athletes having no power,'' Hogshead-Makar said. "What's cool is that somebody who might normally stay in her lane was willing to step out and talk about athletes' rights. She totally got it.''

Aquilina's outspokenness is unusual for a sitting judge, especially with an appeal still in the pipeline. As a group, the survivors remain grateful for her patience, empathy and empowering responses during the Nassar hearing. But some worry that her conduct -- then and now -- could further prolong the legal process and postpone healing.

Many are reluctant to express reservations publicly for fear of causing a schism in their ranks. But it isn't the first time she has provoked mixed feelings. A controversial gag order Aquilina issued before Nassar's guilty plea prompted a group of victims, including Rachael Denhollander, to sue her.

"One of my greatest concerns is that the good things that were done in Ingham County, and the things that should cause us to rethink what the courtroom is for, and what justice means, those conversations we need to have, I'm concerned they could be trivialized or may be more easily dismissed if the appeal is damaging," said Denhollander, a lawyer and the first woman to report Nassar's abuse to The Indianapolis Star journalists investigating USA Gymnastics in 2016.

There is a basic legal precept Aquilina likes to quote, and it's applicable here: For those who suffered at Nassar's hands, the benefit and the burden of the judge's unconventional style run together.
---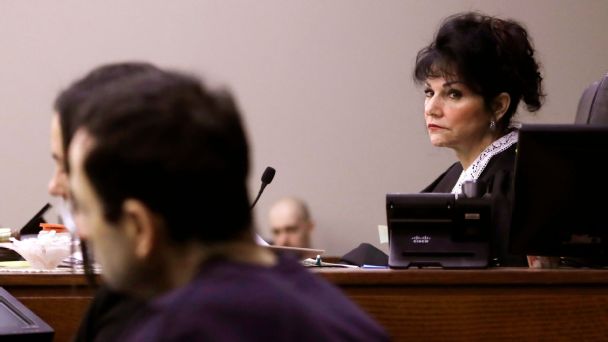 AT 61, AQUILINA is nearing the end of her second six-year term on the circuit court bench and, as of now, plans to stand for reelection in 2020. She is divorced, lives with her elderly parents and has five children: 9-year-old twins, a recent high school graduate and a grown son and daughter.

Aquilina was born in Munich to her German mother, Johanna, and father, Joseph, a native of Malta and a U.S. Army veteran. She came to the United States with her parents before she was 2, and she bonded with her grandparents in Detroit while living with them as her father completed his medical studies in Germany. When her parents took her back for good, Aquilina says she felt confused and helpless, an experience she describes as the root of her motivation to support the voiceless.

"I was shut out,'' she says. "I wasn't told. I didn't matter. But with age comes understanding. I can't change the past, but I can change my behavior and how I feel about it. I've given up my anger and youthful frustration about the whole thing and replaced it with: 'I'm fortunate. I have two sets of parents, and I was well taken care of.' But I had to go through a lot to get there.''

Michigan State University, one of the institutions central to the Nassar case, also has been central in the judge's life. She earned her undergraduate degree from MSU, and she has taught law there for many years.

Her oldest daughter, Jennifer Davis, is director of public relations for Michigan State University. Davis applied for the job a month before Nassar -- a former MSU staff physician -- was charged in late 2016, and she started in April 2017. Her status came up in open court before Nassar's November 2017 plea agreement, but Aquilina maintained it would not affect her handling of the case, and neither the defense nor the prosecution disputed that.

Davis has an advertising and marketing background and describes her job as being focused on promoting the university's brand, including research initiatives, media coverage of prominent alumni and special events. She declined to be interviewed. Although MSU officials are the subject of several ongoing Nassar-related criminal cases and investigations, Davis' role has not been raised on appeal.

Since taking the job, Davis has mentioned her mother on her public Twitter feed just once, with the single word "Proud" and a heart emoji in November 2018, after Aquilina's inclusion in Glamour Magazine's Women of the Year honors. Davis has, on occasion, served as a media intermediary for the judge, and she was an initial point of contact for this story.

Aquilina's path to the bench began in the 1980s with a 10-year stint as an administrative assistant to Michigan state senator John F. Kelly, a Democrat from the Detroit area. Marsa Truscott, an intern during that time, remembers her attention to detail. When constituent mail inundated the office during an extended battle to save old Tiger Stadium, Aquilina insisted that the staff answer every letter.

"She knew full well that I was leaning toward a different political persuasion, but she saw a capable young person, and she worked feverishly to open doors and see to it that I got opportunities,'' says Truscott, who later worked for Republican legislators.

As the first female judge advocate general in the Michigan National Guard, Aquilina drafted wills and did other legal work for troops preparing to be deployed in the Middle East, supervised the rounding up of truant guardsmen and defended others in disciplinary cases.

Charlie Palmer, who served with her for most of his 18-year hitch, describes Aquilina as a tough cross-examiner who navigated an overwhelmingly masculine world with ease, a loyal, fun friend and an earnest soldier. "It did mean a lot to her,'' he says. "She was thrilled to be in the Guard. Some of us were cynical about it. She wasn't.''

She initially worked as a lobbyist but found her true footing as a defense lawyer, fighting for rehabilitation rather than punishment, a stance she later took with her to the bench. As a lower-level district judge, Aquilina presided over Sobriety Court.

"She had a passion for children, abuse and neglect cases, and mentored a lot of lawyers,'' says Ingham County Chief Circuit and Probate Judge Richard Garcia, who also recalled her representation of teenagers seeking a waiver of parental consent to obtain an abortion. The process requires expedited hearings and ''an immense commitment to drop everything you're doing,'' said Garcia, the former chairman of the Michigan Civil Rights Commission.

Before Nassar, Aquilina's notable cases made regional rather than national headlines. In 2013, she awarded $21,000 in damages in a discrimination case against the Michigan Department of Human Services filed by an African American employee who testified that co-workers had placed a 5-foot toy gorilla on her work cubicle around the same time she was denied an internal opportunity. Aquilina did not find evidence of discrimination, but she made her judgment on the basis that the toy created a hostile workplace.

"I do believe that she suffered psychological harm,'' Aquilina said at the time. "And the monkey connotation, I don't think I need to go there. I think that if I walked down the streets of Detroit or Flint carrying that gorilla, I'd be shot, and I'd deserve to be shot. It is as bad and as offensive as words that also should not be said.'' However, the ruling was later overturned by the state Court of Appeals, which said no hostile workplace claim was made in the case.

Aquilina teaches at Western Michigan University's Cooley Law School, where she earned her law degree, as well as at MSU. In one MSU trial practice class last semester, Aquilina dispensed pragmatic advice to students practicing opening statements, telling them how close to stand to the jury box, how to own the space, how to button their jackets when they stand up, and how to slow down and project their voices. "It's not the story,'' she says. "It's the evidence. Don't say, 'You will learn.' Say, 'You will hear.' It's not story time at the library.''

During a normal workday, Aquilina subsists on coffee, protein shakes, water and beef jerky stashed in a small refrigerator in her chambers. When she dines out, she often favors a salad and a steak, cooked medium well. She rarely drinks alcohol. She got a Daith piercing in one ear last year to seek relief from migraine headaches. She aims for six hours of sleep a night.

Her childhood ambition was to be a writer, and she has authored two crime novels that spare no detail when it comes to steamy romance or gruesome forensics. A few months after the Nassar hearings, she began contributing recipes and cooking videos to SEEN -- a southeastern Michigan lifestyle magazine -- inviting viewers into her kitchen to master the intricacies of stuffed mushrooms, lemon cheesecake and ricotta pancakes.

That would seem to be a full enough plate, but Aquilina also has stepped up her public speaking, represented by the management giant Creative Artists Agency. Since the Nassar hearing 18 months ago, she has made multiple appearances across Michigan and has traveled to address groups in Kansas, Tennessee and Texas. She is scheduled to be a keynote speaker at a new women's sports festival in upstate New York this summer. (Editor's note: ESPN will broadcast the inaugural Aurora Games Festival, slated for Aug. 20-25, on ESPNU and ESPN3.)

Last fall, as the national conversation about sexual abuse and harassment raged on in the months after the Nassar hearing, Aquilina was invited to the University of Minnesota. A couple of hundred people filed into the Great Hall of Coffman Memorial Union for "An Evening with Rosemarie Aquilina."

Aquilina, wearing a flowing black pantsuit, told the crowd that she had some constraints in talking about the Nassar case, but she plunged ahead.

"The thing about the Nassar case is that I've always handled every case like that,'' she said. "I have always allowed both sides to speak; I have always allowed every victim to speak ... I also know the defendant benefits from hearing what they did to the victims. And the victim heals when they can look at the defendant and say, This is what you did to me -- and I'm mad.

"I have always allowed both sides to speak; I have always allowed every victim to speak. "

- Judge Aquilina

"One of the reasons I'm here is that the fire is burning. That conversation that has resulted from this case has opened up conversation around the world. We need to continue to put gasoline on that fire until sexual assault, human trafficking, domestic violence are eradicated.''

During the question-and-answer period, she ripped former Michigan Gov. John Engler, then the interim Michigan State University president: "I knew Engler in the legislature, and he is no guy that ought to be a head of anything like this.''

She didn't flinch when she was asked what she thought of the stormy U.S. Senate confirmation hearings for Supreme Court Justice Brett Kavanaugh, who furiously denied the veracity of Christine Blasey Ford's memories of a sexual assault during their high school years.

"What I didn't like about Kavanaugh is his demeanor,'' she said. "If I were a victim of sexual assault, I would not want to go before that panel with him in it. I don't believe that I would be believed or listened to or treated as a human being, and I think that's really the larger picture.''

As she descended from the stage, Minnesota freshman Benjamin Scheffler, an aspiring law student and sexual abuse survivor, was waiting to introduce himself and have his picture taken with her. He had watched the broadcast of victim impact statements in Aquilina's courtroom, riveted by the survivors' bravery and the judge's message.

"For me, Judge Aquilina reinvented what it is to be a judge,'' Scheffler says in a later phone interview. "She didn't shy away from what needed to be said. I'm appalled at what people said about her overstepping her bounds. She was doing her job, and doing a pretty kick-ass job of it.''
---
THAT OPINION IS not shared by the two lawyers from the State Appellate Defender's Office representing Nassar on appeal. A brief filed to the Michigan Court of Appeals in early April includes a reproduction of a drawing by Colorado-based syndicated cartoonist Drew Litton, in which Aquilina is depicted holding a rat -- labeled "Dr. Nassar" -- over a garbage disposal, with her finger about to flip the switch.
The lawyers' beef is not with Litton but with the judge, who posted the cartoon on her Twitter feed in December 2018, with the comment: "Thank you for honoring me with this! And, for keeping the discussion for meaningful change moving forward.''
Coming months into the appeals process, with the possibility that she could preside over a resentencing, the lawyers are citing that and other aspects of her conduct as examples of her entrenched bias. "It is impossible for a judge who has become so enmeshed in the public adoration and celebrity resulting from the severity of her treatment of Dr. Nassar to be seen as neutral and unbiased,'' they wrote. In other words, the rule of law has to be in force even for the most heinous defendants.
The filing reviews Aquilina's most controversial utterances at the hearing, including her characterization of her sentence as a "death warrant'' and her stated wish that she could order Nassar to be subjected to the same acts he committed. Aquilina contends her strong language at the hearing was designed to channel collective outrage and defuse tensions in the courtroom. The state attorney general's office backed her up, and Garcia ruled against disqualifying her.
Another line of argument in the appeal delves into the judge's post-hearing media interviews, public appearances, and social media posts, "likes" and emoji reactions, in an effort to show that she violated various canons of judicial behavior.
The brief mentions that Eaton County District Judge Julie O'Neill, who was originally slated to preside over Nassar's preliminary hearing in that jurisdiction, granted a defense motion to recuse her based on her single "like'' of a Facebook post by a law firm involved in civil litigation against Nassar.
NYU law professor Stephen Gillers, an expert on judicial conduct, called the current rules on how judges can and should use social media a "patchwork'' that differs among states.
"They can speak publicly to explain the process and what's going on, but not anything about the merits [of cases],'' Gillers said. "That has to come from the bench or a written opinion. They're not supposed to look like they have anything to prove or vindicate or justify. Thanking a cartoonist would be, in my view, inappropriate. He's a participant in the public conversation.
"Nassar's best argument -- and I'm not endorsing it -- is that given the publicity around the case, she was in a position to become a social media star, a celebrity, and her subsequent behavior reveals the fact that she succumbed to that celebrity.''
The judge has become increasingly forward-facing in recent months, in contrast to the initial phase of Nassar's appeals process, when she made a point of saying she was declining media requests. At the August 2018 motion hearing in which she refused to disqualify herself from a potential resentencing, she held up a thick three-ring binder, saying it was stuffed with unanswered queries.
Starting last fall, however, she has granted numerous interviews, including a lengthy sit-down in May with "NBC Nightly News." Her audio memoir will be included in an upcoming series co-produced by the media company owned by actress Reese Witherspoon, who tweeted during the Nassar hearing that Aquilina was her hero.
One day in January, as Engler came under fire at Michigan State for crass remarks about survivors, Aquilina spoke to a morning talk show host, an ESPN.com reporter and two television crews. The talk show host asked whether she would be interested in the interim president's job, a notion she downplayed but did not dismiss, setting off a 24-hour cycle of speculation. Engler resigned shortly thereafter and was replaced by Satish Udpa.
"There's certain things I have in the back of my mind, that if they rail on me too much, I'll just walk,'' Aquilina says. "I'm not held here by bondage. As long as I'm effective, I'll stay. ... I feel like I'm part of a cultural change, and that's empowered me to get a little bolder in what I say publicly. That also may cause me to get off the bench.
"I love being a judge. Could I be the next Judge Judy, in a classier way? I think so. Do I want to write books? Yes. Would I like to see my books turned into movies? Yes. The most difficult thing about being a judge is losing your voice. I can't speak when I want to, I can't speak to whom I want to, I can't go out with whom I want to. There are always rules I have to follow.''
Oral arguments in the appeal are expected to be held before the end of the year. The Court of Appeals could choose to rebuke Aquilina for her conduct but let the sentence stand. Or the panel could order a new sentencing before a different judge, as Nassar's appellate attorneys have requested. The same minimum sentencing standards (25 to 40 years) would apply. It's unclear whether a large group of survivors could request to make victim impact statements again.
In any event, it's extremely unlikely that the material outcome for Nassar -- life imprisonment -- would be altered.
Nassar, who is incarcerated at a federal penitentiary in Florida, would be well over 100 years old if he lived to the end of his 60-year federal sentence on child pornography charges, which is to be served before the state sentences. His appeal in that case has been denied, as has his appeal of Judge Janice Cunningham's Eaton County sentencing, in which she imposed a 40- to 125-year term. Nassar could continue his appeals in federal court, but the chances of success diminish there.
Regardless of Nassar's odds on appeal, Indiana University law professor Charles Geyh, also an expert in judicial conduct, said it would be most prudent for the sentencing judge to refrain from commenting on any aspect of a pending case. "In this case," he said, "the judge really did push the limits of what is acceptable.''
Appellate lawyers could argue that Aquilina's post-sentencing prominence and being a "cheerleader for the victims'' reflects a biased state of mind during the hearing, Geyh said: "Judicial canons all have at their core, 'acting at all times in a manner that promotes the integrity and impartiality of the judiciary.'
"The question [before the appeals court] is, Has the judge become so personally invested in this case that at the time of sentencing she exceeded her role and can't be fair? [Is she] using it to advance her own cause or trade on fame to advance a personal agenda?''
---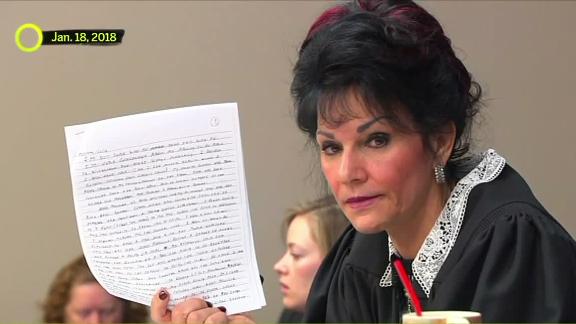 THE CONCEPT OF judicial aloofness has eroded in the past few decades with the advent of reality courtroom shows, and even with the campy nickname "Notorious RBG'' that has adhered to Supreme Court Justice Ruth Bader Ginsburg. When actress Natalie Portman wore a white T-shirt with "Judge Aquilina" in block letters across the chest on "Saturday Night Live'' the week after the Nassar hearing, it was an indication that Aquilina's story had shifted into another gear.
Aquilina attended the 2018 ESPYS (an event noted in Nassar's appeal) at ESPN's invitation and witnessed survivors being honored with the Arthur Ashe Courage Award. She sat apart from them and did not join the more than 140 people on stage. Glamour Magazine profiled her separately that fall in an issue that featured the survivors. But the boundaries between judge and survivors remained hazy. They frequently were thrown together at events, and because so many were local to the Lansing area, "I run into their parents at the grocery store,'' the judge said. She maintains personal and social media relationships with some.
What goes unseen are her private interactions with sexual abuse survivors unrelated to the Nassar case, drawn to her by the stature she has accrued in their eyes. Stacks of packages and handwritten letters started arriving during the hearing and continued for weeks afterward, bearing artwork, poetry, crosses, figurines and books. The deluge has slowed, but Aquilina says she still gets an email from someone she doesn't know pretty much every day.
"It really is an honor as emotional or more than listening to the girls, because that's my job,'' she says. "[The hearing] set people free from trauma. It was unexpected. I didn't do it alone, but it was a powerful result.'' She shrugs, temporarily at a loss for words. "It's something I never expected to be thanked for. I feel undeserving because I do it every day. The girls should be recognized more. They have to live with this trauma.''
Aquilina's far-flung correspondents are, in essence, sending her their own victim impact statements. In them, the judge said, she notices some of the same wording, rhythm and vehemence she heard during the sentencing hearing. "They're watching the seven days like a miniseries,'' she says.
She usually responds. Sometimes, she will give out her phone number. When they tell her about their cases, she reminds them she isn't a lawyer or a therapist. But she listens and tries to steer them toward resources. She feels obligated.
Some of the objects she has received from admirers are on display in her chambers, where every available surface teems with family photographs and career mementos. There are hand-lettered wooden blocks with the words "#metoo,'' "No more silence,'' "Be brave,'' and "Speak up.'' There is a postcard with a drawing of her next to the phrase: "Leave your pain here and go out and do some magnificent things.'' There is also an editorial cartoon in which she is depicted in her judicial robe, doing a handstand on a balance beam while kicking Nassar out of the frame.
"Am I supposed to change careers now -- do writing and speaking -- and let this go?'' she wonders aloud from behind her desk. "With this platform, being a judge has become a hindrance of sorts. [Turning] 60 was sort of frightening to me. I want to live to be 120. Because I have that many things to do. In my brain, I still feel 19.''
In April, the judge and a couple of dozen survivors gathered on the red carpet for photos before the Tribeca Film Festival premiere of the HBO documentary "At the Heart of Gold," directed by Erin Lee Carr. It's the first of two films spawned by the Nassar case, on top of multiple books in progress -- an immense body of work that will roll out over the next year or two.
Trinea Gonczar was resplendent in a teal gown -- a color representing sexual assault awareness and prevention -- embroidered with hundreds of flowers representing her sister survivors. Amanda Thomashow sported a vivid purple suit with a white T-shirt underneath bearing the words "Strong Woman.'' Aquilina stood next to them, wearing a sleeveless white dress.
All of the young women appeared glowing, elated. This celebratory moment would have seemed inconceivable when they stepped to the microphone in Aquilina's courtroom.
Gonczar had no intention of going public when the hearing began and decided to identify herself just two hours before she spoke. Wearing a loose, hastily chosen shirt -- the only top that would fit in her 12th week of pregnancy -- she delivered an account of abuse and betrayal that visibly affected Nassar, who trembled and wept as she spoke. Shortly afterward, Gonczar, then working for the state in a victim advocacy role, met Aquilina at a party thrown by one of the lawyers representing survivors in civil suits. The judge became a sounding board, personally and professionally, she said last fall.
Thomashow, who reported Nassar to Michigan State University authorities the first time he touched her inappropriately -- only to see her Title IX case mishandled and buried by the school -- had every reason to distrust anyone in authority, including a judge.
"You think of court as this scary place, and then walking into that room, sitting down and hearing the first response she gave to the first victim that spoke that day -- it became a safe space,'' Thomashow said in October 2018, in an interview after an espnW roundtable. "It wasn't scary anymore. It was a place where we could go and tell our stories and be heard and be believed. Her courtroom became the first safe space that I've had in years. Which is a weird way to think of it. Because he was there too. But it was safe.''
The audience at the Tribeca premiere watched in silence until the scene shifted to Aquilina's courtroom. When a disembodied voice sounded the "all rise'' and the judge entered, the audience members erupted in whooping and applause. They cheered again after Aquilina read a letter Nassar wrote into the record, ending with his tone-deaf words, "Hell hath no fury like a woman scorned,'' and flicked it aside, her lips pursed with disdain, in a moment that seemed made for cinematic effect.
In a story by The Hollywood Reporter the next day, Carr said she was surprised Aquilina agreed to sit for an interview. "There's no reason she should have said yes to us,'' the director said. "She is a judge. But she started a revolution, and our film was able to document it.''
---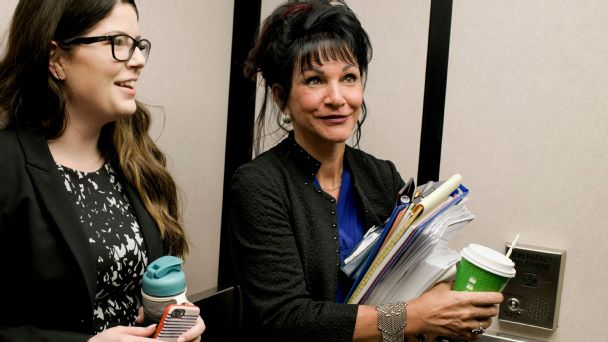 THE DRAMA OF the sentencing hearing has all but obliterated the fact that Aquilina was far from a survivor's icon when the Nassar case started.
In the spring of 2017, as the shocking scale of Nassar's abuse was fast becoming clear, she issued a gag order on any potential witnesses in the case. Many of Nassar's victims were outraged at its broad provisions, which they perceived as stifling their constitutional rights and their newfound voice, and a group of them successfully challenged it in federal court.
Gag orders are common in high-profile cases. What was different in Nassar's instance was the number of victims, their desire to connect, and the fact that relatively few at that time had come forward publicly or been named in charges. Dozens were left in limbo as to what they could and could not say to each other, to friends, to the media, or in any public setting. (Many already had filed civil cases.) The judge issued a revised order that was more specific, limiting it to those named in court documents.
The survivors appealed again. Olympian Jamie Dantzscher, who had revealed that Nassar had molested her for years, including during competition at the 2000 Sydney Games, denounced the order. "There's no way, if we didn't get to speak publicly about this, there's no way all these women would have come forward, possibly ever,'' Dantzscher told ESPN's Dan Murphy. "It seems wrong on all levels to me. What if it happened to her daughter?''
But the second appeal failed, and Aquilina's revised order was upheld. "I made them very unhappy, very uncomfortable,'' the judge says. "They thought I wasn't going to believe them, that I was totally with him, and of course that's what they were used to, and I understood that. But I had a job to do, and at that point I could not explain any more than what I did on the record. And I needed to get a clean jury, for everybody. For them.''
Denhollander called the order "disturbing" and "oppressive'' when it was issued and has not changed her mind about it two years later.
"There was a real potential for her to put a chilling effect on anyone who was willing to come forward,'' Denhollander said. "The effect of that gag order was to give Larry control of the narrative again. It was to put him back in power and take away the one thing victims had started to reclaim, which was their voice. I was very concerned about the ramifications of that order.''
Madeleine Jones, one of the seven victims whose cases were formally charged in Nassar's plea agreement, said the gag order compounded her trauma. She remained anonymous until Nassar's guilty plea was entered.
"The most overlooked, yet one of the most damaging and isolating parts for me about being a charged victim, was the gag order,'' Jones said in videotaped remarks shown at the opening of an MSU museum exhibit dedicated to the survivors. "I spent the day testifying in court during my last day of high school, the high school Larry attended, which had a plaque in their trophy case for him. I could not tell anyone why I wasn't enjoying that day, and the isolation only became worse from there.''
Jones ultimately left her home in Michigan to go to Boston College, where she has just finished her sophomore year. "One day I had a massive midterm that ended up coinciding with many of the Olympians sharing their stories of abuse,'' she said in the video. "Larry's face was on the TV in the dining hall, it was on computers of people reading the news in class, law school students were talking about the logistics of the case, and I could not tell anyone what was happening. I had no support in Boston because I could not tell anyone I needed support.''
Aquilina had started to hammer out jury questionnaires with lawyers for both sides and was preparing a logistical plan for trial. But the case, of course, never got that far.
Nassar pleaded guilty to seven counts of criminal sexual conduct in November 2017. His plea agreement, drafted by lead prosecutor Angela Povilaitis, then of the state attorney general's office, mandated that all victims or their representatives were entitled to make statements in court, including "the 125 victims who have reported their assaults to [the] Michigan State University Police Department and [others] who have been identified on the People's witness list.''
That condition of the plea agreement was accepted by Aquilina and Cunningham, enabling the extraordinary sentencing hearings in Ingham and Eaton counties to unfold the way they did.
A couple of Aquilina's online biographies say she "allowed" the unusually large number of victim impact statements, a condensed description that obscures Povilaitis' role. Aquilina also has made public statements to that effect, including at the University of Minnesota, where she said, "What could have happened in the Nassar case in front of a different judge who doesn't have my philosophy is that only the seven counts that were pled -- you would have had only seven victims speak. Because victims have a right to speak. That would have been a mistake.''
(Povilaitis, now a staff policy attorney for the Michigan Domestic and Sexual Violence Prevention and Treatment Board, declined to comment about the judge or any aspect of the Nassar case. Cunningham also declined an interview through a court spokeswoman.)
Jones gave her victim impact statement at the sentencing hearing via video link to avoid interrupting her college classes. She said the hearing was "super healing to women who didn't have the opportunity to have their cases charged." But personally, she said, she wanted to speak her mind and didn't expect or want an individual response. "She doesn't know me; I don't know her,'' Jones said. "I genuinely think she gets a lot more praise than she should. Her emotions got the best of her. She brought dramatics into the courtroom that don't belong, and her behavior put a lot more focus on her.''
After the cable debut of "At the Heart of Gold'' in early May, a diplomatically worded tweet by Denhollander reflected the awkward conflict felt by many survivors and their advocates. "I'm deeply grateful that Judges Aquilina and Cunningham both allowed their court rooms to be places of justice and healing,'' Denhollander wrote. "But @angiepovilaitis was the one who insisted on that part of the plea from day one. She brought those terms to the judges as non-negotiable, they agreed.''
More recently, Denhollander told ESPN, "I think a lot of the general public thinks what happened to Larry was inevitable, and this cataclysmic shift we saw in January [2018] was a foregone conclusion, and that's not true. What we experienced was the exception and not the rule. It was because of the detective we had, it was because of the prosecutor we had, and it was because of the judge we had. All three of them.
"There's a lot of nuance and a lot of room for discussion for what should and shouldn't have happened, and for rethinking some of the purposes of the justice system, some of the ways to use the courtroom in ways that are healing, but also discussing how far is too far.''
---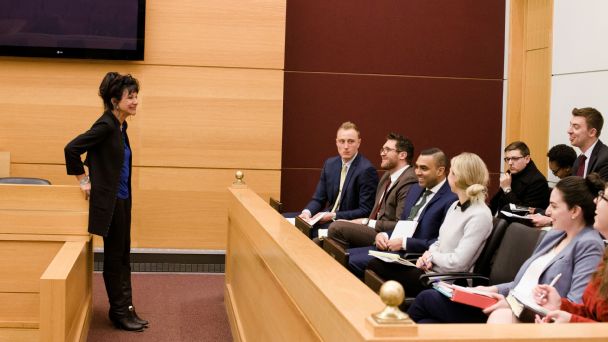 Michigan State University
East Lansing, Michigan
January 2019
RAW WINTER WEATHER is moving in as Aquilina parks outside the MSU museum, where she is to be a last-minute replacement speaker for Nassar survivor Grace French. The Army of Survivors, a nonprofit group started by French, is sponsoring a series of evening panel discussions ahead of the survivors' exhibit.
French made the request personally to Aquilina, who sits on the group's board along with a crisis counselor, a state senator and a local attorney who represents some Nassar survivors in civil suits. The judge accepts, even though it's already been a long day.
People's heads swivel when Aquilina walks into the museum. Some smile in recognition. Others look starstruck. "Her accomplishments are vast, and there is not enough time to sing her praises,'' says Chong-Anna Canfora, the museum's director of development, before yielding to her at the lectern. A small audience in folding chairs, including Detective Lt. Andrea Munford, who led the Nassar investigation and is credited with being the first person in authority to believe many survivors, applauds.
"I want to give a big shout-out to the museum for being part of this, for recognizing the importance, for allowing this space to be used and recognizing all of you, and that this culture shift, rightfully so, belongs in a museum,'' Aquilina says. "What better place than a historical museum to lift up the rugs and say, 'No more'?''
Then she shifts into motivational mode.
"Give me your hands,'' the judge says, raising hers, "and I want you to repeat with me: 'I have a voice.'''
"I have a voice,'' the audience responds dutifully.
"I am victorious.''
"I am victorious.''
"I matter.''
"I matter.''
"Saying that out loud is important,'' she says. "You are victorious each and every time you stand up for justice and you use your voice to make safe spaces where victims can become survivors and thrivers.''
An event organizer hands Aquilina a large pot heavy with white flowers. Freezing rain is falling outside, coating the brick pavement with glaze ice. Aquilina is wearing cowboy boots with not-inconsiderable heels, but undeterred, she grasps the floral arrangement with both hands and treads over the treacherous surface to her van, seemingly impervious to risk.