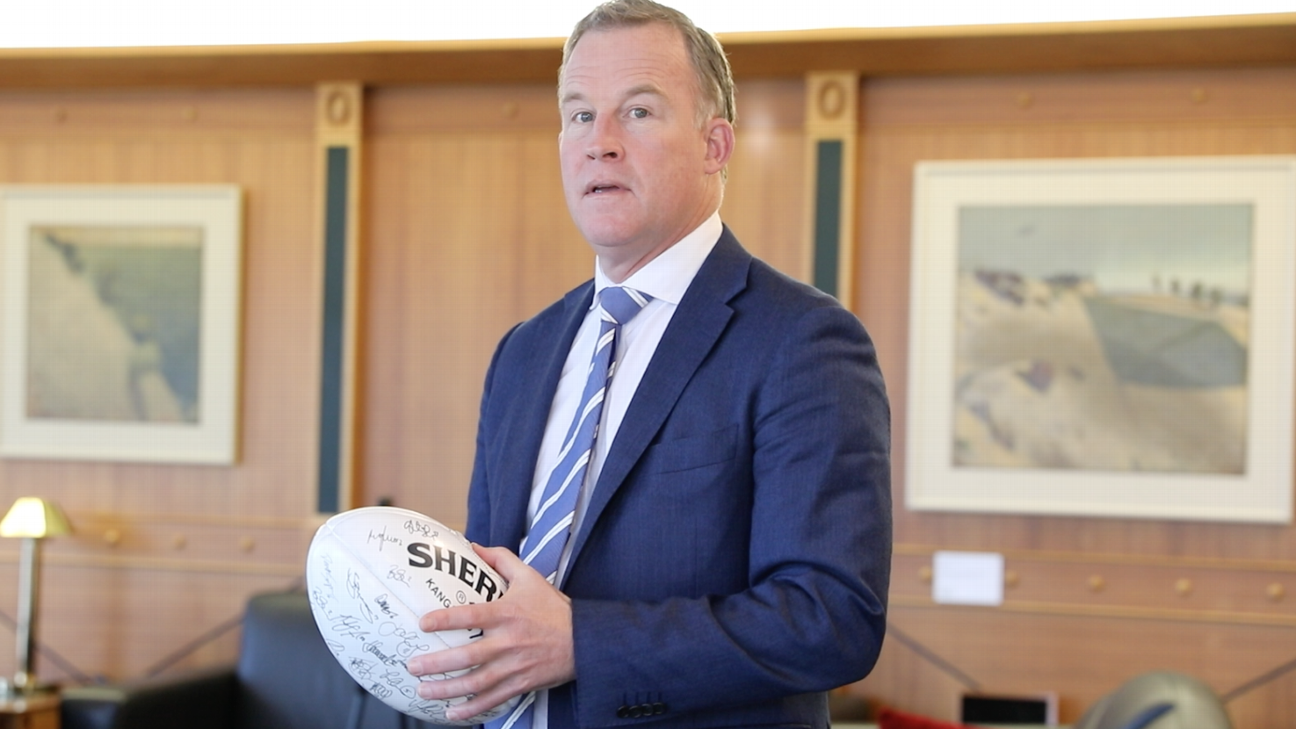 Inside Tasmania's push for an AFL team
Tasmania is football heartland but has never been considered for a standalone AFL team - but hope may be on the horizon. Recently, ESPN spent time in Hobart talking to key figures as the Tasmanian AFL push gathers pace.
Inside the luxurious office of the Tasmanian Premier, Hobart's stunning waterfront stretches out as far as the eye can see. Boats bobble about on the Derwent River as seabirds duck and swoop, while on dry land, pedestrians, cars and bikes navigate the city's small but thriving CBD under the bluest of blue skies.
Will Hodgman, the 45th Premier of Tasmania, is serving his second term in office. Signed footballs sit proudly alongside family photographs on his bookshelf, while local artwork and books are prominently displayed and sitting in the corner is an electric guitar which the 50-year-old father of three plays with some skill.
While he sits atop the state's political tree, Hodgman is just like many of the 500,000+ people he serves: A passionate Tasmanian with a lifelong love of football.
The Apple Isle is as football-mad as anywhere in Australia. Its football history dates back to the 1860s and the state boasts a long line of football royalty including AFL Hall of Fame Legends Darrel Baldock, Ian Stewart, Royce Hart and Peter Hudson. But while the AFL has expanded from a Victorian-based competition to take in clubs in Western Australia, South Australia, New South Wales and Queensland, Tasmania has been overlooked.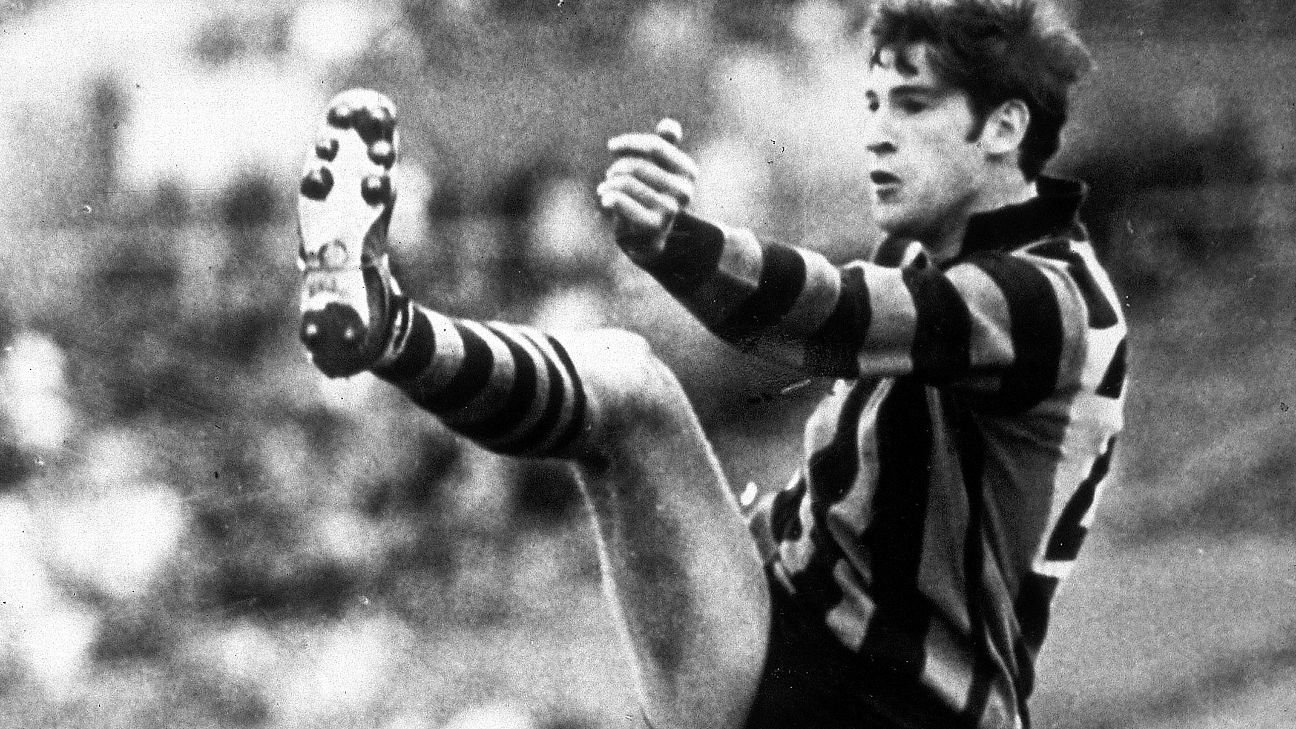 While football has been the state's No. 1 sport for close to 150 years, things haven't been so rosy during the past decade or so, with clubs folding and junior participation and engagement dipping, although AFL Tasmania says it has reversed that trend in the past 12 months. The threat of rival sports -- principally basketball, which is set to establish a team in Tasmania in the short-term future -- is real and many believe Australia's southernmost state has been left to wither by the AFL. Hawthorn and North Melbourne have lucrative deals in place to play games in Launceston and Hobart respectively, but many locals are once again pushing for a standalone Tasmanian team instead of these fly-in, fly-out arrangements.
Tasmania has in the past had several bids rejected by the AFL but Hodgman, like many in his state, is confident that may soon change. His government set up the Tasmanian AFL Taskforce in early 2019 with a mandate to investigate the financial bonafides of an AFL club in the state, a stark and important difference compared to the emotional arguments of campaigns past. The Taskforce, led by Virgin Australia founder Brett Godfrey, will soon report its findings back to Hodgman's government.
With confidence growing the figures will prove Tasmania can support its own team, residents of the southern state are starting to believe their longheld dream might soon be realised.
"I'm a mad keen football fan and a very proud Tasmanian and I can't think of anything better than seeing Tassie represented in a national competition," Hodgman tells ESPN in Hobart. "We have a proud heritage here and I think it'd be wonderful for the national competition to have a team from the Island State."
---
Lauderdale sits on the Derwent River, about 20kms east of Hobart. Boasting a population of a little over 2000 people, the sleepy suburb sits on the eastern side of a thin isthmus that connects the South Arm Peninsula to the mainland.
Despite producing several past and current AFL players, including Brisbane's Mitch Robinson and Adelaide's Hugh Greenwood -- Tasmanian cricket captain Tim Paine and batsman Matthew Wade also hail from the area -- the Lauderdale Bombers are far removed from the luxury of the Premier's office. The Bombers' home ground is patchy and windswept; the changerooms house battered lockers, an eclectic mix of old and new gym equipment, a tiny medical room with just-about-wornout rubdown benches and an adjoining bar and dining area for players, staff (mainly volunteers) and supporters.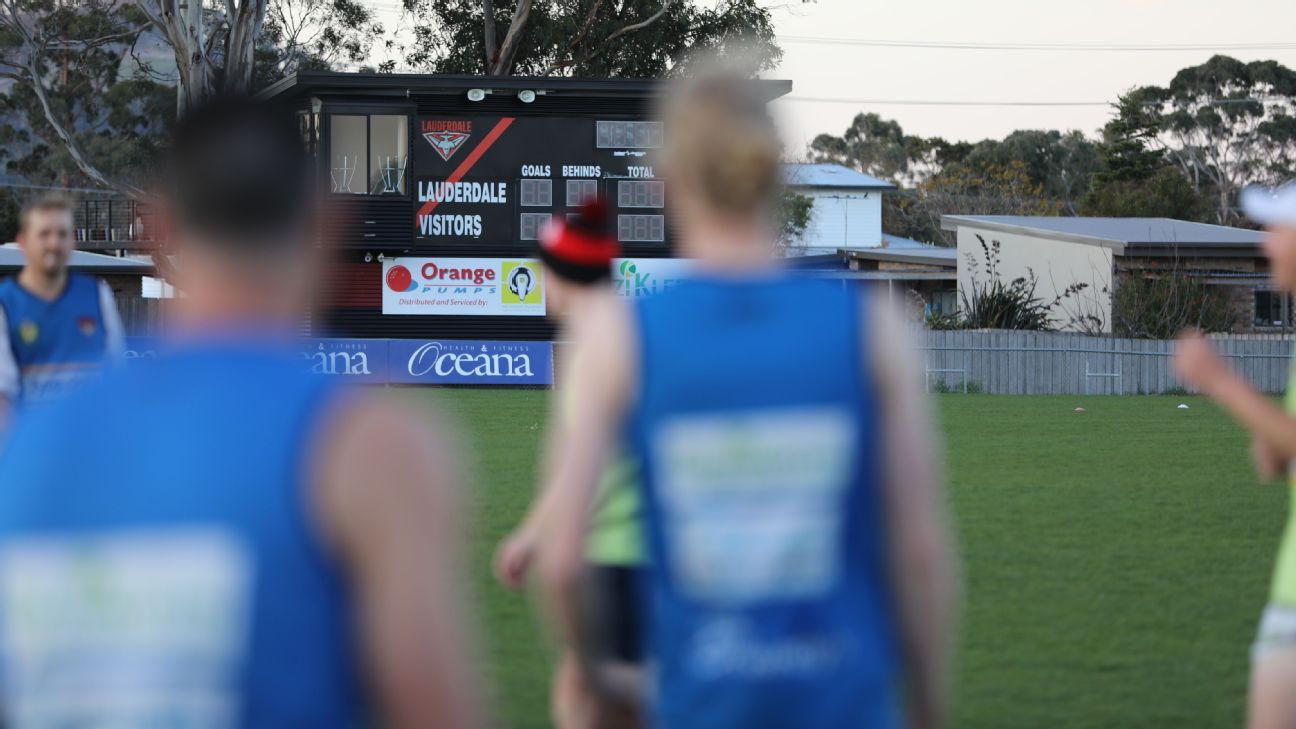 The Bombers are a proud community club that punches above its weight in the state's premier competition, the Tasmanian State League. Their president Julie Kay has spent more than a decade volunteering her time here, while she is also a member of the state government's Taskforce, with her knowledge and experience with grassroots football complementing the groups' business and AFL acumen.
"I think I represent a passionate view about the future of football in Tasmania," Kay, who as a teacher taught many of the men who now play for Lauderdale, tells ESPN. "If we don't get [a Tasmanian team], if there isn't a goal that we can strive for, and an indication from the AFL that it could happen, I wonder why you'd want to start playing football in Tasmania?
"When I first started [with the Taskforce], I wasn't that positive about [the chances of a Tasmanian AFL club] - now I think we should get one, but it's not about deserving it, it's about the business case stacking up and I believe it's going to."
---
The business case. While previous arguments for the establishment of a Tasmanian AFL team were based on emotion and romance, Godfrey and his merry band of volunteer Taskforce members have this time concentrated on the all-important business case - issues revolving around dollars and cents, and membership and corporate support.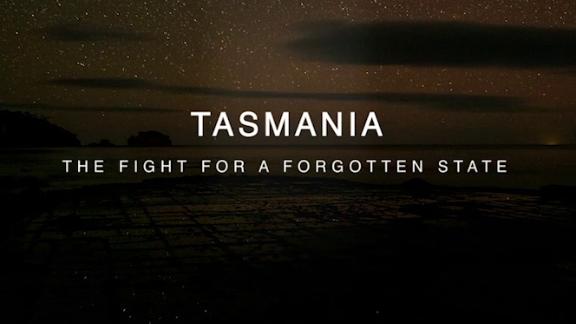 Godfrey famously sketched the Virgin Australia business plan on a beer coaster at a London pub during the 1993 Ashes series before then persuading billionaire Richard Branson to invest, so he knows a thing or two about making bold dreams spring to life. The Victorian-raised, Queensland-based rugby fan fell in love with Tasmania after establishing several tourism ventures in the state in the past decade. Despite being a 'mainlander' and "not really a football person" as he admits, Godfrey accepted an invitation to drive the Taskforce without a moment's hesitation.
"I've spent every single day working on it, [and have put my] other business interests on hold," he tells ESPN. "Sometimes you just do stuff because you believe in it.
"We spent our first two months starting at grassroots and [going on a] listening tour of issues and why things didn't happen before, and the state of play of football in Tasmania. We met with all three regional presidents [in the state] and the upper echelon of administration of the AFL.
"The next two months [were about] the rubber hitting the road, starting to bring our thinking together for a final report."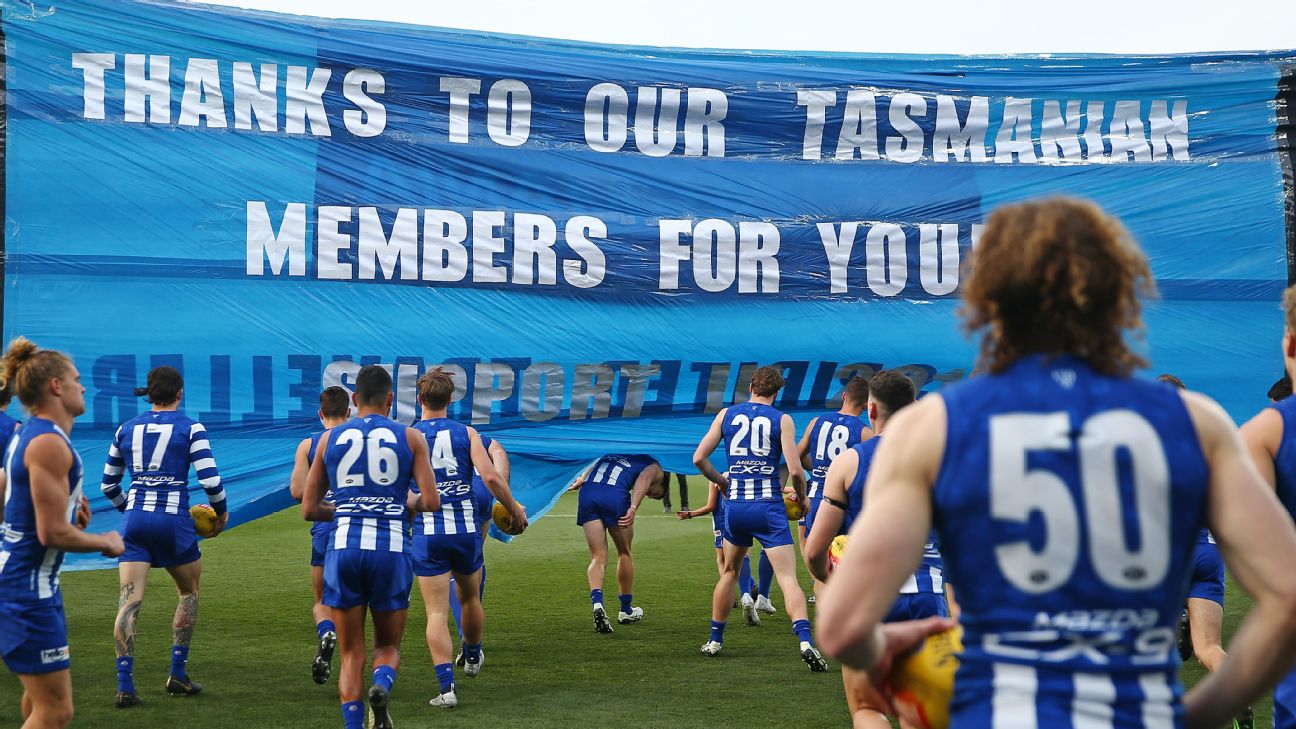 That final report -- which includes 23 key recommendations including key financial elements, location of games, why the 2008 bid failed, the importance of an AFLW team alongside the men's side and so forth -- will shortly find its way back to Hodgman's level 11 office in Murray Street.
Godfrey is supremely confident the business case stacks up and the state government can then push for a provisional AFL license, following a path Gold Coast and GWS trod before their official induction into the league.
"We've always maintained, subject to the business case stacking up, that we're seeking a 19th license," he tells ESPN.
"A provisional license may not mean a lot but it'd be a step further than we've ever been before and gives a degree of certainty - a bit of a promise that we'd be the next cab off the rank.
"We think [an AFL team] can hit the ground running."
---
Not everyone is so optimistic though.
Over the Tasman Bridge, on the other side of the Derwent River from the Hobart CBD, is Blundstone Arena, home of the state's only professional sporting club - the Hobart Hurricanes.
The man in charge of running the team is Nick Cummins, a Melburnian who moved to Hobart to take up the CEO role three years ago (he is about to return to his home state to work at Cricket Victoria).
Cricket and football are often not the friendliest of bedfellows in the state -- despite Blundstone Arena housing both Cricket Tasmania and AFL Tasmania as well as hosting several North Melbourne home games each AFL season -- and Cummins is sceptical whether an AFL team in such a small market would ever work.
"Having run a professional sports team in the state, it's challenging in a market of 500,000 [people] to remain profitable and competitive with the teams on the mainland, and that would be something that'd be a challenge of any AFL team here," he tells ESPN.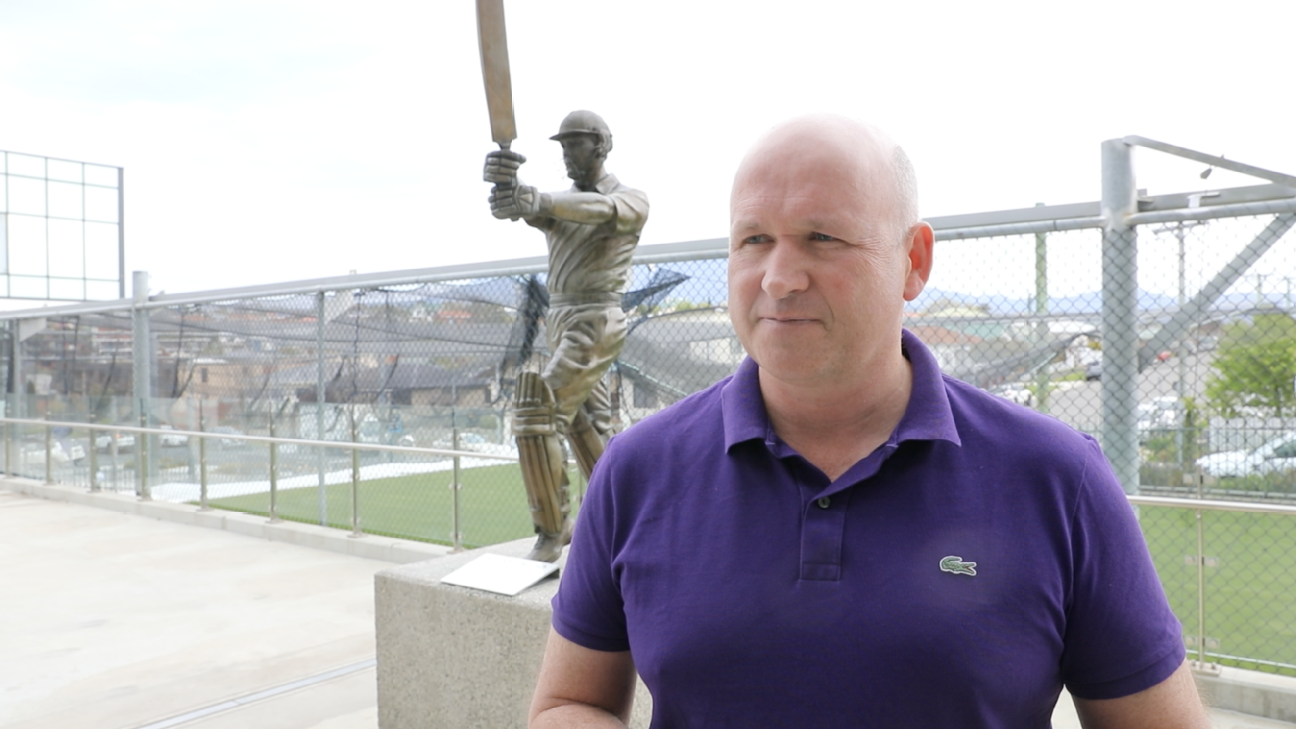 "Of course any Tasmanian wants to have a team that represents them and their state in any sport ... so the sentiment is completely understandable, but the business case is complex. The other thing is, the more professional teams in each state, each business case becomes more complex as the market becomes more competitive."
Cummins and the Hurricanes have made it work, however, with the team supported by cricket fans throughout the state despite its Hobart moniker - a fly in the face of those who believe Tasmania's parochial divisions between the north and the south would splinter any hopes of a standalone AFL club.
"When I first started, the Hurricanes were very strongly Hobart - we played all our home games at Blundstone Arena and one of the things I was really conscious of was the fact with a relatively small population, we really did need the entire population to get behind us to grow the club," he tells ESPN.
"We were told that no one in Launceston would support a team that has the word 'Hobart' in it but in our first game in Launceston we sold more Hurricanes merchandise at that game than we have sold at any Hurricanes game in history."
Player recruitment and retention is also an area sceptics point to in questioning whether an AFL team would work.
"I think cricketers probably better understand they may have to move for opportunity but even then we've had lots of conversations with players who are reticent to move to Tasmania just because they don't want to move away from home," Cummins says.

Those at grassroots level also have queries. Clinton Brown, senior assistant coach at Lauderdale, points to several factors that might impede a Tasmanian team, including the state's complex health and housing situations. With the state's government spending a reported $7m annually with Hawthorn and North Melbourne to play games in Tasmania -- a figure Hodgman says is surpassed by the money brought into the state by interstate football fans -- Brown, like many others, questions whether that money would be better spent elsewhere.
"Everyone would love a team in Tasmania ... but there's a lot of negatives that go against it though and I'm not sure how they overcome them," he tells ESPN. "Population - we don't have the growth of other markets and our population is spread across a big landscape. Plus, do you play games in Launceston or Hobart?
"To try and sustain a sporting club at any level, let alone the highest ones, it's difficult, and financially is the hardest thing ... we might not have the corporate sponsorship down here that other mainland clubs do, so [a standalone team would] rely on a lot of government support [and] we've got a health crisis and a housing crisis down here in Tasmania and a lot of taxpayers don't like seeing their money p----d up against a wall for a sporting team."
---
Of course, no one likes p----ng their money up against a wall, which takes us back to the Taskforce's business case.
Godfrey is adamant a Tasmanian team would be profitable, confident that strong membership and corporate support and likely AFL and state government backing would allow the club to sit about mid-table in terms of financial muscle among the existing 18 clubs.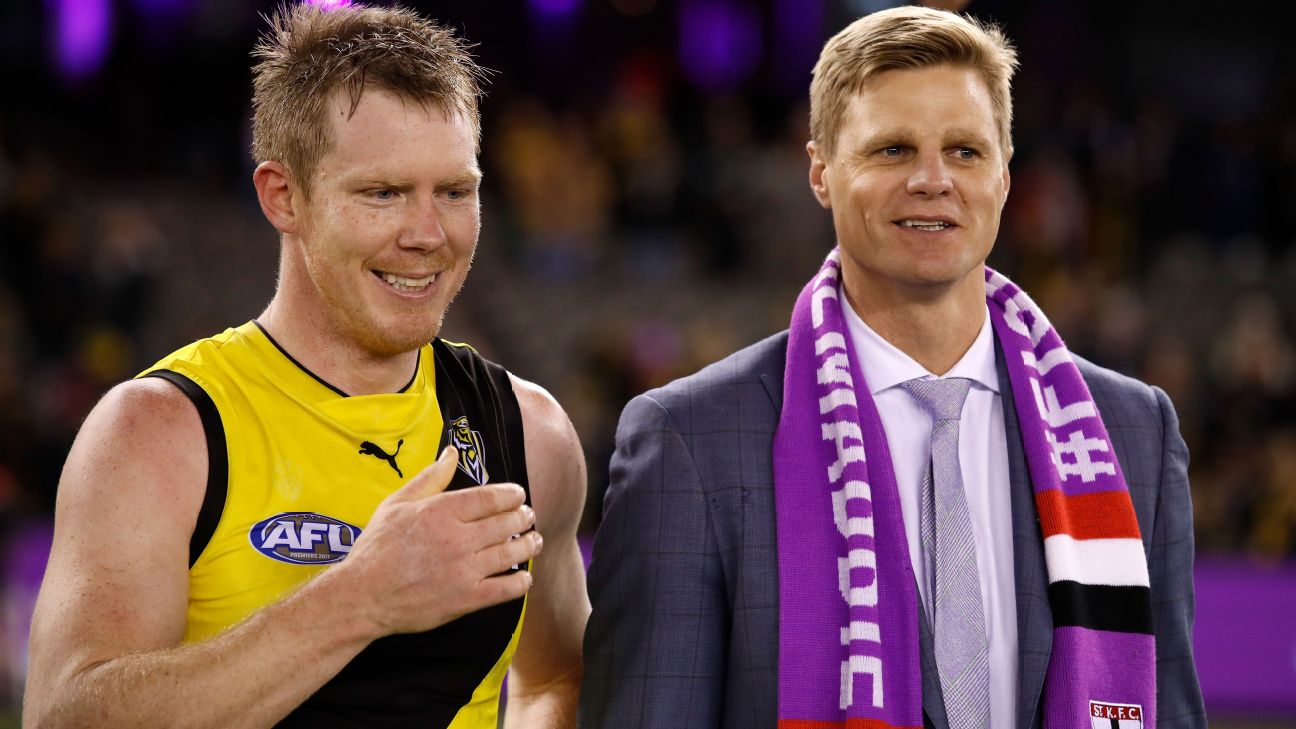 "The economics become the driver for whether or not the AFL will even bother to read this [report]. We need to be confident the numbers stack up and if they do we hope the AFL will consider the presentation," he says.
"We don't want to be a drag on the AFL and by default the other 18 clubs. [I'm confident we can] sit around the 50th percentile in terms of our needs [from the AFL]."
There's no denying there are huge questions to be answered and significant risks if a Tasmanian club ever got the green light. Finances, locations, further thinning of the AFL's talent pool, whether or not the league would want an uneven number of teams should it introduce a 19th - all complex questions with no concrete answers.
But some supporters say the biggest risk is what happens to football in Tasmania if the state never gets its own side.
Jim Wilkinson, a former South Melbourne VFL player and Tasmanian cricketer who recently retired after a 20-year career in state parliament, is worried the lack of a team at the highest level could continue to hurt grassroots football. He fears football may be left behind in terms of participation and engagement if, or when, the NBL sets up a Hobart-based franchise.
Earlier this year, Wilkinson was appointed as executive chair of the Football Tasmania Board, a state government group put together before the establishment of the Taskforce to focus specifically to grow grassroots football state-wide and unite all parts of Tasmania should a bid for a license be put together.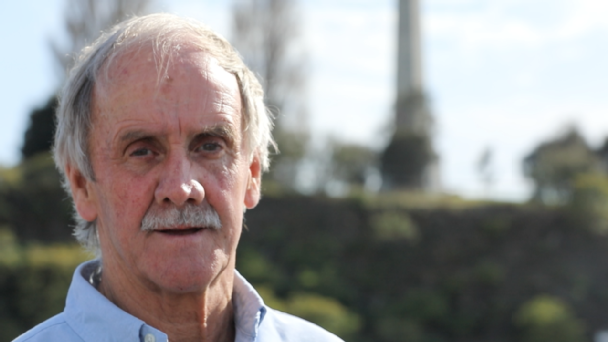 Wilkinson's group has worked side-by-side with the Taskforce and while he's proud of the work his board has done in helping boost certain demographics, he says a standalone team would help secure the sport's future in Tasmania.
"That was one of our concerns - without the pathways other states have with football, it doesn't have the same benefits other sports have," the father-of-four tells ESPN at Macquarie Point - an industrial area in between the CBD and the Derwent River which is the site of a proposed new AFL stadium.
"One of the reasons the board was put together was increase the base of footy in Tasmania -- grassroots footy -- and if you look at what's happened in the past eight to nine months there's been an increase in grassroots football, a significant increase, from juniors to age 15 or 16.
"This year we've made giant strides - we have the Under-18s back in the NAB league and a VFL team being looked at in the next couple of years, but the AFL team would really be the icing on the cake. It'd make a tremendous difference."
Godfrey is even more forthright.
"What happens to Tasmanian football if this doesn't happen? That's the elephant in the room. There's other sports making inroads and national leagues looking to enter the market and that will send participation [for those sports] skyrocketing," he says.
"In business -- and the AFL is one of the best businesses -- the No. 1 thing is protecting your existing market share before you look at new markets. Protect your underbelly and your own market share because that's what saves you in tough times. The risk is, if there's no certainty now, I think there's a real risk of [losing] a founding football state."
---
Back in Hodgman's office overlooking the sparkling Hobart waterfront, the Premier is dreaming big.
"We have everything in place to present to the AFL and they have important decisions to make as to how their competition looks like moving forward, and how they can truly capture a national market by having Tassie in it," he says.
"I think Tasmania would only add value - the Tasmanian brand, whether it be in a sporting sense or business, is a powerful one."