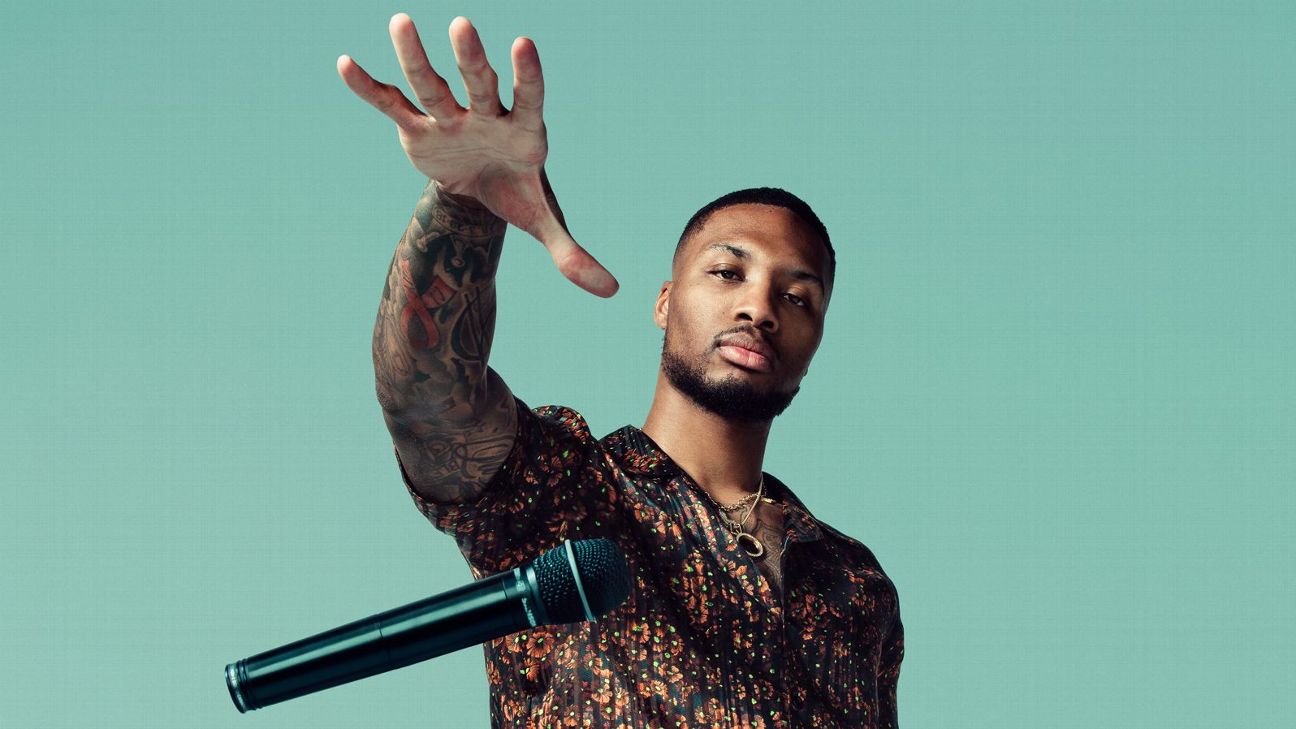 As Real As It Gets
Whether he's balling or rapping, Damian Lillard, aka Dame D.O.L.L.A., represents far more than just himself.
Editor's note: This ESPN Cover Story, which explores Trail Blazers guard Damian Lillard's loyalty to his hometown of Oakland and reveals Lillard's rising hip hop career, was originally published on Dec. 5, 2019.
The zero on the front and back of Damian Lillard's Portland Trail Blazers jersey is actually the letter "O." It stands for Oakland, where he grew up in the city's working-class Brookfield Village neighborhood. It stands for Ogden, where he played college ball at Weber State, and for Oregon, where he lives and works and co-parents his son, Damian Jr. You can say he's representing, flying his flag. But he'll tell you it's something simpler than that. He's being who he is. He's knowing what he's about. "I operate as me," he'll tell you. "How I feel and what I was raised on, all the time, regardless of where I'm at or who's around. It's the same thing, same energy all the time."
---
THIS PAST SUMMER, Lillard, 29, signed a four-year, $196 million extension with the Blazers. At roughly the same time, Kawhi Leonard and Paul George engineered a radical Clippers makeover, Kevin Durant and Kyrie Irving cooked up a fantasy Brooklyn reboot, and LeBron James wooed Anthony Davis for a Lakers glory reclamation project.
But Dame Lillard operated as Dame Lillard. Be who you are where you are. Stay rooted. Make this work. Make it the best of itself. Bring the same thing, the same energy all the time. Ask him whom he was looking at this summer and Lillard won't talk to you about Leonard or Davis. He'll talk about Dirk Nowitzki, the Mavericks legend who led his team to a title in 2011 and retired after 21 years in Dallas.
"He just stayed with it," he'll say. "I respect what Dirk did. Like, I see that and I'm like, 'It'll be worth it. I know it was worth it for him,' you know what I'm saying? Like, he'll be forever, ever, ever respected in Dallas and in the league. So that's like what I see from myself."
---
BROOKFIELD VILLAGE IS a mixed African American and Hispanic neighborhood in East Oakland, about a 25-minute walk from Oracle Arena, where a young Lillard used to wait near the players' parking lot, hoping for autographs and to sneak into the arena for games. Homes in the neighborhood were built in two booms, one in the early 1900s and another during World War II to provide housing for workers manufacturing munitions and supplies. You don't put on airs in Brookfield; you go to work, you take pride and you step to the challenge, whatever it might be.
You can see Brookfield in Lillard's notorious post-late-game-dagger stare. And you can see it in the eyes of his father, Houston. "My dad would always tell me, 'You don't gotta be scared of nobody,'" Lillard says. "'When you go in a room, believe in yourself.' Like, I was always taught that."
Lillard got into his first fight at Brookfield Park. He played flag football there and suited up for his first basketball game at age 6. He rode his bike all over Brookfield, and he and his brother, Houston Jr., hit the gym at the park early and often, playing against grown men, sometimes deep into the night.
"I remember when they got locked in there," says his mother, Gina Johnson. "I remember them always being over there and playing, and then staying and hiding so that they could play longer."
There is pain in Brookfield too. The crime rate (according to AreaVibes.com) is 191% higher than the national average. Drugs, prostitution and violence were a regular part of life when Lillard was coming up. In those days, as an antidote, the neighborhood held an annual summer get-together called the Never Worry Picnic. "The whole neighborhood would be there, and the rest of the city of Oakland," Lillard says.
He remembers the music and his family grilling food, remembers what it felt like to be with his grandparents and parents and friends. Most of all, he remembers them all doing the Brookfield Village signature dance. It's part shuffle, part swagger in the feet and all laid-back, never-hurried cool, with the hands conducting at the same time. "You can't teach it," Lillard says, dipping into it. "You gotta be around it. This is something you just can't teach. Like, this is years and years in the making."
The picnic went away when he was about 12 because too often the fun gave way to strife — "It always ended in like a fight or a shootout or something like that," he says — but it's the way he felt about it when it was at its best that he remembers even now.
---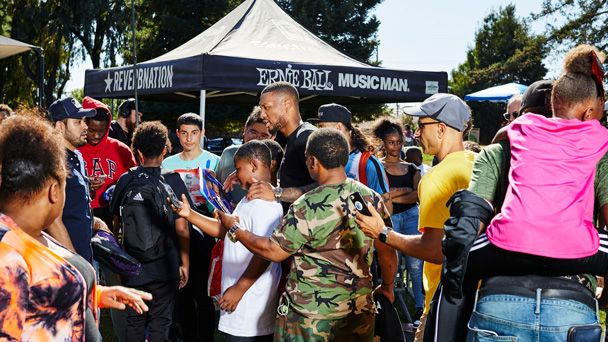 NEW YORK CITY, Chicago, Detroit and Los Angeles are well-known basketball factories. But pound for pound, the Oakland area might have the world's best collection of hoopers.
Bill Russell, the star of the Boston Celtics and an 11-time NBA champion, went to McClymonds High School in Oakland before dominating at the University of San Francisco. Gary Payton went to Skyline High, and Jason Kidd went to St. Joseph Notre Dame on his way to UC Berkeley. Paul Silas, Brian Shaw, the Barry brothers, Lester Conner, Antonio Davis, Eddie House, Greg Foster, Drew Gooden, Leon Powe, Ivan Rabb and J.R. Rider all have roots in and around "The Town." If Lillard is now the world's most famous standard-bearer for the Brookfield Village Dance, he's also the latest in a long line of players upholding the Bay Area basketball tradition and representing its tight-knit basketball community. "Gary Payton, B-Shaw, Jason Kidd, everybody like that, we held on so tight," he says, thinking about his time as a young, developing player.
Lillard's brother went the juco route and played football at Laney College after earning poor grades in high school. Houston buckled down and eventually earned a scholarship to Southeast Missouri State and constantly told his younger brother to learn from his mistakes by focusing and getting better grades. "I applied a lot of pressure on him," Houston says. Damian responded. He was academically eligible at graduation, though not widely recruited, and eventually signed with Weber State. Saint Mary's and Washington State made late runs at Lillard, but he stuck with the school that wanted him first.
Ogden, Utah, is a college town of about 90,000 — 80% white and 2% Black — roughly 40 miles north of Salt Lake City, and NBA dreams seemed laughable at the time in the Big Sky Conference, which rarely produced pro prospects. But Lillard drew attention, averaging 24.5 points, 5.0 rebounds and 4.0 assists as a redshirt junior in 2011-12, and his father started to get a feeling. "I kept it to myself. And then I started sharing it like with his mom and a few other family members and friends that I thought we had one," he says. "That's what I said, 'I think we got one, y'all.'"
He was right. Portland took Lillard sixth overall in the 2012 draft, and his 19, 3.1 and 6.5 that season earned him Rookie of the Year honors. He's been an All-Star four times since.
It's a big thing to get up and out, to play on the level of your hometown heroes, to escape the dangers you see in the streets, to feel like you have choices in this life. I think we got one, y'all. Lillard's father knew what he was looking at and knew what he was saying. Dame had a chance. But Houston Lillard Sr.'s son wasn't looking to go anywhere. He was looking to bring something back.
---
AT THE END of his standout rookie season, Damian Lillard wanted most of all to rekindle the Never Worry Picnic in Brookfield Park, and this time without the worry. With the support of his agent, Aaron Goodwin, and Goodwin Sports PR director Mary Ford, he jump-started the tradition, footing most of the bill himself. "He said if he ever became a basketball player, he would do something for the neighborhood," his grandfather Albert recalls. Entertainment at the first picnic included horse rides and video games, and there were hamburgers and hot dogs courtesy of Oakland firefighters. They handed out school backpacks with the needed goodies, plus T-shirts and Adidas basketball shoes.
There has been a Dame-sponsored Never Worry-like event in each of the past six years. This year there were zip lines, rock climbing walls and bounce houses. Local barbers and beauticians cut and curled hair, and Lillard's uncle Oscar cooked his famous ribs and chicken on a huge grill in the back of the parking lot.
All the while, Lillard shook hands with folks from the neighborhood and took pictures with kids, signed autographs and reunited with old friends. He wanted people from home to still touch him. And he wanted to touch them too. He thinks about "people's everyday lives, like the struggle that they might have every single day," he says. And about how "something like this brings a light."
Brookfield has gone through changes since Lillard was on his bike in the park and in the gym at all hours as a boy. Oakland has long been known as one of the most welcoming cities in the country for African Americans. It's the birthplace of the Black Panthers and is currently about 25% African American. But the diverse town is changing daily; new high-rise, high-priced condominiums, hipster restaurants, a dropping Black population and a growing homeless issue are all evidence of the impact of a burgeoning tech industry. Dame's East Oakland is still predominantly African American, but for how long he doesn't know.
He notices the gentrification, which has raised the cost of housing and over time changed the racial composition of the city. In 2000, Oakland was 35.7% Black and 31.3% white. In the 2010 census, the numbers were reversed: 28% Black and 34.5% white. "Every time I go home it looks a little different," Lillard told The Undefeated two summers ago. "I told someone the other day, 'Home is not what it was anymore.' ... It takes away from the feeling of our neighborhood."
So the picnic isn't just a party. It isn't just a gift from a superstar to the folks he knew back in the day. It's a commitment, an investment, a way of keeping something essential to the place alive and a way of being real in the place.
When a young Black boy at the picnic asks him if he's really from Brookfield — "Lightweight tried to pull my card," Lillard says with a laugh — the authenticity note rings out for him and gives him added passion for the importance of the event. "I needed to be more present," he says. "He's seeing everybody that hang out at the gas station and people that's on the strip coming down east and people that live on his street. So if he sees my interaction with them, and he'll see how regular it is, it'll register."
It also registers when Lillard steps onstage at the picnic as Dame D.O.L.L.A., perhaps the greatest rapper who lists professional athlete as a full-time job. "If you from Brookfield, I need you to circle around," he says to the crowd, mic in hand, calling his community meeting to order. There are athletes who dabble in hip-hop, but this isn't that. This is Brookfield. This is I operate as me. This is, as the name says, Different On Levels the Lord Allows.
"Know that I'm from Oakland, so I'm too legit to quit. If you all in my section, you part of my collection."
- Dame D.O.L.L.A., in "Boss Life"
---
OAKLAND ALSO HAS a rich history of rap stars, including, most notably, Too Short, MC Hammer, Digital Underground, G-Eazy, the late Mac Dre, Souls of Mischief, Keak Da Sneak, Dru Down, Richie Rich, Luniz and Mistah F.A.B.
But for Lillard, the music began as a family thing when his cousin Eugene "Baby" Vasquez moved to Oakland from New York City in the early 1990s. Baby would roll up outside Lillard's grandparents' house, just around the corner from Brookfield Park, and he had one rule if his young cousins wanted to hang with him in his car. "He would be playing instrumentals and was telling us that we could only be in the car if we rapped," Houston Jr. remembers. "We were nervous and shy, but after a while, if you wanted to be in the car, you would do it."
Even as a kid, Dame had a knack for it. "He would keep going and going. It got to the point where he would tear up the whole beat and I couldn't get on it," his brother says.
Lillard's love for rap grew when another cousin, who goes by the hip-hop name Brookfield Duece, started to have success in the Oakland rap scene. Dame rode around town with him when he got out of school in the afternoon, singing along, windows rolled down. "Brookfield Duece was pumping his music all over Oakland," Houston Jr. says. "It influenced Dame a lot." Lillard carried it forward when he got to the league, launching a "4 Bar Friday" callout on Instagram in 2013, asking aspiring rappers to submit their best four bars in 30 seconds or less and then posting the best of them each week.
It was evidence that the music, for Dame, is always about coming from and reaching for connection and being together. In 2016, he put out his first album, "The Letter O," a nod to the number on his Blazers jersey and featuring the likes of Lil Wayne, Jamie Foxx and Raphael Saadiq. Two other albums, "Confirmed" and "Big D.O.L.L.A.," and his own record label, Front Page Music (now home to Brookfield Duece), have followed.
"He don't talk about nothing fake, that's what's awesome," Lil Wayne says. "When you cut on a song and you hear someone talking about something that's true ... Not fabricated, not this and that, not that and this, it's truthful."
You see Dame's father's demeanor on the floor, but it's his mother's swag you see on the stage. Gina exudes a good vibe every time you come her way, with her smile, laughter, dancing skills and quick wit. She also does the Brookfield Dance with the best of them, moving her feet and arms in a poetic running motion the way they have in the neighborhood for decades.
As Dame walks onstage at the picnic, he turns on the personality that makes his mama smile as he and Brookfield Duece sing the hook on the song "Dre Grant." "My mom was like the person that gas me up," Dame says. "If we had like another kid birthday party and they start playing music, my mom would like, 'Yo, D, hit that. Do that Brookfield!'"
The music thing is real for him. The albums have charted well, and the endorsements from musicians like Lil Wayne, who appears on all three of them, let him know he belongs. "He sends me tracks, and every time I send him a song, he record it, send it right back," Dame says. Comparisons to other athletes who've stepped to the mic are inevitable, and yeah, he got a little caught up in a stunty rap battle with Shaquille O'Neal this past summer, but that kind of thing isn't his focus.
"It's fun, but I think my battle rap career is over. I mean, it don't get no bigger than doing it with Shaq," he says with a smile. Dame doesn't think of himself as an athlete who raps on the side. He thinks of himself as an athlete, as Damian Lillard, and he also thinks of himself as a musician, as Dame D.O.L.L.A. The and in that sentence is key. "I'm literally able to do both," he says. "As a career."
---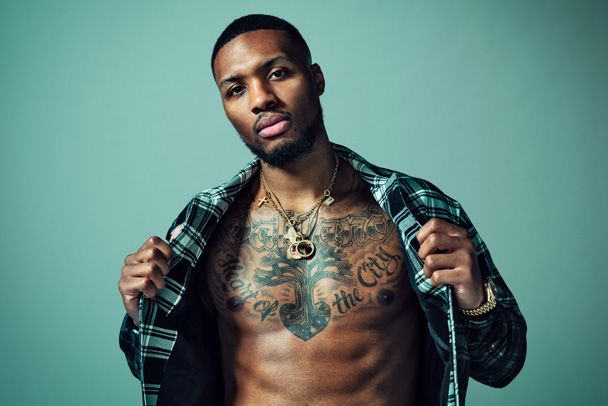 IF THE TWO things are both fed by Brookfield, they also feed each other. Onstage, every time out you have to show what you've got, win people over, bring them along with you toward a feeling, be it pride or joy or strength or celebration. "I've got to prove myself," Dame says. On the court, it's similar. Prove yourself, over and over again.
There are just nine-tenths of a second left and you're down by two against the Rockets in 2014 and you have to hit that fadeaway 3 to win the series. And you do. And then there are 1.5 seconds left in Game 5 against OKC last season, and it's all tied up and you launch a 3 from 37 feet (Thirty. Seven. Feet.) over Paul George and if it goes, you win the series. And it goes. "The way it was looking, I was like ... I'm finnin' to have another one of them shots," Lillard says.
The OKC shot inspired a wave of memes, of course. Lillard calls it a moment. He waved goodbye to George and the Thunder after the ball went in. His brother was there. He was mobbed by teammates on the floor. The crowd went wild. And he looked into the nearest television camera with a face, a stare that said all damn day, folks.
"He don't talk about nothing fake, that's what's awesome. When you cut on a song and you hear someone talking about something that's true ... not fabricated, not this and that, not that and this, it's truthful."
- Lil Wayne
Lillard has earned the nickname "Dame Time" for his consistent late-game heroics. But this, this crazy shot, was not only the greatest of his career so far but one of the best in playoff history. Run that tape back. Call up those memes. Look at him in the moment. He's his father's son right there. He's Damian Lillard elite NBA point guard right there too — height of the form. And he's Dame D.O.L.L.A. as well, with swag to spare. He gives his heart and soul to each. He's looking out at all comers. He's fearless, the way he's always been, from his first NBA game against Kobe Bryant and the Lakers to today.
Take a close look and it doesn't take much to imagine he's also looking past the people all around him, out at all his friends and neighbors back in Brookfield. Giving them a nod, letting them know they belong to the moment too.
---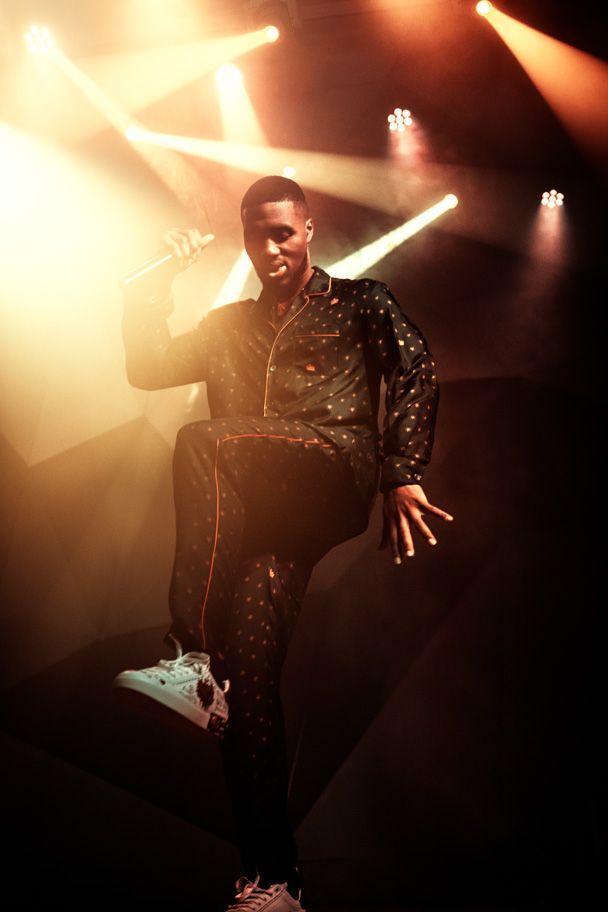 THE HEIGHT OF that shot and that feeling seem a long way away right now. Even after the recent acquisition of Carmelo Anthony, the Trail Blazers are 9-13 and sit near the bottom of the Western Conference standings. The usually healthy Dame has also recently missed time with back spasms. Making it back to the conference finals is a long shot, and a championship might be little more than a pipe dream for this season. But don't expect Lillard to shrink from it, or to look for the door.
"They allow me to be like the best version of myself as a player," he says of the Blazers. "They support me in the stuff that I do off the court. So why am I looking for a different situation?" Lillard is already second on Portland's career scoring list, behind only Clyde Drexler. If he stays healthy, he will move into the top five in franchise games played. Drexler and Bill Walton are considered the greatest Blazers of all time, in large part because they led Portland to the NBA Finals. Lillard is in their company. He could retire from basketball today and warrant having his "0" jersey hang in the rafters at Moda Center. But there is work left to do, right where he is.
"Don't underestimate how badly he wants to win a championship," Blazers coach Terry Stotts says. "He doesn't change teams to supposedly do that. He thinks we can do it in Portland."
Lillard and Damian Jr. have settled in West Linn, an affluent neighborhood in Portland these days. They roller-skate and rent out nearby movie theaters for family and friends. Lillard distributes sneakers to the needy and has established a RESPECT Program aimed at helping area high school kids graduate. He sees home here, even as he's still rooted to Brookfield. You can hear it when he talks about Damian Jr. "My son is from West Linn," he says. "His pride is going to be in his name and what he represents. So he's going to have that type of pride in that way."
You can hear it too when he talks about the decision to stay and sign the extension with Portland. "I don't think I'm loyal to a fault. I think I'm loyal to the person that I am," he says. "When I'm saying that this is what I want to do, like, I want to make this team win a championship and I want this city to feel what it's like winning the championship after such a long time."
The Trail Blazers last won an NBA title in 1977, with Walton leading the way. Lillard led them to the conference finals last season in a brutal conference that might be even tougher to win now, with Leonard and George, and James and Davis in the way. Never shy of a challenge, he nevertheless sees a day when the Blazers are celebrating a long-awaited second championship in downtown Portland, with him proudly raising the Larry O'Brien NBA Championship Trophy high, his beats blaring from the speakers and folks dancing from Oakland to Portland.
He wants to bring it back is what he wants to do.
It's what he does.
It says so in the lyrics — if you all in my section, you part of my collection.
And it says so right there on the front and back of his jersey.
Wardrobe styling by Erinnicole Goodwin & Desiree Olavarrieta/It's Goode Clothing; prop styling by Kymm Ernst; hair by Dionte Allen; grooming by Ailsa Hopper Court; production by Noah Lichtwardt/Open Range Crew. Style credits: cover outfit: shirt by It's Goode Clothing; pants by Amiri; boots by Saint Laurent; outfit 2: tank by Calvin Klein; pants by Fendi; outfit 3: shirt, pants and shoes by Dolce & Gabbana; outfit 4: shirt by 1017 ALYX 9SM.