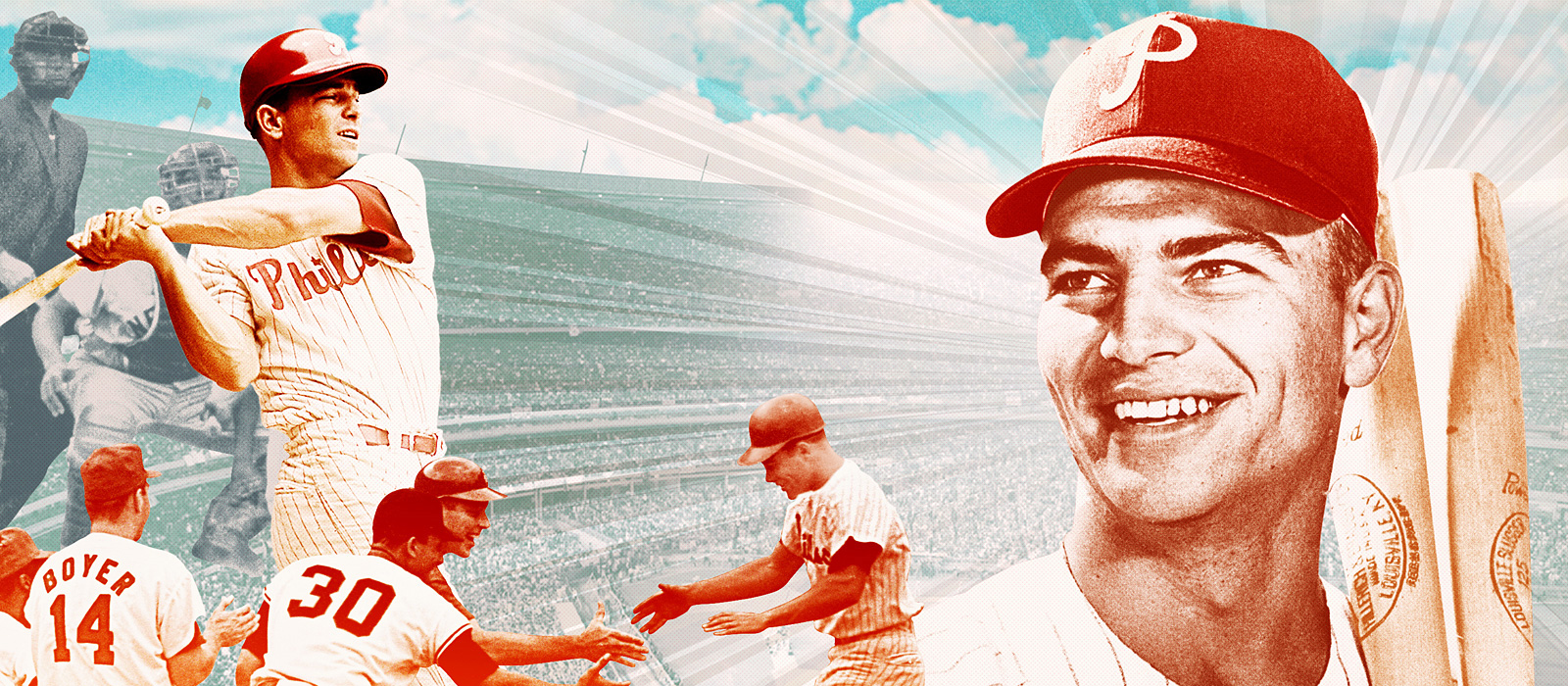 A Hard-Knock Life
Johnny Callison's walk-off home run won the last All-Star Game hosted by the Mets. His fortunes elsewhere were even more dramatic.
He looks almost embarrassed.
There, in the middle of a mob that includes eight future Hall of Famers, is the hero of the All-Star Game. No. 6 is the smallest man among them, but his ninth-inning, three-run homer off intimidating Dick Radatz just gave the National League a 7-4 victory at then-gleaming Shea Stadium on July 7, 1964 -- the last time the Mets hosted the Midsummer Classic.
Willie Mays and Roberto Clemente are there to greet him at home plate, as is the man who lent him his bat, Billy Willliams. Somewhere in there, Juan Marichal, Orlando Cepeda, Ron Santo, Walter Alston and even Casey Stengel are trying to get a piece of him. At this moment, in this photograph, you can see why the 1964 Phillies yearbook called him "a true ballplayer's ballplayer."
And you can begin to understand the bittersweet life of Johnny Callison, a life that mirrored the star-crossed season of his '64 Phils. A life worth remembering.
As familiar as that scene seems today -- players celebrating at home plate -- it's important to keep in mind that those were very different times. The big dollars and freedom of free agency were still years away, and baseball was really just a glamorous trade, played by men with families who lived down the block. They learned the game on sandlots, not diamonds, and their proverbial path to the majors looked more like Route 66 than I-40.
John Wesley Callison was born on March 12, 1939, not far from Route 66 in Qualls, Okla., a town so small that "the wind blew it away," according to Johnny. He died at the age of 67 on Oct. 12, 2006, in a hospital in Abington, Pa., near his longtime home in Glenside, surrounded by loved ones, six months shy of the 50th anniversary of his marriage to his high school sweetheart, Dianne Moore.
In between, he was a dirt-poor kid on a train from Oklahoma to California, a celebrated athlete at East Bakersfield (Calif.) High, a rookie sensation with the White Sox, a star for the Phillies for the better part of the 1960s and a veteran presence on the Cubs and Yankees. Callison, who never lost his matinee idol looks, was also a used car salesman, a bartender, a father of three daughters, a grandfather of eight more girls, and a good friend. He loved John Wayne, Cape May, "The Price Is Right" and animals. He even taught one of his parrots, Charlie, to sing "Take Me Out To The Ball Game" and say "F--- you."
Callison (BL, TR) was listed as 5-foot-10 and 175 pounds, but he was really 5-foot-9 and change and, by the end of the exhausting '64 season, was down to 162 pounds. A glance at his lifetime stats shows that he was capable of hitting .300 (1962), clubbing 30-plus homers ('64 and '65) and driving in 100-plus runs (ditto). Although he never stole more than 10 bases, he did have the speed to lead the National League in doubles once and triples twice. Perhaps the most impressive item on his baseball résumé is the four consecutive seasons he led the NL in outfield assists (1962-65), an unprecedented distinction made unbelievable by the fact that his right fielder counterpart for the Pirates was Roberto Clemente.
"He was a helluva player," says Williams, who kept the Louisville Slugger he lent to Callison because he, too, hit a homer in that All-Star Game with it -- a solo shot off John Wyatt in the fourth. "Strong arms, quick wrists, a beautiful swing. And what a rifle. He played a lot bigger than he was."
Callison isn't in the Hall of Fame, but the respect for him is there in Cooperstown. In the World Series display is the Spalding glove Mets outfielder Tommie Agee used to make his legendary catches in the 1969 World Series. It's a Johnny Callison model.
"He was magnificent, especially during that '64 season," says Bobby Wine, one of the shortstops on that team. "But he was a funny guy in that his confidence never matched his ability. Real humble, maybe too humble. It was like he was ashamed to be great."
"You know who he reminded me of?" says Ruben Amaro, the father of current Phillies GM Ruben Amaro Jr., and the other shortstop on that team. "Mantle. I played with Mickey for a few years on the Yankees. They both had that god-given ability to play baseball. Each of them was "the man." But they also had this distance about them, like they were hiding something."
Alas, Callison didn't have the staying power of Mantle, and his numbers dropped off dramatically. When the Yankees released him in 1973, he was only 34 but was batting .174.
Maybe the reason was his bad legs; maybe it was his smoking habit. More likely, it was an inner turmoil that later manifested itself in ulcers that almost killed him. He grew up wondering where his next meal was coming from, so it was only natural that he would be anxious about his next hit.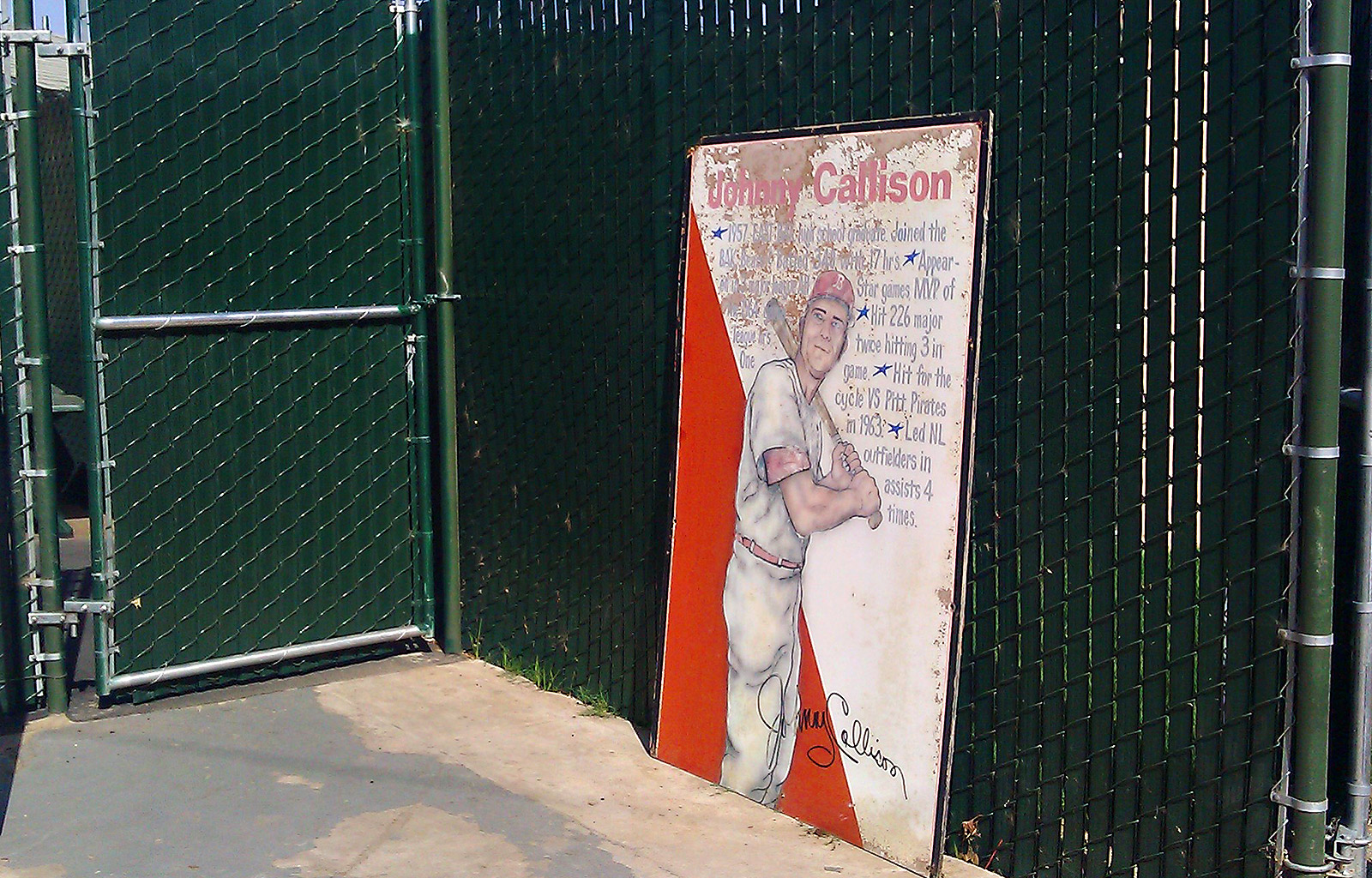 There's a mural of Johnny Callison tucked away in a storage shed at Sam Lynn Ballpark in Bakersfield. Weathered by the heat and wind, it hung for many years up in the grandstand, extolling the feats of a favorite son. It was taken down a few years ago to make way for some vinyl advertising.
The mural's current home has a certain irony, in that Callison's first home in Bakersfield was a shack. When Johnny was 5, and his father, Virgil, was an Army private, his mother, Wilda, took him and his three siblings west by train to live with relatives in Bakersfield. They were considered Okies, the last of the wave of unwanted migrants who left Oklahoma for California during the Depression. In a 1965 Sport magazine cover story titled "I'm The Biggest Worrier Around," Callison told writer Myron Cope, "I felt embarrassed to be poor. I felt everyone looked down on me, more or less."
When Virgil, who was part Cherokee, returned from the war, he became a roughneck in the oil fields, and Wilda worked in the local hospital. They lived in a poor, mostly Mexican neighborhood, and they had so little money that Johnny would sometimes sneak away to the house of a neighbor, Mrs. Sanchez, who would give him tortillas and tamales.
The Mexican kids he hung around and played sports with called him "Okie," but they would also lend him the 16 cents he needed to get into the movies to see his favorite actor, John Wayne. He was especially good at baseball, which became his escape, not only from poverty but also from the conflict in his home life: His mother was a churchgoer; his father was a drinker. The kids were caught in between.
By age 10, Johnny was the cleanup hitter on a team of boys who would challenge adults to a game on Sundays -- and usually beat them. He joined a local little league team coached by a man, Jim Boone, who had played in the Negro Leagues. Boone saw his potential and taught him everything he knew. But, following the good break/bad break pattern Callison would wear most of his life, Boone was shot to death by his wife.
People just saw something in Johnny. A fifth-grade teacher, Mrs. Helen Hammitt, bought him a glove and some baseball shoes. "I don't know why she took a liking to me," he told Cope. "I guess she felt sorry for me." When he was 15 and thinking of running away from home, Mrs. Hammitt and her husband, who had already adopted two children, offered to take in Johnny temporarily, and Wilda tearfully accepted the kindness.
His high school baseball coach, Les Carpenter, regularly invited him over to his house for lunch or dinner. Johnny was a tailback in football and a guard in basketball, but he was also an indifferent student who thought about quitting school altogether. Carpenter took him aside and told him, "Look, you have a real good chance to play pro ball if you work at it."
So he took that advice to heart, and the scouts began to notice. He got up the nerve to ask Dianne Moore for a date in their sophomore year and raised his social status by buying a used Mercury, which he paid for by loading crates of grapes in the summer, 16 hours a day, for a dollar an hour. In his senior year, he batted .480 and, confident that he would sign a pro contract, he married Dianne. They were only 17 at the time.
The comparisons to Mickey Mantle had already started; it seemed like more than a coincidence that both had been born in Oklahoma. On the day after his graduation, a dozen scouts came calling at the Callison house. Babe Herman, the former Dodgers star who scouted for the Phillies, offered to do the cooking just to keep an eye on his competitors.
The White Sox, though, had an inside edge. They were the first team to scout Callison because of a tip from his high school history teacher, Vic Manley, who was a big ChiSox fan. It's hard to believe today, but, back then, any player signing a bonus for more than $4,000 had to play in the majors; the amateur draft would not start until 1965. Manley cautioned him against a bonus that would put him on a major league bench at 18 … unless that offer was really high, like $25,000.
But before Johnny could put his name on a contract, Manley died of a post-surgery infection. To honor his teacher, Callison pretty much had to sign with the White Sox scouts, Hollis Thurston and Doc Bennett. They gave him a check for $4,000, with another wad of cash under the table. That came in handy because Dianne was already pregnant with Lori.
Fortunately, the White Sox had a Class C farm team playing at Sam Lynn Park in Bakersfield, and Callison hit .340 with 17 home runs in just two months there. The Chicago front office was so pleased with the performance of their own Mickey Mantle that they made him the centerpiece of a film called "The White Sox Story." When he reported to spring training the next year, he had a whole film crew following him around, even though he was in the presence of such future Hall of Famers as Luis Aparicio, Nellie Fox, Early Wynn, Larry Doby and manager Al Lopez.
As Callison told Cope, "Half a year of professional baseball, and I'm trying to impress the manager by hitting the ball out of the park … People are calling me Mickey Mantle. I said to myself, 'Maybe I am Mickey Mantle.'" It took only one spring training at-bat against Warren Spahn -- a strikeout on a curveball -- to make him realize, "I'm overmatched here."
The moviemakers followed him to Triple-A Indianapolis, where he hit .283 with 23 homers and earned both a September call-up and this rave from the 32-year-old player-manager at rival Minneapolis, Gene Mauch: "He has batting power like Mel Ott." In Callison's first major league game, on Sept. 9, 1958, at Comiskey Park, the 19-year-old went 3-for-3 with two doubles before he was replaced on defense by Jim Rivera -- a move that prompted the fans to boo Lopez.
But Callison soon found out that baseball is not that easy. He went back and forth between Chicago and Indianapolis in 1959, hitting only .173 for the White Sox and failing to make Chicago's World Series roster. The film they made about him -- complete with a hokey dream sequence about starring in the majors -- never saw the light of day, much less the dark of a theater.
Later in life, Johnny collaborated with John Austin Sletten, a writer and fan, on "The Johnny Callison Story," and in the book, he describes a harrowing moment during the family's drive back to Bakersfield from Indianapolis. Dianne was at the wheel, and she hit an icy patch near Cheyenne, Wyo., while trying to pass a tractor-trailer. She hit the brakes, and the car plunged down an embankment, rolling over three times and landing on its roof. The truck driver helped pull them out of the car uninjured -- Lori miraculously suffered only a bump on her head because she was wrapped in blankets. The Callisons had to ship their belongings to Bakersfield and fly home.
There was the old pattern again. To earn some extra money, Callison agreed to play winter ball in Maracaibo, Venezuela, for the Rapinas, a club owned by Aparicio's family. It was not exactly a tropical vacation: cockroaches the size of rats, rats the size of small dogs, nine-hour bus rides through jungles and mountains. One night, when the Rapinas -- Spanish for vultures -- were on the road, the wife of manager Les Moss knocked on Dianne's door and handed her the sports section of the local newspaper. Even though it was in Spanish, they understood what it said: The White Sox had traded Johnny Callison to the Phillies for veteran third baseman Gene Freese. When Johnny returned, and Dianne showed him the paper, he felt betrayed. He had signed with the Sox out of loyalty to Vic Manley, and the American League pennant winners not only impatiently abandoned him but also sent him to the laughingstock of the National League.
As if that weren't bad enough, a few days after the trade Callison wrenched his left knee trying to make a diving catch on a sinking line drive. "I limped into the clubhouse, where the team's witch doctor was drinking a beer," Callison recalled in his book. He prevailed upon Aparicio to find him a real doctor, who harpooned the knee to drain the fluid; Callison passed out from the pain. For their part, the Rapinas tried to persuade Callison to keep playing, but, when the Phillies got word of his knee injury, they ordered him home.
So he and Dianne flew back to California, with two parrots in tow. "Maybe I felt I had to salvage something from our recent trip to the jungle," Callison said.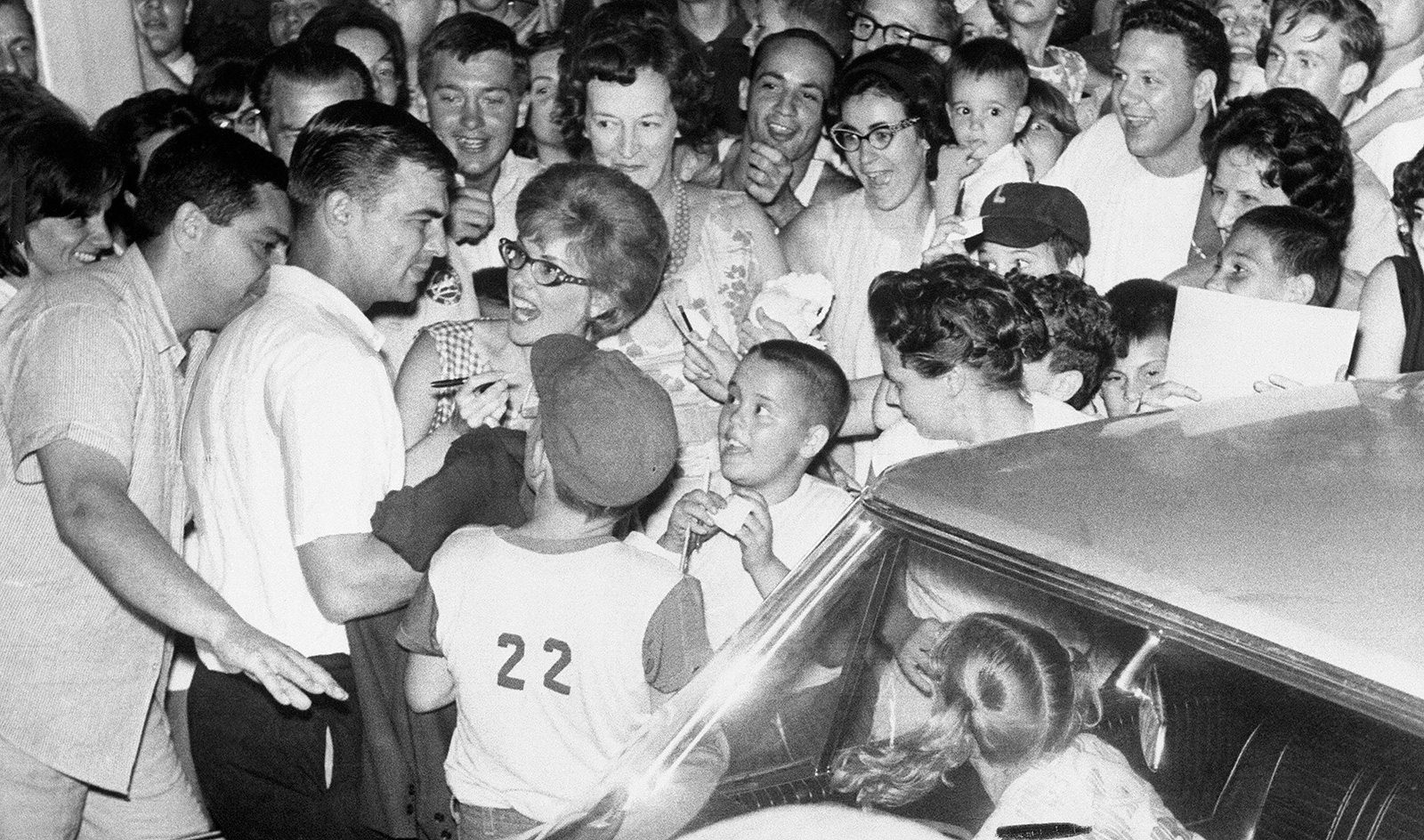 There's a UPI Telephoto of Callison, taken in the early-morning hours of July 24, 1964, a few weeks after the All-Star Game. He's in another mob, but this time it's a crowd of fans who waited three hours at the airport to greet the Phillies as they returned home from Milwaukee after Johnny hit two home runs and drove in five runs in a 13-10 win that gave the team a two-game lead in the NL. Fans young and old want his autograph, but Johnny is almost grim-faced as he navigates through the crowd to get into the family car -- you can see the back of Lori's head in the front seat.
He could not have envisioned such a reception when he reported to his first Phillies camp in Clearwater in the spring of 1960. The left knee still bothered him so much that he couldn't brace to throw -- fellow outfielder Bobby Del Greco starting calling him "Candy" because his throws were like lollipops, and the name unfortunately stuck. One Philly writer, though, suggested the White Sox had badly mishandled him. Larry Merchant wrote in the Philadelphia Daily News that Callison was the victim of "the classic mistake of rushing a kid to the majors."
Hall of Famer Paul Waner, a fellow Oklahoman, also saw something in Callison. A hitting instructor for the Phils, he pulled Callison aside and gave him his philosophy of hitting in seven words: "Down on the ball, belly button around." With that, Callison stopped lunging at pitches and started using his hips more.
But those 1960 Phillies were bad. How bad? Manager Eddie Sawyer quit after a 9-4 loss to Cincinnati on Opening Day, saying, "I'm 49 years old and I want to live to be 50." So general manager John Quinn brought in 34-year-old Gene Mauch from Minneapolis.
The relationship between Mauch and Callison did not get off to a good start. Coaching third against the Reds, Mauch waved a hesitant Callison around to score, and he ended up tearing the tendons in his left knee in a home plate collision with Ed Bailey. Even after he recovered, he had to brave the fans in left field at Connie Mack Stadium, who threw money at him to register their disappointment. "There was one stretch of home games where I must have made at least $10," he said.
In their first two seasons together, Mauch badgered Callison, hoping to inspire the kid he'd seen as Mel Ott in Indianapolis. But Johnny responded with batting averages of .260 and .266 and identical home run totals of nine. The 1961 Phillies lost 107 games -- in a 154-game season.
Mauch tried a different tactic with Callison before the 1962 season. He ignored him. "We'd worked so hard with him for two years that he got sick of hearing my voice," the skipper would later say. He also publicly gave his left-field job to rookie Ted Savage.
Callison worked extremely hard that spring to get back in Mauch's good graces. He started using a heavier bat to shorten his swing and took Rogers Hornsby's advice to stop squeezing the bat so tightly. His left knee felt good again.
In the meantime, a kid in upstate New York had decided to adopt the Phillies as his team. With the rebellious mind of an adolescent, he didn't want to be a Yankees fan like his friends, nor did he want to reflexively root for the new NL team, the Mets. So he chose to pledge allegiance to the team he naively thought needed him the most: the Phils.
That's how I first bonded with Johnny Callison, as an 11-year-old trying to find Byrum Saam of WFIL on my old Zenith radio, a tricky after-bedtime business that required homing in on the signal, then keeping the volume between comprehension and discovery.
The Phillies finished seventh (out of 10 teams) that year, but they reversed their winning percentage from .305 to .503. At one point in the season, Mauch was so incensed after a road loss to the Houston Colt .45s that he stormed into the clubhouse and turned over the table with the postgame spread.
As Wine recalls, "The clubhouse was close to right field, so Johnny was the first one in. He grabbed a piece of chicken off the table, but when he saw Mauch coming, he threw the chicken in his shoe and sat on his stool, looking all innocent-like. Then when Gene left, he ate the chicken."
Callison made the All-Star team for the first time in '62, hitting 23 homers and finishing with an even .300 batting average after a late slump. Mauch rested him on the last day of the season to preserve the average.
True to his nature, though, Callison didn't quite believe it was all his doing. At one point that season, he asked Dianne to mend his smelly, filthy socks. When she asked him why the club wouldn't give him a new pair, he said, "I don't want a new pair. I'm going good."
"He had Hall of Fame tools," says Phillies special adviser Dallas Green, a former pitcher who was a teammate of Callison's for four years. "What held him back was that he was a real doubting Thomas. He'd be hitting .300, then go 0-for-4 and fall into a funk. I lockered next to him, and I'd tell him, 'Johnny, I'm hanging by my fingernails here, so how come I'm not half as worried as you are?'"
In 1963, Callison hit 26 homers and batted .284 with a slugging percentage of .502 as the team ascended to fourth place. He had arrived, and so had the Phils. The players felt comfortable enough to move their families out of the Walnut Park Plaza Hotel and into the suburbs. The Callisons, now with three girls -- Lori, Cindi and Sherri -- settled in Glenside, near Clay Dalrymple, who also had three daughters.
"Those were wonderful times," Lori McGowan says now over dinner at the Glenside Pub. She still lives in Glenside, not far from sister Sherri Curran, who lives in their parents' original home. "We especially loved the springs in Clearwater [Fla.] Hanging out by the pool with the other players' kids, doing our lessons for one hour a day, going to the ballpark."
In December '63, GM Quinn made a trade that would make the Phillies even better: outfielder Don Demeter and pitcher Jack Hamilton to the Tigers for pitcher Jim Bunning and catcher Gus Triandos. Mauch saw Bunning not only as his ace but also as a father of seven who could have a calming influence on Callison. He arranged for the two of them to room together on the road.
That 1964 team also welcomed a rookie from the appropriate-sounding town of Wampum, Pa.: Richie Allen. "It was a great group of guys," says Dalrymple, the catcher. "Some of us had lived through the bad old days of the Phillies, and now we're surrounded by some really good ballplayers, like Callison and Allen and Bunning and [Chris] Short. We suddenly had this feeling we could win some games."
The first real hint that it would be a special season came on Father's Day, June 21, when Bunning pitched a perfect game to beat the Mets 6-0 at Shea. Callison went 2-for-4 with his ninth homer of the year, a solo shot. That night, Bunning appeared on "The Ed Sullivan Show."
Bunning, Callison and Short returned to New York two weeks later for the All-Star Game, which drew 50,850 to Shea. Bunning had pitched two shutout innings when Walter Alston sent Callison in to pinch hit for him in the bottom of the fifth, with the NL up 2-1. After he popped up against Camilio Pascual, Alston kept him in the game in right to replace Clemente; Hank Aaron was too sick to play in the field. By the time it was Callison's turn to come up again in the seventh, though, the AL had gone ahead 4-3, and Radatz, the huge Red Sox reliever known as The Monster, was on the mound.
That's when Callison asked to borrow Williams' bat. "It was a tapered Louisville Slugger, 34½ inches, 32 ounces," Williams says. "Johnny was using something like a 35-ounce bat, but when Radatz came in the game, he knew he needed something lighter to get around on his fastball." After Radatz struck out the first two batters in the seventh, Callison flew out to deep center for the third out. Mantle caught it.
Radatz had a 1-2-3 inning in the eighth, and Lopez, the manager who gave up on Callison, elected to leave The Monster in to pitch the ninth and protect that 4-3 lead. But he walked Willie Mays, who stole second. Then Orlando Cepeda hit a blooper that landed in the area vacated by second baseman Bobby Richardson, who was worried about Mays stealing third. First baseman Joe Pepitone picked it up and threw wildly home, allowing Mays to score with the tying run and Cepeda to advance to second, where he was replaced by pinch runner Curt Flood.
Even 49 years later, it's fun just to type those names: Mantle, Mays, Richardson, Pepitone, Flood. And now Ken Boyer, who popped out to third, and Aaron, who struck out pinch hitting for Ron Hunt after John Edwards was walked intentionally.
Two outs, two on, score tied at 4-4, a manager who abandoned you in the other dugout, everybody in the ballpark on their feet. Callison walked up to the plate to face Radatz a second time.
I'm away at a camp in Burden Lake, N.Y., watching the drama unfold on a black-and-white TV in a sympathetic counselor's cabin. I'll let Johnny take it the rest of the way. This is from his book:
"He reared and threw me a high hard one … As soon as I swung, I thought it was a homer. You can just feel it -- hear it! … I was on cloud nine as I rounded the bases. By the time I rounded second, I saw Radatz throw his glove into the dugout. Curt Flood, Johnny Edwards, and the rest of the National League All-Stars mobbed me at home plate."
Williams, who was part of the reception, says, "I was so happy for Johnny. Years later, when we played together on the Cubs, I would remind him whose bat it was he used to hit that home run. But he was the one who swung it."
Watching from the dugout was the 24-year-old catcher for the Braves, Joe Torre. "I had already showered and changed," Torre says, "but the scene I saw that day had as much joy as I'd ever seen on a baseball field."
Me? I couldn't have been happier. Neither could Les Carpenter, Callison's old high school coach. Here's the scene as described by Carpenter in Callison's book: He and his wife were in Hawaii, in line at the airport … right behind Johnny's favorite actor, John Wayne. After the home run, Mrs. Carpenter started shouting, "That's our Johnny! That's our Johnny!" Then she spoke directly to the actor: "Mr. Wayne, the guy that just hit the home run to win the All-Star Game was our Johnny Callison." Wayne laughed and gave her a congratulatory kiss.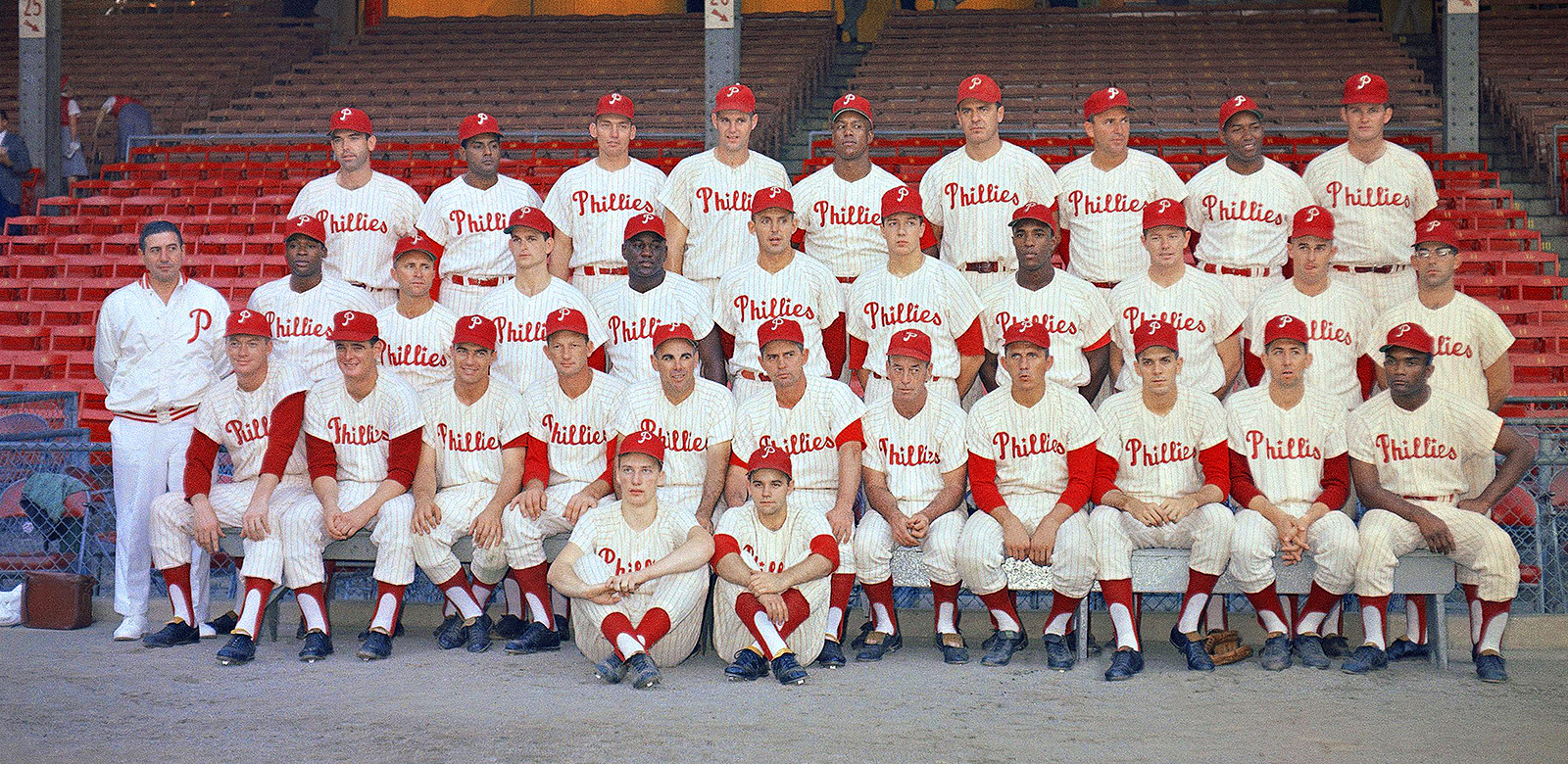 In the files kept by the public relations staff at Citizens Bank Park is a relic of almost unspeakable cruelty: the cover of the 1964 Phillies World Series program. It's a photo illustration of Connie Mack Stadium with a flagpole in the foreground. At the top of the pole is the American flag, and below it are two pennants: a red one for the Phillies, a blank one for their undetermined opponent.
The collapse of the '64 Phils has been so well-documented and so often cited that any more analysis would be piling on. Suffice to say that, on Sept. 21, Philadelphia had a 6½-game lead with only 12 games remaining. But then Chico Ruiz of the Reds stole home to beat the Phillies 1-0 and start a 10-game losing streak in which they were swept by the Reds, Braves and Cardinals. Mauch, hoping to halt the slide, started Short and Bunning in six of those losses.
The most poignant moment of the losing streak came on Sept. 29, in the second of the three losses to the Cards. Callison, who had never stopped hitting and would finish second in the MVP voting to Boyer, came down with a mysterious virus that left him shivering in the visitors dugout. But Mauch called on him to pinch hit in the seventh inning, and Callison came through with a single. They sent out a warm-up jacket to him -- a courtesy usually reserved for pitchers -- but even then, Callison's hands were shaking so bad he couldn't snap up the buttons. So Bill White, the Cardinals' first baseman, buttoned it for him.
That was very nice of White. But five days later, on the last day of the season, he hit a homer off the Mets' Jack Fisher that sealed the pennant for the Cardinals and sealed the fate of the Phillies.
I took it hard, but of course Philadelphia and the Phillies took it much harder. "It was like swimming in a long, long lake," utility man Cookie Rojas said, "and then you drown."
Dalrymple went home to Chico, Calif., and slept on the couch for weeks. Dianne, who had sent the Phillies a check for $1,100 worth of World Series tickets, later recalled, "One of the saddest days of my life came when that check came back in the mail."
But looking back on it from the perspective of 49 years, none of the Phillies who talked for this story blames Mauch, or each other. "We did our best," Wine says. "Gene made us better, maybe better than we actually were."
"Gene was brilliant, the best field manager I ever played for," says Bunning, now retired from the United States Senate. "We didn't lose because he went to Chris and myself so often. It just wasn't to be."
"You know what I'm proudest of?" Dalrymple asks. "Take a look at our team picture: white, African-American, Cuban, Mexican, Panamanian, Puerto Rican. Hell, four years before, the hotel in Clearwater wouldn't let the black players stay there, and now this collection of guys from all over, maybe the most integrated team in baseball, nearly wins the pennant. We came along at a time when America was changing, and we showed 'em how to do it. That's what I'll remember."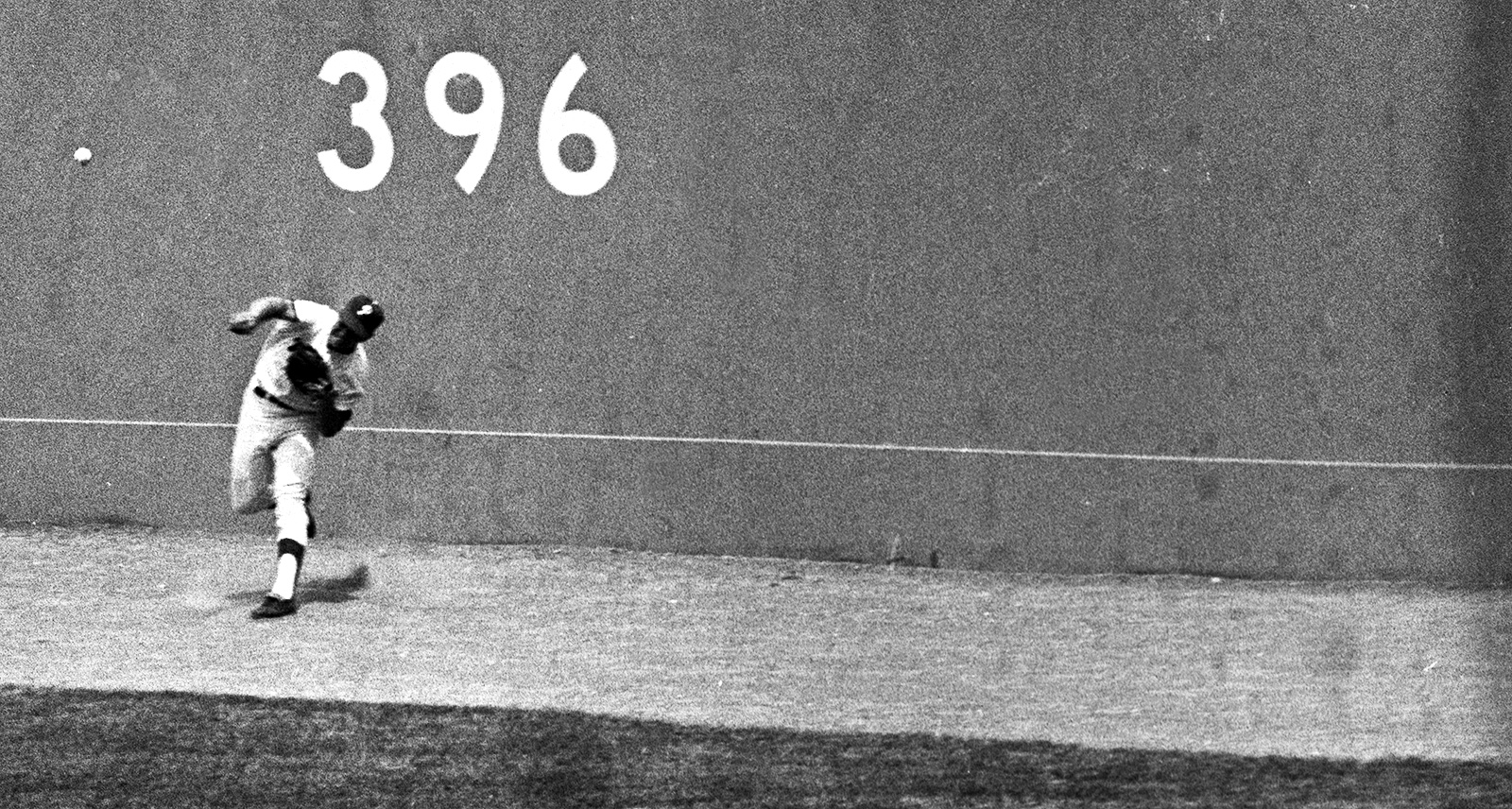 There's a photo from that '64 All-Star Game of Callison heaving a ball hit by Brooks Robinson from the base of the wall in right-center.
In the summer of 1972, I witnessed a similar throw by Johnny live and in person -- my first close encounter with him. I was sitting in the first row of the bleachers at Yankee Stadium, and he ran to the wall directly below me to retrieve an extra-base hit. I can still see the throw: a beautiful, true arc toward the infield that defied physics and maybe time.
Callison's decline started when he defied Mauch. Much like Stengel's relationship with Mantle, Mauch's feeling for Callison swung back and forth between pride and disappointment. The Phils slipped to sixth in 1965 despite another outstanding year by Callison: He hit 31 homers with 101 RBIs and made the All-Star team for the third time. But after the season, Mauch pushed him to be even better, telling writers, "He's the most complete player to come into the league since Willie Mays … but he's not turning it all on." Then, in the '66 season, when Callison loafed on a fly ball hit by the aforementioned Mays, Mauch pleaded with him: "How can you do this to me? After all I've done for you." Callison's response to reporters was, "I don't want to play for him, I've had enough."
Sandy Grady put it this way in an Evening Bulletin column from July 26, 1966: "When Callison came from the White Sox in 1960, he was a shy, confused, introverted 21-year-old who complained, 'Nobody here knows my name.' Now he's a shy, confused, introverted 27-year-old, and everybody knows his name."
Neither Mauch nor Grady really knew Callison, though. Here was a guy who never lost the fear of returning to the poverty he had escaped. Here was someone whose father figures kept leaving him: his own dad, Joe Boone, Mr. Manley, Al Lopez and now Mauch. He was acting out a self-fulfilling prophecy that good fortune would end any day now. He really was like Mickey Mantle, living -- but not quite believing -- the dream.
He tried glasses, but that didn't fully restore his stroke. He went from great to good, or at least good enough to outlast Mauch, who was fired in the middle of the 1968 season. "Johnny would never admit it," Wine says, "but it was Gene who brought out his greatness, just like it was Gene who taught us how to win."
And Callison needed special handling. Here's one scout's assessment from 1968: "Can't ignore him, needs more attention and he'll be the player he was a few years ago … Keep him loose and he'll hit .280 for you. Still a kid in a lot of ways."
After the '69 season, Callison was traded to the Cubs, and Cubs skipper Leo Durocher gushed, "He adds another big bat to our lineup," and "he has the best arm in the league so far as I'm concerned."
So the Callisons packed up and moved from Glenside to Chicago for the summer. "Imagine what the tollbooth guys saw when we drove across country in our station wagon," says Lori. "Mother, three little girls -- all without seat belts, by the way -- two parrots and two German shepherds. I don't know how Mother did it all those years."
Soon enough, Durocher was platooning, blaming and benching Callison, and Johnny was telling Jerome Holtzman of the Sporting News, "It's ridiculous to trade for an everyday ballplayer and not play him."
The Cubs traded him to the Yankees after the 1971 season, and Callison got along well with manager Ralph Houk. But he knew he was a part-timer whose end was coming: "I didn't have the legs anymore … I was only 34 years old, but felt 50 emotionally and physically." When Houk tearfully released him in August '73, it was Callison who ended up consoling the manager.
Callison returned to Philadelphia to resume his life with Dianne and the girls. He had once been a sales rep for a bakery, but it went out of business. Some of his investments had tanked. He was hoping the Phillies might call to ask him to be a coach or batting instructor, but apparently, manager Danny Ozark didn't want him around. He played exhibition baseball games for Jenkintown Steel, but that didn't lead to a job. For years, he had worried about his batting average, fretting it was an economic indicator, and suddenly he realized that his fears were well-founded.
He settled for a job at Avis, selling used cars. Customers who recognized him would ask, "What are you doing here?" According to Callison, "They couldn't understand why a big shot like me would be selling cars. I told them I owned the place and sent them home feeling better."
Dianne took a job as a waitress at a Holiday Inn, working a 5 a.m. to 3 p.m. shift. Little wonder Callison developed ulcers. Financial relief came in the form of his major league pension, which started in 1984, when he was 45. But two years later, an ulcer hemorrhaged, and doctors had to remove half his stomach. While recuperating, he suffered a heart attack and had to have a triple bypass. His weight at one point of recovery was down to 135 pounds.
Good luck/bad luck. Once he was back on his feet, Johnny landed a job as a bartender at Tomatoes, a nice sports bar in Doylestown, Pa., owned by Dave Corbett, a big Phillies fan who became a close friend. Bartending appealed to him more than selling cars did because he liked telling stories more than he liked peddling cars.
That's the job he had when I saw him for the second time.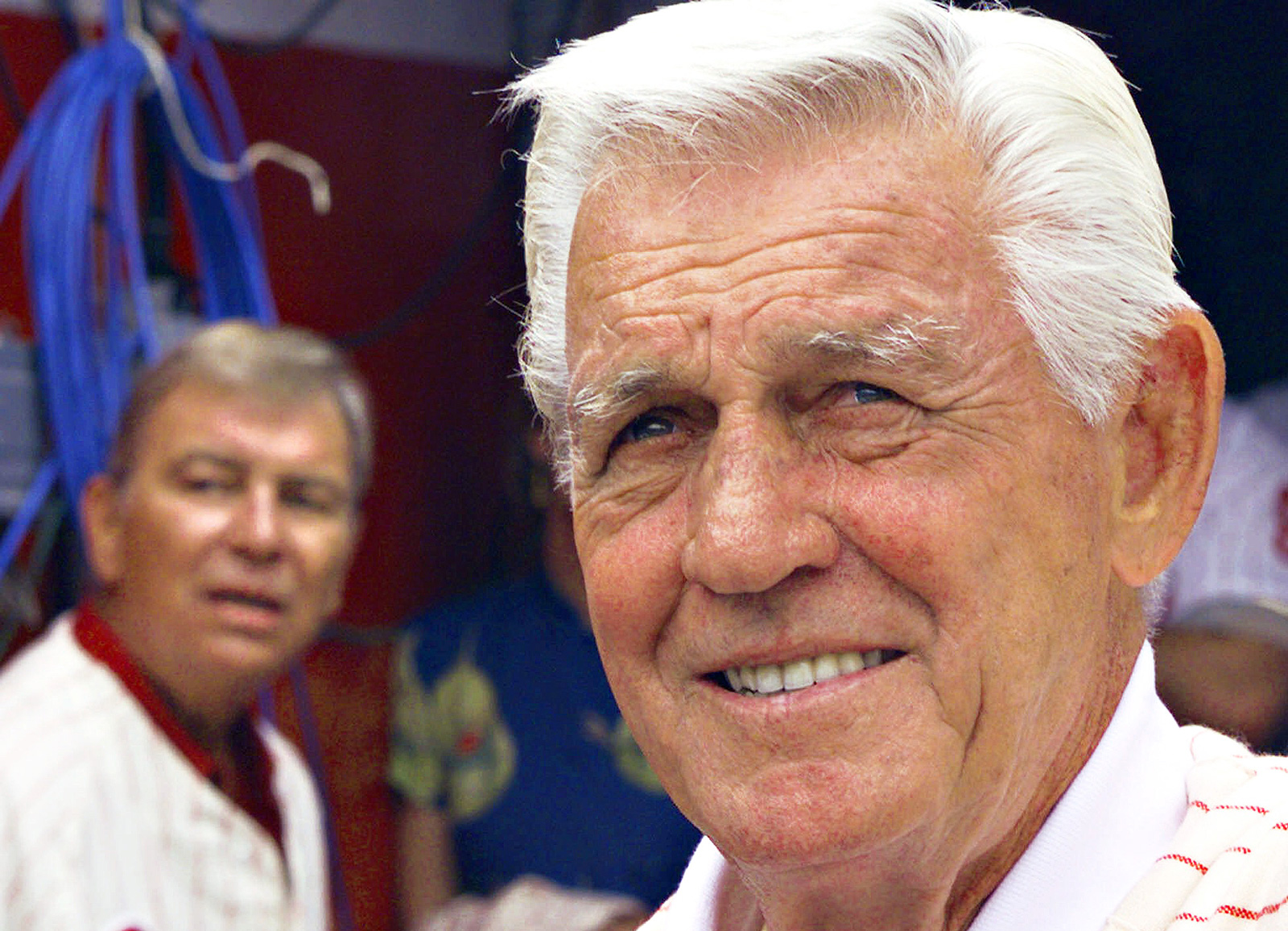 It's the summer of 1989, and I'm at the Hershey Hotel in Philadelphia to cover the 25th reunion of the1964 Phillies for Sports Illustrated. Dick (no longer Richie) Allen is there, as are Clay Dalrymple, Dennis Bennett, Danny Cater, Cookie Rojas, John Briggs, Ruben Amaro, Roy Sievers -- and Gene Mauch. I have the good fortune of sitting at the Friday night banquet table with Johnny and Dianne Callison.
This still-handsome couple cannot be any nicer, but Johnny seems a bit shy and deflated and, like in the All-Star Game photo, embarrassed to be there. Is this little man really the best player on the team that almost won the '64 pennant?
Then Mauch starts talking, singling out each player and praising him in the most glowing terms. He is the father telling his children after too long a time that he loves them, and there is not a dry eye in the room. And he saves the best for last:
"The thing that bothered me most in '64 about not winning the pennant -- and I just want to say that's the reason I'm alive today because I would have given 15 years of life to have won it -- is that we deprived Johnny of the MVP award. Johnny, I'm just sorry we couldn't have done more for you after all you did for us."
I look over and see that it's the same guy.
The job at Tomatoes did him a world of good. It not only gave him something to do but put him back in the public eye as a sage of all things Phillies: various anniversaries for the '64 club, a late-season collapse, a Pat Burrell batting slump, Mauch's death in 2005. (He was even interviewed by the Doylestown Intelligencer as "the real-life Sam Malone" just before the last episode of "Cheers" in 1993.)
"If you ask me if he was a good bartender, I would have to say no," says Corbett, with a laugh. "He was meticulously dressed, and he was honest. But pity the other side of the bar if Johnny got to telling stories with his friends. Dick Allen would stop in occasionally, and the cash register would stop ringing."
He did card shows and Phillies fantasy camps and a radio show in Cape May with Joe Pepitone -- whom he didn't much like. He went to all his granddaughters' sporting events and vacationed with Corbett in Las Vegas and Key West. "One time he got this big fish on the line," says Corbett, "but rather than go through all the trouble of pulling it in, he put his lit cigarette to the line and burned it through." Ah, the cigarettes. They hastened his end, but they also defined him. The staff at Tomatoes has been careful not to buff out the burns he left on the bar.
His health deteriorated in his later years, but he did live long enough to finally see a male heir, Shane John-Thomas Mattox, son of granddaughter Ashlee, Cindi's daughter.
"Here's a story that's typical Dad," Cindi Moore says over lunch at Tomatoes with a few friends of Johnny's. "I tell him, 'Why don't you sign a ball for Shane?' and he says, 'He's a baby, what does he want a ball for?' For posterity, I tell him. So he takes a ball and writes 'Johnny Callison.' 'No!' I tell him, 'Make it personal.' Then he writes, 'To Shane, Johnny Callison.' Aargh. Finally, I got him to say something nice."
The collective portrait they paint of Johnny is of a lovable curmudgeon who taught Charlie the parrot to sing and swear, never bragged about his baseball exploits, kept a John Wayne photo in the powder room, tortured his nurses, watched cooking shows and "The Price is Right," and never stopped loving his wife and children and grandchildren.
Cindi has brought the home run ball from the '64 All-Star Game, complete with bite marks -- one of the German shepherds, Inga, had gotten hold of it at one point.
"Remember the memorial service?" Corbett asks, and they all nod.
It was on Oct. 27, 2006, at the Diamond Club at Citizens Bank Park, and the recommendations for donations were to the Schuykill Center's Wildlife Rehab Clinic and U.S. Police Canine Association.
Appropriately enough, there were six speakers. Larry Shenk, longtime Phillies PR man, recalled the time Johnny let a blind female fan feel his face. Radio personality Big Daddy Graham remembered how humble and nice Callison seemed back when Johnny was a bartender at Vinny's and Graham was a struggling comedian in the club. Dallas Green spoke of the days when all the Phillies families grew up together and expressed regret that they hadn't stayed in touch. Bobby Wine told the story about Johnny and the chicken he hid from Mauch. Granddaughter Jessica McGowan compared her "Pops" to the gruff but lovable Mr. Wilson from Dennis the Menace. The last speaker was Allen, who said he was truly grateful "that God let our lives cross in the mix."
After Dianne passed away from cancer in July 2011, Cindi and her family went out to Bakersfield to spread her parents' ashes at their favorite spot in the desert.

As you enter the lobby of the main concourse of Citizens Bank, you will see on your left a large mural painted by Jamie Cooper. In it, various Phillies legends are standing or sitting or talking in the clubhouse. There, just to the right of the middle, is a smiling Johnny Callison, with his right arm on the shoulder of Dick Allen.
"Johnny was my favorite ballplayer," says Ed Deal, the press box attendant who often gives tours of the stadium. "Back in 1968, I was working at WCAU, and Andy Musser gave me two tickets to a Phillies game. I asked this girl who loved Johnny Callison to go with me -- 'course, all the girls had crushes on him. Well, he hits a homer off the foul pole to win the game, and we got married."
In a 2007 article in USA Today, Supreme Court Justice Samuel Alito revealed his own sordid past in the seats of Connie Mack Stadium: "We'd always end up moving down toward right field. I kind of adopted Johnny Callison there." No. 6 to Phillies fans of a certain age is what No. 7 is to a Yankees fan.
But Ryan Howard wears the number now, and Callison played so long ago that he pretty much missed out on the stadium in between Connie Mack and Citizens Bank: the Vet (although he did play there as a Cub for one year). So it's nice to see him remembered by the mural, and by a plaque on the Wall of Fame in right field.
One of the great things about plaques, be they in Cooperstown or Philadelphia, is that they don't carry heights or weights on them, just accomplishments. So this little guy from Oklahoma, by way of Bakersfield, stands just as tall as the other Phillies greats on that wall. He belongs, even if he might not think so.
Johnny worried about money, but, although he was never wealthy, he was rich in other ways: memories, family, friends. He probably would get a kick out of the fact that a wool Phillies pinstripe jersey with the No. 6 at the Mitchell & Ness store in the outfield now sells for $295.
Or that Shane Mattox asked for the No. 6 when his little league team was handing out jerseys this spring. "Ryan Howard?" his coach asked.
"No," he said. "I'm the great-grandson of Johnny Callison."