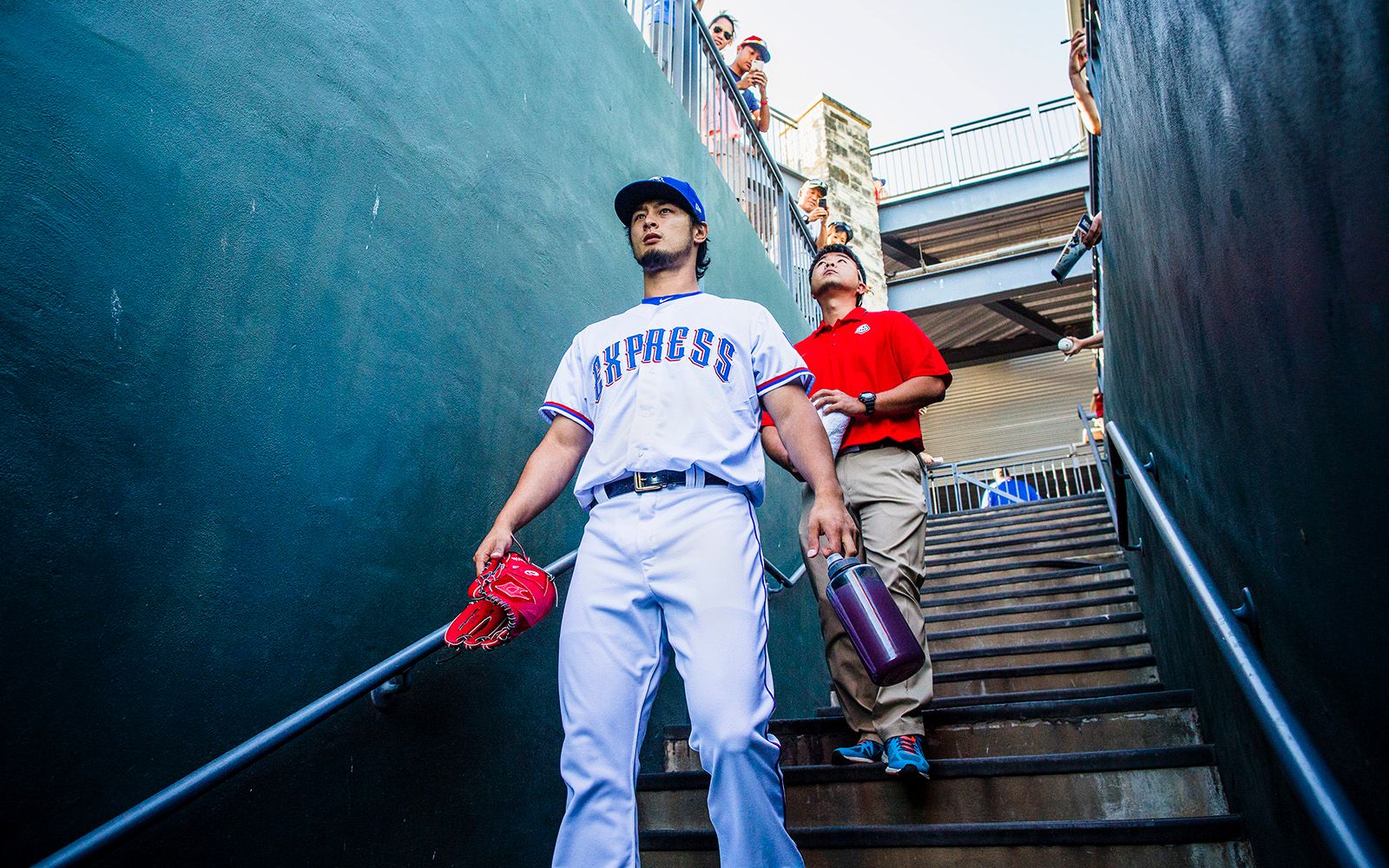 Yu's Year Of Magical Thinking
After surgery, scandal and a change in approach, can Yu Darvish still be the king of K's?
This story appears in ESPN The Magazine's June 6 World Football Issue. Subscribe today.
Standing at a second-floor railing, four Japanese reporters (and one American) marvel at the crowd gathering outside the minor league ballpark gates. It's three hours until the first pitch, and hundreds are waiting to enter. Soon, the park fills with nearly 12,000 people, and the hometown mascot -- something that resembles a giant red weasel in a baseball uniform -- dances in center field. There are a surprisingly large number of Japanese families present.
The crowd at Dr Pepper Ballpark, 25 miles north of Dallas in Frisco, is here to witness the return of Yu Darvish, the 29-year-old international icon who was once one of the most feared pitchers in baseball. Coming off Tommy John surgery, he's scheduled to throw only two innings today, but no one seems to care. It's been 20 months since his last major league start and nearly 14 since he pitched to anyone other than a teammate.
Before his injury, Darvish was an All-Star in each of his three seasons in America -- and the fastest pitcher in history to notch 500 MLB strikeouts. If he can return to pre-injury form, he'll not only give the Rangers a much-needed boost as the team's ace but also give the league a bump in international viewership and merchandise sales. And he'll greatly increase his chances of a $100 million payday when he becomes a free agent, which could happen as early as next season. But if this rebuilt arm can't throw some of the five -- or is it seven? or nine? -- different pitches previously in his quiver, his career could be over.
Darvish steps into the bullpen to warm up. Wearing a light blue RoughRiders uniform, he holds his signature glove and a clear bottle containing a pink liquid. He looks 10 or 15 pounds heavier than the last time he pitched in a regular-season game, on Aug. 9, 2014. But then he throws, and there it is, those powerful drop-and-drive mechanics. Fans crane their necks and jump to get a look. The lucky ones up close take selfies. Others just yell his name. A man in his 60s is wearing a Hokkaido Nippon-Ham Fighters jersey, his wife an i love yu T-shirt. A few people wave signs with messages or, in one case, a 4-foot-tall depiction of Darvish's face. The real Darvish doesn't seem to notice the mass of humanity -- or he's just that good at ignoring it.
When he walks to the mound a few minutes later, the ballpark DJ blasts Soulja Boy's "Crank That," and the PA system repeatedly thunders: Yoooouuuu! Darvish has always exuded a superhuman confidence -- telling interviewers in high school that he could throw faster than the pros, that the batters who got hits off him were lucky. But in the year and a half since he last pitched for the Rangers -- the longest hiatus of his baseball life dating back to childhood -- the universe has conspired to make him a bit more human. First, the injury and surgery, the most serious of his career. Then the controversies: arrests, investigations, a lawsuit. Finally, the personal: the birth of his third child.
As the music dies down, Darvish stands at the mound, head down, kicking dirt around with his foot. He's ready to pitch for his future.
---
A FEW WEEKS earlier, Darvish is in the Rangers' clubhouse in Arlington, playing pingpong against his interpreter, a 32-year-old man named Hide Sato. (The older Japanese reporters call him Sato-san.) Athletic though Sato might be, he's no match for the 6-foot-5, 220-pound superstar athlete. Darvish is quicker, and when he extends his arms, his span covers nearly 7 feet -- enough to get just about any ball that bounces his way. He also has several modes of attack, including a secret serve of sorts, where he holds the ball and pretends to be distracted, looking the other way, then -- bam! He snaps back and sends an unreturnable ace across the table for another point.
This is Sato's first year with an MLB team, but he's Darvish's fourth interpreter. He stresses the trouble he'd be in if Darvish were to think he said anything remotely unflattering about him to an American reporter. Worse still is if Darvish were to think Sato mentioned something about the pitcher's private life. (He doesn't.)
Sato hits a shot that skids off the back edge of the table -- impossible to return -- and Darvish emits a frustrated yell. The next chance he gets, he slams the ball across Sato's side of the table. He's normally so cool -- a coach in Japan once compared him to both Elvis and Fonzie -- but watching how competitive he gets can be slightly uncomfortable. With every point, Darvish makes an exaggerated grunt or moan, like he's on a roller coaster. He clenches his teeth as he stretches to get to the ball. Even in pingpong, he wants to not just win but dominate.
That instinct is what's driven him his entire life. Four years before he left Japan for Texas, he told a reporter through an interpreter: "I don't need much motivation. ... I'm never satisfied until I win all the games and have an ERA of 0.00. I want to throw a faster fastball. I want a sharper curve. I want to improve all my pitches."
He is a strikeout artist. In the majors, he has averaged more than 1.2 strikeouts per inning pitched. He led the league with 277 strikeouts in 2013 and was the Cy Young runner-up. "It's actually boring when he pitches," shortstop Elvis Andrus jokes. "You just stand there and don't do anything."
But the drive to dominate comes with a price: In setting up batters for those deadly secondary pitches -- the sinker that drops off a cliff, or even his so-called slow curve -- Darvish isn't very efficient. He likes to work an opponent down and surprise him, which means at-bats can go to seven or eight pitches and never see a ball in play. As a result, his 3.95 pitches per batter faced put him in the bottom sixth of the league among starters. If he wants this new arm to last, he'll have to change his approach.
---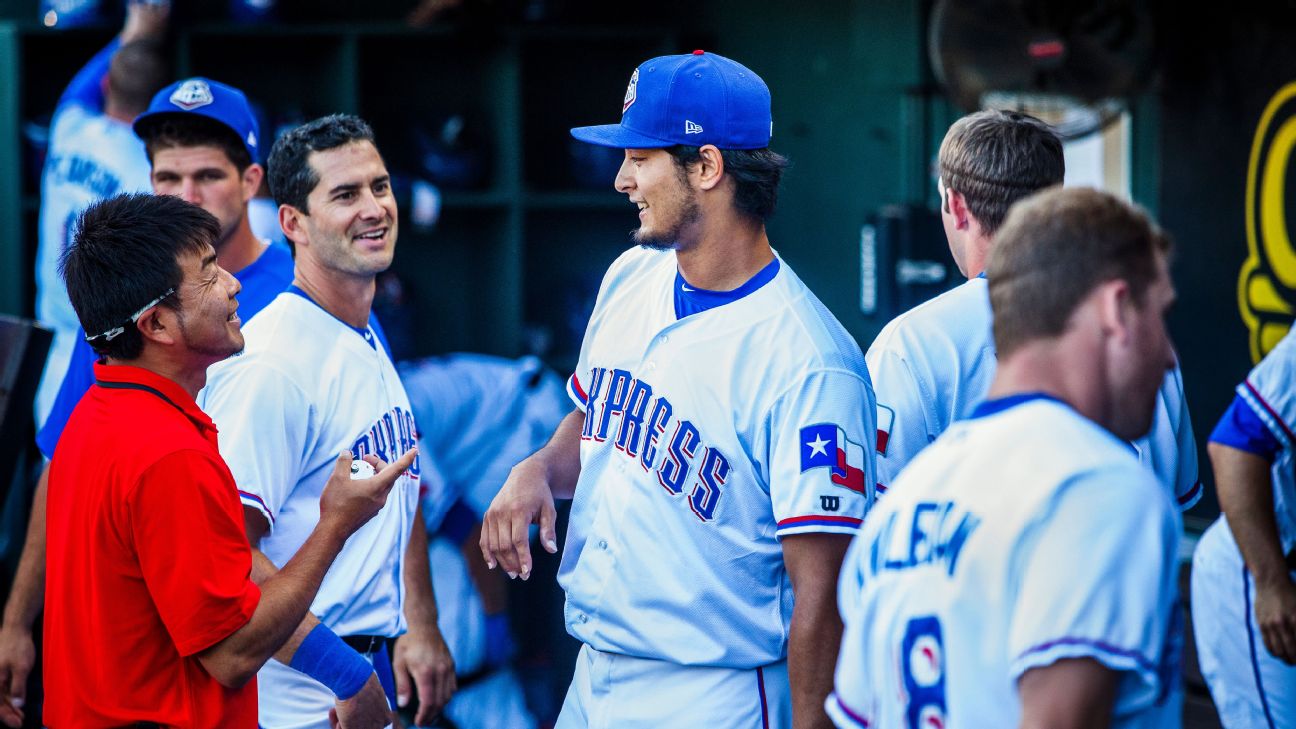 DURING SPRING TRAINING, the typically reticent Darvish would sometimes sit by his locker, sip from a Starbucks cup and pontificate to the pack of Japanese reporters about everything from whether young players back home should lift weights to the details of his Tommy John surgery, which isn't common in Japan. Tall and regal, he'd avoid eye contact and appear to talk to the back wall, as if he were holding court. He'd also tell deadpan jokes that had the pack of Japanese reporters laughing uproariously.
Players have noticed the different attitude this year. Andrus encouraged him to speak more English with his teammates. "He just had to get comfortable," he says. And Darvish is more easygoing. Maybe it's the year off. Maybe it's the new baby. Maybe it's the time he's spent with his family cooking and getting his driver's license.
"He's really loosened up," says Chris Gimenez, the catcher who worked with Darvish the most this spring before being traded to the Indians in May. "He's actually a really big prankster. He's not afraid to hide things, and he's a big seed thrower."
One of Darvish's closest teammates is pitcher Martin Perez, who tells a story about the time they were on the road, in Anaheim in 2013, and Darvish called his hotel room and invited him out for sushi. Perez was scheduled to pitch the next day, and Darvish was confident he'd get the win -- so confident that as they walked up and down Rodeo Drive, Darvish bought him "a really, really nice watch" as an early congratulatory gift. Perez won the next day.
Perez, who underwent Tommy John surgery in 2014, has talked to Darvish about not pushing himself too hard too early in his comeback. "Dialing back," he calls it. Mostly, though, they just make each other laugh. "People would be surprised at how funny he is away from the media," Perez says. "He's quiet, but he's always got jokes."
Andrus says the same thing: "I couldn't repeat most of them around a microphone."
As a prank, Derek Holland has stolen Darvish's weightlifting belt so often that Darvish wrote in marker across the back: #11 NO DEREK. At an early-April news conference in Arlington, Darvish is asked, in jest, what he'll do if the team doesn't have room for him when he's healthy. He tries to tell a joke, something along the lines of I'll make room, but it's lost in translation when Sato tells the group Darvish "will build a room." It gets a chuckle.
Still, when the clubhouse in Arlington opens to media, reporters aren't sure what they'll get. The Japanese contingent will inch ever closer to Darvish, trying to determine whether he feels like speaking. The reporters bow before talking and openly worry about saying something wrong.
"I don't need much motivation. ... I'm never satisfied until I win all the games and have an ERA of 0.00.
"
- Yu Darvish
Despite such acquiescence, Darvish can be guarded. He's been trailed by cameras and microphones since he was 15 and once was caught smoking underage in a pachinko; he ended up holding an impromptu news conference in front of more than 200 reporters in which he apologized and promised never to smoke another cigarette in his life. The experience hardened him, making him cautious and deliberate in front of the media. He avoided off-field headlines for years -- until last season.
May 2015 brought a lawsuit in which Alexander Witmer, a former personal assistant who was hired to care for Darvish's three dogs and three birds in Texas, claimed one of the dogs "jumped up" and bit him on the cheek and upper lip, sending him to the hospital. The lawsuit also alleged that Darvish's management company fired Witmer when he complained. Two months later, Darvish tweeted that his son had been born. His longtime girlfriend, Seiko Yamamoto, won multiple gold medals for Japan at the world wrestling championships. Darvish has said they plan to wed soon. Then in October, the lawsuit with his personal assistant was settled -- no terms were divulged, and neither side may comment.
But a few weeks later, the real drama hit. Darvish's younger brother Sho was charged in Japan with taking bets on professional baseball. Prosecutors alleged that Sho ran a pool in which people placed bets worth 10,000 yen (about $90) on American and Japanese games through a phone app. Depending on the report, he allegedly collected anywhere from $85,000 to $150,000. The investigation lasted more than a year, according to The Japan Times, which also reported that Sho admitted to illegal gambling but not to running the pool. It isn't clear whether Sho is accused of betting on Rangers games or any game in which his brother might have been pitching. Not long after the arrest, MLB announced that it had investigated and had cleared Yu in the case. He issued a statement through his Los Angeles-based management company saying that he had never been involved with gambling activities and that he would not comment further because he was getting ready for the upcoming season.
The Japanese reporters know not to ask about his life away from the ballpark, and aside from organized question-and-answer sessions with Sato, most Americans don't talk to him much at his locker. When an American reporter spotted him alone in a hallway and approached recently, Darvish turned 180 degrees and said "I have a meeting" as he walked away.
---
Drew Anthony Smith for ESPN
BY SPRING TRAINING, Darvish started throwing simulated innings with no opponent. First it was one "inning" worth of pitches -- seven warm-ups, then 15 throws -- checking to make sure his arm felt right afterward. Then more. Then more. Each time, pitching coach Doug Brocail, who had Tommy John surgery himself in 2001 and again in 2002, would stand close by and observe.
By mid-April, Darvish is ready to throw against live batters, though reporters aren't allowed to watch. It gets out later that he offers his two opponents, both minor leaguers in the Rangers organization, $1,000 if either homers. The old confidence is still there. Neither player collects. Afterward, Darvish takes a few questions from the media. He explains via Sato that the cool temperatures prevented him from feeling loose. But he doesn't feel sore. He says he has no fears about his arm or the surgery -- to say he does might be disrespectful to the doctors and trainers who have worked to get him healthy, a Japanese reporter explains later. Darvish will say only that he trusts the team's system, that he trusts the timeline.
The second live batting practice is scheduled for early on a Sunday morning, and the media are invited to watch. But torrential rains push the whole thing into the batting cages, in a restricted area, away from reporters again. For safety, the batters didn't swing, though his teammates reported that Darvish said they should because he could catch anything they'd hit anyway. For more than an hour, the Japanese reporters (and one American) stand in a hallway listening to the thunder, waiting to see whether Darvish will talk. He won't. But Brocail comes out to tell them how "wonderful" the pitcher looked.
"It's really a shame you weren't there to see it," he says several times. "It was a real thing of beauty. He was hitting every part of the plate, running 0-1, 0-2 counts. I wish you could have been there."
Five days later, the media finally have a chance to see Darvish throw to a batter. More Japanese reporters fly in. All of the American beat writers are there too. Darvish is throwing to outfielder Josh Hamilton, who's been on his own rehab path. Gimenez is catching. Sato is behind them wearing a mask, calling balls and strikes.
Standing near the dugout, wearing gray slacks and a pink collared shirt, is general manager Jon Daniels. He looks relaxed. Manager Jeff Banister is next to him, wearing a blue Rangers shirt. He looks less relaxed. Darvish is focused and expressionless except for when throwing; then his face bunches up.
What does Banister think of Darvish's progress?
"Too soon to tell," Banister says.
What's going through his mind as he's watching Darvish throw?
"Too soon to tell."
What is Daniels thinking?
"I think he looks healthy," Daniels says. As Daniels talks, Hamilton misses a ball that started on one side of the plate and then dropped suddenly across, low and away. The swing sends the slugger staggering. "The reports are good," Daniels continues. "The progress is good. We feel good."
Hamilton connects on a fastball that comes out high and sends it to the wall for what would probably be a double. Sato will later say that the sound shocked him.
"I've never been that close to it before," he says. "I didn't expect it to be that loud."
When the three simulated innings are over, Hamilton pats Darvish on the shoulder. He tells him to start his cutter over the plate a little more and teases Darvish, asking, "Why you sidestepping me?"
Darvish jokes back, "I had a fast runner on first!"
What does Hamilton think now?
Darvish is "really close." Later, some of the reporters compare their tallies for the day. Darvish was supposed to throw 45 pitches. He threw 47. Even when he should be cautious, he can't check his competitive drive.
---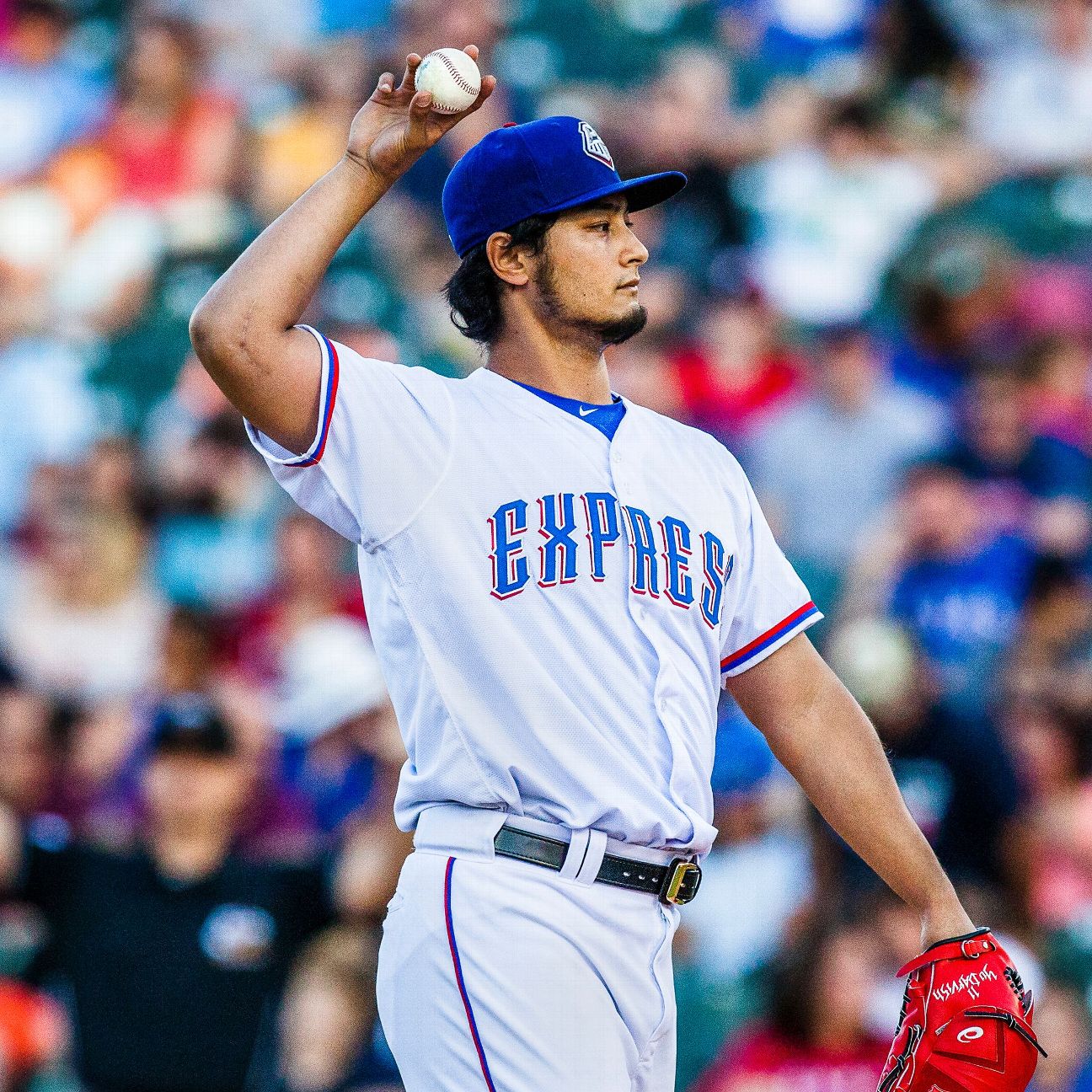 BACK IN FRISCO for Darvish's first minor league outing, the crowd is quiet, waiting. Darvish sets his body in motion and lets loose a perfect strike. At the sound of the ball hitting the catcher's mitt, the park explodes -- like that single crisp throw signaled the dawn of a new era. The second pitch, though, is hit high to the warning track -- the outfielder is there for Darvish's first out in more than a year.
The outing goes smoothly. He doesn't appear to struggle, even when he walks a batter in the first, and he's hitting the mid-90s on the radar gun. He looks like the Darvish the crowd remembers. When his two innings are over, the crowd roars, a standing ovation, grown men on the verge of tears. At the end of the day, Darvish has thrown 32 pitches -- 24 fastballs -- and averaged four pitches per batter. Not the number he wants, but still a good day.
Darvish goes to the training room, then the clubhouse, where there are more than 20 media members waiting. He walks in with ice taped to his shoulder and elbow. Before addressing the reporters, he moves calmly, slowly to his locker, where he takes a scoop of powder supplement and a sip of his pink drink. Then Sato and Darvish take their places at the center of the media scrum and begin answering questions.
He threw his cutter, his slider, his curveball and his fastball. He says he's happy he was able to pitch for two full innings, healthy. He says he didn't have any problems physically but that he was excited emotionally.
With each outing, he's building strength and confidence, though it never appears his confidence is in question. The Rangers expect him to return as early as late May.
Throughout, he's remained ultrapositive. Everything has been about getting stronger, trusting the system, no fear. But now, after his first start, he's asked what he was thinking just before he went out on the mound today.
What was going through his mind?
The room is quiet for a moment. An image of Teddy Roosevelt stares down from the wall of the RoughRiders' clubhouse.
Sato repeats the question in Japanese. Darvish answers, and Sato repeats in English: Seriously, he says through Sato, he was hoping he didn't blow out his elbow.
The journalists are stunned. He has never allowed himself to show this kind of vulnerability. The media are silent, and the moment lasts until it becomes awkward. Finally, someone asks whether this is the best day he's had in the past year and a half -- and the reporter is reminded by his colleagues that Darvish had a baby last summer.
"Well, is this second?" the reporter asks.
Darvish thinks about it for a moment, then nods and says in English: "Second."
Mooney is a contributing writer for ESPN The Magazine.