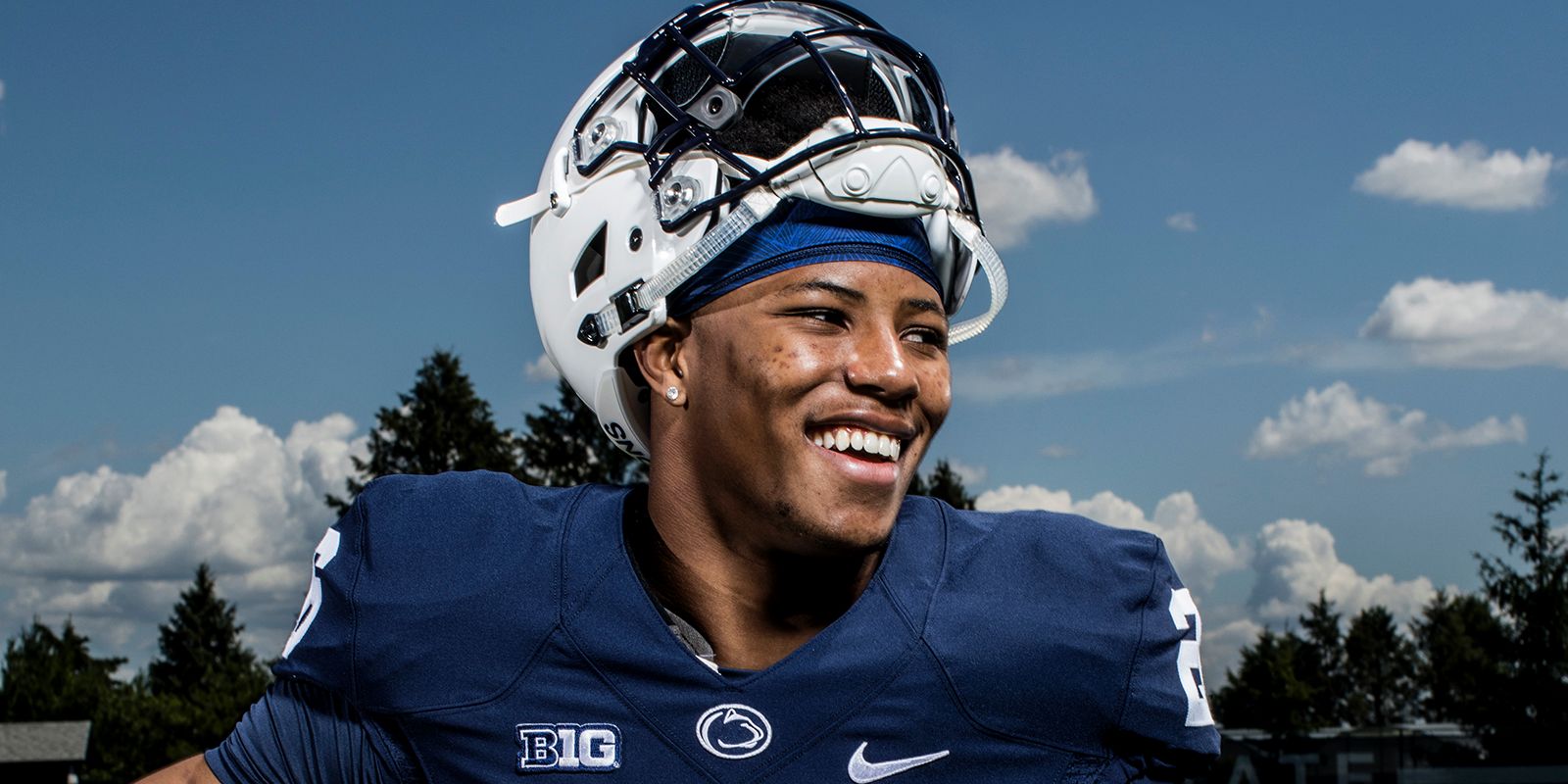 79 Yards Later
Saquon Barkley romped his way to national fame with one Rose Bowl run. Can he do it again (and again and again)?
This story appears in ESPN The Magazine's Sept. 4 College Football Preview. Subscribe today!
Saquon Barkley whips his head to the right. Where is he?
It's the third quarter of the 2017 Rose Bowl, and Penn State's running back has just juked a USC defender near the line of scrimmage at his own 20. As a kid, Barkley had loved Barry Sanders, even keeping a Sanders action figure in his bedroom. Growing up, he'd run to one side, then the other, trying to perfect Sanders' Houdini act, an early experiment in lateral quickness that ultimately led him here, in Pasadena, on the verge of breaking a big run.
As he approaches the 25, another Trojan is closing in. Barkley isn't about to try to run through him. His great-uncle, Iran Barkley, was a champion boxer and a brawler, but Saquon would be more like Floyd Mayweather if he ever got into the ring. "I wouldn't want to get hit," he says. Same on the football field. His middle school coaches used to plead with him not to run east and west. But Barkley's thinking is simple: "I just try not to get touched," he told a Penn State teammate who once asked how he does what he does. So again he avoids contact here, his left hand swatting the oncoming defensive back away like a gnat. He's still out there somewhere, though.
He hits the 40-yard line and four USC defenders converge, flanking Barkley in a rapidly tightening ring. He's trapped. But then he finds daylight through the stranglehold -- eerily reminiscent of Sanders -- leaving a trail of six Trojans. He zips up the middle, stomping over that Rose Bowl emblem, where he sheds one last defender, sending him on a nosedive to the grass, and bolts for the left sideline.
But even as Barkley is in the clear and streaking ever closer to the end zone, he knows he's out there. So he whips his head around once more. Where is he? Where is Adoree' Jackson?
Jackson, USC's star cornerback with the 4.39 40 and Olympic aspirations, is, in fact, making a beeline for Barkley. That's his specialty: hawking down would-be scorers. Jackson has an angle, but Barkley (4.33 hand-timed 40) can blaze too, which he does, right past Jackson and across the goal line.
Zoom in. Here is where his story pivots, because this 79-yard touchdown would split him clean in two: Saquon Barkley before the Rose Bowl, Saquon Barkley after. Eight months ago, the Penn State running back outran the entire Trojans defense on the field. Now, on the cusp of his junior season, Barkley must outrun that night, and himself.
---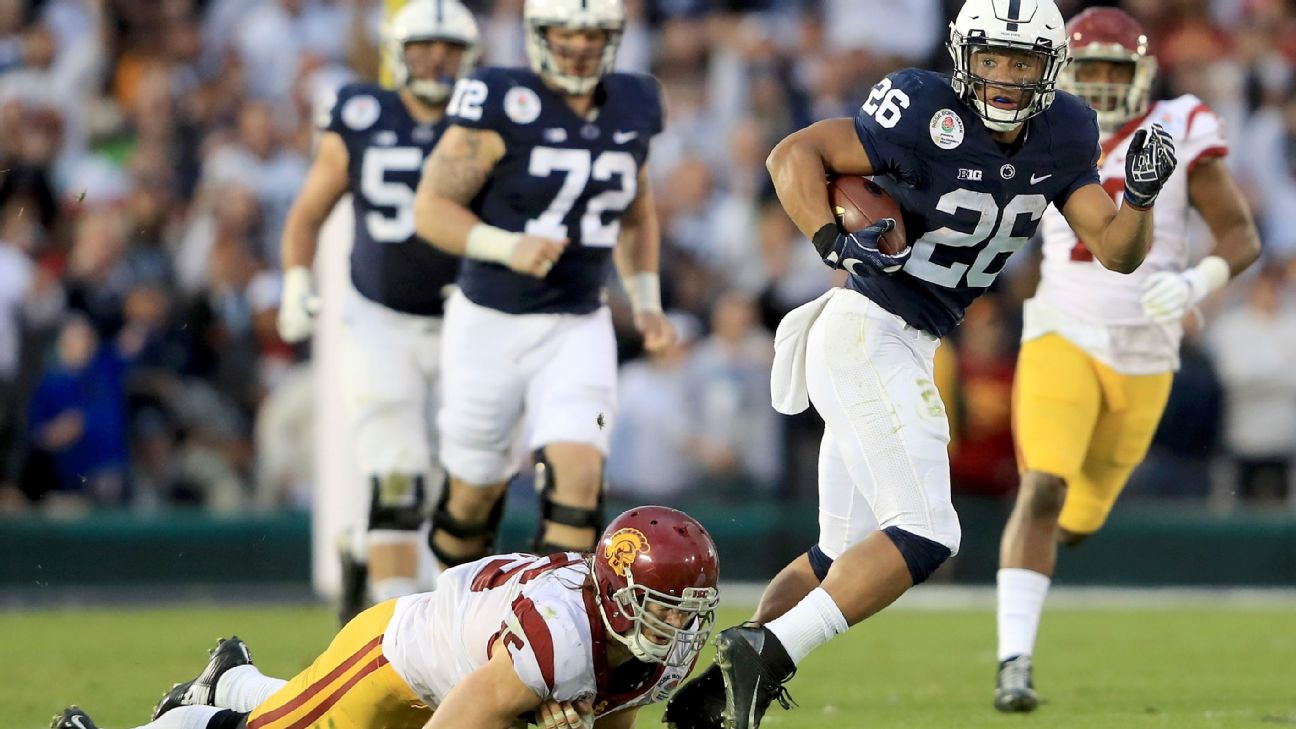 Barkley's calves are colossal, the size of canned hams. "They're just ... very different from most calves," says Dwight Galt, Penn State's strength coach, which helps explain why, since the age of 8, give or take, Barkley has dabbled in the art of the absurd.
He once knocked a grown man off his feet in his first year of youth football. The man was his assistant coach, and when he held out that tackling pad, Barkley rushed forward and boom! The guy crumpled to the ground like he didn't have 100 pounds and 2 feet on Barkley. "I wish I'd bought myself a camcorder," says his father, Alibay, because Barkley's absurdity didn't always have witnesses like it does today.
Akeel Lynch saw it firsthand in 2015. Two games into his collegiate career, Barkley soared over a Buffalo defender, his feet pedaling the Beaver Stadium air. He stuck his landing, then rumbled for 10 more yards. Lynch, the Nittany Lions' rushing leader at the time, knew what Barkley's gymnastics meant. "Ah, damn," he thought. "It's time for me to transfer." (He did, to Nevada.)
Trace McSorley saw it all last season, even when the Nittany Lions quarterback wasn't really supposed to. After he hands off, his coaches ask him to carry his fake a full 5 yards beyond the line, but sometimes McSorley can't help but stop and stare as Barkley runs. "It gets me in trouble a little bit," he says.
The NFL sees it too. At the combine in March, heading into a draft rich with running back talent -- Leonard Fournette, Christian McCaffrey, Dalvin Cook, for starters -- scouts whispered Barkley's name as a top-five pick in 2018. "I'm trying to think who I could compare him to," an NFL scout says. "Like Barry Sanders."
Penn State head coach James Franklin, on the other hand, says Barkley is a Frankenstein running back, a nifty refrain he trots out often. "If you had a list of desirable traits and put them all in one player," Franklin says, "he's what you'd get." And that Rose Bowl touchdown? It's his Frankenstein play, a neatly bundled 17-second package of Barkley's best qualities: speed, burst, agility, vision.
Barkley had run for 2,378 yards and 23 scores in 24 career games at Penn State before the Rose Bowl touchdown became the subject of forensic analysis. He forced 55 missed tackles last year alone, most among returning backs. Still, the axis of Barkley's universe tilted in Pasadena. "Now there's legitimate conversation about him being the best running back in the country," Franklin says.
---
Before he was a 5-foot-11, 230-pound specimen, before he found viral fame power-cleaning 405 pounds, before he became the focal point of Penn State's offense, Barkley was really just a collection of physical insecurities.
He used to run out of the room, hurt when his siblings teased him for being short, and for using a pacifier until he was 5, and for the way that pacifier shaped his mouth into an oval. He would skip squat day in high school, feigning back pain, to avoid the weight room, where he still doubted himself. He split reps his first two years at Whitehall High, breaking through only after an injury to the Zephyrs' starter.
Even after his two years at Penn State, there's not much distance between Barkley and those insecurities, which is perhaps why he seems sheepish about all the sudden fuss. "It's almost like Saquon is naive to how good he is," Franklin says.
But the word is out elsewhere. Barkley has landed on practically every Heisman oddsmaker's shortlist and remains Mel Kiper Jr.'s top-ranked eligible running back for next April's draft.
That's the power -- and danger -- of a play like Barkley's Rose Bowl run.
In 2013, Jadeveon Clowney was a South Carolina sophomore when he ripped a Michigan running back's helmet off via a bone-rattling tackle in the Outback Bowl. The hit was rechristened The Hit, and Clowney -- and his legend -- grew for the next 16 months. The long coronation of the Next No. 1 Pick, it turned out, proved treacherous. He spent his third year in Columbia struggling through double- and triple-teams. Worse, after the Texans made him the top pick of the 2014 draft, he spent his first two years in the league branded as an injury-plagued bust. Last season, though, Clowney cashed in his first Pro Bowl appearance.
Which raises the question: Can such a freakish highlight become an unfair burden? "It doesn't impact me at all," Barkley says of his famous run. "Except now it's expected every single time. There will be plays where you've got to just lower your shoulder and get 1 yard."
---
Late last October, two months before the Rose Bowl, Barkley burst up the right sideline against Purdue and, with nary a defender within 5 yards, cruised into the end zone. He sprinted for 81 yards -- the longest rush of his career -- then ran straight to Charles Huff, Penn State's running backs coach.
"Coach, if I went out of bounds on the 1-yard line, would you have been mad?" asked Barkley, who said he wanted to give one of the other backs a chance to score.
"Yes," Huff told him. "I would have."
Those in his orbit say Barkley is so nice and self-effacing it borders on pathological. But it's not for lack of reassurance.
"Let them know you're a god," Alibay tells his son before every game. "Don't be ashamed of it."
Humility is fine, his parents say, but owning who you are is everything. Alibay, 48, and Tonya Johnson, 46, have always chosen to be candid about their past. "Raw honesty," Tonya says. "They know everything."
Barkley knows that his father spent a year at Rikers Island for a gun charge as a teenager. He knows that the moment his mother decided she couldn't live in the Bronx anymore was when drug dealers took over her family's apartment building and wouldn't let them inside. He knows that after they left New York for Pennsylvania when he was about 3 or 4, his family was left homeless for over a year and had to scatter -- his younger brother and sister living with his parents at a relative's house; he and his older sister, Quona, at a neighbor's; his older brother with a friend -- and that even once they did manage to find a home in Allentown, the mice and the bugs and the crime didn't feel all that different from the place they left behind.
"We could have just stayed in the Bronx," Alibay says.
Just this past year, Alibay was arrested in Allentown after he says he was stunned with a Taser and forcibly removed from a public bus. He paid for an all-day bus pass, he says, but the driver insisted he hadn't and called police to defuse the situation. Alibay says that officers destroyed his ticket before accusing him of theft. (Charges were dismissed against Alibay, and he's currently suing the bus company and police department for discrimination and excessive force.) "If you feel you are being treated unfairly in any situation," Tonya wants her son to know, "you speak up. Have a voice."
It doesn't elude Barkley that Alibay -- the person who always told Barkley to learn from his mistakes, to "try your best to be better" -- still has battles to fight. Barkley declines to discuss the bus incident other than to say, "That's my father, the person I've been working for my whole life. The way that was handled, I feel some type of way about that." He'd rather focus on what he's learned from his father: "My dad always told me, 'Don't try to be the next anybody," he says. "Make people want to be the next you."
---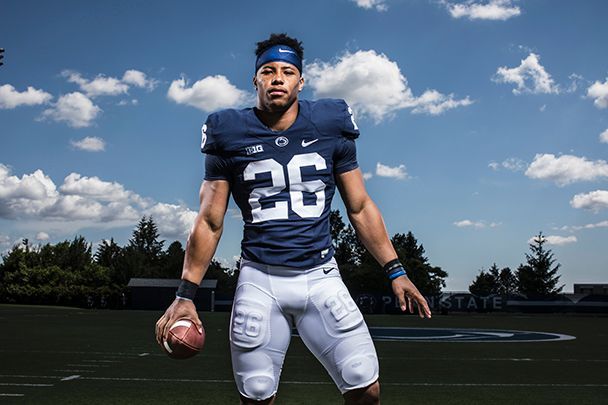 Five months removed from Pasadena, Barkley settles into a black leather armchair in Penn State's team meeting room. Summer training camp is nine weeks away. He's watched that Rose Bowl touchdown at least 10 times.
"Sometimes you watch yourself and you think, 'Oh, wow,'" he admits.
Barkley is prone to obsessing over football. On his second day on campus two summers ago, he knocked on Christian Hackenberg's door and asked the veteran QB if he could come back later that night to break down film. That same year, teammates took to calling him "21 Questions," because Barkley wore No. 21 in high school and exhausted them with an endless stream of queries.
Then there's his fixation with his rivals. He was ranked the 24th-best running back coming out of high school, which rankled him so much that one year later he could recite the name of every last recruit ahead of him, Franklin says. "I just become obsessed with players," Barkley says.
This summer that fixation has found a new focus: LSU's Derrius Guice, the name most mentioned alongside Barkley's as the nation's best back. Still sitting in the black armchair, he brandishes his iPad. He asked Jevin Stone, Penn State's video and highlight guru, to pull together Guice's reel, and now he can binge-watch it anytime he wants. "I'm going to break down his film," he says, thumbing through his iPad, "and watch every single one of his runs."
Guice runs angry, a determination that Barkley makes after poring over clip after clip in the team meeting room and later in his off-campus town house. He wants to know where, exactly, he has to be to outrun the competition -- whether that competition is Guice or just himself.
As Barkley keeps scrolling, his compulsion guiding him from one Guice play to the next, you can practically hear him say it, the words racing through his head like they did on a field in California just a few months earlier. Where is he?