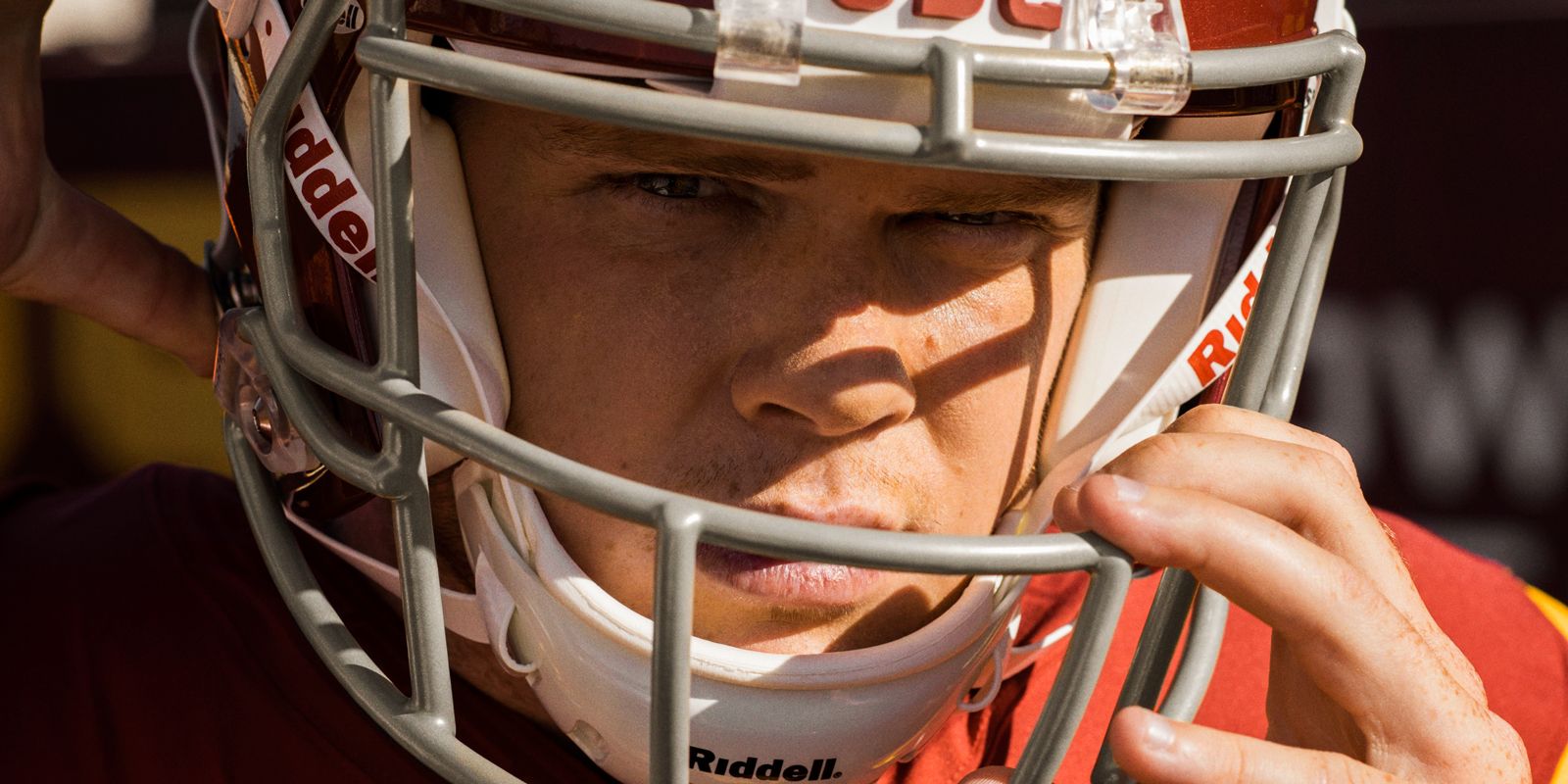 What, Me Worry?
Good thing college football's top quarterback performs best under pressure, because Sam Darnold has returned USC to L.A.'s most glaring spotlight.
This story appears in ESPN The Magazine's Sept. 4 College Football Preview. Subscribe today!

Sam Darnold is gone. It is 2002, and one moment the 5-year-old is splashing in the water on his boogie board, and then he isn't. His mother, Chris, and his 8-year-old sister, Franki, are enjoying a sun-kissed summer day at their favorite spot, Linda Lane, near their home in Capistrano Beach, California, and they don't notice Sam paddling out into the ocean on his own or the rip current that sneaks up and pulls him some 200 yards out into the Pacific. The waves swell to 6 feet, and Chris realizes Sam has been drawn out to sea with no reasonable way to safety. She sprints to the nearest tower and pleads with a lifeguard to dive in after her son, pointing to a speck on the water. "He looks huge for his age, but he's only 5!" she screams.

The lifeguard tries to calm her while he assesses a set of waves and the mess the boy has gotten himself into. "Let's just wait and see if he can catch one of those and ride it in," he says. Each second feels like 60. But soon, a giant wave forms behind the little redhead on the bright yellow boogie board. Mom holds her breath as it crests. He catches it and bounces along the whitecaps all the way onto shore. His panicked mother runs to him in tears. Her boy stands and looks at her, then heads back into the water with a devilish grin on his face.
---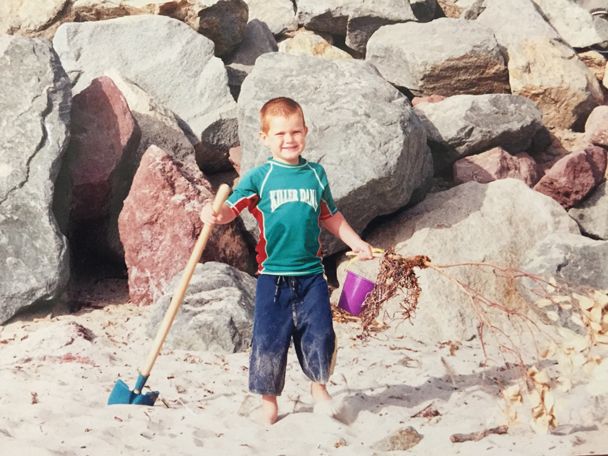 Though he is still not yet old enough to legally drink a beer, Sam Darnold's legend already burns bright, even by Hollywood standards. As a redshirt freshman last season, Darnold took over as USC's starting quarterback and rallied a reeling 1-3 team to nine straight wins, including a Rose Bowl victory. Now the Trojans faithful look to him to lead the team to its first national title in 13 years, a saga that just might include his hoisting the Heisman Trophy and sitting alone atop every NFL team's draft board come April.

"He's the best college quarterback I've seen at anticipating since Andrew Luck," says Stanford's David Shaw, who coached Luck in college and isn't prone to hyperbole. "When you evaluate quarterbacks who can play at the next level, you're looking for guys who can see a play before it happens and get the ball out of their hands quick. He's the best I've seen in years."

Between now and the draft, stories will be told about Darnold's future as a franchise-saving quarterback. Jets and Browns fans will stay up past their bedtimes to watch him torch defenses on the West Coast. We'll all marvel at his ability to keep a play alive when everything goes sideways, and scouts will shake their heads in disbelief when his most accurate throws come off his back foot while he scrambles for his life. If the hype that surrounds his playmaking ability translates into a decade-plus NFL career, his smile that never needed braces will grace countless magazine covers and ad campaigns.

So remember Darnold in this moment, on a sweltering afternoon in mid-July, when he ambles downstairs to the basement of the John McKay Center on USC's campus in full uniform, notices half a dozen crew members setting up a fluorescent tunnel for him to run through for the photos accompanying this article, stops dead in his cleats and asks a USC PR person: "This isn't for me, is it?" As he stands under the hot lights flipping a football back and forth between his fingers for the photographer (Helmet on! Helmet off! Now throw off of one foot! Now act like you're being chased! Smile! Don't smile!), one of his favorite receivers walks up and takes in the spectacle. "Sam deserves all of this," Deontay Burnett says. "He's just a good person."

For the circus that surrounds USC football, this is no small detail. The subtext of all the Darnold stories told this year will be whether a quiet, serious kid whose plumber father drives the same pickup truck he's had since before his son was born and whose mother teaches PE at the middle school he attended is the right man to lead USC back to the pinnacle of college football after the train wreck of the past eight years: five head coaches, three athletic directors, dozens of scholarship losses, a postseason ban, one coach fired on a tarmac and another fired on his way to rehab.

The truth is, it's impossible to tell Sam Darnold's story without beginning in the water. Though he left Capistrano Beach two summers ago for Los Angeles, some 60 miles north, the calmness he picked up on the sand remains, like the freckles on the bridge of his nose.

Consider the play Darnold deems the best of his life so far: In the first quarter of USC's game against crosstown rival UCLA last season, the Trojans and Bruins are tied at 7, and USC faces a third-and-9 from its own 32. Darnold drops back to pass, and the pocket around him collapses, with three linemen in powder blue jerseys closing in. Somehow, he ducks out of the tangle of human limbs and sprints to his left, with Takk McKinley, a future first-round pick, on his heels. As Darnold plants his back foot and hurls the football downfield, McKinley knocks him to the ground. The ball floats into the hands of Burnett for 12 yards and a first down.

Darnold practices throws like that on the beach in the offseason: The uneven sand keeps him off balance and offers a forgiving surface to fall on. He attributes his ability to stay composed when 300-pound men are chasing him to growing up a few football fields from the ocean. The water has a way of teaching you that panicking when large waves crash down on your face could spell your doom. The secret lies in figuring out how to improvise when you've got water up your nose.
---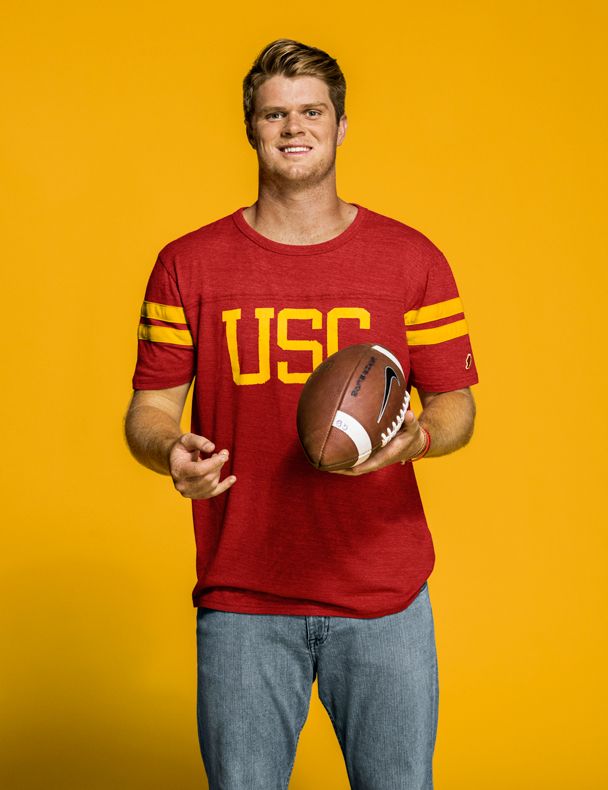 Darnold wasn't much of a talker growing up, so when he was 3, Chris took him to be evaluated by a teacher. The woman told Chris her boy was perfect; he was just quiet because his sister, Franki, did all the talking for him. As an adult, he remains an introvert, which is a noted bonus for any hotshot USC quarterback with permanent access to a table at Delilah or Catch or any place staked out by TMZ. The chances he will end up on Snapchat in a hot tub with a Kardashian are next to nil.

The week before the photo shoot, I meet Darnold for bottled water and a chat outside USC's Heritage Hall, the building that houses the athletic department and serves as a museum for the six Heismans and 11 national championships won at the school. He offers me a gentle warning. "It takes me awhile to warm up to people sometimes," he says. "A lot of people in the media get bored interviewing me, but I'm fine with that. I'd rather be that guy than the guy who's kind of a loudmouth and doesn't know when to shut up."

USC linebacker Cameron Smith finds his roommate's quiet intensity unintentionally hilarious. "He's the most competitive person I know. We'll play beach volleyball, and he's like sweating, diving, sand all over him," Smith says.

Volleyball runs in the family; Franki played at Rhode Island. A few years ago, while she was home for the summer, she entered a coed tournament in Manhattan Beach. When her regular partner bailed, Franki recruited her 16-year-old brother. She asked the tournament director to cut them some slack since Sam had never played competitively. But when Sam served ace after ace, the director became furious and called every minor transgression, assuming Franki had sandbagged him. Team Darnold still made the tournament playoffs.

That innate athletic ability goes back generations. Chris' father, Dick Hammer, played for the USC basketball team in the 1950s and played volleyball for the U.S. Olympic team in 1964. A firefighter, Hammer supplemented his income with acting work. (He became one of the original Marlboro men.) "He never thought of himself as a big shot, and my son never has either," Chris says. Hammer passed away when Darnold was 2, but it didn't take long for his parents to see that their son was just like his grandfather, a man of few words who excelled at every sport he tried. Whenever young Sam made a great play on the court or on the field, his parents would joke that it's "the DNA."

"A lot of people in the media get bored interviewing me, but I'm fine with that. I'd rather be that guy than the guy who's kind of a loudmouth and doesn't know when to shut up."

- Sam Darnold

His competitiveness seemed hardwired too. When Darnold was 5, his father, Mike, signed him up to play basketball at the Dana Point Community Center. It was a disaster. No other kids on his Warriors team seemed to understand the rules. "When a kid from the other team would mess up and break a rule," Mike says, "Sam would stop and go out of bounds and ask for the ball, then throw up his hands in disgust when the referees let the kids play on." After that first game, Sam sulked the whole ride home in Mike's truck.

At San Clemente High, he moved from receiver and linebacker to starting quarterback his junior year but suffered a foot fracture that wiped out most of his season and, with it, his best chance to impress college scouts. So after his foot healed, Darnold suited up for the Tritons' varsity basketball team and was named the Sea View League MVP.

His football coach, Jaime Ortiz, didn't have much film of Darnold at quarterback, but he sent out tape of him playing basketball to recruiters. Clay Helton, USC's quarterbacks coach and offensive coordinator at the time, was intrigued by Darnold's vision on the court but wasn't sure he had a spot for him at USC, which already had future NFL QB Cody Kessler locked in as its starter and blue chips Max Browne and Ricky Town ready to back him up. Any doubts were erased when Darnold showed up at a USC summer camp after starring all spring in football clinics. With all of five high school starts at quarterback under his belt, he wowed his way to a scholarship.
---
Darnold committed to a USC program in disarray. After Pete Carroll left for the Seattle Seahawks following the 2009 season, USC floundered trying to recapture his two-title magic, nostalgia serving as the gateway drug to amnesia. Yet Darnold wasn't deterred by the NCAA sanctions heaped on USC from the Reggie Bush years, or the midseason firing of Lane Kiffin the year before, or the open secret that the coach at the time, Steve Sarkisian, was struggling with what would turn out to be an alcohol addiction. Darnold had grown up in a USC household, going to games and watching Bush and Matt Leinart. Besides, he had bonded with the buttoned-down Helton, who had looked him in the eye and said the starting quarterback job would be earned by the best player.
Just weeks after Darnold arrived on campus, Sarkisian showed up drunk to a booster event and delivered a profanity-laced speech. A few weeks later, he boarded a plane for rehab in Utah and was fired before he landed. When asked about the upheaval of his redshirt season, Darnold shakes his head and sighs. "It was crazy," he says. "What was even crazier is there were guys on the team who had dealt with it before with Kiffin. I was like, 'Whoa, this is insane.' And there were seniors who were like, 'Eh, no big deal, it happens.'"
Helton took over as interim head coach, and the team went 5-4 the rest of the way. His interim label was removed after USC rolled past UCLA 40-21 in the penultimate game of the regular season. The move gave a group of 18- to 21-year-olds what they needed most: stability.
As a redshirt freshman in September 2016, Darnold watched from the bench as USC swaggered onto the field against Alabama, took a 3-0 lead, then gave up 38 unanswered points. That 52-6 shellacking was the worst season-opening loss in USC history.
Darnold came off the bench and threw two touchdown passes against Utah State the next week. In the third game of the season, at Stanford, the Trojans were sputtering, trailing 27-10 late in the fourth quarter. Helton sent Darnold onto the field, and Burnett ran a double move with a linebacker tight on his hip. Darnold slid up the pocket, stepped over a defender and threw for a 28-yard gain. "As soon as I stuck my foot in the ground and looked up for the ball, it was just right in my hand," Burnett says. Neither team scored the rest of the way. USC dropped to 1-2. On Sunday, Helton told Darnold he was starting the next week, at Utah.
His first start was a heartbreaker, as the Utes scored with 16 seconds left to win 31-27. Darnold rushed for a TD but threw for none. Leinart reached out to him afterward. "I asked him for tips on how to step in as a redshirt freshman and lead a group of seniors who are kind of lost," Darnold says. "USC hadn't been 1-3 in forever, and the team maybe had negative thoughts in their head. I know I did." Leinart encouraged him to stay calm, remain levelheaded. As Darnold recalls, "He basically said to continue being myself because, in my darkest moments, that's who everybody's gonna see." Darnold and a few teammates called a players-only meeting after that game. "I told them, 'Hey, we can't quit now.'"
Darnold's teammates credit his ability to let go of the past as key to their success. "He's always optimistic about everything," Burnett says. "I think of his mindset as the 'next play' mentality. Like, 'Let's go out there, let's get 'em, this is the drive.'"
USC ripped off nine straight wins to finish the season, capped with a thrilling comeback over No. 5 Penn State at the Rose Bowl, where Darnold threw for 453 yards and five touchdowns. With 1:27 left and the Trojans on the Nittany Lions' 27-yard line, Darnold dropped back and threw a perfect ball between two defenders in a spot where only Burnett could catch it for the tying touchdown. "The only way I can describe it is, I felt the grass in front of me and so did Deontay," he told reporters. The Trojans won on a field goal.
Darnold is feeling a lot of things heading into his third fall at USC, but pressure doesn't seem to be one of them. He insists his heart was pounding against his pads during that final minute of the Rose Bowl. But that heart grew into itself in Capistrano Beach, so maybe it pounds a little slower than most.
---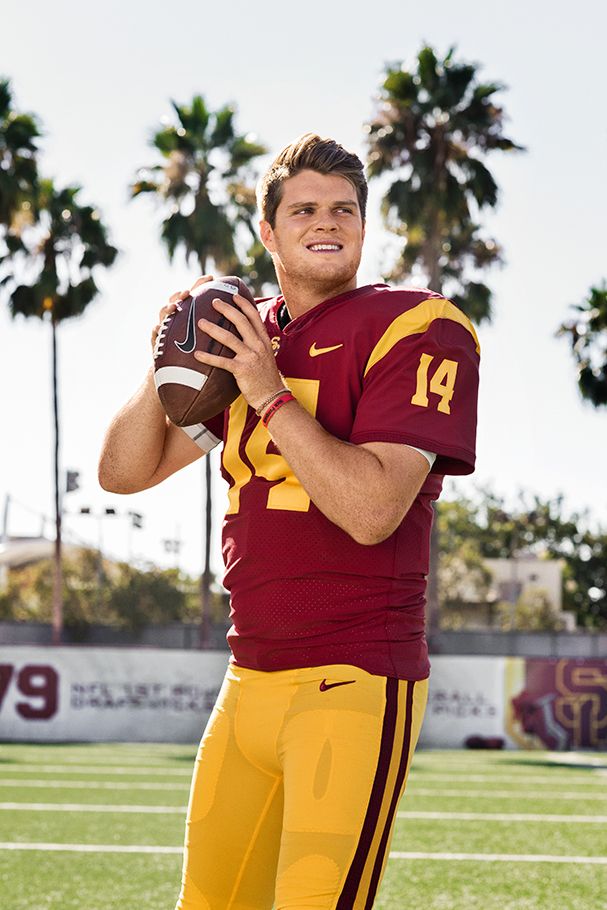 The Pac-12 media day in late July is at the Hollywood and Highland retail center, situated amid the flood of tourists on the Walk of Fame. Each team brings its head coach, an offensive player and a defensive player to be interviewed. The Trojans choose Smith and his roommate, Darnold, who is dressed like a corporate intern in a gray USC polo shirt, khaki pants and the kind of brown shoes a young man might wear to church. During Darnold's Q&A session, his pant leg creeps up to reveal black-and-white Vans socks covered in skateboards.
At lunch, each team delegation sits outside at a picnic table with 10 chairs, and reporters are encouraged to join them. Nylon umbrellas brought in for shade instead trap the stifling heat. Many teams have open seats at their tables; at USC's, 30 reporters jostle for seven seats, eager for Darnold's sound bites about his expectations for this season. In the rare moments when the scrum turns its focus to Smith or Helton, the usually unflappable Darnold alternates between rubbing his eyes and biting his nails. This is the hardest part of being USC's starting quarterback. Leading a game-tying drive in the final two minutes of the Rose Bowl as a redshirt freshman isn't as challenging for an introvert as talking to strangers in the middle of a mall. But he's getting used to it.
The pressure won't lessen if the year goes as expected and he decides to leave for the NFL. But he won't make that decision until spring. He knows that if he goes, this is his only shot to bring the Trojans back to glory.
When I asked him about that time he almost drowned when he was 5, he remembers the story a little different than his mother, insisting he was petrified. The waves were really big, and he was just a little kid. But he accepted that he was stuck in the situation until he could find an opening to scramble out of it. "When the next wave came, I was like, 'OK,' " he says. " 'This is my opportunity.' "
Molly KnightMolly Knight is a contributing writer to ESPN The Magazine and the author of New York Times best-seller "The Best Team Money Can Buy: The Los Angeles Dodgers' Wild Struggle to Build a Baseball Powerhouse."