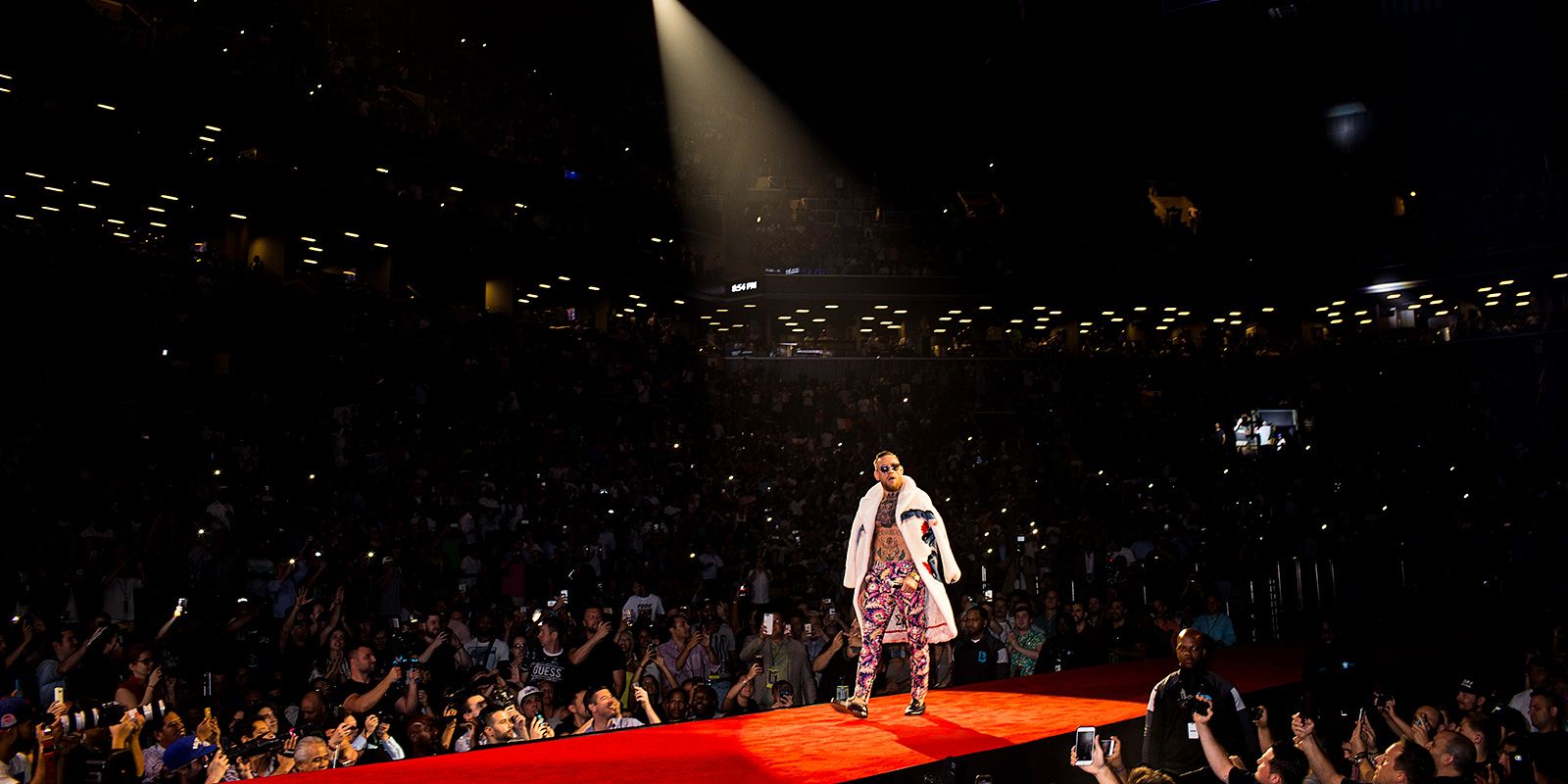 Crossing Crumlin Road
Long after he escaped Dublin, Conor McGregor still rebels against its psychic barriers. Small wonder he's crazy enough to box Floyd Mayweather.
This story appears in ESPN The Magazine's August 21 Fighting Issue. Subscribe today!
Just before Christmas, the drug dealers hanging on a north Dublin corner saw Conor McGregor's white BMW turn down their dead-end road.
They couldn't believe it. Sheriff Street was among the worst streets in the city, blocked off at one end, the area controlled by one of the two local gangs. The Hutch family ran this part of the north side, while the Kinahans operated mainly in the neighborhoods south of the river dividing the town. Some of the Kinahan bosses and foot soldiers lived in Crumlin, where McGregor grew up. The two gangs were in a bloody feud that had Dublin on edge and the newspapers keeping score: 10 killed by the Kinahans, two killed by the Hutches. McGregor started to slow down. The dealers stepped out into the street, blocking his escape.
A woman is telling me this story, standing in the corner store on a street that a local crime writer calls the Hutch family's "Alamo."
"He's from the south side," she explains. "He's not from this side."
Down the road, there's a festival going on. An organizer there unloads crates of bottled water and, when asked, gives more details about what happened next. "I'm telling him about the night McGregor drove into Sheriff Street by accident," he says when a woman joins him.
"Yeah," she says.
"... and he couldn't wait to get out," he says.
"He took a wrong turn ...," she says.
"... in a white Beamer," he says.
"And all the kids was running," she says.
"All the gang was standing outside the chipper selling gear," he says. "When he drove past the chipper, all the youngsters said, 'Hey, McGregor!' And when he got to the end of Sheriff Street, he realized there was no way out and he done a U-turn. And when he was doing a U-turn, three or four of 'em got out in the middle of the road. The feud was up and running."
McGregor hit the throttle and roared down the street. Drug dealers scrambled to whatever safety they could find as he sped through the intersection. A wise move in practice for a Crumlin native, but McGregor had underestimated the mania sweeping the projects and the lower-class quarters of Dublin. The dealers didn't want to confront him.
They all had a phone in their hands.
They wanted to take his picture.
---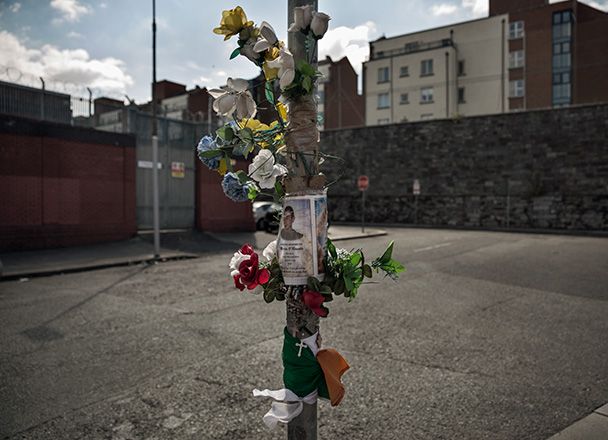 He's a working-class hero in a working-class city. However he's viewed around the world -- a race-baiting trash-talker, say, telling Floyd Mayweather to "dance ... boy" -- he is beloved in neighborhoods like Crumlin, around the Dock Ward where the famine coffin ships left for America, on Sheriff Street and in the boxing clubs that anchor the many insular neighborhoods. Sitting in a locker room as he prepares for his Aug. 26 fight against Mayweather, McGregor talks in a humble voice about Dublin's support.
"That's my people," he says with a quiet ferocity. "That's who I am."
Most Irish sporting champions reflect the lilting reserve of the green hills. That's not Conor. He's inner-city Dublin personified. He carries the lingering spirit of the tenements off O'Connell Street, the projects of Oliver Bond and the cruelly named Fatima Mansions, where his old boxing coach Phil Sutcliffe lost a brother in a drug deal gone bad. Any mysteries about him can be solved on his home turf: an area named Crumlin, built in the 1930s just south of Dublin's center, when the government tore down the inner-city tenements and needed a new place to house the poor. The Irish revolutionary writer Brendan Behan was one of those moved there, and he described his new home as a place "where they eat their young."
Dublin is best understood by exploring its many divisions, its unending physical and mental boundaries. The city, and its current champion, McGregor, are defined by those limits. It's a clannish, parochial place. Crossing the wrong street has traditionally been reason enough for an ass-whipping. Men have had to drop dates off at bus stops instead of walking them all the way home. About 60 boxing clubs still dot the city, training kids to defend themselves and their block, each gym a world unto itself. Sutcliffe, who runs the historic Crumlin Boxing Club, where Conor got his start, remembers growing up in the next project over, in Drimnagh. The neighboring, rival communities of Crumlin and Drimnagh are within the gritty Dublin 12 postcode, separated only by Crumlin Road, which runs on an east-west diagonal. Sutcliffe, who boxed in the 1980 and '84 Olympics, wanted to train in the Crumlin gym, which had better coaches. He beat up men who tried to stop him from crossing Crumlin Road.
"Not on me own," he says modestly. "With my brothers."
Other divisions in the city revolve around class, and while Conor's success allows him safe passage across gangland boundaries, it can't overcome his Dublin 12 roots. The Irish national daily papers have long served as the mouthpiece of the upwardly mobile and educated. McGregor rarely makes their pages. On the first morning of the prefight media tour, The Irish Times and the Independent ran a combined 128 words about it: one small story about Mayweather's tax problems. Then after McGregor dropped his racist taunts during the tour, the two papers filled pages with essays and think pieces, and one story compared him to Donald Trump, calling him a disgrace to Ireland, its people and its flag. They'd been lying in the shadows, waiting for him to violate some code of modern life, and while they seem legitimately outraged at his racist comments, it's clear they're outraged at the idea of him too.
McGregor loves tweaking Dublin's two-tiered society; this spring, he bought a boat and parked it in a snooty marina in a snooty coastal town, near where U2's Bono and The Edge live. He named it The 188, which is the amount of the weekly welfare payments he got until he started making money in the cage. Proper Dublin recoils from his type: the Crumlin hood rat, shaped by the limits that define him, hem him in, make him feel caged.
McGregor's old neighborhood, and all of Dublin 12, lives by old codes. "It can be dangerous if you cross the wrong people," says Jamie Kavanagh, a professional boxer who grew up with Conor. Jamie's father, Gerard, was a mob enforcer and was killed three years ago, gunned down in Spain. The tabloids called him The Hatchet. Another Kavanagh relative, Paul, was murdered a year later. Now Jamie lives in London and is taking his family to America to train. "When you're growing up from that neighborhood, everybody has each other's back," he says. "When you step out of that neighborhood, you're gonna run into problems. I would never live in Dublin again. I wouldn't want my kids growing up in the same neighborhoods."
---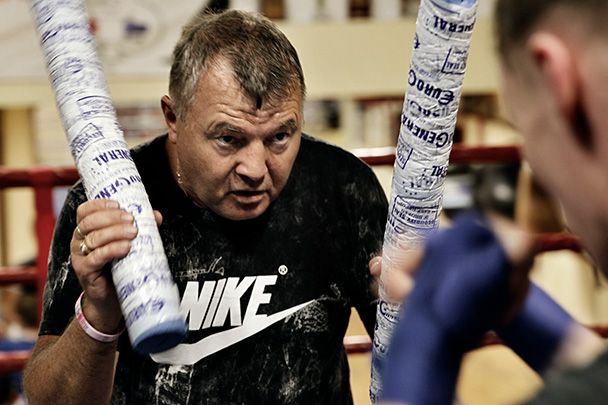 McGregor sits in a locker room at the end of a recent sparring session, talking about how he navigated the boundaries of his hometown. He and a childhood friend tell stories about growing up in Crumlin -- where the two most prominent Dublin gangland feuds in the past 20 years started. The boys lived through them. Conor's friend says he escaped a drive-by shooting, a guy with a sawed-off shotgun on the back of a moped. Conor got in a fight with the younger brother of a well-known mobster.
"I love Crumlin," McGregor says. "It makes you a strong person."
Everyone in Dublin followed the Crumlin-Drimnagh feud, which started in 2000, but McGregor actually knew the people doing the killing and the people being killed. He turned 12 when it began, and his transition from a boy to a man happened in this place colored by violence and revenge. In all, 16 people died, and many more went to prison, and nearly every combatant trained at the Crumlin Boxing Club alongside McGregor.
"Those guys in that feud, they all crossed them doors," says Kavanagh, the boxer. "All them guys been in that boxing gym. All of 'em."
The tabloids read like a Dennis Lehane novel, day after day, a man shot in his bed, another stabbed in the heart with a kitchen knife, another smuggling in a rocket launcher into Dublin. Perhaps no character caught the city's attention like a gangster named Micky Frazer. He reportedly drove "Fat" Freddie Thompson, one of the two main actors in the feud, and somewhere along the line Frazer ran afoul of someone in Fat Freddie's camp. To date, Frazer has survived at least five attempts on his life. He got shot in a church parking lot. A grenade was thrown into his mother's house. A gunman shot holes in the front windows. The Sunday World tabloid reported that at one point Frazer danced on a pub table and bellowed, "I'm invincible!"
McGregor and his friends watched Frazer, and many more people like him, marked for death. The glut of hit men willing to kill for cheap left an impression, as did the unending list of victims. "They were 'the man' last week," McGregor says, "and now they can't even leave their home. As a group of friends, we all saw this."
Sitting in a chair, Conor gets a little nervous talking so much about gangland Dublin. His MMA gym is just outside the old neighborhood, and even though his family moved to the suburbs when he was about 17, he finds himself called back to these familiar streets. "I still am in Crumlin every day," he says. "There's still s---. Now there's cartels."
He's talking about the Kinahan-Hutch feud, which broke into the open a year ago at the weigh-in before one of Kavanagh's fights. Six Hutch gunmen, some of them with automatic rifles, burst into a ballroom crowded with fans and children and executed a Kinahan boss, which set off an orgy of revenge killings that hasn't stopped. In the days after the shooting, a photo emerged of the dead mob boss and McGregor together. They grew up training in the gym in Crumlin, and the boss and his crew allegedly flew to Las Vegas to see Conor fight Jose Aldo. McGregor had his picture taken at the funeral of an alleged Kinahan gang member. His sister married a former weed dealer who did three years in prison.
That world was always there for Conor, yet he never became the most charismatic and terrifying debt collector in the streets of Dublin. He and his friends knew they didn't want the paranoia or prison stints or early death that surely follows the selling of cocaine. That line took courage to hold, but McGregor held it, never dealing, according to a senior police officer who investigates organized crime and requested anonymity. The criminals agree, according to a former dealer named Johno Frazer, "the invincible" Micky's younger brother. He says Conor never dealt. He should know.
He and Conor once got into a fight over a girl.
Johno won.
---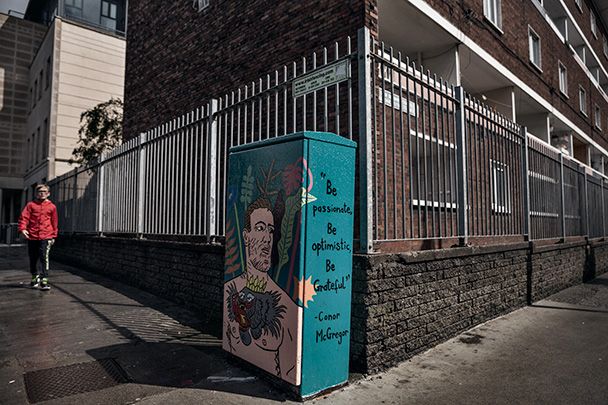 About a week before McGregor moved his training camp from Dublin to Las Vegas this summer, over in a Drimnagh cul-de-sac, Johno Frazer stood in front of his house, which he inherited from his recently deceased mother. This was the same place once attacked with a grenade. A crease marked the door, and the splintered glass of a bullet hole remained in the window above it. Johno wore scars on both sides of his neck, a permanent reminder of a prison murder attempt. He stepped out into the street and described his fight with McGregor. "I gave Conor a few slaps," he says. "I was in a gang. Conor wasn't in a gang. He went walking up the Crumlin Road with a girl I was with, and I hit him."
Frazer admires how McGregor never joined with them or dealt drugs, choosing instead the safe, low-paying job of a plumber. Later, he says, they became friends, boys who hung just up the road in what passes for a downtown of Crumlin and Drimnagh: a chip shop and a pub, a butcher and a convenience store. He says they even went on vacation to Greece with a group of friends. "We were all drug dealers, and we all had loads of money," Frazer says, laughing. "Conor had none. Conor stayed in our room on a blow-up bed. His dad was ringing him, 'He has to come home, go back to plumbing.' He didn't want to go back."
He opened the door and gestured inside.
"Feel the windows," he says. "The windows are bulletproof. Tap on them."
The kids from the old neighborhood respect the new life McGregor has built. They remember when he came round the cul-de-sac in his girlfriend's beat-up Peugeot 206. The night of his last fight before the UFC, he forgot his cup or his mouthpiece and didn't have enough credits on his phone to call someone to bring them. Now he's worth millions and still comes around. "He never forgot the roots," Johno says. "He didn't forget where he came from."
There was a time, Johno says, when he and Conor walked these streets, without plans beyond the moment, and now they occupy different worlds. Johno landed some shots on a now-famous man when they were boys, but his own personal ethic prevents him from flexing, or crowing, or showing anything that might not be a sign of respect for the distance Conor has traveled, even if Johno remains in the house where the mob tried to kill his brother, wearing the lifelong scars of the Crumlin-Drimnagh feud.
"I wouldn't try fighting him now," Johno says. "That's a fact. And Conor wasn't afraid of me. He was afraid of what I'd be able to do. He was afraid I'd stab him. That's a long time ago."
---
THE DUBLIN GYM where McGregor first started preparing for the Mayweather fight is a mile and a half west of Frazer's house, the latest location for the insular, familial world created by John Kavanagh. Conor first walked into one of Kavanagh's MMA gyms as a teenage boy who needed to learn how to defend himself. He carried the rage of someone pressed up against the window of his dreams. The first day, he beat up the best two fighters in the place, getting too rough for a sparring session. Pissed off, Kavanagh pummeled him, pinning him and throwing heavy blows until Conor promised he was there for training and not for a street brawl.
The gym gave him a place to vent the anger he felt about his future as an apprentice plumber. His family had moved to a suburb named Lucan in the years after his fight with Frazer, to give their son enough distance to build a solid, living-wage life. Conor found a job installing pipes on industrial sites. He saw the emptiness in his co-workers' eyes. Every morning, he'd wake up and walk to the motorway, where he'd stand on the shoulder and wait for his ride. His life felt divided: the half that was real, working without much future, and then the crazy dream he nurtured about being an MMA champion. One lunch break on a plumbing job, sitting in a parking lot in the pouring rain, he knew he needed to quit or he'd look up and be 50. So he just left, promising to devote himself to fighting.
His parents didn't understand. Tony McGregor beat his ass for not accepting the life required of people like them. A working-class father fears the moment when his son discovers the disappointment and limited future that is his birthright. The two fought so much they stopped speaking, living in the same house, silently avoiding each other. Words inevitably led to fists, and every bit of punishment dealt to Conor by his father was passed on to whatever opponent had the misfortune to step into the cage.
McGregor won his first two fights, then attended UFC 85 in London in 2008 and screamed Chuck Liddell's name. He caught the fighter's attention, getting a selfie. Twenty-one days later, Conor lost for the first time. Even worse, he'd sold tickets for Kavanagh and spent the money himself, in essence stealing it from his coach. Instead of facing the consequences, McGregor ghosted Kavanagh, ashamed and barely getting out of bed. When he did, Crumlin started to pull him back in. All those years of avoiding trouble hung in the balance. His mother begged Kavanagh for a second chance. The coach said yes.
Kavanagh understood McGregor and the quicksands of Dublin. Kavanagh is the son of a construction worker. And in his coach, McGregor found things missing in himself: a calming presence, a man who knew how to marshal his talents while minimizing his limitations. McGregor, for all his bravado, can be fragile. Norman Mailer wrote about approaching Ali's psyche like you'd approach a squirrel. That's true for Conor too. "You got to be very cautious what you say around Conor," says striking coach Owen Roddy.
It's been about a decade since McGregor walked into the gym, and without Kavanagh, he's a sniper rifle without a scope. The coach balances the fury of his most famous student; Kavanagh dreams of being a gentleman farmer, of raising chickens and drawing water from his own well. They've risen together in this crazy world and are now training for their first boxing match, against an undefeated champion they goaded out of retirement. Sometimes the insanity of it all catches Kavanagh, like now, as he talks with Roddy in his office. They're laughing.
"Have you ever cornered a boxing fight?" Kavanagh asks.
"No," Roddy says.
"Neither have I," Kavanagh says. "Never been in a corner, amateur or pro."
"If you're gonna go, go big," Roddy says.
They're really laughing now.
"I kept meaning to do it," Kavanagh says.
When he got a text message from Conor saying the fight was a go -- it arrived at 6:10 on a Wednesday night, June 14 -- he realized he didn't have a place for a boxer to train. There were only four days to create one. He called the owner of the strip mall that houses his gym and asked about borrowing an abandoned car dealership down at the end. He got the keys and began cleaning. They hung a sheet between the showroom and the repair bays and set up the gym in the back. John got racks built for the bags. He traded favors to get an electrician to turn on the power. A plumber got the water running and installed a shower. He found a competition boxing ring out of England and had it brought to Ireland on a ferry. Finally, because managing Conor's mind is so important, he got the guys from a local art collective named Subset to do a graffiti-style mural on the wall of Conor hitting Mayweather. The artists laughed the first time they saw the space, wondering what Floyd's gym must look like, making jokes about Rocky training in the snow. The mural got painted freehand in one 12-hour burst, the fumes leaving the painters bent. Kavanagh wants that image to work in Conor's mind.
"So every day he sees that shot landing," he says.
---
Conor's success did more than give him a new future; it reached back into his past to heal old wounds. On a recent summer evening in Dublin, Tony McGregor sits in the fourth row of a local MMA event. All that father-and-son conflict is a memory now. Never has a father been more excited to admit he was wrong. Such is the level of his son's fame that even Tony is getting his 15 minutes, wearing a dark jacket, a blue knit tie and a pocket square. Fans stop him all evening.
"I'm taking pictures," he says laughing. "How about that?"
His whole life he worked, in a factory, then driving a taxi, and now he is enjoying a third act. Not long ago, a newspaper did a fashion shoot with him. He drives around town in a BMW Conor bought for him; Conor got everyone in the family a matching Beamer and paid off his parents' mortgage. During a break in the fighting, Tony McGregor tries to make his way to a bathroom. He wades through a constant line of people.
"The man who created a superstar!" one fan says.
"Is he here?" another asks.
"He's not here," Tony says, warm and friendly. "I was talking to him on the phone, so you got close to him tonight."
Tony doesn't yet know how to be famous in a public place, the careful avoidance of eye contact, any of the tricks. "I have to go to the loo, man!" he says, loving every moment of this ride for however long it happens to run.
---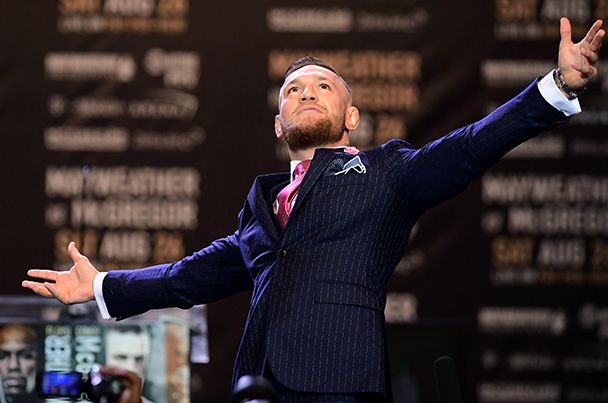 Even as someone like McGregor is rising, his fall feels close enough to touch. Nearly all famous fighters end up back where they started, busted, a punch-drunk eulogy to their inability to escape whatever first drove them to fight. McGregor brags he's gonna eat lobster for the rest of his life while his critics and opponents will eat their words. Maybe that's true. When you meet him, and see the pride in his eyes when he talks of giving his newborn son a different kind of life, you want it to be true. He's making lots of money, and spending lots of money, and the thing his family and friends fear most isn't the next opponent but the moment when he no longer has an opponent, when the engine of his focus goes cold. Cautionary tales abound. He has gotten financial advice from Mike Tyson. He's fighting a man named Money who can't pay his taxes. His flight into Vegas took him directly over the parched cemetery where Sonny Liston is buried beneath fake flowers, after dying broke and an alleged junkie. Liston said once, "Someday, they're gonna write a blues song just for fighters. It'll be for slow guitar, soft trumpet and a bell."
Conventions and social contracts do not apply. McGregor once walked down Fifth Avenue with his shirt off. He says he eats when he's hungry. If he's tired in the afternoon, he goes to sleep. At a Reebok photo shoot for 24 UFC fighters, 23 showed on time; Conor arrived two hours late. He won't listen to advice if he doesn't like the person's "tone." If his days have any sort of unifying theory, it's that he doesn't want any limits placed on him by anyone. He wants a new life free from the boundaries of Dublin 12. So he drives rented Rolls-Royces and Lamborghinis. He once bragged to GQ about spending $27,000 in a Los Angeles Dolce & Gabbana store. "He buys a watch, and within a week it's sitting in a box and he doesn't look at it again," John Kavanagh says. "You get a little rush when you buy something material, I guess."
He's obsessed with his social media accounts. There's a line between the online image he has cultivated and his actual home life with his family. Beloved Irish boxer Michael Conlan, who knows McGregor, calls the public and private man "like chalk and cheese -- complete opposites." Drawing such a line, creating a character to sell, always carries the same risk: losing control of your creation and actually becoming the preening egomaniac you once only pretended to be. He's risen to a level known by only a select few, where the air is thin and the margins are slim. If you can catch a glimpse of him when he doesn't know you're looking, he seems human-sized and vulnerable. Conor's bravado suggests a scared kid still in there somewhere, trying to keep many things at bay, most vitally his own fear that his journey could be a circle, Crumlin to Crumlin with a fairy tale in between.
---
Sixty-eight days before the fight in Las Vegas, McGregor walked into his new Dublin gym for the first time. Kavanagh looked forward to showing him the mural. The Subset guys waited around the ring for his reaction too. When McGregor saw people he didn't recognize, his metabolism changed. He took a few steps toward the artists. He asked again who the guys were, and Kavanagh told him to walk a little farther into the room and look at the wall. Kavanagh could only shake his head. The Subset founder, who never lets his name appear in public as a strange kind of street cred affectation, could sense the danger. "I'd never been in someone's company before who was purely male energy," he says. "There was no female energy. And not in a macho way. He wasn't fronting up. He's running off this raw, food chain, evolution, strongest-survive energy. He's cold. That's what he's like. He was open, a gentleman, but he's cold at the base of it."
Kavanagh asked McGregor later about that reaction; he's spent a lot of time trying to figure out Conor, to understand the root causes of his paranoia and suspicion.
"Why are you looking over your shoulder?" Kavanagh asked.
"I thought I was going to get jumped," Conor told him.
Even now, he lives in a near-constant state of fight or flight, and while some of that comes from where and when Conor grew up, Kavanagh thinks it's more nature than nurture. There's just something in the way Conor is wired. That's one of the reasons Kavanagh didn't bring in coaches with more boxing experience. Too much new stuff, by someone who didn't approach Conor's psyche like a squirrel, would be a disaster. McGregor, at his core, is an act of imagination. Tell the truth about someone, he said once, and they crumble. His truth is that he's an apprentice plumber from Crumlin trying to shake off the inevitability of those facts. He's escaped so many traps that he now instinctively seeks them out.
It's all he knows, which is how he ended up challenging Floyd Mayweather to a boxing match, even though Conor doesn't actually box. He's going to make $100 million, motivation enough to fight, but there's something else too, a man so against limits that he pushes past the point of sanity. As the financial details were ironed out, Conor pulled Kavanagh aside. They were at McGregor's house in the exclusive and pastoral K Club, which once hosted a Ryder Cup. "I don't give a f--- about the money," he told his coach. "This is Bruce Lee s---. This is the water filling the cup."
McGregor trained in Dublin for 21 days before heading across the Atlantic to fight once more for his new life. His grandfather was a sailor, and when he retired, he lived out his days in a room with a view of the water so he could watch the ships and the currents. Conor has some of that, the willingness to risk the unknown. That's the most Irish story there is. Just before he left, a craftsman named Trevor Sweeney drove a van to Conor's house. He'd been working for about six months on a custom chess set for the fighter, with his logo and famous quotes.
The board and the pieces were made from plumber's materials, a reminder as Conor left for America of the world he'd escaped. "When you look at that board," Sweeney said, "it represents your journey from an apprentice plumber to a king."
McGregor felt overwhelmed and was unable to summon his bravado.
"I'm so grateful," he replied.
---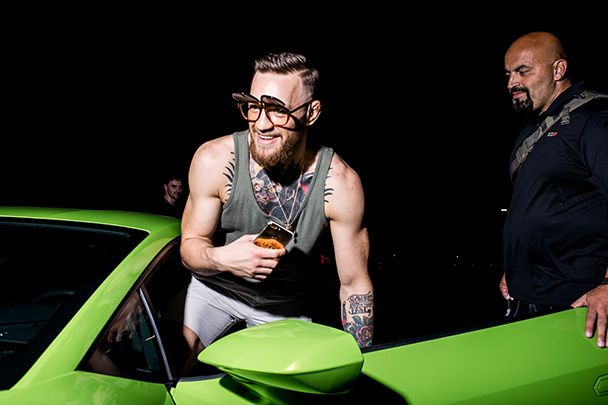 He's in Las Vegas now, training, waiting, his team of Irish fighters and coaches living in three rented houses. These are great days. A local health food company provides all their meals. They lift weights, eat chicken, rice and broccoli, and fight. Irish accents like brickbats fill the UFC gym on the fight organization's corporate campus, in an industrial park by a highway. Conor's rented green Lamborghini is parked outside by the curb -- he doesn't use one of the hundred empty parking spaces surrounding the gym -- and he's sitting in a chair getting a haircut.
He asks the barber to square it up like he likes it. It's 10 at night. Covered in the smock, he's quiet and contemplative. His son is in town, a little baby, Conor Jr., who is starting to show bits of personality. The boy has already flown on two private jets. Conor worries his son will grow up a citizen of that other Ireland, the one of rock star ocean views and fancy private schools and heated debates about an economic policy editorial in The Irish Times. So as soon as the boy is old enough, he'll start training in mixed martial arts -- "in combat," Conor says -- to teach him how to fight and suffer and triumph. He must know pain to fashion the life he wants. Conor and a friend tell more stories about shotgun blasts and fistfights with drug dealers, and then Conor stops and makes eye contact with me.
Details of his old life are not widely known. Although he doesn't ask that these stories not be printed, he also doesn't want to offend any of the dangerous men who run his hometown or disrespect the people who live there still. Even now, he hasn't fully escaped Crumlin. Working-class Dublin has a long reach. "Do what you gotta do," he says. "Just know we're still in it and it's still going on."
Across the room, someone cracks, "And we know where you live."
Everyone laughs. He leans back and surveys the room.
For three and a half more weeks, he'll enjoy the freedom of his own belief, protected from the future and whatever truth it holds. Will he watch his children and their children grow up in the lilting, green hills, citizens of a world he created with his fists, or will he slide back into the one he's struggled to escape? That's the only battle he's ever fought, against one opponent with many names: Tony McGregor, Johno Frazer, Nate Diaz, Floyd Mayweather. The real opponent has always been the psychic walls of his parochial hometown, and his success only adds a name to that list: his own. He can't see that right now because he's reduced his life to a single fight. To him, Mayweather isn't trying to win a sporting contest; he is trying to send Conor, and Conor Jr., back to Crumlin, from whence they came.
McGregor smiles and looks deeply happy.
"We went shopping last night," he says. "Versace stayed open for us. The whole place, me, my girlfriend and my son. We had a load of fun, didn't we? I got Versace plates and forks. I don't even need 'em. It's the first time I'd been shopping like that with my son. He's 3 months today."
A senior writer for ESPN.com and ESPN The Magazine, Wright Thompson is a native of Clarksdale, Mississippi; he currently lives in Oxford, Mississippi. Previously, he worked at The Kansas City Star and the New Orleans Times-Picayune. In 2001, he graduated from the University of Missouri School of Journalism.